Texas A&M Aggies:

Isaac Savaiinaea
January, 4, 2013
1/04/13
11:30
AM ET
GigEmNation's Sam Khan Jr. took questions from fans on Twitter for a mailbag in advance of today's AT&T Cotton Bowl clash between Texas A&M and Oklahoma. Here it is:
From Manziel Fan Club (@JFFootball2):
Who do you think replaces EZ [
Uzoma Nwachukwu
] and
Ryan Swope
next year as starters. And [what will be] the role of
Tra Carson
and
Brandon Williams
next year?
[+] Enlarge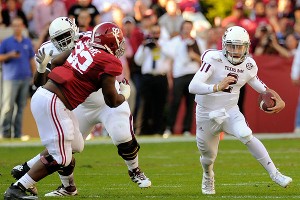 John David Mercer/US PresswireQB Johnny Manziel has had a whirlwind month since winning the Heisman Trophy.
Sam Khan Jr.:
I think
Malcome Kennedy
's emergence throughout the season means he'll certainly be a candidate to take Swope's role next season. The Aggies have a ton of receivers coming in the current recruiting class but I think Kennedy has already proven that he deserves time on the field and as long as he continues to show progress in the spring, summer and fall camp, it should be his job to lose. As for Nwachukwu's spot, I imagine
Sabian Holmes
,
Ed Pope
and
Derel Walker
are all possibilities. They're all young and unproven but they all have ability. That could also be a spot where one of the new recruits has a chance to fight for a job, perhaps someone like
Ja'Quay Williams
or
Ricky Seals-Jones
. As for Carson and Williams, my guess would be that Williams steps into a role similar to what
Christine Michael
had this year as the secondary back and a guy who can go between the tackles or hit the outside. I expect
Ben Malena
will still be the starter next year. Williams has a ton of ability though and if he can hold on to the football, I could see him push for a decent amount of carries. He's an explosive player. Carson, with his big body, my guess is he could have a role as a short-yardage guy.
From Rusty Woolley (@RWoolley7780):
Is
Johnny Manziel
still wearing a knee brace after the injury scare against Mizzou? Has he said if there are any lingering concerns?
Sam Khan Jr.:
The knee doesn't seem to be an issue. Manziel didn't appear to have a knee brace on during the open-to-the-media portion of Sunday's practice (practices since then have been closed) and I haven't heard anything said about it. It wasn't deemed serious at the time and it shouldn't be a factor come game time.
From Brian (@vonderlic):
Are there any Army All-Americans or Under Armour All-Americans that you expect to commit to A&M? I've read comments from people speculating.
January, 2, 2013
1/02/13
8:00
AM ET
AT&T COTTON BOWL
Texas A&M (10-2, 6-2 SEC) vs. Oklahoma (10-2, 8-1 Big 12)
Where:
Arlington, Texas
When:
Friday, Jan. 4, 8 p.m. ET
TV:
FOX
To continue reading this article you must be an Insider
December, 30, 2012
12/30/12
6:59
PM ET
LAKE BUENA VISTA, Fla. -- Former Stanford commit
Isaac Savaiinaea
(Honolulu/Punahou School), down to Texas A&M and UCLA, will likely wait until signing day to reveal his decision, the linebacker said today after his arrival here for Under Armour All-America Game.
The Aggies' initial season in the Southeastern Conference impressed Savaiinaea.
To continue reading this article you must be an Insider
November, 30, 2012
11/30/12
4:56
PM ET
GigEmNation writer Sam Khan Jr. chatted with readers on Friday about Texas A&M football and recruiting. Here's the
full transcript
of the chat. The Aggies are off this week and are awaiting their bowl game destination, which appears to be the Capital One Bowl,
according to ESPN's Brett McMurphy
. Here's an excerpt from Friday's chat which included talk about potential bowl games, Heisman Trophy candidate
Johnny Manziel
and how the Aggies will close out the 2013 recruiting class:
Mike (San Diego):
In the history of the Heisman only 3 defensive players have won and a freshman has never won. Do you think with those facts the Heisman is a given with Manziel's numbers, the conference he plays in, and the fact that he beat Alabama in Tuscaloosa?
Sam Khan Jr.:
Mike, I don't know that I'd go so far to say "it's a given," but I think Johnny Manziel is the frontrunner at the moment and I don't know if anybody can knock him from that perch between now and when the ballots are due. Based on the buzz you hear from across the country, it seems like he has won over a lot of folks, despite his freshman classification. And I think it's because of the last couple things you mentioned: the conference he plays in (the SEC) and the "Heisman moment" he had against Alabama.
Mack Brown (Austin):
Sam, if A&M returns
Joeckel
,
Moore
and
Matthews
next season, are they a top 5 team?
Sam Khan Jr.:
Mack, if they return all three of those guys, they might be a preseason top-3 team. Seriously. That would be huge for Texas A&M if all three of those guys came back. You would be discussing the real possibility of a BCS championship game run. They were five points away from being in that conversation this year.
Patrick (Houston):
What are our chances with
RSJ
and
Isaac Savaiinaea
? Should we be worried about UCLA?
Sam Khan Jr.:
Patrick, I think RSJ is the Aggies' to lose. LSU is still recruiting him hard but I think Texas A&M has the edge. Savaiinaea I think is a true coin-flip. He could go either-or. He loved the atmosphere in College Station but it's a long way (nine-hour flight) from home. He also said UCLA, climate-wise, kind of reminded him of home. No matter who he picks, I won't be surprised. He's been pretty upfront and really likes both places.
November, 30, 2012
11/30/12
8:00
AM ET
Texas A&M and UCLA linebacker target Isaac Savaiinaea received his honorary game jersey during the American Family Insurance Selection Tour for the 2013 Under Armour All-America Game on Thursday. Here's an excerpt from the story:
When
Isaac Savaiinaea
first encountered football, it was far from his favorite endeavor. As a 7-year-old who was introduced to the sport by his father, he didn't take kindly to defeat.
"My first four years of football were rough," Savaiinaea said. "We lost every game, literally. It was kind of discouraging and I wanted to quit."
He started his career playing on the offensive line, and he didn't particularly enjoy the way he was pushed around and hit by defensive players. By time he got to Honolulu Punahou School, he changed that, moving to the defensive side. Now he does the hitting and he does plenty of it -- enough to be recruited by quality college football programs across the United States.
"Getting put on my back every play wasn't too fun," Savaiinaea said. "I switched [to defense] my freshman year. I started to like it when I started getting the chance to hit people and not get hit."
The 6-foot-3, 231-pound inside linebacker and ESPN 150 prospect has had quite a successful last two seasons, which culminated Thursday when he accepted his game jersey during the American Family Insurance Selection Tour for the 2013 Under Armour All-America Game.
Read the full story here
.
November, 29, 2012
11/29/12
10:30
AM ET
Now that Texas A&M's regular season is complete, coach Kevin Sumlin and his staff have turned their full attention to recruiting, closing out the 2013 class and building on their 2014 haul, which already has begun with three commitments in the books.
With 31 commitments for the Class of 2013, the Aggies currently lead the nation in total commitments. And they're not finished yet, still in the hunt for some of their top remaining targets. Among the players the Aggies are still pursuing:
To continue reading this article you must be an Insider
November, 21, 2012
11/21/12
10:00
AM ET
There's one thing that's clear about Texas A&M's quick success in its first Southeastern Conference season. It has gotten the attention of recruits.
The Aggies already had 28 commitments before the season started but have added three 2013 commitments plus a 2014 commitment.
[+] Enlarge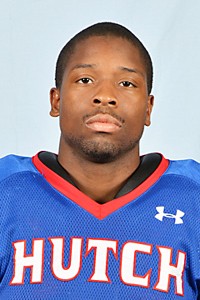 Courtesy of Hutchinson C.C.Juco linebacker Kenny Flowers is Texas A&M's only commitment since the season began.
Mesquite (Texas) West Mesquite safety
Kameron Miles
, a 2013 prospect who on Wednesday decommitted from Tennessee and switched his commitment from Texas A&M that night, was the first pledge the Aggies have landed since their landmark victory over then-No. 1 Alabama. Four days later, they added City College of San Francisco offensive tackle
Jeremiah Stuckey
.
Even before that win, he was already having positive feelings about the Aggies, who offered him a little more than a week ago because of their success. But the Alabama win certainly sent a message about how competitive the Aggies are in their first year in the league and will be in the future.
"I've been watching them since their close game against LSU and now beating Alabama," Miles said after committing to the Aggies. "For a school to be that successful in their first year in the SEC, that's an accomplishment. That really impressed me."
The Aggies have picked up two other commitments since the season began -- Stuckey and Hutchinson (Kan.) Community College linebacker
Kenny Flowers
who committed on Nov. 2. And they've remained in the hunt for several of their top remaining targets, including ESPN 150 members
Ricky Seals-Jones
,
Justin Manning
,
Mike Mitchell
and
Isaac Savaiinaea
. While the Aggies have made their impressions on each of those young men when they visited College Station, Texas, there's no doubt the on-field success has only helped their recruiting efforts.
"They're probably going to win Texas now," said Seals-Jones' father, Chester Jones, of the Aggies' momentum. "In the recruiting wars in the next four-to-five years, they'll probably be the top recruiting college in the state of Texas."
To continue reading this article you must be an Insider
November, 16, 2012
11/16/12
5:54
PM ET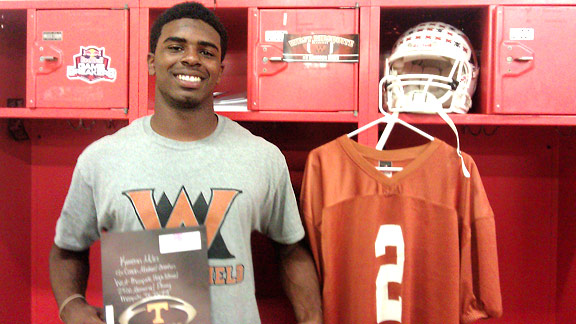 Damon Sayles/ESPN.comKameron Miles, who committed to Texas A&M on Wednesday, isn't likely to be the only recruit to switch his committment from another school to the Aggies.
Earlier this week, when speaking about the impact the current buzz around Texas A&M's football team after its win over Alabama, head coach Kevin Sumlin uttered a handful of interesting words.
"Our phone is ringing off the hook at this point," he said.
To continue reading this article you must be an Insider
November, 9, 2012
11/09/12
1:32
AM ET
There are two schools atop the list of ESPN 150 inside linebacker
Isaac Savaiinaea
(Honolulu Punahou School) and neither one of them is Stanford.
Savaiinaea, the No. 140 player in the ESPN 150, decommitted from Stanford on Thursday night. The 6-foot-3, 231 pound prospect confirmed to RecruitingNation via text message that he rescinded the commitment and that Texas A&M and UCLA are his top two choices.
The nation's fourth-ranked inside linebacker originally committed to Stanford in March, but came into the fall with the intention of visiting other schools. He took official visits to Texas A&M when the Aggies played Arkansas, to Notre Dame when the Irish hosted Stanford, to Stanford when the Cardinal hosted Washington State and to UCLA when the Bruins took on Arizona.
Savaiinaea indicated that he does not have any more visits planned and that he's likely to make his decision on where to go on national signing day in February.
To continue reading this article you must be an Insider
October, 26, 2012
10/26/12
4:53
PM ET
GigEmNation writer Sam Khan Jr. chatted with readers on Friday about Texas A&M football and recruiting. Here's the
full transcript
of the chat. The Aggies begin a three-game SEC road stretch on Saturday night when they take on Auburn at Jordan-Hare Stadium.
GJ (West Houston):
It seems to me like
DaMontre Moore
is getting a bit overlooked by some of the media. I've seen some lists for SEC DPOY that didn't even have him in the top three. Seems absurd considering he has been the most productive DL in the country so far.
Sam Khan Jr.:
GJ, there's a lot of talent in the SEC, but if Moore is not in the top three of someone's vote for SEC Defensive Player of the Year, it's my opinion that they aren't paying close attention. You could argue competition level for some of his production, but two of his best games this year came against the Aggies' two toughest opponents: Florida and LSU. I don't see how he can't be considered a frontrunner for that award. He has played at an extremely high level and honestly, right now, he's playing like an early round NFL draft pick. I know that our draft experts at ESPN have certainly kept their eyes on him because of the way he has played.
Evan (CS):
It seems like A&M has about four remaining HS guys (
Manning
,
Mitchell
,
RSJ
, and
Savaiinaea
) that they are still going after to wrap up this 2013 class. Is there anyone else that has been kept under wraps that they're still pursuing and do you think they land any of these four?
Sam Khan Jr.:
Of the high school 2013 guys there are some others besides those four that they're still pursuing.
Mackensie Alexander
, a five-star cornerback from Florida, is one of them. He was at the LSU game last week and still has other visits to take but he's one they're chasing. Also, Oklahoma LB commit
Jordan Mastrogiovanni
is one they're still recruiting. He also attended the LSU game. Another name of someone who will visit later in the year is Upland (California) DE
Joe Mathis
. As for the four you mentioned, I do think they land one or two of those. I'd guess Ricky Seals-Jones is one of the ones they land and if I had to guess another, I'd flip a coin between Manning and Savaiinaea (I'll say Manning).
Rene (College Station):
Chances A&M puts three guys in top 15 in this year's draft? (Moore, Joeckel, Matthews)
Sam Khan Jr.:
I'd say it's unlikely all three happen to go that high. First, I'm not sure that all three will declare for the draft. But if we are to assume that all three declare, I think it's possible all three are first-round picks, but not necessarily top 15. I think the two tackles are in good shape to go high. I would like to see more draft experts evaluate Moore, because it's kind of difficult to gauge where scouts sit with him right now. Clearly, he's winning a lot of supporters because of his play. How that's balanced out with last year's performance, size, then whatever he would do at things like the combine are all things that would factor into whether he could vault that high. But I don't see why, if the season ended today, he couldn't be someone picked in the top couple of rounds.
October, 4, 2012
10/04/12
1:00
PM ET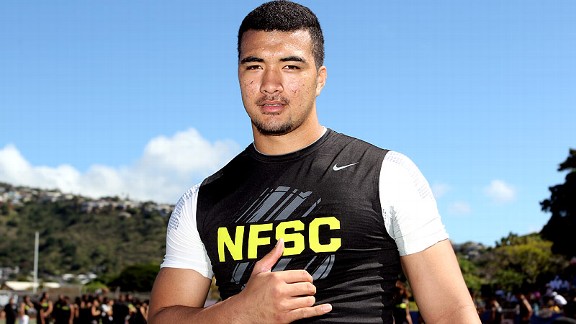 Tom Hauck for ESPN.comHonolulu Punahou inside linebacker Isaac Savaiinaea remains committed to Stanford but said the Aggies are in his "top two" after a visit to Texas A&M.
There was a sadness that came over Honolulu Punahou inside linebacker
Isaac Savaiinaea
when Sunday afternoon arrived.
That's because it was the end of his official visit to Texas A&M, a trip that the Stanford commitment called "amazing." He enjoyed the visit so much that he said he didn't want to return home to Honolulu.
To continue reading this article you must be an Insider
September, 27, 2012
9/27/12
3:30
PM ET
After hosting two official visitors last week, Texas A&M will host two more this weekend when the Aggies meet Arkansas at Kyle Field. One of them is a defensive tackle target they've had in the crosshairs for some time, Dallas Kimball's
Justin Manning
.
Manning originally planned to make an unofficial visit to campus when the Aggies hosted Florida in their season opener Sept. 8, but he had a conflict, needing to take his ACT that day. Now he will arrive Saturday for an official visit.
[+] Enlarge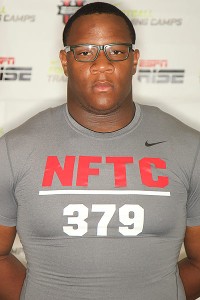 Tom Hauck for ESPN.comESPN 150 defensive tackle Justin Manning wants to get a better feel for Texas A&M this weekend.
The 6-foot-2, 275-pound Manning is a four-star prospect, the eighth-ranked defensive tackle in the 2013 class and 89th overall in the ESPN 150.
To continue reading this article you must be an Insider
September, 20, 2012
9/20/12
2:00
PM ET
This summer, Texas A&M dipped into the junior college ranks to add to an area of need in its 2013 recruiting class: defensive tackle.
The result was the commitment of Hutchinson (Kan.) Community College defensive tackle
Rob Zimmerman
, a 6-foot-3, 320-pound prospect who committed to the Aggies in July.
This weekend, when the Aggies host South Carolina State at Kyle Field, Zimmerman will be one of two official visitors expected to be on hand. The other is his Hutchinson teammate, outside linebacker
Kenny Flowers
.
To continue reading this article you must be an Insider
Recruits Miss Lone Star Showdown
SEC SCOREBOARD
Thursday, 9/3
Saturday, 9/5