Texas A&M Aggies:

Heisman Trophy
December, 10, 2013
12/10/13
11:00
AM ET
The SEC is headed to yet another BCS title game, and it's also
sending a trio of players to New York City
for this year's Heisman Trophy ceremony.
On Monday, the six finalists for this year's award were announced, and Alabama quarterback
AJ McCarron
, Auburn running back
Tre Mason
and Texas A&M quarterback
Johnny Manziel
all made the cut. The six finalists invited to New York are the most for the award since 1994.
The other three finalists are Florida State quarterback
Jameis Winston
, Boston College running back
Andre Williams
and Northern Illinois quarterback
Jordan Lynch
.
But does anyone from this SEC trio have a chance at bringing the bronze statue back to the SEC for the fourth time in five years? Let's take a look:
Mason:
The Auburn running back was a mere blip on the Heisman radar before he ran over and through Missouri's top-ranked rush defense in Auburn's SEC championship victory over the weekend. Mason ran for 304 yards and four touchdowns against Mizzou to help send Auburn to the VIZIO BCS National Championship. But he was also very good before he stepped into the Georgia Dome. On the season, Mason has rushed for an SEC-high 1,621 yards and a school-record 22 touchdowns. He also holds the Auburn single-season record for all-purpose yards (2,137). Five of the defenses he has faced this season rank in the top 50 against the run, and he rushed for 100-plus yards against each but Mississippi State, which held him to 34 yards. He averaged at least 5 yards per carry in nine games, rushed for 100-plus yards in eight games and had at least one rushing touchdown in 12 games. His stock is trending up.
Manziel:
The reigning Heisman Trophy winner had a strong case to become the first repeat winner since Ohio State's Archie Griffin (1974-75), but back-to-back poor performances -- and losses -- to close the season have knocked Manziel down the pecking order. Still, he had a very impressive regular season. He transformed as a passer, going through his progressions, checking down, reading defenses and finding multiple throwing options. He thought to throw first this year, leading the SEC with 3,732 passing yards and 33 touchdowns. He also ran for 686 yards (724 less than last season) and eight more scores (he had 21 rushing TDs last year). Manziel also has two more losses than he did last year and was held to just 494 total yards and two touchdowns in his last two games. His stock is trending down.
McCarron:
If this were a lifetime achievement award, McCarron would be a shoo-in for the Heisman this year. During his three years as a starter, McCarron won back-to-back BCS titles and heads into the Allstate Sugar Bowl with a 36-3 record. He's been one of the nation's most efficient passers and has thrown just 13 interceptions to 75 touchdowns during his career. But when it comes to numbers this season, McCarron ranks fifth in the SEC with 2,676 passing yards and has 26 touchdowns to five interceptions. McCarron has been incredibly consistent during his career and is the true definition of the word "winner," but his numbers could hold him back in the Heisman race. His stock is about the same as it was during the season.
August, 23, 2013
8/23/13
12:00
PM ET
By
ESPN.com staff
| ESPN.com


Jesse Palmer doesn't think Texas A&M QB Johnny Manziel will win the Heisman Trophy this season. Palmer also talks about SEC coaches voting Georgia QB Aaron Murray ahead of Manziel.
December, 18, 2012
12/18/12
12:07
PM ET
By
Wire reports
| ESPN.com
Johnny Manziel ran for almost 1,700 yards and 30 touchdowns as a dual-threat quarterback his senior year of high school at Kerrville Tivy.
Who would have thought he'd be even more impressive at Texas A&M when pitted against the defenses of the Southeastern Conference?
Read the full story.
December, 10, 2012
12/10/12
2:00
PM ET
The words came from the Twitter account of Rockwall (Texas) Heath defensive end and Texas A&M commitment
Jay Arnold
, but they could have described the sentiment of a number of the Aggies' current commits.
After the Heisman Trophy result was announced and Texas A&M quarterback
Johnny Manziel
became the first freshman in history to win the award and the first Aggie since John David Crow in 1957, Arnold tweeted "IM GOING TO PLAY FOOTBALL WITH A HEISMAN WINNER! HELL YEAH!"
[+] Enlarge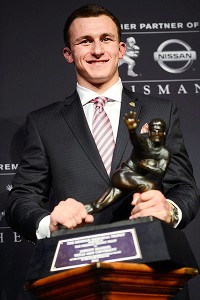 AP Photo/Henny Ray AbramsTexas A&M's Johnny Manziel is the first freshman to win the Heisman Trophy.
There's no doubt that in addition to A&M coaches, players and fans, recruits are excited about Manziel's Heisman victory. The commitments in the 2013 class are excited to join Manziel next season.
December, 9, 2012
12/09/12
8:00
AM ET
By
GigEmNation staff
| ESPN.com
NEW YORK -- One year ago, Johnny Manziel had spent a year at Texas A&M, still hadn't played a down and found himself without a coach. Texas A&M had fired Mike Sherman, the head coach for whom Manziel had turned down Oregon and Stanford, as well as his staff.
"It was heartbreaking to see them go," Manziel said. "For me, that was a tough time."
Nearly six months ago, Manziel spent a night in jail, arrested in the wee hours of a Friday morning and charged with three misdemeanors arising out of a fight outside a College Station bar.
"There was a time when I didn't really know where I was going to go from there," Manziel said. "My fate was kind of up in the air."
It would be fair and woefully inadequate to say that Manziel began this season as an unproven commodity. The uncertain player of last winter, the immature teenager of last summer, stood on the stage of the Best Buy Theater on Saturday night, holding the most recognizable individual award in American sports.
"Never," Manziel said Saturday night, two days after his 20th birthday, when asked if ever thought he would win the Heisman Trophy. "I mean, it's always a dream. You dream about being in New York and hoisting the Heisman Trophy. But for it to become a reality and me to even be here, it's crazy."
Read the rest of the story by Ivan Maisel
.
December, 8, 2012
12/08/12
8:14
PM ET
By
GigEmNation staff
| ESPN.com
Texas A&M QB
Johnny Manziel
becomes the first freshman to win the Heisman Trophy.
December, 8, 2012
12/08/12
10:57
AM ET
By
GigEmNation staff
| ESPN.com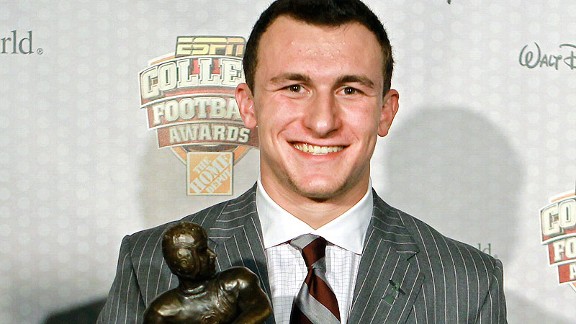 AP Photo/John RaouxJohnny Manziel is one of three finalists for the Heisman.
Here's your one-stop shopping for Saturday night's Heisman presentation, when
Johnny Manziel
will attempt to become the first freshman to win the prestigious award.
Click
here
to watch the presentation live at 7 p.m. CT.
Check out Manziel's Friday
appearance
on SportsCenter.
Make your voice heard by
voting
for who should win the Heisman.
Take an
in-depth look
at the three finalists.
And check out what other players
have to say
about the three finalists.
December, 7, 2012
12/07/12
3:00
PM ET
Texas A&M redshirt freshman quarterback and Heisman Trophy finalist
Johnny Manziel
has wowed the college football world with his performance this season. With his production (4,600 total yards, 43 touchdowns responsible for), his athleticism and his knack for making highlight-reel-worthy plays, turning the impossible to possible, he has received significant praise from teammates, coaches, opponents and media.
We'll find out Saturday night whether he'll become the first freshman in college football history to take home the sport's most coveted individual award. In the meantime, here's a glance at some of the comments made about Manziel throughout this season:
• "Johnny Manziel is a fantastic athlete." -- Florida coach Will Muschamp, after the Gators' 20-17 win over Texas A&M in the Aggies' season opener Sept. 8.
• "With Johnny, of course, he's Captain Amazing back there, not getting sacked ... Johnny Football, Captain Amazing, I'm pretty sure next week we'll have another [nickname] for him. It's a growing legend going on." -- Texas A&M receiver
Uzoma Nwachukwu
, after a 48-3 win over SMU on Sept. 15.
December, 7, 2012
12/07/12
8:05
AM ET
COLLEGE STATION, Texas -- One of the traits that has made Texas A&M quarterback
Johnny Manziel
a highlight reel waiting to happen is his ability to improvise.
[+] Enlarge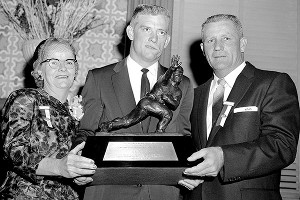 AP PhotoFormer Texas A&M Heisman winner John David Crow said he'll be 'elated' if Johnny Manziel takes home the trophy on Saturday night.
There are things Manziel does that are unscripted. You won't find them in any playbooks or game plans. It's this part of his game that stood out the most to Texas A&M's only Heisman Trophy winner to date, John David Crow.
When he first watched Manziel play, the 77-year-old Crow was in for a surprise.
"I was like everyone else, I guess, other than the coaches. I was shocked," Crow said. "He has a tremendous amount of instinct -- and I'm not trying to take anything away from the coaches because they're doing a great job -- but he's got so much talent and instinct, things that you can't coach, I don't think. And he uses it."
Crow, a former Texas A&M running back who won the Heisman in 1957, lives in College Station and attends Aggies games, so he gets a chance to see Manziel perform in person. It has been 55 years since an Aggie brought home the Heisman Trophy. Manziel, a redshirt freshman considered by many to be the front-runner to win the 2012 award, could become the second Aggie to win it come Saturday night.
Ask Crow to describe Manziel, and it's hard for him to find the right words. But the Heisman winner has no shortage of positive things to say about the potential new Heisman winner.
"It's hard for me to describe how I look at him or what I think of what he does and so forth," Crow said. "I think God gave him a talent and he's using it to the most that he can get out of it and I praise the heck out of him because he's not an 'I' guy. He's a 'We' guy. ... I think he will make a very, very good example for young people if he does win it."
Crow, who played 11 NFL seasons for the Cardinals and 49ers, earning four trips to the Pro Bowl, had the chance to meet Manziel for the first time in person Tuesday during a photo shoot for the San Antonio Express-News. The pair chatted it up at Kyle Field, and Crow came away impressed with Manziel.
"I certainly think that he will fit in with the group and I think that if he continues the way he's going now, he will certainly bring credit to the Heisman," Crow said. "That's what I think everyone that's connected with it wants, that the people that are selected will keep that in mind, how they hope that they can bring more credit to the Heisman."
Has Manziel wowed Crow at all with his on-field play?
"Oh yeah," Crow said. "The one play he did against Alabama where the ball was knocked out of his hand and he caught it and turned around and whipped around and did a reverse deal and wound up finding a receiver and threw the ball in the end zone ... things like that, I don't think that you can coach that. ... Some things you just have to say that the good Lord did that."
Crow, a College Football Hall of Famer who was inducted in 1976 and spent time as Texas A&M's athletic director from 1988 to '93 before retiring from the university in 2001, is not ready to call the race yet and is patiently waiting for the ceremony to see whether the 20-year-old Manziel does indeed bring home the hardware. If he does, it will be an enjoyable moment for the only other Aggie to accomplish the feat.
"I think that we're speculating on a lot of things," Crow said. "I'm not one to say, 'Well, he's won it because there's a poll that was taken,' or something like that. I will be excited and I will be elated -- hopefully -- when they call the winner out on Saturday."
November, 20, 2012
11/20/12
8:00
AM ET
COLLEGE STATION, Texas -- Only weeks remain until college football's most prestigious individual award is bestowed upon the young man deemed to be college football's most outstanding player. As the race hits the homestretch, opinions run the gamut on who is leading the Heisman Trophy race and who should win.
Going into last weekend, it appeared that Kansas State quarterback
Collin Klein
was the consensus No. 1 in the various Heisman projections, but Klein and the Wildcats suffered a resounding defeat at the hands of Baylor. So who leads the race now? Here are five reasons why it should be the player they call "Johnny Football," Texas A&M redshirt freshman quarterback
Johnny Manziel
:
[+] Enlarge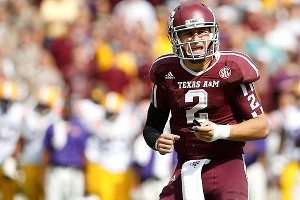 AP Photo/Aaron M. SprecherQuarterback Johnny Manziel won the starting job during fall camp and has lead Texas A&M to a 9-2 start.
1. He has the numbers
He's the first freshman in NCAA history to throw for 3,000 yards and rush for 1,000 in a season and the first SEC player to do that. Those totals have been tallied by just four other players in FBS history. He has broken the SEC single-game total-offense record
twice
. He's the first player in FBS history to throw for 300 yards and rush for 100 in a game three times in his career. The list goes on, but you get the idea.
2. His team is winning
Like it or not, Ws seem to be a prerequisite to be in Heisman Trophy contention. The No. 9 Aggies (9-2) aren't BCS championship contenders but they have performed well above preseason expectations (the Aggies were picked to finish fifth in the SEC West in the preseason media poll) and now they're on the verge of winning 10 games for the first time since 1998, finishined tied for second in the SEC West and they've gone toe-to-toe with every ranked team they've faced, including beating a few. They're a top-10 team and Manziel has led the charge. They may not be perfect, but only two other candidates' team are (
Manti Te'o
's Notre Dame squad and
Braxton Miller
's Ohio State Buckeyes).
3. He can claim something nobody else can
He led his team to a win over Alabama. When voters look for a "Heisman moment" on Manziel's resume, the win over a team that was undefeated and ranked No. 1 in the country at the time on its own home field is about as impressive a Heisman moment as it gets. That's the Crimson Tide's only loss to this point and Manziel played a marvelous game that day, throwing for 253 yards and two touchdowns and rushing for 92 while not turning the ball over once.
4. He's a freshman -- there's a first time for everything
Of the 77 winners in award's history, none have been freshmen. Freshmen were historically prohibited from playing NCAA football until 1972 (except during World War II) but even since they've been allowed to play one hasn't won it. It wasn't until 2007 that a sophomore won it (Tim Tebow). A certain stigma was attached to freshmen receiving Heisman Trophy vote but it's time for that to come to an end. If Manziel is to lead the Aggies to a win over Missouri on Saturday and win the award on Dec. 8, it shouldn't be in spite of him being a freshman, it should be because of it. To accomplish what he has so early in his career should be taken into account. If he's the most outstanding player in college football, it's even more impressive earning that status as a freshman.
5. He has the respect of his opponents
Nick Saban said Manziel reminded him of Doug Flutie (interestingly enough, a Heisman winner). But perhaps the best endorsement comes from an All-American caliber defensive player whose team defeated Manziel and the Aggies: LSU defensive end
Sam Montgomery
.
His effusive praise of Manziel
spoke volumes. Those guys know more football than most, so who are we to argue?
November, 13, 2012
11/13/12
9:43
AM ET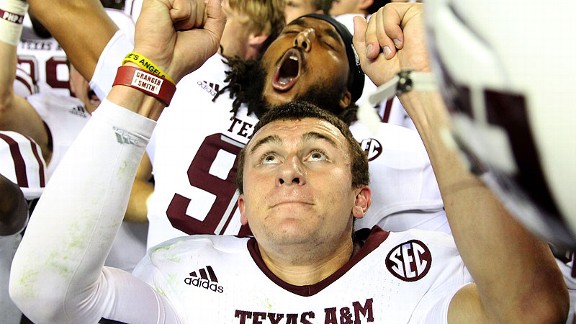 Mike Zarrilli/Getty ImagesWith a win against No. 1 Alabama, Texas A&M's Johnny Manziel moved closer to Heisman candidacy.
In a year in which the Heisman race has really lacked pizzazz, one player is bucking the lackluster trend.
Small in stature but big in plays, Texas A&M quarterback
Johnny Manziel
proved yet again over the weekend he deserves a seat at the Heisman table in New York next month.
The redshirt freshman has been too exciting, too productive and too darn good not to get some real Heisman love. If the season ended today, it would be an absolute crime if Johnny Football wasn't a Heisman finalist.
If what he'd done heading into the Alabama game didn't win you over, Saturday inside Bryant-Denny Stadium had to.
He was thrown right at one of the nation's best defenses from the start, accounting for 16 of Texas A&M's 27 plays in the first quarter and collecting 150 of the Aggies' 172 first-quarter yards (passing/throwing). All three drives ended with Aggies touchdowns.
He made defenders look sillier and sillier with each scramble, such as his nifty 29-yard scamper on the first drive to put the ball at the Alabama 14-yard line, and his clumsy-turned-slippery 32-yard pass on the second drive that set up the Aggies' second touchdown.
He pulled off another jaw-dropping 32-yard run on the third drive just for fun.
He even fumbled a ball in midair, only to catch it, roll out and find a wide-open
Ryan Swope
for a 10-yard touchdown in the first.
After struggling in the second and third quarters, he led the Aggies on two fourth-quarter scoring drives. On A&M's final scoring drive he threaded a pass to Swope for 42 yards down the right sideline before tossing a perfectly thrown flag pass to
Malcome Kennedy
for the go-ahead 24-yard touchdown.
Manziel finished with 345 total yards and two scores. It was reminiscent of another dual-threat quarterback who walked out of Bryant-Denny Stadium with a shocking win. His name was Cam Newton, and he left with two more touchdowns, but 90 fewer yards.
Given the Herculean task of besting Alabama's defense, Manziel came through and never wavered. Defensive stops didn't stun him. He stunned the Tide.
According to ESPN Stats & Information, Manziel completed all six of his passes outside the pocket and scrambled for 94 yards when forced out of the pocket. Before Saturday, Alabama's opponents were completing 35.7 percent of their passes outside the pocket and had scrambled for 12 total yards in nine games.
He also completed 4-of-5 passes thrown 20 or more yards downfield. In previous games, Alabama allowed nine completions on 41 pass attempts thrown 20 yards or longer downfield and hadn't allowed a quarterback to complete four such passes since the start of the 2009 season, according to ESPN Stats & Info.
He ran the nation's No. 1 team out of its own stadium and momentarily knocked the SEC off it path toward a seventh straight national championship appearance.
That right there should get voters outside of the South giddy about Johnny Football, but there's so much more to him than just Saturday's stellar outing.
Manziel doesn't look like he can do much, but even with his generously listed 6-foot-1 height and his awkward and graceless scurrying, Manziel constantly finds ways to make plays. You can't bring too much pressure because he'll just sidestep his way outside and sprint for a big play. Don't bring enough, and he'll burn you over the top.
He's third in the SEC in passing (2,780), first in rushing (1,014) and has combined for 33 total touchdowns. He's averaging 379.4 yards of total offense per game and is the second freshman in Football Bowl Subdivision history to rush for 1,000 yards and pass for 2,000 yards in a single season.
People harp on his two home losses to Florida and LSU, but plenty of Heisman winners have lacked perfection. Tim Tebow and Robert Griffin III both lost three games before hoisting the bronze trophy. And if Manziel & Co. keep winning, he might play in a BCS bowl game -- something Tebow and Griffin didn't do during their Heisman years.
When compared to Tebow, Griffin and Newton, Manziel is right in line. He won't pass for Griffin's 4,293 yards and 37 touchdowns, but he'll surpass Newton's passing yardage and needs 507 yards to beat Tebow's. He also has rushed for more yards than Tebow and Griffin and needs 460 yards to surpass Newton's SEC quarterback record of 1,473 he set in 2010.
So when it's time to cast those Heisman ballots and pick those worthy candidates to suit up in the Big Apple, Manziel can't be left out. He has done too much already, and still has time to do even more.
Spears has high hopes for Texas A&M
SEC SCOREBOARD
Thursday, 9/3
Saturday, 9/5