Texas A&M Aggies:

Germain Ifedi
October, 17, 2013
Oct 17
2:30
PM ET
COLLEGE STATION, Texas — After losing a left tackle who was the No. 2 pick in the NFL draft and a center who was a two-year starter at the position and a four-year starter overall, it was easy to believe that there would be a drop-off in performance from the Texas A&M offensive line.
Through six games, the No. 7 Aggies can safely say all is well up front. Even with two newcomers and some shuffling by moving returning starters around, the unit is again performing at a high level and is one of the reasons Texas A&M's offense continues to be one of the best in college football.
While it's difficult to replicate what the Aggies had last season, when all five starters last season played multiple seasons together, it's easy to see how well this year's group is doing. All it takes is watching quarterback
Johnny Manziel
drop back and sit comfortably in the pocket for five, six and sometimes seven seconds looking for a receiver or deciding to use his scrambling ability to gain yardage.
[+] Enlarge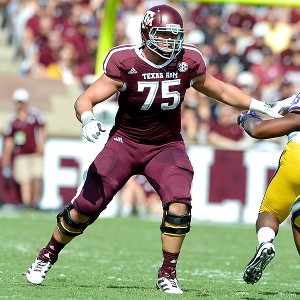 Cal Sport Media via AP ImagesJake Matthews is playing well at left tackle after playing right tackle in 2012.
And in the Aggies' victory over Arkansas on Sept. 28, the line paved the way for two second-half touchdown drives that consisted of all running plays. Texas A&M had more rushing yards than passing yards.
"Offensive line has played really good, with the exception of one game," offensive coordinator Clarence McKinney said. "I think those young guys in one of those six games -- I think it was SMU -- had some struggles. But for the most part, they've played great."
Against SMU, there were some penalties and self-inflicted errors that the Aggies needed to clean up. Their performance against No. 1 Alabama was strong and they've been consistent, for the most part, the rest of the year.
The transition began back in spring, moving
Jake Matthews
from right tackle to left tackle to replace Luke Joeckel. To fill Matthews' void, right guard
Cedric Ogbuehi
kicked out to right tackle. Jake's younger brother
Mike Matthews
stepped in as the starter at center and redshirt freshman
Germain Ifedi
slid in at right guard. The only player still in the same position last season is left guard
Jarvis Harrison
.
Behind that quintet, the Aggies are putting up 586.5 yards per game (No. 3 in the country) and have allowed only seven sacks, which puts them in the top 30 statistically in the country. They're 20th in rushing yards (224.6 yards per game) and sixth in passing yards (361.8 per game).
"They're getting better every week," senior running back
Ben Malena
said. "It's hard to compare this year's group to last year's because they're only six games in, but I can tell you every week they are getting better."
The biggest question marks coming into the season centered around the first-time starters. So far, they've answered the questions.
"I'm really pleased with the young guys," offensive line coach B.J. Anderson said. "I think they've made some strides. They've played in some atmospheres where we had to communicate. Mike's done a really good job. I've changed protections on him a couple games. ... I'm really pleased with where he's at, and the same way with Germain. He's getting better every game and we're fixing some things that need to get fixed and we'll just keep working."
Anderson noted that they're not holding anything back from Mike Matthews, who is just a sophomore, when it comes to game-planning and protections. That's critical considering the vast array of defensive looks Anderson said opponents have thrown at the Aggies.
"If you had told me that I had that flexibility back in August, I'm not sure I would have believed you," Anderson said. "But he's got the kitchen sink right now. I'm not doing anything that I didn't do with Pat Lewis, who was a senior. He's able to make all the adjustments I need and I'm really pleased with the mental work he does during the week, preparation-wise."
The "older guys" -- senior Jake Matthews and juniors Harrison and Ogbuehi -- have also shined. Matthews' adjustment to left tackle has been smooth, as has Ogbuehi's to right tackle. Harrison has impressed Anderson with his effort week to week.
"Jake's Jake and Ced's doing a good job and Jarvis Harrison is playing his tail off -- as well as he's played since I've been here," Anderson said. "He's playing with great effort. It shows on tape and I'm happy with those older guys."
Manziel's progression and mastery of the offense in the second season in the scheme has helped as well. Players say they notice Manziel has tried to stay in the pocket more often.
"I feel more this year that he hasn't scrambled as much and he has been more patient," Ogbuehi said. "He looks to throw more, too. He's always looking to make a big play with his arm, and that's good."
Perhaps the best aspect of this group is it has stayed healthy. The Aggies were fortunate to keep all five starters healthy last season, and that's been the case this year, too. It isn't a perfect group, but it is a smart, talented one that continues to improve every day.
"This year, we're still trying to get there but so far we're getting there," Ogbuehi said. "It's exciting so far what we've done in the little time we've had together."
September, 29, 2013
Sep 29
9:00
AM ET
FAYETTEVILLE, Arkansas — Texas A&M pulled out a 45-33 road win over Arkansas on Saturday night to improve to 4-1, 1-1 in SEC play. Let's look at some of the key performances and hand out some helmet stickers:

A&M offensive line:
This group was stellar on Saturday. They paved the way for 523 offensive yards, including 262 rushing. They helped A&M dominate the second half and anchored two scoring drives that consisted of all running plays. They protected quarterback
Johnny Manziel
well, allowing only one sack, which was more of a result of an extended scramble than it was protection.
Trey Williams
,
Tra Carson
,
Ben Malena
and
Brandon Williams
combined for 203 rushing yards behind the front five. After having some mistakes and penalties last week, the quintet of
Jake Matthews
,
Jarvis Harrison
,
Mike Matthews
,
Germain Ifedi
and
Cedric Ogbuehi
cleaned those things up and put together a strong effort.
Deshazor Everett:
The junior defensive back is establishing himself as the best player on this A&M defense, and he came up with the biggest defensive play on Saturday night, a 34-yard interception return for a touchdown on Arkansas' first drive of the second half. It helped A&M extend their lead to 31-20 when the Razorbacks could have gone down field and taking their first lead. He has done whatever defensive coordinator Mark Snyder and secondary coach Marcel Yates have asked of him, and his move to safety is helping the back end of the defense immensely.
Mike Evans:
He caught a 51-yard pass on the first play from scrimmage and caught two first-half touchdowns, including a jump ball in the end zone where he came up limping. The injury didn't keep him out of action long though; Evans came back to play the remainder of the game and even appeared on special teams. Last season he toughed out many a game with a hamstring injury, so it shouldn't be surprising that he didn't stay off the field long. He finished with six catches for 116 yards.
July, 19, 2013
Jul 19
12:00
PM ET
During the summer, GigEmNation will take a closer look at returning starters and other key players on the two-deep for Texas A&M -- excluding the Aggies' 2013 recruiting class -- who could make notable impact this fall in our Aggie Snapshot series. Starting with No. 1 De'Vante Harris, the series will follow the roster numerically through our final analysis of No. 95 Julien Obioha.
No. 74 Germain Ifedi
Freshman guard
To continue reading this article you must be an Insider
May, 3, 2013
May 3
5:00
PM ET
By
GigEmNation staff
| ESPN.com
GigEmNation writer Sam Khan Jr. chatted with readers on Friday about Texas A&M football and recruiting. Here's the
full transcript
of the chat. Here's an excerpt from the chat:

Kevin (Texas):
Without
Luke [Joeckel]
, will Texas A&M'S offensive line be as strong as last year's?
Sam Khan Jr.:
I think it will take some time before they are that good. However, I think by year's end, the dropoff won't be very noticeable.
Jake Matthews
will make a great left tackle in my opinion and I think
Cedric Ogbuehi
has a lot of ability, so he could develop into a star at right tackle. And
Mike Matthews
at center will also be pretty good, I think.
Jarvis Harrison
is the lone player in the same position he was last year, so it stands to reason that he'll be better. The wild card is probably redshirt freshman
Germain Ifedi
. But playing right guard with his size (330+) should be just fine for the Aggies.
WaffleHouseAg (Plano):
Which of the non early enrolled freshmen has the biggest impact next year?
Sam Khan Jr.:
My guess is one of the two defensive tackles
Isaiah Golden
or
Justin Manning
. The Aggies were thin thin thin up front this spring (in part because of injuries) but they need all the depth they can get. I could see either of those guys in the two deep and getting into the rotation if they make quick progress this summer. I wouldn't be shocked to see any of these three offensive skill guys get on the field quickly either:
LaQuvionte Gonzalez
,
Ricky Seals-Jones
,
Sebastian LaRue
. I think you could see one or two of those guys have a role this fall.
Joel (Shreveport):
What type of season do you see JFF [
Johnny Manziel
] having in 2013? Will he try to impress the NFL by staying in the pocket longer and throwing the ball downfield?
Sam Khan Jr.:
I don't think he'll do that simply to impress NFL scouts -- he'll do that because it will be better for the Aggies and this offense if he becomes more proficient in the pocket. Is he still going to run? Absolutely. But the more hits he takes, the more of a chance you have of losing him. So the better he gets as a pocket passer, the more dangerous the offense becomes because then he won't have to scramble every time he tries to make a big offensive pass play. Also, year two in this particular offense is when a quarterback really takes off. See: Case Keenum, Geno Smith, etc. His grasp of it will be better and the Aggies will be better for it. So yeah, he'll do it, but not necessarily just to impress NFL scouts.
April, 3, 2013
Apr 3
10:30
AM ET
COLLEGE STATION, Texas -- On the surface, it's easy to surmise that there will be plenty of continuity in Texas A&M's offensive line as it transitions into a new season.
Three of five starters return from what was the strongest position group on the team in 2012.
But just because a few familiar names are still around doesn't mean things are the same. There is plenty of change for the Aggies' front five this spring.
Of the quintet, only one player -- junior left guard
Jarvis Harrison
-- returns to the same position he was in a year ago. The rest of the offensive linemen are stepping into a new role, either as a returning starter in a new position or as a first-time starter.
[+] Enlarge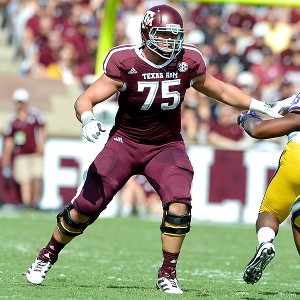 Cal Sport Media via AP ImagesJake Matthews might have been a first-round draft choice if he had entered the 2013 NFL draft, but instead he will move to left tackle for his senior season.
After having what was arguably the best offensive tackle tandem in the country last year, the Aggies wave goodbye to one of them (
Luke Joeckel
, who declared for the NFL draft) and welcome back another in senior
Jake Matthews
.
Matthews spent last season at right tackle but has moved to left tackle, Joeckel's old spot, to protect
Johnny Manziel
's blind side. Taking Matthews' place at right tackle is the
Cedric Ogbuehi
, who started at right guard a season ago.
"They've become comfortable, I think, pretty quickly as far as their footwork goes," offensive line coach B.J. Anderson said of the tackle tandem. "What we're working now is all the little things. Right now, Jake's changed his post hand. It's his left hand when he's on the right side and now on the left side he has to change his post hand. We've got to work through the little things.
"Ced's the same way. There's a lot more grass out there when you play tackle. But he's long and athletic and he's done a nice job and we'll just keep working on those little things."
Since the 6-foot-5, 305-pound Matthews has excelled as a right tackle, there are high expectations for him as he moves to the left side. Ogbuehi was a tackle in high school, so the move outside is natural fit for him as well.
"The biggest change is that I'm going against faster dudes, my sets are different," Ogbuehi said. "Other than that, it's the same thing really.
"I was excited and also sad that Luke left. But it's a big change for me to show what I can do, because I'm athletic. Playing guard, I didn't really showcase that. Playing tackle is going to show what I can really do and also show that I'm versatile, that I can play guard and tackle."
March, 25, 2013
Mar 25
9:30
AM ET
COLLEGE STATION, Texas -- Texas A&M has completed two weeks of spring practices, and the Aggies gave fans their first extended look at the 2013 edition of the squad Saturday during an open scrimmage at Kyle Field. There was evidence that several Aggies are making positive strides. Here are five who have seen their stock rise in the first half of spring ball:
[+] Enlarge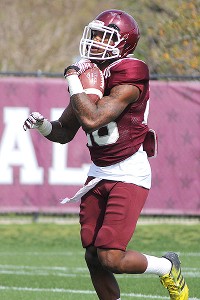 Sam Khan Jr./ESPNAfter sitting out last season, former Oklahoma transfer Brandon Williams could make a big impact for the Aggies in 2013.
Nate Askew
: This spring has been one of real transition for the senior, who has been a receiver for the balance of his career but has been shifted to outside linebacker. So far the 6-foot-4, 220-pound player appears to be adapting well. He spent most of his time Saturday with the first-team defense and made some plays, including an interception of
Johnny Manziel
. He still has a ways to go, but Askew is making progress.
Reggie Chevis
: Size-wise, the true freshman looks like he was built to be an inside linebacker (the 6-2 Houston product is likely hovering around 250 pounds) and Saturday he saw time with both the first team and second team at middle linebacker. Though junior
Donnie Baggs
is the likely favorite to start this fall at the position, Chevis certainly is showing why he was heavily recruited.
To continue reading this article you must be an Insider
March, 23, 2013
Mar 23
6:20
PM ET
COLLEGE STATION, Texas -- Texas A&M hit the field on a cool, foggy afternoon for its first open-to-the-public scrimmage of the 2013 spring football season on Saturday at Kyle Field.
There is plenty to take away from the first extended on-field look at the 2013 Aggies, but here are a few things that stood out:
Brandon Williams looks like a potential playmaker:
The Brookshire (Texas) Royal graduate, who is nicknamed "Slim," showed some nice moves and ability when he was on the field Saturday. In a handful of touches, Williams showed good vision and speed and was able to beat a few defenders to the pylon for a touchdown run midway through the scrimmage. His initial action was with the second-team offense, but he received plenty of time with the first team as well. Naturally,
Ben Malena
was the traditional first-team back and
Tra Carson
got some repetitions as well [freshman
Trey Williams
, who has been injured all spring, did not participate]. But Williams looked a lot like someone who will get touches and be productive this fall.
Floyd Raven experiment at safety is showing progress:
As defensive coordinator Mark Snyder and head coach Kevin Sumlin noted earlier this spring, there are two things Raven does really well that fit the free safety position: He has good speed and he can hit. On Saturday he showed a nose for the football, intercepting quarterback
Johnny Manziel
once and nearly doing it a second time later in the scrimmage. The junior certainly looks the part so far.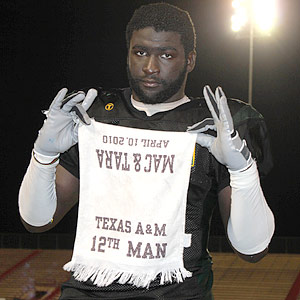 Sam Khan Jr./ESPN.comFreshman Reggie Chavis received snaps with the first and second team at linebacker on Saturday.
Youth is served, especially on defense:
Injuries are keeping several key players on the sideline, particularly on the defensive side of the ball. (Projected starters
Julien Obioha
,
Kirby Ennis
and
Steven Jenkins
are all sitting out this spring.) So it's giving the Aggies a chance to work out some younger players at key positions. Redshirt freshman
Tyrone Taylor
, younger brother of junior
Tyrell Taylor
, lined up at defensive end with the first-team offense, as did sophomore
Alonzo Williams
, who played the last half of the 2012 season and started in the AT&T Cotton Bowl. True freshman linebackers
Reggie Chevis
and
Brett Wade
also had plenty of playing time Saturday --
Wade as a second-team weakside linebacker and Chevis at middle linebacker, getting snaps with both the first- and second-team defense. (Junior
Donnie Baggs
started the scrimmage as the first-team middle linebacker.) Sophomore
A.J. Hilliard
, who transferred from TCU in January, also saw time with the first-team defensive unit at outside linebacker.
Offensive line set?
Whenever the first-team offense was out on the field, the same group of five was out there:
Jake Matthews
at left tackle,
Jarvis Harrison
at left guard,
Mike Matthews
at center,
Germain Ifedi
at right guard and
Cedric Ogbuehi
at right tackle. The primary battles going into the spring were to be at center and right guard and so far, it appears Mike Matthews and Ifedi have a solid grasp on those spots.
Positive signs from the kicking game:
Sure, the scrimmage doesn't count, but fans certainly had to be happy to see
Taylor Bertolet
connect on his kicks. The only miscue in the kicking game was a mistake by the holder, punter
Drew Kaser
, that forced Bertolet to stutter step before a kick that was blockes. But every other field goal and point-after-touchdown attempt that Bertolet tried went through the uprights. The sophomore is looking to bounce back from an inconsistent 2012 season in which he was 13-of-22 on field goal attempts and 67-of-74 on extra point tries.
The stars are still the stars:
Manziel made some nice throws and though he did throw three interceptions -- some of which might have been forced since he wasn't really running the football himself -- he overall had a solid day. He certainly remembers how to get the ball to the Aggies' best receiver,
Mike Evans
, who probably had the most impressive day of anybody, catching two touchdowns and picking up where he left off from 2012.
March, 4, 2013
Mar 4
3:30
PM ET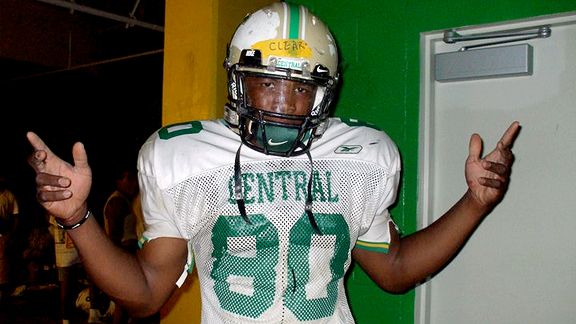 Denzel Wright With his size, tight end Cameron Clear would add a different dimension to the Aggies' offense.
COLLEGE STATION, Texas -- Texas A&M kicked off spring practice for the 2013 season on Saturday and with it comes new players in new roles, new expectations and plenty of other changes.
Many of those changes could be seen on the
initial 2013 depth chart released
by head coach Kevin Sumlin. There are some absent names because of injuries and there's a long way to go before definitive statements can be made, but it certainly gives us some players and things to keep an eye on moving forward. Among them:
To continue reading this article you must be an Insider
January, 11, 2013
Jan 11
4:29
PM ET
GigEmNation writer Sam Khan Jr. chatted with readers on Friday about Texas A&M football and recruiting. Here's the
full transcript
of the chat. Topics covered included Jake Matthews' return, the promotion of Clarence McKinney to co-offensive coordinator and playcaller and of course, recruiting. Here's an excerpt from Friday's chat:
Drew (Colleyville, TX):
So with
Jake Matthews
coming back does this mean he will be moved over to LT? And if so who do you think will be the RT next year? And who do we have on the C depth chart that can take over? Thanks for the chats!
Sam Khan Jr.:
Drew, yes, Matthews will be moved to LT. That should be a good transition for him and I think he'll do well. As for right tackle, I think you're looking a few possibilities: redshirt freshman
Joseph Cheek
, who backed up Matthews and played in the "unbalanced line" power running formations could be an option. True freshman
Germain Ifedi
, who was on the two-deep, is an option. And I wouldn't rule out moving someone out to right tackle that's already in the lineup (maybe RG
Cedric Ogbuehi
?). As for center,
Mike Matthews
, the younger brother of Jake Matthews, will be the heir apparent to
Patrick Lewis
. Matthews is the favorite to start and was the backup this year. Look for him to be a possible three-year starter at C for the Aggies.
January, 10, 2013
Jan 10
4:02
PM ET
Texas A&M received a welcome bit of news when junior offensive tackle
Jake Matthews
officially announced Thursday that he's returning to Aggieland for his senior season.
To continue reading this article you must be an Insider
January, 8, 2013
Jan 8
1:49
PM ET
Texas A&M junior left tackle
Luke Joeckel
was presented with an opportunity he
couldn't pass up
. He didn't.
[+] Enlarge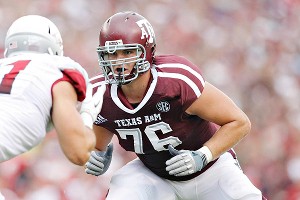 Brett Davis/US PresswireTexas A&M's Luke Joeckel has been projected to be a top-five pick in the 2013 NFL draft.
The 6-foot-6, 310-pound winner of the Outland Trophy officially announced on Tuesday that he is bypassing his senior season and
declaring for early entry into the 2013 NFL draft
. Many projections have Joeckel going in the top five selections, and some even have him going first overall. He's the consensus top tackle on the draft board.
With the Jan. 15 deadline to declare approaching, only right tackle
Jake Matthews
remains among those highly-regarded draft-eligible A&M juniors who haven't officially announced a decision. Defensive end
Damontre Moore
declared before the AT&T Cotton Bowl that he's entering the draft.
Joeckel's loss is significant because he was a stalwart at left tackle. He was stellar in pass protection and solid in run blocking as well. All the reasons scouts like him as a potential NFL player are why he was an asset to the Aggies this season. He was durable and reliable. Scouts Inc.'s Kevin Weidl described Joeckel as having excellent footwork and awareness and called him a "smooth mover" who "adjusts well in space."
December, 7, 2012
12/07/12
8:00
AM ET
In trying to ensure depth at every position, coaches can often play the "What if?" game when it comes to recruiting. Expecting the unexpected can mean the difference between feeling comfortable enough to have a capable body step in and contribute at a position and scrambling to make sure any depth exists.

When it comes to their offensive tackles, Texas A&M coach Kevin Sumlin and his offensive staff are ready for anything. After the conclusion of the AT&T Cotton Bowl, junior tackles
Luke Joeckel
and
Jake Matthews
will have a decision to make: Apply for early entry into the NFL draft or return to Aggieland for their senior seasons?
To continue reading this article you must be an Insider
August, 7, 2012
8/07/12
12:00
PM ET
COLLEGE STATION, Texas -- In the SEC, there's no shortage of quality defensive linemen. And most of them are big, fast and physical.
Texas A&M offensive coordinator Kliff Kingsbury said one of the first things he notices about SEC defenses is "the violence" those units play with.
[+] Enlarge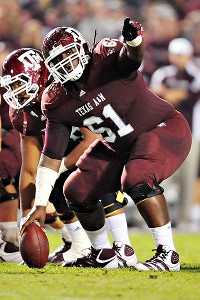 Cal Sport Media Patrick Lewis has been a stalwart on the Aggies line but had to learn the new offense pretty quickly.
So as the Aggies embark on their first season in the league, it seems fitting that the strength of their offense lies with the offensive line.
The unit returns 95 total starts among the group, 92 of which come from the quintet listed first on the depth chart at each position. The junior tandem of tackles
Luke Joeckel
and
Jake Matthews
is one of the nation's best and the Aggies also have tons of experience at center with
Patrick Lewis
, who has started 35 consecutive games.
The two guard spots will likely be filled by two from the trio of sophomore
Jarvis Harrison
, junior
Shep Klinke
and sophomore
Cedric Ogbuehi
, each of which also have starting experience.
But just because the group has plenty of playing time under its belt doesn't mean there hasn't been an adjustment period for the unit. Like the rest of the Aggies' offense, the linemen have had to become accustomed to playing at the high tempo that is the signature of coach Kevin Sumlin's and Kingsbury's offense.
"Spring was tough," offensive line coach B.J. Anderson said. "(Director of sports performance) Larry Jackson as y'all know, he's as good as there is. Coming out of the summer program as a staff, we're really pleased now with how they're executing the tempo. We've got to keep getting better, but for three days of insertion, we're pleased."
The biggest adjustment has arguably been for Lewis, a three-year starter from Reserve (La.) East St. John. The 6-foot-2, 312 Lewis has not just had to adjust to the tempo of the offense, but also additional responsibilities when it comes to calling protections.
Lewis said it has taken time, but he has gotten better with time and repetition.
"It's pretty difficult," Lewis said. "I have to make sure the points go out, make sure the running back knows who they're blocking, make sure the offensive line knows who we're working to and it's a big communication deal as far as making sure everybody knows who they're blocking. The fast tempo it all kind of gets to you. It's real mind-boggling at first but then you settle down, you get the hang of it and then it's a walk in the park."
The competition at guard will be worth keeping an eye on. It appears that Ogbuehi will figure in as the starting right guard, a spot where he started as a redshirt freshman in 2011. At left guard, Harrison and Klinke are battling, but Klinke had the benefit of 15 spring practices, while Harrison sat out with an injury. Sumlin said Klinke had "a solid spring" but that he's also happy to see the 6-4 Harrison back on the field during camp.
"Jarvis coming back adds some real mass and girth in there at 330 or whatever he is, but he's behind," Sumlin said. "You can tell the 15 practices that he missed in the spring, the other guys have moved on. And with a knee injury, and a guy that big, conditioning is always a factor. He's got to get to where he needs to be from a conditioning standpoint and from a mental standpoint so that he can play. We're working hard at that but I'm definitely glad to get him back."
Matthews said he and Joeckel pushed each other this summer.
"I love going against him," Matthews said of Joeckel, a first-team All-Big 12 selection last year. "I always want to work out with him, run with him, we're always pushing each other. So going against him is one of the biggest things that helped me these past few summers, especially this last one with coach Jackson and the emphasis on high tempo and always moving. He's just a guy, just a good buddy, a good guy to workout with and we both learn a lot from each other and he's beneficial to have."
There is also young talent waiting in the wings. Sophomore center
Ben Compton
will get to work at guard during fall camp and the three true freshmen:
Germain Ifedi
,
Mike Matthews
and
Kimo Tipoti
, are receiving praise from coaches and players alike.
"Germain, first of all, that guy's bigger than ever," Jake Matthews said. "He's huge. He's going to be a great player, he just needs to understand the game a little more, get to know the offense better. Kimo, him too, big guy, great feet, the main thing with all of them is just getting comfortable. They all just have to get used to this offense and realize what it takes to go at this tempo."
Mike Matthews, the younger brother of Jake Matthews, looks like he'll get the chance to be the team's backup center this season, according to Sumlin. With Lewis being a senior, Sumlin wants someone ready to step into that role next season.
"My feeling is, a year from now with Pat being gone ... that if (Mike Matthews) can handle it, I'd rather him travel and be the backup center and play in games and have three years to start as a center than have a brand new center next year who has never been in a game and do that," Sumlin said. "There's some people who would say that's crazy but I think if you start in the SEC for three years at his position, that's pretty d--- good."
July, 31, 2012
7/31/12
5:00
PM ET
As fall practice and the 2012 season approaches, GigEmNation will take a look at where the Aggies stand currently and in the future at each position group. Today, we glance at the offensive line:
Current starters: Jarvis Harrison, Luke Joeckel, Patrick Lewis, Jake Matthews, Cedric Ogbuehi
[+] Enlarge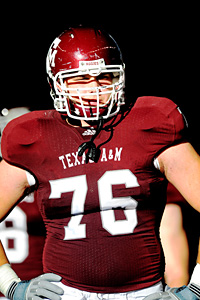 Mark J. Rebilas/US PRESSWIRETackle Luke Joeckel will anchor A&M's offensive line, which could be one of the best in the country.
This crop should be among the strongest starting offensive lines nationally, particularly at tackle with the combination of Joeckel and Matthews, a pair of future NFL draft picks. All five have starting experience and only one (Lewis) is a senior. The quintet has started a combined 92 games, with Lewis leading the way (35 consecutive starts). Ogbuehi had a good redshirt freshman season at right guard but missed some time because of injuries. Harrison started five games as a redshirt freshman last year, four of which came in place of an injured Ogbuehi.
To continue reading this article you must be an Insider
Weekend Recruiting Wrap: SEC - Dec. 2