Texas A&M Aggies:

Geno Smith
December, 30, 2013
12/30/13
9:00
AM ET
There's no more important position in football than quarterback, and in many cases, fans look at quarterbacks that got away and wonder what might have been had they come to their favorite school. Some schools passed on a quarterback because he evaluated poorly or another QB appeared more attractive. Others simply didn't have enough recruiting ammunition to land the recruit in the first place. Here's a look at six quarterbacks that got away.
[+] Enlarge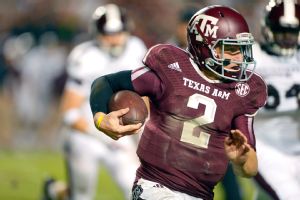 Thomas Campbell/USA TODAY SportsWhat might the offense at Oregon or Texas looked like with Johnny Manziel at the controls?
Teddy Bridgewater
Bridgewater had offers from Florida, LSU, Miami, Rutgers, USF and Tennessee when he was a senior coming out of Miami Northwestern. While there were notable programs after Bridgewater, it was hardly the amount of attention you would expect from the player who sits atop many NFL draft boards after a stellar career at Louisville. Some coaches will tell you Bridgewater's stock was lower coming out of high school because many expected him to land at Miami. He did commit to the Canes at one point, but eventually backed off that pledge and announced he was going to Louisville because of the opportunity for early playing time. "The toughest part of it was that I had to say that I wasn't going to the University of Miami," he said after selecting the Cards in 2011. "I told the coaches that I had to do what was best for me, and they understood that." It was a wise decision by Bridgewater and a miss that still haunts the Canes.
Robert Griffin III
Before he was RG III, he was a Houston commitment. Coming out of Copperas Cove, Texas, Griffin originally pledged to Art Briles when he was the coach at Houston. When Briles departed for Baylor, other schools like Kansas, Nebraska, Stanford, Oregon and Oregon State were in hot pursuit, but that was about it. He eventually followed Briles to Waco, and the rest is history. It's been pointed out a number of times that Texas passed on Griffin because it thought he was a defensive back, and A&M signed Tommy Dorman in that same 2008 class. Dorman played sparingly as a fullback and a tight end.
Kevin Hogan
What would Rutgers, Vanderbilt or Virginia been like had they been able to land Hogan? Hogan was a heavily recruited quarterback coming out of Washington (D.C.) Gonzaga in the 2011 class and his final five consisted of Rutgers, Vandy, UVa and the Cardinal. He decided to leave the East Coast and has settled in nicely on The Farm. Rutgers, Vandy and Virginia surely could have used Hogan this season, as they threw a combined 38 interceptions, while Hogan led the Cardinal to their second straight Pac-12 championship and Rose Bowl appearance.
[+] Enlarge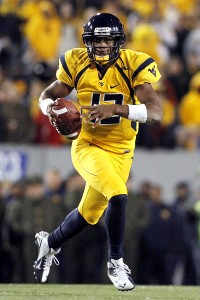 Justin K. Aller/Getty ImagesThe fortunes of two SEC teams might have changed drastically had Geno Smith not gone to West Virginia.
Collin Klein
Coming out of Loveland, Colo., Klein accepted the only scholarship offer he received. And despite a stellar high school career in football and basketball and a solid showing at the Nike Training Camp, the Wildcats were the only team to believe in him enough to offer. Klein went on to lead K-State to the Big 12 championship in 2012, finish second in the Heisman Trophy voting and win more than 20 games as a starter. At the same time, Colorado struggled at the quarterback spot, won only eight games in a three-year span and would have given anything to have an in-state star like Klein as its leader.
Johnny Manziel
You have to give credit to Oregon and Texas A&M, because they identified early on that Manziel had the goods to be a special quarterback. But they were about the only ones that did. Virtually every recruiting service had him as a three-star prospect and his offer sheet read more like a regionally recruited prospect, not a Heisman Trophy winner. Texas also had a chance to recruit Manziel, but the Horns saw him more as a defensive back prospect than a quarterback. Oregon had faith early in him, and it paid off with a commitment the summer after his junior season. He later flipped to the Aggies in September of his senior season.
Bryce Petty
Coming out of Midlothian, Texas, in the Class of 2009, Petty pledged to then-Tennessee coach Phillip Fulmer as a junior. When Fulmer was let go, Lane Kiffin thought Petty didn't fit what he wanted at quarterback, and Petty was left looking for a home two months before national signing day. Several teams showed interest in the talented young quarterback, including South Carolina, Nebraska and Oklahoma, but few had room. Virginia Tech and Baylor eventually offered Petty a grayshirt opportunity, and he took the Bears' offer. Surely a number of teams around the Big 12, or even the Hokies or Cornhuskers, would have loved to have Petty as their quarterback.
Geno Smith
Imagine Smith wearing an LSU or an Alabama uniform. It certainly was a possibility at one point in the recruiting process, as the Tigers and Tide were two of Smith's top teams coming out of Miramar (Fla.) High School. But after an official visit to West Virginia in November of his senior season, he was sold that West Virginia was the place for him. The Tide got their QB of the future in AJ McCarron in that same class and the Tigers hinged their hopes on highly recruited Russell Shepard. McCarron was the right choice for the Tide, but Shepard never developed as a quarterback and LSU had up-and-down play at the position for a number of years. Smith rewrote WVU's record books and is now an NFL starter.
August, 18, 2013
8/18/13
9:00
AM ET
In the middle of the whirlwind at SEC media days, before all of the autograph allegations, Texas A&M quarterback
Johnny Manziel
said something that in retrospect seems prescient.
While making a stop in one of the seemingly dozens of interview rooms, a reporter surmised that Manziel was tired of talking about his offseason and was simply ready to return to the football field. The reigning Heisman Trophy winner, cracked a smile and confirmed that assessment.
"Can't wait," he said. "No more talking off the field. All the talking's done on the field."
Interestingly, the mid-July media extravaganza in Hoover, Ala., is about the last day we've heard Manziel speak publicly, unless you count a handful posts to his Twitter account in the time between media day and the start of Texas A&M's preseason training camp on Aug. 5.
As the college football world has focused on Manziel's eventful offseason -- and most recently, news of an NCAA investigation into allegations that he profited from signing autographs -- Manziel has remained silent as he focuses on the 2013 season.
[+] Enlarge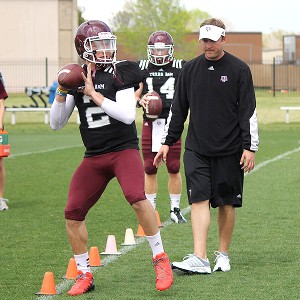 Sam Khan Jr./ESPNJohnny Manziel and Texas A&M quarterbacks coach Jake Spavital have worked on Manziel's pocket presence in the offseason.
What hasn't dominated the conversation when it comes to Manziel is what is in store for him on the field in his second season as the Aggies' starting quarterback. It was just more than a year ago that he was named the starter, winning a quarterback battle over
Jameill Showers
(now at UTEP),
Matt Joeckel
and
Matt Davis
.
So, how do you tell the Heisman Trophy winner to do better?
"All you have to do is watch video," Aggies coach Kevin Sumlin said.
What does the video reveal?
"You saw him progress as a quarterback as the year went on," quarterbacks coach Jake Spavital said. "Those first five games or so, he was just freelancing and doing his own thing."
Sumlin has noted several times in the past year that Manziel was a better quarterback in the second half of the season. His grasp of the offense and ability to throw downfield have improved.
The stats support that assessment. In the final six games, Manziel had a better completion percentage (73.4 percent, compared to 63.8 percent in the first seven), more yards per attempt (9.31 vs. 7.95), a better touchdown-to-interception ratio (12-to-3, compared with 14-to-6) and, as a result, a better passer rating (169.5 vs. 144.5 to 169.5).
The area in which he can make serious strides this year is his pocket presence.
"That's what we focused on throughout the spring because we know what Johnny can do when he's outside the pocket, running the ball," Spavital said. "I try not to let him scramble in practice and he gets frustrated at times and you'll see some pretty wild plays out there, but he's been staying in the pocket, going through his progressions, and I think it's making him a better pocket passer."
Sumlin said he has seen Manziel improve in several aspects of his game during the offseason.
"He continued to work at everything. In the classroom, understanding the whole picture, operational procedure, he's a lot better there," Sumlin said. "Mechanically, he's better. He understands some things. It's like playing golf. Once you understand the mechanics, you can kind of correct yourself when things aren't going right. I think he's worked very hard in the offseason to understand the mechanics and, really, the complete offense. I don't think there's one area that he has really concentrated on, I think he has worked on his total game."
The operational procedure that Sumlin speaks of, which simply is his ability to run the offense, is something Spavital noted that Manziel has down solid. Spavital said in the spring that Manziel is now able to get the play signal, operate and spend the rest of the time focusing on what the defense is showing.
In the first year of this Air Raid-style spread offense with its high pace of play, some of the basics were hardest to grasp early on. And that's not just for the quarterback, but all of the offensive players.
"I guarantee you Johnny vs. Florida -- I've never asked him about it -- I guarantee you he went out there and Kliff [Kingsbury] signaled in the play and he made sure the receivers knew what they were doing and made sure the back knew what he was doing and made sure the O-line knew what they were doing and then he just snapped the ball and ran the play," Spavital said. "Well, now, it's second nature to him and you signal the play to him and he just operates it and he can focus on the defense. He can change the play if he needs to and you don't get caught in as many bad plays because he's seen all the bad looks. He's learned his lessons from it. That's the way you get better in this offense; you learn from your mistakes."
Spavital has worked with several quarterbacks who have run this style of offense: Case Keenum at Houston, Brandon Weeden at Oklahoma State and
Geno Smith
at West Virginia. The common thread in all of them, he said, is that the second year running this offense is the year that the quarterback makes a significant step forward because everyone grasps the scheme better.
"It's the year that they go off," Spavital said.
Back at SEC media days, Manziel himself said he wants to be smarter about when he chooses to break the pocket and run.
"There were times where I'd take off running and you've got a guy running down the field on a post that you knew on Monday of the week that that route was going to be open if this coverage was this, this and this. And yet, pressure comes up and you need to step up in the pocket, but then I decide to run," Manziel said. "Maybe the play turns out to be a success, maybe it doesn't, but just making it easier on myself is the bigger thing.
"You can sit there and take a nice easy step, do everything, have your fundamentals and make the throw and let them walk in for a touchdown, or whatever the situation may be. But just continue to get better downfield and seeing the vision [is the key]. All that will come with the more playing time and the more time you're out on the field. I know from the Florida game to Oklahoma, it's a crazy amount of difference."
One thing that the coaches don't want to do, Spavital said, is make Manziel robotic.
"Johnny wants to be a better pocket passer," Spavital said. "You can see him progress as the year went on and he's going to keep getting better at it. The main thing is you don't want to handcuff him and you want Johnny to be Johnny. His ability to scramble and make plays and get out of the pocket is the reason why he won the Heisman. You want to just keep working on the little things and get him to be a better passer, but at the same time you just want that kid to keep balling the way he is."
April, 2, 2013
4/02/13
8:00
AM ET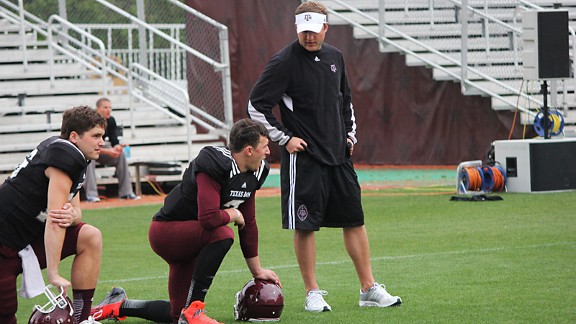 Sam Khan Jr./ESPNTexas A&M quarterbacks coach and co-offensive coordinator Jake Spavital tutored Geno Smith at West Virginia.
COLLEGE STATION, Texas -- As college football's first freshman Heisman Trophy winner, Texas A&M quarterback
Johnny Manziel
has navigated uncharted territory since accepting the sport's most prestigious individual award in December.
His new position coach, Jake Spavital, is also breaking ground.
Texas A&M's co-offensive coordinator and quarterbacks coach is facing first-time challenges, and has been handed the task of tutoring a sophomore Heisman winner while also being one of three new additions to the staff of a likely preseason top-10 team.
Fortunately for the Aggies, the man who will guide Johnny Football in year two might be as prepared as anybody could be for the challenge.
[+] Enlarge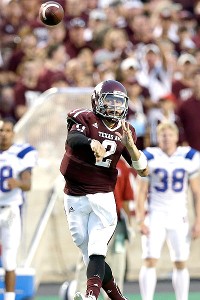 AP Photo/David J. PhillipAggies signal-caller Johnny Manziel said he has enjoyed working with new quarterbacks coach Jake Spavital this spring.
There are a few things working in Spavital's favor as he settles into his new role in Aggieland. He has a strong friendship with Manziel's previous tutor, the Aggies' former offensive coordinator and quarterbacks coach,
Kliff Kingsbury
. Spavital has his own strong coaching pedigree, coming from a family of football coaches that combines for several decades of football coaching experience. He has a great understanding of the quarterback position because he played it in college. And the list of quarterbacks Spavital has already worked with is impressive.
All of that has played a role in the 27-year-old's rise up the coaching ladder, which has put him in this unique position.
A former college quarterback at Missouri State, Spavital had no doubt he wanted to coach football. His grandfather, the late Jim Spavital, was an All-American at Oklahoma A&M [which is now Oklahoma State] and coached at multiple levels, including collegiately and professionally in the NFL, CFL and the World League. Jake's father, Steve Spavital, is a longtime high school coach who currently heads the program at Broken Arrow (Okla.) High School. His brother Zac is the defensive backs coach and recruiting coordinator at Houston.
Steve remembers young Jake idolizing his grandfather and scripting his own plays in grade school.
Three Aggies Arrested After Traffic Stop
SEC SCOREBOARD
Thursday, 8/28
Saturday, 8/30
Sunday, 8/31