Texas A&M Aggies:

Gators-Aggies-090812
September, 9, 2012
9/09/12
12:00
AM ET
COLLEGE STATION, Texas -- It's the age of Twitter, and you want to boil these new Texas A&M Aggies down to 140 characters. You want to say something pithy and martini-dry, pull out your snark. New league but not a new result.
Texas A&M led Florida by 10 points, 17-7, and lost, 20-17, just as it did five times last season.
Go ahead, hit send, and move on. But you didn't just miss the point. You never saw it. At the end of the first Saturday of the rest of Texas A&M's athletic life, the result of the game didn't matter much at all. They held a coronation on this Texas flatland, a celebration of what this university has become.
If you will pardon the expression in this red-leaning state, the move to the Southeastern Conference is change the Aggies can believe in.
History tells us that change is not something this campus handles well. In the span of Dr. Robert L. Walker's adult life, Texas A&M has changed from an all-male, all-white military institution into a coeducational, multiracial university respected for its research. Walker, the university's senior executive for development, graduated from A&M in 1958, four years before women enrolled.
"Students thought of this as a place where plowing farmers came," Walker said, "and marching soldiers."
They didn't want women. They didn't want students of color. They didn't want women in the corps. When that happened a generation ago, some of the male cadets would put raccoons and armadillos in the female cadets' dorm rooms at night.
But the university adjusted. Billy Pickard arrived on this campus as a student on June 1, 1952, the day after he graduated from high school in San Antonio. After his college graduation, he returned as a trainer for coach Gene Stallings nearly a half-century ago and never left.
For Ivan Maisel's full column, click
here
.
September, 8, 2012
9/08/12
11:59
PM ET
COLLEGE STATION, Texas -- There were two distinctly SEC elements to Florida's 20-17 victory over Texas A&M on this historic Saturday deep in the heart of Texas.
The atmosphere, passion and pageantry were off-the-charts good. We're talking Baton Rouge, La., good; Tuscaloosa, Ala., good; and Athens, Ga., good.
The Aggies are going to fit right in.
Unfortunately for them, though, they also got a taste on the field of what lies at the core of SEC football, particularly in the second half.
"It's smash-mouth football, winning the line of scrimmage and getting it done in the fourth quarter," said Florida junior offensive guard Jon Halapio, reciting the second part of what made Saturday's game a vintage SEC affair.
It wasn't always pretty and teetered on being boring in spots, but was yet another reminder that grinding it out is a way of life in this league.
The Aggies will learn. They are well-coached and have the personnel to play with most of the teams in this league. In fact, they were clearly the better team in the first half Saturday and the team that dictated the tempo.
But the Gators were successful in turning it into more of a scrum in the second half, and they already had endured all the lessons they could stomach last season about being physical and playing for 60 minutes.
For Chris Low's full column, click
here
.
September, 8, 2012
9/08/12
9:01
PM ET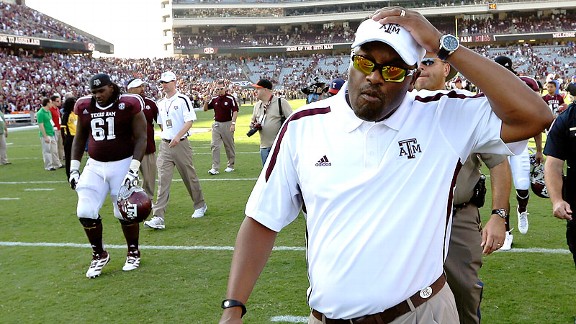 AP Photo/David J. PhillipTexas A&M's Kevin Sumlin walks off the field after losing in his Texas A&M and Southeastern Conference head coaching debut.
COLLEGE STATION, Texas -- One of the biggest on-field changes for this year's Texas A&M squad is the installation of head coach Kevin Sumlin's and offensive coordinator Kliff Kingsbury's up-tempo, wide-open, high-powered offense.
In the first half of the Aggies' season-opening loss to no. 24 Florida before 87,114 on Saturday at Kyle Field, the transition appeared smooth. The offense ran efficiently, redshirt freshman quarterback
Johnny Manziel
appeared confident and fearless, the pace was accelerated and the Gators had issues trying to stop the Aggies, who displayed a good mix of run and pass.
But in the final two quarters, things changed. Three-and-outs became the norm, rather than the exception, the running game became unproductive and Manziel -- who made several plays with his legs in the first half -- was bottled up. The final result looked like many the Aggies had last year, when they surrendered six games that they led by double-digits, even if it was arrived at in a different fashion.
After rolling to 269 yards and 17 points in the first half, the Aggies managed just 65 yards and zero points in the second half. Their final six drives ended in punts, and their final seven didn't yield points. And after going 4-for-8 on third downs in the first half, the Aggies went 0-for-6 in that department in the second.
[+] Enlarge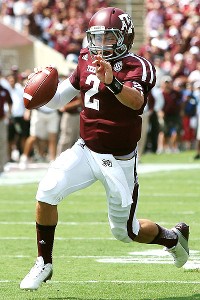 Cal Sport Media via AP ImagesAggies quarterback Johnny Manziel scrambles out of the pocket during the first quarter. He was Texas A&M's leading rusher with 60 yards on Saturday.
Manziel, the Kerrville (Texas) Tivy product who won the starting job during fall camp, had his ups and downs in his debut. He was accurate for the most part (23-of-30, 173 yards), he was a threat on the ground (17 carries, 60 yards) and he took care of the football (no interceptions or fumbles).
But part of what ailed the Aggies on Saturday was their inability to throw the ball downfield and make the kind of big plays that were a signature of Sumlin's and Kingsbury's offense at Houston, where they directed the No. 1 offense in the country last year, one that averaged 599 yards per game, albeit behind a quarterback much more experienced than Manziel (sixth-year senior Case Keenum).
On Saturday, the Aggies had just three plays of 20 yards or more. Sumlin said there were several factors that contributed to that.
"Protection-wise we had some breakdowns late in the game," Sumlin said. "Johnny took off running a couple of times ... . As you look at it, every play is not designed to be a short pass. We have routes in there that take advantage of certain coverages. We got a lot of two-high-safety (looks) early in the game, and that's when we were able to run the ball a lot better.
"We've got to be able to do some things offensively and change up some reads for the quarterback also. There are things that we got to in the play call, we just didn't get them executed on the field."
And while the perception is often the offense is all-pass all-the-time, it requires an effective run game, and Sumlin stated throughout the preseason his intention to run the football. That was present in the first half on Saturday, not so much in the second. The Aggies collected 101 rushing yards in the first two quarters and just 33 in the final two. Manziel was the leading rusher on the day, while Florida held the Aggies' running back trio --
Christine Michael
,
Ben Malena
and
Trey Williams
-- in check.
"They're pretty good," Kingsbury said. "You've got to give their D-line credit. Not many people throughout last year and this year have been able to run the ball against them. We just weren't able to get it going."
After running 47 plays in the first half and collecting 18 first downs, the Aggies managed just 23 in the second and three first downs, the final two of which didn't come until their final offensive drive. Sumlin also pointed to penalties -- the Aggies committed nine for 78 yards -- as an issue for the team as a whole. Senior receiver
Ryan Swope
, who broke school records in catches and receiving yards last season and is expected to be a go-to guy in this offense, was held to just 16 yards on five catches.
"They were fast and they were a good defense," Swope said. "I tip my hat to those guys. We just have to take a look at the film and try to improve on it."
Defensively, the Aggies had a rough first drive but were effective in many areas. They put ample pressure on quarterback
Jeff Driskel
, sacking him eight times, and forced the Gators to punt on four of their first six possessions of the second half, keeping the team in the game as the offense tried to find its footing.
According to the players, there is much room for improvement on defense amidst the penalties and lack of turnovers.
"We missed too many tackles," senior linebacker
Sean Porter
said. "I don't think we played that well. We missed too many tackles, missed too many opportunities, blew too many assignments and lost the game."
It wasn't the Southeastern Conference debut the Aggies were looking for, and for some the end result felt a little too similar to the heartbreaking defeats they suffered last year.
"I'm really tired of losing games and talking about what should have happened and what we should have done," Porter said. "Whatever it is, we need to figure out what we need to do to win games, because this ain't going to do it."
September, 8, 2012
9/08/12
4:26
PM ET
COLLEGE STATION, Texas -- Through a half, Texas A&M has made an impressive Southeastern Conference debut, taking a touchdown lead over the Florida Gators at the half.
Kevin Sumlin's Aggies have moved the ball consistently and struggled on their first defensive drive, but have done better since the first few minutes by generating pressure on quarterback
Jeff Driskel
.


Stat of the half
: It's easy to point to yards -- the Aggies gained a whopping 269 offensive yards in the first half to Florida's 101 -- but the real story is the number of plays. The up-tempo pace that Texas A&M runs under Sumlin and offensive coordinator Kliff Kingsbury yielded 47 offensive plays to Florida's 27. Texas A&M moved the chains consistently, with each of their first three drives consisting of double-digit plays and yielding scores. At this pace, the Aggies will run 94 plays.
Player of the half
: Quarterback
Johnny Manziel
. The redshirt freshman, who is making his first career start and first career appearance, has showed almost no first-game jitters. He's been efficient in the passing game (16-of-20, 141 yards) and has been dangerous with his legs, using his speed and agility to gain 41 yards on nine carries, including an 11-yard touchdown run that gave the Aggies a second-quarter lead. He appears to have a tremendous feel for the game and though he has made a few mistakes, none have been of the major variety that have costed the Aggies.
What's working for the Aggies
: Tempo and balance has been key so far for Texas A&M. They've kept Florida's defense on its toes with a good mix of run and pass and all three running backs --
Christine Michael
,
Ben Malena
and
Trey Williams
-- have contributed, combining for 60 rushing yards and 55 receiving yards.
What's not working for the Aggies
: The deep ball. Texas A&M has completed a lot of short passes but hasn't been able to get a lot of good looks downfield. The longest pass play was a screen pass to Williams, where he did most of the work to get 28 yards. Manziel almost connected with
Mike Evans
for a big pass play late in the half, but he was out of bounds. You figure the Aggies will have to stretch the field at some point in the second half.
What Texas A&M needs to do to win
: Continue to pressure Driskel. The Aggies have done a good job defensively of generating pressure, led by defensive end
Damontre Moore
's 2.5 sacks. Driskel has been perfect when he has gotten the ball away, going 6-of-6 for 85 yards. The Aggies will have to disrupt that to keep the Gators from matching them on the scoreboard.
September, 8, 2012
9/08/12
2:35
PM ET
COLLEGE STATION, Texas -- While all eyes will be on the two quarterbacks Saturday and how they fare in their first outing as starters, a bigger key will be how well the players around them play.
That was more or less Texas A&M coach Kevin Sumlin's message to his redshirt freshman,
Johnny Manziel
, who does have a gunslinger side to him. Hence the nickname Johnny Football.
But what Sumlin wants him to do, especially in this game, is to use the people around him. Get the ball to
Ryan Swope
. Lean on
Christine Michael
. Let that veteran offensive line do its job.
It's much the same deal for Florida's
Jeff Driskel
, who's making his first start as the Gators' quarterback.
For all the talk about what Florida's quarterbacks haven't done the past couple of years, they haven't gotten a lot of help from their receivers, either. They need more plays similar to the one
Frankie Hammond
turned in last week, where somebody gathers in a short pass and turns it into a 50-yard play.
Where this Florida offense has a chance to be different than last season is at running back.
Mike Gillislee
appears to be that workhorse that can get it done between the tackles and also break some big plays.
The two quarterbacks will indeed be on center stage Saturday at Kyle Field. But their supporting casts will decide the game.
September, 8, 2012
9/08/12
1:31
PM ET
COLLEGE STATION, Texas -- I stepped off the press box elevator at Kyle Field on Saturday morning, and there stood Larry Templeton and Charlie Hussey from the SEC.


"Imagine seeing you here," Templeton joked.
My response: "What the heck are we doing in Texas?"
That's right, genuine SEC football deep in the heart of Texas.
Establishing a foothold in the state of Texas has long been something the SEC has desired.
It becomes reality later Saturday afternoon when No. 24 Florida takes on Texas A&M in the Aggies' first-ever SEC game.
This place has a distinct SEC feel to it, from the size of the stadium, to the passion of the fans, to the way the town -- which isn't real close to anything -- turns into a sea of maroon on fall Saturdays.
You gotta love the traditions here, too.
The Midnight Yell on Friday night was as festive as ever, as about 40,000 people packed the East side at Kyle Field to warm up their vocal cords.
The 12
th
Man here is as much a tradition as tailgating at The Grove before Ole Miss games, Mike the Tiger being paraded around at Tiger Stadium and Uga patrolling the sidelines at Sanford Stadium.
Don't look for any cheerleaders here. They're called Yell Leaders, five students elected by the student body. Their job is to fire up the crowd, and they do it well.
With or without Yell Leaders, this place was already going to be raucous Saturday.
Hot, too. The temperature at kickoff is supposed to be right around 90 degrees, although there's a strong breeze. Winds are gusting up to 20 miles per hour.
2015 Spring Football Tour: Texas A&M
SEC SCOREBOARD
Thursday, 9/3
Saturday, 9/5