Texas A&M Aggies:

E.J. Gaines
November, 29, 2013
Nov 29
11:30
AM ET
Early this week, the Chick-Fil-A Bowl sent out a news release to media members indicating that a representative of the game would be present at Kyle Field to watch Missouri and Texas A&M.
The only problem with that? The game's at Faurot Field, home of Missouri.
You can forgive the mistake, especially considering how the schedule has shaken out in recent years. The Tigers had to make three consecutive trips to College Station the last three seasons. The last time the Aggies made the trek up to Columbia, Mo., was in 2007.
Needless to say, it's been awhile.
"I'm glad finally for once [we get to play at home]," Missouri coach Gary Pinkel said. "Last year they whipped us pretty good. It's nice to be home here, and I think it's great for our fans also."
[+] Enlarge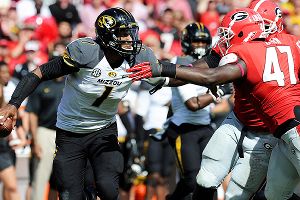 Dale Zanine/USA TODAY SportsJames Franklin will lead his fellow seniors into Memorial Stadium for the final time on Saturday vs. Texas A&M.
The last time these teams met they were in different places. Missouri was closing out a disappointing 5-7 season, one marred by numerous injuries. The Tigers served as a sacrificial lambs to the Aggies, who were putting the finishing touches on a smashing first season of SEC success (11-2) and
Johnny Manziel
's Heisman Trophy campaign, as he solidified his candidacy with a strong performance in the 2012 regular season finale.
This season, the stakes are higher and in a way, the roles are reversed. Fifth-ranked Missouri (10-1) can earn a berth in the SEC championship game and clinch the outright SEC East Division title with a win on Saturday night. The No. 21 Aggies (8-3) haven't endured struggles anywhere close to the level Missouri did last season, but this season hasn't quite lived up to some of the lofty preseason expectations.
Last year at this time, it was a raucous Kyle Field that served as the setting. This year, it'll be an expected capacity crowd at Memorial Stadium, complete with a stadium "blackout" (the Tigers are wearing all black and asked fans to don the color also) and senior night for the Tigers.
"I think it's going to be very emotional," Missouri senior defensive back
E.J. Gaines
said Monday. "A lot of these guys are close and it's a brotherhood in this senior class that is coming through. It's definitely going to be emotional, but we want the win as well."
However, the Aggies didn't have something as big as the Tigers have on the line. There's excitement that comes with Missouri's chances of punching a ticket to Atlanta, but it certainly can add a little pressure as well.
"I am sure there is a little bit, but we just need to try our best and not think about it," senior quarterback
James Franklin
said. "We need to focus on playing football, and doing what we have done well all season. Hopefully, we won't let the outside stuff affect us."
The Aggies really have no pressure at this point. They're simply trying to pick themselves up off the mat after taking a 34-10 beating at LSU last week and really had little time to lick their wounds because for the second straight week, it's a road game against a ranked opponent.
Texas A&M coach Kevin Sumlin isn't surprised with the Tigers' success.
"I was more shocked last year about how they were from a record standpoint," Sumlin said. "Gary Pinkel has a track record of winning and winning division championships and having double-digit [win] seasons and competing at a high level. I didn't see that changing. Is it a surprise to me? No."
Pinkel feels good about how his team has approached each game this season and feels like the Tigers will be able to approach Saturday the same way with everything hanging in the balance.
"What we've done here in terms of playing this year and stuck to this if you ask our seniors, it doesn't matter where we play or who we play, it matters how we play," Pinkel said. "I think they're aware of the fact that we have a share of the [division] title and to get to the championship game you have to win this game. They're very well aware of that obviously. You're focus now is on playing your best game.
"I don't really look it as pressure, I look at it as an opportunity. You want to be in this position every single year. I look at it as, 'Let's have a fun experience competing and try to win that championship.'"
November, 1, 2013
Nov 1
12:00
PM ET
We're 24 hours away from opening kick in Week 10, so let's take one last look around the SEC in Friday's edition of the lunch links.
September, 30, 2013
Sep 30
11:00
AM ET
Anybody hot … or not?
It's that time again as we review the week that was in the SEC.
GLOWING EMBERS
Alabama's intel:
Alabama's defense was already fired up thanks to what the Tide perceived as smack talk by some of the Ole Miss players leading up to the game. Let's face it: There's a fine line sometimes between a player answering a question honestly and his comments mushrooming into full-blown bulletin board material. Either way, the Alabama defense was amped by some of the things Ole Miss quarterback
Bo Wallace
was quoted as saying earlier in the week, even though what Wallace said was pretty tame. We're not exactly talking about any "Archie who?" banter here. But where the Crimson Tide really stuck it to the Rebels was with a little inside intel thanks to Tyler Siskey, Alabama's assistant director of football operations. Siskey was on the Ole Miss staff last season as director of recruiting development. He was in the Alabama coaches' booth for the game with a set of binoculars, and even though Ole Miss changed up its signals, there weren't many times that the Tide were fooled by what the Rebels were doing offensively. As ESPN analyst Todd Blackledge noted during the broadcast, Siskey's knowledge of the Ole Miss offense was a big asset to an already imposing Alabama defense in its preparation for the game. The Tide might not have had the Rebels' signals, but they were sure locked in to the Rebels' tendencies on offense and played lights-out in shutting out a Hugh Freeze-coached team for the first time in his college career.
[+] Enlarge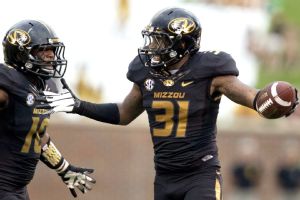 Shane Keyser/Kansas City Star via Getty ImagesCB E.J. Gaines (31) leads Missouri in interceptions and solo tackles.
HOT
Missouri cornerback E.J. Gaines:
When you start reeling off the top cornerbacks in this league, don't forget about Gaines. He's off to a terrific start to the season. In the 41-19 win over Arkansas State, he had nine total tackles, including one for loss, and his third interception of the season to set up Missouri's final touchdown. Gaines is more than just a cover guy. He leads the Tigers with 19 solo tackles.
NOT
LSU's defense:
The Tigers have a way to go defensively. When you lose as many good defensive players early to the NFL draft as they have over the last couple of years, that kind of talent drain has a way of catching up with even the best defenses. Veteran coordinator John Chavis knew this defense would be a work in progress, but seeing all the blown coverages in the 44-41 loss at Georgia and wide-open receivers running free in the LSU secondary was difficult for anybody on that LSU staff to stomach.
HOT
Georgia quarterback Aaron Murray:
So much for the "can't win the big game" label. Murray has been fabulous in Georgia's two wins over top-10 teams this season, with eight touchdown passes and just one interception. There's no substitute for his experience, and it shows in the way he's carving apart defenses right now.
NOT
SEC defenses:
Only one SEC team (Florida at No. 2) is ranked in the top 10 nationally in total defense this week. For that matter, only two are ranked in the top 20. Mississippi State is 20th. In scoring defense, Alabama is still among the national leaders at No. 13. The offenses have taken center stage this season in the SEC, and suddenly the defenses are trying to catch up. Keep in mind, too, that six of the seven national champions during the SEC's streak have finished in the top 10 nationally in total defense.
HOT
South Carolina running back Mike Davis:
He's the SEC's rushing leader heading into the month of October and seemingly gets better every week. He carried the Gamecocks in the 28-25 win over UCF after
Connor Shaw
went down, and finished with a career-high 167 yards and three touchdowns. He has had a run of 50 yards or longer in three of his four games.
NOT
Schedule balance:
Talk about a contrast in October schedules. Alabama doesn't play anyone that should come within 20 points of the Crimson Tide (and that's being kind) until LSU comes to town on Nov. 9. Arkansas, meanwhile, has Florida, South Carolina and Alabama over the next three weeks, and Florida and Alabama are on the road. Tennessee gets Georgia, South Carolina and Alabama in October. Ole Miss also has a tough October stretch that will go a long way toward shaping the Rebels' season. They travel to Auburn this weekend and then come back home for back-to-back games against Texas A&M and LSU. Georgia gets a little bit of a break, although the Bulldogs do have to go on the road to face both Tennessee and Vanderbilt in October. Given their September gantlet (three top-10 opponents), nothing should seem too daunting the rest of the way.
FREEZER BURN
Staying healthy:
Geez, what a bad week on the injury front for a handful of SEC teams and players. Florida was already reeling after losing starting quarterback
Jeff Driskel
to a season-ending injury two weeks ago against Tennessee. And then last week in practice, star defensive tackle
Dominique Easley
was lost for the season with a torn ACL. Easley was playing as well as any defensive lineman in the league. This past weekend, we saw South Carolina quarterback Shaw go down with a right (throwing) shoulder sprain that will sideline him for two to three weeks. Alabama will be without starting center
Ryan Kelly
for two to three weeks after he suffered an MCL injury to his knee, and Georgia running back
Todd Gurley
injured his ankle in the win over LSU. Georgia coach Mark Richt said Gurley would be "day-to-day" in preparation for Saturday's game at Tennessee and wouldn't need any kind of surgery. The Bulldogs played the final three quarters without Gurley. Texas A&M defensive tackle
Kirby Ennis
had to leave the Arkansas game with a left knee injury. Depending on the severity of Ennis' injury, he will have some extra time to recover. The Aggies are off this week before traveling to Ole Miss on Oct. 12.
August, 13, 2013
Aug 13
11:15
AM ET
We're less than three weeks from the first college football games of the season, but there is still plenty of lineup shuffling occurring at some SEC schools. Take a look below.
Weekend Recruiting Wrap: SEC - Dec. 2