Texas A&M Aggies:

Drew Barker
April, 30, 2014
4/30/14
11:30
AM ET
Answers rarely come in abundance in the spring. Football answers anyway.
In the SEC, spring practice has come and gone again this year. And as usual, there are things we think we know and really don't. There are things we're sweating and probably shouldn't be. And then there are those things that sort of have a way of burying themselves until the real lights come on in the fall.
"I don't know of many championships that have been won in the spring," said Steve Spurrier, who won six SEC titles at Florida and is still pushing to win one at South Carolina. "You find out some things about your team, but there's a lot you don't know."
What is known, at least in the realm of SEC football, is that this is the first time since 2006 that the league has exited a spring without one of its schools being the defending national champion.
Florida went on to win it all during the 2006 season, igniting a streak of seven straight national championships for the SEC -- a streak that was broken in January when Florida State rallied to beat Auburn in the final seconds at the Rose Bowl.
[+] Enlarge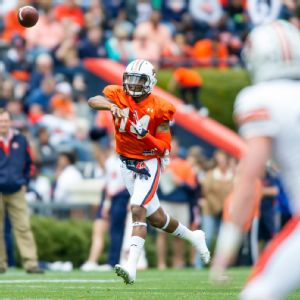 Michael Chang/Getty ImagesNick Marshall wasn't even on Auburn's campus last spring. Now he might be the best quarterback in the SEC.
Auburn is as good a pick as any from the SEC to rejoin the national championship equation this fall, and a big reason why is a quarterback nobody knew much about this time a year ago on the Plains.
Nick Marshall
wasn't even on campus for spring practice last year; he was finishing up junior college. But he was easily one of the most improved players in college football last season with his exceptional athletic ability and knack for making the big play.
Now, with a spring practice under his belt and an entire season in Gus Malzahn's offense, Marshall figures to be much more in 2014 than simply a dynamic athlete and adequate passer.
He might be the best quarterback in this league.
"I think the big thing is just being more comfortable," Malzahn said. "You can see him in the pocket. He's just more under control. His balance is good. His eyes and his progression are good, so you can tell he's really improved."
So whereas there are zero questions surrounding who will play quarterback at Auburn, the Tigers' Iron Bowl rival, Alabama, went the entire first half of its spring game without scoring a touchdown.
Granted, sometimes the real mission in a spring game is not to show too much or get anybody hurt. But there was no hiding the Alabama quarterbacks' struggles in that game, nor the fact that the guy who's probably the favorite to win the job -- Florida State transfer
Jacob Coker
-- was a spectator at the game. Coker will be on campus next month.
The quarterback position, period, was loaded in the SEC last season, and several coaches agree that some of the defensive numbers that skyrocketed a year ago may come back down to normalcy next season.
At least six schools -- Alabama, Kentucky, LSU, Tennessee, Texas A&M and Vanderbilt -- head into the summer with their quarterback situations not completely settled.
And at five of those schools, there's a decent chance a true freshman or redshirt freshman could end up winning the job or at least sharing the duties in the fall.
At Kentucky, true freshman
Drew Barker
is making a bid for the job. True freshman
Brandon Harris
had a big spring at LSU, while redshirt freshman
Riley Ferguson
is right in the mix at Tennessee, as is redshirt freshman
Johnny McCrary
at Vanderbilt.
At Texas A&M, true freshman
Kyle Allen
is competing with sophomore
Kenny Hill
for the starting job, although Hill ended the spring indefinitely suspended per athletic department policy after being arrested and charged with public intoxication.
So talk about the great unknown.
Then again, wasn't it just two springs ago that some guy named
Johnny Manziel
was coming off an arrest of his own and was nothing more than one of the four candidates to replace Ryan Tannehill as the Aggies' starter?
Things can obviously change pretty dramatically come fall.
[+] Enlarge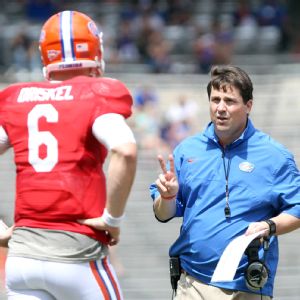 Kim Klement/USA TODAY SportsQuarterback Jeff Driskel and coach Will Muschamp have a lot of pressure to prove Florida's 2013 season was not a sign of things to come.
For Florida and Will Muschamp, they need to change. The Gators, coming off their worst season since 1979, are determined to show that last season's 4-8 finish was nothing more than an embarrassing hiccup and not a sign that the program is spiraling downward.
Muschamp, with the pressure squarely on, feels much better about his offense coming out of the spring. He hired Kurt Roper away from Duke to run the offense, and quarterback
Jeff Driskel
is healthy again and back to his comfort zone under Roper.
Driskel's supporting cast, including the offensive line, needs to be better, but there's no question Roper will play to Driskel's strengths next season.
"We're going to bounce back," Driskel said. "Sometimes, you need things like [the 2013 season] just to realize where you need to be. You can tell that everybody's humble, everybody's ready, everybody's a team guy, everybody's a team player.
"I'm really looking forward to it. It should be fun."
Unpredictable, too.
Sort of like how everybody had Missouri winning the East and Auburn winning the West leaving the spring a year ago -- a pair of teams that won two league games between them the season before.
"The more you're around this league, the more you realize how small that margin is between being a team that's pretty good and a team that wins a championship," said
Dylan Thompson
, South Carolina's fifth-year senior quarterback.
"You have to approach every game with the same amount of focus, which is easier said than done. It's a constant battle, but you have to stay focused the whole ride."
April, 17, 2014
4/17/14
2:30
PM ET
Kentucky and Texas A&M both lost quarterbacks Wednesday, which means the race for their starting jobs is down to two.

Jalen Whitlow
is leaving Kentucky, and
Matt Joeckel
is leaving Texas A&M. Now, the reality might be that neither one of those guys was going to win the job. But in both cases, the Wildcats and Aggies are going to put a quarterback on the field in the fall who has very little experience.
They're hardly the only ones in that boat in the SEC.
Only three teams in the league are bringing back an established quarterback who started all or most of the season a year ago. Auburn returns
Nick Marshall
, while
Dak Prescott
is back at Mississippi State and
Bo Wallace
at Ole Miss. Fifth-year senior
Dylan Thompson
returns at South Carolina, but most of his work to this point has been coming off the bench in relief, although he did have the memorable performance against Clemson two years ago in a start when
Connor Shaw
was injured and couldn't play.
The bottom line: There aren't a ton of rock-solid quarterback situations in the SEC as we exit the spring.
Your homework assignment (the fans) is telling us who has the most precarious quarterback situation heading into the 2014 season. So go vote in our SportsNation poll, and we'll unveil the results in the next few days.
Obviously, the landscape can change pretty dramatically. Did anybody really know what Texas A&M had at quarterback with
Johnny Manziel
entering the 2012 season?
The five schools we've come up with as candidates all have some major question marks.
At Kentucky, sophomore
Patrick Towles
and true freshman
Drew Barker
are now battling it out. And at Texas A&M, it's down to a redshirt freshman (
Kenny Hill
) and a true freshman (
Kyle Allen
). Hill has already been in
trouble this offseason
, too.
Brandon Allen
is the guy at Arkansas, but struggled through an injury-marred season a year ago. The Hogs finished last in the SEC in passing offense.
True freshman
Brandon Harris
outplayed sophomore
Anthony Jennings
in LSU's spring game, so this summer and the preseason should be quite interesting on the Bayou.
And at Alabama, the Crimson Tide's starter for the 2014 season might well be attending classes at another school.
Jacob Coker
is transferring from Florida State and won't be on Alabama's campus until he graduates from FSU in May. Fifth-year senior
Blake Sims
has taken the lead this spring in the Tide's quarterback derby as he adjusts to Lane Kiffin's pro-style offense, but will have to hold off Coker. Whoever wins the job at Alabama will have very little, if any, meaningful game experience.
April, 4, 2014
4/04/14
10:00
AM ET
Brandon Allen
.
Nick Marshall
.
Bo Wallace
.
That's it. That's the list.
Only three quarterbacks who started double-digit games last season return to the SEC this fall, and one of them isn't even guaranteed to be a starter.
[+] Enlarge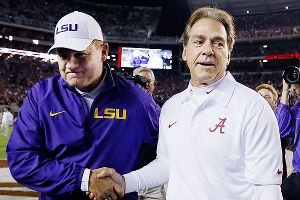 Kevin C. Cox/Getty ImagesLes Miles and Nick Saban are in no hurry to name their starting QBs for the fall.
Everywhere you turn in this league, there's a quarterback competition underway, from Alabama to Georgia, Arkansas to Kentucky, LSU to Texas A&M.
Maty Mauk
is surely the presumptive starter at Missouri, but even he's not a sure thing. Gary Pinkel says he wants competition, never mind that there were times when Mauk looked better than former starter
James Franklin
.
But not every coach in the SEC approaches the quarterback position the same way. A quick glance across the league shows a variety of opinions about how to pick a starter.
Mark Stoops is the most urgent-minded coach of the bunch, and given the inconsistency Kentucky had at quarterback last season, it's easy to understand why. Entering his second season, Stoops said: "I'd love to come out of spring with a clear-cut starter." That means everyone is in the mix.
Maxwell Smith
can't practice while he recovers from shoulder surgery, but
Jalen Whitlow
,
Reese Phillips
,
Patrick Towles
and even true freshman
Drew Barker
are in the hunt.
Barker, a four-star prospect according to ESPN, "has a very good opportunity to take control of it," Stoops said, praising his maturity for such a young quarterback.
"He's a guy [who] has high expectations [for] himself, and he's OK with the pressure that comes along with playing that position," Stoops said. "He's excited about the opportunity, and I'm excited to see what he can do."
Bret Bielema isn't outwardly putting a timetable on anything at Arkansas, but he's encouraging everyone to compete. Allen started 11 games last season but was up and down, with 13 touchdowns and 10 interceptions.
Bielema was about as no-nonsense as any coach gets about the situation.
"In theory, the first time we yell out for the [first string, Allen is] going to step out there," Bielema said before the start of spring practice. "But really, in our program, the competition brings the best out of people.
"So B.A. is going to be the first guy in with the ones, but there will be other guys who get opportunity," he continued. "Who is able to produce and run the offense effectively and who gives us the best chance to win next year's opener against Auburn will be at that position."
Similar to the case at Kentucky, Bielema isn't counting out his true freshman.
Rafe Peavey
, another highly-regarded four-star prospect, is going to be allowed to sink or swim. Bielema loves his talent and praised him as a "football junkie." But he's not pampering the rookie.
"It's no different between the right tackle or the quarterback or the safety," Bielema said. "It's all about what a freshman can handle, how they adjust to adversity and how they enjoy success.
"The quarterback gets a lot of attention. They're usually really pretty, really smart, and everybody likes them. But in reality, they're like everybody else. Those that play well will play and those that don't will sit."
While Bielema and Stoops are anxious for a battle, other coaches around the league are more inclined to sit back and wait.
[+] Enlarge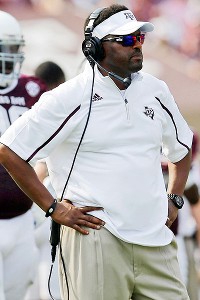 AP Photo/David J. PhillipWho will replace Johnny Manziel as Texas A&M's QB? Kevin Sumlin isn't saying anything right now.
LSU coach Les Miles said he has a good sense of the competition between
Anthony Jennings
and
Brandon Harris
. "But it always plays out," he said, harkening back to when Matt Flynn and JaMarcus Russell duked it out eight years ago. It looked like Flynn had the job in hand after winning a bowl game and watching Russell come into camp out of shape in 2006. But Flynn's body faltered down the stretch and Russell kept going, eventually winning the job.
"I want all the quarterbacks to know that it's going to be given to no one," Miles said. "[It's] earned by the one that plays."
Texas A&M and Alabama are taking similar approaches to replacing
Johnny Manziel
and
AJ McCarron
. In fact, both Kevin Sumlin and Nick Saban are somewhat defiant about holding the cards close to the vest.
Sumlin has gloated before that when people assumed
Jameill Showers
would beat out Manziel in 2013, "I didn't name a starter [after spring]; y'all did."
So while we watch
Matt Joeckel
,
Kenny Hill
and
Kyle Allen
jockey for position, don't expect a starter to be named until close to the season.
Saban, for his part, doesn't want to hear anything about it. His quarterback competition is essentially on hold until the fall, when Florida State transfer
Jacob Coker
arrives. Before the start of spring practice, Saban laid out his plan, saying, "Let me be very clear about this: We're not going to be in a hurry to decide who the quarterback is."
"You guys are going to ask me at least 1,000 times between now and the first game who's the first-team quarterback," he added, "and I'm telling you right now you're probably going to get a 1,000 'We're going to wait and see.' "
The only place in the SEC that doesn't have to be patient in the matter is South Carolina. Coach Steve Spurrier named
Dylan Thompson
the starter well before spring practice ever began.
Replacing
Connor Shaw
won't be easy, but Spurrier said that Thompson was the guy for the job, no question. A fifth-year senior with plenty of in-game experience, Spurrier didn't have a doubt in his mind.
"I didn't know there was any question about it," he said. "Someone said, 'You're just naming him the starting quarterback?' Well, I just said, 'Of course I am. Why wouldn't we?' "
Spurrier did it his way. Saban and Sumlin are doing it theirs. Stoops is anxious, and Bielema and Pinkel are only interested in the competition.
Recruiting a quarterback is the furthest thing from an exact science. Finding out who's ready to start is even more inexact.
This might be the season of new quarterbacks in the SEC, but everywhere there's a different sense of which way the wind blows.
April, 2, 2014
4/02/14
9:00
AM ET
AUBURN, Ala. -- There wasn't much fire in the voice of Gus Malzahn as he stood at the podium following Auburn's first scrimmage of the spring on Saturday. All told, it was a pretty boring scene. No injuries to report. No position changes to speak of. Only one turnover and a handful of big plays. His team had to move indoors because of the threat of rain, but as he said, "It didn't bother us a bit."
Watching Malzahn, you got the feeling he wasn't playing coy. This was the difference a year makes. Last spring was an anxious time for Auburn. There was no quarterback, no depth chart and no sense of expectations. Malzahn and Co. were simply trying to pick up the pieces left behind from the previous staff.
This spring has a much different tone. All one needed to do was look at the long-sleeve, collared shirt Malzahn wore after practice, the one with the SEC championship patch on its left shoulder. The building phase of Malzahn's tenure is over. The questions are much fewer this year than the last. And with that, the sense of urgency is far more diminished.
"We've got more information now, so we're not as urgent," Malzahn said. "We pretty much know a lot about the guys returning."
Not every coach in the SEC is in the same enviable position.
"You've also got to keep in mind next year," Malzahn said. "You want to get your guys as much reps as you can moving forward for next year, because that's what it's all about ... but I would say, probably, for the most part, that we've got guys in the position that we want them to be in."
Not every coach can afford to look ahead this spring. Not every coach has the time.
With that said, let's take a look at the programs with the most to accomplish this spring, ranking all 14 schools by the length of their to-do list.

Vanderbilt:
Any new coaching staff has the most work to do, from determining the roster to installing new schemes on both sides of the ball. Throw in a new starting quarterback and the
raid James Franklin put on the recruiting class
, and it adds up to an enormously important spring for Derek Mason.

Kentucky:
Mark Stoops has done a lot to turn around the culture at Kentucky. In fact, veteran defensive end
Alvin Dupree
said it feels like more of a football school now
. But the fact remains that Stoops has a very young group to deal with, so inexperienced that true freshman
Drew Barker
is in contention to start at quarterback.

Tennessee:
The Vols are facing many of the same
challenges in Year 2 under Butch Jones
. He has brought in a wealth of talent, including a remarkable 14 early enrollees. Considering the Vols lost all of their starters on both the offensive and defensive lines, there's a lot of work to do.

Florida:
The hot seat knows no reason. All is good in Gator Land right now as a new offense under a new coordinator is installed, injured players -- including starting quarterback
Jeff Driskel
-- return, and expectations creep upward. But a bad showing in the spring game could change the conversation quickly for Will Muschamp.

Arkansas:
There's
nowhere to go but up for Bret Bielema
after a 3-9 finish his first year with the program. The good news is he has young playmakers on offense (
Hunter Henry
,
Alex Collins
, etc.). The bad news is the quarterback position is unsettled and his defensive coaching staff is almost entirely overhauled from a year ago.

LSU:
A depth chart full of question marks is nothing new for Les Miles, who has
endured plenty of underclassmen leaving for the NFL
before. But missing almost every skill player on offense (
Zach Mettenberger
,
Jeremy Hill
,
Odell Beckham
,
Jarvis Landry
) hurts. He has to find replacements at several key positions, and we haven't even gotten into the defense.

Texas A&M:
Cedric Ogbuehi
can replace
Jake Matthews
at left tackle. The combination of
Ricky Seals-Jones
and
Speedy Noil
can replace
Mike Evans
at receiver. But
who replaces the legend of Johnny Football
? Determining a starter under center won't be easy, but neither will be overhauling a defense that was far and away the worst in the SEC last year.

Georgia:
Jeremy Pruitt
should breathe some new life
into a struggling Georgia defense. Having
Hutson Mason
to replace
Aaron Murray
helps as well. But
off-the-field problems continue
to plague Mark Richt's program. With stars such as
Todd Gurley
, the players are there. The pieces just need to come together.

Missouri:
After 13 seasons in Columbia, Gary Pinkel knows how to handle the spring.
Maty Mauk
appears ready to take over for James Franklin at quarterback, and even with the loss of
Henry Josey
, there are still plenty of weapons on offense. The real challenge will be on defense, where the Tigers must replace six starters, including cornerstones
E.J. Gaines
,
Kony Ealy
and
Michael Sam
.

Alabama:
The quarterback position won't be settled this spring, so we can hold off on that. But still, Nick Saban faces several challenges, including finding two new starters on the offensive line, replacing
C.J. Mosley
on defense and completely overhauling a secondary that includes
Landon Collins
and a series of question marks.

Ole Miss:
Hugh Freeze has his players. Now he just has to develop them. With emerging stars
Robert Nkemdiche
,
Tony Conner
,
Laremy Tunsil
,
Evan Engram
and
Laquon Treadwell
, there's plenty to build around. Include a veteran starting quarterback in
Bo Wallace
and there's a lot to feel good about in Oxford.

Mississippi State:
It's a new day in the state of Mississippi as
both state institutions have high expectations this spring
. Mississippi State returns a veteran defense, a solid offensive line and a quarterback in
Dak Prescott
who could turn into a Heisman Trophy contender. A few months after Dan Mullen was on the hot seat, he now appears to be riding high.

Auburn:
Losing
Tre Mason
and
Greg Robinson
hurts, but outside of those two stars, the roster remains fairly intact.
Nick Marshall
figures to
improve as a passer
, the running back corps is well off, and the receivers stand to improve with the addition of
D'haquille Williams
. The defense should get better as youngsters such as
Montravius Adams
and
Carl Lawson
gain experience.

South Carolina:
Steve Spurrier would like to remind everyone that
Dylan Thompson
was the only quarterback in the country to beat Central Florida last season. Sure, Thompson wasn't the full-time starter last year, but he has
plenty of experience and is ready to be the man
. Throw in a
healthy and eager
Mike Davis
and an improving set of skill players, and the offense should improve. The defense has some making up to do on the defensive line, but there's no reason to panic, considering the rotation they used last year.
January, 8, 2014
1/08/14
12:00
PM ET
It's
Johnny Manziel's big day
! Will he or won't he leave Texas A&M to go to the NFL? Start biting those fingernails now.
December, 19, 2013
12/19/13
2:00
PM ET
Here are five things to watch over the holidays in the SEC:
Fournette set to announce
The nation's top ranked prospect, running back
Leonard Fournette
(New Orleans/Saint Augustine), is scheduled to announce his decision during the Under Armour All-America Game Jan. 2, which will be on ESPN at 4 p.m. ET. Fournette has made official visits to Texas, LSU and Alabama.
October, 28, 2013
10/28/13
8:00
AM ET
As always, there was a lot of news around the Southeastern Conference this weekend. Tennessee and Texas A&M picked up ESPN 300 commits, and Alabama had a five-star visitor. Here's a closer look at the latest recruiting news in the SEC.

Biggest commitment:
Despite losing to rival Alabama 45-10 on Saturday, Tennessee picked up a big commitment from ESPN 300 defensive end
Dewayne Hendrix
(O'Fallon, Ill./O'Fallon Township) on Sunday.
Hendrix, the No. 189 player in the country, chose the Vols over Florida, USC and Missouri.
"My mom and I had a long talk last night and we both thought it was the right time," Hendrix said. "We both felt like we knew it was Tennessee, but we just wanted to make sure and be 100 percent and check out a few other schools. We went out to Ole Miss, Illinois, Mizzou and USC."
The four-star athlete said Tennessee coach Butch Jones played a major factor in his decision to commit to the Vols.
"Coach Jones, how he was recruiting me -- was like no other feeling I've ever had," Hendrix said. "No other coach recruited me how he was. He calls me, inboxes me and every week we're talking."
With the commitment of Hendrix, Tennessee now has 28 commitments including 12 who are ranked in the ESPN 300.
Texas A&M also picked up an ESPN 300 commit, defensive end
Qualen Cunningham
(Chandler, Ariz./Hamilton), on Thursday night.
Cunningham, the No. 234 prospect in the ESPN 300, joins five-star defensive end
Myles Garrett
, the No. 7 player in the country, as Texas A&M commits over the last week and a half.
The Aggies have the ninth-ranked class in the country. It is composed of 16 commitments, 11 of who are ranked in the ESPN 300.
Best weekend performances:
Several SEC committed quarterbacks put up huge numbers this weekend. Here's a look at some of the top weekend performances.
QB Sean White (Fort Lauderdale, Fla./University School) -- Auburn commit:
White was 19-of-33 for 389 yards and two touchdowns in a 28-24 loss.
QB Drew Barker (Hebron, Ky./Conner) -- Kentucky commit:
Barker was 22-of-30 for 296 yards and three touchdowns and added a rushing score in a 32-20 win.
QB Kyle Allen (Scottsdale, Ariz./Desert Mountain) -- Texas A&M commit:
Allen passed for 296 yards and three touchdowns in a 55-41 loss on Friday night.
RB Nick Chubb (Cedartown, Ga./Cedartown) -- Georgia commit:
Rushed for 262 yards and four touchdowns in a 54-28 win on Friday.
Most important visit:
ESPN 300 defensive end
Da'Shawn Hand
(Woodbridge, Va./Woodbridge) took his second of three planned official visits over the weekend, this one to Alabama. The No. 4 player in the country watched the Tide handle Tennessee 45-10 on Saturday. Hand also plans to visit Florida sometime in the next few weeks before making his decision on Nov. 14. Michigan has been the team to beat for sometime, but was the Alabama visit enough to change his mind? Only time will tell, but judging by Hand's tweets on Saturday and Sunday, it appears he was impressed with Alabama.
pic.twitter.com/3e42N6fBvv

— Da'shawn Hand (@TheHand54) October 26, 2013



To continue reading this article you must be an Insider
October, 21, 2013
10/21/13
8:00
AM ET
On the field there was some huge upsets over the weekend in the Southeastern Conference and off the field there was a ton of recruiting news. Here's a closer look at the latest recruiting news in the SEC:
Biggest commitment:
After watching Texas A&M's defensive performance on Saturday, there is no question five-star defensive end
Myles Garrett
's (Arlington, Texas/James Martin) commitment to the Aggies on Friday was the biggest recruiting news of the weekend. Garrett had been a long-time Aggie lean and finally decided to pull the trigger.

For the Aggies, Garrett becomes their 15th commitment including 10 that are ranked in the ESPN 300. Garrett is the No. 7-ranked player in the nation.
To continue reading this article you must be an Insider
October, 14, 2013
10/14/13
8:00
AM ET
There was plenty of recruiting news in the Southeastern Conference over the weekend. There were a few key commits and several top high school performances. Here is a look at the latest news around the SEC.

Biggest commitment:
ESPN 300 offensive tackle
Donell Stanley
(Latta, S.C./Latta) committed to South Carolina on Friday. The 197th-ranked player in the nation chose the Gamecocks over rival Clemson, Alabama, USC and UNC. South Carolina now has 13 commitments including 5 if the ESPN 300.
Thanks to all the #Gamecock love I received yesterday feels great to b apart of the family #WeCocky #GamecockNation

— Donell Stanley (@DonellStanley72) October 12, 2013
Auburn picked up a commitment from three-star athlete
Myron Burton Jr
. (Suwanee, Ga./Peachtree Ridge). Though listed as an athlete, Auburn is recruiting Burton as a wide receiver. He announced his decision on Twitter on Saturday after visiting the Tigers for their win over Western Carolina:
Officially committed to Auburn University! Thanks to everyone that supported me along the way. #Blessed #WDE #WarEagle

— Myron Burton (@myronburton3) October 12, 2013
Best weekend performances:
Many SEC commits were in action this weekend. Here's a look at some of the top performances:
RB Bo Scarbrough (Bradenton, Fla./IMG Academy), Alabama commit: Ran for 158 yards and two touchdowns on 13 rushes in a 49-3 win.
RB Nick Chubb (Cedartown, Ga./Cedartown), Georgia commit: Chubb accounted for 355 rushing yards and five touchdowns in a 42-34 win on Friday.
To continue reading this article you must be an Insider
October, 9, 2013
10/09/13
2:00
PM ET
Each Wednesday, ESPN RecruitingNation updates its
national class rankings
. For an in-depth look at the SEC, check out our conference rankings:

1. Alabama, 21 commits:
The Crimson Tide sit atop the RecruitingNation class rankings with a class that features 15 ESPN 300 prospects, including most recent commitment
Ronnie Clark
(Calera, Ala./Calera), the No. 96 overall prospect. Alabama remains in the hunt for several five-star prospects, including No. 1 overall
Leonard Fournette
(New Orleans/Saint Augustine) and No. 9
Marlon Humphrey
(Hoover, Ala./Hoover).
To continue reading this article you must be an Insider
September, 25, 2013
9/25/13
8:00
AM ET
The Southeastern Conference continues to dominate the recruiting class rankings. Here's a closer look at some freshman that could make an early impact in the SEC.

Current 2014 QB prospect who could start immediately:
Drew Barker (Hebron, Ky./Conner Senior) -- Kentucky commit:
Though Jason Whitlow and
Maxwell Smith
will be juniors heading in to next season, Barker is just too talented to keep off the field. The No. 6-ranked pocket passer in the country has all the physical tools head coach Mark Stoops is looking for from his signal-caller. Barker, an Elite 11 member, should see the field early and often for the Wildcats as a true freshman.
Program-changing 2014 recruiting class:
Tennessee:
The Volunteers are off to a 2-2 start and face a brutal schedule coming up. There are a lot of holes to fill on both sides of the ball but with a current recruiting class that is ranked No. 3 in the country, several freshman will be able to make an impact early on in their careers. It might take a few years to notice, but this is the type of class that can help turn Tennessee back into a SEC contender.
Current 2014 prospect with Heisman potential:
QB Will Grier (Davidson, N.C./Davidson Day) -- Florida commit:
The No. 2-ranked dual threat quarterback in the country has a lot of the same traits as
Johnny Manziel
. He's an athletic-gunslinger that likes to take chances and his skill set could mean the Gators will have to adjust their offensive philosophies. Through the first five games of his senior year, Grier has thrown for 31 touchdowns. He's also rushed for over 500 yards and another five touchdowns. Florida has had three quarterbacks win the Heisman Trophy and Grier has all the tools to be the next.
To continue reading this article you must be an Insider
Recruits Miss Lone Star Showdown
SEC SCOREBOARD
Thursday, 9/3
Saturday, 9/5