Texas A&M Aggies:

Dan Quinn
September, 5, 2012
9/05/12
2:26
PM ET
GAINESVILLE, Fla. -- Whether Florida's players are in better shape than a year ago will be tested Saturday against Texas A&M. Defensively, anyway.
They Gators will have to deal with Aggies coach Kevin Sumlin's up-tempo offense, which is designed to wear a defense down, making it more susceptible to giving up big plays. It also keeps defenses from substituting during the drive, which isn't as much of a problem for defensive backs as it is for defensive linemen and pass rushers.
"When they get into that pace, you really have to do a good job with your substitution because you don't want to do it within a series where you could get (caught with) guys running off (the field for a penalty)," Florida defensive coordinator Dan Quinn said. "You have to be really disciplined and stay with the group when they get into that kind of tempo."
Sumlin's offense at Houston last season led FBS with 1,102 total plays, 47 more than the next-best team (Clemson, 1,055). Granted, the Cougars did have Case Keenum running the offense. He wasn't there in 2010 and while the Cougars ran 208 fewer plays, they still finished 11
th
nationally in total offense.
"That's what they do. That's who they are," UF coach Will Muschamp said. "The ball's out quick, so you can't get frustrated in the game."
This will be Texas A&M's season opener, which means the Aggies didn't have a chance to work out the kinks or get experience under game conditions. Plus, the Aggies have a redshirt freshman quarterback (
Johnny Manziel
) running the offense. The timing won't be a crisp as it will be later in the season, and UF is going to try and unsettle it even further.
"You have to have some rush where you can affect the quarterback, to what we would call getting him off the spot, where he gets out of rhythm and doesn't like to make the throws on time," Quinn said. "And we want to be able to get our hands on receivers. That's really our style anyway. I don't think that would be anything new for this week."
September, 4, 2012
9/04/12
12:00
PM ET
When Texas A&M coach Kevin Sumlin delivered the news to his team that the Aggies' opener against Louisiana Tech was postponed because of Hurricane Isaac, he could sense how devastated his players were. But imagine how he felt.
Everything is new for the Aggies, but it's also all new for Sumlin, who left Houston to coach the Aggies. Instead of seeing what his team is made of after a long offseason that consisted of installing a new offense and defense, he has to wait ... for A&M's first SEC game.
"There are pluses and minuses to both sides of this equation, it's just how you handle it with your team," Sumlin said last week about the postponement. "It all gets down to preparing and getting your guys ready to play on Saturday."
[+] Enlarge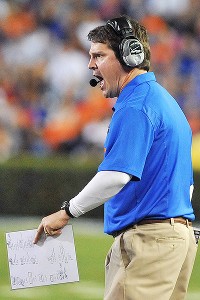 Al Messerschmidt/Getty ImagesWith a game under their belt, coach Will Muschamp and Florida could have a slight edge Saturday against Texas A&M.
Instead of having a game under their belts, the Aggies will host No. 24 Florida this Saturday a game behind. Sure, Texas A&M had the benefit of having a couple of more days to prepare for the Gators, but practicing and playing are two different things. Going through the motions against players you're familiar with just doesn't match up with playing and seeing someone different.
That's where Florida has the advantage this weekend. While the Gators' offense seemed to mirror its struggles from the past two years in its sluggish 27-14 win over Bowling Green, the Gators did have the chance to actually play someone inside of a stadium with fans around them. They were full go, while A&M rested.
"It's an advantage to go in there having played with some new players and a new QB for us, but there will be some new wrinkles in what they do," Florida coach Will Muschamp said.
"We are at a little bit of a guessing game from the standpoint of them not playing. But that's always with the first game and you go through that as a coach and you go through that going into a bowl game after you've had some time off, we just need to adjust to what we're doing, we need to play fast, we need to have a great tempo because I know they will offensively. We need to get lined up and get our cleats in the dirt and play."
The Gators will be going into the A&M game a little blind, but it's not like they gave the Aggies a ton of tape to pore over, either. Florida was incredibly vanilla Saturday. You didn't see much creativity on offense or defense. First-year offensive coordinator Brent Pease barely opened his playbook, especially in the passing game.
Obviously, having two quarterbacks audition for the starting spot contributed to that. But Saturday gave Pease and his quarterback --
Jeff Driskel
-- something to build off of. Driskel wasn't great, but he's the guy now and the offense can officially mold around him. Expect to see Florida's playbook open up a little bit to play to Driskel's strengths.
And look for defensive coordinator Dan Quinn to bring a little more heat to A&M's backfield, especially with first-year starting quarterback
Johnny Manziel
lining up for his first collegiate game. Unlike Driskel, Manziel doesn't have the luxury of any game experience, so expect some jitters and wide eyes.
It also helps Florida that Bowling Green's offense is similar to Sumlin's when it comes to all of those quick throws and screens. The Gators got a little preview of what to expect Saturday.
Anxiety should be flowing on both sidelines this weekend. The Aggies are playing their first game, and it's the SEC opener. The Gators are taking an unproven offense into a very hostile environment.
But having a game out of the way is a big advantage for Florida. Not everything went right, and some of Saturday looked mediocre, but a game was played. The Gators have film to critique and build off of. Changes can be made.
A&M has practice film and nerves to work with. The Aggies aren't sure yet what works and what doesn't.
Sumlin will have his team prepared as best he can, but he'll have to deal with watching all of the kinks being worked out in Week 2. He'll have to suffer through the early mistakes that you expect in Week 1.
Unlike Muschamp, he doesn't quite know what he's dealing with in College Station.
September, 4, 2012
9/04/12
10:30
AM ET
Each week this season, GigEmNation will visit with a reporter that covers Texas A&M's upcoming opponent. This week, we visit
Michael DiRocco
of ESPN's
GatorNation
.
Sam Khan Jr.:
After playing two quarterbacks --
Jeff Driskel
and
Jacoby Brissett
-- against Bowling Green, coach Will Muschamp named Driskel the starter for Saturday. What's your assessment of the quarterback situation heading into the Texas A&M game?
Michael DiRocco
: This will be Driskel's game from start to finish. Muschamp has elected to go with the more mobile Driskel because that adds an additional element to the Gators' offense. Driskel was solid against Bowling Green (10-for-16, 114 yards, 1 TD) but he missed several throws and hesitated on several others. That's normal for all young quarterbacks, though, but getting past that is something that could have been accelerated a bit had he not had to split practice reps with Brissett throughout the spring and in August.
SK:
With Texas A&M starting a redshirt freshman quarterback (
Johnny Manziel
) who will be making his first start, what kind of approach do you think we should expect to see from Florida's defense?
[+] Enlarge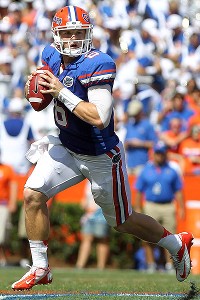 Kim Klement/US PresswireFlorida sophomore QB Jeff Driskel will be the starter against Texas A&M.
MD:
The Gators will play almost exclusively nickel against the Aggies, which allows them to take advantage of their deep and talented secondary. The best way to rattle a young QB is to put pass rushers in his face and make him make quick decisions. UF would love to do that with just the front four, but the Gators were inconsistent with that last week against Bowling Green. If they can't, defensive coordinator Dan Quinn has got several blitz packages designed to get pressure up the middle. Safety
Matt Elam
is a pretty good blitzer who may figure prominently in those plans.
SK:
After piling up 220 rushing yards on the ground against Bowling Green, do you see the Gators continuing to emphasize the run, and particularly
Mike Gillislee
, when they come to College Station?
MD:
Absolutely. Muschamp wants to be a pro-style, power-run team – Alabama is the blueprint – and that means a heavy dose of Gillislee. He's the Gators' best back and he's coming off a 24-carry, 148-yard performance. The question will be whether the Gators will continue to be stubborn and try to run the ball against stacked fronts or if they'll open the offense up a bit. Muschamp says he'll take the handcuffs off offensive coordinator Brent Pease this week, but with a young QB making his first career start, the safest play would be to go conservative.
SK:
It appeared that the Gators struggled in short-yardage running situations on Saturday. Is that an aberration or do you suspect that could be a lingering issue for Florida?
MD:
That's could be a lingering issue because it's on the offensive line. The unit didn't get much movement at all in those short-yardage plays. It's a group that was supposed to be tougher and stronger this season after working with new strength and conditioning coordinator Jeff Dillman. It didn't look that way against Bowling Green in those short-yardage situations. Maybe that was an aberration, but if the line had trouble with the Falcons, what will it do against SEC defensive lines?
SK:
The Gators' defense is clearly fast and athletic. How do you see the unit responding to an accelerated offensive tempo, which Texas A&M is expected to employ?
MD:
It's a concern, but it's a veteran defense in its second season in Quinn's system. That should mean better communication from the sideline and on the field between players. The Gators have studied tape of Kevin Sumlin's Houston teams and should be prepared for the up-tempo style. Plus, it's Texas A&M's first game and there's bound to be glitches, especially with a freshman QB. That might keep the Aggies from being as crisp with the up-tempo pace as they will be later in the season.
SK:
Though his tenure hasn't been long, give me your assessment of the job Will Muschamp has done so far.
MD:
He's done a very good job recruiting, although his first class – which he assembled in about two months – hasn't produced much in the way of significant contributors. This year's group of freshmen shows promise, specifically defensive ends Jonathan Bullard and Dante Fowler, offensive linemen Jessamen Dunker and D.J. Humphries, tight end Kent Taylor and receiver Latroy Pittman. His game-day coaching ability remains a question mark.
Recruits Miss Lone Star Showdown
SEC SCOREBOARD
Thursday, 9/3
Saturday, 9/5