Texas A&M Aggies:

Clay Honeycutt
March, 7, 2014
Mar 7
3:00
PM ET
COLLEGE STATION, Texas -- Texas A&M's defense struggled across the board in 2013, and the Aggies can use all the help, and depth, they can get in order to improve in 2014.
That is probably more true at safety than any other position. It's a spot the Aggies have found challenges when trying to maintain or add talent and depth, with the latest hurdle coming recently as spring practice opened.
The loss of safety
Kameron Miles
,
whom the Aggies announced officially on Thursday had been dismissed from the team for unspecified reasons
, isn't cause for panic because as head coach Kevin Sumlin pointed out, Miles didn't see the field at all last season.
[+] Enlarge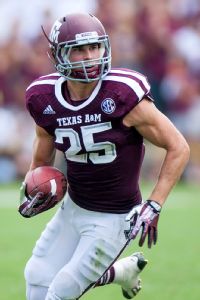 Juan DeLeon/Icon SMIClay Honeycutt is one of the returning players Texas A&M hopes will fill the open safety positions.
But it is cause for concern at position of need for the Aggies. This is one of the biggest challenges facing new Texas A&M secondary coach Terry Joseph this spring.
Safety is certainly a position where they need to see on-field improvement, both from the 2013 contributors who are returning this season (
Clay Honeycutt
,
Howard Matthews
and
Floyd Raven
) and the new bodies that could step in.
So while Miles -- an ESPN 300 recruit who signed in the 2013 class -- didn't play (he redshirted after missing all of preseason training camp recovering from a knee injury), he certainly was a candidate to do so this season. Losing him is impactful, especially considering his potential and the rough end to Class of 2014 recruiting at the position.
Texas A&M had an ESPN 300 safety committed to them for months in
Dylan Sumner-Gardner
, but he switched his commitment to Boise State in early January after former secondary coach Marcel Yates left his post in Aggieland to accept the defensive coordinator position at Boise State. Even before Sumner-Gardner's switch, the Aggies were still trying to add another safety to the 2014 recruiting class.
The loss made finding a safety even more urgent in the class. The Aggies long recruited ESPN 300 safety
Steven Parker II
(who signed with Oklahoma) and made a late run at ESPN 300 safety
Mattrell McGraw
(who signed with Oregon), not to mention other ESPN 300 prospects whom they recruited earlier in the process but decided on other programs.
The Aggies were able to land a safety late in the 2014 recruiting cycle when three-star athlete
Donovan Wilson
(Shreveport, La./Woodlawn) committed four days before national signing day and inked a letter of intent with the Aggies. He will enroll at Texas A&M for the fall semester, but whether he will be able to have an impact this fall is unknown until he arrives on campus.
Texas A&M has commitments from two elite safeties in the 2015 recruiting class in ESPN Junior 300 prospects
Justin Dunning
and
Larry Pryor Jr
., but that has no bearing on this fall.
What is known is that the Aggies need the three who played the most last season to improve and for others to contribute. One name Sumlin mentioned on Thursday was junior safety
Devonta Burns
, a 6-foot, 214-pounder who contributed mostly on special teams last season.
"Devonta Burns is having a really, really good camp," Sumlin said. "He's been around here a long time and really was a good special teams player for us from game three, four, five, on. It's about time for him to start showing up and he has. You've got three guys back there [Honeycutt, Matthews and Raven] who have played a lot, not always well, but have played and are experienced and need to step up. I think Devonta is right in the mix with the other three guys."
The Aggies also have the services of 6-3, 213-pound sophomore
Jonathan Wiggins
, a 2013 signee who saw most of his time on special teams last season. Beyond him, the options consist of mostly walk-ons such as
Sam Moeller
(last year's 12th Man) or perhaps even someone like
Shane Huhn
, a transfer from UTEP who sat out last season per NCAA transfer rules.
Another potential option is using the secondary's best player, senior cornerback
Deshazor Everett
, at safety. Everett has flip-flopped between cornerback and safety before, including on certain occasions last season when the Aggies needed the help. However, it appears that Everett is working exclusively at cornerback, and Sumlin said he doesn't anticipate that changing, at least "Not right now."
Everett said last week that he has seen improvement from the safety returnees, especially Matthews.
"He's a different player now," Everett said of Matthews. "He's not lagging around or doing it his way. He's playing hard, he's going hard every play, he's being vocal. That's what we need at the back end from the safeties, because they have to communicate to everybody on the defense. He's definitely changed."
"Floyd is definitely understanding the defense more, and Clay has always been a smart player. With the new coaching change and the way we're running it, it's set up so that you can always make plays and always be in the right position, and that's what we're looking forward to."
The Aggies' secondary also have new blood in the form of Joseph, the former Nebraska secondary coach. The reviews for Joseph have been positive thus far, including from defensive coordinator Mark Snyder, who called Joseph a "technician" and "fundamentalist."
Everett also has noticed his new position coach's impact thus far.
"He's a real vocal coach and he wants you to do it exactly the way he wants you to do it, and there's no other way about it," Everett said. "If you're not going to do it his way, you're not going to play, so you have to adjust to that and you have to go out there and do it his way."
If Joseph has it his way, there will be more answers than questions at safety come August. Fortunately for the Aggies, three weeks remain in spring practice to find some.
January, 5, 2014
Jan 5
4:52
PM ET
Nebraska secondary coach Terry Joseph is weighing a move from Lincoln to Texas A&M, saying on Saturday that he had been offered a position to coach defensive backs for Kevin Sumlin.
Formerly the secondary coach and recruiting coordinator at Tennesssee, Joseph came to Nebraska before the 2012 season. He
told the Lincoln (Neb.) Journal-Star
that he needed to speak with Nebraska coach Bo Pelini after the visit this weekend to College Station.
"They offered me the job," Joseph said to the newspaper. "It's a lot of money, but I told Bo I would come back and talk to him before I took the job.
[+] Enlarge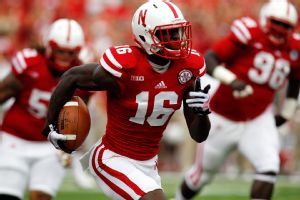 Bruce Thorson/USA TODAY SportsSenior CB Stanley Jean-Baptiste was part of a dramatically improved secondary under assistant coach Terry Joseph.
"Now, if you say, 'It's a lot of money and Nebraska isn't going to match it?' Then, yeah, it's a done deal, because that's what it comes down to, getting my contract extended and me getting a lot of money."
How's that for a money quote?
Joseph earned $245,000 at Nebraska this year as part of a group that ranks third in the Big Ten in coaching staff pay. Former A&M secondary coach and co-defensive coordinator Marcel Yates, who left recently for Boise State, earned $308,200 on Sumlin's staff.
Mitch Sherman, who covers Nebraska for ESPN.com, and A&M reporter Sam Khan discuss the situation:
How significant would the loss of Joseph rate for Nebraska?
Sherman:
It's a big deal. Under Joseph in two years, Nebraska ranked fourth nationally in opponent completion percentage. In 2012, it led the nation in that category. And in 2013, the Huskers ranked seventh in opponent third-down conversion rate in large part because of the work of his defensive backs. Cornerbacks
Ciante Evans
and
Stanley Jean-Baptiste
improved considerably under Joseph in addition to safety
Corey Cooper
, who developed into one of the Huskers' top tacklers this year. In the Huskers' TaxSlayer.com Gator Bowl win over Georgia, cornerback
Josh Mitchell
intercepted a pass and recovered a fumbled punt return. And young players like
LeRoy Alexander
have shown signs of growth under Joseph's watch. His secondary, over two years, easily rates as the most consistent area of a Nebraska defense that has undergone a transformation. Without him, the task to replace Evans and Jean-Baptiste turns much more complex.
Would the addition of Joseph rank as a big score for Sumlin and the Aggies?
Khan:
Definitely. The secondary is an area that still needs improvement for the Aggies (all you had to do was watch the Chick-fil-A Bowl to figure that out), and the sooner the Aggies fill the void left by Yates, the better. But aside from on-field coaching, Sumlin puts a priority on guys who can recruit. Joseph clearly can. His background as a high school coach and a college assistant in the state of Louisiana is attractive to Sumlin and the Aggies because that's a state in which they're continuing to grow a presence. Several key defensive starters hail from "The Boot," and the Aggies are trying to go toe to toe with LSU and recently won a key battle in nabbing five-star athlete
Speedy Noil
. Joseph can likely help the Aggies efforts in recruiting that state.
How else has Joseph impacted Nebraska?
Sherman:
He's one of the Huskers' top recruiters, landing prospects such as tight end
Cethan Carter
, defensive back
Boaz Joseph
and receiver Tre'Vell Dixon a year ago. Joseph helped land athlete
Jaevon Walton
and defensive backs J
oshua Kalu
and
Trai Mosley
in the unsigned 2014 class. His connections run deep in fertile Louisiana, where Joseph played baseball at Northwestern State and coached football in the high school ranks before a stint as the secondary coach at Louisiana Tech.
What would Joseph have to work with in Aggieland?
Khan:
There's some depth in the defensive backfield at cornerback with starters
Deshazor Everett
and
De'Vante Harris
set to return in 2014. Behind those two are several young corners that were part of a large 2013 recruiting class haul, including
Noel Ellis
,
Tavares Garner
and Alex Sezer, all of whom saw playing time on either defense or special teams as true freshmen this season. Safety is another story. The Aggies do have returnees back there in
Howard Matthews
, Floyd Raven and
Clay Honeycutt
, but all of them struggled last season. Freshman
Kameron Miles
, who injured his knee in training camp and redshirted and 6-foot-3 freshman
Jonathan Wiggins
, who played in nine games mostly on special teams, should be ready to contribute come next season.
What would his absence mean for Nebraska?
Sherman:
While never good to lose a coach in a lateral move, Sumlin is offering money the Huskers just may not want to match. Pelini is well connected and should find a solid replacement. But Joseph's departure, inevitably, would raise questions about the staffers' confidence in the stability at Nebraska after Pelini received a stay from the school's administration at the close of a rocky regular season.
What would his impact mean at Texas A&M?
Khan:
He would be a quality addition to the coaching staff and fulfills the requirements Sumlin looks for in assistants: someone who can be both a good on-field coach and a presence in recruiting. He has worked in the SEC and has a solid overall resume, so he should be a solid fit in Aggieland.
October, 25, 2013
10/25/13
11:45
AM ET
COLLEGE STATION, Texas — The words "youth" and "inexperience" are frequently used to describe the Texas A&M defense this season.
The struggles are significant. The Aggies rank near the bottom of the FBS in most defensive statistical categories. According to ESPN Stats & Information, the five teams that have allowed more yards per game than the Aggies -- New Mexico State, Idaho, California, Nevada and Indiana -- have a combined record of 8-27.
Texas A&M is fortunate enough to have a 5-2 record (2-2 in the SEC). It certainly helps to have one of the nation's most high-powered offenses and a reigning Heisman Trophy winner at quarterback (
Johnny Manziel
).
For defensive coordinator Mark Snyder and his staff, it has been a challenge from the start of the season. Suspensions, injuries and ineffectiveness are all to blame.
The Aggies currently have 11 freshmen in their defensive two-deep depth chart. Two true freshmen (defensive tackle
Isaiah Golden
and linebacker
Darian Claiborne
) are starting. The four defensive line first-team spots include Golden and two sophomores. At linebacker, a former receiver who moved to linebacker this offseason (
Nate Askew
) is the starter at strongside linebacker. Of the seven linebackers on the Aggies' two-deep, only one (
Steven Jenkins
) started a full season at the position before this year.
Head coach Kevin Sumlin's first signing class that was completely under his watch had 32 members, 18 of whom were on defense. Of those 18, a dozen have already played this season.
But how did the Aggies get to this point, playing this many freshmen and newcomers? There are some juniors and seniors on the field, but there aren't nearly as many as there were a year ago when the Aggies went 11-2 in their debut season in the SEC.
In 2012, the Aggies were fortunate to have the benefit of some good leaders on defense and others who were productive. At linebacker, Sean Porter and Jonathan Stewart both provided leadership and production. Along the defensive line, Spencer Nealy made the move from defensive end to defensive tackle effectively despite not having the ideal size for the position. Steven Terrell was a steady and heady player at free safety. All four of those players were seniors and part of the 2009 recruiting class. So was Dustin Harris, who didn't always start but played plenty at cornerback and was the team's primary punt returner.
One defensive player still remains from that 2009 class: defensive tackle
Kirby Ennis
, who started last season and this year but suffered a season-ending knee injury on Sept. 28 against Arkansas. But last year's A&M starting defense was more than half made up of what turned out to be a solid recruiting class on the defensive side of the ball.
So to understand why A&M is in the position it is now, take a look at the recruiting classes on defense since then:
In 2010, the Aggies signed seven defensive players and two more that were offensive players but eventually moved to defense. Defensive end Damontre Moore turned out to be a star, but declared for early entry into the 2013 NFL draft with a year of eligibility remaining. For a team that's lacking in its pass rush (only three FBS teams have fewer sacks than Texas A&M's seven this season) a guy like that could help. Of the remainders in that class, three are starting: Toney Hurd Jr. at nickel back, Gavin Stansbury at defensive end and Askew, who was recruited and spent his first three years at receiver, at strongside linebacker. Two others (defensive tackle Ivan Robinson and quarterback Clay Honeycutt, who's now a reserve safety) are playing but not starting. Nehemiah Hicks was considered to be either a defensive end or tight end and became a tight end. The other two players in the defensive class are no longer on the team.
The 2011 class -- the final class signed by former head coach Mike Sherman -- brought 13 defensive players. Deshazor Everett, a cornerback with ability to play safety, is currently the defense's best player. Safeties Howard Matthews and Floyd Raven and linebacker Steven Jenkins also emerged as starters out of that group. One of the big fish landed late in that class, defensive end Brandon Alexander, has rarely played. He's now getting some playing time at tight end. Linebacker Donnie Baggs entered this season as the starting middle linebacker but is now a reserve. Tyrell Taylor is rotating at defensive end. The rest of the group hasn't made any impact at all. Five players in that group are no longer with the program.
The 2012 class, the first one Sumlin signed after essentially two months on the job, had some holdovers that committed to the program under Sherman. It is a mixed bag. Four of those players are starting as either true sophomores (Julien Obioha at defensive end, Alonzo Williams at defensive tackle and De'Vante Harris at cornerback) or in one case, a senior (cornerback Tramain Jacobs, who was a junior college transfer). Defensive end Tyrone Taylor, brother of Tyrell, gets some playing time at defensive end. Edward Pope, who was a receiver/defensive back, is playing receiver for the Aggies. A car accident took away one member from that class -- defensive tackle Polo Manukainiu, who died in a crash in July and is being honored by the team every week this season. A spinal injury took away another member, linebacker Michael Richardson, who played as a freshman. He had successful surgery and was fortunate to not suffer any major physical issues, but is no longer playing football. Defensive back Kenneth Marshall, though on the team, was not part of the 105-man roster during preseason training camp. Linebacker Jordan Richmond transferred to Navarro College in the offseason and one player in the class, defensive tackle Edmund Ray, never made it to campus because of qualifying issues.
September, 21, 2013
9/21/13
7:00
AM ET
Texas A&M suffered its first loss of the season last week to No. 1 Alabama, but the No. 10 Aggies are moving forward, shifting their focus to what's ahead. Next up is a battle with non-conference foe SMU at 6 p.m. Saturday at Kyle Field. Here are five things to keep an eye on:
[+] Enlarge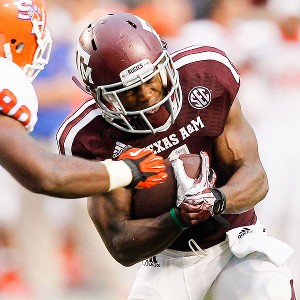 Bob Levey/Getty ImagesDon't expect a post-Alabama hangover from Ben Malena and the Texas A&M offense on Saturday.
Bama hangover?:
The Aggies maintained that they will have the same approach and same emotion this Saturday as they did last Saturday, when there was tremendous buildup for their rematch with Alabama. Running back
Ben Malena
said it might be difficult to replicate the "enthusiasm," but that championship teams keep a consistent approach and that's what the Aggies are striving to be. Don't expect to see a slow start from the Aggies, at least not offensively.
Righting the ship on D:
This is a real opportunity for the Aggies to have a strong defensive performance. Though they've struggled, the Aggies are deeper and have a more talented roster than SMU. Though the same could be said in the Aggies' first two games, they were hamstrung by not having all of their available personnel because of suspensions. They're in the bottom 20 nationally in rushing yards allowed per game and total yards allowed per game. If the Aggies don't start finding their footing this week at home against a non-conference foe that's not the caliber of most SEC teams, it's a huge concern to take into the rest of their SEC schedule, which begins next week at Arkansas.
Meeting of innovative minds:
Texas A&M head coach Kevin Sumlin and his staff are familiar with the faces on the opposite sideline, particularly SMU head coach June Jones and offensive coordinator Hal Mumme. Jones and Sumlin squared off annually when the two were coaching in Conference USA and Mumme is considered the godfather of the "Air Raid" scheme from which many of the offensive principles that A&M uses originate from. Jones is an old Run-and-Shoot coach, so bringing Jones and Mumme together is an intriguing mix.
Home sweet home:
The Aggies have yet to leave Kyle Field this season. The SMU game will serve as their fourth consecutive home game. The Aggies have eight this year, but hit the road for two games after this weekend. Since Sumlin took over, the Aggies haven't lost on the road; all three losses have come at home. Still, you won't hear the coaches or players complaining; they prefer playing in front of the 12th Man. Plus, they're doing so in front of a team they beat 48-3 in Dallas last year, so there's no upset alert here, barring unforeseen circumstances.
Key injuries:
Texas A&M will be without freshman receiver
Ricky Seals-Jones
, who had knee surgery on Saturday, and safety Floyd Raven (collarbone), who was injured in Week 2 against Sam Houston State. Seals-Jones showed promise in the season opener, catching a 71-yard touchdown pass, but the Aggies have a lot of receiving options, so one of their other young freshmen such as
LaQuvionte Gonzalez
or
Jeremy Tabuyo
could see increased action in Seals-Jones' absence. Raven missed last week's game against Alabama and the Aggies are thin at free safety.
Clay Honeycutt
is the starter and defensive coordinator Mark Snyder said this week that they are experimenting with shifting cornerback
Deshazor Everett
to safety. Everett spent time at both corner and safety last season when the Aggies were looking to solve depth issues in the secondary, so it's something he's familiar with.
September, 16, 2013
9/16/13
1:00
PM ET
COLLEGE STATION, Texas — Coming into the season, there were plenty of questions about Texas A&M's defense.
It didn't seem much different from the circumstances a year ago. Defensive coordinator Mark Snyder even said, on the first day of preseason training camp, that the challenges were "exactly the same."
By the end of 2012 the results were positive, with the Aggies performing much better on defense than many expected. If they're to do the same in 2013, they still have a long way to go. The Aggies statistically are among the worst defenses in the nation after a 49-42 loss to No. 1 Alabama on Saturday at Kyle Field.
"We're going to learn a lot of lessons come Monday when we watch this film," Snyder said. "Lots of lessons."
They had better, because on Saturday, once Alabama got its footing, it seemed able to do whatever it pleased. The Crimson Tide finished with 568 offensive yards -- 334 passing and 234 rushing. After forcing a punt on Alabama's first drive of the game, the Aggies allowed four consecutive touchdown drives, all of which covered 75 yards or more. In the second half, the Tide had three drives of 65 yards or longer, two that turned into touchdowns and another where the Aggies forced a turnover near the goal line.
[+] Enlarge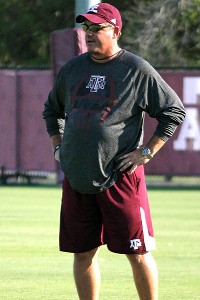 Sam Khan/ESPN.comMark Snyder's Texas A&M defense yielded 568 yards to Alabama on Saturday and gave up too many big plays.
One thing that stuck out to Snyder was how many big plays the Tide hit on. More than half of Alabama's yards (280) came on plays that gained 15 yards or more. Alabama had 11 such plays in the game.
"We knew it was going to be a day of big plays," Snyder said. "And I'm sure when I go back and look at the film, if you count up the number of big plays and subtract that yardage, you have a pretty good day. That's something we're going to have to learn from."
The Aggies generated virtually no pressure against Alabama quarterback
AJ McCarron
. He was never sacked and the Aggies only recorded one quarterback hurry as a team, by defensive tackle
Kirby Ennis
. Pressure was one of the Aggies' strong suits last year behind the efforts of defensive end Damontre Moore, who now plays for the New York Giants.
"You can't let a great quarterback like AJ McCarron not even get hit or pressured at all," sophomore defensive end
Julien Obioha
said. "They ran a lot of play action, which doesn't help the defensive line get any pressure, but we've got to come up with a way to get pressure on the quarterback. He can't sit there all day. He's too good."
Senior defensive back
Toney Hurd Jr
. detailed the struggles of the secondary, which allowed a 44-yard touchdown pass on a fleaflicker and a 51-yard catch-and-run touchdown in the first half to
Kenny Bell
.
"First and foremost, hat's off to AJ McCarron and their offensive coordinator [Doug Nussmeier]," Hurd said. "They dialed up some great plays. In the back end, I feel like sometimes we had bad eyes. Sometimes we just didn't trust our keys and techniques and they got us on a few big plays. But I'm sure on Monday we'll get back to work and get those things figured out."
Defending the run wasn't much better for the Aggies and that's been a consistent problem through three games. A&M yielded 6.3 yards per rush attempt on Saturday and it marked the third consecutive game that the Aggies have allowed at least 200 rushing yards.
In their first two games, the Aggies were missing starters at defensive end (
Gavin Stansbury
), linebacker (
Steven Jenkins
) and cornerback (
De'Vante Harris
) because of suspensions. All three returned to the lineup against Alabama, but it didn't stem A&M's struggles.
"Give Alabama credit," Snyder said. "They did a nice job; they had some nice wrinkles. It's hard if you haven't been playing and you haven't seen them to kind of adjust to them. But that's no excuse. We have our guys back and we just have to play better, period."
As it stands currently, the Aggies rank 112th nationally in total defense (489 yards allowed per game), 111th in yards allowed per play (6.92), 115th in run defense (260 yards per game) and 81st on allowing third-down conversions (44 percent).
It's worth noting that the Aggies have a lot of youth and inexperience on the field after graduating key players and suffering a key injury (safety
Floyd Raven
). True freshman linebacker
Jordan Mastrogiovanni
made his first start Saturday; junior safety
Clay Honeycutt
was making only his second career start. There are 11 true freshmen on A&M's defensive two-deep roster. Growing pains are a part of the deal.
But they'll have to grow up quickly. A&M players and coaches spoke on Saturday of their lofty goals still being intact despite one loss. But the defense must improve significantly for them to have a chance at fulfilling those goals.
Snyder believes his unit has that opportunity.
"I told the kids, 'I know what it looks like and we've got a chance to be good,' " Snyder said. "I thought last year as the season went on, we learned [how to minimize big plays]. Our big-play numbers came down and we started playing better defense. So for us today, it was a matter of big plays on our side of the ball and allowed them to get into a groove running the ball once they got the lead."
August, 31, 2013
8/31/13
8:52
PM ET
COLLEGE STATION, Texas -- There are several reasons Texas A&M was so highly thought of and had lofty expectations coming into the 2013 season.
The No. 7 Aggies, who were ranked in the top 10 of both preseason polls (they were No. 6 in the coaches' poll), returned a Heisman Trophy-winning quarterback, a plethora of running backs and an All-America caliber tackle, and play a style of offense that many SEC teams -- defending champion Alabama included -- find hard to defend.
And while there were several positives to take away from Texas A&M's season-opening 52-31 win over Rice on Saturday at Kyle Field, the win also illustrated that the Aggies still have a long way to go in several areas if they plan on fulfilling championship expectations.
[+] Enlarge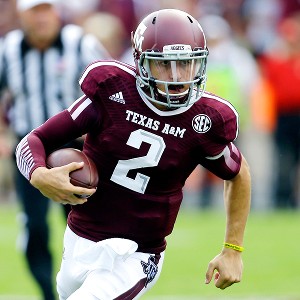 AP Photo/Eric GayThe good news is Johnny Manziel looked like his Heisman Trophy winning self once he got in the game. The bad news is the Aggies look like they still have lots of work to do if they want to win titles.
One of those areas is maturity. Head coach Kevin Sumlin discussed that after the game, and while he was specifically addressing it in relation to the ejection of freshman defensive end
Daeshon Hall
and the unsportsmanlike conduct penalty drawn by quarterback
Johnny Manziel
after a touchdown pass, Sumlin's words can apply across the board.
The Aggies had eight players miss at least the first half of Saturday's game. Four were suspended for "violating Texas A&M athletics department rules and regulations." Three were suspended after offseason arrests and Manziel was suspended for the first half after "inadvertent violations" that occurred as a result of signing autographs after the conclusion of an NCAA investigation.
That was also part of Manziel's message, according to Sumlin, to his teammates when he addressed them on Friday as part of the requirements of restoring his eligibility.
"Actions just like today and just like other guys on this team, those actions may be actions that you think just hurt you, but they end up hurting the whole football team," Sumlin said. "That was the real gist of [Manziel's] message to the team. That everybody's individual acts affect the team. When that happens, it's not good."
Of the suspended players, five were defensive starters (defensive tackle
Kirby Ennis
, cornerbacks
Deshazor Everett
and
De'Vante Harris
, linebacker
Steven Jenkins
and defensive end
Gavin Stansbury
). Another, Floyd Raven, is a key player expected to contribute this fall and was one time projected to start at free safety before
Clay Honeycutt
wound up first on the depth chart after a strong training camp.
As a result, the Aggies' defense was filled with true freshmen and newcomers getting significant playing time on Saturday and ended up surrendering 509 total offensive yards. Now, Rice is a good team in Conference USA that could contend for the league title, but it's not nearly the caliber of opponent Texas A&M will see on its SEC schedule. The Owls ran for a whopping 306 yards -- six yards a carry -- and appeared able to run right at the Aggies' defense.
The Aggies struggled with missed tackles and missed assignments, which are to be expected when you have a significant number of 18- and 19-year-olds on the field.
"We played 20 guys out there that had never played before," Sumlin said. "Is that an excuse for our play? No. I think we learned from today."
The Aggies regain the services of Ennis and Raven next week, though Everett will again have to sit out a half, by rule, because he was ejected in the second half after being called for a targeting penalty. The other four suspended -- Jenkins, Harris, Stansbury and receiver
Edward Pope
-- won't return until Sept. 14 when the Aggies host No. 1 Alabama.
But there were plenty of positives to be seen as well, most notably in the win column. Backup quarterback
Matt Joeckel
showed he was capable of moving the offense, leading the Aggies to 28 first-half points while putting up more than respectable numbers (14-of-19 passing, 190 yards). Joeckel's lone touchdown pass was a 71-yard catch-and-run completion to an apparent star in the making, 6-foot-5, 240-pound true freshman receiver
Ricky Seals-Jones
.
Players who are considered to be among the team's leaders, running back
Ben Malena
(100 total offensive yards, two touchdowns) and
Mike Evans
(84 receiving yards, two touchdowns) played their roles aptly. The kicking game was consistent as
Taylor Bertolet
was perfect on all his kick attempts, something he struggled with last season. And as Sumlin noted, the positive to having so many young players on the field on defense means they'll have a chance to learn from their mistakes and develop. Though there were struggles, they came up with turnovers and still did enough to win.
Most importantly, the Aggies got their quarterback, Manziel, back on the field in the second half and he looked like the player who captivated the nation a season ago. He was 6-of-8 passing for 94 yards with three touchdown passes and showed his trademark scrambling ability, though Rice did a solid job of keeping him from running too wild.
This is a team that has encountered a lot this offseason. From the headlines Manziel made and the NCAA investigation, to the suspensions and most importantly, the death of a teammate --
Polo Manukainiu
-- the Aggies have already dealt with their fair share of adversity.
The Aggies honored Manukainiu on Saturday by wearing decals with his number, first name and a Tongan-inspired design on their helmets and electing sophomore defensive tackle
Alonzo Williams
to wear Maunkainiu's No. 90. The team will elect a different defensive lineman to do so each week as a nod to Manukainiu and his family that he is "still out there with us," senior defensive back
Toney Hurd Jr
. said.
This team has lofty goals. Hurd mentioned Saturday the team would wear the Manukainiu decal "each and every week, leading [up] to the national championship." If they plan to get there, they have a lot of work still to do.
August, 31, 2013
8/31/13
12:10
PM ET
COLLEGE STATION, Texas -- After what has been an eventful offseason, game day is finally here for Texas A&M.
The No. 7 Aggies host Conference USA foe Rice at 1 p.m. ET today, giving their fans a taste of real football after an offseason that involved a lot of headlines.
Heisman Trophy-winning quarterback
Johnny Manziel
will miss the first two quarters, serving a suspension announced Wednesday by Texas A&M and the NCAA after the investigation into allegations that he profited from autographs concluded.
The big question is, who's starting? The answer hasn't officially been made public at this point -- head coach Kevin Sumlin did say that both junior
Matt Joeckel
and true freshman
Kenny Hill
will play in the game.
The speculation seems to be that Joeckel will get the nod in the game's first series, though. Former Aggies defensive tackle Spencer Nealy posted a congratulatory message to Joeckel on his Twitter account on Friday night, tweeting:
Congrats to @MattJoeckel to becoming the starting quarterback against rice...Aggies we are in good hands

— Spencer Nealy (@SNeals99) August 31, 2013
The Aggies will be shorthanded on defense, with several players serving out suspensions stemming from offseason incidents. Starting defensive tackle
Kirby Ennis
and safety Floyd Raven, who is listed second on the depth chart at free safety, will miss the entire game. Junior cornerback
Deshazor Everett
, a starter best known for his interception that sealed A&M's upset victory at Alabama this year, will miss one half of action.
True freshman defensive tackle
Hardreck Walker
is the likely replacement for Ennis when the Aggies are in four defensive lineman alignments. Junior
Clay Honeycutt
is the starter at free safety after having a strong preseason training camp and look for a combination of
Tramain Jacobs
and Alex Sezer, Jr., to fill in for Everett when he's sitting.
Rice comes in with a veteran group, led by a fifth-year senior at quarterback in
Taylor McHargue
. This will be his fourth-straight opening game start; he is one of seven current FBS quarterbacks to have that distinction. The Owls will also be without a pair of defensive starters, linebacker
Cameron Nwosu
(injury) and cornerback
Phillip Gaines
.
August, 28, 2013
8/28/13
8:00
AM ET
COLLEGE STATION, Texas -- Texas A&M held its regularly scheduled weekly news conference on Tuesday in advance of its season opener against Rice on Saturday. While many wonder about the status of quarterback Johnny Manziel, there are other things to keep an eye on. Here are five storylines facing the Aggies as they await the Owls at Kyle Field:
1. Will Manziel play?
That's what Texas A&M fans and much of the college football wants to know: will Heisman Trophy winner Johnny Manziel start on Saturday for Texas A&M? The question remains unanswered officially. Athletic director Eric Hyman released a statement on Monday evening indicated that he instructed the coaching staff and players to not comment on Manziel's status. When Kevin Sumlin was asked about it on Tuesday he said "We're not discussing that....I can't talk about how that decision is going to be made and what goes into that decision. I said from day one, the first day [of training camp], that there will be a lot of people involved in that decision. So what goes into how that decision's made, obviously I can't discuss." So for now, the wait continues.
[+] Enlarge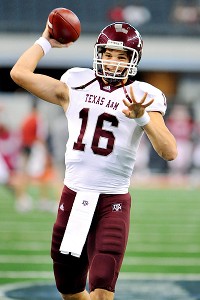 Icon SMIIf defending Heisman Trophy winner Johnny Manziel is held out Saturday against Rice, it could be up to junior Matt Joeckel to lead the Aggies.
2. What if Manziel doesn't play?
At this point, the Aggies turn to either junior Matt Joeckel or true freshman Kenny Hill. Both received praise from coaches and teammates alike on Tuesday. Senior running back Ben Malena said he believes the team will be comfortable with whoever is taking snaps on Saturday. Offensive coordinator Clarence McKinney said offensively, the Aggies would still remain the same. Joeckel brings the presence of a pocket passer who has already spent a year learning the offense while Hill is a dual threat who can run and throw and has had to learn the offense quickly. But on Tuesday, the Aggies appeared confident in both of them should either be pressed into duty.
3. New faces
Sumlin advised fans attending Saturday's game to "buy a program or bring a flip card," because of how many newcomers will see time on the field. Of the 31 players who signed with the Aggies in February, Sumlin said he expects at least 10 to play a role this season, and perhaps as many as 15. Some of the notable newcomers to look for on Saturday include freshmen receivers Ricky Seals-Jones and LaQuvionte Gonzalez, tight end Cameron Clear, who was a juco transfer, linebacker Tommy Sanders -- also a juco transfer -- and true freshman linebacker Shaan Washington. Look for even more newcomers to get looks on special teams, including some of the aforementioned names.
4. Missing personnel
There are suspensions facing three defensive players: senior defensive tackle Kirby Ennis, junior cornerback Deshazor Everett and junior safety Floyd Raven, all three of whom had off-the-field legal trouble this offseason. Ennis and Raven will miss the entire game; Everett will miss a half. Ennis is a starter, so that means you could see a true freshman -- either Isaiah Golden or Hardreck Walker -- in his place when the Aggies go to four defensive linemen. In place of Everett, also a starter, defensive coordinator Mark Snyder said that the Aggies will rotate cornerbacks. Expect to see a heavy dose of Tramain Jacobs but possibly some freshmen such as Alex Sezer, Victor Davis or Tavares Garner as possibilities.Raven isn't listed as the starter at free safety like he was coming out of spring football. Instead, it's junior Clay Honeycutt, who Snyder was complimentary of on Tuesday. Honeycutt, a former high school quarterback at Dickinson (Texas) High, has come a long way according to Snyder and has earned himself the start against Rice.
Also of note, running back Brandon Williams [foot surgery] might be limited. Offensive coordinator Clarence McKinney said "I wouldn't expect to see a lot from Brandon on Saturday."
5. Familiar foes
The Aggies and Owls haven't met on the field since the Southwest Conference folded in 1995, as both teams were part of the now-defunct league, but the coaching staffs do have recent history. David Bailiff is in his seventh season at Rice, a rival of Houston, where Sumlin was the head coach for four seasons (2008-2011). Snyder also stood on a sideline opposite Bailiff when Snyder was the head coach at Marshall from 2005-09. Sumlin's staff also recruited Rice starting quarterback Taylor McHargue when Sumlin was with the Cougars. So there is plenty of familiarity, at least in terms of coaching staffs, between the two squads.
June, 18, 2013
6/18/13
12:00
PM ET
During the summer, GigEmNation will take a closer look at returning starters and other key players on the two-deep for Texas A&M -- excluding the Aggies' 2013 recruiting class -- that could make notable impact this fall in our Aggie Snapshot series. Starting with No. 1 De'Vante Harris, the series will follow the roster numerically through our final analysis of No. 95 Julien Obioha.
No. 25 Clay Honeycutt
Junior safety
To continue reading this article you must be an Insider
March, 2, 2013
3/02/13
5:15
PM ET
When it comes to defensive backs, the class of 2014 is a strong one in the Lone Star State.
And Texas A&M is doing quite a job locking down several as commitments, adding two more to their 2014 haul on Saturday in the form of ESPN Watch List safety
Dylan Sumner-Gardner
and Forney (Texas) North Forney athlete
Armani Watts
.
To continue reading this article you must be an Insider
August, 9, 2012
8/09/12
4:13
PM ET
TAMU Asst. Tops Recruiter Power Rankings
SEC SCOREBOARD
Thursday, 8/28
Saturday, 8/30
Sunday, 8/31