Texas A&M Aggies:

Chris Boyd
June, 10, 2014
6/10/14
9:00
AM ET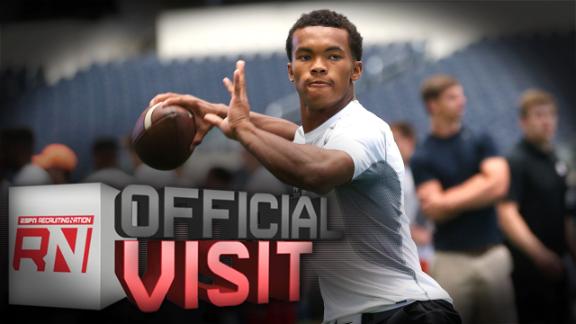 Whether or not it's fair to say
ESPN 300
quarterback and
Texas A&M
commit
Kyler Murray
is a pied piper is still to be determined. As good as he has been in high school -- two state championship rings, invitations to the Elite 11 finals and The Opening and nearly two dozen scholarship offers -- he has yet to play a down of college football.
But for an athlete who turns 17 in August, the expectations are incredible for Murray, who is the nation's top-ranked quarterback in the 2015 class. Watch him play and it makes sense. His drive to be the best is infectious, and his refuse-to-lose attitude has not only attracted coaches from coast to coast but also made them look past his 5-foot-11, 180-pound frame.
More important, Murray has other recruits -- on offense and defense -- wanting to be his future teammate.
The Kyler Murray effect is real, and it's something the Aggies hope to benefit from this summer.
February, 13, 2014
2/13/14
12:15
PM ET
OK, all this snow and cold weather was fun, but it's time for some spring weather to come in and stay. Thanks, Mother Nature.
November, 4, 2013
11/04/13
9:00
AM ET

We are officially in the sport's toughest month. Alabama has survived this month before without being perfect, but can the Crimson Tide afford that this season? The next few weeks will tell:
1. Alabama (8-0, 5-0 SEC; last week: 1):
The Crimson Tide were off last week, which sets up perfectly for Alabama's home showdown with LSU this weekend. Knock Alabama's cakewalk of an October all you want, but the Tide allowed just 20 points last month while scoring 45 or more in all four games.
2. Auburn (8-1, 4-1 SEC; LW: 2):
The offense wasn't totally exciting in the win over Arkansas, but it's pretty clear that running back
Tre Mason
is knocking on the door of the elite running backs club in the SEC. He's third in the league with 921 rushing yards and leads the conference with 13 touchdowns. There's no need for Auburn to throw much when the Tigers are rushing for 5.1 yards per carry and crossing the 230-yard mark.
3. Texas A&M (7-2, 3-2 SEC; LW: 3):
We've been waiting to see a complete performance from the Aggies, and they looked pretty good on both sides of the ball against an overmatched UTEP team. Who cares what kind of talent the Miners didn't have; A&M needed this kind of game to start November. Behind six
Johnny Manziel
touchdowns and a defense that allowed just 198 yards and 3.2 yards per play, the Aggies rolled 57-7.
4. South Carolina (7-2, 5-2 SEC; LW: 4):
The Gamecocks are a victory over Florida away from sitting back and rooting for Ole Miss and Texas A&M to knock off Missouri and for Auburn to take down Georgia. If all that happens, the Gamecocks, who dismantled Mississippi State 34-16 on Saturday, will be headed to Atlanta for the SEC championship game. Also, running back
Mike Davis
has been excellent and leads the SEC with 1,058 yards.
5. Missouri (8-1, 4-1 SEC; LW: 5):
The Tigers throttled Tennessee 31-3 at home and still control their own destiny in the SEC East. Missouri hit the 500-yard mark on offense for the fifth time this season and harassed the Vols' offense all day, forcing three turnovers and allowing just 334 yards.
6. LSU (7-2, 3-2 SEC; LW: 6):
The Tigers were off, which gives them an extra week to prepare for No. 1 Alabama. LSU has had a problem with focus in the last couple of games, but don't expect that to be an issue in Tuscaloosa, Ala. LSU won the last time it was there and gave Alabama a heck of a game last season. LSU, averaging 480 yards of offense per game, will be only the third team Alabama has faced that is averaging more than 400 yards.
7. Georgia (5-3, 4-2 SEC; LW: 7):
Aaron Murray
picked up his third consecutive victory over Florida and the Bulldogs are right back in the East race. They still need Mizzou to lose two more SEC games, but the Dawgs aren't out of it by any means. Georgia's 23-20 victory over the Gators wasn't exactly pretty with its second-half play, but the Dawgs put up 414 yards on the SEC's then-No. 1 defense.
8. Ole Miss (5-3, 2-3 SEC; LW: 8):
The Rebels were off, but should still have some momentum churning after consecutive victories. The Rebels rank eighth in the conference in total offense (462.3) and sixth in total defense (379.4). Now, Ole Miss prepares to host an Arkansas team that has lost six in a row.
9. Florida (4-4, 3-3 SEC; LW: 9):
It's been a very long and very frustrating season for the Gators. With their loss to Georgia, they are looking at a 6-6 season after winning 11 last year. But with Vanderbilt next, 5-7 certainly isn't out of the question. This team is struggling in all phases of the game, Will Muschamp is feeling the heat and it's clear that Florida's stale offense is too limited to drastically improve.
10. Tennessee (4-5, 1-4 SEC; LW: 10):
Freshman Josh Dobbs is now the guy at quarterback, but he had a rough debut as the Vols' starter in the loss to Missouri. He threw for 240 yards, but had two interceptions and was sacked twice. This team still has a long way to go on both sides of the ball, but there has to be some encouragement with Dobbs' play. He certainly isn't perfect, and he needs a lot more help around him, but is composure has been better than expected.
11. Vanderbilt (4-4, 1-4 SEC; LW: 11):
After being blown out by Texas A&M, the Commodores were off. This team really is hurting without Chris Boyd on offense, and injuries on defense haven't helped. But Vanderbilt is still very much in the postseason race and takes on a Florida team that has now dropped three games in a row.
12. Mississippi State (4-4, 1-3 SEC; LW: 12:):
The Bulldogs' two-game winning streak ended with a blowout loss to South Carolina. The Bulldogs hung around in the first half, but were outscored 17-6 in the second half. It didn't help the Bulldogs that quarterback
Dak Prescott
threw three interceptions after throwing just three on the season coming in. With Texas A&M, Alabama and Ole Miss remaining, making a bowl game won't be easy.
13. Arkansas (3-6, 0-5 SEC; LW: 13):
A very long season for the Razorbacks only got longer with their 35-17 loss to Auburn. The good news for the Hogs is that the defense had one of its better performances in conference play and the offense hit the 300-yard mark for the first time since Sept. 28. But there just aren't enough working parts on either side of the ball for this team to be competitive under Bret Bielema.
14. Kentucky (2-6, 0-4 SEC; LW: 14):
After losing five in a row, the Wildcats got back into the win column with a 48-14 victory over Alabama State. The competition wasn't great, but Mark Stoops and this bunch will take any wins they can at this point. Banged-up quarterback
Jalen Whitlow
had an impressive day, rushing for 101 yards and two touchdowns and throwing for 186 yards and two more scores. One of his rushing touchdowns came on an 88-yard run in the first quarter.
September, 19, 2013
9/19/13
12:00
PM ET
We've got a good one tonight as No. 3 Clemson goes against conference foe North Carolina State. It's not the SEC, I know, but we'll make due. Georgia fans looking to remain in the title picture should hope for a Clemson blowout to keep making that one early loss look better and better on the resume.
September, 3, 2013
9/03/13
9:00
AM ET

The first week of college football is in the books, and it's time to see where we think all 14 SEC teams stack up in our weekly power rankings:
1. Alabama (1-0; LW: 1):
OK, Alabama isn't perfect. Contrary to what
AJ McCarron
said, the offensive line looked ugly for most of the night in Alabama's win over Virginia Tech. It has to get better in a hurry. But when your defense and special teams are clicking like they were on Saturday, who needs offense?
2. South Carolina (1-0; LW: 4):
Two players I've been saying to keep an eye on since the spring:
Mike Davis
and
Shaq Roland
. Both looked pretty good, especially Davis, in that opening win, and both will be fun to watch this weekend. The defensive front looked great, but can someone please give
Jadeveon Clowney
some vitamin C and an extra Gatorade?
3. LSU (1-0; LW: 6):
Don't sleep on these Tigers. They're undervalued, but were very impressive in their 37-27 victory over a ranked TCU team in their own backyard. The defense still looks fast, and the offense racked up nearly 450 yards behind some explosive plays. The return of running back
Jeremy Hill
should make this team even better.
4. Texas A&M (1-0; LW: 2):
Johnny Manziel
looked good when he was actually playing football Saturday. He went through his progressions and didn't think "run" first. But his antics have to stop (just ask Kevin Sumlin), and that defense has to get much, much, MUCH better before Alabama rolls into town in two weeks.
5. Florida (1-0; LW: 5):
It doesn't look like the Gators will miss much of a beat defensively after they suffocated Toledo and that uptempo offense. The offense? Well, it did look more polished and the passing game actually moved down the field, but the Gators were very vanilla. Expect that to change against Miami.
6. Georgia (0-1; LW: 3):
We knew the defense would struggle against Clemson's high-octane offense, but the Bulldogs looked really bad in the tackling department. This group has to go back to the basics, and that isn't a good thing with physical South Carolina coming to town this weekend. Also, that offensive line has to protect
Aaron Murray
better because
Todd Gurley
can't do it all himself on offense.
7. Ole Miss (1-0; LW: 8):
The future certainly looks bright in Oxford, Miss., but this program is hoping the present is just as bright. The Rebels kicked off the college football season with an electric, back-and-forth win over Vanderbilt. This offense looks built to go the distance, but depth is still a major concern. Health is key.
8. Vanderbilt (0-1; LW: 7):
The Commodores lost a heartbreaker to the Rebels at home, but this team still looks as explosive as it was last year. The defense has some things to clean up, but defensive coordinator Bob Shoop should make sure that happens.
Jordan Matthews
has star status, but not having
Chris Boyd
on the other side of him hurts the offense.
9. Auburn (1-0; LW: 9):
The Tigers had quite a fun opener. Both the offense and defense were up and down, but it had to be nice for Gus Malzahn to see his running game put up 295 yards on Washington State. The pass defense has some work to do and injuries won't help.
10. Missouri (1-0; LW: 11):
The 58-point, 694-yard performance from the Tigers' offense looked more like what people in Columbia, Mo., expected to see more often last year. Granted, it was against Murray State, but that sort of outing will build some confidence within this group. It was good to see
James Franklin
and
Henry Josey
on the field and healthy again.
11. Arkansas (1-0; LW: 13):
By looking at the box score, you'd think Bobby Petrino's offense was back in Fayetteville, Ark., after the Hogs put up 522 yards on Louisiana-Lafayette. The Hogs could run and pass, and the defense held the Ragin' Cajuns to just 274 yards. The Hogs still have a couple of cupcakes to face before things get interesting at Rutgers.
12. Tennessee (1-0; LW: 12):
We really don't know what to take from Tennessee's thumping of a very overmatched Austin Peay team, but the Vols looked to have some real legs in the running game. How long that will last is a mystery, but it was a good start. Things get tougher this weekend when Western Kentucky and Bobby Petrino visit Rocky Top.
13. Mississippi State (0-1; LW: 10):
That was a bad offensive performance by the Bulldogs in their 21-3 loss to Oklahoma State. Mississippi State was 2-for-16 on third downs and
Tyler Russell
threw for only 133 yards against a defense that ranked 113th nationally in pass defense last year. The Bulldogs held the Cowboys to just 146 passing yards, but allowed nearly 286 rushing yards.
14. Kentucky (0-1; LW: 14):
That was not the opener Mark Stoops wanted or needed. The Wildcats looked overmatched against Western Kentucky and are still struggling mightily to find playmakers in the passing game. What had to really upset Stoops was that his defensive line, which was supposed to be this team's best unit, didn't get enough pressure up front and allowed the Hilltoppers to rush for more than 200 yards.
August, 30, 2013
8/30/13
5:30
PM ET
The season is here. Finally, there's real football to talk about! Here's this week's SEC mailbag:
Daniel, via Twitter (@badger_daniel):
After seeing what (LaQuon) Treadwell can do in last night's game, does Ole Miss have the best SEC receiving duo?

Sam Khan Jr.:
First of all, allow me to say this:
Laquon Treadwell
looks like he's going to be a star, and really quickly. His size (6-foot-3, 215 pounds) and hands are terrific -- the one-handed catch he made was wonderful. After catching nine passes for 82 yards last night, I suspect Hugh Freeze and Co. will try to continue to get the ball in his hands. Most of his damage was done on two third-quarter drives, but those were both crucial drives because it helped Ole Miss narrow a 21-10 deficit to 28-25, setting the stage for the dramatic finish.
To answer your question, I think it's too early to definitively call Treadwell and junior
Donte Moncrief
the best receiving duo in the conference, because I want to see Treadwell play more and show that he can bring good production consistently, something Moncrief did last season. I think it's safe to say they'll be one of the best and if Treadwell continues to progress, they could take that title. Alabama's going to have an argument with
Amari Cooper
and a number of others you could fill-in-the-blank with (it could be
Kevin Norwood
,
Christion Jones
,
Kenny Bell
,
DeAndrew White
or even a newcomer). Vanderbilt has
Jordan Matthews
and we'll see if senior
Jonathan Krause
can develop into a reliable No. 2 -- the Commodores are without normal No. 2 receiver
Chris Boyd
, who is suspended after being indicted earlier this month in connection with the rape case that involved four other Vanderbilt players. Keep an eye on Georgia (
Malcolm Mitchell
,
Michael Bennett
) and Texas A&M (
Mike Evans
,
Malcome Kennedy
or perhaps
Ricky Seals-Jones
if they break out) too. But you might be on to something, because Moncrief is already a star. If Treadwell becomes one too, look out SEC West.
Carlos, via Twitter (@catorano):
Which new coach will have the most success in his first year in the SEC?
Sam Khan Jr:
Personally, I think it will be Gus Malzahn at Auburn. One advantage he has is familiarity with the program, since he was with the Tigers for three seasons and helped them to a BCS title. He was only gone for a year, so he's certainly familiar with much of the personnel too. His offense is effective and the cupboard isn't bare in terms of talent; Auburn has recruited well, turning in top 20 classes each of the last four years. There's a lot of buzz about the arm strength starting quarterback
Nick Marshall
has and if he can get the Tigers tempo moving fast early on, I think Auburn might be able to make a little bit of noise.
Matthew, via Twitter (@MVPenergy):
% likelihood we will see ALL 3 TAMU QBs when #JohnnyFootball is sat down 1/2 (way through the) 4th QTR
Sam Khan Jr.:
I'm docking you points for not first asking "Who's going to start?" because that's what everyone wants to know. But you're forgiven. I think there's a decent chance we see all three of Texas A&M's scholarship quarterbacks in the Aggies' season opener against Rice. Coach Kevin Sumlin has been tight-lipped about who will get the nod and I know the coaching staff has been discussing different plans, but my hunch is that junior
Matt Joeckel
gets the start because he already has some game experience. True freshman
Kenny Hill
is the current "quarterback of the future" for the Aggies, however. I've never known Sumlin to be a two-quarterback guy or rotate them, but this could be a special case because of the circumstances. And I would not be surprised at all if it was Hill who trotted out first. Either way, once the third quarter arrives, we all know who comes in:
Johnny Manziel
. And I think, even if it's a blowout, Manziel will play at least a quarter.
Josh, via Twitter (@JoshAgof11):
Realistic chance of (Aggies) running the table? Like what I've heard for both sides of the ball.
Sam Khan Jr.:
I think it's going to be difficult, but not impossible. Of course, Texas A&M must first get through the showdown on Sept. 14 with Alabama. If they get through that, the toughest obstacles left in the regular season, in my opinion, are road games at Ole Miss and LSU. I'm sure many remember what it took for the Aggies to escape Oxford, Miss., with a win after turning the ball over six times and Death Valley is nothing to mess with, particularly for a night game (which, I suspect it would be if the Aggies were to roll into the LSU game undefeated). Then if you get through all that, you have to beat an SEC East team in the SEC title game, probably Georgia, South Carolina or Florida. It's really difficult to do. Alabama has won three of the last four national titles and two of those seasons they lost a regular season game. I won't count it out because Manziel is that special and that offense is powerful. But with a lot of youth and newcomers seeing the field on defense and whether there's improvement in the kicking game are the wild cards.
August, 29, 2013
8/29/13
9:00
AM ET
Well, it's that time again. With the start of the college football season, which literally kicks off in a few hours, we are back to our weekly SEC predictions.
I mean, it's no big deal or anything, but I completely dominated the picks last year. The ATL Kid showed no mercy. Chris just didn't have the focus that you'd expect from a veteran. He started covering this league when I still had training wheels on my bike and chocolate stains on my shirts. (OK, those are still there.)
I spent the entire offseason gloating over how my beautiful 107-15 (.877) record looked down at Chris' 100-22 (.820) record and scoffed. But I also did some homework. I studied film. I might have had the championship belt around my waist, but today is a new day -- a new season.
Last year's picks mean nothing (except in the realm of blogger pride), so I have to start over. I'll starting lifting and running more in the mornings in order to get my mind and body right for the days ahead.
One championship was nice, but I'm looking for more rings and more bragging rights, and that all starts with a strong Week 1.
Let's get onto the picks:
THURSDAY
NORTH CAROLINA AT SOUTH CAROLINA
Chris Low:
It's the Battle of the Carolinas, or as the Head Ball Coach would say, South Carolina vs. "Dabo's Carolina." Not sure Dabo's Carolina will be able to block Mr. Clowney. Then again, can anybody? ...
South Carolina 30, North Carolina 17
Edward Aschoff:
This could be the team that gets Steve Spurrier back to the SEC championship game.
Jadeveon Clowney
and that talented defensive line will make things miserable for UNC's offense all night. ...
South Carolina 31, North Carolina 17
OLE MISS AT VANDERBILT
Chris Low
: There's no getting around the rape case and how it will impact the Commodores, especially with junior receiver
Chris Boyd
being suspended. The Rebels are for real and will finally figure out a way to beat the Commodores after losing five of the last six in this series. ...
Ole Miss 24, Vanderbilt 20
Edward Aschoff:
Both of these teams are on the rise in the SEC and have higher expectations than usual entering the season. While the Rebels have struggled recently with the Commodores, there's more pressure on Vandy, and Ole Miss will claim its redemption. ...
Ole Miss 27, Vanderbilt 24
SATURDAY
WESTERN KENTUCKY VS KENTUCKY (in Nashville, Tenn.)
Chris Low:
OK, no jokes about Bobby Petrino riding his motorcycle to the game. He gets his first of two straight chances to take down SEC teams, but the Wildcats will stand their ground in Mark Stoops' debut. ...
Kentucky 28, Western Kentucky 21
Edward Aschoff:
Mark Stoops doesn't get a cupcake for his first game as Kentucky's new coach. I think it actually benefits him because he'll have a better idea of what he really has. And what he'll have is an opening-day winner. ...
Kentucky 24, Western Kentucky 20
LOUISIANA-LAFAYETTE AT ARKANSAS
Chris Low:
Louisiana-Monroe sent the Hogs reeling last season. Now, it's Louisiana (the Ragin' Cajuns) who'd like to get a little slice of Pig Sooie. Arkansas is too strong up front defensively to stumble in this one. ...
Arkansas 27, Louisiana 17
Edward Aschoff:
Bret Bielema and his Hogs are dealing with a lot of injuries, but he'll still have more talent on the field Saturday. We won't know a ton about this team, but starting off 1-0 ain't bad. ...
Arkansas 27, Louisiana-Lafayette 17
AUSTIN PEAY AT TENNESSEE
Chris Low:
There won't be many breathers for Butch Jones in his first season at Tennessee, but the only drama in this one will be whether or not the Pride of the Southland Band has enough stamina to still be playing "Rocky Top" in the fourth quarter. ...
Tennessee 45, Austin Peay 7
Edward Aschoff:
Another new coach makes his debut with a team shrouded in mystery. Jones has a lot of inexperience to work with on offense and it'll be interesting to see how that up-tempo offense looks. ...
Tennessee 31, Austin Peay 14
MURRAY STATE AT MISSOURI
Chris Low:
It sounds like
Henry Josey
is healthy again, and all those SEC fans who didn't get a chance to see him last season while he was sidelined are in for a treat. It won't be a lot of fun for Murray State trying to tackle him. ...
Missouri 38, Murray State 14
Edward Aschoff:
The Tigers are healthier and carrying a big chip on their shoulders this season. A more complete Missouri team should take the field this weekend. ...
Missouri 41, Murray State 13
WASHINGTON STATE at AUBURN
Chris Low:
We know that Mike Leach thinks the bottom half of the Pac-12 is better than the bottom half of the SEC. Here's his chance to prove it, although the Tigers should be greatly improved this season. ...
Auburn 34, Washington State 21
Edward Aschoff:
The Tigers have no choice but to get better with Gus Malzahn back on the Plains and Ellis Johnson taking over the defense. You should see lots of points in Malzahn's debut as the head coach. ...
Auburn 38, Washington State 20
TOLEDO AT FLORIDA
Chris Low:
The latest blow to the Gators was offensive tackle
Chaz Green
going down for the season, joining already injured running back
Matt Jones
and guard
Jon Halapio
. But when you don't give up any touchdowns, it's hard to lose. ...
Florida 24, Toledo 6
Edward Aschoff:
The Gators enter with a banged-up offense that already had a lot of questions. Toledo is far from a pushover, but Florida has the muscle to get by a tricky opening opponent. ...
Florida 27, Toledo 10
RICE AT TEXAS A&M
Chris Low:
By order of Texas A&M athletic director Eric Hyman, I will not make any comments concerning a certain Aggies' quarterback. What I will say is that the Aggies will roll despite No. 2 being on the bench for a half. ...
Texas A&M 48, Rice 10
Edward Aschoff:
Johnny Football might be sitting out a half, but it wouldn't matter if he were sitting out the entire game. It's finally time for A&M to get back on the playing field. ...
Texas A&M 48, Rice 17
MISSISSIPPI STATE VS OKLAHOMA STATE (Houston, Texas)
Chris Low:
The Bulldogs want to bring more pressure on defense this season. They're going to need to in this one, but they will have a hard time scoring with the Cowboys. ...
Oklahoma State 37, Mississippi State 24
Edward Aschoff:
A lot of questions remain for the Bulldogs, and it won't be easy for this defense to slow down Oklahoma State's high-powered passing game. ...
Oklahoma State 34, Mississippi State 21
LSU VS TCU (in Arlington, Texas)
Chris Low:
Les Miles isn't saying whether
Jeremy Hill
will play in the opener. He's "withholding" that information. Something else that will be withheld is TCU touchdowns. This LSU defense might be young, but it's not lacking talent. ...
LSU 28, TCU 16
Edward Aschoff:
The Tigers might be the must undervalued team in the SEC. Miles always has his teams prepared for these out-of-conference games, and you'll see a more explosive offense that's fast and athletic and will overpower the Horned Frogs. ...
LSU 31, TCU 17
ALABAMA VS VIRGINIA TECH (in Atlanta)
Chris Low:
This is not your father's Virginia Tech team. The Hokies simply don't have enough firepower to keep it close against the two-time defending national champions. ...
Alabama 35, Virginia Tech 10
Edward Aschoff:
Alabama likes these big openers. The process is strong with Crimson Tide players and Virginia Tech is hurting. Alabama comes in more talented, and the Hokies just don't have the horses to keep up in Atlanta. ...
Alabama 38, Virginia Tech 13
GEORGIA AT CLEMSON
Chris Low:
It's the most compelling opener of the season and should also be the most entertaining. If you like points, sit back and enjoy. The Dawgs will hold up a little better in the secondary and sneak out with a win. ...
Georgia 35, Clemson 31
Edward Aschoff:
This is the main event. Both teams have high-octane offenses and both have defenses littered with questions. Georgia has a lot of talent on defense, but it's young. This game is going to come down to which defense makes a play late -- and home-field advantage. ...
Clemson 34, Georgia 31
August, 26, 2013
8/26/13
8:00
AM ET
It's officially game week! We all thought it wouldn't come, but it's finally here, and in just three days we'll have our first college football games of the 2013 season!
And what's a better way to kick off one of the most glorious weeks of the year than debuting the first set of power rankings for the season?
Here's where all 14 SEC teams rank in my eyes heading into the first weekend of the season:
1. Alabama:
The two-time defending national champion brings back an extremely talented defense and an All-American candidate at quarterback who will have a slew of weapons to work with. The question is if there's a team not named Alabama that can stop the Tide from winning its third straight BCS national title.
2. Texas A&M:
Reigning Heisman Trophy winner
Johnny Manziel
has received all the wrong kinds of attention this year, but as long as he's the Aggies' quarterback, A&M should again contend for the SEC West. Even with an ongoing investigation swirling around Johnny Football and his autographs, it doesn't sound like A&M plans to sit its star for Saturday's opener against Rice.
3. Georgia:
The Bulldogs lost a wealth of defensive experience from last year's team, but they still will operate with one of the nation's best offenses. There should be no shortage of points in Georgia's opening matchup against Clemson on Saturday, and it'll provide a nice test for the Dawgs' young defense.
4. South Carolina:
There are questions at linebacker and in the secondary, but having arguably the SEC's best defensive line could help mask some issues behind it early. Oh, and
Jadeveon Clowney
is still roaming around out there. The Gamecocks also should have quite the balanced offense to work with this fall, even if two quarterbacks are sharing snaps at times.
5. Florida:
The defense lost some key starters from last year, but it looks like year's defense won't miss much of a beat given the quality reps returners got last year. The offense is still a mystery, especially the passing game, as a consistent receiving target has to emerge. Also, not having running back
Matt Jones
after the first week would be a major blow.
6. LSU:
The return of running back
Jeremy Hill
and the maturation of quarterback
Zach Mettenberger
mean the Tigers should have a better and more explosive offense in 2013. It'll help to have a solid line and all of Mettenberger's top receiving targets returning, but can that rebuilt defense help get LSU back into BCS contention this fall?
7. Vanderbilt:
Off-field distractions could be clouding the minds of these players, but coach
James Franklin
has made sure to keep his guys as focused as possible. Expectations are higher than ever, as a very good -- and underrated -- defense returns, while the offense has the potential to be very explosive again. However, if starting receiver
Chris Boyd
misses time due to his suspension, Vanderbilt could be in trouble.
8. Ole Miss:
The expectations are higher in Oxford than they have been in years, but second-year coach Hugh Freeze would like those tempered a bit. Nineteen starters return, including All-SEC candidates
Donte Moncrief
and
Bo Wallace
. It's hard not to think the Rebels will build off the success Freeze had in his first year. Depth is still an issue in certain areas, and the start of the schedule is brutal.
9. Auburn:
With Gus Malzahn back on the Plains and Ellis Johnson working with the defense, the Tigers have the recipe to be better in 2013. No longer will coaches be trying to fit a square peg into a round hole on offense, and Johnson has proved to be a great at developing talent. Those are two things that lacked in last year's team. Also, Malzahn has said he's very comfortable with junior college transfer quarterback
Nick Marshall
, who fits his offense perfectly.
10. Mississippi State:
Dan Mullen is looking to take the Bulldogs to their fourth straight bowl game. The talent is certainly there to do it, but the road to the postseason will be challenging. Mississippi State has to replace its top four receiving threats and three starters in the secondary, including Jim Thorpe Award winner Johnthan Banks. Having veterans
Tyler Russell
and
LaDarius Perkins
working behind a solid offensive line will help, but this team has to generate more pressure from its defensive line.
11. Missouri:
The Tigers' SEC debut didn't go well at all last year, but injuries were a major factor. The offensive line is healthier, but communication issues in the spring really hurt the offense's growth. The hope is that the talent at receiver lives up to its potential, while the defense has to make strides at linebacker and in the secondary.
12. Tennessee:
New coach Butch Jones has brought a lot of excitement to the program, and he's building for the future. But in the present, a lot of questions remain, especially on offense. So much receiving talent is gone, and recently named starting quarterback
Justin Worley
has little experience. The defense returns a lot of experience and should be better-suited to run John Jancek's 4-3 defensive scheme.
13. Arkansas:
There's no question Bret Bielema's presence in Fayetteville has generated some much-needed excitement, but the personnel has to match Bielema's intensity. Right now, the name of the game is making sure players adapt to Bielema's more physical style. The inexperienced receiving corps has been ravaged by injuries plus a transfer, and the defense still has a lot of questions at linebacker and in the secondary.
14. Kentucky:
New coach Mark Stoops has known since day one that fixing the problems at the offensive skill positions was going to be tough. A quarterback has to be found, consistency at receiver must develop, and the running backs have to stay healthy. Defensively, the line is one of the SEC's best, but there are holes at linebacker and in the secondary. A turnaround is possible, but this team has a long way to go.
July, 11, 2012
7/11/12
6:36
PM ET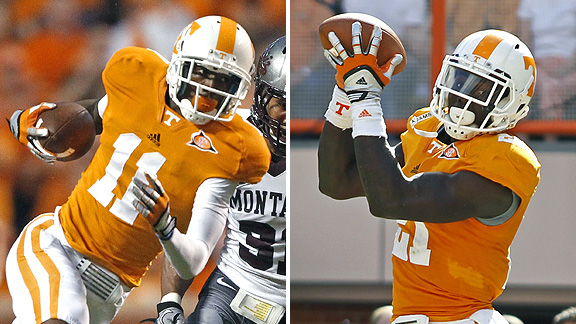 AP Photo/Wade PayneJustin Hunter (11) and Da'Rick Rogers (21) are considered to be the best receiving duo in the SEC.
Our SEC position rankings continue with a look at schools' wide receiver and tight end groups.
Past rankings:
On to the league's wide receiver/tight end groups:
1. Tennessee:
The Vols are equipped with two of the top wideouts in the league with
Da'Rick Rogers
, who was second in the SEC in receiving last year, and
Justin Hunter
, who might be the SEC's top deep threat. It sounds like Hunter will be 100 percent this fall after his ACL injury last year. Junior college transfer Cordarrelle Patterson is big, fast and possesses the big-play gene. The speedy
Zach Rogers
is back and is so is talented tight end
Mychal Rivera
.
2. Arkansas:
Cobi Hamilton
is now Arkansas' primary receiver, and he might be the league's most complete wideout. He can make the big-play and elude defenders along the way. While
Marquel Wade
's status is still unclear, if he does return, he'll be a major lift for this offense because of his playmaking ability in the slot.
Julian Horton
and
Javontee Herndon
have always impressed coaches in practice and now will get their chances to in games. Tight end
Chris Gragg
should be even more involved and is the league's top tight end.
3. Georgia:
While
Malcolm Mitchell
could go back and forth between receiver and corner, when he's at receiver he's Georgia's top offensive threat and was one of the league's best as a rookie. There are vets behind him, starting with reliable senior
Tavarres King
, who had a very good spring, senior
Marlon Brown
, who seemed to take a big step in his game this spring. Sophomores
Michael Bennett
and
Chris Conley
combined for 48 catches for 608 yards and seven touchdowns last year. Unproven tight ends
Arthur Lynch
and
Jay Rome
will replace Orson Charles and Aron White.
4. Texas A&M:
This isn't the fastest group out there, but there are some pretty reliable weapons, starting with star
Ryan Swope
, who could have left for the NFL after catching 89 passes for 1,207 yards and 11 touchdowns last year.
Uzoma Nwachukwu
was third on the team with 50 catches for 639 yards and three tight ends --
Nehemiah Hicks
,
Michael Lamothe
and
Hutson Prioleau
-- return. Keep an eye on junior
Nate Askew
, who could be a downfield threat this fall.
5. LSU:
Odell Beckham
Jr. was one of the top rookies last year and could be even better in Year 2. He'll be joined by potential deep threat and big-play target
Jarvis Landry
, who developed some good chemistry with quarterback
Zach Mettenberger
this spring.
Russell Shepard
is talented, but he's been wildly inconsistent. Keep an eye on junior
James Wright
and incoming frosh
Avery Johnson
, who is the younger brother of Patrick Peterson. Also, tight end
Chase Clement
is on the John Mackey watch list.
[+] Enlarge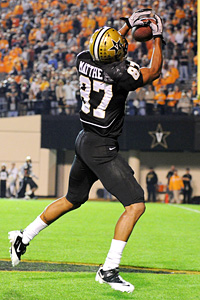 Don McPeak/US PresswireWide receiver Jordan Matthews is one player the Commodores will be counting on this fall.
6. Vanderbilt:
This group surprised last year and returns most of its components, starting with
Jordan Matthews
, who was fourth in the SEC in receiving last year. Sophomore
Chris Boyd
was solid last year, hauling in 31 catches and eight touchdowns.
Jonathan Krause
is very good in space and should see his role increase this fall after a solid spring. The coaches are excited about former QB
Josh Grady
moving to receiver. Replacing tight end Brandon Barden won't be easy.
7. Alabama:
There is more speed out wide in Tuscaloosa, but there's a lot more youth. The Tide could turn to freshmen Chris Black, Amari Cooper and Eddie Williams to help develop a more downfield passing game. More will be expected from veterans
Kenny Bell
and
Kevin Norwood
, while sophomore
DeAndrew White
possesses a ton of speed. Still no word on
Duron Carter
. Tight end
Michael Williams
was solid last year, but will be used even more this fall.
8. Mississippi State:
There is a lot of experience here, but this group has still underperformed at times, especially senior
Chad Bumphis
, who has yet to live up to all the hype that followed him from high school. Seniors
Chris Smith
and
Arceto Clark
combined for 65 catches last year, while the staff is very excited about the big-play potential redshirt freshman
Joe Morrow
possesses. Tight end
Malcolm Johnson
serves as a very reliable tight end target, as well.
9. Missouri:
The Tigers lost two starting receivers and stud tight end Michael Egnew, but three of the top five pass catchers are back, including inside threat
T.J. Moe
, who led Mizzou in receiving last year. Big things are expected from
Marcus Lucas
, who can stretch the field with his speed and physicality, and the coaches think
L'Damian Washington
can also be a downfield threat. Also, Dorial Green-Beckham, last year's top recruit, should make an immediate impact.
Eric Waters
is replacing Egnew, but has just two career catches and suffered a knee injury this spring.
10. Auburn:
Emory Blake
is one of the league's top downfield threats and has been one of Auburn's most consistent offensive weapons. So has tight end
Philip Lutzenkirchen
, who should be more of a passing threat with the addition of transfer fullback
Jay Prosch
. There is a lot of depth, but it's unproven.
Trovon Reed
was supposed to be a star, but had a lackluster second year. Seniors
Travante Stallworth
and
DeAngelo Benton
have 15 and 14 career catches, respectively.
Quan Bray
has shown potential and could have a bigger role this season and keep an eye on freshman Ricardo Louis.
11. Florida:
The Gators have struggled here since 2009 and still lack proven playmakers.
Andre Debose
is probably the best bet to be one, but he's been very inconsistent.
Quinton Dunbar
has the speed to be an outside threat, but caught just 14 passes last year. And the coaches are still waiting for senior
Frankie Hammond
Jr. to turn things up. True freshman Latroy Pittman had a great spring and the coaches are excited about his potential. Tight end
Jordan Reed
is one of the most athletic players in the league and will be a bigger target with two young quarterbacks throwing the ball.
12. South Carolina:
Now that Alshon Jeffery is gone, the Gamecocks have questions and inexperience here. The fast, athletic
Ace Sanders
is the only returning pass catcher with at least 20 catches from last year (29). The hope is
Bruce Ellington
will be more of a factor this fall. Tight ends
Justice Cunningham
and
Rory Anderson
combined for 26 catches and four touchdowns.
Damiere Byrd
has blazing speed, but caught just one pass last year.
DeAngelo Smith
had a solid spring, and the coaches hope he can be a downfield threat. A lot will be expected from incoming freshman Shaq Roland.
13. Ole Miss:
Sophomore
Donte Moncrief
is a budding star in this league and thinks he'll be even better in Hugh Freeze's spread offense.
Ja-Mes Logan
caught 20 passes last year, but had a very good spring. But Nickolas Brassell was an academic casualty and
Randall Mackey
had to move over from quarterback. The coaches are looking for consistency from
Terrell Grant
and
Vince Sanders
, who are both pretty unproven. Tight end
Jamal Mosley
is expected to do more in the spread and averaged 13.8 yards per catch last year.
14. Kentucky:
Joker Phillips' goal this spring was to find more playmakers and he thinks he did with sophomore
Demarco Robinson
, who had five receptions last year, and redshirt freshman
Daryl Collins
. The hope is that they'll take some pressure off of
La'Rod King
, who is really the only proven receiving threat on the team. Tight ends
Ronnie Shields
and
Tyler Robinson
did well this spring, but combined for just 10 catches last year.
Recruits Miss Lone Star Showdown
SEC SCOREBOARD
Thursday, 9/3
Saturday, 9/5