Texas A&M Aggies:

Chick-fil-A bowl 2013
January, 1, 2014
1/01/14
2:00
AM ET
ATLANTA -- They lined up inside the bowels of the Georgia Dome hoping to catch one final glimpse of Johnny Football. One boy wore his No. 2 Texas A&M jersey, shifting nervously from one foot to another as he waited impatiently for his hero's arrival. His father barely noticed, his eyes trained on where the team bus should arrive.
Suddenly a security attendant shouted something inaudible, a pair of doors swung open and a rush of cold air swept inside. The Aggies went by like a blur as they readied for the start of the Chick-fil-A Bowl against Duke on Tuesday night.
"Did you see him?" one Texas A&M fan asked another when all the players had passed.
[+] Enlarge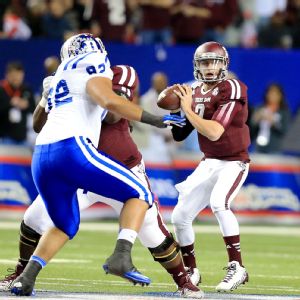 Daniel Shirey/USA TODAY SportsWith all eyes focused on him as usual, Johnny Manziel delivered another virtuoso performance in the Chick-fil-A bowl in possibly his final game at Texas A&M.
"No, did you?" someone responded.
"He must have come in earlier to avoid all this," they decided, shaking their heads in defeat.
Kevin Sumlin was easy to spot. Texas A&M's coach was as dapper as ever in a well-tailored navy blue suit, a baby blue shirt and a pink paisley tie.
Mike Evans
couldn't be missed, either. Texas A&M's unstoppable sophomore receiver stood at an unattainable 6-foot-5, a head taller than most of his teammates.
But
Johnny Manziel
was nowhere to be found. Favorably listed as 6-foot-1, Texas A&M's quarterback instead kept to the middle of the procession, pulled a grey hoodie over his head and turned his face down as he listened to music on a pair of oversized headphones.
It was like he never was there. Some saw him pass by, most didn't. Like a ghost, Manziel reached the locker room without the usual glow of cameras flashing upon his every arrival.
"There he is. You see him?" a Duke fan shouted at his friends in the front row of the Dome a few minutes later, grabbing a buddy by the shoulder as he pointed to Manziel near midfield, now in shorts and a T-shirt as he warmed up, sporting the same headphones he used to block out the world.
If anyone missed Texas A&M's superstar quarterback, all they had to do was look for the hoard of cameras documenting his every move. Hundreds of photographers lined the end zone, snapping shot after shot of what could prove to be Manziel's final game with the Aggies. The NFL could be the next stop for the redshirt sophomore with mind-boggling statistics and breathtaking athleticism. He's done so much in two years at College Station -- some the NCAA would like you to know, some it would like you to forget -- that moving on seems natural.
But if the Chick-fil-A Bowl was indeed Manziel's final hurrah, it felt appropriate.
Two years ago the undersized quarterback won the starting job at Texas A&M to no acclaim. He hit the field to no applause and won fans over with each dazzling play. Not everyone came to his games knowing what he looked like, but everyone left with an impression of Manziel forever burned in their minds. Enough noticed that he won the Heisman Trophy.
Tuesday felt the same way. The nation's focus has been on places like New Orleans, Dallas, Miami and Pasadena, not Atlanta. But Manziel got fans' attention anyways by doing what he's always done -- the impossible. Manziel led a comeback for the ages, bringing the Aggies back from 21 down to beat Duke 52-48.
Manziel accounted for 455 yards and five touchdowns and was named the game's Most Outstanding Player on offense.
"It was an unreal feeling," Manziel said afterwards, not quite dodging questions about the NFL, but somehow avoiding them entirely.
He wanted to talk about the game, and who could blame him? While the Aggies defense was pulverized, failing to make a single stop in the first half, Manziel rallied the troops on the sidelines, grabbing teammates by the collar and even talking up defensive coordinator Mark Snyder -- saying and doing anything he could to end the season a winner.
Offensive tackle
Jake Matthews
had never seen Manziel so riled up.
"It was special to watch, special to be a part of," he said.
Fellow offensive lineman
Cedric Ogbuehi
was just as in awe.
"We forgot how great he is," he said of Manziel. "This game we saw that he is one of the best players in college football history."
After the game, Manziel wasn't the off-the-field diva he's sometimes been portrayed to be. He was reserved, sluggish even. He was getting sick, he said, coughing as he told reporters to keep a safe distance. He didn't know if he had the flu coming on. He slouched and sat on the floor outside the media room, checking his phone as he waited for Duke coach David Cutcliffe to finish up inside.
If he were listening, he would have heard Cutcliffe say how he "spun the ball really well" and just how "special" he was. All that coming from a coach who mentored NFL icon Peyton Manning.
Manziel, for his part, was as understated as ever at the podium, deflecting praise to his offensive linemen and wide receivers. He didn't thump his chest. He didn't bring his trophy into the news conference like his teammate Toney Hurd.
When asked to look back on his career at Texas A&M, he said what he had pretty much all night: that he couldn't believe it.
"It's unreal how things have played out," he said.
He didn't answer any more questions as he walked back to his team's locker room. A reporter asked once again if he'd turn pro, and he didn't answer. He just kept walking, his head down in that familiar zone.
But as he left the locker room, a fan begged him to stop and pose for a picture, and he obliged. He stood still for two shots and smiled before turning down the tunnel and out into the night.
Manziel wasn't a ghost as he left the Georgia Dome early Wednesday morning. He wasn't a blur. He was a legend in full view for the world to see.
After so much talk and so much acclaim the past two years, he left a quiet winner.
January, 1, 2014
1/01/14
12:26
AM ET
If this was
Johnny Manziel
's final college football game, he couldn't have scripted it any better if he tried. Behind the heroics of the former Heisman Trophy winner, Texas A&M overcame a three-touchdown deficit to stun Duke 52-48 and win the Chick-fil-A Bowl.
Here's how it all went down:


It was over when:
The Texas A&M defense had struggled all night, but the Aggies came up with back-to-back stops on Duke's last two drives to storm past the Blue Devils. First, it was
Toney Hurd Jr
. returning an interception 55 yards to give Texas A&M its first lead of the game. Then, with Duke driving, it was linebacker
Nate Askew
who preserved the victory with another interception. All Manziel had to do was take a knee at the end.
Game ball goes to:
Seriously? Was there ever any doubt? Johnny Football might never play another down for Texas A&M, but if so, he ended his career with a bang. The Aggies' quarterback went 30-of-38 for 382 yards and four touchdowns through the air. He also had 73 yards and a touchdown on the ground. The highlight came early in the third quarter when he went all Johnny Manziel on the Blue Devils. He eluded the rush, hurdled a defender and somehow found a wide open
Travis Labhart
for a 19-yard touchdown.
Unsung hero:
Labhart. While Texas A&M star
Mike Evans
was losing his cool early in the game, it was Labhart who stayed calm and quickly became Manziel's go-to wide receiver. The former practice-squad player for the women's basketball team caught not one, not two, but three touchdowns and finished with seven catches for 76 yards. He might not have made the men's basketball team, but the Aggies are glad he went the football route.
Stat of the game:
Despite two late interceptions, Duke quarterback
Anthony Boone
played a tremendous game in his own right, throwing for 427 yards and three touchdowns. But even more impressive was his composure on third down. The junior went 11 of 12 for 144 yards on third-down passing attempts. The lone incompletion came on Duke's final drive, but he turned around and completed a pass to convert on fourth down.
What we learned:
If that was Manziel's last game, he will be missed in college football. Despite his off-field troubles and fiery personality, he was fun to watch. Texas A&M might struggle next year without him, but the Aggies are clearly moving in the right direction under Kevin Sumlin. It doesn't hurt that Sumlin recently signed an extension and looks to be staying for the long haul. As for Duke, it was an incredible season. The Blue Devils won 10 games for the first time in program history, and though they're still looking for their first bowl win since 1960, the future looks bright in Durham.
To watch the trophy presentation of the Chick-fil-A Bowl,
click here.
December, 31, 2013
12/31/13
12:00
PM ET
Spend enough time around him, and it's easy to discover that
Mike Evans
is a man of few words.
[+] Enlarge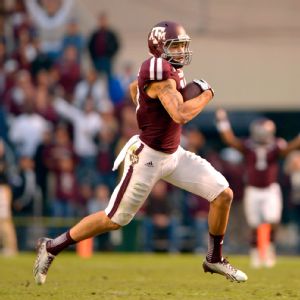 Thomas Campbell/USA TODAY SportsTexas A&M's Mike Evans has emerged as one of college football's best receivers.
Watch him hold court during an interview session with the press. The answers are direct and often short. Evans prefers to let his actions do the talking.
This season, those actions spoke loud and clear as the Texas A&M redshirt sophomore emerged as one of college football's best receivers. There were times when you could make a case for a Heisman Trophy candidate on the Texas A&M roster who was
not
named
Johnny Manziel
. Evans was
that
good for a stretch.
In two of A&M's biggest games, Evans had his biggest performances. Alabama had no answer for him and he hauled in seven passes for 279 yards -- including a 95-yard touchdown -- as a result. Auburn didn't do any better. Evans bettered his receiving totals against the eventual SEC champions, catching 11 balls for 287 yards and four touchdowns.
Even with a finish that wasn't as strong statistically as he'd probably prefer, the 6-foot-5, 225-pound force still put together a record-setting season with 65 catches, 1,322 yards and 12 touchdowns. Evans' yardage total is a Texas A&M single-season record.
During spring practice in April, Evans said he hoped he could do something special in 2013. When asked what would constitute special, he answered with one word.
"Biletnikoff."
He almost made good on that goal, earning a spot at the finalists' table with Oregon State's
Brandin Cooks
(the eventual winner) and Clemson's
Sammy Watkins
.
"He's got exceptional ability because of his size," Texas A&M head coach Kevin Sumlin told reporters on Monday. "I think, as I've said before, the thing that separates him from a lot of people is the fact that he will play as hard without the ball as he plays with the ball, as a blocker, doing things that creates an attitude on the perimeter that we need. He's going to continue to get better."
Whether he gets better this fall in College Station, Texas, or in one of 32 NFL cities will be determined in a matter of time. When the No. 21 Aggies (8-4) meet No. 24 Duke (10-3) in the Chick-Fil-A Bowl tonight, it could be Evans' final game in maroon and white. Like Manziel, Evans is draft-eligible and has until Jan. 15 to decide whether he'll declare for early entry into the 2014 NFL draft.
To this point, Evans is not indicating which way he is leaning. If he chooses to leave school and go pro, he leaves behind a spectacular two-year playing career that includes one of college football's more compelling journeys to the top.
As has been well-documented, Evans didn't come out of high school as a big-time football recruit. Back at Galveston (Texas) Ball High, he was known more for his hardwood exploits than those on the gridiron. He played only one season of varsity football, and that came as a senior. He spent the majority of his high school athletic career starting for Ball High's basketball team.
His decision to go for football as a high school senior was life-changing. A handful of colleges came calling, looking past Evans' raw skill set and focusing on what he did bring to the table: size, speed and work ethic.
"Before he even put any pads on, we were in offseason and basketball season was over with and he came over to the fieldhouse and we got him suited out and it just so happened that we were [speed] testing during that time," said David Suggs, who was Ball's head football coach at the time. "He came out and ran two 4.5 [second 40-yard dashes]."
Evans eventually chose Texas A&M, and the rest is history. He redshirted his first season, and while practicing on the scout team in 2011, he built quite the rapport with the scout-team quarterback at the time, a spry, athletic young man from the Hill Country named Manziel.
That chemistry became stronger as the two entered their redshirt freshman seasons, as both won starting jobs at their respective positions. En route to becoming college football's first freshman Heisman Trophy winner, Manziel made Evans his go-to receiver (or as offensive coordinator and quarterbacks coach Jake Spavital calls Evans, Manziel's "panic guy").
As a result, Evans enjoyed two 1,000-yard receiving seasons. He has 147 career catches for 2,427 yards and 17 touchdowns in his two-year career. And he's done it without saying much.
"He doesn't talk a whole lot," receivers coach David Beaty said. "I'll tell you this: When he gets fired up, he gets fired up. He's a tough kid, and he demands a lot from people around him. He will not stand for people [who] are not success people. If you're a mediocre guy, he's not a fan. You have to be a high-achieving guy."
Beaty called Evans "humble" and "coachable."
"I'll tell you what, you won't find a more humble guy," Beaty said. "And he allows me to coach him, and sometimes that doesn't happen. Sometimes guys push [back]. But Mike's one of those guys that will come up to me, just out of the blue, randomly and say 'Coach, I need you to stay on me. I need to get better than what I am today' and that's refreshing."
December, 31, 2013
12/31/13
12:00
PM ET
It's been a wild ride for both Duke and Texas A&M this season.


The Aggies, with their effervescent quarterback
Johnny Manziel
and their high-flying offense, were so often a thrill to watch, full of touchdowns and big plays, but ultimately not enough wins to compete for an SEC title.
Duke, meanwhile, had what could only be called a dream season when compared to the history of the program. David Cutcliffe was named Bobby Dodd Coach of the Year after leading the Blue Devils to their first 10-win season and a spot in the ACC championship game.
How it will end for both teams depends on who shows up ready to play in the Chick-fil-A Bowl at the Georgia Dome in Atlanta (
ESPN, 8 p.m. ET
).
Here's a quick preview of the game:
Who to watch:
Manziel has been careful not to make any official NFL announcement yet, but all indications point to the redshirt sophomore leaving Texas A&M early to enter the draft. And he might not be alone. Receiver
Mike Evans
, another redshirt sophomore, is a prime candidate to bolt for the pros as well. So get your fill of them while you can because they're arguably the best at their positions in the country. Manziel's talents, by now, speak for themselves. But Evans might be the bigger concern for Duke because at 6-foot-5 and 225 pounds, he's downright unstoppable. Just ask two of the best teams in the SEC, Alabama and Auburn, which combined to allow 566 yards and five touchdowns through the air to him this season.
What to watch:
Don't forget to pay attention to those pesky Blue Devils, though, as wide receiver
Jamison Crowder
and linebacker
Kelby Brown
are ones to watch. But Duke, without suspended leading rusher
Jela Duncan
, is in a pickle. Throwing the ball often will be a temptation, but as quarterback
Anthony Boone
said, it's a fool's errand to try to outduel Manziel because "that doesn't win football games." Instead,
Josh Snead
, Duke's backup tailback who ran for 547 yards this season, will be asked to do more. If the Blue Devils stay balanced on offense, they have a shot against what has been a porous Aggies defense. But if Boone, who has thrown 11 interceptions to 10 touchdowns, is asked to do too much, Duke could be in big trouble.
Why to watch:
Soak it all in because these two programs appear to be headed toward a crossroads. Duke has never had success like this before. How will it respond if its dream season ends with two straight losses? Can the entire coaching staff stay together? Is one player suspension a sign of more to come? And more questions can be asked of Texas A&M, which might shun the idea of rebuilding next season, but with the possibility of Manziel and Evans leaving, it's definitely a matter of hitting the "reset" button. Coach Kevin Sumlin is locked up under a new contract, but with so many NFL head coaches being fired this week, do the pros start beckoning him as well? Whatever the case, Texas A&M and Duke fans should savor the final game of their seasons and hope that next season holds just as much success.
Prediction:
Texas A&M wins it running away from Duke, 48-28. Had the Blue Devils showed better against this season's Heisman Trophy winner,
Jameis Winston
, I might have been swayed to pick otherwise. But Florida State gave Texas A&M the blueprint to moving the ball offensively. Manziel will have his way against the Duke secondary and end his career as an Aggie with a flourish, accounting for a handful of touchdowns that should leave us as in awe of his penchant for making something out of nothing.
December, 30, 2013
12/30/13
11:00
AM ET
When
Johnny Manziel
first stepped onto the field at Texas A&M, virtually nobody knew what to expect.
Even with a wealth of information instantly available about a player before he reaches campus, recruiting remains an inexact science. How a teenager fares in Division I football is affected by so many forces, several of which are outside a player's control.
When the 6-foot quarterback from Kerrville (Texas) Tivy High made his starting debut Sept. 8, 2012, against Florida in the Aggies' first SEC game, it was historic on many levels.
On Tuesday, when Manziel jogs out onto the Georgia Dome turf for the No. 21 Aggies (8-4) when they take on No. 24 Duke (10-3) in the Chick-fil-A Bowl, it could be the final game in a brief, eventful and fascinating college career.
[+] Enlarge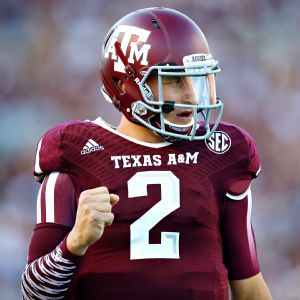 Mark J. Rebilas/USA TODAY SportsJohnny Manziel didn't reach the heights of his redshirt freshman season in 2013, but it was far from a failure.
The 2012 Heisman Trophy winner is draft-eligible once his season is complete. He hasn't officially declared for the NFL draft, but it's hard to find anyone speculating that he'll return for a fourth year at A&M.
Publicly, Manziel has avoided tipping his hand on his future, telling reporters in Atlanta on Sunday that he is no closer to making a decision than he was when asked about it earlier this month in the buildup to the Home Depot College Football Awards and the Heisman Trophy ceremony.
"Nowhere even close, just where I was back in New York, back in Orlando," Manziel said of his thought process. "I haven't had any more time with the bowl practice we had at College Station. Didn't get a chance to really do much."
He has until Jan. 15 to declare for the draft. If the consensus opinion and speculation is true, it was quite a ride.
Manziel took the college football world by storm in 2012, becoming the first freshman to win the Heisman. The way he did it -- winning the A&M quarterback competition in training camp and performing highlight-worthy feats that were impossible to ignore -- captivated fans. He had the cool nickname "Johnny Football" and a compelling story. He smashed records and earned a signature victory that served as his "Heisman moment" when the Aggies went into Tuscaloosa, Ala., and took down No. 1 and eventual BCS champion Alabama.
He broke Cam Newton's single-season SEC total offensive yardage record, gaining 5,116 yards. He accounted for 47 touchdowns. He turned near-fumbles into touchdown passes. He made seemingly impossible plays look easy. It was unlike anything we've seen from a freshman.
The offseason became even more of an event. No matter what Manziel did -- making trips to Toronto to hang with rap star Drake, hitting Cabo San Lucas for spring break, playing golf at Pebble Beach with his family -- people were talking about him. Some positive, some negative, but they were talking.
That talk reached a fever pitch this summer. He was the focal point of college football's largest preseason media event, SEC media days, after leaving the Manning Passing Academy early. That came about a month after a Manziel tweet about wanting to leave College Station went viral. Then came an NCAA investigation into allegations he profited from autographs, with a half-game suspension as a result.
Despite the off-field distractions, Manziel's play didn't suffer. In fact, he elevated his level, even in an early-season loss to Alabama. The highlight-reel plays were back and Manziel was doing things his way: fun and unapologetically.
However, his season hasn't lived up to the expectations for either Manziel or the Aggies. Texas A&M thought it would be getting ready for a BCS bowl right now, not the Chick-fil-A. But struggles on defense all season and some late-season offensive woes, including a beaten-up Manziel, contributed to an 8-4 season.
Still, Manziel was good enough to earn a trip back to New York as a Heisman finalist. He improved as a passer and showed significant progress in several areas of his game. And he managed to keep the talk surrounding him this fall focused on his play, not on off-the-field exploits. That in itself was an accomplishment.
"So much has gone on in between last year at this point and now," Manziel said. "I feel like every week there's almost been something. It's been a little bit of a journey, but I feel like I'm a lot better at handling it now than I was last year at this point. Still no regrets or anything in that regard, and I'm really happy and content with where I am right now."
His numbers were still impressive in 2013: 3,732 passing yards, 33 touchdowns, 686 rushing yards and eight more scores. He ranked in the top 10 nationally in passing yards per game, passing touchdowns, completion percentage, yards per pass attempt, passer rating, total offensive yards per game, yards per attempt and points responsible for per game. No other player was ranked in the top 10 of all those categories.
His performance often spoke for itself. He was must-see TV and he's one of the best the sport has seen in a long time. If he leaves for the draft, he leaves without a ring -- the Aggies did not win a division title or conference title in his three years on campus -- and he has a simple desire for his legacy.
"I just want to be remembered as one of the best to have played at A&M," he said. "[I] definitely don't like coming in second or being second-best at anything. ... As far as a team, the past two, three years that I've been here have been awesome. I think three bowl wins, what we did last year at a team with the Cotton Bowl and with the Heisman -- I just want to be remembered as one of the best."
December, 24, 2013
12/24/13
2:30
PM ET
The 2013 season didn't turn out the way Texas A&M had hoped.
There were dreams and goals of playing for an SEC championship and perhaps a BCS bowl. But a young, struggling defense and an offense that sputtered at times down the stretch, not to mention a beaten-up quarterback, meant the Aggies would have to settle for less than an SEC championship or BCS bowl berth.
Next comes a New Year's Eve date with No. 24 Duke (10-3) in the Chick-fil-A Bowl. If you don't think Texas A&M has a lot to play for, head coach Kevin Sumlin thinks differently.
"If we can win this game, it'll be the first time in the history of this program we've won three bowl games in a row [in three consecutive seasons]," Sumlin said. "That's significant. There's been a lot of football played and a lot of guys come through this room who can't say they've done that."
[+] Enlarge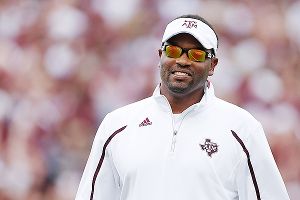 Scott Halleran/Getty ImagesKevin Sumlin and Texas A&M are hoping for a third consecutive bowl victory.
The No. 21 Aggies (8-4) ended the season with a whimper, losing consecutive road games against ranked foes LSU and Missouri.
After the season concluded, Sumlin gave the players some time off, and when the Aggies returned for bowl practice, he saw an energized group.
"The way this season has gone, we gave them a couple weeks off. ... I like our energy level right now," Sumlin said. "Guys have come back healthy, there's a little bit more bounce in their step and I think we were a little worn down there at the end, mentally and physically."
Duke is also coming off a loss, but its season trajectory and perception is much different. This has been a historic season for Blue Devils football. They've gone "from irrelevant to relevant a year ago to right now, pretty damn relevant," as athletic director Kevin White said during Duke's bowl news conference earlier this month.
A long downtrodden program is quickly on the rise under Maxwell Football Club National Coach of the Year David Cutcliffe, and the Blue Devils see this game as a chance to do something special.
"As soon as our players heard about this opportunity, they're blowing up my phone with texts and tweets are going out and social media is rocking," Cutcliffe said. "It let me know how excited we are to come to Atlanta and represent Duke in this game. ... It's important for us to play well."
The Blue Devils lost to No. 1 Florida State in the ACC championship game but have done enough this season to be a top-25 team in the BCS standings, making this game one of nine bowl games matching up two top-25 BCS teams.
Many have speculated it could be the last game of the
Johnny Manziel
era for the Aggies, as many predict the quarterback declare for early entry into the 2014 NFL draft. Meanwhile, Sumlin is finishing his second season with the Aggies and just signed a new, six-year contract that looks to keep him around for a while.
"In the last two years, there's been something accomplished," Sumlin said. "Last year's team was one of four [in Texas A&M history] to win 11 [games]. This year we can [win a third consecutive bowl game]. ... That becomes something that can be very, very special to our seniors going out and that can be something that can be really propel us in the offseason."
December, 8, 2013
12/08/13
10:25
PM ET
Dec. 31, 8 p.m. ET, Atlanta (ESPN)
DUKE BLUE DEVILS BREAKDOWN
As expected, Duke was overmatched in the ACC championship game and lost convincingly to Florida State, but the loss didn't define the season, which includes a school-record 10 wins.
[+] Enlarge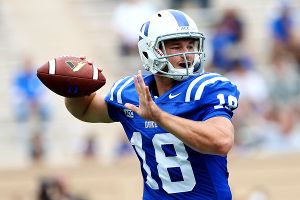 Streeter Lecka/Getty ImagesThe versatile Brandon Connette accounted for 26 total scores for Duke this season.
The Blue Devils still earned the title of Coastal Division champs and now have a chance to end the season on a winning note. Duke had won eight straight games heading into the ACC title game -- the program's longest winning streak since 1941. The program was ranked in the BCS standings for the first time, and it defeated two ranked teams in then-No. 16 Virginia Tech and then-No. 24 Miami.
Although Duke lost to Florida State for the 19th time and remains winless against the Noles, what happened in that game wasn't reminiscent of the "old Duke." Instead, Duke just got a taste of what FSU had been doing to its opponents all season. Duke still has a much-improved defense, which was evident in the first quarter, when it held the Noles scoreless for the first time since they played Florida in 2012. Duke also forced Florida State into three turnovers, including one fumble in the red zone and two interceptions. Duke has now had four takeaways in the red zone this season. Duke's biggest problem was that it couldn't capitalize on Florida State's mistakes or sustain a drive.
That wasn't the case for most of the season, as Duke was able to score more than 20 touchdowns on the ground and in the passing game for the first time in school history. Despite the loss to FSU, it was an unprecedented season for Duke and coach David Cutcliffe, who was named the ACC's Coach of the Year.
-- Heather Dinich

vs.

TEXAS A&M AGGIES BREAKDOWN
This is not quite where Aggies fans thought their team might end up when they were previewing the season.
[+] Enlarge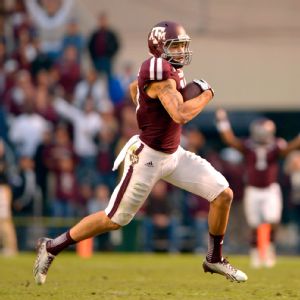 Thomas Campbell/USA TODAY SportsMike Evans and the Aggies hope to finish their season on a high note with a bowl victory.
With 2012 Heisman Trophy winner
Johnny Manziel
, receiver
Mike Evans
and offensive tackle
Jake Matthews
all returning, many in College Station thought the Aggies could achieve a BCS bowl and perhaps even flirt with an SEC title and a BCS title game berth.
But an extremely young defense that was hit hard by graduation (at least in terms of key players) struggled throughout the season, and a beaten-up Manziel lost steam in the final two regular-season games, which led the offense to do the same.
All that being said, 8-4 isn't bad, and the fact that it's a "disappointment" in Aggieland speaks to how much progress the program has made in a short time. This team still has a high-powered offense, ranking sixth in the nation in points per game (43.6) and fourth in yards per game (538.2).
The defense has had its ups and downs but ended the regular season on a solid note on the road against a talented Missouri team, keeping the game within reach for its offense.
And this could be the last hurrah for Manziel, who seems destined to declare for early entry into the 2014 NFL draft. It could also be the final salvo for Evans, a Biletnikoff Award finalist, who is also draft-eligible.
-- Sam Khan Jr.
Recruits Miss Lone Star Showdown
SEC SCOREBOARD
Thursday, 9/3
Saturday, 9/5