Texas A&M Aggies:

Case Keenum
April, 2, 2013
Apr 2
8:00
AM CT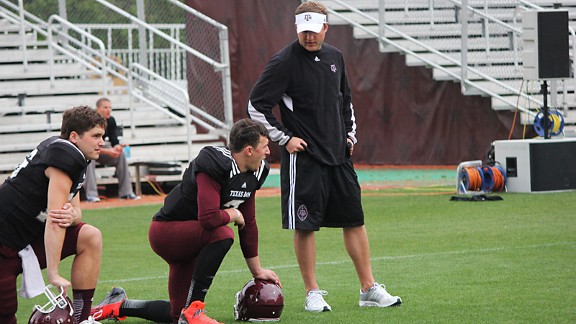 Sam Khan Jr./ESPNTexas A&M quarterbacks coach and co-offensive coordinator Jake Spavital tutored Geno Smith at West Virginia.
COLLEGE STATION, Texas -- As college football's first freshman Heisman Trophy winner, Texas A&M quarterback
Johnny Manziel
has navigated uncharted territory since accepting the sport's most prestigious individual award in December.
His new position coach, Jake Spavital, is also breaking ground.
Texas A&M's co-offensive coordinator and quarterbacks coach is facing first-time challenges, and has been handed the task of tutoring a sophomore Heisman winner while also being one of three new additions to the staff of a likely preseason top-10 team.
Fortunately for the Aggies, the man who will guide Johnny Football in year two might be as prepared as anybody could be for the challenge.
[+] Enlarge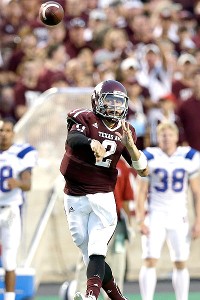 AP Photo/David J. PhillipAggies signal-caller Johnny Manziel said he has enjoyed working with new quarterbacks coach Jake Spavital this spring.
There are a few things working in Spavital's favor as he settles into his new role in Aggieland. He has a strong friendship with Manziel's previous tutor, the Aggies' former offensive coordinator and quarterbacks coach,
Kliff Kingsbury
. Spavital has his own strong coaching pedigree, coming from a family of football coaches that combines for several decades of football coaching experience. He has a great understanding of the quarterback position because he played it in college. And the list of quarterbacks Spavital has already worked with is impressive.
All of that has played a role in the 27-year-old's rise up the coaching ladder, which has put him in this unique position.
A former college quarterback at Missouri State, Spavital had no doubt he wanted to coach football. His grandfather, the late Jim Spavital, was an All-American at Oklahoma A&M [which is now Oklahoma State] and coached at multiple levels, including collegiately and professionally in the NFL, CFL and the World League. Jake's father, Steve Spavital, is a longtime high school coach who currently heads the program at Broken Arrow (Okla.) High School. His brother Zac is the defensive backs coach and recruiting coordinator at Houston.
Steve remembers young Jake idolizing his grandfather and scripting his own plays in grade school.
November, 15, 2012
11/15/12
11:39
AM CT
COLLEGE STATION, Texas -- There are plenty of terms that have been used to describe Texas A&M offensive coordinator Kliff Kingsbury.
He has been called everything from creative and aggressive (referring to his style of coaching) to cool and suave (referring to his appearance).
[+] Enlarge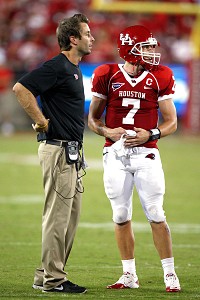 Bob Levey/Getty ImagesKliff Kingsbury first began calling plays in his third year as coach, in 2010 with Houston.
A term one would probably never associate with the 33-year-old rising star assistant, who is quickly becoming an "It guy" in college football coaching circles, is one that he has used on himself: soccer dad.
"There's no question," Kingsbury said, "[I have] the ultimate soccer dad syndrome going on."
No, Kingsbury doesn't have children, unless you count his quarterbacks, who might as well be. Kingsbury always wanted to be an NFL quarterback. He pursued a professional career for six years after graduating from Texas Tech and before entering coaching in 2008, when he joined his good friend Dana Holgorsen and coach Kevin Sumlin at Houston as a quality control assistant. After spending a year working with the Cougars quarterbacks and helping teach them the intricacies of the Air Raid offense, Kingsbury became comfortable with the idea of coaching.
But deep in his heart, he wishes he was still playing. And he does the next best thing: He lives vicariously through his quarterback, Aggies redshirt freshman
Johnny Manziel
now, and Houston's Case Keenum before him.
"The biggest stress to me is that I give the quarterback each game the best possible chance to be successful," Kingsbury said. "I never want to watch the film and say, 'I didn't give him a chance to make the plays.' Once the plays are already made, hey, you've got to make them. But as long as I'm giving him a chance to make the plays, then I can sleep at night. If we had a game where I didn't -- which I've had -- then I just feel bad and I want to find a way to make him be successful."
August, 1, 2012
8/01/12
12:16
PM CT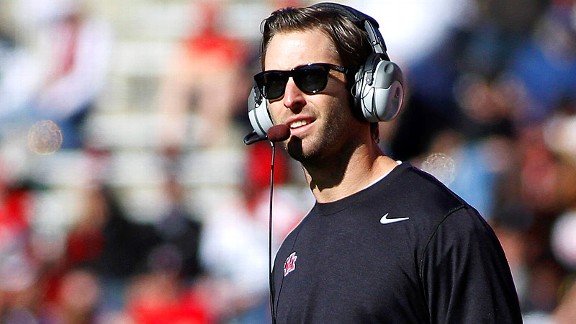 Ray Carlin/Icon SMINew Texas A&M coordinator has learned and developed the offense through Mike Leach, Dana Holgorsen and Kevin Sumlin.
As Texas A&M approaches the 2012 season, GigEmNation will be visiting with the Aggies' assistant coaches to offer a glimpse at who will be leading the team into the SEC. Today, we visit with offensive coordinator Kliff Kingsbury.
Kingsbury grew up as the son of a Texas high school football coach, former New Braunfels coach Tim Kingsbury, but Kliff didn't consider it a foregone conclusion that he would follow his father's footsteps. Kliff earned his degree business management at Texas Tech and figured his post-playing career would exist outside of football.
After a six-year professional playing career that included stops in the NFL, NFL Europe and the Canadian Football League, Kingsbury got a call from an old coach and friend of his, Dana Holgorsen. At the time, Holgorsen was preparing for his first season at Houston as its offensive coordinator under then first-year head coach Kevin Sumlin.
At Texas Tech, Holgorsen was an inside receivers coach under Mike Leach during Kingsbury's time as the Red Raiders' quarterback. Since Holgorsen was installing the Air Raid offense he worked in for eight years at Texas Tech, he offered Kingsbury, a quarterback who played and succeeded in it, a chance to help Houston's quarterbacks, including then redshirt-sophomore Case Keenum.
Holgorsen was at Houston for two seasons before departing to become Oklahoma State's offensive coordinator. It was then that Sumlin promoted Kingsbury to co-offensive coordinator along with Jason Phillips. His first season wasn't easy since the Cougars lost their starter (Keenum) and backup (Cotton Turner) to season-ending injuries in the third game of the season and had to finish the last nine games of the year with true freshmen. But the next year, with both quarterbacks healthy, Houston went 13-1 and returned to its spot as the nation's no. 1 offense.
GigEmNation talked with Kingsbury, who will install an up-tempo offensive attack rooted in the Air Raid principles for the Aggies this fall.
Sam Khan Jr.: You mentioned that you didn't picture yourself as a football coach when growing up. Why not?

Kliff Kingsbury:
"I just had never thought along those lines. I got my degree in business. I was thinking real estate or something else. But after being around the kids, you feel like you're playing again, you feel like you're part of it. So I guess I just kind of got lassoed into it."
SK: Once you started working with Dana Holgorsen and the Houston quarterbacks in 2008, what was the experience like?

KK:
"It was good. Having played in that system, they were all ears. We had some success at Tech, so the tips, pointers, things of that nature, the credibility was there, based on (me having played in) the same offense. So that made it easy for me. They were listening, I shared what I knew and it kind of snowballed from there."
SK: People often ask the question 'Will this offense work in the SEC?' How do you respond to that?

KK:
"I just say, watch and see. Until you do it -- I'm not a big talker, saying we're going to do this or we're going to do that -- we're going to work our butts off every day and put the best product out there that we can. I'm excited about the talent we have here. We have a great group offensively, we've got a lot of weapons. The o-line has lots of experience, so we're excited about our chances."
SK: How did the Aggies' players respond to the up-tempo pace during spring practice?

KK:
"It was a learning process. I think they thought they had done some tempo-type stuff, but I think ours is more of a steady flow of it, I guess. We're pushing all the time and that's a big emphasis. Practices are a lot faster than the games are. We want it to be that way, so that when we get in the games, it slows down for them."
SK: Were the players open-minded to what you as a coaching staff were trying to accomplish?

KK:
"They were. They got to witness it out there, how it can affect a defense, right out here the year before. Oklahoma State in the second half said 'We're going to turn it up' and started going up and down the field with that kind of tempo. So I think they know it can be a real weapon if they buy into it and they work at it and get themselves in shape to play at that pace, it can be a real weapon for you."
SK: How valuable will having an experienced offensive line and quality running backs like Christine Michael and Ben Malena, be this season?

Troy Taormina/US Presswire
The Aggies will lean on their running game this season as they settle on a new quarterback.



KK:
"It's going to be huge, especially with a young quarterback. We're going to lean on the offensive line and the running backs when we have to. There's going to be a learning curve for the quarterback and you don't want to put it all on him ... the first year in the system we're going to need everybody and it's not just going to be an all-out, throw-it-every-play type of situation."
SK: At Houston in the TicketCity Bowl, your offense had a lot of success against a defensive line that was big and strong. Does that serve as an example of what this offense can do against those types of fronts, which you'll see in the SEC?

KK:
"It's just different styles of football. That defense was set up bigger, stronger guys to stop the run, the Big Ten-type football. With our little quick guys, it was just a different type of football than they'd seen. I think in the athletes in [the SEC] -- big, small, skinny, fat -- they can all run. And whatever you try to throw at them, they have athletes that can keep up with you. So you have to be creative and find ways to get your playmakers the ball."
SK: Is speed the biggest thing you notice when you watch video of SEC teams?
KK:
"That and I would say the violence of the d-line. The way they get up the field, the way they attack every play. And they rotate them in four at a time and they keep coming at you."
SK: How can the uptempo pace help you against quality defensive lines like those you'll see in the SEC?

KK:
"You know by the end of the game it'll start taking its toll. So that tempo stuff, you can sustain some drives and get it going, but you have to stay on the field."
SK: What's your experience been like so far at Texas A&M?

KK:
"It's been fast and furious but everybody's been great to me. The kids have really bought in and worked really hard. Coach (Larry) Jackson, this summer, has been really pleased with their effort and that's all you can ask. They didn't sign on to play for us, most of them, so for them to believe in us and buy into us, that means a lot."
July, 30, 2012
7/30/12
11:30
AM CT
On a cool, sunny January morning in Dallas, the
Houston Cougars
proceeded to throw the ball as many times as they possibly could against Penn State.
It was Case Keenum's final game as Houston's quarterback, concluding a decorated and record-breaking career. And co-offensive coordinator and quarterbacks coach Kliff Kingsbury was going to let Keenum sling the ball around to his heart's content, challenging him to reach 80 attempts.
"I told him, 'If we don't get to 80, I'm going to be mad,'" said Kingsbury, now the offensive coordinator at Texas A&M. "I wanted to send (Keenum) out right and we knew that was the way to beat that team."
Houston threw it on the first 25 plays, 29 of the first 30 and 69 times in all (to just 14 rushing attempts) while working the Nittany Lions 30-14 in the TicketCity Bowl.
As Texas A&M enters its first season in the Southeastern Conference, it does so with many eyes on the offense brought in by head coach Kevin Sumlin and Kingsbury, an up-tempo spread attack rooted in Air Raid principles. Sumlin hired Dana Holgorsen in 2008, a disciple of the Mike Leach coaching tree at Texas Tech. Kingsbury got his coaching start by going to Houston as a graduate assistant to work with Holgorsen and Sumlin and has since added his own flavor to the offense since he became co-offensive coordinator in 2010 after Holgorsen left for a job at Oklahoma State.
Because of its shotgun formations, four and five-receiver sets and day's like the TicketCity Bowl, it's easy to surmise that the offense is all pass, all the time.
Sumlin is aware of this perception and welcomes it.
"We've been able to adapt to do things, whether we were at Houston, other places I've been, to utilize our personnel," Sumlin said at SEC media days. "People say we throw the ball all the time. That's fine. I'd like for people to think that. That's not necessarily the truth."
That's not to say that the ball isn't thrown around a lot. In Sumlin's four seasons at Houston, there was definitely more passing than running in the offense.
"I think if you look at the statistics [at Houston], you look at our ratio, it's a lot closer to 55/45 than 70/30," Sumlin said. "Our run game percentages and stats have been pretty effective. So being called 'pass happy', that's fine with us, as long as people want to defend the pass all the time."
The numbers appear to back up that claim. Not counting the TicketCity Bowl (which Sumlin did not coach, as he had already accepted the Texas A&M job), the Cougars ran 4,077 plays in four seasons under Sumlin. In that time they attempted passes 60.2 percent of the time (2,454 attempts) while running the ball 39.8 percent (1,623 attempts).
Yes, it's mostly passing, but the chasm isn't as large as perceived.
The Aggies will enter this season without a quarterback that has starting experience. Only one of the three starting candidates has even attempted a pass (
Jameill Showers
) and none have significant playing time.
That's where running backs
Christine Michael
,
Ben Malena
and an experienced offensive line that returns boatloads of experience, including an elite tandem of tackles (
Luke Joeckel
and
Jake Matthews
), come into play.
"It's going to be huge, especially with a young quarterback," Kingsbury said. "We're going to lean on the offensive line when we have to, because there's going to be a learning curve for the quarterbacks. You don't want to put it all on him."
The only time in Sumlin's four years that the Cougars went without an experienced quarterback for an extended length of time was 2010, when Keenum and backup Cotton Turner were lost to season-ending injuries in the third game of the year. The final nine games were played by true freshmen,
Terrance Broadway
and
David Piland
, with Piland playing the final eight.
That season, Sumlin and Kingsbury leaned much more on their running game, finding as close to a true balance as they ever had, passing 54.1 percent of the time (484 attempts) while running it 45.9 percent (410).
While this year will be different for Texas A&M with its quarterbacks' preparations (each have had repetitions through spring ball and will go through fall camp while each of Houston's freshmen had limited reps as they were deep on the depth chart to start the 2010 season), don't be surprised to find a ratio that teeters closer to 55/45 considering the strength the Aggies will have in the running game.
"The first year in the system we're going to need everybody and it's not going to be an all-out, throw-it-every-play type of situation," Kingsbury said.
July, 25, 2012
7/25/12
11:00
AM CT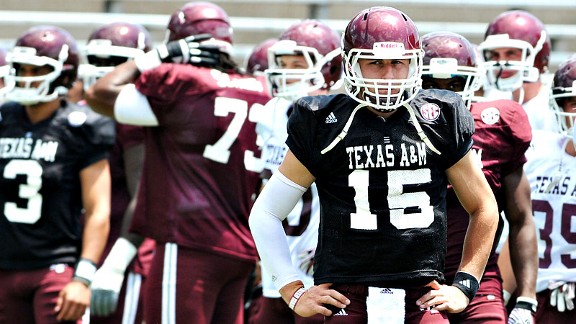 Patrick Green/Icon SMIJohnny Manziel redshirted last season but accounted for 77 total TDs during his senior year of high school.
While it is Kevin Sumlin's first year on the job at Texas A&M, the quarterback situation he faces going into the season isn't completely new.
When Sumlin took over at Houston in 2008, his first career head coaching stop, he oversaw a preseason competition for the starting job between Case Keenum and Blake Joseph. Both split time at the position under Art Briles the year before Sumlin arrived.
Keenum eventually won that competition and the rest is history. He became the winningest quarterback in Houston history and led the Cougars to three bowl games and two double-digit win seasons, including a 13-1 mark last season.
In College Station, Sumlin's decision will be between three young, inexperienced signal-callers: redshirt sophomore
Jameill Showers
, redshirt freshman
Johnny Manziel
and sophomore
Matt Joeckel
.
"[Ryan] Tannehill is gone," Sumlin said. "For me, it's probably not any different because whether they had experience or not, it'd be a new experience for them anyway."
It will be new because Sumlin and offensive coordinator Kliff Kingsbury are installing their Air Raid offense with which Houston had so much success.
The offense, which was popularized by Hal Mumme and Mike Leach, involves heavy use of the shotgun, lots of passing and in Sumlin and Kingsbury's version, a breakneck tempo.
More than anything, the pace at which the offense will be the key mission for whomever wins the quarterback job. In the last four years at Houston, the Cougars averaged more than 78 plays per game. That tempo helped the Cougars find advantages against defenses not accustomed to moving at that pace.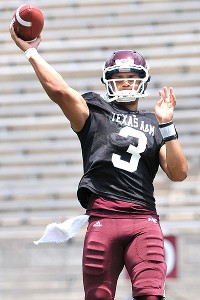 Patrick Green/Icon SMI
Jameill Showers played in four games last season backing up Ryan Tannehill.
Trust must exist between the quarterbacks and coaches. Kingsbury said that the coaches will put a lot on the quarterbacks' plates and trust them to make the right decisions on the field.
"They're going to the line of scrimmage and checking into a play," he said. "You've got to get up there and be able to get us into the right play and execute it. You've got to have accuracy, intelligence. That's key because with what we do we put a lot on them."
No matter how young a quarterback is, in this offense, he must have autonomy in order for the offense to operate at the pace the coaches desire. So just because Showers, Manziel or Joeckel don't have NCAA records attached to their name like Keenum did (Keenum broke eight Football Bowl Subdivision career records at Houston), or even a full season's worth of playing experience, they'll be relied upon to make the right choices.
"That's the only way our system works," Kingsbury said.
The key attributes the coaches are looking for aren't unlike those you'd want to see in a quarterback running any other system. Accuracy. Intelligence. Leadership.
"No. 1 is leadership," Kingsbury said. "How our offense goes is how our QB goes. Can he get us out of a bad play? If it breaks down can he make something positive out of it?
Sumlin believes because none of the quarterbacks have extensive game experience, the challenge of molding them into what they want won't be as difficult. He said they also already had a level of familiarity with them.
"In this situation with the younger quarterback, fortunately for us, when we walked into the situation, we knew all those guys," Sumlin said. "We'd recruited them at Houston. Kliff Kingsbury or myself had visited them or talked to them on the phone. There was a comfort level with us with the quarterbacks and with the quarterbacks with us. That's really where you need to start.
"When you get a new coach, you don't know what he's going to run, how it's going to happen, what is going to go on. I think our guys had a comfort level knowing us, knowing what we're about. For me, looking at the situation with a younger guy, you probably have a little bit better chance to mold him into what you're trying to do and have him grow with you and grow the offense with him, instead of a guy who has been around for four or five years and is used to a certain system."
If nothing else, it's something Sumlin has been through before and he feels that it makes the job easier as he aims to name his starter approximately two weeks before the Aggies open the season against Louisiana Tech on Aug. 30. Not that he wouldn't mind having had an experienced starter ready to go.
"Fortunately this is my second time through this," Sumlin said. "People forget, moving into Houston there was really a two quarterback system that I inherited … We went through spring football. Basically went through the fall camp. I'm usually pretty comfortable about two weeks away from the first game being able to name the starter.
"Having been through this before as a head coach, and really as a coordinator, too, makes it a little bit easier, I'll put it that way. But as a coach, you always feel better when you have a starter that kind of leads your team through spring and goes through the summer and through fall camp. I will say this: You got to start somewhere. All those guys that become veteran quarterbacks, they had to figure out a place to get started."