Texas A&M Aggies:

Cameron Clear
April, 15, 2013
Apr 15
8:00
AM CT
COLLEGE STATION, Texas -- Texas A&M wrapped up spring football on Saturday with the annual Maroon and White game. After 15 practices, there's plenty to take away, but here's five things we learned during the Aggies' spring:
To continue reading this article you must be an Insider
March, 4, 2013
Mar 4
3:30
PM CT
COLLEGE STATION, Texas -- Texas A&M kicked off spring practice for the 2013 season on Saturday and with it comes new players in new roles, new expectations and plenty of other changes.
Many of those changes could be seen on the
initial 2013 depth chart released
by head coach Kevin Sumlin. There are some absent names because of injuries and there's a long way to go before definitive statements can be made, but it certainly gives us some players and things to keep an eye on moving forward. Among them:
To continue reading this article you must be an Insider
February, 18, 2013
Feb 18
1:00
PM CT
One area that will be a point of focus for Texas A&M fans this spring and heading into the fall will be wide receiver.
Three of the top four receivers from 2012 [in terms of receiving yards] and four of the top six will not be back in 2013. Senior starters
Ryan Swope
(72 catches, 913 yards),
Uzoma Nwachukwu
(26 catches, 485 yards) and
Kenric McNeal
(19 catches, 265 yards) have all graduated and freshman
Thomas Johnson
(30 catches, 339 yards) withdrew from school in November and appears unlikely to return.
The good news for the Aggies is that their top receiver in terms of catches (82) and yardage (1,105) will be back: redshirt freshman and soon-to-be-sophomore
Mike Evans
.
To continue reading this article you must be an Insider
February, 6, 2013
Feb 6
12:22
PM CT
By
GigEmNation staff
| ESPN.com
Welcome to GigEmNation's live coverage of national signing day for the Texas A&M Aggies. We'll be with you throughout the day providing up-to-the minute updates on A&M's class of 2013.
Watch
live coverage
on ESPNU |
2013 Texas A&M recruiting class
January, 23, 2013
Jan 23
8:00
AM CT
Team needs:
There are three key need areas for Texas A&M in this recruiting class: defensive tackles, linebackers and receivers. The defensive tackle need stems from the Aggies' scheme switch. The 2010 and 2011 seasons were spent in a 3-4 alignment, and recruiting was tailored to that. Once Kevin Sumlin arrived and hired Mark Snyder as his defensive coordinator, the Aggies switched to a 4-3, meaning another defensive tackle on the field, meaning more were needed. At linebacker, the Aggies say goodbye to a pair of senior leaders,
Sean Porter
and
Jonathan Stewart
, both of whom were starters. The other starting linebacker,
Steven Jenkins
, will be a senior this season. At receiver there are several contributors leaving as well.
Ryan Swope
,
Uzoma Nwachukwu
and
Kenric McNeal
were all seniors.
Thomas Johnson
, a true freshman who appeared in 10 games and was one of the gems of the 2012 recruiting class, withdrew from school and might not return. There's another scholarship spot at the position in the form of
Brandal Jackson
, who was on scholarship but not part of the 105-man roster at the start of fall camp.

Help is on the way:
At defensive tackle, A&M scored commitments from ESPN 150 defensive tackle
Justin Manning
and ESPN 300 defensive tackle
Isaiah Golden
. Three-star prospect
Hardreck Walker
and three-star
Jordan Points
(who is already on campus) round out that group. There are six linebackers in the class, led by ESPN 300 ILB
Jordan Mastrogiovanni
. Three are already on campus and enrolled:
Brett Wade
,
Reggie Chevis
and
Tommy Sanders
. At receiver, the Aggies have plenty.
Ricky Seals-Jones
tops the list, prep school standout
Ja'Quay Williams
is already in school, and there's a pair of three-star receivers as well. Not to mention, No. 1 tight end prospect
Derrick Griffin
would be a receiver at A&M if he makes it in, and athlete
LaQuvionte Gonzalez
likely would be an inside receiver.
Other key commits:
A pair of Under Armour All-Americans, guard
Joas Aguilar
and cornerback
Noel Ellis
, plus a U.S. Army All-American, safety
Kameron Miles
, round out a group 10 prospects that are among ESPN's top 300. Two quarterbacks are in the class (
Kohl Stewart
and
Kenny Hill
), but it's worth keeping an eye on them as Stewart is a potential high MLB draft pick and Hill took official visits to Baylor and Kansas State. Eight early enrollees in the class are already on campus (Chevis, Points, Sanders, Wade, Williams,
Cameron Clear
,
Alex Sezer
and
Jeremiah Stuckey
), and there are plenty of promising three-star commits, including guys like cornerback
Tavares Garner
and outside linebacker
Darian Claiborne
.
Other key targets:
There aren't a ton of targets left for the Aggies at this point. Their focus is on a small handful of guys. Adding a defensive end would be ideal for the Aggies, and they're pursuing Washington commit
Daeshon Hall
and USC commit
Torrodney Prevot
in that regard. Hall visited recently, and Prevot could soon. They are also still looking at another receiver. Former USC commit
Sebastian LaRue
is one of those targets, and he was in on an official visit recently. They are also looking at Florida State commit
Levonte Whitfield
, who said he plans to officially visit Feb. 1.
To continue reading this article you must be an Insider
January, 7, 2013
Jan 7
11:30
AM CT
COLLEGE STATION, Texas -- Some people might not believe it, but Texas A&M coach Kevin Sumlin says he knows the rules.
As the Aggies' recruiting class swells on the heels of its first year as a Southeastern Conference member -- an 11-2 campaign capped by a 41-13 whipping of Oklahoma in the AT&T Cotton Bowl on Saturday -- observers continue to ask how the Aggies can have
so many players in their 2013 recruiting class
.
Currently, Texas A&M has 35 commitments in the class, picking up two over the weekend in the form of ESPN 300 receiver
Tony Stevens
, who announced on Saturday at the U.S. Army All-American Bowl that he was A&M-bound, and ESPN 300 inside linebacker
Jordan Mastrogiovanni
, who was committed to Oklahoma since June before flipping to the Aggies on Sunday night.
To continue reading this article you must be an Insider
December, 26, 2012
12/26/12
1:00
PM CT
COLLEGE STATION, Texas -- One game does not a recruiting class make.
Texas A&M coach Kevin Sumlin knows and understands this. So when thinking about the impact that the Aggies' clash with Oklahoma in the AT&T Cotton Bowl on Jan. 4 might have on recruiting, Sumlin prefers to look at the body of work the Aggies have put together this season rather than the results that will play out that day.
[+] Enlarge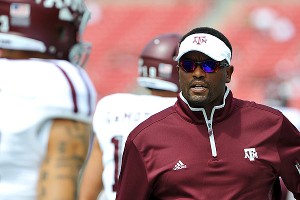 Cal Sport Media via AP ImagesKevin Sumlin says Texas A&M has built its brand in the SEC 'very, very quickly.'
"I think people make a lot out of one game when it comes to recruiting," Sumlin said. "Very few guys that I have recruited have ever gone in and told their dad, 'You know what, Dad, I'm going to go to whoever wins this game tonight.' That doesn't really happen that much, but what does happen is over the course of time you build your brand."
The building of Texas A&M's brand is something that has happened rather quickly this season. With the Aggies going 10-2 in their first season of Southeastern Conference play, having a Heisman Trophy winner in
Johnny Manziel
and reaching the top 10 in the national rankings, the Aggies have very quickly become a force.
That much can be seen by their 2013 recruiting class, which has 34 commitments, five of whom signed letters of intent during the mid-year junior college signing period, which began Dec. 19. Those five were receiver
Ja'Quay Williams
, tight end
Cameron Clear
, linebackers
Kenny Flowers
and
Tommy Sanders
and tackle
Jeremiah Stuckey
.
"The junior college guys -- you guys know who they are," Sumlin said. "They're impact guys for us in positions of need. The reason that we were able to go out and recruit them from all over the country -- whether it was San Francisco, Arizona Western, you name it, Fork Union, that's east-to-west coast -- is because I think our brand has grown. I think guys understand where we're headed as a program. We go out, particularly from a junior college player or a prep school guy, we're looking to fill a hole. Those guys understand that, and that's why the quality of those guys to come into our program, we need that. I said, 'We need to upgrade our talent level, and we need to upgrade the profile of our team,' and I think the mid-year guys bring that to the table. And it gives them an advantage to come in here and compete in the spring and to go through Larry Jackson's whole workout and through spring practice. Those guys are trying to get on the field next year."
Texas A&M's class is ranked seventh in the country currently, and some serious punch has been added in the last few months, both in the 2013 and 2014 classes. Some of the highest-ranked players in the 2013 class and highly-touted players in the 2014 class are considering -- and even choosing -- the Aggies.
Oklahoma has built its brand well over the years, Sumlin said. That's where the Aggies are trying to get.
"Oklahoma has done a great job of that over time, and we're trying to catch up quickly," Sumlin said. "I think that us being in the SEC and having a strong year has built our brand very, very quickly. Either way, like I said, it gets back to playing meaningful games. This team, as I said earlier, has done that in putting us in a position to do that in the SEC. That's what brings you to Jan. 4 and playing Oklahoma in the Cotton Bowl, and that's why that game becomes meaningful -- because of the atmosphere, because everything that's there, and it's still going to be a great venue and a great game."
December, 18, 2012
12/18/12
8:00
AM CT
When it comes to junior college prospects, Texas A&M coach Kevin Sumlin has always been open to the idea of sprinkling a few into his recruiting classes.
He did so when he was the head coach at Houston and is continuing that trend at Texas A&M. While at Houston, the Cougars signed at least a pair of junior college prospects in each of Sumlin's final three signing classes.
At Texas A&M, Sumlin closed out the 2012 class by picking up a pair -- cornerback Tremaine Jacobs and receiver
Derel Walker
-- and has three more committed in the 2013 class, with the possibility of acquiring one more. Wednesday marks the first day that mid-year junior college transfers can sign a national letter of intent and all three of the below names will be officially joining the Aggies then (*-denotes returning starter):
To continue reading this article you must be an Insider
December, 10, 2012
12/10/12
10:28
AM CT
SEALY, Texas -- Life has been pretty good for Texas A&M lately.
The Aggies concluded a 10-2 regular season, their first in the Southeastern Conference, on Nov. 24 and finished the regular season ranked in the top 10. They earned a berth in the AT&T Cotton Bowl to play Oklahoma. Since the season ended, they scored commitments from the state's No. 1 defensive tackle (
Justin Manning
), a standout prep school receiver (
Ja'Quay Williams
), a junior college tight end (
Cameron Clear
) and two 2014 ESPN Watch List prospects (
Nick Harvey
and
Shaun Nixon
).
To continue reading this article you must be an Insider
November, 29, 2012
11/29/12
10:30
AM CT
Now that Texas A&M's regular season is complete, coach Kevin Sumlin and his staff have turned their full attention to recruiting, closing out the 2013 class and building on their 2014 haul, which already has begun with three commitments in the books.
With 31 commitments for the Class of 2013, the Aggies currently lead the nation in total commitments. And they're not finished yet, still in the hunt for some of their top remaining targets. Among the players the Aggies are still pursuing:
" ATH
Ricky Seals-Jones
, Sealy (Texas) High School: The No. 13 player in the ESPN 150 and the nation's No. 1 athlete is down to LSU and Texas A&M. He recently took an unofficial visit to Texas A&M for the Missouri game and was visited by LSU special teams coordinator Thomas McGaughey. Seals-Jones said he plans to take official visits to both schools but is mum on a decision timeline or even if a decision could come before or after said officials.
To continue reading this article you must be an Insider
November, 27, 2012
11/27/12
8:34
PM CT
For the second time in as many days, Texas A&M has scored a commitment, this time for the class of 2013 and from the juco ranks.
Arizona Western College tight end
Cameron Clear
became the latest member of the Aggies' 2013 class, giving his verbal pledge to A&M on Tuesday night.
Clear, a 6-foot-6, 285-pound prospect who originally signed with Tennessee out of high school, played 12 games as a true freshman for the Volunteers before transferring to Arizona Western.
To continue reading this article you must be an Insider
November, 16, 2012
11/16/12
5:54
PM CT
Earlier this week, when speaking about the impact the current buzz around Texas A&M's football team after its win over Alabama, head coach Kevin Sumlin uttered a handful of interesting words.
"Our phone is ringing off the hook at this point," he said.
To continue reading this article you must be an Insider
October, 4, 2012
10/04/12
1:00
PM CT
There was a sadness that came over Honolulu Punahou inside linebacker
Isaac Savaiinaea
when Sunday afternoon arrived.
That's because it was the end of his official visit to Texas A&M, a trip that the Stanford commitment called "amazing." He enjoyed the visit so much that he said he didn't want to return home to Honolulu.
To continue reading this article you must be an Insider