Texas A&M Aggies:

Cam Cameron
January, 27, 2014
1/27/14
12:00
PM ET
Happy Monday to you all. Hope everyone had a great weekend. Let's take a look at some of the interesting stories from around the league in today's edition of the lunch links:
November, 6, 2013
11/06/13
12:00
PM ET
September, 10, 2013
9/10/13
9:00
AM ET
By the time the sun sets Saturday on the East Coast, another one of the preseason heavyweights in the SEC will be sporting a loss.
And in unison, the rest of the college football world will let out a collective cheer.
One of the ways to look at the Alabama-Texas A&M showdown is that the winner will be in primo position to make a run at the national championship.
But there's another subplot to the game in College Station: The loser will be the fourth SEC team ranked in the top 10 of the preseason polls to lose -- only three weeks into the season.
After watching Florida fall last week at Miami and Georgia stumble to open the season at Clemson, the anybody-but-the-SEC crowd is starting to rev its engines and ponder the possibilities.
Maybe the big, bad SEC is showing a few cracks in its foundation, and just maybe this is the year that a BCS National Championship -- the last one, as fate would have it -- is played without an SEC team as a participant.
There are still so many ways this season could go, but the feeling coming in was that the surest way for the SEC's seven-year national championship streak to end was for the league to beat up on itself.
Stay tuned on that front, but it certainly looks like everybody in the SEC has a few warts.
Even Alabama was average at best offensively in its season-opening 35-10 win over Virginia Tech. We'll find out a lot more about the Crimson Tide this weekend, but part of their issues offensively in the opener can be attributed to how physical Virginia Tech's front seven was on defense.
The Hokies flat got after Alabama, and unlike past years when the Tide were playing with an NFL-esque offensive line, they didn't respond particularly well.
Meanwhile, the rest of the college football world is starting to smell blood, SEC blood.
Is that premature?
[+] Enlarge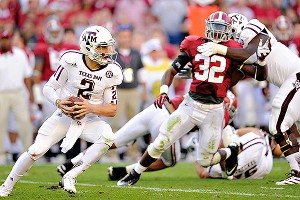 John David Mercer/USA TODAY SportsSaturday's showdown between Alabama and Texas A&M should provide some answers about the path to the national championship.
Sure it is, but it's going to be fascinating to see how it all plays out, because more than ever, it's the SEC versus the rest of college football.
Comparing scores this early in the season is meaningless, but Clemson did beat Georgia, which beat South Carolina.
After Miami took down Florida last week, Clemson coach Dabo Swinney chortled, "How about that ACC? Spunky little old league."
The best part was Swinney flashing the "U" sign as he walked out of the interview room following Clemson's 52-13 pasting of South Carolina State.
The gamesmanship makes it a lot more fun, and Clemson is hardly the only team that's a legitimate threat to the SEC this season.
At first glance, Oregon appears to be faster and more explosive than ever, and nobody's sleeping on Stanford. Louisville could easily go unbeaten when you look at the Cardinals' schedule, and it's not far-fetched to think that an unbeaten team could come out of the Big Ten this season either.
Ultimately, it's probably going to come down to how much damage is doled out within the SEC's own parameters.
What's more, is there another Texas A&M lurking similar to a year ago?
The Aggies went from unranked to taking down Alabama in Tuscaloosa last November and were playing as well as anybody in the country by season's end.
LSU was sort of the forgotten team in the league to begin this season after losing so many star defensive players, but the Tigers' passing game has taken flight under first-year offensive coordinator Cam Cameron and it's hard to see an appreciable drop-off on defense to this point.
Again, though, LSU has to play at Georgia in three weeks and at Alabama in November.
One of the constants in the SEC's national championship run has been suffocating defense. It's not a coincidence that six of the seven national champions during the streak have finished in the top 10 nationally in total defense.
The early returns suggest that some of the offenses are perhaps catching up with the defenses in this league. But, then, maybe some of the defenses this season simply aren't what we've grown accustomed to in the SEC.
South Carolina was torched for 536 yards last week in its loss to Georgia, which has given up 68 points in its first two games, albeit to a pair of top 10 teams.
Texas A&M has been playing with a patchwork unit defensively thanks to suspensions, but the Aggies have given up 59 points in their first two games -- to Rice and Sam Houston State.
Florida is a load on defense, but the Gators haven't shown nearly enough offensively to think that they could be a national championship contender.
LSU's toughest tests are yet to come defensively, which leads us back to the Crimson Tide.
They've won national championships each of the past two seasons despite losing games at home in November.
One of the things that make Saturday's game so pivotal for both Alabama and Texas A&M is that neither team has a tough draw in the East this season. They both avoid Florida, Georgia and South Carolina.
So the path to the national championship gala will clear up considerably for the winner Saturday.
Even so, it's a race after a few laps around the track that has everybody outside the SEC's footprint believing, anticipating and hoping that the league everybody has been chasing for the better part of the past decade may finally be losing a few steps.
September, 8, 2013
9/08/13
10:00
AM ET
Here are five things we learned on another crazy Saturday in the SEC:
East should be wild:
Just as we all expected, Georgia, Florida and South Carolina each have a loss after all of two weeks. Georgia jumped into the division lead with its 41-30 win against South Carolina on Saturday, but the division's power trio all figure to hang around throughout the fall. They all have demonstrated glaring weaknesses that make a second loss possible for each of them -- and even if Georgia has the lead now, it also faces perhaps the most difficult league schedule of the three expected front-runners. It should be yet another memorable race in the East.
Pay attention, Tide:
Johnny Manziel
certainly looked like a Heisman Trophy contender in passing for 403 yards and three touchdowns and rushing for another in Texas A&M's 65-28 thrashing of FCS squad Sam Houston State. But the Aggies' porous defense has to be a major concern for Kevin Sumlin, with Alabama's stable of running backs on tap next week. Sam Houston's
Timothy Flanders
rushed for 170 yards and scored three touchdowns against A&M's depleted defense. Several Aggies defenders should be back from suspensions next week against Alabama, which should help. But after allowing 450 yards per game in the first two games, the Aggies will have to get a lot better in a week's time.
[+] Enlarge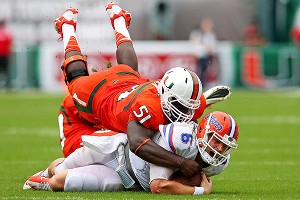 Mike Ehrmann/Getty ImagesJeff Driskel and the Gators offense struggled in a 21-16 loss to Miami on Saturday.
More of the same at Florida:
Jeff Driskel
and Florida's offense still appear to be the middling bunch they were in 2012. In Saturday's 21-16 loss at Miami, Driskel passed for a career-high 291 yards, but the Gators turned it over four times inside the Miami 20 in another bumbling performance. Florida's defense surrendered just 212 yards and 10 first downs, but the offense still hasn't found consistent playmakers, and that was clearly evident Saturday.
Mettenberger for Heisman:
It looks like the offseason talk about LSU making better use of
Zach Mettenberger
's powerful right arm under new offensive coordinator Cam Cameron was no joke. Mettenberger set a new school record with five touchdown passes in Saturday's 56-17 win against UAB. After passing for 282 yards against UAB -- with
Odell Beckham Jr.
grabbing five balls for 136 yards and three scores -- and 251 last week against TCU, Mettenberger has eclipsed the 250-yard mark in both of the first two games. He did so only three times last season.
Welcome back:
Through two weeks, seven SEC programs are off to a 2-0 start. Included in that bunch are four of the five teams that failed to reach a bowl game last season: Auburn, Missouri, Tennessee and Arkansas. Enjoy it while it lasts, though, guys. Tennessee faces Oregon and Florida in the next two games. Auburn gets Mississippi State and LSU in the next two weeks. Arkansas draws Texas A&M, Florida, South Carolina and Alabama in a four-week stretch before long. And Missouri faces Vanderbilt, Georgia, Florida and South Carolina in October alone. In other words, the road's going to get bumpy soon once they jump into conference play, and they can't feast on the Samfords, Arkansas States and Toledos of the college football world.
September, 4, 2013
9/04/13
12:30
PM ET
Most of the SEC coaches spoke to the media on Tuesday. Read all about what's going on around the league this week.
August, 29, 2013
8/29/13
10:15
AM ET
Ready or not, it's here. The start of the college football season is upon us with all of its promise and potential.
Throughout the SEC, there's a sense of new beginnings, of hope, of the fresh start so many programs have been longing for. Gus Malzahn will lead Auburn for the first time as its head coach, Bret Bielema and Butch Jones will coach their first games in the SEC at Arkansas and Tennessee, respectively, and Mark Stoops will take the first steps in rebuilding a Kentucky program that's struggled historically.
Everyone is on an even keel today, but that all changes when the lines are painted and the football is teed up for the start of the season. So as you get ready for all that Week 1 has to offer, keep an eye on these few things:
1. Return of the champs:
Alabama has all the ingredients to make another run at a national title.
AJ McCarron
and
T.J. Yeldon
are Heisman Trophy contenders, and the defense is once again littered with potential All-Americans. With a league-best 16 players chosen to the Coaches' Preseason All-SEC Team, there's no doubting the talent assembled in Tuscaloosa, Ala. But can Nick Saban fend off complacency again and help his team meet its full potential? That remains to be seen, though a season opener against Virginia Tech is a good place to start. The Hokies are a three-touchdown underdog that Alabama could easily overlook with a bye week and Texas A&M to follow. Will overconfidence get the best of the Tide? If UA comes out with anything less than 100 percent effort, that could signal trouble for the road ahead.
[+] Enlarge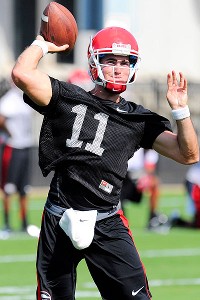 Dale Zanine/USA TODAY SportsAaron Murray will aim to lead Georgia past Clemson in the Bulldogs' opener.
2. An early title test for Georgia:
Mark Richt's Bulldogs won't get a chance to test the waters before jumping in headlong this season, as Clemson awaits in Game 1. Never mind letting
Aaron Murray
and his talented tandem of tailbacks get their bearings, and never mind allowing the revamped defense to find its stride; Georgia will encounter its first obstacle on the road to the national championship right away.
Tajh Boyd
and the Tigers offense are prolific -- and dangerous -- averaging 512 yards per game a season ago, which was good enough for ninth in the country. And while there's no doubting Georgia's ability on offense, there are some serious questions on the other side of the ball. After all, 10 of the 22 players listed on Georgia's two-deep depth chart have never played a down of FBS football.
3. Can LSU's offense turn the corner?:
There have been glimpses of potential, but LSU's offense has never reached its full potential under Les Miles. The defense has been great, sure, but when it's come to scoring points, the Tigers left something to be desired. Not having the right quarterback had something to do with that, though, but this season, that excuse and all others won't be enough as
Zach Mettenberger
enters his senior season under center and new offensive coordinator Cam Cameron takes control. LSU will still line up and play power football, which it has always done well. The passing game, though, could use some spark, and Miles hopes Cameron is the guy to light that fire, starting with the season opener against TCU. Just because the Horned Frogs come from the defensively challenged Big 12 doesn't mean coach Gary Patterson's squad can't play ball. TCU has long been SEC-like on defense with playmakers like defensive lineman
Devonte Fields
and cornerback
Jason Verrett
. They'll get after Mettenberger and give LSU fans an early look at what the Tigers' offense is truly capable of.
4. Florida seeking playmakers:
The Gators' woes on offense have been well documented. After all, Florida hasn't had a 1,000-yard receiver in almost a decade. Since
Tim Tebow
left, there hasn't been a lot of chomp to the Gators' bite. For all of
Jeff Driskel
's faults as a young quarterback, it was hard to figure out exactly who he was supposed to get the football to last season. There was no
Percy Harvin
to be found. While there doesn't appear to be an All-American brewing at wide receiver now, this season should be better. Losing
Matt Jones
for the season opener hurts, but it should give other players a chance to step up and make plays. With a date with in-state rival Miami looming, coming out with a bang against Toledo could serve as the springboard to bigger and better things in 2013.
5. Which Johnny Football will it be?:
It's only Rice, but
Johnny Manziel
needs to come out and set the tone right away for what kind of season he hopes to have. The Aggies' success depends on it. After an offseason filled with turmoil, it's time for all of College Station to turn the page. We've heard time and time again that it will get better when Manziel can put aside the distractions and focus solely on football. Now, he has to prove it. If he really is tired of the college life and ready to move on to the NFL, he'll have to show he's capable of handling the spotlight and performing on the football field. Veterans like Luke
Luke Joeckel
, Ryan Swope and
Damontre Moore
are gone. For better or worse, it's Manziel's team, and the pressure is on him now more than ever.
August, 26, 2013
8/26/13
11:00
AM ET
Game week has arrived. No more waiting for the action because it all starts this week. Here are some links from around the SEC to whet your football appetite as game day nears:
February, 26, 2013
2/26/13
4:00
PM ET
Here are a few storylines to watch this spring in the Western Division. Edward took a look at the Eastern Division on Monday.
ALABAMA CRIMSON TIDE

Start date:
March 16
Spring game:
April 20
What to watch:
Battling complacency: Alabama is gearing up for yet another title defense. Will complacency finally rear its ugly head? Not if Nick Saban has anything to do with it. The head coach will no doubt remind players of the targets on their backs and what little they've accomplished as presently constituted.
Opening up the passing game: The return of AJ McCarron, coupled with a talented, deep crop of receivers, could mean a more wide-open passing game in Tuscaloosa. If true freshman tight end O.J. Howard develops as some expect, the offense could become even more dynamic.
Recruits Miss Lone Star Showdown
SEC SCOREBOARD
Thursday, 9/3
Saturday, 9/5