Texas A&M Aggies:

Brian Bell
September, 8, 2013
9/08/13
1:30
AM ET
COLLEGE STATION, Texas — With the biggest game of the season a week away, there's still some good and bad when it comes to Texas A&M. And that should make the Aggies' showdown with Alabama on Sept. 14 even more compelling.
The Aggies ran away with a
65-28 win over FCS power Sam Houston State
on Saturday at Kyle Field in a game that provided plenty of positives for A&M but also raises some concerns.
[+] Enlarge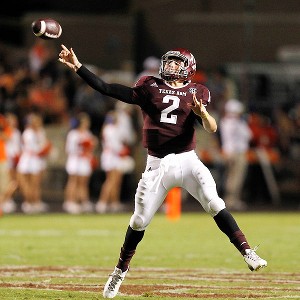 Bob Levey/Getty ImagesQuarterback Johnny Manziel, who passed for 403 yards in Texas A&M's win over Sam Houston State, said he had an emotional meeting with his teammates last week after the conclusion of an NCAA investigation.
Saturday was the final dress rehearsal for Texas A&M (2-0) before it opens up SEC play against defending BCS champion Alabama, the nation's No. 1 team. The Aggies defeated the Crimson Tide 29-24 last season in Tuscaloosa, Ala., and will be looking to make it two in a row against coach Nick Saban & Co.
Offensively, the Aggies looked like one of the nation's best teams on Saturday against Sam Houston State, rolling up 714 yards in quarterback
Johnny Manziel
's first start of the year. The Heisman Trophy winner played a little more than a quarter last week and didn't start while serving a suspension in the first half of a win over Rice.
The redshirt sophomore quarterback showed shades of the player that won the Heisman last season, making a few plays with his feet. He scooted for a 6-yard touchdown run with 5:24 to go in the third quarter that kick-started a string of 21 unanswered points that the Aggies would close the game out with.
He also showed plenty of his signature emotion on the field, including when he lowered his head like a power running back and ran through cornerback
Shelby Davis
for a would-be 7-yard touchdown run that was reviewed on replay and later turned into a 6-yard gain for stepping out of bounds, setting up a 1-yard
Ben Malena
touchdown in the second quarter.
"It was just an emotional play and I play with my heart on my sleeve," Manziel said. "That play, I was doing anything I could to get six points on the board and get this team a bigger lead, to, by any means, get this team six points. That's what I was going for."
While his feet were still a factor occasionally, Manziel showed his progression as a pocket passer when planting his feet and throwing the ball downfield. He found his favorite receiver, sophomore
Mike Evans
(seven catches, 155 yards) plenty of times and threw a picturesque fade pass to freshman
Ja'Quay Williams
for a 20-yard touchdown in the second quarter. He finished 28 of 41 passing for 403 yards and three touchdown tosses.
"He was very efficient," coach Kevin Sumlin said. "There was some maturity shown on the scrambles, the ability to throw the ball away and not take big losses and take care of the football in times where he might have just slung it up in the middle of the field."
His only significant mistake was an interception thrown when the Aggies were inside the Bearkats' 10 in the first quarter, something Sumlin attributed to a bad play call.
The Aggies were also effective running the ball, compiling 214 yards between five different players, led by Ben Malena (10 carries, 91 yards) and
Tra Carson
(nine carries, 51 yards) who combined for three scores.
And while the offense functioned smoothly, the area that the Aggies struggled for a second straight week was on defense and specifically, defending the run. Sam Houston State's option attack was effective early, as the Bearkats marched 74 yards on six plays -- all runs -- on their first drive of the game.
For the night, Sam Houston State finished with 240 rushing yards, 170 of which came from running back
Timothy Flanders
. In the first game of the season, the Aggies allowed 306 rushing yards to Rice, while missing six key defensive players to suspensions (Texas A&M was still missing three starters to suspension on Saturday, plus starting defensive end
Julien Obioha
, who was injured). There were also big plays given up in the passing game, notably a 75-yard touchdown pass from
Brian Bell
to
Torrance Williams
.
With the Crimson Tide looming, the Aggies have plenty of work to do when it comes to shoring up the defense.
"We had our moments," Sumlin said. "You look at about really, four big plays, we can't do that. We'll go back and watch the video and assess where we are. I know one, in particular, was a missed tackle. We had a young guy jump out of a gap and they got out to the edge on us. We've got to continue to keep coaching and I think the addition this week of having [Steven] Jenkins back [will help]."
The Aggies also have health issues to deal with. Safety
Floyd Raven
sat out the second half because of what Sumlin called a collarbone injury. Obioha didn't play, nor did freshman receiver
Ricky Seals-Jones
or sophomore running back
Trey Williams
. Williams is expected back, Sumlin said after the game, but the status on the others is uncertain at this point.
As for Manziel, it was his first time speaking to the media since SEC media days in July. He touched on his meeting with his teammates last week after the conclusion of an NCAA investigation and noted that it was somewhat emotional.
"I said a lot of good things," Manziel said. "It was kind a little bit of an emotional deal for me getting up [there] and trying to get them fired up and let them know that I'm here and I'm focused on this season and I love each and every one of these guys and that these guys mean the world to me.
"There's so much other stuff that gets played on and is out in the public and we know what's in this building and what's in this room, stays in this room. There's a general love for each and every guy on this team, so that's what we were focusing on and that's the message I was trying to get across."
He said his teammates have provided good support for him during the recent months as he has endured criticism and scrutiny nationally.
"The biggest thing that has helped has been being around these guys here in this building and having my teammates and still being able to be around them," Manziel said. "It was easy to block all the stuff out, get off everything and not read anything and just grow with my teammates and continue to get a better bond with them and just being up here, spending time with them, that was something that was really, really helpful."
Alabama rested with an open date on its schedule this weekend after a season-opening win over Virginia Tech on Aug. 31. The Aggies got to tune up a little more. So who had the advantage? Time will tell, but Manziel feels like the Aggies benefited from playing.
"We had another opponent, another game, a full-speed game to play before they did," Manziel said. "It's hard to simulate a game in practice even though you get to go over more tape and what-not, but we had another game to go out and get some of these young guys up to speed and that's hard to really simulate in practice."
Now, the Aggies turn their attention toward trying to repeat history.
September, 7, 2013
9/07/13
6:00
AM ET
After another week spent in the national discussion, Texas A&M gets to turn its focus back to the football field tonight when the Aggies host FCS squad Sam Houston State at 6 p.m. at Kyle Field.
The game serves as a rematch from a November clash last season, one that Texas A&M claimed 47-28.

The Aggies are heavy favorites, as expected, but coach Kevin Sumlin has hammered home two main points to his team in preparing for the Bearkats. One traces back to last season's battle.
Sam Houston State outscored the Aggies 28-6 once A&M's backups entered the game. Sumlin noted Tuesday that many of those that were on the field at that time have significant roles on this season's squad.
Also, seven FCS teams earned upsets over FBS teams in the opening week of the season. One of those teams was Sam Houston State's opponent in the FCS national championship game last year, North Dakota State, which went into Manhattan, Kan., last week and upset defending Big 12 champion Kansas State.
"Anybody who watched North Dakota State last week win their game last week, that'll get your attention in a hurry," Sumlin said. "They go to Kansas State and win. Then you turn on last year's Sam Houston-North Dakota State game and it's a heck of a ballgame. Our players get that."
Texas A&M comes into the game shorthanded in a few areas. Four players are serving the second of a two-game suspension for a violation of athletic department rules, three of whom are defensive starters: cornerback
De'Vante Harris
, outside linebacker
Steven Jenkins
, defensive end
Gavin Stansbury
and reserve receiver
Edward Pope
. The Aggies will also begin the game without the services of starting cornerback
Deshazor Everett
(targeting) and true freshman defensive end
Daeshon Hall
(throwing a punch). Both were ejected in the second half for their respective infractions and thus, by rule, must sit out the first half of tonight's game.
The Aggies do regain the services of starting defensive tackle
Kirby Ennis
and safety Floyd Raven, both of whom served one-game suspensions as the result of offseason arrests. Tonight will also mark the first start of the season for quarterback
Johnny Manziel
, who was suspended the first half of the season-opening 52-31 win over Rice because of "inadvertent violations" discovered during an NCAA investigation that concluded last week.
So now that all the personnel issues are hashed out, here are some keys to look out for from Texas A&M:
Improvement on defense?: The Aggies yielded a whopping 509 offensive yards, including 306 on the ground, to Rice. Many of the struggles can be attributed to the fact that six key defensive players sat part or all of the game because of suspensions, and a total of 11 defensive true freshmen saw the field at some point. Against a veteran offense like Rice that's well-coached, that's a bad combination. But the Aggies need to show some improvement from game one to game two because some of those young players will have to play significant minutes later this season, starting next week in the Aggies' showdown against Alabama.
Assignment football: Sam Houston State an option attack which will require the Aggies to stay disciplined on defense and play assignment football. That should be useful experience for Texas A&M's young defensive players. The Bearkats return the two-time Southland Conference Player of the Year in running back Tim Flanders and starting quarterback Brian Bell, who has engineered 31 victories in the last three seasons. A transfer from Texas A&M, Chance Nelson, is also back after a freshman season that saw him record 671 receiving yards and nine touchdowns. That experience will help the Bearkats, who are have appeared in the FCS national championship game the last two seasons.
Keep the offense rolling: When Manziel took hold of the offense, he engineered four scoring drives and threw three touchdown passes, looking much like his 2012 self. Backup quarterback Matt Joeckel was solid in his starting debut, leading the Aggies to 28 first-half points. What is often overlooked is the Aggies' running game, which was productive in Week 1. Starter Ben Malena compiled 82 rushing yards and a touchdown while Tra Carson added 76 rushing yards and two scores. Sophomore transfer Brandon Williams is expected to play after healing up from offseason foot surgery, adding a dynamic option to the Aggies' backfield.
When it's all said and done, the Aggies are hoping to come away with a solid win to put themselves at 2-0 prior to their much-anticipated showdown with defending BCS champion Alabama.
John Chavis Suing Texas A&M, LSU
SEC SCOREBOARD
Thursday, 9/3
Saturday, 9/5