Texas A&M Aggies:

Bob Stoops
June, 13, 2014
Jun 13
9:00
AM ET
Finally, football is back. Well, fútbol, actually.
The
World Cup
will consume sports fan across the globe for the next month, taking us right up to the outskirts of the college football season.
Many in Big 12 country know little about the World Cup, or what team to pull for outside the United States. So to give you soccer novices a rooting choice, we've come up with the fútbol counterparts for every team in the Big 12 (thanks to soccer aficionados
Royce
and Russ for their help in putting this list together):

BAYLOR
Belgium:
Baylor has been the up-and-coming squad in the Big 12, winning its first conference title last year. The Belgians are the up-and-comers of this World Cup, and a popular sleeper pick to win it all. Both have lethal offensive attacks, but still must prove their staying power this year.

IOWA STATE
South Korea:
On its home soil in 2002, South Korea pulled off three of the bigger upsets in World Cup history, knocking off Portugal, Italy and Spain to reach the quarterfinals. The Cyclones under coach Paul Rhoads have also been a giant killer at home, most recently upsetting second-ranked Oklahoma State to bounce the Cowboys from the 2011 national title race. With 21-year-old forward Son Heung-min leading the charge, South Korea boasts a potentially formidable offensive attack. And with nine offensive starters back this year, Iowa State has the chance to feature its best offense in a long time.

KANSAS
Australia:
Both had their finest moments around the same time -- the Aussies advancing out of its World Cup group in 2006; the Jayhawks winning the Orange Bowl in 2007 -- but the hearts of both fan bases lie in another sport (basketball for Kansas, rugby for Australia).

KANSAS STATE
Greece:
Greece is not flashy. But emulating the Bill Snyder playbook to success, the Greeks grind out victories (and ties) with stout defense, fundamental play and by avoiding mistakes. Like K-State, the Greeks have been defined by their coach (Otto Graham/Fernando Santos) more than any star player. And Greece's improbable 2004 Euro Cup title run might be the soccer equivalent of K-State's Manhattan Miracle.

OKLAHOMA
Germany:
The Germans have been the epitome of consistent success, advancing to the semifinals in eight of the last 11 World Cups. The Sooners have matched that level of consistency during the Bob Stoops era, with eight conference titles and a dozen double-digit win seasons over the last 14 years.

OKLAHOMA STATE
Portugal:
In recent years, both have piled up the wins and have featured plenty of star power. But they have failed to breakthrough when the spotlight has been the brightest. Portugal's "golden generation" flopped in the 2002 World Cup, losing to the U.S. in the opener before failing to advance out of the group stage. Oklahoma State could have clinched the 2010 and 2013 Big 12 titles, but slipped at home against rival Oklahoma. The Cowboys and the Portuguese have also had to exist in the shadow of two preeminent powers in their sports (Sooners/Spain). Still they have become two clubs nobody wants to play, and have reached enviable levels of year-to-year success.

TCU
Uruguay:
Uruguay is a small country surrounded by some of the giants in World Cup soccer. The same goes for TCU, which doesn't have the enrollments or resources of the likes of Oklahoma or Texas. But just like Uruguay, TCU has carved out success with a hardnosed style of play. Furthermore, Uruguay won the first World Cup ever played in 1930, while both of TCU's national championships came in the same decade (1935, 1938).

TEXAS
England:
All the tradition, history and resources. And yet in recent years, these two have been massive underachievers. In South Africa in 2010, the English surrendered the top seed in its group to the Yanks, then got obliterated 4-1 by Germany in the first game of the knockout round. The Longhorns, meanwhile, have failed to win more than eight regular-season games the last four seasons. Because of these struggles, both squads are flying somewhat under the radar, and the talent is still there for either to ignite a run. But first, someone -- anyone -- has to light the fuse.

TEXAS TECH
Mexico:
After an emotional roller-coaster ride through the qualifying stages, Mexico is feeling optimistic following a manageable World Cup draw and cleaner play of late. Texas Tech rode the roller coaster of a five-game losing streak last season, but is feeling confident these days coming off its dominating bowl performance against Arizona State.

WEST VIRGINIA
Ivory Coast:
Les Éléphants bring the fireworks with Didier Drogba and Yaya Touré the same way the Mountaineers have through the Pat White and Geno Smith eras. But while West Virginia dominated the Big East the way Ivory Coast has Africa, neither has been able to take that next step against the big boys. In its first two appearances in the World Cup in 2006 and 2010, Ivory Coast failed to advance out of its group. Likewise, the Mountaineers have struggled their first two years in the Big 12. Both have the individual talents of a championship-caliber club, but neither will contend until the depth improves.
February, 6, 2014
Feb 6
3:30
PM ET
Now that signing day is over and the fax machine is allowed another 364 days of rest, it's time to look back on who did the most on the recruiting trail in the SEC.
It's important to note that this is not purely a rank of who had the best class. You can go to
ESPN's class rankings
for that information. Rather, this list took into account the state of each program and how it performed against expectations, hence Kentucky's lofty standing.

No. 1: Alabama
Rundown:
The class wasn't just No. 1 overall, it was No. 1 by a mile. Alabama cleaned up with one-third of all the five-star prospects in the ESPN 300, the highest ranking of which was offensive tackle
Cameron Robinson
, who could challenge for immediate playing time as a freshman. Along those lines, coach Nick Saban and his staff didn't just sign the best prospects, they signed those that fit the program's needs. The offensive line class could be the best in Saban's history, the cornerback class promises two future stars and quarterback
David Cornwell
helps expand the field of candidates to replace
AJ McCarron
.
Instant impact signee:
Tony Brown
won't be the only five-star cornerback on campus, but he'll be the first one there. The speedy track star enrolled in January and will compete in spring practice. With both starting cornerback spots open, he'll have a chance to start right away.

No. 2: Kentucky
Rundown:
This ain't your grandfather's Kentucky. It's not your father's or your older brother's, either. Mark Stoops didn't have the highest ranked recruiting class in the country or even the SEC, but the top-20 class far outpaced even the highest expectations . The signees speaks for themselves -- an infusion of young talent desperately needed for the road ahead -- but the overall statement Stoops and his staff made going out and landing the best of the best was huge. Nabbing four-star defensive lineman
Matt Elam
from Alabama sent shockwaves through college football. It not only said that Kentucky was here to play; it's here to play and win.
Instant impact signee:
There's opportunity abound in Lexington. At one point, a walk-on was starting at receiver against Alabama. With that, four-star
Thaddeus Snodgrass
has the athleticism (4.5 second 40-yard dash) to provide a quick spark to the Wildcats' offense.

No. 3: Tennessee
Rundown:
No program brought in more young talent than the Vols. All told, Tennessee signed 35 prospects, far more than any BCS-level program. Coach Butch Jones joked that he'll have an all-freshman team next year, and with 11 ESPN 300 players in the class it's not that farfetched an idea. Not only did Jones lock down in-state stars like
Josh Malone
,
Todd Kelly Jr.
and
Jalen Hurd
, he reached across borders and landed
LaVon Pearson
and
Dillon Bates
. Where his first recruiting class in 2013 was more about creating buzz, 2014 was about fulfilling a promise.
Instant impact signee:
Jones and his staff are high on junior college offensive tackle
Dontavius Blair
, who enrolled at Tennessee early. Considering the Vols are completely reloading on the offensive line, the 6-7, 307-pound Blair will have the chance to step in and play from Day 1.

No. 4: LSU
Rundown:
Les Miles was on the hook after losing several in-state stars to programs like Alabama, Texas A&M and Florida. Seeing Cam Robinson,
Speedy Noil
and
Laurence Jones
commit elsewhere cast LSU's recruiting efforts in a bad light. But that all changed when
Leonard Fournette
, the No. 1 overall prospect in the country, announced that he would be a Tiger. And on Wednesday,
Malachi Dupre
, the No. 1 wide receiver in the nation, followed suit. By the end of the day, 11 of the top 25 players in Louisiana ended up at LSU.
Instant impact signee:
Fournette is the No. 1 overall prospect for a reason. He's got all the physical tools and the mindset to play at the next level. Because of that he's been compared favorably to former Sooner
Adrian Peterson
. With
Jeremy Hill
off to the NFL, Fournette can insert himself into the running back rotation right away.

No. 5: Texas A&M
Rundown:
In 2012, Texas A&M signed the 15th best recruiting class in the country. In 2013, it joined the SEC and rose to eighth in the rankings. And on Wednesday, it completed that climb by finishing fourth. Kevin Sumlin and Co. signed an impressive 10 ESPN 300 recruits, including the No. 1 defensive end, the No. 1 athlete and the No. 1 pro-style quarterback. Signing a pair of junior college offensive linemen --
Avery Gennesy
and
Jermaine Eluemunor
-- solidifies depth on a line moving on without
Jake Matthews
.
Instant impact signee:
There's no doubt Texas A&M needs help on the defense. Defensive end
Myles Garrett
's body is college-ready (6-5, 255 pounds) and he's ripped to shreds. If he can pick up the defense and show he's capable of holding up against the run, he could play soon.

No. 6: Florida
Rundown:
It's the win coach Will Muschamp so desperately needed. Keeping together this class after one of the most disastrous seasons in program history was a remarkable feat. In all, Florida signed 13 ESPN 300 commitments, including seven players who rank among the top 10 nationally at their position. Even more impressive was that Muschamp sold Florida against some other top programs, flipping four-star Florida State quarterback commitment
Treon Harris
to cross the state to Gainesville.
Instant impact signee:
Jalen Tabor
has as good a chance as anyone to start at cornerback opposite
Vernon Hargreaves III
, the former standout freshman whose footsteps he's trying to follow. Florida coaches are high on his talent and skill level, and of course, being an early enrollee helps.

No. 7: Georgia
Rundown:
Mark Richt got his guy in
Lorenzo Carter
. Without him, the entire outlook of the class changes. While it wasn't high on numbers -- 21 signees in all -- the quality of Georgia's class was impressive. Richt signed 11 ESPN 300 recruits, including the No. 2 and No. 7 running backs in the country. Four-star athlete
Isaiah McKenzie
was a big signee as well. He's small in size (5-8), but his speed and quickness could translate to early playing time.
Instant impact signee: "
That defense is going to be nasty," Carter said. "And I plan on being a part of it." With that, Georgia got a taste of the energy the No. 3-rated defensive end will bring to Athens. His ability as a pass-rusher will help the Bulldogs right away, and if he adds a few more pounds he could develop into an every-down lineman.

No. 8: Auburn
Rundown:
It's not always about who you sign, but who you miss. The loss of
Rashaan Evans
still stings a day later, but Auburn landed commitments from offensive lineman
Braden Smith
and defensive end
Andrew Williams
to close out what was already an impressive class. In all, the Tigers have 12 signees in the ESPN 300 and two ranked in the ESPN JC 50. Despite losing Evans to the Tide, Auburn signed four of the state's top 10 players, including its top-ranked player in the class, running back
Racean Thomas
.
Instant impact signee:
Nobody is more qualified to step in and contribute than wide receiver
D'haquille Williams
. He's the No. 1 junior college player in the country, and he's already on campus. Don't be surprised if he becomes the team's go-to wide receiver by the start of next season.

No. 9: Ole Miss
Rundown:
The class wasn't filled with stars like the year before, but coach Hugh Freeze and his staff didn't let up in 2014. The Rebels went after more seasoned recruits, signing six players from either junior college, prep schools or delayed enrollment. Actually, this year's class might end up having more depth than the previous year's as 15 four-star recruits signed in 2014, compared to 12 four-star recruits and two five-star recruits in 2013. With players like
Garrald McDowell
and
C.J. Hampton
, there's plenty to build around.
Instant impact signee:
Ole Miss needed help on the offensive line and four-star
Rod Taylor
could be the man to give them a boost. The No. 2 offensive guard in the ESPN 300 and the Rebels' highest ranked signee enrolled in school early and will compete in spring practice.

No. 10: South Carolina
Rundown:
It wasn't the most heralded class in Steve Spurrier's tenure at South Carolina, but it didn't lack talent, especially on defense where the Gamecocks signed four defensive linemen and four cornerbacks. Stealing defensive tackle
Dexter Wideman
from Florida State and nabbing cornerback
Chris Lammons
from Wisconsin's sights was huge in moving South Carolina up from 27th in the class rankings to 19th.
Instant impact signee:
He'll no doubt add a few pounds to his 6-3, 250-pound frame, but no amount of weight will help
Dante Sawyer
's attempts to fill
Jadeveon Clowney
's sizable shoes at South Carolina. That's not Sawyer's job as a freshman, though. The four-star prospect should help the Gamecocks pass rush and is versatile enough to play either outside linebacker or defensive end.

No. 11: Arkansas
Rundown:
When I spoke to Bret Bielema during the season, he told me that he wasn't going after guys based on their rankings. He wanted "his guys," guys who fit his blue-collar system. And he did exactly that with six of his top eight signees coming on the offensive and defensive lines. Throw in
Rafe Peavey
, the No. 10 dual-threat quarterback, and Arkansas' got a good foundation to build upon.
Instant impact signee:
With starting defensive tackle
Byran Jones
gone, the door is open for big
Bijhon Jackson
, who comes in at a hefty 6-2 and 330 pounds. The No. 6-ranked defensive tackle is one of three ESPN 300 member in Arkansas' recruiting class.

No. 12: Mississippi State
Rundown:
The Bulldogs' 2014 signing class was on the small side with 23 signees, and it was planned that way. With so few seniors, coach Dan Mullen chose to be selective. Still, the class left something to be desired without a single player ranked in the top 10 nationally at their position. It was good to see the Bulldogs get so many in-state recruits, but the furthest their reach went was to Texas, Alabama and Georgia. That said, Mississippi State fans will be glad to see that both of its ESPN 300 signees --
Jamoral Graham
and
Jesse Jackson
-- were skill players on offense, an area in need of development.
Instant impact signee:
There's plenty of opportunity in the Bulldogs' backfield now that
LaDarius Perkins
is off to the NFL. Enter
Aeris Williams
, a four-star prospect from Mississippi. With
Dak Prescott
at quarterback, Williams could make hay on the read-option.

No. 13: Missouri
Rundown:
Maybe the SEC East title and the trip to Atlanta didn't amount to much on the recruiting trail. Maybe the thrilling Cotton Bowl win didn't impress enough recruits either. Whatever it was, coach Gary Pinkel didn't exactly make hay on signing day. Landing just two ESPN 300 commitments was underwhelming, as was the grand total of four four-star recruits. The signing of
Andy Bauer
, a four-star offensive tackle who was targeted by Alabama, does engender some hope. Still, as we watch Texas A&M take advantage of the bump it received in recruiting since joining the SEC, one has to wonder why Missouri hasn't done the same.
Instant impact signee:
Brandon Lee
, the nation's No. 17 outside linebacker, comes in at a healthy 6-2 and 210 pounds. Given that two of the Tigers' three starting linebackers were seniors last season, Lee will have a chance to come in and contribute right away.

No. 14: Vanderbilt
Rundown:
With so little time to recruit, Derek Mason couldn't put together the class he wanted. And with former Vanderbilt coach James Franklin poaching so many of his former recruits at Penn State, it only made matters worse. So don't judge Mason's first class and its two ESPN 300 signees too harshly. But do give him credit for convincing
Nifae Lealao
, the No. 20 defensive tackle, to come to Nashville. The four-star prospect is among the most highly rated recruits to ever sign with the Commodores.
Instant impact signee:
It isn't just
Jordan Matthews
who's leaving. So is
Jonathan Krause
, who started 11 of 13 games last season. Enter three-star
Rashad Canty
. He's not the most highly ranked recruit, but the 6-3, 201-pound receiver has the tools to make a push for reps early.
December, 10, 2013
12/10/13
1:40
PM ET
What's the most interesting bowl matchup of them all?
Auburn-FSU with a BCS championship hanging in the balance
, of course.
But what about after that fairly obvious choice? ESPN.com's
Mark Schlabach attempted to rank them all from 1-35
on the college football homepage.
For our purposes, let's take a look at where Schlabach ranked the bowl games for the nine SEC teams that aren't Auburn that will appear in the postseason.
No. 4: Alabama-Oklahoma in the Allstate Sugar Bowl:
Sooners coach Bob Stoops has talked a big game about how tough the SEC actually is. He's about to get a close look at perhaps the toughest customer in the whole league.
No. 5: Missouri-Oklahoma State in the AT&T Cotton Bowl:
This should be a fun matchup between former Big 12 rivals who feature explosive offenses. Just like the old days.
No. 6: South Carolina-Wisconsin in the Capital One Bowl:
If not for an inexplicable midseason loss to Tennessee, South Carolina would have been in the thick of the BCS picture. A win here would be a proper sendoff in what will almost certainly be
Jadeveon Clowney
's final game as a Gamecock.
No. 9: LSU-Iowa in the Outback Bowl:
No
Zach Mettenberger
for LSU, but
Anthony Jennings
' debut at quarterback against a stout Iowa defense could make this one interesting.
No. 10: Georgia-Nebraska in the TaxSlayer.com Gator Bowl:
Yeah, it's a rematch from last season's Capital One Bowl, but it should still be another tight contest between injury-riddled teams that will have had another month to heal.
No. 11: Texas A&M-Duke in the Chick-fil-A Bowl:
If this is
Johnny Manziel
's final game as an Aggie, he'll have an opportunity to throw against a Duke team that is playing in back-to-back bowl games for the first time in school history. This game delivers an exciting result almost every year, and this season could turn into a shootout.
No. 22: Ole Miss-Georgia Tech in the Franklin American Mortgage Music City Bowl:
Facing Georgia Tech's option offense is always a challenge, and the young Rebels will need to slow down the Yellow Jackets in order to cap another year of improvement under Hugh Freeze.
No. 23: Vanderbilt-Houston in the BBVA Compass Bowl:
Commodores fans were angry that they didn't get invited to a more prestigious bowl after Vandy's second straight eight-win regular season. They'll need to turn out at Legion Field to prove their point.
No. 24: Mississippi State-Rice in the AutoZone Liberty Bowl:
The Bulldogs barely slipped into bowl season by beating Ole Miss in overtime. Now they'll have to take down Conference USA champ Rice, which won its first outright league title since 1957 when it blasted Marshall last weekend.
December, 9, 2013
12/09/13
12:40
PM ET
We're entering the dreary time of year with no SEC football Saturdays ahead for quite a while. But with bowl season still in front of us, there's plenty to discuss. Let's take a look at what's happening around the league.
October, 11, 2013
10/11/13
5:30
AM ET
The Early Offer is RecruitingNation's regular feature, giving you a daily dose of recruiting in the mornings. Today's offerings: The Red River Rivalry always has recruiting implications, and this year's game is no exception; Texas' loss could end up being Arkansas' gain; and one of the nation's best offensive tackles will take trips to Florida and Florida State.


October, 9, 2013
10/09/13
5:30
AM ET
The Early Offer is RecruitingNation's regular feature, giving you a daily dose of recruiting in the mornings. Today's offerings: Texas not making the top four for 2015 star
Daylon Mack
is an interesting -- and troubling -- development; the top player in Texas is scheduled to announce next week and everything is looking good for the Aggies; and Washington adds a four-star lineman, which could help give the Huskies recruiting momentum before Oregon comes to town.
To continue reading this article you must be an Insider
April, 2, 2013
4/02/13
11:13
AM ET
Over the last few months, ESPN Watch List receiver
Armanti Foreman
has taken visits to schools, even while committed to Oklahoma.
To continue reading this article you must be an Insider
January, 5, 2013
1/05/13
12:44
AM ET
ARLINGTON, Texas -- Oklahoma's defense had heard the legends about Johnny Football. They'd seen the highlight reels and trophy acceptance speeches.
Until Friday, though, they had never stepped on the same field with the first freshman to win a Heisman Trophy. After Texas A&M's 20-year-old superstar rolled over the Sooners for 516 total yards (229 rushing, 287 throwing) and four touchdowns in a
41-13 Cotton Bowl victory
, Oklahoma couldn't help but be glad his college years will be spent on fields across the SEC and not the Big 12 -- where the Aggies would have been if not for some conference upheaval over the past two years.
"
Johnny Manziel
is everything he was billed to be," Oklahoma coach Bob Stoops said. "He makes everybody miss him. He was what you've seen on tape the whole year."
Sooners defensive coordinator Mike Stoops called Manziel the best player he'd ever played, which carries a special significance considering Stoops' defense gave up 344 rushing yards and 572 all-purpose yards to a shifty, speedy receiver named
Tavon Austin
from West Virginia barely six weeks ago, the second-most all-purpose yards in a game in FBS history.
[+] Enlarge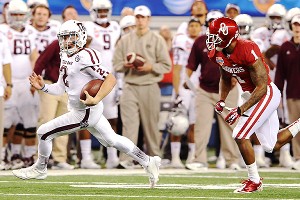 Kevin Jairaj/USA TODAY SportsJohnny Manziel sprints away from Oklahoma's Tony Jefferson during a second-half run.
"He's not a Heisman winner for no reason," said Oklahoma safety
Javon Harris
, who scooped up an interception off Manziel when receiver
Malcome Kennedy
bobbled what likely should have been Manziel's fifth touchdown of the night. "You saw what he did to the SEC all year. We knew exactly what we were going to get into."
Stoops' defense refused to blitz Manziel for most of the night, but the Aggies' strong offensive line -- led by bookends and future NFL first-round picks
Luke Joeckel
and
Jake Matthews
-- hardly allowed Oklahoma's defensive linemen to make Manziel notice they were even trying to chase him down. For much of the game, Oklahoma's secondary would cover the Aggies' receivers, but Manziel would find a crease and turn a broken play into a big gain.
"It's hard if you've got an angle on him," Bob Stoops said. "He stops, goes the other way. If you don't he outruns you."
Despite spending the past month making a post-Heisman nationwide media circuit and losing his offensive coordinator, Kliff Kingsbury, Manziel strung together one of the best highlight reels in bowl history, which was set to a soundtrack of "Johnny B. Goode" from Chuck Berry on the big screen at Cowboys Stadium as the final minutes of the game ticked away and Texas A&M fans serenaded the exiting Oklahomans with an "S-E-C" chant.
More like Johnny B. Great.
"There wasn't anything holding us back. No rust. There was no nothing," Manziel said.
He energized the crowd as few have ever had the ability to do, the volume level in Cowboys Stadium rising quickly any time he fled the pocket. Oklahoma's defense could do little to stop him or to quiet the Aggies-friendly crowd of 87,025, the biggest Cotton Bowl crowd ever at the venue.
A media flock hounding him while he did required postgame TV and
radio interviews

couldn't catch him either after he sprinted from midfield to the corner of the stadium to finish the last few bars of the "Aggie War Hymn" with his teammates in front of the Fightin' Texas Aggie Band.
"This is kind of a game that turned the page again," Manziel said. "People asked me earlier in the year about what game made it all click. There was the Arkansas game, and this game tonight made me flash back to that."
That's a scary thought for the rest of the SEC, which could spend the next three years chasing a quarterback nobody can seem to catch, inside or outside the pocket. He helped Texas A&M become the first offense in SEC history to amass 7,000 total yards, and there's no reason he won't do it again. With Manziel taking snaps and breaking tackles, there will be plenty of national title talk in Aggieland over the next few months, with a blowout victory over the Sooners serving as springboard. Texas A&M proved it was better than national title game favorite Alabama on a November afternoon in Tuscaloosa. Can it be better than everyone in the nation for three months next fall?
"For everybody next year, this is the first game of the new year," A&M coach Kevin Sumlin said. "It sets the bar."
Manziel will be around to help us all find out if the Aggies will clear it.
January, 4, 2013
1/04/13
11:43
PM ET
Some fast facts as Texas A&M rolled to a 41-13 victory over the
Oklahoma Sooners
in the Cotton Bowl on Friday night at Cowboys Stadium.
Heisman Trophy winner Johnny Manziel set a Cotton Bowl record with 516 total yards from scrimmage, breaking the old record of 407 with 3:55 remaining in the THIRD quarter. He finished with 287 passing yards (2 TDs) and 229 rushing yards (2 TDs).


Manziel's 229 rushing yards set an all-time FBS bowl record for QBs. It also was the fourth-best rushing performance in Cotton Bowl history, regardless of position. Fifth on the list -- former Texas running back Ricky Williams (202).


More Johnny Football: According to ESPN Stats & Information, Manziel became just the second player with 200-plus rushing yards and 200-plus passing yards in a bowl game. The other: Texas QB Vince Young in the 2006 Rose Bowl.


Manziel became just the fourth player in FBS history to rush for 20+ touchdowns and pass for 20+ touchdowns, joining Tim Tebow (Florida), Cam Newton (Auburn) and Colin Kaepernick (Nevada).


A&M became the first SEC school to surpass 7,000 yards of offense in a season, gaining 400+ yards in their final 12 games. The 599 yards against the Sooners set a Cotton Bowl record, breaking an 18-year-old mark set by Southern Cal (578) against Texas Tech in 1995.


The Aggies captured back-to-back bowl wins for the first time since the 1940 Sugar Bowl (14-13 over Tulane) and the 1941 Cotton Bowl (13-12 over Fordham).


Kevin Sumlin becomes the first A&M coach to win 11 games in his first season. D.X. Bible (1917) and R.C. Slocum (1989) won eight games.


The Aggies record 11 wins for the first time since 1998, when A&M finished 11-3 under Slocum.


With the Aggies' win, the SEC improves 28-18 in 46 all-time bowl matchups against Big 12 teams.


A&M improves to 5-8 in Cotton Bowl appearances dating to 1941, and 15-19 overall in bowl games. Only Texas (22 games) has appeared in more Cotton Bowls.


Teams from the state of Texas improved to 12-1 in bowl games over the past two seasons, with the only loss coming by TCU in this season's Holiday Bowl.
January, 4, 2013
1/04/13
5:30
PM ET
ARLINGTON, Texas -- Bob Stoops earned the name in his first few years as the head Sooner, when it seemed like Oklahoma kept racking up wins when they truly mattered.


In recent years, that name has taken a hit, but tonight, we might see another chapter written. Oklahoma is certainly good enough to win this game, but Stoops' biggest complaint over the years is that when he wins "big" games, they're suddenly not so big in retrospect.
He's got a point, but that won't be a problem tonight. He's got a huge stage and a packed house and two teams in the top 11. He's facing one of the nation's hottest teams with the uncontested hottest player in the country. With a win, he would earn a whole lot of respect from his Big 12 brethren for knocking Big 12 expat Texas A&M off its perch after a strong first season in the SEC.
Stoops is 11-2 against the Aggies, and defensive coordinator Mike Stoops has had a month (and a lot of great athletes) to prepare to try and stop Heisman Trophy winner
Johnny Manziel
.
There's no debating this one: Tonight is a
big
game. Texas and Oklahoma State are rivalry games, but they combined for just 15 regular-season wins. Oklahoma's other truly big games this year came at home, and the Sooners lost them both.
If Stoops' Sooners can break that trend tonight, you can expect a very different attitude surrounding the program heading into 2013.
Stay tuned.
I'll be tweeting along in-game commentary once kickoff nears
alongside SoonerNation's Jake Trotter and ESPN Dallas' Richard Durrett, so follow along. Enjoy the game, and we'll have plenty of coverage on the blog and on Twitter throughout the night.
January, 4, 2013
1/04/13
9:00
AM ET
No. 9 Texas A&M (10-2, 6-2 SEC) vs. No. 11 Oklahoma (10-2, 8-1 Big 12)


Who to watch:
Who else? Texas A&M quarterback
Johnny Manziel
will attempt to put the finishing touches on his freshman season. "Johnny Football" broke Cam Newton's SEC record for offensive yardage and accounted for 43 touchdowns while becoming the first freshman to capture the Heisman Trophy. Manziel, however, will be facing one of the better defensive backfields he's seen all season, led by free safety
Tony Jefferson
and cornerback
Aaron Colvin
-- both All-Big 12 performers. Manziel will also have to overcome the distractions of a whirlwind month in which he not only won the Heisman but hung out with actress Megan Fox and played golf with the Jonas Brothers.
What to watch:
The Aggies boast Manziel, but the Sooners counter with one of the top wide receiving corps in the country.
Kenny Stills
,
Justin Brown
,
Jalen Saunders
and
Sterling Shepard
all have more than 500 yards receiving this season. Texas A&M is stout up front, but the Aggies have been vulnerable at times defending the pass, ranking 82nd nationally in pass defense despite competing in the run-oriented SEC. If OU quarterback
Landry Jones
gets rolling with his talented pass-catchers, this game could tumble into a shootout.
Why to watch:
Outside the BCS National Championship, this is as good a matchup as any out there. This Cotton Bowl also features two of the top quarterbacks in the country, with the hotshot freshman in Manziel facing off against the elder statesman in Jones, who will be making his 50th career start on the same field in which his career began four years ago. There should be plenty of energy inside Cowboys Stadium, too, as the Cotton Bowl is expecting a record crowd of 90,000. This will be a BCS-caliber bowl in every way except in name.
Prediction: Texas A&M 34, Oklahoma 31.
Coach Bob Stoops has a dominating
11-2 record against Texas A&M
, including an average victory margin of three touchdowns. These, however, are not the same Aggies the Sooners faced in the Big 12. Manziel and coach Kevin Sumlin have brought a new attitude to Texas A&M, and the Aggies will be motivated to prove this on the field against their former conference foe.
January, 3, 2013
1/03/13
10:52
AM ET
By
GigEmNation staff
| ESPN.com
With the AT&T Cotton Bowl fast approaching, SoonerNation's Jake Trotter takes a look at the relationship between the team's head coaches, Oklahoma's Bob Stoops and Texas A&M's Kevin Sumlin.
Sumlin, who is in his first year at Texas A&M, worked for Stoops as an offensive assistant from 2003-2007 before leaving to take his first head coaching job at Houston. Stoops dished an assist to Sumlin with a phone call, giving him a ringing endorsement to then-Houston athletic director Dave Maggard. Later, Maggard hired Sumlin and the rest is history, as he led the Cougars to great success and is doing the same so far at Texas A&M.
Read the full story
.
December, 3, 2012
12/03/12
8:00
AM ET
SoonerNation
's Jake Trotter and
GigEmNation
's Sam Khan Jr. give their thoughts on the AT&T Cotton Bowl matchup between Oklahoma (10-2) and Texas A&M (10-2).
1. What's your initial reaction to the matchup?
OU-Florida in the Sugar would have been one of the best matchups of any bowl outside the title game. But this one is about as good. The Sooners get a chance to face off against the Heisman favorite in Johnny "Football" Manziel, which probably means OU will have seen the top three Heisman contenders (Manziel, Notre Dame LB
Manti Te'o
and Kansas State QB
Collin Klein
). The Sooners will have to play well, because A&M is one of the hottest teams in college football, coming off that win at Alabama.
2. Which team in the Big 12 does Texas A&M most resemble?

Can I say A&M? I mean, they were in the Big 12 just last year. If I had to compare them to someone currently in the Big 12, I'd probably say Oklahoma State. A&M's offensive line is tremendous, and Manziel has several playmakers to work with. Manziel is obviously more mobile than anyone OSU has, but the Cowboys present the dual-threat attack with
Clint Chelf
and
J.W. Walsh
. That's where the comparisons end. Because the Aggies are much more formidable defensively than the Pokes with
Damontre Moore
, who is tied for third nationally with 12 1/2 sacks.
3. What's the most intriguing individual matchup?
Mike Stoops vs. Manziel. Stoops has struggled game-planning against prolific, mobile quarterbacks this season, and Manziel figures to be his biggest challenge yet. Will Stoops go back to the dime package, or will he use linebackers
Frank Shannon
and
Corey Nelson
to spy Manziel? Either way, Manziel poses plenty of problems for a defense that's been gashed late in the season.
4. Who's the most important player no one's talking about?
How about
Landry Jones
? All the focus will be on Manziel, and for good reason. But I'm not so sure there's an advantage at QB. Jones has been on fire the last month of the season, throwing for 500 yards twice. Jones is susceptible to interceptions. But lately, he hasn't allowed those plays to phase him. Jones is capable of putting the Aggies defense on its heel, too.
October, 10, 2012
10/10/12
12:15
PM ET
For Houston Lamar safety John Bonney, this year has been a little bit of an adjustment.
The 2014 prospect, who traditionally plays safety, has spent a lot of time at cornerback this year. The transition hasn't been much trouble for the 6-foot, 175-pound prospect -- he has three interceptions in the Redskins' first five games.
To continue reading this article you must be an Insider
Blue Chip Battles: ESPN 300 Update
SEC SCOREBOARD
Thursday, 8/28
Saturday, 8/30
Sunday, 8/31