Texas A&M Aggies:

Adrian Hubbard
May, 12, 2014
5/12/14
9:00
AM ET
For the eighth consecutive year, the SEC led all conferences with the most NFL draft picks. When all was said and done on Saturday, the SEC had 49 former athletes selected. In 2013, the SEC had a league-record 63 players drafted, and after last year's draft, the league averaged 48.9 players drafted since 2006.
So I guess that whole run of seven straight BCS national championships had some real weight to it, huh?
The last time the SEC didn't lead the nation in draft picks was 2006, when the league had 37 players taken and the Big Ten had 41. This year, the SEC's only real competition in the draft was the ACC, which had 42 players taken.
[+] Enlarge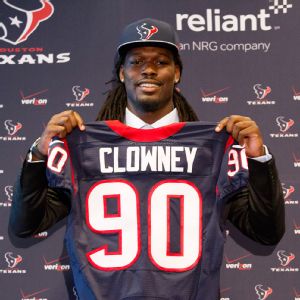 Bob Levey/Getty ImagesJadeveon Clowney is the fourth SEC player to be taken first in the draft since 2006.
On Thursday, the SEC led the rest of the conferences with
11 first-round draft picks
, including having
Jadeveon Clowney
selected No. 1 overall by the
Houston Texans
. Clowney became the fourth player from the SEC to be taken first in the draft since 2006. The SEC also had four players taken within the first 10 picks of the draft.
LSU led the SEC and the rest of the country with nine draft selections. Alabama was second with eight draft picks.
Every SEC team was represented in the draft, and here's a breakdown of how each school fared:
Alabama -- 8
Arkansas -- 4
Auburn -- 4
Florida -- 4
Georgia -- 2
Kentucky -- 1
LSU -- 9
Mississippi State -- 1
Missouri -- 4
Ole Miss -- 1
South Carolina -- 2
Tennessee -- 3
Texas A&M -- 3
Vanderbilt -- 3
After all the
Johnny Manziel
drama from the first night of the draft, the SEC had no shortage of intrigue during the next two days of the draft. Everyone waited for
AJ McCarron
to get drafted in the second round, but he didn't hear his name until the fifth round (No. 164 by the
Cincinnati Bengals
), and after
Aaron Murray
was taken a spot ahead by the
Kansas City Chiefs
.
Zach Mettenberger
, the quarterback many thought would go first from the SEC, was selected in the sixth round (No. 178) by the
Tennessee Titans
.
And perhaps the biggest news from the last two days was
Michael Sam
becoming the first openly gay player to be selected in the draft. The former Missouri defensive end -- and SEC defensive player of the year -- was selected in the seventh round (N0. 249) by the
St. Louis Rams
, and shared a powerful, historic and emotional scene on live television when he received the news.
It should come as no surprise that the SEC had yet another successful showing at the NFL draft. The league is absolutely stuffed with SEC talent. According to the SEC's official website, the SEC had 340 former players on active 53-man rosters on opening day of the 2013 season. Also, since 2006 the SEC has averaged nearly 280 players per year on NFL opening weekend rosters.
There were some surprising names not called during the three-day draft. Florida cornerback
Marcus Roberson
and
Loucheiz Purifoy
, who were viewed as top cornerback prospects before the 2013 season, went undrafted, as did former top offensive line prospect
Antonio Richardson
from Tennessee. Alabama linebacker
Adrian Hubbard
and LSU defensive tackle
Anthony Johnson
also were left out.
Here's a look at the SEC players taken after Round 1:
ROUND 2
42.
Jordan Matthews
, WR ,Vanderbilt --
Philadelphia Eagles
44.
Cyrus Kouandjio
, OT, Alabama --
Buffalo Bills
51.
Ego Ferguson
, DT, LSU --
Chicago Bears
55.
Jeremy Hill
, RB, LSU -- Cincinnati Bengals
60.
Kony Ealy
, DE, Missouri --
Carolina Panthers
63.
Jarvis Landry
, WR, LSU --
Miami Dolphins
64.
Justin Britt
, OT, Missouri --
Seattle Seahawks
ROUND 3
75.
Tre Mason
, RB, Auburn -- St. Louis Rams
76.
Travis Swanson
, C, Arkansas --
Detroit Lions
81.
Gabe Jackson
, OG, Mississippi State --
Oakland Raiders
90.
Donte Moncrief
, WR, Ole Miss --
Indianapolis Colts
92.
Trai Turner
, OG, LSU -- Carolina Panthers
ROUND 4
101.
Jaylen Watkins
, DB, Florida -- Philadelphia Eagles
106.
Bruce Ellington
, WR, South Carolina --
San Francisco 49ers
123.
Kevin Norwood
, WR, Alabama -- Seattle Seahawks
ROUND 5
151.
Avery Williamson
, LB, Kentucky -- Tennessee Titans
155.
Arthur Lynch
, TE, Georgia -- Miami Dolphins
156.
Lamin Barrow
, LB, LSU --
Denver Broncos
159.
Chris Smith
, DE, Arkansas --
Jacksonville Jaguars
160.
Ed Stinson
, DE, Alabama --
Arizona Cardinals
163.
Aaron Murray
, QB, Georgia -- Kansas City Chiefs
164.
AJ McCarron
, QB, Alabama -- Cincinnati Bengals
167.
Vinnie Sunseri
, S, Alabama --
New Orleans Saints
169.
Ronald Powell
, LB, Florida -- New Orleans Saints
173.
Wesley Johnson
, OT, Vanderbilt --
Pittsburgh Steelers
ROUND 6
177.
Jeoffrey Pagan
, DE, Alabama -- Houston Texans
178.
Zach Mettenberger,
QB, LSU -- Tennessee Titans
179.
Jon Halapio
, OG, Florida --
New England Patriots
181.
Alfred Blue
, RB, LSU -- Houston Texans
188.
E.J. Gaines
, CB, Missouri -- St. Louis Rams
193.
Zach Fulton
, OG, Tennessee -- Kansas City Chiefs
211.
Jay Prosch
, FB, Auburn -- Houston Texans
215.
Daniel McCullers,
DT, Tennessee -- Pittsburgh Steelers
ROUND 7
216.
Andre Hal
, S, Vanderbilt -- Houston Texans
227.
Kiero Small
, FB, Arkansas -- Seattle Seahawks
228.
Zach Hocker
, K, Arkansas --
Washington Redskins
239.
James Wright
, WR, LSU -- Cincinnati Bengals
249.
Michael Sam
, DE, Missouri -- St. Louis Rams
January, 10, 2014
1/10/14
12:00
PM ET
Two handy reminders: College football underclassmen have until Jan. 15 to declare for the NFL draft, which will be May 8 at Radio City Music Hall in New York.
November, 7, 2013
11/07/13
9:00
AM ET
As each and every new evaluation period begins for our staff, we always try to use today's college football stars and apply some of their best traits when describing the next generation of prospects. All prospects are different from one another, but many share similar characteristics that stand out in relation to their styles. In this edition of the series, we take a look at the top five defensive ends in the 2014 class and which college players they remind us of at this time.

May, 9, 2013
5/09/13
3:00
PM ET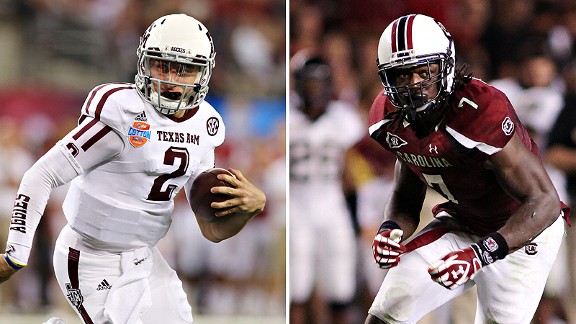 USA Today SportsTexas A&M's Johnny Manziel and S. Carolina's Jadeveon Clowney are top 2014 NFL draft prospects.
The SEC had a record 63 players selected in last month's NFL draft, including 12 in the first round.
I'm not sure it's realistic to expect that kind of haul next year, but it's never too early to start looking ahead to the 2014 draft class.
So, similar to a year ago, I've come up with our list of the SEC's top 20 draft prospects for 2014.
This isn't a mock draft. Likewise, it's not a ranking of who I think will be the best players in the SEC next season. Rather, it's a projection of who will be the most coveted NFL prospects from the SEC when the 2014 draft rolls around in April. In coming up with this list, I've talked to several draft analysts as well as NFL personnel, SEC coaches and others who are clued in to the whole draft process.
Some players will obviously play their way onto this list next season, while others will play their way off it. Injuries undoubtedly will be a factor, and then occasionally, guys will come from nowhere to be first-round picks.
Among the prospects I nailed this time a year ago were Alabama cornerback
Dee Milliner
, Alabama offensive guard
Chance Warmack
, LSU defensive end
Barkevious Mingo
and LSU safety
Eric Reid
.
Among those I missed the boat on were Texas A&M offensive tackle
Luke Joeckel
, Missouri defensive tackle
Sheldon Richardson
, Florida defensive tackle
Sharrif Floyd
and Alabama offensive tackle
D.J. Fluker
.
I had Arkansas quarterback
Tyler Wilson
No. 1 overall and South Carolina running back
Marcus Lattimore
in my top five. So it never goes exactly the way anybody predicts, especially 11 months before the draft.
Here goes with our 2014 list. Again, we're not suggesting all 20 will go in the first round or even the first two rounds. It's simply the order we think they will come off the board in next April's draft and includes only draft-eligible players:
1. Jadeveon Clowney, DE, South Carolina, Jr.:
The ultimate game-changer on defense, Clowney would have been a first-rounder had he been draft-eligible after his freshman season. Clowney then excelled in 2012, elevating his status as the 2014 No. 1 favorite.
2: Cyrus Kouandjio, OT, Alabama, Jr.:
A potential top-five pick in next year's draft, the 6-foot-6, 310-pound Kouandjio is everything you're looking for in a left tackle.
3. Jake Matthews, OT, Texas A&M, Sr.:
We know Matthews has the bloodlines, but he also has the game. He's shifting over from right tackle to left tackle for his senior season.
4. Antonio Richardson, OT, Tennessee, Jr.:
The man they call Tiny has the size and athleticism to be a franchise left tackle. Clowney said Richardson was one of the best tackles he faced a year ago.
5. Anthony Johnson, DT, LSU, Jr.:
There's a reason they call him Freak. They just seem to breed great defensive linemen at LSU, and Johnson is next in line.
6. Loucheiz Purifoy, CB, Florida, Jr.:
He's a pure cover cornerback with good size and an explosive athlete to boot. The Gators also will play him at receiver next season.
7. Johnny Manziel, QB, Texas A&M, RSo.:
Yes, Manziel is shorter than the NFL typically likes its quarterbacks, but do measurables really matter when you make as many plays as Johnny Football does?
8. Dominique Easley, DT, Florida, Sr.:
Easley is fully recovered from the torn ACL he suffered at the end of the 2011 season. He's sliding inside to tackle next season and will be a force for the Gators.
9. Adrian Hubbard, OLB, Alabama, RJr.:
We saw his ability to get to the quarterback in flashes last season. Look for Hubbard to take that next step in 2013 and become a premier finisher.
10. C.J. Mosley, LB, Alabama, Sr.:
As the saying goes, he's a football player. Mosley is a sure tackler. He's excellent in coverage and is always money whenever Alabama needs a big play.
11. Ha Ha Clinton-Dix, S, Alabama, Jr.:
In the past four drafts, Alabama has produced four first-round selections in the secondary. Clinton-Dix could be the top safety off the board next year.
12. Mike Evans, WR, Texas A&M, RSo.:
In his first season in the SEC, the 6-5, 225-pound Evans was sensational with 82 catches and 1,105 yards. He'll be even better his second time through.
13. AJ McCarron, QB, Alabama, Sr.:
Sure, he's been surrounded by great talent, but McCarron also has an NFL arm, delivers in the clutch and takes care of the football.
14. Jordan Matthews, WR, Vanderbilt, Sr.:
The 6-3, 205-pound Matthews is so smooth that he makes it look easy. And talk about productive. He averaged 109.6 receiving yards in eight SEC games.
15. Donte Moncrief, WR, Ole Miss, Jr.:
One of the more underrated players in the SEC, the 6-3, 215-pound Moncrief has a knack for finding the end zone with 14 touchdowns in his first two seasons.
16. Daniel McCullers, DT, Tennessee, Sr.:
This mountain of a man (6-8, 360 pounds) is still developing, but he should make an imposing nose tackle for a team that uses a 3-4 defensive scheme.
17. Marcus Roberson, CB, Florida, Jr.:
The "other" Florida cornerback also has big-time skills and was second in the SEC in passes defended last season with 14.
18: Chaz Sutton, DE, South Carolina, RJr.:
Clowney will get most of the attention next season, but don't be surprised if Sutton blows up and has a monster senior season.
19: Gabe Jackson, OG, Mississippi State, Sr.:
Jackson thought about coming out early this year. He returns as one of the top offensive guards in college football.
20: Aaron Murray, QB, Georgia, Sr.:
The opinions are mixed on Murray, who's bearing down on several SEC records. His numbers speak for themselves, and so does the way he approaches the game.
November, 8, 2012
11/08/12
8:00
AM ET
With Texas A&M's clash against the nation's No. 1 team, Alabama, fast approaching, we'll take a closer look at the Aggies opponent with Alex Scarborough, who covers the Crimson Tide for
ESPN's TideNation
. Here are five questions for Scarborough and his takes on the Tide and the upcoming matchup:
1. Alabama yielded a season-high 435 yards to LSU on Saturday. What worked for LSU against the Crimson Tide and is it something that you think other teams could replicate, including Texas A&M?
[+] Enlarge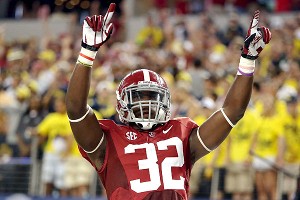 Ronald Martinez/Getty ImagesLinebacker C.J. Mosley has three sacks and two interceptions for Alabama this season.
LSU was able to effectively run the ball downhill and capitalize on missed assignments in the secondary. Throw in a few missed tackles and it made for a long day for the Alabama defense. While I'm not sure the Aggies can run the ball in quite the same way, I do believe the area of missed tackles and blown assignments should be a concern for Alabama fans. As I've said all week: if you think LSU turning a 2-yard gain into a first down was bad, watch out for what a real offense like Texas A&M's can do. That said, I think there's a fundamental difference in the two opponents. LSU went pro-style all night and effectively kept
C.J. Mosley
and the nickel and dime defenses off the field, which are Alabama's strengths. Obviously that won't be the case when
Johnny Manziel
trots out there with three, four and five receivers at a time.
2. I know that Nick Saban said he doesn't have anybody that can help simulate Johnny Manziel for his scout team, but how do you see the Tide trying to attack the redshirt freshman?
I expect to see Alabama go straight containment on defense a la Michigan in the season opener. Saban isn't a guy that harps on getting sacks or tackles for loss. He'd rather pressure the quarterback in a controlled way as to not let Manziel use his feet, whether that's running around the tackles or straight through the box. I think we'll see Saban spy Manziel throughout the game and force him to beat Alabama with his arm rather than his legs.
3. Much was made about Saban's comments on the no-huddle offense after the Ole Miss game. Did the pace really give the Tide that much trouble and could it be an area of concern for Alabama heading into Saturday?
Yes and yes, but take it with a grain of salt. Alabama's defense did have trouble exchanging personnel and getting play calls in when the Rebels went uptempo, but it wasn't like Ole Miss put up 40 points. The game was never in doubt. That said, Texas A&M's offense is far more advanced than Ole Miss'. If Manziel and the Aggies can convert on a few third downs, it can get the defense on its heels. When that happens, it's anyone's game.
4. For those who have never been, describe what a typical game-day atmosphere is like at Bryant-Denny Stadium and what kind of advantage it is for the Tide over visiting opponents.
It's an all day affair in Tuscaloosa, Ala. The quad will be jam-packed and the streets crowded before many of us in the media wake up and get a cup of coffee. The stadium itself is one of the louder venues in the SEC with more than 100,000 fans right on top of you. Expect to hear a lot of "Sweet Home Alabama" and a steady chorus of "Roll Tide."
5. Give me a name of an Alabama player that Texas A&M fans might not know today, but will know by the end of Saturday's game and why.
Adrian Hubbard
. Alabama's sophomore outside linebacker is the key to keeping Manziel contained. At 6-foot-6, 248 pounds, he's athletic enough to stay in front of Manziel and more than strong enough to pull him down. He leads the team in tackles for loss, and while he may not end Saturday with a full stat line, his ability to hold the edge and force the action back up the middle will be key to Alabama's success on defense.
Recruits Miss Lone Star Showdown
SEC SCOREBOARD
Thursday, 9/3
Saturday, 9/5