Texas A&M Aggies:

A.J. McCarron
January, 30, 2014
Jan 30
12:00
PM ET
The Super Bowl is just days away, but we know you college football fans are just as excited, if not more, about what comes after that. National signing day. Notably, stories relating to both are a part of today's lunchtime links:
November, 22, 2013
11/22/13
12:00
PM ET
It's Friday, which means only a day until game day. Thank goodness. Here's some reading from around the league to get you ready:
September, 14, 2013
9/14/13
11:58
PM ET
COLLEGE STATION, Texas — There was no plan for
Johnny Manziel
to speak to the media on Saturday.
In fact, win or lose,
Texas A&M
officials made it clear before the game that the Heisman Trophy winner would not be available for postgame interviews. Earlier this week, coach Kevin Sumlin noted that Manziel's family and attorneys advised him not to speak publicly this week.
[+] Enlarge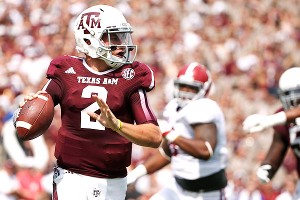 Scott Halleran/Getty ImagesJohnny Manziel produced more than 500 yards but admitted there were a couple of throws he wished he could take back.
But Manziel wasn't going to be told no. He approached Sumlin and Texas A&M associate athletic director for media relations Alan Cannon and said he was going to speak. When Cannon mentioned the objections from Manziel's parents and lawyers, Manziel said, according to Cannon, "My team didn't quit on me, so I'm not quitting on them."
The No. 6 Aggies showed no quit in their 49-42 loss to No. 1
Alabama
on Saturday at Kyle Field in one of the most highly anticipated games in school history. What they did show is that they're a good team with a lot of flaws that still need ironing out.
The message from Manziel, who played brilliantly for much of the day but had a couple of throws he'd like to have back, was that the Aggies had to keep playing -- both on Saturday and moving forward.
"My initial reaction is that I'm just proud of these guys," said Manziel, who threw for 464 yards and five touchdowns and ran for 98 yards. "I kept telling them that no matter what point in the game it was, we were never out of it. Didn't matter what [Alabama] did. I told the offense that going into it, that no matter what happened on the defensive side of the ball, no matter what happened on special teams, we felt like we could come out and score points. So I was proud initially more than anything else, proud of the way they kept fighting until the very end. I mean, we're a young team. That's impressive to me."
The Aggies (2-1) were down by as many as 21 points in the third quarter after taking a 14-0 lead in the first quarter. Alabama roared back with 35 unanswered points and used its power running game and efficient passing attack behind
AJ McCarron
to eat up yardage and extend drives to score points while keeping the Aggies' offense on the sideline.
The biggest flaw seen on Saturday was on defense. The Aggies' front seven was hammered by the Alabama offensive line -- a unit that struggled in its season opener against Virginia Tech -- to the tune of 234 rushing yards and 6.3 yards per carry, led by
T.J. Yeldon
's 149-yard effort. McCarron was rarely pressured in the passing game and wasn't sacked a single time; only one player on the Aggies defense,
Kirby Ennis
, recorded a quarterback hurry. There were big plays given up in the passing game as well, as the Tide threw for 334 yards.
"We've got to get some things shored up in our front defensively," Sumlin said. "We're playing a lot of young guys in there. [Gavin] Stansbury was back and [Steven] Jenkins was back [from suspensions], so they were a little rusty. We didn't have
Isaiah Golden
today because of the tragedy [involving the death of a family member] earlier this week. That put a lot of pressure on Hardreck [Walker] to handle that type of stuff with Kirby. We just have to get those guys in a routine, a steady routine and a rotation and shore some things up up front."
Mike Evans
, who already was considered one of the country's better receivers, made his case to be considered among
the
best after catching seven passes for a school-record 279 yards and a touchdown. He beat man-to-man coverage consistently, ran good routes and was an asset for Manziel when scrambling.
"I couldn't be prouder of him," Manziel said. "Last night in the hotel, me and him, we're roommates, and we were just talking about how the game was going to play out. I knew he was going to come out and play really well."
Manziel wasn't perfect. A fade pass to Ja'Quay Williams in the end zone was intercepted by
Cyrus Jones
in the second quarter ("We probably could have run a better route," Sumlin said). He tried to squeeze a pass in to
Travis Labhart
early in the third quarter but it was tipped by Alabama defensive back
Jarrick Williams
and intercepted by
Vinnie Sunseri
, who returned it 73 yards for a touchdown.
[+] Enlarge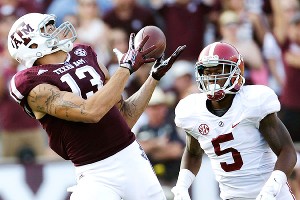 AP Photo/David J. PhillipMike Evans set a school record with 279 receiving yards, including this 95-yard touchdown.
"I had a couple throws that I want to have back, two in particular," Manziel said. "Coach Sumlin always says there's no regrets. Leave it all out on the field. I think that's what we all did. I know I did."
But he was, like the Aggies, still very good. He set the single-game school record for passing yards and put up the second-most total offensive yards in a game (562), second only to his own total (576) against Louisiana Tech last year.
He made what many would call an ill-advised throw in the second quarter after magically evading a sack while in the grasp of Alabama defensive end
Jeoffrey Pagan
, heaving a jump ball 40 yards downfield while falling backward. The ball wound up in the hands of a leaping
Edward Pope
for a first down that sent the crowd into a frenzy. The gain was only 12 yards; Manziel retreated back far to evade pressure.
At some point, it seems it might just be worth chalking it up to a little Manziel magic, since he has seemingly found an uncanny ability to make jaw-dropping plays of the sort each week. It's part of what captivated the college football world en route to his Heisman Trophy last year.
For those who said Manziel's eventful and sometimes tumultuous offseason would come back to haunt him when the games started this year, none of that seemed to be a factor. Though there were some mistakes made on the field, Manziel's play is hard to criticize, especially against the team that was No. 1 in the country last season in total defense. Manziel said afterward that it wasn't a factor.
But for all the flash, the bottom line was that Manziel and the Aggies fell short of their goal on Saturday. They were beaten by a better team.
The disappointment could be heard in the voices of the players afterward; they wanted Saturday's win badly. But with nine games to go in their season, they feel that what they want -- an SEC West title, SEC title and BCS title game berth -- is still within reach; it's just more difficult to obtain now that they're 0-1 in SEC play.
But if the Aggies are still serious about pursuing those goals, there's still much work to do.
"Just got to go game by game," Manziel said. "Just like last year, continue to get better, week by week, and the result was what happened in the Cotton Bowl. For us this wasn't the end of our season. This wasn't the Super Bowl. This wasn't the last game of the season.
"Alabama lost a game last year and still went on to win a national championship. They lost to
LSU
the year before and still went on to win the national championship. Our season isn't over. Anything can happen. This is college football. Some of the craziest things happen every week. So you never know. All we can do is take care of ourselves, take care of what's in this locker room and continue to get better as a team."
September, 13, 2013
9/13/13
10:00
AM ET
COLLEGE STATION, Texas -- There were many pieces to the puzzle in Texas A&M's final defensive stand in its upset of the No. 1 Alabama Crimson Tide last November, but Aggies remember one thing best: the interception.
Deshazor Everett
's interception of A.J. McCarron at the goal line with 1:36 remaining helped the Aggies secure a 29-24 upset of Alabama at Bryant-Denny Stadium. Life has changed significantly for Texas A&M football since then.
Johnny Manziel
won the Heisman Trophy. The Aggies finished the season in the top five of the postseason rankings for the first time since 1956. They came into this season with a preseason top-10 ranking, and should they win on Saturday in their rematch against Alabama, they will vault themselves into the BCS title game discussion.
[+] Enlarge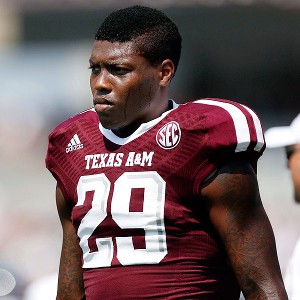 Thomas Campbell/USA TODAY SportsDeshazor Everett made the last big defensive play against Alabama last year, but not the only one.
Everett hasn't become a celebrity like Manziel as a result of the interception, but people do recognize him more often these days.
"I'm not going to say I got too much fame now, but more people know who I am," Everett said. "As the season keeps progressing, people keep recognizing me across campus and on Twitter, Instagram and things. It hasn't blown up too much, but more people know me, definitely."
While the interception is the most memorable aspect of that final four-minute sequence, Everett pointed out that there were many other factors at work that led to that opportunity.
On the first play of that Alabama drive, McCarron found an open
Kenny Bell
for a 54-yard completion. But defensive back
Toney Hurd Jr.
chased Bell down from behind and tackled him at the Texas A&M 6-yard line.
Sean Porter and
Kirby Ennis
stopped a scrambling McCarron for no gain on first-and-goal. Ennis tackled Eddie Lacy for just a yard on the next play. And on third down, cornerback Dustin Harris might have made the second biggest play in that series, when McCarron scrambled from pressure and found open field, darting for the goal line. Harris collided with McCarron at the 2 to set up the fourth-and-goal play.
"They made a few plays, but I knew when we got down around the goal line that it was going to be about how bad our defense wanted it," Everett said. "As you see, everybody stepped up and made plays, got pressure on the quarterback and Dustin Harris stopped him [near] the goal line. A lot of people don't realize that. Toney Hurd made the saving tackle before Bell got into the end zone."
The interception didn't happen by chance. Everett and defensive coordinator Mark Snyder attributed it to weeks and weeks of practice.
The play that Alabama ran, flooding three receivers to the right flat, is a frequently used play for two-point conversions by teams across the country, according to Snyder. So the Aggies worked on defending it weekly. In this case, it was
Amari Cooper
and Bell who flooded the right side.
Christion Jones
, who lined up next to Cooper on the right side of the formation, appeared to run a short hitch route, not toward the right sideline like Cooper and Bell.
From the play design, it appeared that Cooper was supposed to pick Everett, which would leave Bell open. But Everett recognized the play, avoided the pick from Cooper and stepped in front of Bell.
"It was a two-point play that we've been working on every week up until that week," Everett said. "Coach [Snyder] was constantly making us run it and practice it in practice because, he said, everyone runs the play for a two-point play. Fortunately enough, they ran it as their fourth-down play and not a two-point play, and I just recognized it and jumped the route pretty much, and that's how it went."
Snyder was proud to see the Aggies' practice made for a perfect play in a crucial situation.
"We practice that every week," Snyder said. "It was great. Like I said after that game, it was one of the finest coaching moments I've had, because you see something that you actually work on come to fruition, and in a game like that, it was pretty special."
Everett wanted to run it back for a score to leave no doubt in the result but lost his balance after intercepting the pass, which was intended for Bell on a quick out route.
"I felt like everything went in slow motion after I caught it," he said. "I was trying to stay on my feet [laughs]. It was a lot of excitement. I just wish I would have returned it, so I wouldn't have to worry about the offense getting in punt formation [later] or being pushed back so far on the goal line. But, it was a good play. I felt good, definitely."
And having a player like Everett back for the rematch is huge for the Aggies.
"He brings a wealth of experience," Snyder said. "He's been on the big stage, he's played against the team we're getting ready to play against and performed pretty well, not great, but pretty well. And it's great to have him back because this corps of receivers will be the best we see all year. They're really good, and they're really fast."
September, 12, 2013
9/12/13
8:30
AM ET
COLLEGE STATION, Texas — When Texas A&M went into Tuscaloosa, Ala., and upset No. 1 Alabama last November, the Aggies' offense, and specifically quarterback
Johnny Manziel
, were lauded for their efforts in taking down the Crimson Tide.
Often overlooked was the play of Texas A&M's defense, which was integral in the Aggies' ability to jump out to the 20-0 lead that paved the way for the eventual 29-24 victory at Bryant-Denny Stadium.
While nobody would confuse the Aggies' defensive efforts with that of the 1985 Chicago Bears that November day, A&M was opportunistic and effective.
On the first three drives of the game, the Aggies held the Crimson Tide to two three-and-outs and a turnover. The offense capitalized by scoring after each of those defensive stops to take the commanding three-score lead.
Turnovers were key for the Aggies throughout the game. They came up with three, the most the Crimson Tide committed since a 2011 season opener vs. Kent State, when Alabama committed five. Quarterback
AJ McCarron
hadn't thrown an interception in 2012 going into the game and threw two against the Aggies.
In several ways, the Aggies' ability to come up with stops and turnovers at key times was representative of what the unit accomplished as whole last season under defensive coordinator Mark Snyder. The defense came into the 2012 season with questions about depth and competitiveness in a line-of-scrimmage league like the SEC.
Those questions were answered resoundingly as the Aggies ranked highly in several key categories in 2012. They had the nation's 26th-best scoring defense (21.8 points per game) and one of the best third-down defenses, allowing conversions just 32.4 percent of the time (16th nationally, fourth in the SEC).
They were No. 1 in the SEC and No. 5 in the country on third-and-5 or fewer yards (44.6 percent conversion rate).
[+] Enlarge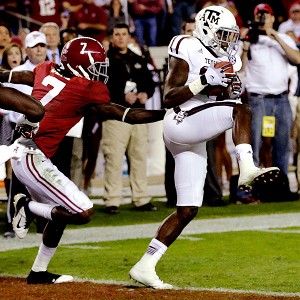 AP Photo/Dave MartinDeshazor Everett, whose interception against Alabama last year clinched the victory, expects the Aggies defense to keep getting better.
This season, with six key defensive players serving suspensions for part or all of the season opener against Rice and four more serving penalties for all or part of the second game against Sam Houston State, the numbers have taken a dip. On third down, the Aggies are tied for 73rd in the country, allowing a 39.4 percent conversion rate. On 3rd-and-5 or fewer yards, the Aggies are in the middle of the pack (59th, 52.9 percent conversion rate).
The Aggies are averaging 6.16 yards allowed per play, up from 5.22 last year.
Having almost the full complement of defensive players, including the return of starting linebacker
Steven Jenkins
, starting cornerback
De'Vante Harris
and starting defensive end
Gavin Stansbury
, should help the Aggies' defensive efforts.
"It'll be interesting once the game gets started," Snyder said. "They've got to knock a little bit of rust off. We've got a couple days here of practice first to get some of the rust knocked off. It was really good [Monday] to have our first unit out there together. It was very, very pleasing to see."
Starting safety
Floyd Raven Sr.
(collarbone) will miss the game because of his injury, and starting defensive end
Julien Obioha
's status is up in the air also. Cornerback
Deshazor Everett
said the country hasn't seen the Aggies' "real defense" yet.
"We can only progress, so I'm not going to say they've seen the real defense," Everett said. "But we have to get better, and we'll keep getting better, and this week of practice is crucial. But as a whole defense, we'll keep progressing and getting better."
Though the Aggies were able to intercept McCarron in the last meeting, Snyder said he expects the quarterback to be poised and confident coming into Saturday's game.
"He is a leader," Snyder said. "He runs their offense. He knows where his checkdowns are and obviously he is a great leader for them, because they have won a lot of football games. He drives that engine. He's the guy that's driving the car. And you can see his poise and patience, and it's hard to get him rattled. And if you do get him rattled a little bit, he has the ability to go over and sit down and get unrattled and come back out and play in his game. That's what I see in him."
The players know the national perception is that it's easy to move the ball on the Aggies, and because of the evidence presented by Rice (306 rushing yards) and Sam Houston State (240), it's hard to argue that, extenuating circumstances notwithstanding. But the players know the way to change what people think is by improving their play, starting Saturday.
"Yes. I think everyone looks at it that way," Everett said. "You can look at what a defense does well and what a defense doesn't do well, and you go off of that basically and see where you want to attack and what their weaknesses are. That's what we're trying to improve on, what our weaknesses are."
September, 12, 2013
9/12/13
8:00
AM ET
COLLEGE STATION, Texas -- The most anticipated game of Texas A&M's young season is just two days away as the reigning BCS champion and No. 1 team in the country, Alabama, comes to Kyle Field.

The No. 6 Aggies (2-0), who upset Alabama last season, hope to repeat that feat, this time in front of their home crowd. Here are a few keys for the Aggies:
1. Stop the run:
Texas A&M's depleted defense struggled to stop Rice and Sam Houston State from running the ball effectively in the first two games of the season, allowing an average of 273 yards per game. That puts them near the bottom nationally, ranking 115th in the country. Alabama has bigger offensive linemen, better running backs and more overall talent than the Aggies' first two opponents, so the task of shutting down the Crimson Tide on the ground is a tall one. However, there are a few things to keep in mind: Alabama's offensive line struggled in its season-opening win over Virginia Tech. The Crimson Tide are more of a traditional power-running team, while Rice (read-option) and Sam Houston State (traditional option) forced the Aggies to play more assignment football. And Texas A&M has yet to have its full complement of defensive players available due to suspensions. On Saturday, the Aggies will have most of their starters available, with injuries being the only hindering factor.
2. Take care of the football:
Last season when the Aggies went into Bryant-Denny Stadium and upset the Crimson Tide, they won the turnover battle, big time. Alabama quarterback A.J. McCarron threw two interceptions and the Aggies stripped the ball away from running back
T.J. Yeldon
. Meanwhile, the Aggies had no turnovers. The final one they forced, an interception by
Deshazor Everett
, essentially clinched the win.
3. Control tempo:
Alabama coach Nick Saban stressed earlier this week that the pace of Texas A&M's offense is not as much of an issue, but rather how well the Aggies execute. Well, one of the primary factors that makes the Aggies offense successful is that they execute at a high level and they do it in a hurry. When the Aggies were able to push the tempo to a high level in the first quarter of last year's match, they jumped out to a 20-0 lead. But don't forget the defense, which stopped the Crimson Tide on its first three drives to help the Aggies jump out to that lead.
4. Win special teams:
One thing that stood out about Alabama's season-opening win over Virginia Tech was the play of its special teams. Alabama receiver/return specialist
Christion Jones
finished with 209 combined return yards and two touchdowns: a 94-yard kickoff return for a touchdown and a 72-yard punt return for a touchdown. So the Aggies' coverage teams must be in top form to keep Jones in check. Also, the Aggies' kicking game must improve. Placekicker
Taylor Bertolet
missed a 31-yard field goal and punter/holder
Drew Kaser
bobbled a snap on a point-after-touchdown kick. Bertolet missed a field goal and extra point in last year's Alabama game. Leaving points on the board can't happen if the Aggies expect to repeat victory.
5. Beware Amari Cooper:
In last year's meeting, Cooper exploded for six catches, 136 yards and a touchdown. That included receptions of 50 yards and a 54-yard touchdown, both of which came in the fourth quarter while the Tide were attempting their comeback. At 6-foot-1 and 202 pounds, Cooper is an explosive talent with the ability to make big plays. Aggies cornerback Deshazor Everett matched up with Cooper a lot last season, expect more of the same on Saturday.
6. Let Johnny be Johnny:
The Aggies have a lot of talent on offense -- three returning offensive linemen, led by tackles
Jake Matthews
and
Cedric Ogbuehi
; four talented running backs:
Ben Malena
,
Tra Carson
,
Trey Williams
and
Brandon Williams
; and
Mike Evans
is big, physical weapon in the passing game. But
Johnny Manziel
won the Heisman Trophy for a reason, and his performance against Alabama was the primary reason last year. If he can repeat that type of performance or even improve on it, the Aggies will be in great shape.
September, 10, 2013
9/10/13
1:40
PM ET
COLLEGE STATION, Texas — Texas A&M shocked the college football world when it went into Tuscaloosa, Ala., and upset the No. 1 Alabama Crimson Tide last November. It was a game for the ages, with the Aggies jumping out to a 20-0 lead, Alabama charging back to make it close and a nailbiter finish that included a turnover near the goal line.
With the Crimson Tide coming to Kyle Field for a rematch with the Aggies, anticipation has built throughout the offseason. The Tide are again No. 1, defending their BCS championship from a year ago and the Aggies still have their linchpin, Heisman Trophy winner
Johnny Manziel
, who made his most compelling case for the trophy that afternoon at Bryant-Denny Stadium.
As the heavily hyped clash approaches, let's look back at some of the keys to last year's game and how they might affect the rematch.
1. Credit to the Texas A&M defense
When dissecting Texas A&M's upset of Alabama last season, many cite the Aggies' offensive explosion en route to a 20-0 first-quarter lead as one of the most difficult things for Alabama to deal with. And while the Aggies used creative playcalling and personnel packages, their fast pace and precision execution to score three touchdowns on their first three drives, the Aggies' defensive effort had as much -- or more -- to do with their ability to take that kind of commanding lead.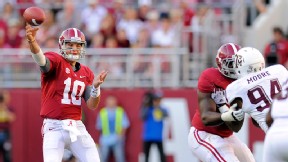 John David Mercer/US PresswireAJ McCarron threw his first interceptions of the season in Alabama's loss to Texas A&M last season.
The first play from scrimmage helped the Aggies set the tone as Alabama handed off to running back Eddie Lacy on an off-tackle play to the left side. Tight end Michael Williams motioned to that side of the formation to help open a hole for Lacy, but Texas A&M linebacker Sean Porter eluded Williams and sliced into the gap between Williams and left tackle
Cyrus Kouandjio
and made a strong tackle to stop Lacy for no gain. Alabama went three-and-out on that drive and punted.
The Crimson Tide's next offensive drive started on a much better note for Alabama, with Lacy gaining 23 yards on his first two carries. But everything halted as the Aggies created a turnover when quarterback
AJ McCarron
tried to find
Kenny Bell
in the middle of the field. As a McCarron pass hit Bell in the chest, safety
Howard Matthews
delivered a hard, clean hit to Bell, who dropped the pass. Porter was there to intercept the pass, and that set up the A&M offense with great field position after a 16-yard return to the Alabama 41.
One of the key players throughout the day for the Aggies' defense was defensive tackle Spencer Nealy. A former defensive end who moved to defensive tackle at the start of the 2012 season despite lacking what would be considered "SEC size" for a tackle, Nealy played an integral role in the Aggies' run defense. Evidence of that was on display at the start of the Crimson Tide's third drive of the game.
On the first play of the drive, Alabama handed off to
T.J. Yeldon
on the left side and the 6-foot-5, 277-pound Nealy, who lined up at nose tackle on that play and for much of the day, used his quickness to beat center Barrett Jones and tackled Yeldon for a loss of 4 yards. The Crimson Tide went three-and-out on that drive as well as the Aggies forced McCarron's hand with a safety blitz and Matthews got into the backfield untouched, forcing an incomplete pass. The defensive effort by the Aggies forced McCarron to start the game 1-of-5 passing for 5 yards.
And even though the Tide were able to gather their bearings and make a strong comeback with some big plays on offense, the Aggies still found ways to make plays on defense. Matthews plugged a gap on third-and-2 when Yeldon tried to cut back for first-down yardage, holding the Crimson Tide to a third-quarter field goal. Safety Steven Terrell stripped Yeldon in the fourth quarter on the play after a 50-yard pass from McCarron to
Amari Cooper
. And of course, cornerback
Deshazor Everett
picked off McCarron on the Tide's final offensive play with 1:36 remaining.
The drawback for Texas A&M in the rematch is that many of the above names are gone. Nealy, Porter, Terrell and other key players -- such as defensive end Damontre Moore and linebacker Jonathan Stewart -- have graduated. They've been replaced by younger, more inexperienced players who have taken their lumps in the first two games. The Aggies also haven't had their full complement of defensive players because several served suspensions in the first two games. Saturday will be the first opportunity for all of their key guys to play together this season.
Lacy is gone for the Tide, as are several offensive linemen. The Tide struggled in that area in their season-opening win against Virginia Tech. So there will be adjustments on both sides with the differences in personnel.
2. Finding the "Y"
Manziel went to receiver Ryan Swope, the "Y" receiver who lines up in the slot on the right side of the offensive formation, early and often against the Crimson Tide. Early in the game the passes were of the short, quick variety, hitch routes that gained incremental yardage, almost like running plays.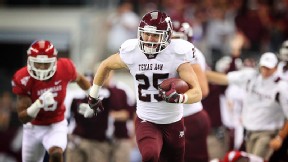 Matthew Emmons/US PresswireRyan Swope, a senior last season, made 11 catches against Alabama.
As the game wore on, Manziel went downfield to Swope, who made some of the biggest catches of the season. One was in the middle of the field for 28 yards as he was nailed by safety
Ha Ha Clinton-Dix
in the third quarter. In the fourth, Manziel found Swope down the right sideline for 42 yards.
Swope graduated as well, but look for the guy who made the catch on the play after Swope's 42-yard reception --
Malcome Kennedy
-- to be a factor. Kennedy caught a 24-yard touchdown pass on the next play and having experience in a game like that can only help him this Saturday. The question is, can Kennedy bring the kind of consistency that Swope did in catching 11 passes for 111 yards and a touchdown against Alabama?
And should he be healthy for the game, 6-foot-5 freshman receiver
Ricky Seals-Jones
could be a factor at that position as well. Seals-Jones missed the Sam Houston State game last Saturday with a knee injury.
3. McCarron can scramble, too
While Manziel is known for his scrambling, McCarron showed he has good mobility as well.
McCarron isn't nearly as fleet of foot, but he did show the ability to escape pressure and make quality throws. On two instances in the Crimson Tide's first scoring drive, he evaded the Aggies' pass rush and found Cooper for a first-down completion.
In the second half, McCarron scrambled and tried to find Cooper. He avoided an interception from Everett (who was ruled out of bounds on the catch), but nevertheless, scrambling is a tool McCarron can use if the Aggies dial up extra pressure Saturday.
4. Defending Manziel on the ground
[+] Enlarge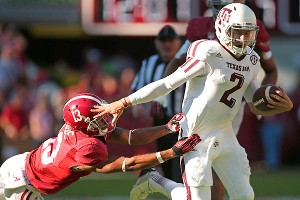 AP Photo/Dave MartinJohnny Manziel had great success running in the first half against Alabama, but the running lanes closed a bit in the second half.
In the first half last year, Manziel was electric with his feet. Then-offensive coordinator Kliff Kingsbury was comfortable in calling designed quarterback draws. They were successful as Manziel piled up 82 yards on nine first-half carries.
But the Tide did a much better job containing Manziel in the final two quarters. In the second half, he finished with 10 rushing yards on nine attempts.
This season, Manziel is making an effort to improve as a pocket passer without taking away his playmaking ability. The Aggies have a new offensive coordinator and playcaller (Clarence McKinney) and a new quarterbacks coach (Jake Spavital). It will be interesting to see how much running Manziel does Saturday and how Alabama handles it.
5. Big plays in the Alabama passing game
Cooper, now a sophomore for the Tide, had a huge game in last year's matchup, catching six passes for 136 yards.
He had a catch of 50 yards and a 54-yard touchdown reception, both in the fourth quarter. The first came on an out-and-up, when he beat Everett one on one. The next one came when the Aggies sent Everett on a cornerback blitz and Cooper beat Matthews deep for a touchdown.
August, 13, 2013
8/13/13
2:00
PM ET
By
ESPN.com staff
| ESPN.com
In the latest edition of the ESPNU College Football podcast, ESPN.com senior writer Ivan Maisel visits with SEC Bloggers Chris Low and Edward Aschoff about several topics, including the quarterback situation at Auburn, the importance of Alabama quarterback
AJ McCarron
and the the latest surrounding Texas A&M and quarterback
Johnny Manziel
.
Click here for the podcast
.

August, 8, 2013
8/08/13
12:20
PM ET
"College Football Live" and its Summer Tour stops in Alabama today. Tom Rinaldi and Todd McShay will check in on Nick Saban, AJ McCarron and Co. Catch them throughout the day on "SportsCenter" and on CFB Live at 5 p.m. ET on ESPNU.
Here are some other things from around the SEC that you may find interesting.
August, 5, 2013
8/05/13
2:17
PM ET
A little lunchtime reading from around the SEC:
July, 19, 2013
7/19/13
5:02
PM ET
With SEC media days recently wrapping up, GigEmNation writer Sam Khan Jr. chatted with readers on Friday about Texas A&M football and recruiting. Here's the
full transcript of the chat
. Below is an excerpt:
Jeremy Wilks (San Antonio, TX):
Any updates on the two FB players involved in the bar incident )Evereett & ???)?
Sam Khan Jr.:
I asked Kevin Sumlin about the status of cornerback
Deshazor Everett
, safety Floyd Raven and defensive tackle
Kirby Ennis
(all of which have had offseason arrests). Sumlin said this about all three: "The only thing I can say is that they've been suspended indefinitely pending the investigation, legally and athletically. There will be a decision made at the appropriate time. Other than that, I really can't comment on it too much because of where it is legally." So that's where it is. No word on whether they'll miss games.
Rock the Good Ag (Aggie Heaven):
What was the mood in Hoover about the Sept. 14 game? Does 'Bama sweat A&M?
Sam Khan Jr.:
The mood seemed to be that people feel it's going to be the biggest game of the regular season. I don't think Alabama fears Texas A&M, and the Crimson Tide did a good job of talking about their first opponent (Virginia Tech) rather than the Aggies. But based on what I know and things we've seen (like the Aggies win over Alabama being played in the Crimson Tide's weight room constantly) there's no doubt the Tide are really anticipating getting another chance to play the Aggies.
Tony (Richmond, CA):
Is therre more pressure on Manziel given the number of off the field issues/incidents reported during this offseason? Did McCarron add even more fuel to the fire of the Sept. 14 meeting with his backhanded references/comments?
Sam Khan Jr.:
AJ McCarron
said today, via his Twitter account, that his words were not meant as jabs at
Johnny Manziel
, so take that for what it's worth. As for pressure on Manziel, I think there's more media pressure and certainly his world is a bit of a fishbowl right now. Hard for him to go out and do anything without it becoming news. As for football pressure, the Aggies are hoping to win the SEC West and an SEC title and perhaps get to the BCS title game, so that's enough pressure for an entire team, much less Manziel. But I think once football practice starts, he'll be fine. I could see a scenario where football becomes an escape for him from the everyday stress he deals with now.
November, 12, 2012
11/12/12
5:00
PM ET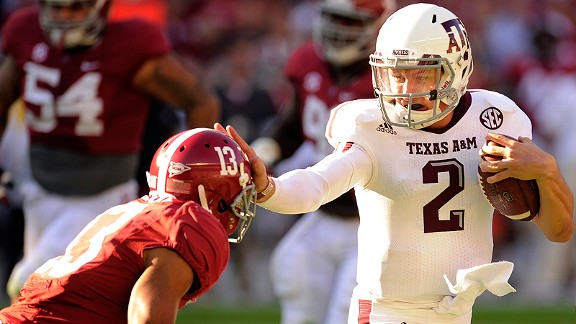 John David Mercer/US PresswireJohnny Manziel's ability to improvise and keep plays alive keeps Aggies receivers on alert.
Texas A&M pulled out a thrilling 29-24 win over then-No. 1 Alabama on Saturday at Bryant-Denny Stadium. It took a complete effort, and the Aggies were effective on both sides of the ball. Here are three examples of notable plays where the Aggies' shined:
Situation:
Texas A&M ball, third-and-goal at the Alabama 10 (8:09 left, first quarter)
Score:
Texas A&M 7, Alabama 0
To continue reading this article you must be an Insider
November, 11, 2012
11/11/12
8:00
AM ET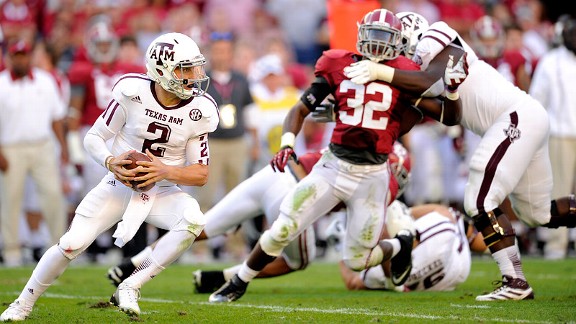 John David Mercer/US PresswireJohnny Manziel stunned the college football world as he led the Aggies past Alabama.
Texas A&M did what many thought they couldn't, going into Tuscaloosa, Ala., and stunning the nation's No. 1-ranked team by pulling out a 29-24 victory over Alabama on Saturday at Bryant-Denny Stadium. It was a game with a lot of twist, turns and thrills for both squads. Let's see the good and the bad for the No. 15 Aggies in their win:
THREE UP
1. Johnny Manziel:
The redshirt freshman quarterback might have just thrown himself fully into the Heisman Trophy race with his performance. He finished 24-of-31 passing for 253 yards, 2 touchdowns and no interceptions. On the ground, he had 92 yards on 18 carries and even showed the speed necessary to get away from the Crimson Tide's vaunted defense on occasion. He also made some big-time throws from the pocket.
To continue reading this article you must be an Insider
November, 10, 2012
11/10/12
7:01
PM ET
Down goes No. 1.
The defending BCS champions and the nation's top-ranked team, the
Alabama Crimson Tide
were upset by No. 15 Texas A&M
29-24
on Saturday at Bryant-Denny Stadium.


The Aggies jumped out to a 20-0 lead behind their high-powered, up-tempo offense and a strong defensive start and hung on in the second half, never relinquishing the lead even when it appeared the Crimson Tide were on the verge of going ahead. Let's take a look at the high points from the thriller:
It was over when:
Alabama linebacker
Tyler Hayes
committed a neutral-zone infraction when the Aggies were lining up to punt it away to the Crimson Tide with 40 seconds left. The penalty gave Texas A&M a first down and the Aggies took a knee to seal the win, as the Crimson Tide had no timeouts to stop the clock.
Game ball goes to:
Johnny Manziel
. Really, you could give it to a lot of guys (the Aggies' offensive line, senior receiver
Ryan Swope
and the defense made some big plays) but Manziel is the straw that stirred Texas A&M's drink -- and has all season. He finished 24-of-31 passing for 253 yards, 2 touchdowns and, most importantly, zero interceptions. He also made plays with his feet, rushing for 92 yards on 18 carries (he has now surpassed 1,000 rushing yards on the season). He took care of the ball, made good throws, extended plays and played about as well as you can expect a redshirt freshman to in that environment.
Key stat: 3-0.
The turnover margin. Alabama quarterback
AJ McCarron
threw two interceptions, including one on the Crimson Tide's final offensive drive, and the Tide also fumbled once when
T.J. Yeldon
coughed it up at the Aggies' 38, killing a potential scoring drive. The Aggies scored on the ensuing drive to take a 29-17 lead. The Aggies' loss to LSU on Oct. 29 was marred by five turnovers. This time, they flipped the script.
Key play:
Sophomore cornerback
Deshazor Everett
's interception with 1:36 to go. On fourth-and-goal from the 2 and needing a touchdown, McCarron tried to hit receiver
Kenny Bell
on a short out route near the pylon, but Everett stepped in front of Bell and intercepted the pass to get the ball back for the Aggies and kill the Crimson Tide's drive.
What it means:
The Crimson Tide's (9-1, 6-1 SEC) BCS Championship Game hopes took a huge hit with this loss. Three teams -- Oregon, Kansas State and Notre Dame -- could remain undefeated after their games on Saturday night and jump Alabama in the BCS standings. And on the flip side: Welcome to the SEC, Texas A&M. Many wondered whether the Aggies could compete in the SEC when they made the move to the country's premier football league. Not only have the Aggies (8-2, 5-2) shown they can compete, they've shown they can beat the best teams the league has to offer. Kevin Sumlin has this team peaking, and it could jump into the top 10 with this win. It's definitely a new era in College Station, Texas.
And this could also be a formal introduction into the Heisman Trophy race for Manziel.
No. 2 CB Sheffield Talks Recruiting
SEC SCOREBOARD
Thursday, 8/28
Saturday, 8/30
Sunday, 8/31