Texas A&M Aggies:

2012 Cotton Bowl
December, 27, 2012
12/27/12
11:00
AM ET
COLLEGE STATION, Texas -- When it comes to the long layoff between the end of the regular season and a bowl game, Texas A&M coach Kevin Sumlin likes to keep it light and fun.

After a grueling regular season -- in the Aggies' case, playing 12 games in 12 consecutive weeks -- he tries to avoid wearing his team out while also using the time to get younger players more repetitions.

"We try to keep it fun," Sumlin said. "I use this approach: we have a lot of practices for not very long."

Sumlin said he likes to use the time almost like another spring practice for his young players. While giving the older players a chance to get their bodies right.

"We've probably had more workouts than we've had in the past just because we've got some moving parts and I've had to utilize this for really a second spring ball for the young guys and it was a reward for the older guys to try to get them healthy," Sumlin said. "What you try to do is to get them healthy -- the old guys, particularly us going 12 weeks without a bye. Try to get them healthy, keep them excited and implement your game plan."

Sumlin said that he's cautious not to start game planning too early. The Aggies play in the AT&T Cotton Bowl against Oklahoma on Jan. 4.

"You can implement your game plan too early," he said. "People get bored. Believe it or not, there are a lot of practices, nothing going on, guys have got their minds on Christmas and going home, seeing their family. When you get to the bowl site, that's when guys start getting excited. But it's about how you handle your preparation before you get to the bowl site."

Sumlin said he's actually glad the bowl game isn't until Jan. 4 because of all the traveling he and his players did to various award shows in early December.

"Fortunately for us, with everything that happened, I'm happy we're playing on [Jan. 4]," Sumlin said. "I know how tired I was from flying around Orlando, New York and all of these other places. We had players all over the place. Those four days actually help us, I think, with a number of our players who are involved in awards ceremonies and different things."
December, 26, 2012
12/26/12
1:00
PM ET
COLLEGE STATION, Texas -- One game does not a recruiting class make.
Texas A&M coach Kevin Sumlin knows and understands this. So when thinking about the impact that the Aggies' clash with Oklahoma in the AT&T Cotton Bowl on Jan. 4 might have on recruiting, Sumlin prefers to look at the body of work the Aggies have put together this season rather than the results that will play out that day.
[+] Enlarge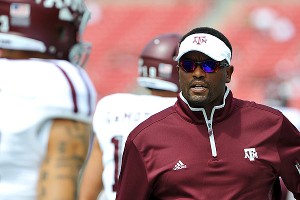 Cal Sport Media via AP ImagesKevin Sumlin says Texas A&M has built its brand in the SEC 'very, very quickly.'
"I think people make a lot out of one game when it comes to recruiting," Sumlin said. "Very few guys that I have recruited have ever gone in and told their dad, 'You know what, Dad, I'm going to go to whoever wins this game tonight.' That doesn't really happen that much, but what does happen is over the course of time you build your brand."
The building of Texas A&M's brand is something that has happened rather quickly this season. With the Aggies going 10-2 in their first season of Southeastern Conference play, having a Heisman Trophy winner in
Johnny Manziel
and reaching the top 10 in the national rankings, the Aggies have very quickly become a force.
That much can be seen by their 2013 recruiting class, which has 34 commitments, five of whom signed letters of intent during the mid-year junior college signing period, which began Dec. 19. Those five were receiver
Ja'Quay Williams
, tight end
Cameron Clear
, linebackers
Kenny Flowers
and
Tommy Sanders
and tackle
Jeremiah Stuckey
.
"The junior college guys -- you guys know who they are," Sumlin said. "They're impact guys for us in positions of need. The reason that we were able to go out and recruit them from all over the country -- whether it was San Francisco, Arizona Western, you name it, Fork Union, that's east-to-west coast -- is because I think our brand has grown. I think guys understand where we're headed as a program. We go out, particularly from a junior college player or a prep school guy, we're looking to fill a hole. Those guys understand that, and that's why the quality of those guys to come into our program, we need that. I said, 'We need to upgrade our talent level, and we need to upgrade the profile of our team,' and I think the mid-year guys bring that to the table. And it gives them an advantage to come in here and compete in the spring and to go through Larry Jackson's whole workout and through spring practice. Those guys are trying to get on the field next year."
Texas A&M's class is ranked seventh in the country currently, and some serious punch has been added in the last few months, both in the 2013 and 2014 classes. Some of the highest-ranked players in the 2013 class and highly-touted players in the 2014 class are considering -- and even choosing -- the Aggies.
Oklahoma has built its brand well over the years, Sumlin said. That's where the Aggies are trying to get.
"Oklahoma has done a great job of that over time, and we're trying to catch up quickly," Sumlin said. "I think that us being in the SEC and having a strong year has built our brand very, very quickly. Either way, like I said, it gets back to playing meaningful games. This team, as I said earlier, has done that in putting us in a position to do that in the SEC. That's what brings you to Jan. 4 and playing Oklahoma in the Cotton Bowl, and that's why that game becomes meaningful -- because of the atmosphere, because everything that's there, and it's still going to be a great venue and a great game."
December, 26, 2012
12/26/12
10:30
AM ET
COLLEGE STATION, Texas -- With the AT&T Cotton Bowl approaching, Texas A&M coach Kevin Sumlin said he's in no rush to hire an offensive coordinator to fill the void left by Kliff Kingsbury, the former Aggies offensive coordinator who left Dec. 12 to accept the head coaching job at Texas Tech.
[+] Enlarge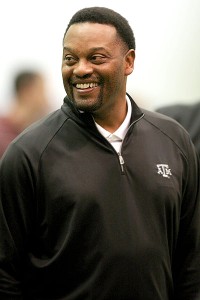 Brett Davis/US PresswireKevin Sumlin is in no rush to hire an offensive coordinator.
"We're not going to change what we're doing before Jan. 4, so anybody we brought in here from the outside would have to learn what we're doing, not us learn what what they're doing," Sumlin said during a pre-bowl news conference last week. "To have us learn what they're doing by Jan. 4 just doesn't make sense to me."
So as the Aggies prepare for their Cotton Bowl showdown with Oklahoma, a few minor adjustments have been made to the staff to fill the void left by Kingsbury for the time being. Running backs coach and recruiting coordinator Clarence McKinney, who worked Kingsbury and during game and oversaw the running game portion of the offense with offensive line coach B.J. Anderson, will call plays in the Cotton Bowl. Receivers coach David Beaty, who was involved in passing game preparations along with Kingsbury and offensive graduate assistant Klint Kubiak, will also assume the role of quarterbacks coach.
McKinney has been on Sumlin's staff since Sumlin first became a head coach in 2008 at Houston. Anderson joined Sumlin's Houston staff a year later while Beaty and Kubiak joined Sumlin this year for the first time.
The way the assignments were organized throughout the year means the transition in the meantime isn't drastic.
"During the week, Clarence McKinney and B.J. Anderson really did a lot during the year -- most of the run game prep and personnel and things for the game plan," Sumlin said. "David and Kliff and Klint Kubiak actually did a lot with the passing game. I think Kliff did a great job of organization during that time and the action during the game. Our guys have been around it.
"David and Clarence are really spearheading this deal, but B.J. has always been the run game guy as the line coach and the pass protection, sets the protection. So we work together the same way. Right now our guys are doing well, with David moving over and being in the quarterback room and Klint Kubiak, really right now, who has done a really fine job has been coaching the inside receivers the whole year with David on the outside. Now he's got more flexibility with the receiving core and has done a fine job the whole year."
When it comes to McKinney, Sumlin feels that he knows and understands the offense well having worked in it the last five seasons.
December, 21, 2012
12/21/12
2:00
PM ET
By
GigEmNation staff
| ESPN.com
ESPN college football insider Brad Edwards takes a look at four 'myths' during the upcoming bowl season including addressing whether Texas A&M quarterback
Johnny Manziel
could struggle in the AT&T Cotton Bowl against Oklahoma.
Read the full story here
.

December, 2, 2012
12/02/12
9:06
PM ET
Texas A&M Aggies (10-2) vs. Oklahoma Sooners (10-2)
Jan. 4, 8 p.m. ET, Arlington, Texas (Fox)
Texas A&M take by GigEmNation's Sam Khan Jr.:
The Aggies are one of the surprise stories nationally in college football this season, exceeding preseason expectations by going 10-2 in their first Southeastern Conference campaign.

New coach Kevin Sumlin has injected energy into the program and helped reverse the narrative of 2011, when the preseason-top-10 Aggies couldn't hold on to a second-half lead. Now, Texas A&M closes games out as good as any team.
A lot of that credit can go to its Heisman Trophy candidate at quarterback, redshirt freshman
Johnny Manziel
. Nicknamed "Johnny Football," Manziel took the college football world by storm with his playmaking ability, producing an eye-popping statistical season by breaking Cam Newton's single-season SEC total yardage record. Manziel compiled 4,600 offensive yards this season, throwing for 3,419 and rushing for 1,181. He was responsible for 43 touchdowns.
But the Aggies have been far from a one-man show.
Questions about the defense -- and the defensive line in particular -- were answered emphatically. Junior
Damontre Moore
spent most of the season at or near the top spot in the country in tackles for loss (20) and sacks (12.5), where he's tied for fifth and third, respectively.
Perhaps the team's best unit has been its offensive line, which has two future NFL draft picks at the tackle spots (juniors
Luke Joeckel
and
Jake Matthews
), and a senior center (
Patrick Lewis
) who has been a catalyst to the team's success.
The Aggies have displayed a high-powered, quick-strike offense under Sumlin and offensive coordinator Kliff Kingsbury, and an aggressive defense under coordinator Mark Snyder.
---
Oklahoma take from SoonerNation's Jake Trotter
: From Lee Roy Selmon to Brian Bosworth, Oklahoma has a long, strong defensive tradition. But like almost everyone else in the Big 12, these Sooners win with their high-flying pass offense. Senior quarterback
Landry Jones
finished off the regular season on fire, throwing for more than 500 yards twice in November while leading the Sooners to a pair of come-from-behind, fourth-quarter wins. Jones, who has a chance to go 4-0 as a bowl-game starter, benefits from one of the most explosive wide receiving corps in the country.

Four different receivers boast more than 500 yards receiving, including
Kenny Stills
, who leads the Sooners with 75 receptions and 11 touchdowns. All three of OU's running backs are dangerous in the passing game, too, especially fullback
Trey Millard
, who had a 73-yard reception against Texas earlier this season.
Opposing offenses have gashed Bob Stoops' defense on the ground, but the Sooners are not easy to thrown on. Free safety
Tony Jefferson
is a ferocious tackler, and cornerback
Aaron Colvin
is a ball hawk.
As co-Big 12 champs, the Sooners had a season worthy of a BCS bowl. But Northern Illinois' sudden ascendance knocked them out of the BCS and the Sugar Bowl. The Sooners did not have a win over a team currently ranked in the AP Top 25. But their two losses came at the hands of top-ranked Notre Dame and Kansas State, which was No. 1 before the Irish. OU was in both games until falling apart in the fourth quarter. The Sooners, however, have owned the fourth quarter down the stretch, coming back in the final seconds to knock off West Virginia and Oklahoma State, then holding off TCU in the last minute.
Zwerneman previews Texas A&M season
SEC SCOREBOARD
Thursday, 9/3
Saturday, 9/5