Texas A&M: 2014 prospects to watch
February, 7, 2013
Feb 7
10:20
AM ET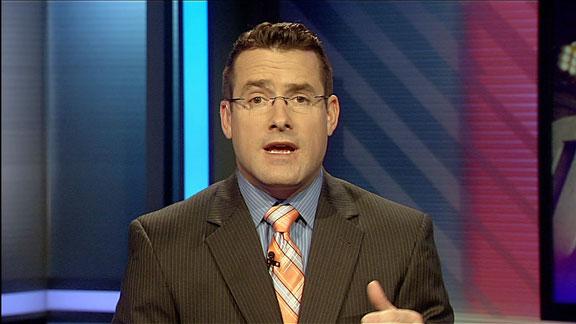 With Texas A&M's 2013 recruiting class in the books, we turn the page and take a glance at the 2014 class. The Aggies already have seven commitments in the class. Let's take a closer look at some of those players:
To continue reading this article you must be an Insider
Welcome
!
We see that you are not an ESPN Insider. Upgrade today and gain access to our exclusive coverage.
ESPN The Magazine subscribers

Need more information?
Weekend Recruiting Wrap: SEC - Dec. 2
Derek Tyson discusses the latest SEC recruiting news, including a junior college addition at Texas A&M, recruit reaction of Auburn's miraculous win and what Florida's quarterback commit thinks of the Gators firing their offensive coordinator.
Tags:
Avery Gennesy
,
Rashaan Evans
,
Derrell Scott
,
Kerryon Johnson
,
Texas A&M Aggies
,
Auburn Tigers
,
Florida Gators
,
RecruitingNation
,
ESPN 300
,
ESPN Juco 100
,
high school football recruiting
Weekend Recruiting Wrap: SEC - Dec. 2
VIDEO PLAYLIST
Weekend Recruiting Wrap: SEC - Dec. 2

Weekend Recruiting Wrap: SEC - Dec. 2

Derek Tyson discusses the latest SEC recruiting news, including a junior college addition at Texas A&M, recruit reaction of Auburn's miraculous win and what Florida's quarterback commit thinks of the Gators firing their offensive coordinator.

Tags: Avery Gennesy

,

Rashaan Evans

,

Derrell Scott

,

Kerryon Johnson

,

Texas A&M Aggies

,

Auburn Tigers

,

Florida Gators

,

RecruitingNation

,

ESPN 300

,

ESPN Juco 100

,

high school football recruiting

The Point After: Week 14

The Point After: Week 14

Missouri Tops Manziel, Texas A&M

Missouri Tops Manziel, Texas A&M
AGGIENATION RECRUITING NEWS
TAMU FB RECRUITING SCORECARD
ESPN_SEC

ESPN_SEC


SEC's Mike Slive on what this game will mean: I know what it means. It's just a matter of whether everybody else agrees with me.#SECATL
2 minutes ago

AschoffESPN

Edward Aschoff


Great stop by #Mizzou's defense. Gold Tigers could take a lot of momentum with a scoring drive here. Just throw it #SECATL
3 minutes ago

AschoffESPN

Edward Aschoff


Clearly the only person capable of stopping Tre Mason today is Tre Mason
5 minutes ago

SEC

SEC Sports


RT @HannahChalker: Closer game than I thought it would be! #SECATL @csssports http://t.co/OopWrptTip
6 minutes ago

AschoffESPN

Edward Aschoff


Great defensive play there by Ponder. Marshall almost slipped that one by #Mizzou's defense #SECATL
6 minutes ago

AschoffESPN

Edward Aschoff


Tre Mason now has the SEC championship game record for rushing yards with 210. Yeah there are more than 13 minutes left in the 3rd
10 minutes ago

SEC

SEC Sports


Auburn's Tre Mason has rushed for 195 yards already - the second-highest total in #SEC Championship history. Needs seven more for record.
23 minutes ago

SEC

SEC Sports


The 55 combined points is the highest first-half point total in an #SEC Championship Game. #SECATL
24 minutes ago

ESPN_SEC

ESPN_SEC


680 yards total offense between these two teams in the first half. Old-school SEC football at its best.#SECATL
29 minutes ago

AschoffESPN

Edward Aschoff


Of course the SEC title game halftime entertainment was exciting and went down to the wire.
35 minutes ago

SEC

SEC Sports


Halftime here at the #SEC Football Championship Game. Auburn 28, Missouri 27. #SECATL http://t.co/1sPhtJmN8O
41 minutes ago

AschoffESPN

Edward Aschoff


I predicted #Auburn 31-27 at the end of the game not at halftime
41 minutes ago

AschoffESPN

Edward Aschoff


I mean 18 seconds ... Auburn can score like three touchdowns in that amount of time right? #SECATL
43 minutes ago

SEC

SEC Sports


#SECATL: Missouri 55-yard pass from James Frankin to Dorial Green-Beckham. Auburn 28, Missouri 27. 0:18 left until halftime.
43 minutes ago

ESPN_SEC

ESPN_SEC


Talk about accelerating after making the catch. Green-Beckham was gone ...#SECATL
44 minutes ago

ESPN_SEC

ESPN_SEC


And just like that, Mizzou goes up top to DGB and pulls within one right before half. This is video game football at its finest.#SECATL
44 minutes ago

skhanjr

Sam Khan Jr.


Wow. #DGB
45 minutes ago

AschoffESPN

Edward Aschoff


DGB's shoulder looks to be fine ... and so are his legs. Just zipped through that defense on that touchdown #SECATL
45 minutes ago

AschoffESPN

Edward Aschoff


Missed tackles have been the name of the game for both of these defenses #SECATL
49 minutes ago

AschoffESPN

Edward Aschoff


Looks like a kid lost his toy monster truck in the stands. It just fell onto some guy's head in the stands below. Poor kid
51 minutes ago

ESPN_SEC

ESPN_SEC


With Auburn getting the ball back to start second half, it could have easily been a three-score game before anybody could blink.#SECATL
52 minutes ago

ESPN_SEC

ESPN_SEC


Can't begin to describe how important that stand was for Mizzou, especially to push Auburn out of FG range.#SECATL
54 minutes ago

AschoffESPN

Edward Aschoff


#Auburn has tried that play three times on this drive and it has failed each time. I mean I guess try try again right? #SECATL
54 minutes ago

AschoffESPN

Edward Aschoff


Dumb penalties will get you nowhere young man #SECATL
about an hour ago

ESPN_SEC

ESPN_SEC


First down by Mizzou overturned by replay. Franklin's knee was down. Mizzou has to punt. Huge reversal.@SECATL
about an hour ago

AschoffESPN

Edward Aschoff


Well after that review it looks like that first down is coming back ... #SECATL
about an hour ago

AschoffESPN

Edward Aschoff


Great effort there by James Franklin. Huge first down for gold Tigers #SECATL
about an hour ago

ESPN_SEC

ESPN_SEC


Freshman Carl Lawson finishes off Franklin there on the sack. Auburn has some really promising freshman defensive linemen.#SECATL
about an hour ago

AschoffESPN

Edward Aschoff


#Aubrun has the lead and all the momentum right now ... and #Mizzou is backed up near its own end zone #SECATL
about an hour ago

ESPN_SEC

ESPN_SEC


Mizzou desperately needs to answer here, more than anything, to keep that Auburn offense off the field.#SECATL
about an hour ago

AschoffESPN

Edward Aschoff


Tre Mason with 190 rushing yards and we have six minutes left ... IN THE FIRST HALF! He's 12 yards from breaking SEC champ record #SECATL
about an hour ago

ESPN_SEC

ESPN_SEC


Tre Mason was the most underrated RB in the SEC last season. He's made a compelling argument this season as the best RB in the SEC.#SECATL
about an hour ago

skhanjr

Sam Khan Jr.


#MACtion #SEC
about an hour ago

SEC

SEC Sports


#SECATL: Three-yard touchdown run by Tre Mason of Auburn ... Auburn leads Missouri 28-20. 6:26 2nd qtr. #SEC
about an hour ago

ESPN_SEC

ESPN_SEC


Mizzou's defense has to feel like it's already played six quarters.#SECATL
about an hour ago

AschoffESPN

Edward Aschoff


Did #Mizzou not watch film of Tre Mason??? My goodness he's making this look waaaaay too easy #SECATL
about an hour ago

ESPN_SEC

ESPN_SEC


Tre Mason's going to have 300 yards at the half at this rate. Geez, he's had some huge holes to run through.#SECATL
about an hour ago

AschoffESPN

Edward Aschoff


Tre Mason for Heisman ...
about an hour ago

ESPN_SEC

ESPN_SEC


This game almost has an eight-man football feel to it. Remember when you had to play stifling defense to win an SEC title.#SECATL
about an hour ago

AschoffESPN

Edward Aschoff


Welp ... RT @slmandel: The ACC Fan Fest consists of thousands of people standing around in the cold watching the SEC game.
about an hour ago

SEC

SEC Sports


#SECATL: Missouri gets a 36-yard field goal from Andrew Baggett. Auburn 21, Missouri 20. 7:19 2nd qtr. #SEC
about an hour ago

ESPN_SEC

ESPN_SEC


Mizzou connects on the FG and pulls within 21-20. The way this one is going, you better get some points on every possession.#SECATL
about an hour ago

AschoffESPN

Edward Aschoff


Most athletic and impressive incomplete pass I've seen #SECATL
about an hour ago

AschoffESPN

Edward Aschoff


#Mizzou's offense having no trouble moving the ball right now either. Holes everywhere with these two defenses #SECATL
about an hour ago

SEC

SEC Sports


#SECATL: Tre Mason 7-yard run for Auburn. Auburn 21, Missouri 17.10:12 2nd qtr. #SEC
about an hour ago

ESPN_SEC

ESPN_SEC


How surreal is it that we have an absolute track meet here in Atlanta and the Big 12 title game is tied 3-3 at the half?#SECATL
about an hour ago

AschoffESPN

Edward Aschoff


Tre Mason has 111 rushing yards on 17 carries. This #Mizzou line is just getting knocked around right now. Sam a non-factor #Auburn #SECATL
about an hour ago

ESPN_SEC

ESPN_SEC


Auburn playing at break-neck pace, snapping the ball before Mizzou can get lined up, and retakes the lead in this ping-pong match.#SECATL
about an hour ago

AschoffESPN

Edward Aschoff


So many holes up the middle right now. #Auburn is having no problem running right through this #Mizzou D #SECATL
about an hour ago

SEC

SEC Sports


#SECATL: Missouri's E.J. Gaines with an 11-yard fumble recovery for touchdown. Missouri 17, Auburn 14. 13:11 2nd qtr. #SEC
about an hour ago

ESPN_SEC

ESPN_SEC


Auburn offensive line hasn't gotten enough credit all season long.#SECATL
about an hour ago

ESPN_SEC

ESPN_SEC


Green-Beckham with a shoulder strain, and his availability for the rest of the game is questionable.#SECATL
about an hour ago

ESPN_SEC

ESPN_SEC


Marshall is one electrifying player, but you can't put the ball on the ground (in one half) in the SEC championship game.#SECATL
about an hour ago

AschoffESPN

Edward Aschoff


Can't turn the ball over in a game like this. You need extra possessions and constant red zone pressure #SECATL
about an hour ago

SEC

SEC Sports


#SECATL: Missouri's E.J. Gaines with an 11-yard fumble recovery for touchdown. Missouri 17, Auburn 10. 13:11 2nd qtr. #SEC
about an hour ago

AschoffESPN

Edward Aschoff


#Mizzou knew that Marshall run was coming and then got the ole scoop and score. Some life back in these Tigers #SECATL
about an hour ago

AschoffESPN

Edward Aschoff


Per #Mizzou: Dorial Green-Beckham has a left shoulder issue. He's being evaluated in the locker room #SECATL
about an hour ago

TexAgs

TexAgs.com


RT @decadeplan: @decadeplan: For my friends at @GBHunting and @TexAgs - a new Stunned Okie! http://t.co/n6Oh1JjMtJ
about an hour ago

SEC

SEC Sports


#SECATL: End of the first quarter - Auburn leads Missouri 14-10. #SEC
about an hour ago

ESPN_SEC

ESPN_SEC


Auburn's Chris Davis down with an injury. Tigers can't afford to lose him.#SECATL
about an hour ago

ESPN_SEC

ESPN_SEC


Love the decision by Pinkel. Near midfield and this is a game that's going to take big points to win it.#SECATL
about an hour ago

AschoffESPN

Edward Aschoff


I like this call. Go for it #SECATL
about an hour ago

AschoffESPN

Edward Aschoff


How good is #Auburn's running game right now? It has 92 rush yards in the 1st against a defense that was allowing just 119 rush yds per game
about an hour ago

ESPN_SEC

ESPN_SEC


Surprising that Malzahn changed his mind and decided on the long FG, which was wide right.#SECATL
about an hour ago

AschoffESPN

Edward Aschoff


Watching fans think a field goal is good when it isn't is priceless. Hopes and dreams crushed #SECATL
about an hour ago

ESPN_SEC

ESPN_SEC


Mizzou's defense looks like its on its heels right now. Auburn tends to do that to you.#SECATL
about an hour ago

AschoffESPN

Edward Aschoff


The Plains ... I mean the Georgia Dome just erupted when the ruling stood #SECATL
about an hour ago

skhanjr

Sam Khan Jr.


Right on Gus. Go on with your aggressive self.
about an hour ago

ESPN_SEC

ESPN_SEC


Did the kick go 10 yards before the Auburn player touched it?#SECATL
about an hour ago

AschoffESPN

Edward Aschoff


Tricky Tigers once again. Onside??? Of course because Gus Malzahn #SECATL
about an hour ago

SEC

SEC Sports


RT @ESPNCFB: #AUBvsMIZZ both teams lighting up the scoreboard #SECATL
about an hour ago

SEC

SEC Sports


#SECATL: Auburn regains the lead with a 9-yard run by Nick Marshall. Auburn 14, Missouri 10. 4:09 1st quarter. #SEC
about an hour ago

AschoffESPN

Edward Aschoff


Well this game is going to destroy the scoreboards and keep us in here until New Years. No defenses out there right now #SECATL
about an hour ago

SEC

SEC Sports


RT @CollegeGameDay: Don't blink. #AUBvsMIZZ #SECATL
about an hour ago

skhanjr

Sam Khan Jr.


RT @ESPN_SEC: Hard to appreciate how big, athletic and what a matchup nightmare Dorial Green-Beckham is until you see him in person.#SECATL
about 2 hours ago

SEC

SEC Sports


RT @SEC_Chuck: Tough to beat either of the two TD passes we've had so far tonight. Good stuff from both QBs. #SECATL
about 2 hours ago

ESPN_SEC

ESPN_SEC


Hard to appreciate how big, athletic and what a matchup nightmare Dorial Green-Beckham is until you see him in person.#SECATL
about 2 hours ago

SEC

SEC Sports


#SECATL: Missouri touchdown - Dorial Green-Beckham hauled in a 28-yard pass from James Franklin. Missouri 10, Auburn 7. #SECATL
about 2 hours ago

ESPN_SEC

ESPN_SEC


Mizzou's Doral Green-Beckham with a sweet TD catch of his own. Better get settled in because it looks like this will be a wild one.#SECATL
about 2 hours ago

skhanjr

Sam Khan Jr.


DGB. And what a throw by Franklin.
about 2 hours ago

AschoffESPN

Edward Aschoff


Big WRs ... watch out for them because #Mizzou has plenty. Gold Tigers strike back. Scoreboard about to explode #SECATL
about 2 hours ago

AschoffESPN

Edward Aschoff


Great awareness there by Franklin to deliver that first-down pass #SECATL
about 2 hours ago

AschoffESPN

Edward Aschoff


#Mizzou starting to move faster and faster ... #SECATL
about 2 hours ago

AschoffESPN

Edward Aschoff


Hey Nelly is here. Good for him #SECATL
about 2 hours ago

SEC

SEC Sports


RT @CBSSports: TD Auburn! Tigers lead the other Tigers 7-3 with 8:22 left in the 1st quarter on CBS: http://t.co/gS5ZPdigNi. Mobile: http:/…
about 2 hours ago

skhanjr

Sam Khan Jr.


RT @12thManRusty: What an arm Marshall has!!! TD #Auburn 7-3 Auburn #
about 2 hours ago

AschoffESPN

Edward Aschoff


I'm pretty sure that TD play was the same one Gus ran with Cam back in the 2010 title game against South Carolina #SECATL
about 2 hours ago

SEC

SEC Sports


#SECATL: Auburn touchdown - Nick Marshall to Sammie Coates 38 yards. Auburn 7, Missouri 3. 8:22 1st quarter.
about 2 hours ago

ESPN_SEC

ESPN_SEC


Marshall with the presence to look up and see his receiver open before taking off up the middle. He's gotten so much better as a QB.#SECATL
about 2 hours ago

AschoffESPN

Edward Aschoff


Wow ... tricky Tigers do it again. #Auburn just has that mojo right now #SECATL
about 2 hours ago

skhanjr

Sam Khan Jr.


RT @MarkBermanFox26: Rice invited to Liberty Bowl
about 2 hours ago

SEC

SEC Sports


#SECATL: Missouri takes 3-0 lead on Auburn thanks to 42-yard field goal by Andrew Baggett. 10:50 first quarter.
about 2 hours ago

skhanjr

Sam Khan Jr.


RT @p_crawf: 43 games. Think about that for a second. #Mizzou's streak of takeaways continues with DE Ealy's third career forced fumble.
about 2 hours ago

AschoffESPN

Edward Aschoff


Wow. Miscommunication there for #Mizzou. Would have been an easy TD but they'll have to kick a field goal #SECATL
about 2 hours ago

SEC

SEC Sports


RT @SiriusXMCollege: We are in the building for the #SEC championship game. Who ya got? #Auburn #Mizzou http://t.co/kyHJQp9dGC
about 2 hours ago

AschoffESPN

Edward Aschoff


That's 43 straight games that #Mizzou has forced a turnover #SECATL
about 2 hours ago

SEC

SEC Sports


RT @mutigersdotcom: Hoch's fumble recovery is the FBS-leading 43rd straight game with a takeaway. #SECATL
about 2 hours ago

AschoffESPN

Edward Aschoff


FUMBLE #Mizzou ball. I mean you knew this team was going to force a turnover. It always does #SECATL
about 2 hours ago

AschoffESPN

Edward Aschoff


Shoelace tackle stopped a BIG Tre Mason TD run there #SECATL
about 2 hours ago

AschoffESPN

Edward Aschoff


#Auburn's defensive line just collapsed on James Franklin there the #Mizzou's punter shanks his punt. Jitters #SECATL
about 2 hours ago
BLOG ARCHIVE:
CATEGORIES: