Decisions that defined A&M in 2012: No. 4
January, 15, 2013
1/15/13
3:00
PM ET
This week, GigEmNation looks back at five decisions that helped define Texas A&M's 2012 season. These moments could be on or off the field or could have even come before the season, so long that they had a lasting impact on the Aggies' 2012 campaign. Today, we look at our pick for No. 4, the hiring defensive coordinator Mark Snyder
[+] Enlarge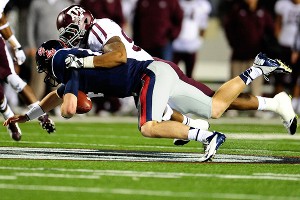 Stacy Revere/Getty ImagesDamontre Moore led an Aggies defense that got a boost from new defensive coordinator Mark Snyder.
One of the biggest question marks for Texas A&M heading into its first Southeastern Conference season was on defense.
In particular, the Aggies' defensive line was a concern. After spending two years in a 3-4 alignment and recruiting for that, Texas A&M moved to a 4-3 this season even though depth wasn't plentiful, specifically on the defensive interior. The coaches stated that as a concern, as well as the possibility of having to play younger players early in physical league like the SEC.
To continue reading this article you must be an Insider
Insider
Aggies make changes for Louisiana-Monroe
Freshman Kyle Allen will replace Kenny Hill as the starting quarterback for Texas A&M against UL-Monroe on Saturday.
Aggies make changes for Louisiana-Monroe
VIDEO PLAYLIST
TAMU FB RECRUITING SCORECARD
TAMULettermen

TAMULettermen


We welcome @aggiefootball's Brad Dusek '73 to the Texas A&M Athletic Hall of Fame. #12thMan http://t.co/U8K0Dortpl
about 7 hours ago

TAMULettermen

TAMULettermen


We welcome @aggietrk's Simone Facey '08 to the Texas A&M Athletic Hall of Fame. #12thMan http://t.co/07z8xBCjGj
about 7 hours ago

TAMULettermen

TAMULettermen


We welcome @aggiesoftball's @mgib11 '08 to the Texas A&M Athletic Hall of Fame. #12thMan http://t.co/U17FulYxek
about 8 hours ago

TAMULettermen

TAMULettermen


We welcome @aggiesoccer's Ashlee Pistorius Slayback '08 to the Texas A&M Athletic Hall of Fame. #12thMan http://t.co/WBb6Rz5I8M
about 8 hours ago

SEC

SEC Sports


#SEC Soccer Players of the Week announced: http://t.co/TP5DX0YyIH
about 8 hours ago

TAMULettermen

TAMULettermen


We welcome @aggiesoftball's @ascarborough '08 to the Texas A&M Athletic Hall of Fame. #12thMan http://t.co/9gYWPxXQBG
about 8 hours ago

TAMU

Texas A&M University


Pass it back, Ags! Don't forget to bring your canned goods to #ULMvsTAMU game to support @AggiesCan2014! #tamu @12thMan
about 8 hours ago

TAMULettermen

TAMULettermen


We welcome @aggievolleyball's Amber Woolsey Spencer '00 to the Texas A&M Athletic Hall of Fame. #12thMan http://t.co/yuS3Cr3C85
about 8 hours ago

SEC_Sean

Sean Cartell


My post-meet interview with #SEC men's cross country champion Stanley Kebenei of Arkansas: http://t.co/YzCfEhawvO
about 8 hours ago

TAMULettermen

TAMULettermen


Welcome Rod Stepp '59 to the Texas A&M Lettermen's Association Hall of Honor. #12thMan http://t.co/MrBkkapCdG @aggieathletics
about 8 hours ago

TAMULettermen

TAMULettermen


Welcome W.A. "Buck" Prewitt '60 to the Texas A&M Lettermen's Association Hall of Honor. #12thMan http://t.co/k9cLFM8kZC @aggiemensgolf
about 8 hours ago

SEC_Sean

Sean Cartell


VIDEO - My post-meet interview with #SEC women's cross country champion Dominique Scott of Arkansas: http://t.co/bfY1PtGoVO
about 8 hours ago

TAMULettermen

TAMULettermen


Congrats to Brig. Gen. Mike Cokinos '43, on 2014 Lifetime Achievement Award. #12thMan http://t.co/N9SwIq2hRq @aggieswimdive @aggiemenshoops
about 8 hours ago

Aggies

Texas A&M Aggies SDS


Predicting the SEC's Week 10 headlines http://t.co/sk6qaftZ3E
about 9 hours ago

LauraMRutledge

Laura Rutledge


Kevin Sumlin confirmed freshman QB Kyle Allen to start vs ULM & won't be a 2 QB system as they don't want Allen looking over his shoulder.
about 9 hours ago

ESPN_SEC

ESPN_SEC


Chat: CFB Saturday Live http://t.co/3MNccSH44G
about 10 hours ago

skhanjr

Sam Khan Jr.


Black. RT @HarrisonCLee: @skhanjr Orange and/or black fedora for Halloween? http://t.co/caWqRUkX0V
about 10 hours ago

JManziel2

Johnny Manziel


830 370 9165
about 10 hours ago

TAMUequipment

Texas A&M Equipment


Players decked out in all their new throwback gear! #12thMan #teamadidas http://t.co/fraGPfMAp6
about 10 hours ago

TAMU

Texas A&M University


Headed to #ULMvsTAMU this weekend? Download our free app and save travel time: http://t.co/rZ2XjGkjNo #12thMan http://t.co/KpP7T5lpT8
about 11 hours ago

Aggies

Texas A&M Aggies SDS


SEC Injury Update: Week 10 http://t.co/HtYOHHHEcc
about 11 hours ago

Aggies

Texas A&M Aggies SDS


Texas A&M Football Gameday Central: ULM http://t.co/E7iTI3cZoH
about 12 hours ago

TexAgs

TexAgs


Alright, send us your best A&M-themed costumes tonight, Ags. Or non-A&M-themed. Regular amazing costumes are great, too.
about 12 hours ago

SEC

SEC Sports


Arkansas men, women win 2014 #SEC Cross Country Championships: Recap: http://t.co/QKeSYyWxbB #SECXC
about 12 hours ago

Aggies

Texas A&M Aggies SDS


SEC Forecast: Stay warm, SEC fans http://t.co/K0Qb9RB2kq
about 12 hours ago

ClowESPN

Chris Low


Kentucky putting a lot of faith in Mark Stoops and rightfully so with what he's done with that program. His new deal averages $3.6 million.
about 13 hours ago

ESPN_SEC

ESPN_SEC


Harvey Updyke a dead tree for Halloween http://t.co/u6sodiqODE
about 13 hours ago

12thMan

Texas A&M Athletics


Be sure to stop by our booth tonight at "Trick or Treat at Werewolf Creek" from 6 pm - 10 pm http://t.co/gqYkQjncVd #12thMan
about 13 hours ago

Aggies

Texas A&M Aggies SDS


Vegas sharp breaks down Week 10 games http://t.co/CQeyFSPHJ8
about 13 hours ago

12thMan

Texas A&M Athletics


Submit tweets to win $100 gift card to @AggieOutfitters, & see it on the largest screen in college fb! Use #12thMan & #AggieGifts to enter!
about 13 hours ago

AschoffESPN

Edward Aschoff


Happy Halloween Twitter fam http://t.co/qJdRaE5KK4
about 14 hours ago

SEC

SEC Sports


RT @TheSECU: Take a look at what @UF and @universityofga are doing away from the field #SEC http://t.co/s184GpyLOx
about 14 hours ago

SEC

SEC Sports


The Countdown Starts Saturday. This week's column from @MrCFB: http://t.co/WkNr4WTkPG #SEC
about 14 hours ago

ESPN_SEC

ESPN_SEC


Sources: Aggies bench Kenny Hill http://t.co/1zOQBecPfN
about 14 hours ago

Aggies

Texas A&M Aggies SDS


SEC vs. Pac-12: Week 9 http://t.co/GEJMv5mQLM
about 14 hours ago

Aggies

Texas A&M Aggies SDS


Week 9 win probability for every SEC team http://t.co/l4P1gNw4Tf
about 14 hours ago

12thMan

Texas A&M Athletics


Love Aggie football & Wendy's? Visit any of the 3 B/CS Wendy's & register for a chance to win both! Visit http://t.co/YhGmjoiUw6 for info.
about 15 hours ago

12thMan

Texas A&M Athletics


Visit our booth tonight at "Trick or Treat at Werewolf Park" from 5 pm - 10 pm! http://t.co/Ww5DyWVY7S… #12thMan
about 15 hours ago

stringsays

STRING-SLAYS


@TexAgs 25/35 315 yards 3TD 1 INT, 4 nicknames
about 15 hours ago

TweetsBy_Sage

SAGE AMiN


@TexAgs 514 passing yards, 6 passing touchdowns, 0 interceptions, and a 99-yard rushing touchdown
about 15 hours ago

WynnDerong

Wynn Derong


@TexAgs 1-0
about 15 hours ago

ESPN_SEC

ESPN_SEC


Double Pump Friday, homemade gumbo, Lane Kiffin and 10 hours of football. A weekend with Ed Orgeron http://t.co/qrqMuQlsQ7
about 15 hours ago

AggieMensHoops

Aggie Men\'s Hoops


The Aggies are a team on the rise according to CBS Sports Insider Jon Rothstein. #12thManhttp://t.co/8hc1NJVXwM http://t.co/EDkOMdR6YT
about 15 hours ago

TexAgs

TexAgs


Ags, give us your best guess at Kyle Allen's stat line in his first start.
about 15 hours ago

ESPN_SEC

ESPN_SEC


Auburn vs. Ole Miss primer http://t.co/eNHQ6Nna50
about 15 hours ago

AschoffESPN

Edward Aschoff


Will Muschamp comes full circle against Georgia #Gators http://t.co/HBEtW7llpS
about 16 hours ago

TexAgs

TexAgs


The Ags are facing themselves as much as ULM. But that doesn't mean certain matchups won't tell us a lot. (Premium) http://t.co/rqhXw0KaUi
about 16 hours ago

TexAgsRadio

TexAgs Radio


All aboard! Catching up with the J-Train, @JorvorskieLane: http://t.co/bnVFdjx37c
about 16 hours ago

ESPN_SEC

ESPN_SEC


Will Muschamp comes full circle against Georgia http://t.co/SlFCPN5NlM
about 16 hours ago

SEC

SEC Sports


Congratulations to Arkansas for winning the 2014 #SEC Men's and Women's Cross Country Championships. #SECXC
about 16 hours ago

TexAgsRadio

TexAgs Radio


Friday's show had Jorvorskie Lane, Billy Liucci, Brice Jones, Olin Buchanan, Sarah Davis and more (Premium): http://t.co/JD6ab5B1sA
about 17 hours ago

ESPN_SEC

ESPN_SEC


Watch: Kids reenact classic coaching rants http://t.co/B20ixXWvoz
about 17 hours ago

Aggies

Texas A&M Aggies SDS


Texas A&M has plenty to improve on after bye week http://t.co/6mZryJ6W4C
about 17 hours ago

ESPN_SEC

ESPN_SEC


Georgia, Florida losing streaks have lasting impact http://t.co/dGoLqxg1Wo
about 17 hours ago

12thMan

Texas A&M Athletics


Who's chowing down before we take on #ULM? Just remember to make your sober ride #gameplan before kickoff! #12thMan http://t.co/4TXJsBDzs0
about 17 hours ago

ESPN_SEC

ESPN_SEC


ICYMI: Earlier this week, Dak Prescott held a slim lead in Heisman Watch. Can he build on that against Arkansas? http://t.co/eCJ5R014em
about 17 hours ago

ESPN_SEC

ESPN_SEC


Bruce Pearl impersonates Gus Malzahn at Auburn's 'Pearl Jam' http://t.co/8AWUpktWXi
about 18 hours ago

SEC_Sean

Sean Cartell


Unofficially, Arkansas is the 2014 #SEC Men's Cross Country Champion.
about 18 hours ago

AschoffESPN

Edward Aschoff


Happy Halloween in the #SEC ... Oh and happy birthday Nick Saban http://t.co/ye2lruB6cJ
about 18 hours ago

therealjonlee

Jon Lee


Love it, but @JManziel2 wore it better. RT @TAMU: Happy #Halloween, Ags! RT if you love Miss Rev's costume! #tamu http://t.co/U5HHWqpL67
about 18 hours ago

SEC

SEC Sports


#SECXC: Arkansas Stanley Kebenei is the 2014 #SEC men's cross country champion.
about 18 hours ago

ESPN_SEC

ESPN_SEC


Happy Halloween in the SEC http://t.co/XmdKf8nP8U
about 18 hours ago

ESPN_SEC

ESPN_SEC


We spent 10 hours watching games with Ed Orgeron. He talked Lane Kiffin, future plans, his famous Hummer ad and more http://t.co/qrqMuQlsQ7
about 18 hours ago

AggieFootball

Texas A&M Football


Chilly start for #ULMvsTAMU, warming into 60s by end of game. @KBTXWeather brings us the gameday forecast: http://t.co/E8jjtJp6w6 #12thMan
about 18 hours ago

AggieSoccer

Texas A&M Soccer


Groom Earns Academic All-District Status http://t.co/ORACy72aNq
about 18 hours ago

SEC_Sean

Sean Cartell


Unofficially, Arkansas is the 2014 #SEC women's cross country champion. Second consecutive title for the Razorbacks.
about 19 hours ago

ESPN_SEC

ESPN_SEC


Latest Dish: Five things I learned http://t.co/3EyvUcMVa9
about 19 hours ago

ESPN_SEC

ESPN_SEC


ICYMI: Ole Miss-Auburn highlights games to watch as @CFBHeather previews the weekend in GameDay Kickoff http://t.co/n0VpMAEwRo
about 19 hours ago

ESPN_SEC

ESPN_SEC


In 45 minutes, No. 49 recruit Tarvarus McFadden makes his decision live on http://t.co/IXWWkDWBzH. Watch here http://t.co/bfo0QfbI1C
about 19 hours ago

SEC

SEC Sports


#SEC Cross Country Championships begin at 9 a.m. CT. Complete information: http://t.co/lkDCTSg46Q #SECXC
about 19 hours ago

ESPN_SEC

ESPN_SEC


SEC viewer's guide: Week 10 http://t.co/ociXSOHdIV
about 19 hours ago

SEC

SEC Sports


Happy Halloween from the #SEC @SECNetwork #SECSpooky http://t.co/xaRXBL0FtO
about 20 hours ago

AggieFootball

Texas A&M Football


Be the #12thMan at #KyleField this weekend, tickets available for #ULMvsTAMU at http://t.co/yb5bNd7gzz http://t.co/UDJLZ4APCH
about 20 hours ago

SECNetwork

SEC Network


Week 10 @SEC Hashtags#ULMvsTAMU #UFvsUGA #UKvsMIZZ #ODUvsVANDY#AUBvsMISS #ARKvsMSST#TENNvsSCFull TV Sked: http://t.co/IXwmXlCGWS
about 20 hours ago

SEC

SEC Sports


#SEC Cross Country Championships begin at 9 a.m. CT. Complete information: http://t.co/lkDCTSg46Q #SECXC
about 20 hours ago

ESPN_SEC

ESPN_SEC


Gus Malzahn, Hugh Freeze follow same path to playoff contention http://t.co/H8qpzF4ZRZ
about 20 hours ago

ESPN_SEC

ESPN_SEC


SEC's top recruiting visits http://t.co/f9IxdELvhX
about 20 hours ago

ESPN_SEC

ESPN_SEC


Mississippi State adjusts to No. 1 ranking http://t.co/uaynHU2pD9
about 20 hours ago

SEC_Sean

Sean Cartell


Good morning from Tuscaloosa. #SECXC Championships begin at 9 a.m. CT. http://t.co/8MvoZnIqWR
about 21 hours ago

AschoffESPN

Edward Aschoff


It's Halloween and Nick Saban's birthday. Must have been the best birthday ever growing up #candy
about 21 hours ago

ESPN_SEC

ESPN_SEC


SEC morning links http://t.co/7vqFeCAL1W
about 21 hours ago

Aggies

Texas A&M Aggies SDS


Around College Football: Michigan still a mess, Bowden sticks foot in mouth http://t.co/E4GhiWaWDz
about 22 hours ago

AggieSoccer

Texas A&M Soccer


See the highlights from tonight's 2-1 win over Georgia http://t.co/IzRsMGqjo9 #12thMan
1 day ago

AggieSoccer

Texas A&M Soccer


This never gets old. #champions #12thMan http://t.co/08ykmRAboo
1 day ago

AggieSoccer

Texas A&M Soccer


Ags No. 1 seed at next week's tourney #12thMan @SEC: 2014 #SEC Soccer Tournament Bracket: http://t.co/bSpNlTLB1S
1 day ago

SEC

SEC Sports


2014 #SEC Soccer Tournament Bracket: http://t.co/frOvPWEpDQ
1 day ago

Aggies

Texas A&M Aggies SDS


Freshman Kyle Allen will start for Texas A&M http://t.co/s6P0SiA5o7
1 day ago

AschoffESPN

Edward Aschoff


Fantasy what? RT @ESCV_: fantasy basketball season for me man
1 day ago

ESPN_SEC

ESPN_SEC


Todd Gurley's suspension upheld http://t.co/Zht5YAWXfn
1 day ago

joehaden23

Joe Haden


"@JManziel2: Cavs game with my guys @joehaden23 @usher #Witness http://t.co/A2pHOSUPHP" #SelfieGameStrong
1 day ago

AschoffESPN

Edward Aschoff


David Gettleman is looking at this offensive line and smiling saying "This is all my work"
1 day ago

AschoffESPN

Edward Aschoff


Ha I can't even get fantasy points out of this Panthers-Saints game? I mean of course
1 day ago

TexAgs

TexAgs


Per @billyliucci...freshman QB Kyle Allen got first team reps today and will start on Saturday. More at TA Premium: http://t.co/A5ABK668Mp
1 day ago

AschoffESPN

Edward Aschoff


Oh hello Cam Newton
1 day ago

JManziel2

Johnny Manziel


Cavs game with my guys @joehaden23 @usher #Witness http://t.co/5ppnkx8niE
1 day ago

AggieSoccer

Texas A&M Soccer


Back-to-back @SEC champions. #12thMan http://t.co/HsIRxSo0hk
1 day ago

JManziel2

Johnny Manziel


RT"@cavs: Just a couple of fans taking selfies at the game...kinda looks like @joehaden23 & @JManziel2... #AllForCLE http://t.co/MUZ4y7O71Y"
1 day ago
BLOG ARCHIVE:
CATEGORIES: