Mastrogiovanni flips from OU to A&M
January, 6, 2013
1/06/13
7:06
PM ET
The wave of momentum Texas A&M has in recruiting right now has seemingly become a tsunami, especially considering the Aggies' latest pull.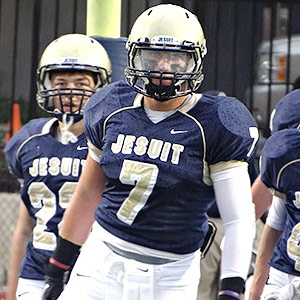 Bob Przybylo/ESPN.comESPN 300 linebacker Jordan Mastrogiovanni will join his teammate J.J. Gustafson in College Station.
ESPN 300 linebacker
Jordan Mastrogiovanni
, who has been committed to Oklahoma since June 14, has flipped his commitment to Texas A&M. The four-star inside linebacker confirmed the news to GigEmNation via text message on Sunday.
The 6-foot-2, 225-pound prospect from Dallas Jesuit is the No. 7 inside linebacker in the nation. He will join his high school teammate,
J.J. Gustafson
, a four-star offensive tackle at Dallas Jesuit who is also committed to Texas A&M.
To continue reading this article you must be an Insider
Insider
Drive Through: Can Aggies Win The SEC?
A twitter follower wants to know if the Aggies can win the SEC. Heather Dinich responds.
Drive Through: Can Aggies Win The SEC?
VIDEO PLAYLIST
TAMU FB RECRUITING SCORECARD
skhanjr

Sam Khan Jr.


And here's a TD pass by #ESPN300 QB Kyler Murray that did count and gave Allen a 42-3 lead in the 4th. https://t.co/jPL7l903gE
about an hour ago

skhanjr

Sam Khan Jr.


Last couple of vines. Nice TD run by #ESPN300 QB Kyler Murray but didn't count (holding penalty). https://t.co/jfADHOTvgq
about an hour ago

AggieSoccer

Texas A&M Soccer


See Shea Groom's hat-trick over Tennessee at http://t.co/nVxxfw6ifM. The Aggies move to 1-0 in @SEC play #12thMan
about an hour ago

SEC

SEC Sports


Texas A&M soccer opens conference play with win against Tennessee. Recap/Highlights: http://t.co/NCmxTc9xD0 #SEC
about 2 hours ago

ESPN_SEC

ESPN_SEC


Plays that changed the game: Auburn http://t.co/u4LAk4Y1b5
about 2 hours ago

SEC

SEC Sports


Ole Miss volleyball downs Louisiana Tech to improve to 11-0. Recap/Highlights: http://t.co/Ni22EgPpAR #SEC
about 2 hours ago

ESPN_SEC

ESPN_SEC


Auburn 20, Kansas State 14 http://t.co/yy1eoXEL0F
about 2 hours ago

AschoffESPN

Edward Aschoff


Yep RT @wareagleextra: Malzahn on Nick Marshall on coming through in the clutch: "He's got a knack for that."
about 3 hours ago

SEC

SEC Sports


No. 5 Auburn earns road win at No. 20 Kansas State. Complete recap: http://t.co/6Jig2tmGiK #SEC
about 3 hours ago

AschoffESPN

Edward Aschoff


This isn't worth it RT @chris3896: it's fair to the 3rd stringers… Playing time.
about 3 hours ago

AschoffESPN

Edward Aschoff


There has to be a running clock in the fourth. This just isn't fair to any of the players, coaches or any of the brave fans left
about 3 hours ago

TedMillerRK

Ted Miller


#secfindaway "@JonSolomonCBS: Auburn averaged 2.8 yards a carry on the road vs a ranked opponent & still won. Marshall threw for 231 yards."
about 3 hours ago

AschoffESPN

Edward Aschoff


I said before the game if Auburn was going to win Nick Marshall had to step up. I'd say he did in the second half
about 3 hours ago

ESPN_SEC

ESPN_SEC


And credit the Tigers for going on the road and playing a ranked opponent out of conference. That's rare for top teams. #AUBvsKSU
about 3 hours ago

AschoffESPN

Edward Aschoff


Survive and advance. Name of the game for #Auburn tonight. Passing game actually led the offense. Marshall stepped up in the 2nd half
about 3 hours ago

ESPN_SEC

ESPN_SEC


Auburn escapes Manhattan with a 20-14 win. My takeaway: Nick Marshall made the throws when he had to. #AUBvsKSU
about 3 hours ago

SEC_Chuck

Chuck Dunlap


The SEC also leads the nation with a 5-1 record vs. Power 5 schools
about 3 hours ago

SEC_Chuck

Chuck Dunlap


The SEC now has a national-leading three wins over Top 25 non-conference opponents
about 3 hours ago

skhanjr

Sam Khan Jr.


Duke Williams = beast
about 3 hours ago

SEC

SEC Sports


#AUBvsKSU: FINAL SCORE - Auburn 20, Kansas State 14. #SEC
about 3 hours ago

ClowESPN

Chris Low


Malzahn with a game-clinching call and Marshall with a game-clinching throw.
about 3 hours ago

ESPN_SEC

ESPN_SEC


Who says Nick Marshall can't throw the ball? Heck of a throw right there. #AUBvsKSU
about 3 hours ago

AschoffESPN

Edward Aschoff


So the Tampa Bay Bucs aren't in the Power 5 right?
about 3 hours ago

ESPN_SEC

ESPN_SEC


Auburn thrives on wearing down opposing defenses in the fourth quarter. Will we see that here? #AUBvsKSU
about 3 hours ago

SEC

SEC Sports


#AUBvsKSU: Auburn 20, Kansas State 14. 3:49 4th quarter. #SEC
about 3 hours ago

ESPN_SEC

ESPN_SEC


Imagine if Kansas State had made a couple of those FGs earlier in the game. #AUBvsKSU
about 3 hours ago

ESPN_SEC

ESPN_SEC


Auburn's last non-conference win over a ranked opponent on the road? Florida State in 1984. #AUBvsKSU
about 3 hours ago

SEC

SEC Sports


#AUBvsKSU: Auburn 20, Kansas State 7. 6:28 4th quarter. #SEC
about 3 hours ago

AschoffESPN

Edward Aschoff


The last time #Auburn had more passing yards than rushing yards was Sept. 21 last year in the loss to LSU. 224-213. Can it happen again?
about 3 hours ago

ESPN_SEC

ESPN_SEC


Jeremy Johnson makes his first appearance ... at WR. Meanwhile Marshall back in at QB, picks up a first down. #AUBvsKSU
about 3 hours ago

ESPN_SEC

ESPN_SEC


The former WR showing some ball skills for Auburn on that pick. #AUBvsKSU
about 4 hours ago

skhanjr

Sam Khan Jr.


Nice moves by #ESPN300 WR Jalen Guyton on the tunnel screen pass from Kyler Murray. Guyton (#NotreDame comm... https://t.co/ZQnJWxPcF7
about 4 hours ago

AschoffESPN

Edward Aschoff


Now THAT is a pass and catch #AUBvsKSU
about 4 hours ago

SEC

SEC Sports


#AUBvsKSU: Auburn 17, Kansas State 7. 14:10 4th quarter. #SEC
about 4 hours ago

ESPN_SEC

ESPN_SEC


I'd say that makes up for the drop earlier. #Duke #AUBvsKSU
about 4 hours ago

ESPN_SEC

ESPN_SEC


Another key 3rd-down conversion for Auburn. This is quite a drive from Nick Marshall and the Tigers. #AUBvsKSU
about 4 hours ago

ESPN_SEC

ESPN_SEC


Auburn has rushed for at least 200 yards in last 13 games. Streak is in jeopardy tonight (100 yards through 3 quarters). #AUBvsKSU
about 4 hours ago

SEC

SEC Sports


#AUBvsKSU: End of the third quarter, Auburn leads Kansas State, 10-7. #SEC
about 4 hours ago

ESPN_SEC

ESPN_SEC


Big 12 reporter @Jake_Trotter said Kansas State's kicker would be the X-factor. Not sure he meant it like this. #AUBvsKSU
about 4 hours ago

AggieSoccer

Texas A&M Soccer


It's a final, Aggies 3-0 over Tennessee! #ShareTheWin #12thMan http://t.co/mNd05fvsxr
about 4 hours ago

Aggies

Texas A&M Aggies SDS


Report of Aggies losing 4-star wide receiver: "Where there's smoke, there's fire" http://t.co/hExExstdAV
about 4 hours ago

ESPNCFB

ESPN CollegeFootball


#RequiredReading:@AschoffESPN breaks down Vernon Hargreaves' cover skills. #Gators will need them in #FLAvsBAMA: http://t.co/63SwgE9YvP
about 4 hours ago

ESPN_SEC

ESPN_SEC


Gus Malzahn said it: "We're probably fortunate to be up 10-7 right now." #AUBvsKSU
about 5 hours ago

SEC

SEC Sports


#AUBvsKSU: HALFTIME - Auburn 10, Kansas State 7. #SEC
about 5 hours ago

ESPN_SEC

ESPN_SEC


Auburn leads 10-7 at the half, but it sure feels like the Tigers should be down at least a TD. #AUBvsKSU
about 5 hours ago

ESPN_SEC

ESPN_SEC


Here's another look at that last TD toss from Nick Marshall to Ricardo Louis. #AUBvsKSU http://t.co/4KwEMVEqB3
about 5 hours ago

ESPN_SEC

ESPN_SEC


Nick Marshall settling in. He was 4 of 5 for 62 yards and a TD on that last drive. #AUBvsKSU
about 5 hours ago

SEC

SEC Sports


#AUBvsKSU: Auburn 10, Kansas State 7. 1:34 2nd quarter. #SEC
about 5 hours ago

skhanjr

Sam Khan Jr.


Nice throw by Kyler Murray (nice catch by the receiver as well). https://t.co/xKtmyhdFV5
about 5 hours ago

AschoffESPN

Edward Aschoff


That touchdown was so Auburn it's not even funny #AUBvsKSU
about 5 hours ago

AschoffESPN

Edward Aschoff


The Bucs and Falcons are too hilarious to watch. Just bad/funny football going on in the Georgia Dome
about 5 hours ago

ESPN_SEC

ESPN_SEC


Twenty-five minutes in and we have a touchdown ... Kansas State finally punches it in. #AUBvsKSU
about 5 hours ago

SEC

SEC Sports


#AUBvsKSU: Kansas State 7, Auburn 3. 4:56 2nd quarter. #SEC
about 5 hours ago

AschoffESPN

Edward Aschoff


Points! Offense!
about 5 hours ago

ESPN_SEC

ESPN_SEC


Tyler Lockett and now Duke Williams dropped would-be TDs. Sloppy game to far. #AUBvsKSU
about 5 hours ago

AschoffESPN

Edward Aschoff


Some of Marshall's passes have been off but man these drops by these Auburn receivers are awful. Williams was gone for 6
about 5 hours ago

skhanjr

Sam Khan Jr.


#ESPN300 QB Kyler Murray (#Aggies commit) has some wiggle. https://t.co/CL5UZBqUzE
about 5 hours ago

AschoffESPN

Edward Aschoff


We've heard that Nick Marshall is a better passer now than he was last year. So far in this game he doesn't look very polished
about 5 hours ago

ESPN_SEC

ESPN_SEC


Whoever took the under (65) is feeling pretty good right now. Neither team has 75 yards yet. #AUBvsKSU
about 5 hours ago

ESPN_SEC

ESPN_SEC


Tip drill! Nick Marshall's last 2 passes tipped at the line of scrimmage. This last one intercepted by Kansas State. #AUBvsKSU
about 5 hours ago

ESPN_SEC

ESPN_SEC


More stats for you: Coming in Auburn led the nation in 3rd-down percentage (.679). Tigers are 0 for 4 tonight. #AUBvsKSU
about 6 hours ago

ESPN_SEC

ESPN_SEC


Who guessed the score was going to be 3-0 after the first quarter? #AUBvsKSU
about 6 hours ago

ESPN_SEC

ESPN_SEC


Kansas State picking on Jonathan Jones early. Jones responds with an interception in the end zone. #AUBvsKSU
about 6 hours ago

SEC_Chuck

Chuck Dunlap


Tonight is the SEC's 4th Top 25 non-conference game of the season, tied for the national lead (w/ ACC) -- 3 of the 4 were away from home.
about 6 hours ago

AschoffESPN

Edward Aschoff


Just like Auburn drew it up. Well played Ellis Johnson
about 6 hours ago

Aggies

Texas A&M Aggies SDS


Report: Texas A&M will pay $300K to replace playing surface at Kyle Field http://t.co/oYfhq7RX7O
about 6 hours ago

AschoffESPN

Edward Aschoff


Hey Auburn ... they wanted you to do that ... Wow #AUBvsKSU
about 6 hours ago

ESPN_SEC

ESPN_SEC


Auburn had scored a TD on over 50 percent of its drives coming in. The Tigers are 0 for 2 tonight (Punt, FG) #AUBvsKSU
about 6 hours ago

SEC

SEC Sports


#AUBvsKSU: Auburn leads Kansas State 3-0. 11:14 1st quarter. #SEC
about 6 hours ago

AschoffESPN

Edward Aschoff


Should be an automatic forfeit in my book. No Emo ... ever RT @danlecates: Did KSU just play Fall Out Boy to get pumped up?
about 6 hours ago

AschoffESPN

Edward Aschoff


I stand by my last tweet because it's glorious RT @Morgan_Moriarty: key word there was t shirt, Ed!
about 6 hours ago

SEC

SEC Sports


Texas A&M's Reveille VIII to retire: http://t.co/KxiTiRJFfa #SEC
about 6 hours ago

AschoffESPN

Edward Aschoff


How quickly they forget http://t.co/APOSsO0n6X RT @Morgan_Moriarty: Only Malzahn can rock a sweater vest with a short sleeve t-shirt.
about 6 hours ago

ESPN_SEC

ESPN_SEC


Talk about keeping your composure. Auburn punter avoids disaster after bobbling snap. #AUBvsKSU
about 6 hours ago

skhanjr

Sam Khan Jr.


Good work by my friend @max_olson on David Ash: http://t.co/d83Var72Qh
about 6 hours ago

ESPN_SEC

ESPN_SEC


And we're off in the Little Apple. #AUBvsKSU
about 6 hours ago

AschoffESPN

Edward Aschoff


One thing to watch: Auburn's running game vs KState's run defense. Tigers churning out 330 yards per game. Cats allowing just 87 per game
about 6 hours ago

TedMillerRK

Ted Miller


If you are hoping for ammunition vs. #SEC adherents this fall, pretty much your last, best hope is on @ESPN right now. #AUBvsKSU
about 6 hours ago

AschoffESPN

Edward Aschoff


I like #Auburn in this one but I think it's close all the way. Should be a good one
about 6 hours ago

AschoffESPN

Edward Aschoff


RT @BarrettSallee: Auburn LB Kris Frost in the huddle mic'd up on ESPN: "We play games like this all the time. ALL THE TIME."
about 6 hours ago

ESPN_SEC

ESPN_SEC


It's almost game time. @GregO_ESPN will be taking over the account during tonight's game. #AUBvsKSU
about 6 hours ago

AschoffESPN

Edward Aschoff


Wanna watch the Dream Team talk college football? Look no further folks! http://t.co/g8Sidh1C0X
about 6 hours ago

SEC

SEC Sports


WATCH LIVE - Auburn vs. Kansas State football 7:30 p.m. ET on ESPN. #AUBvsKSU http://t.co/Oeg5w9mpdN #SEC
about 6 hours ago

Aggies

Texas A&M Aggies SDS


Through the Progressions: Game Managers and Playmakers http://t.co/Mf3kHHhFkr
about 7 hours ago

Aggies

Texas A&M Aggies SDS


Inside the Numbers: Week 4 http://t.co/wgFlgQDB8b
about 7 hours ago

SEC

SEC Sports


WATCH LIVE - Thursday night soccer on the @SECNetwork Tennessee at Texas A&M 7 p.m. ET: http://t.co/EmLrUfDDqJ #SEC
about 7 hours ago

SEC_Sean

Sean Cartell


The 2014-15 #SEC equestrian season begins Friday. Complete information: http://t.co/HGY8zUCfQY #SEC
about 8 hours ago

Aggies

Texas A&M Aggies SDS


Elite coaching gives SEC West an edge http://t.co/DoveGcB4xg
about 8 hours ago

SEC

SEC Sports


Six #SEC football players are candidates for the @SnrCLASSAward: http://t.co/jlJmYNmKqq
about 8 hours ago

SEC

SEC Sports


Arkansas' Alex Collins named Maxwell Award Player of the Week: http://t.co/chhn3XVd7G #SEC
about 9 hours ago

ESPN_SEC

ESPN_SEC


Everything you thought you knew about the SEC is wrong. @AschoffESPN explains http://t.co/tXtW4Ya07a
about 9 hours ago

Aggies

Texas A&M Aggies SDS


Sacked and Sacks: Tennessee's rebuilt OL exposed vs. Oklahoma http://t.co/nYc29bxxPO
about 9 hours ago

SEC

SEC Sports


Great feature story on South Carolina distance runner Stephanie Berger: http://t.co/U9IZ4SYZZa #SEC
about 9 hours ago

SEC

SEC Sports


.@SECNetwork Q&A with former Tennessee quarterback Heath Shuler: http://t.co/MVYVdiAytU #SEC
about 9 hours ago

beaty_david

David Beaty


#29 Great Day for a Great Aggie @DeUcE2NiNa9 http://t.co/bFqBdanIsF
about 10 hours ago

AschoffESPN

Edward Aschoff


After that last tweet: What's the biggest #SEC game you skipped work or a family function for? Game and work/event. GO!
about 10 hours ago

CFBHeather

Heather Dinich


#priorities MT @eric_adelson: So my 1st-grader's teacher is bringing in a substitute tomorrow b/c she is going to the Gator game. #chomp
about 10 hours ago

AggieEquestrian

Texas A&M Equestrian


Get your first look at the 2014-2015 Aggie Equestrian team this Saturday @ the Maroon & White Scrimmage! #12thMan 1/2 http://t.co/5ECGjn7cz8
about 11 hours ago

AschoffESPN

Edward Aschoff


He'll get his chance next year RT @ThomasGM: i dont think richard sherman can cover amari
about 11 hours ago

12thMan

Texas A&M Athletics


Don't forget to stop by the MedPlus at Northgate to enter to win a @CoachSumlin autographed football #12thMan
about 11 hours ago
SEC SCOREBOARD
Thursday, 9/18
Saturday, 9/20
BLOG ARCHIVE:
CATEGORIES: