DE Jay Arnold talks Texas A&M official
December, 17, 2012
12/17/12
10:15
AM ET
Rockwall (Texas) Heath defensive end
Jay Arnold
has made his fair share of trips to College Station, Texas. So his official visit to Texas A&M over the weekend didn't bring much by way of new experiences.
What it did bring that made Arnold happy was food.
[+] Enlarge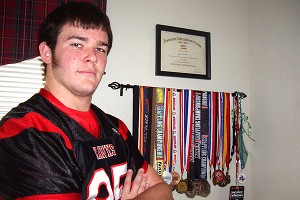 Damon Sayles/ESPN.comJay Arnold will start out at strongside defensive end for the Aggies.
"I had a great time," Arnold said. "The food was amazing. That was probably the best part, just getting to eat all the time. They fed us so much."
To continue reading this article you must be an Insider
Insider
Fournette Runs Over Aggie On 22-Yd TD
LSU RB Leonard Fournette rushes 22 yards for a second-quarter touchdown in the Tigers' 23-17 win over Texas A&M.
Fournette Runs Over Aggie On 22-Yd TD
VIDEO PLAYLIST
TAMU FB RECRUITING SCORECARD
HamiltonESPN

Gerry Hamilton


Allen over Arlington Martin. #ESPN300 @TheKylerMurray 197 rushing & 4TD's + 92 passing & 2TD's. 3,563 pass, 1,291 rush & 65 TD's (13 gms)
less than a minute ago

AggieVolleyball

Texas A&M Volleyball


That's a 5-set win in Oxford! 6 straight Ws to end the regular season for the Aggies. #sharethewin #12thMan http://t.co/ulHmJSWMe7
14 minutes ago

Aggies

Texas A&M Aggies SDS


Predicting the SEC's Week 14 headlines http://t.co/8qloNbe1np
21 minutes ago

ESPN_SEC

ESPN_SEC


Instant Analysis: No. 17 Missouri 21, Arkansas 14 http://t.co/v9ygHgBsb2
29 minutes ago

TexAgs

TexAgs


.@TheKylerMurray: 289 total yards, 6 TDs, 0 INTs. RT @SportsDayHS FINAL: Allen 69 - Arlington Martin 54. Stats: http://t.co/nxhEHYQK5p
31 minutes ago

TexAgs

TexAgs


That time of year, which means yes: Aggie Dance Team. Also there was a basketball game Fri. http://t.co/F3yGJayphJ http://t.co/8v0xYHpDlN
34 minutes ago

skhanjr

Sam Khan Jr.


Football score. Not hoops. MT @SportsDayHS: FINAL: Allen 69 - Arlington Martin 54. Stats: http://t.co/yvCh54OYaQ #txhsfb
36 minutes ago

AschoffESPN

Edward Aschoff


DO NOT let them take away yo shine! RT @dirtdobber54: we don't care! We going to Atlanta baby!
37 minutes ago

TexAgs

TexAgs


A&M may finish 110th (or worse) in rush defense in back-to-back seasons. Its lack of progress sealed Snyder's fate: http://t.co/quWTCTQpyw
38 minutes ago

WWMcClyde

W.W. McClyde


It has never been deactivated there. RT @shoutout_TAG: So has @TexAgs activated flightware?
46 minutes ago

Aggies

Texas A&M Aggies SDS


National bowl projections heading into Rivalry Saturday http://t.co/MGwzFSrH17
about an hour ago

DamonSayles

Damon Sayles


S/O to @TheKylerMurray. Nearly 200 yards and 4 TDs today ... rushing.Ranked the nation's No. 1 dual-threat QB. #GigEm #Aggies
about an hour ago

AschoffESPN

Edward Aschoff


Hogs fan hating on Arkansas now ... RT @cridings1: LOL. Dont rave like a 21-14 win over a 6-6 at home is something impressive
about an hour ago

ESPN_SEC

ESPN_SEC


Watch: Kirk Herbstreit previews Egg Bowl, Iron Bowl http://t.co/515NAd8mdO
about an hour ago

AschoffESPN

Edward Aschoff


SEC folks will NOT let Mizzou libe today. I mean they can't help that the East wasn't great
about an hour ago

AschoffESPN

Edward Aschoff


People hating on Mizzou -- and it's not an elite team -- but the Tigers did what they needed to and won the East again. Hats off
about an hour ago

AschoffESPN

Edward Aschoff


Love the heart of this Mizzou team. Better than I thought. Tough win and now ATL bound
about an hour ago

AschoffESPN

Edward Aschoff


Dude I just complimented Mizzou RT @EvanEdwards8: oh ok.. And what did Florida say?
about an hour ago

skhanjr

Sam Khan Jr.


Gary Pinkel & co. do it again. Mizzou no stranger to division titles. Style points or not, back-to-back SEC East titles is commendable
about an hour ago

SEC

SEC Sports


#Mizzou will represent the #SEC East in Atlanta next Saturday.
about an hour ago

skhanjr

Sam Khan Jr.


#DLineZou
about an hour ago

AschoffESPN

Edward Aschoff


Mizzou said "Nahhhh we still don't belong in the SEC (Hi hater smile)"
about an hour ago

Aggies

Texas A&M Aggies SDS


Snyder Relieved of Duties at Texas A&M http://t.co/xcUrtR375M
about an hour ago

AschoffESPN

Edward Aschoff


Looks like a fumble to me ...
about an hour ago

AschoffESPN

Edward Aschoff


You're gonna get flagged for that every single time. Everyone stopped
about an hour ago

TexAgs

TexAgs


Aaaand here's your first list of possible candidates for the A&M DC opening, courtesy of @billyliucci. (Premium) http://t.co/gjGFe0toYG
about an hour ago

AschoffESPN

Edward Aschoff


You have to get Brandon Allen out. He's hurt and not playing well at all
about an hour ago

AschoffESPN

Edward Aschoff


See what had happened was ... RT @rumilb: stop it Ed look what you've done
about an hour ago

skhanjr

Sam Khan Jr.


Uh-oh. Mizzou is 4:38 from a return trip to Atlanta. Let's see what Arkansas has left.
about an hour ago

AschoffESPN

Edward Aschoff


Marcus Murphy with the I WANT AN SEC EAST TITLE AGAIN run!!
about an hour ago

AschoffESPN

Edward Aschoff


Mizzou is just destroying Arkansas up front
about an hour ago

ESPNCFB

ESPN CollegeFootball


Texas A&M fires defensive coordinator Mark Snyder » http://t.co/o8g0EVdukq http://t.co/VUJspjjGWX
about an hour ago

AschoffESPN

Edward Aschoff


So impressed with this second half by Mizzou RT @dirtdobber54: we might play ugly but I love these dudes heart!
about an hour ago

AschoffESPN

Edward Aschoff


Mizzou has ALL the momentum
about an hour ago

ESPN_SEC

ESPN_SEC


Texas A&M fires DC Mark Snyder http://t.co/mJ5yppQpvu
about an hour ago

ESPNTAMU

ESPN Texas A&M


Texas A&M fires defensive coordinator Mark Snyder: http://t.co/mTH12aQ2rj (via @skhanjr)
about an hour ago

AschoffESPN

Edward Aschoff


What a catch! MIZZOU
about 2 hours ago

billyliucci

Billy Liucci


Still very early but word is that Sumlin has been told that "money will not be a hindering factor" in A&M's DC search.
about 2 hours ago

Aggies

Texas A&M Aggies SDS


Texas A&M fires Mark Snyder http://t.co/cj8YvMM0dF
about 2 hours ago

skhanjr

Sam Khan Jr.


Texas A&M linebackers coach mark Hagen will serve as the interim defensive coordinator for the #Aggies in their bowl game.
about 2 hours ago

TexAgs

TexAgs


Official...Mark Snyder out as A&M DC (Premium): http://t.co/rt3kmqkP0F
about 2 hours ago

skhanjr

Sam Khan Jr.


Texas A&M coach Kevin Sumlin announced that DC Mark Snyder has been relieved of his duties. #Aggies
about 2 hours ago

TexAgs

TexAgs


On Black Friday we count Aggie basketball blessings in threes. (Premium) http://t.co/tD9apbK3xW
about 2 hours ago

TexAgs

TexAgs


Coach Kennedy, Peyton Allen & Danuel House: Care to discuss how much better this year's team looks? http://t.co/LUJQs0rOx8
about 2 hours ago

AschoffESPN

Edward Aschoff


Mizzou grinding, grinding, grinding. I feel like I've seen this movie before ...
about 3 hours ago

AggieSoccer

Texas A&M Soccer


Get to know Penn State before tomorrow night's Elite Eight match-up at Ellis Field! http://t.co/P4sA0NrDU6 #12thMan http://t.co/IKjuzyUX2k
about 3 hours ago

AschoffESPN

Edward Aschoff


OH THE NFC SOUTH! Ahhhhh LAWD! RT @ZeeDustin: no doubt. Better than NFC South.
about 3 hours ago

skhanjr

Sam Khan Jr.


Continually impressed with how much progress Arkansas made on defense this season.
about 3 hours ago

AschoffESPN

Edward Aschoff


Honestly could have gone either way. I thought he tried to tuck it at first RT @deardorff24: after that fumble* lol
about 3 hours ago

AschoffESPN

Edward Aschoff


Mizzou working down the field well. Gotta give Mauk some confidence going into the half and he's doing well after that incomplete pass
about 3 hours ago

AschoffESPN

Edward Aschoff


Yeah that is a good point RT @dirtdobber54: I think it looked that way because he got hit in the face BUT tough call
about 3 hours ago

skhanjr

Sam Khan Jr.


Wow. Lifeline for Mizzou. Tigers better take advantage here.
about 3 hours ago

AschoffESPN

Edward Aschoff


Looks like Mauk was trying to tuck that ball back but we'll see
about 3 hours ago

BarrettSallee

Barrett Sallee


We are. RT @TJCarpenterWHB: Are we in college football's equivalent of "tuck rule" territory here?
about 3 hours ago

AschoffESPN

Edward Aschoff


ANOTHER turnover in this Arkansas-Mizzou game. The Hogs are in great position to score
about 3 hours ago

American_FB

American Football


A big second half gives @UHCougarFB a 35-9 win over @SMU_Football http://t.co/Z6PMlJaY0F
about 3 hours ago

AschoffESPN

Edward Aschoff


D.J. Dean's interception looked eerily similar to the one I had yesterday in the family football game. I'm so athletic
about 3 hours ago

AschoffESPN

Edward Aschoff


Mizzou's defense is NOT tired right now
about 3 hours ago

AschoffESPN

Edward Aschoff


Must ... re ... sist ... RT @Hogcrazy99: we waiting for u aschoff.. come jump on this hog wagon
about 3 hours ago

AschoffESPN

Edward Aschoff


Hahahahaha of course an instant turnover. THIS GAME
about 3 hours ago

AschoffESPN

Edward Aschoff


Wow Arkansas had ALL the momentum and then coughs it up. Mizzou ball
about 3 hours ago

AschoffESPN

Edward Aschoff


The SEC West next year might eat this year's SEC West for breakfast
about 3 hours ago

AschoffESPN

Edward Aschoff


Oh man Mizzou's offense on that drive ...
about 3 hours ago

AschoffESPN

Edward Aschoff


I know a few teams in the SEC that would love to have Jonathan Williams. Kid is a beast
about 3 hours ago

AschoffESPN

Edward Aschoff


So Arkansas is up 14-3 on TWO passing touchdowns
about 3 hours ago

AschoffESPN

Edward Aschoff


I know a few teams in the SEC that would love to have Jonathan Williams. Kid is a beast
about 4 hours ago

AschoffESPN

Edward Aschoff


The Grove the day before #OleMiss #HailState @ The Grove http://t.co/ZZczRVzGnZ
about 4 hours ago

AschoffESPN

Edward Aschoff


RT @RazorJamon: Booing hurt Ark OL Skipper walking off field. RT @AschoffESPN: Are Mizzou fans booing something or someone? What did I miss?
about 4 hours ago

AschoffESPN

Edward Aschoff


Are Mizzou fans booing something or someone? What did I miss?
about 4 hours ago

AschoffESPN

Edward Aschoff


Great job by Mizzou's defensive line there to sniff out the draw. Take the running game away and you take away Arkansas' offense
about 4 hours ago

skhanjr

Sam Khan Jr.


Mizzou with an LSU-esque drive. 17 plays, 41 yards, 7:25.
about 4 hours ago

DavidCMorrison

David Morrison


Arkansas' shutout streak ends at 148:58.
about 4 hours ago

AschoffESPN

Edward Aschoff


So Marshall-Western Kentucky ... Basketball game?
about 4 hours ago

AschoffESPN

Edward Aschoff


Of course the first points Arkansas gives up in like a decade come on a field goal. So Arkansas-Mizzou
about 4 hours ago

AschoffESPN

Edward Aschoff


This Arkansas defense has improved so much this season. Not afraid to play straight up and go right at the QB. So much more comfortable
about 4 hours ago

AschoffESPN

Edward Aschoff


Beastly running and poor tackle attempts = Mizzou first down
about 4 hours ago

AschoffESPN

Edward Aschoff


Mizzou just wants to be in third-and-long. Alllll part of the plan
about 4 hours ago

AschoffESPN

Edward Aschoff


Ohhhh gotta catch easy one
about 4 hours ago

AschoffESPN

Edward Aschoff


People will be hurting for days after this Arkansas-Mizzou game
about 4 hours ago

AggieMensHoops

Aggie Men\'s Hoops


FINAL: Texas A&M 87 - New Orleans 65 #ShareTheWin #12thMan #AggieHoops http://t.co/Wyuep3jkdh
about 4 hours ago

TexAgs

TexAgs


Final score from Reed Arena: Texas A&M 87, New Orleans 65. Aggies improve to 4-1 on the young season. Full post-game coverage @TexAgs.
about 4 hours ago

skhanjr

Sam Khan Jr.


Order restored. Houston leading SMU 28-7 after three.
about 4 hours ago

TexAgsRadio

TexAgs Radio


Friday's show had Billy Liucci, Olin Buchanan, Logan Lee, G Guerrieri and more (Premium): http://t.co/WYCH29bsX2
about 5 hours ago

Aggies

Texas A&M Aggies SDS


Vegas sharp breaks down Week 14 SEC games http://t.co/azD5bK3Rkh
about 5 hours ago

TexAgs

TexAgs


It started ugly for the home team but the Ags got it rolling down the stretch in the first half and lead UNO by 12 points, 40-28, at half.
about 5 hours ago

NWARobbie

Robbie Neiswanger


Arkansas QB Brandon Allen is in uniform taking snaps during pregame. So are Austin Allen and Damon Mitchell, who went back to QB this week.
about 5 hours ago

TravHaneyESPN

Travis Haney


Wouldn't have said Levine in trouble -- but can't lose to Tulane and SMU. Cannot. RT @skhanjr: SMU leading Houston 9-7 at halftime…
about 5 hours ago

SEC

SEC Sports


Three #SEC soccer teams are playing in the #NCAA Quarterfinals beginning today, looking to punch their tickets to the College Cup.
about 5 hours ago

skhanjr

Sam Khan Jr.


SMU leading Houston 9-7 at halftime…
about 5 hours ago

SEC_Chuck

Chuck Dunlap


What's at stake today: If Missouri defeats Arkansas, Tigers advance to Atlanta for second straight year. If Arkansas wins, Georgia goes.
about 6 hours ago

SEC

SEC Sports


If you're away from your TV today, watch Arkansas vs. Mizzou online at http://t.co/RwAvuOqzxz at 2:30 p.m. ET. #SEC
about 6 hours ago

SEC

SEC Sports


We're an hour away from Friday football in the #SEC. Arkansas vs. Missouri at 2:30 p.m. ET on @SEConCBS.
about 6 hours ago

AggieSoccer

Texas A&M Soccer


Calling on the #12thMan: we need YOU at Ellis Field tomorrow night when we take on Penn State at 7:00 pm! http://t.co/MZ2xcPhHO0
about 6 hours ago

SEC

SEC Sports


Tony Barnhart's (@MrCFB) weekly column focuses on Rivalry Week in the #SEC: http://t.co/QUGBy7D1Cr
about 6 hours ago

Aggies

Texas A&M Aggies SDS


SEC vs. Pac-12: Week 13 http://t.co/QGiczdCURt
about 6 hours ago

ESPN_SEC

ESPN_SEC


Mississippi State vs. Ole Miss primer http://t.co/r8JhFvlDEz
about 6 hours ago

TexAgs

TexAgs


Ditch the shopping and spend Black Friday at Reed Arena for A&M men's hoops vs. UNO. http://t.co/MZnriYN2F7
about 6 hours ago

AschoffESPN

Edward Aschoff


This is the most Big Ten game ever
about 6 hours ago

TexAgs

TexAgs


LIVE from Reed Arena...Texas A&M vs. New Orleans (Premium): http://t.co/mMAfsLvhKh
about 6 hours ago

AggieMensHoops

Aggie Men\'s Hoops


Minutes from tip here at Reed, head over if you are in B/CS. Tune to @SECNetwork if you can't make it #12thMan http://t.co/6SWZq0huRj
about 6 hours ago
SEC SCOREBOARD
Friday, 11/28
Thursday, 11/27
Saturday, 11/29
BLOG ARCHIVE:
CATEGORIES: