3 Up, 3 Down: Texas A&M 29, Alabama 24
November, 11, 2012
11/11/12
8:00
AM ET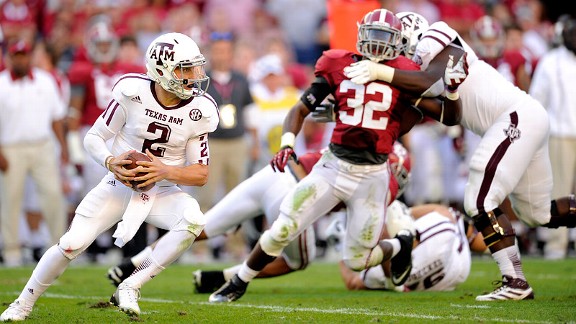 John David Mercer/US PresswireJohnny Manziel stunned the college football world as he led the Aggies past Alabama.
Texas A&M did what many thought they couldn't, going into Tuscaloosa, Ala., and stunning the nation's No. 1-ranked team by pulling out a 29-24 victory over Alabama on Saturday at Bryant-Denny Stadium. It was a game with a lot of twist, turns and thrills for both squads. Let's see the good and the bad for the No. 15 Aggies in their win:
THREE UP
1. Johnny Manziel:
The redshirt freshman quarterback might have just thrown himself fully into the Heisman Trophy race with his performance. He finished 24-of-31 passing for 253 yards, 2 touchdowns and no interceptions. On the ground, he had 92 yards on 18 carries and even showed the speed necessary to get away from the Crimson Tide's vaunted defense on occasion. He also made some big-time throws from the pocket.
To continue reading this article you must be an Insider
Welcome
!
We see that you are not an ESPN Insider. Upgrade today and gain access to our exclusive coverage.
ESPN The Magazine subscribers

Need more information?
Better Freshman Season: Manziel Or Winston?
Better Freshman Season: Manziel Or Winston?
VIDEO PLAYLIST
Better Freshman Season: Manziel Or Winston?

Better Freshman Season: Manziel Or Winston?

Texas A&M To Face Surprising Duke

Texas A&M To Face Surprising Duke

Weekend Recruiting Wrap: SEC - Dec. 2

Weekend Recruiting Wrap: SEC - Dec. 2

Derek Tyson discusses the latest SEC recruiting news, including a junior college addition at Texas A&M, recruit reaction of Auburn's miraculous win and what Florida's quarterback commit thinks of the Gators firing their offensive coordinator.

Tags: Avery Gennesy

,

Rashaan Evans

,

Derrell Scott

,

Kerryon Johnson

,

Texas A&M Aggies

,

Auburn Tigers

,

Florida Gators

,

RecruitingNation

,

ESPN 300

,

ESPN Juco 100

,

high school football recruiting
AGGIENATION RECRUITING NEWS
TAMU FB RECRUITING SCORECARD
skhanjr

Sam Khan Jr.


RT @USATODAYsports: George W. Bush sent Alabama's kicker an encouraging note after the Iron Bowl loss: http://t.co/iPbmhTAGuS
about an hour ago

texasambuzztap

Texas A&M Aggies


Aggie Websider (Scout) >> Will A&M Benefit From Texas' Coaching Drama? http://t.co/ZNtPcwjjzj
about an hour ago

texasambuzztap

Texas A&M Aggies


Aggie Yell (Rivals) >> Midlands Mailbag: Longhorns get boost http://t.co/5TWUyoUwHM
about an hour ago

texasambuzztap

Texas A&M Aggies


Aggie Yell (Rivals) >> Around the Midlands: LSU's big weekend http://t.co/HDFeYIg6tN
about an hour ago

texasambuzztap

Texas A&M Aggies


Aggie Yell (Rivals) >> Numbers Crunch: Hail to the SEC http://t.co/wa8RadZDIL
about an hour ago

texasambuzztap

Texas A&M Aggies


Aggie Yell (Rivals) >> Around the West: Changes shaking things up http://t.co/MsS5wBqY7B
about an hour ago

texasambuzztap

Texas A&M Aggies


Aggie Yell (Rivals) >> West Mailbag: Where does Arizona go next? http://t.co/rVdusOgGJ3
about an hour ago

texasambuzztap

Texas A&M Aggies


Aggie Yell (Rivals) >> Busy week ahead for Booth http://t.co/DBKNEPkh3N
about an hour ago

texasambuzztap

Texas A&M Aggies


Aggie Yell (Rivals) >> Top Performers: West region http://t.co/B5gwUqA9nC
about an hour ago

texasambuzztap

Texas A&M Aggies


Aggie Yell (Rivals) >> Southeast Mailbag: Courting Bo http://t.co/KE3wU8UZXT
about an hour ago

texasambuzztap

Texas A&M Aggies


Aggie Yell (Rivals) >> Rivals250 RB decommits http://t.co/UXRSbImCoy
about an hour ago

texasambuzztap

Texas A&M Aggies


Aggie Websider (Scout) >> A&M Keeps Close Eye on Texas Situation http://t.co/rs9MdjOlGC
about 3 hours ago

texasambuzztap

Texas A&M Aggies


Aggie Yell (Rivals) >> Recruits impressed with College Park official http://t.co/GUoDFJOWZD
about 3 hours ago

texasambuzztap

Texas A&M Aggies


Aggie Yell (Rivals) >> Around the Southwest: A&M's roll continues http://t.co/FrR6kPUk6f
about 3 hours ago

texasambuzztap

Texas A&M Aggies


Aggie Yell (Rivals) >> Southwest Mailbag: The Robinson watch http://t.co/7AhXgt4SEW
about 3 hours ago

texasambuzztap

Texas A&M Aggies


Aggie Yell (Rivals) >> USC bridges the gap for McQuay http://t.co/cRO8SBBH13
about 3 hours ago

texasambuzztap

Texas A&M Aggies


Aggie Yell (Rivals) >> Hutchings still being pursued http://t.co/fM5Q8arRUu
about 3 hours ago

texasambuzztap

Texas A&M Aggies


Aggie Yell (Rivals) >> What we learned: AL-MS All-Star Classic http://t.co/6Q5gkVcdJV
about 3 hours ago

texasambuzztap

Texas A&M Aggies


Aggie Yell (Rivals) >> What we learned: Shrine Bowl of the Carolinas http://t.co/ffAUo4bgHi
about 3 hours ago

texasambuzztap

Texas A&M Aggies


Aggie Yell (Rivals) >> Rivals100 defender talks visits http://t.co/wEgKeQxhpw
about 3 hours ago

texasambuzztap

Texas A&M Aggies


Aggie Yell (Rivals) >> Oliver still excited about his decision http://t.co/9x0ODzwaL5
about 3 hours ago

texasambuzztap

Texas A&M Aggies


Aggie Yell (Rivals) >> Southeast Mailbag: Courting Bo http://t.co/QX2U33JNGu
about 5 hours ago

texasambuzztap

Texas A&M Aggies


Aggie Yell (Rivals) >> Rivals250 RB decommits http://t.co/2rCpQxUWuE
about 5 hours ago

texasambuzztap

Texas A&M Aggies


Aggie Yell (Rivals) >> Around the Midwest: Gophers rising http://t.co/aGSNwr2oCs
about 6 hours ago

texasambuzztap

Texas A&M Aggies


Aggie Yell (Rivals) >> AL-MS All-Stars: Alabama top performers http://t.co/yNeZIeJUZ9
about 6 hours ago

texasambuzztap

Texas A&M Aggies


Dallas Morning News >> Texas A&M's Johnny Manziel thinks he's NFL ready but no decision on draft yet http://t.co/7iKLzjjC5b
about 7 hours ago

skhanjr

Sam Khan Jr.


RT @ahverdejo: Congrats to @McClain_on_NFL. Honored as the Ron Stone Award recipient...FYI, John first came to Houston to cover the Areos
about 7 hours ago

skhanjr

Sam Khan Jr.


Definitely. Has the best stories. RT @KeysAdvocate @skhanjr @McClain_on_NFL Is that the most interesting man in the world?
about 7 hours ago

skhanjr

Sam Khan Jr.


Great to see @McClain_on_NFL tonight at the Houston Touchdown Club banquet. Congrats on your award, John. http://t.co/NkLKhJiPOu
about 8 hours ago

texasambuzztap

Texas A&M Aggies


Aggie Yell (Rivals) >> Southeast Mailbag: Courting Bo http://t.co/qgnmywBtsV
about 8 hours ago

texasambuzztap

Texas A&M Aggies


Aggie Yell (Rivals) >> Rivals250 RB decommits http://t.co/sS9s9B1hlO
about 8 hours ago

skhanjr

Sam Khan Jr.


RT @CoachSumlin: 2 Great home visits tonight! Orlando tmrw to support 4 of our guys who had tremendous seasons! #gigem
about 8 hours ago

texasambuzztap

Texas A&M Aggies


Dallas Morning News >> Texas A&M's Johnny Manziel thinks he's NFL ready but says he hasn't made decision on http://t.co/WpqdPosvmT
about 8 hours ago

TexAgs

TexAgs.com


RT @BrentZwerneman: As always, excellent job by @TexAgs crew in terms of posting video etc. from college football awards for those not ther…
about 8 hours ago

CoachSumlin

Kevin Sumlin


2 Great home visits tonight! Orlando tmrw to support 4 of our guys who had tremendous seasons! #gigem
about 8 hours ago

CoachSumlin

Kevin Sumlin


Rt"@ESPNCFB: Sammy Watkins, Brandin Cooks, Mike Evans & Fred Biletnikoff at the @HomeDepot #CFBAwards http://t.co/5z0vo3lvmC"
about 9 hours ago

skhanjr

Sam Khan Jr.


Texas City WR and #Longhorns commit Armanti Foreman named Houston Touchdown Club HS Offensive Player of the Year. #txhsfb
about 10 hours ago

skhanjr

Sam Khan Jr.


North Shore LB and #Bama commit Zach Whitley Jr. named the Houston Touchdown Club HS Defensive Player of the Year #txhsfb #RTR
about 10 hours ago

texasambuzztap

Texas A&M Aggies


Aggie Yell (Rivals) >> Around the Midwest: Gophers rising http://t.co/4HicdQdlZZ
about 10 hours ago

texasambuzztap

Texas A&M Aggies


Aggie Yell (Rivals) >> AL-MS All-Stars: Alabama top performers http://t.co/lRmdfhykcg
about 10 hours ago

texasambuzztap

Texas A&M Aggies


Aggie Yell (Rivals) >> Southeast Mailbag: Courting Bo http://t.co/TgKy7FphFu
about 11 hours ago

texasambuzztap

Texas A&M Aggies


Aggie Yell (Rivals) >> Rivals250 RB decommits http://t.co/R3U6YTdByH
about 11 hours ago

TexAgs

TexAgs.com


RT @TexAgsRadio: Evans: "...drafts and stuff, but you just have to think about the next opponent and keep getting better."
about 11 hours ago

TexAgs

TexAgs.com


RT @TexAgsRadio: Evans: "I'll talk with Sumlin before the bowl game and go over the NFL prospects. It's hard to focus when you see your nam…
about 11 hours ago

TexAgs

TexAgs.com


RT @TexAgsRadio: Winston: What Manziel did last year was amazing and he broke the FR barrier. But in football, when you have great team, an…
about 11 hours ago

TexAgs

TexAgs.com


RT @TexAgsRadio: Evans: "...daughter plays in as well, but she'll be fine [if I stay at A&M]."
about 11 hours ago

TexAgs

TexAgs.com


RT @TexAgsRadio: Evans: "...and we had a lot of fun. I would like to give it another shot at a national championship, so that'll play in my…
about 11 hours ago

TexAgs

TexAgs.com


RT @TexAgsRadio: Evans: I'd miss [A&M] a lot if I left. I love this place. Last season was a Cinderella season. We had a lot of great guys …
about 11 hours ago

TexAgs

TexAgs.com


RT @TexAgsRadio: Manziel: I got tired of being scrutinized so I got of Twitter during the season. I wanted the attention off of me and on u…
about 11 hours ago

TexAgs

TexAgs.com


RT @TexAgsRadio: Manziel: I'll sit down in the next few weeks and talk to [my mentors and coaches] to see if I'm ready for the NFL. In my m…
about 11 hours ago

TexAgs

TexAgs.com


RT @TexAgsRadio: Manziel: It all comes down to making the best decision for you...whether you're ready, if teams need QBs, etc. Have to loo…
about 11 hours ago

TexAgs

TexAgs.com


RT @TexAgsRadio: Manziel: Biggest factor [for NFL] is, "Am I ready for the next level?" You don't want to be unprepared for NFL and leave 2…
about 11 hours ago

TexAgs

TexAgs.com


RT @TexAgsRadio: Manziel: If this is the end, I want to be considered one of the best to ever play at A&M. Hopefully we've made a huge impa…
about 11 hours ago

TexAgs

TexAgs.com


RT @TexAgsRadio: Manziel: We felt like the Auburn loss was one that we let go. After that, we didn't have the same swagger. We weren't mesh…
about 11 hours ago

TexAgs

TexAgs.com


RT @TexAgsRadio: Manziel: I've gotten better as a complete quarterback. I'm a more accurate passer and have improved in my pocket awareness.
about 11 hours ago

TexAgs

TexAgs.com


RT @TexAgsRadio: Manziel: Never wanted to be labeled as just a good athlete and I put in a lot of work with Coach Whitfield during the summ…
about 11 hours ago

TexAgs

TexAgs.com


Next step approaches for Aggie award finalists: http://t.co/CDp3isNwai (from Lake Buena Vista, Fla.) #12thMan #TAMU
about 11 hours ago

texasambuzztap

Texas A&M Aggies


Aggie Yell (Rivals) >> Around the Midwest: Gophers rising http://t.co/NZ9w3BT4DN
about 12 hours ago

texasambuzztap

Texas A&M Aggies


Aggie Yell (Rivals) >> AL-MS All-Stars: Alabama top performers http://t.co/gGE5VcwyH1
about 12 hours ago

TexAgs

TexAgs.com


RT @TexAgsRadio: We told Winston that Manziel did not vote for himself so he may get Johnny's vote. Jameis said, "I didn't even vote." He d…
about 12 hours ago

TexAgs

TexAgs.com


RT @TexAgsRadio: Spoke to Jameis Winston, who made a surprise appearance at the end of the CFB Awards presser. Credits Manziel for breaking…
about 12 hours ago

TexAgs

TexAgs.com


RT @TexAgsRadio: Manziel: Keeping Heisman vote quiet but might be a point where I will reveal it. I can vote for myself but I didn't vote m…
about 12 hours ago

TexAgs

TexAgs.com


RT @TexAgsRadio: Sat next to @jmanziel2 for an outstanding 12-minute interview session here at #CFBAwards! #12thMan #SEC http://t.co/Bbp1oM…
about 12 hours ago

TexAgs

TexAgs.com


RT @TexAgsRadio: Manziel talked NFL Draft. Wouldn't address "staying or leaving." Said it would be a lifelong dream and that he has to at l…
about 12 hours ago

TexAgs

TexAgs.com


RT @TexAgsRadio: Just like a typical Saturday, Johnny Manziel emerges and "plays hurt" despite being sick. I was told he was throwing up al…
about 12 hours ago

TexAgs

TexAgs.com


RT @TexAgsRadio: Manziel is here. He said he did not vote for himself first or second in the Heisman.
about 12 hours ago

TexAgs

TexAgs.com


RT @bradthejag: Media session for @MikeEvans13_ at the #CFBAwards. @texagsradio doing some work for a change. http://t.co/lmgifQXdF0
about 12 hours ago

TexAgs

TexAgs.com


RT @TexAgsRadio: I asked AJ McCarron if he and Katherine Webb eat at Carl's Jr. He said they don't and he's upset he doesn't get free burge…
about 12 hours ago

TexAgs

TexAgs.com


RT @TexAgsRadio: Johnny Manziel did not show up for his scheduled press conference here in Orlando. We've been told he's been sick all day.
about 12 hours ago

TexAgs

TexAgs.com


RT @TexAgsRadio: Evans said he will sit down with Coach Sumlin before the bowl to get his draft assessment. Said having a kid wouldn't be a…
about 12 hours ago

TexAgs

TexAgs.com


RT @TexAgsRadio: Just talked to Mike Evans. He wouldn't say he was leaving for NFL. He said a first round grade would factor in. Wants to w…
about 12 hours ago

TexAgs

TexAgs.com


RT @TexAgsRadio: TexAgs Radio: Wednesday full show podcast | #TexAgs | http://t.co/q4bvSTR9uB via @texags
about 12 hours ago

TexAgs

TexAgs.com


RT @TexAgsRadio: Clay Travis on Mack Brown, Nick Saban and the Heisman | #TexAgs | http://t.co/XLhTfr8Znl via @texags
about 12 hours ago

ESPN_SEC

ESPN_SEC


Tide weathering storm of Saban rumors http://t.co/nTjNNJ1UF8
about 12 hours ago

TexAgs

TexAgs.com


RT @olinbuchanan: Manziel came for interviews later. He acknowledged being hurt the last 2 games. Said he has not decided whether he'll ent…
about 12 hours ago

texasambuzztap

Texas A&M Aggies


Aggie Yell (Rivals) >> Southeast Mailbag: Courting Bo http://t.co/afj7BZBbgs
about 13 hours ago

texasambuzztap

Texas A&M Aggies


Aggie Yell (Rivals) >> Rivals250 RB decommits http://t.co/qDg1ggEgJi
about 13 hours ago

skhanjr

Sam Khan Jr.


RT @Dave_Matter: Highest paid staffs, in order, via USA Today: LSU, Bama, Clemson, Texas, Auburn, Ohio St, Oklahoma, Texas A&M, Georgia, Ar…
about 13 hours ago

AggieFootball

Texas A&M Football


Johnny Manziel meets the media at the Home Depot College Football Awards #CFBAwards #SEC #12thMan http://t.co/JOHxwRd3kE
about 13 hours ago

TexAgs

TexAgs.com


RT @olinbuchanan: Johnny Manziel skips press interviews at College Football Awards because he's not feeling well. Matthews, Kaser and Evans…
about 13 hours ago

AggieAthletics

Aggie Athletics


Need a unique gift for your favorite Aggie? Get 25% off with code JOY25. Order by 12/15 to receive by 12/24 http://t.co/Erv6rJBxp9 #12thMan
about 14 hours ago

TexAgs

TexAgs.com


#HeisMickey RT @AggieFootball Johnny impressed by Mickey's @TheHeismanTrophy pose today @Disney http://t.co/nILcXJ6RS4
about 14 hours ago

texasambuzztap

Texas A&M Aggies


Aggie Yell (Rivals) >> DT Dominates Rivals250 - Mike Farrell analysis http://t.co/L50mzRFSEE
about 14 hours ago

texasambuzztap

Texas A&M Aggies


Aggie Yell (Rivals) >> How long can recruiting boost from Bama win last? http://t.co/sp8I7AlbQB
about 14 hours ago

texasambuzztap

Texas A&M Aggies


Aggie Yell (Rivals) >> Reynolds rates among elite JUCO WRs http://t.co/folLTU9Mpu
about 14 hours ago

texasambuzztap

Texas A&M Aggies


Aggie Yell (Rivals) >> Around the Midwest: Gophers rising http://t.co/XdOV9Sy8kd
about 14 hours ago

texasambuzztap

Texas A&M Aggies


Aggie Yell (Rivals) >> AL-MS All-Stars: Alabama top performers http://t.co/iD2VHNs13w
about 14 hours ago

skhanjr

Sam Khan Jr.


RT @TXSportsMedia: @PeytonsHead @jasonrmcintyre @skhanjr Got to admit, that's about as neutral an outfit a coach of a major program could w…
about 15 hours ago

skhanjr

Sam Khan Jr.


RT @the_y0sh: @steakNstiffarms @AlbertBreer @skhanjr @ShlyKBMT12 They added a clause in his contract which allows him to eat babies and pup…
about 15 hours ago

skhanjr

Sam Khan Jr.


RT @tyduffy: That's his I'm about to get PAID jacket. RT @skhanjr: Saban from his stop in Beaumont, TX today. http://t.co/AS5SDrpJ9P
about 15 hours ago

skhanjr

Sam Khan Jr.


RT @PeytonsHead: @jasonrmcintyre @skhanjr @ShlyKBMT12 No "red" in that outfit. He's definitely gone. #Scoop
about 15 hours ago

AggieAthletics

Aggie Athletics


RT @AggieFootball: Johnny and Mike hang with the whole @Disney gang today #12thMan http://t.co/Ov4LfwOETG
about 15 hours ago

AggieAthletics

Aggie Athletics


RT @AggieFootball: Johnny impressed by Mickey's @TheHeismanTrophy pose today @Disney #12thMan http://t.co/LgOesfpIDW
about 15 hours ago

AggieFootball

Texas A&M Football


Johnny and Mike hang with the whole @Disney gang today #12thMan http://t.co/Ov4LfwOETG
about 15 hours ago

TexAgs

TexAgs.com


RT @lsantacroce: For those who enjoy the finer things, give the gift of @TexAgs. 1 FULL year of TexAgs Premium. http://t.co/6AZxtGjmaI
about 15 hours ago

AggieFootball

Texas A&M Football


Johnny impressed by Mickey's @TheHeismanTrophy pose today @Disney #12thMan http://t.co/LgOesfpIDW
about 15 hours ago

TexAgs

TexAgs.com


Crunch time for Frank Iheanacho -- have the coveted Houston Westside WR's plans changed? http://t.co/ThS3mJYEs2 #Aggies #txhsfb
about 15 hours ago

SEC

SEC Sports


Looking at Tre Mason's case for the Heisman Trophy: http://t.co/5VvxlWI63K
about 15 hours ago

AggieAthletics

Aggie Athletics


RT @AggieFootball: Congrats to Jake Matthews, @SEC Jacobs Blocking Trophy winner. http://t.co/bzHZVSaOr6 #12thMan
about 15 hours ago

ESPN_SEC

ESPN_SEC


Tre Mason named SEC Offensive POY http://t.co/d7nm2JfzrS
about 15 hours ago
BLOG ARCHIVE:
CATEGORIES: