Prediction/matchups: Aggies vs. Auburn
October, 26, 2012
10/26/12
1:44
PM ET
Texas A&M 41, Auburn 17
[+] Enlarge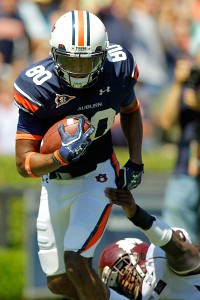 John Reed/US PresswireTexas A&M will have to keep a close eye on Auburn wide receiver Emory Blake.
Auburn has been poor offensively this season. The Tigers rank 119th nationally in total offense and 118th in scoring offense, averaging a meager 15.7 points per game this season. That's not going to get it done against the high-powered Aggies offense, one that even had LSU on its heels at times a week ago. Plus, Texas A&M's defense has been better than expected this year with the exception of the Louisiana Tech game. Look for the Aggies to take control early and not let go of this one.
Player to watch: Ben Malena, Texas A&M
To continue reading this article you must be an Insider
Insider
Drive Through: Can Aggies Win The SEC?
A twitter follower wants to know if the Aggies can win the SEC. Heather Dinich responds.
Drive Through: Can Aggies Win The SEC?
VIDEO PLAYLIST
TAMU FB RECRUITING SCORECARD
skhanjr

Sam Khan Jr.


And here's a TD pass by #ESPN300 QB Kyler Murray that did count and gave Allen a 42-3 lead in the 4th. https://t.co/jPL7l903gE
about 5 hours ago

skhanjr

Sam Khan Jr.


Last couple of vines. Nice TD run by #ESPN300 QB Kyler Murray but didn't count (holding penalty). https://t.co/jfADHOTvgq
about 5 hours ago

AggieSoccer

Texas A&M Soccer


See Shea Groom's hat-trick over Tennessee at http://t.co/nVxxfw6ifM. The Aggies move to 1-0 in @SEC play #12thMan
about 5 hours ago

SEC

SEC Sports


Texas A&M soccer opens conference play with win against Tennessee. Recap/Highlights: http://t.co/NCmxTc9xD0 #SEC
about 6 hours ago

ESPN_SEC

ESPN_SEC


Plays that changed the game: Auburn http://t.co/u4LAk4Y1b5
about 6 hours ago

SEC

SEC Sports


Ole Miss volleyball downs Louisiana Tech to improve to 11-0. Recap/Highlights: http://t.co/Ni22EgPpAR #SEC
about 6 hours ago

ESPN_SEC

ESPN_SEC


Auburn 20, Kansas State 14 http://t.co/yy1eoXEL0F
about 7 hours ago

AschoffESPN

Edward Aschoff


Yep RT @wareagleextra: Malzahn on Nick Marshall on coming through in the clutch: "He's got a knack for that."
about 7 hours ago

SEC

SEC Sports


No. 5 Auburn earns road win at No. 20 Kansas State. Complete recap: http://t.co/6Jig2tmGiK #SEC
about 7 hours ago

AschoffESPN

Edward Aschoff


This isn't worth it RT @chris3896: it's fair to the 3rd stringers… Playing time.
about 7 hours ago

AschoffESPN

Edward Aschoff


There has to be a running clock in the fourth. This just isn't fair to any of the players, coaches or any of the brave fans left
about 7 hours ago

TedMillerRK

Ted Miller


#secfindaway "@JonSolomonCBS: Auburn averaged 2.8 yards a carry on the road vs a ranked opponent & still won. Marshall threw for 231 yards."
about 7 hours ago

AschoffESPN

Edward Aschoff


I said before the game if Auburn was going to win Nick Marshall had to step up. I'd say he did in the second half
about 7 hours ago

ESPN_SEC

ESPN_SEC


And credit the Tigers for going on the road and playing a ranked opponent out of conference. That's rare for top teams. #AUBvsKSU
about 7 hours ago

AschoffESPN

Edward Aschoff


Survive and advance. Name of the game for #Auburn tonight. Passing game actually led the offense. Marshall stepped up in the 2nd half
about 7 hours ago

ESPN_SEC

ESPN_SEC


Auburn escapes Manhattan with a 20-14 win. My takeaway: Nick Marshall made the throws when he had to. #AUBvsKSU
about 7 hours ago

SEC_Chuck

Chuck Dunlap


The SEC also leads the nation with a 5-1 record vs. Power 5 schools
about 7 hours ago

SEC_Chuck

Chuck Dunlap


The SEC now has a national-leading three wins over Top 25 non-conference opponents
about 7 hours ago

skhanjr

Sam Khan Jr.


Duke Williams = beast
about 7 hours ago

SEC

SEC Sports


#AUBvsKSU: FINAL SCORE - Auburn 20, Kansas State 14. #SEC
about 7 hours ago

ClowESPN

Chris Low


Malzahn with a game-clinching call and Marshall with a game-clinching throw.
about 7 hours ago

ESPN_SEC

ESPN_SEC


Who says Nick Marshall can't throw the ball? Heck of a throw right there. #AUBvsKSU
about 7 hours ago

AschoffESPN

Edward Aschoff


So the Tampa Bay Bucs aren't in the Power 5 right?
about 7 hours ago

ESPN_SEC

ESPN_SEC


Auburn thrives on wearing down opposing defenses in the fourth quarter. Will we see that here? #AUBvsKSU
about 7 hours ago

SEC

SEC Sports


#AUBvsKSU: Auburn 20, Kansas State 14. 3:49 4th quarter. #SEC
about 7 hours ago

ESPN_SEC

ESPN_SEC


Imagine if Kansas State had made a couple of those FGs earlier in the game. #AUBvsKSU
about 7 hours ago

ESPN_SEC

ESPN_SEC


Auburn's last non-conference win over a ranked opponent on the road? Florida State in 1984. #AUBvsKSU
about 7 hours ago

SEC

SEC Sports


#AUBvsKSU: Auburn 20, Kansas State 7. 6:28 4th quarter. #SEC
about 7 hours ago

AschoffESPN

Edward Aschoff


The last time #Auburn had more passing yards than rushing yards was Sept. 21 last year in the loss to LSU. 224-213. Can it happen again?
about 8 hours ago

ESPN_SEC

ESPN_SEC


Jeremy Johnson makes his first appearance ... at WR. Meanwhile Marshall back in at QB, picks up a first down. #AUBvsKSU
about 8 hours ago

ESPN_SEC

ESPN_SEC


The former WR showing some ball skills for Auburn on that pick. #AUBvsKSU
about 8 hours ago

skhanjr

Sam Khan Jr.


Nice moves by #ESPN300 WR Jalen Guyton on the tunnel screen pass from Kyler Murray. Guyton (#NotreDame comm... https://t.co/ZQnJWxPcF7
about 8 hours ago

AschoffESPN

Edward Aschoff


Now THAT is a pass and catch #AUBvsKSU
about 8 hours ago

SEC

SEC Sports


#AUBvsKSU: Auburn 17, Kansas State 7. 14:10 4th quarter. #SEC
about 8 hours ago

ESPN_SEC

ESPN_SEC


I'd say that makes up for the drop earlier. #Duke #AUBvsKSU
about 8 hours ago

ESPN_SEC

ESPN_SEC


Another key 3rd-down conversion for Auburn. This is quite a drive from Nick Marshall and the Tigers. #AUBvsKSU
about 8 hours ago

ESPN_SEC

ESPN_SEC


Auburn has rushed for at least 200 yards in last 13 games. Streak is in jeopardy tonight (100 yards through 3 quarters). #AUBvsKSU
about 8 hours ago

SEC

SEC Sports


#AUBvsKSU: End of the third quarter, Auburn leads Kansas State, 10-7. #SEC
about 8 hours ago

ESPN_SEC

ESPN_SEC


Big 12 reporter @Jake_Trotter said Kansas State's kicker would be the X-factor. Not sure he meant it like this. #AUBvsKSU
about 8 hours ago

AggieSoccer

Texas A&M Soccer


It's a final, Aggies 3-0 over Tennessee! #ShareTheWin #12thMan http://t.co/mNd05fvsxr
about 8 hours ago

Aggies

Texas A&M Aggies SDS


Report of Aggies losing 4-star wide receiver: "Where there's smoke, there's fire" http://t.co/hExExstdAV
about 8 hours ago

ESPNCFB

ESPN CollegeFootball


#RequiredReading:@AschoffESPN breaks down Vernon Hargreaves' cover skills. #Gators will need them in #FLAvsBAMA: http://t.co/63SwgE9YvP
about 8 hours ago

ESPN_SEC

ESPN_SEC


Gus Malzahn said it: "We're probably fortunate to be up 10-7 right now." #AUBvsKSU
about 9 hours ago

SEC

SEC Sports


#AUBvsKSU: HALFTIME - Auburn 10, Kansas State 7. #SEC
about 9 hours ago

ESPN_SEC

ESPN_SEC


Auburn leads 10-7 at the half, but it sure feels like the Tigers should be down at least a TD. #AUBvsKSU
about 9 hours ago

ESPN_SEC

ESPN_SEC


Here's another look at that last TD toss from Nick Marshall to Ricardo Louis. #AUBvsKSU http://t.co/4KwEMVEqB3
about 9 hours ago

ESPN_SEC

ESPN_SEC


Nick Marshall settling in. He was 4 of 5 for 62 yards and a TD on that last drive. #AUBvsKSU
about 9 hours ago

SEC

SEC Sports


#AUBvsKSU: Auburn 10, Kansas State 7. 1:34 2nd quarter. #SEC
about 9 hours ago

skhanjr

Sam Khan Jr.


Nice throw by Kyler Murray (nice catch by the receiver as well). https://t.co/xKtmyhdFV5
about 9 hours ago

AschoffESPN

Edward Aschoff


That touchdown was so Auburn it's not even funny #AUBvsKSU
about 9 hours ago

AschoffESPN

Edward Aschoff


The Bucs and Falcons are too hilarious to watch. Just bad/funny football going on in the Georgia Dome
about 9 hours ago

ESPN_SEC

ESPN_SEC


Twenty-five minutes in and we have a touchdown ... Kansas State finally punches it in. #AUBvsKSU
about 9 hours ago

SEC

SEC Sports


#AUBvsKSU: Kansas State 7, Auburn 3. 4:56 2nd quarter. #SEC
about 9 hours ago

AschoffESPN

Edward Aschoff


Points! Offense!
about 9 hours ago

ESPN_SEC

ESPN_SEC


Tyler Lockett and now Duke Williams dropped would-be TDs. Sloppy game to far. #AUBvsKSU
about 9 hours ago

AschoffESPN

Edward Aschoff


Some of Marshall's passes have been off but man these drops by these Auburn receivers are awful. Williams was gone for 6
about 9 hours ago

skhanjr

Sam Khan Jr.


#ESPN300 QB Kyler Murray (#Aggies commit) has some wiggle. https://t.co/CL5UZBqUzE
about 9 hours ago

AschoffESPN

Edward Aschoff


We've heard that Nick Marshall is a better passer now than he was last year. So far in this game he doesn't look very polished
about 9 hours ago

ESPN_SEC

ESPN_SEC


Whoever took the under (65) is feeling pretty good right now. Neither team has 75 yards yet. #AUBvsKSU
about 9 hours ago

ESPN_SEC

ESPN_SEC


Tip drill! Nick Marshall's last 2 passes tipped at the line of scrimmage. This last one intercepted by Kansas State. #AUBvsKSU
about 10 hours ago

ESPN_SEC

ESPN_SEC


More stats for you: Coming in Auburn led the nation in 3rd-down percentage (.679). Tigers are 0 for 4 tonight. #AUBvsKSU
about 10 hours ago

ESPN_SEC

ESPN_SEC


Who guessed the score was going to be 3-0 after the first quarter? #AUBvsKSU
about 10 hours ago

ESPN_SEC

ESPN_SEC


Kansas State picking on Jonathan Jones early. Jones responds with an interception in the end zone. #AUBvsKSU
about 10 hours ago

SEC_Chuck

Chuck Dunlap


Tonight is the SEC's 4th Top 25 non-conference game of the season, tied for the national lead (w/ ACC) -- 3 of the 4 were away from home.
about 10 hours ago

AschoffESPN

Edward Aschoff


Just like Auburn drew it up. Well played Ellis Johnson
about 10 hours ago

Aggies

Texas A&M Aggies SDS


Report: Texas A&M will pay $300K to replace playing surface at Kyle Field http://t.co/oYfhq7RX7O
about 10 hours ago

AschoffESPN

Edward Aschoff


Hey Auburn ... they wanted you to do that ... Wow #AUBvsKSU
about 10 hours ago

ESPN_SEC

ESPN_SEC


Auburn had scored a TD on over 50 percent of its drives coming in. The Tigers are 0 for 2 tonight (Punt, FG) #AUBvsKSU
about 10 hours ago

SEC

SEC Sports


#AUBvsKSU: Auburn leads Kansas State 3-0. 11:14 1st quarter. #SEC
about 10 hours ago

AschoffESPN

Edward Aschoff


Should be an automatic forfeit in my book. No Emo ... ever RT @danlecates: Did KSU just play Fall Out Boy to get pumped up?
about 10 hours ago

AschoffESPN

Edward Aschoff


I stand by my last tweet because it's glorious RT @Morgan_Moriarty: key word there was t shirt, Ed!
about 10 hours ago

SEC

SEC Sports


Texas A&M's Reveille VIII to retire: http://t.co/KxiTiRJFfa #SEC
about 10 hours ago

AschoffESPN

Edward Aschoff


How quickly they forget http://t.co/APOSsO0n6X RT @Morgan_Moriarty: Only Malzahn can rock a sweater vest with a short sleeve t-shirt.
about 10 hours ago

ESPN_SEC

ESPN_SEC


Talk about keeping your composure. Auburn punter avoids disaster after bobbling snap. #AUBvsKSU
about 10 hours ago

skhanjr

Sam Khan Jr.


Good work by my friend @max_olson on David Ash: http://t.co/d83Var72Qh
about 10 hours ago

ESPN_SEC

ESPN_SEC


And we're off in the Little Apple. #AUBvsKSU
about 10 hours ago

AschoffESPN

Edward Aschoff


One thing to watch: Auburn's running game vs KState's run defense. Tigers churning out 330 yards per game. Cats allowing just 87 per game
about 10 hours ago

TedMillerRK

Ted Miller


If you are hoping for ammunition vs. #SEC adherents this fall, pretty much your last, best hope is on @ESPN right now. #AUBvsKSU
about 10 hours ago

AschoffESPN

Edward Aschoff


I like #Auburn in this one but I think it's close all the way. Should be a good one
about 10 hours ago

AschoffESPN

Edward Aschoff


RT @BarrettSallee: Auburn LB Kris Frost in the huddle mic'd up on ESPN: "We play games like this all the time. ALL THE TIME."
about 10 hours ago

ESPN_SEC

ESPN_SEC


It's almost game time. @GregO_ESPN will be taking over the account during tonight's game. #AUBvsKSU
about 10 hours ago

AschoffESPN

Edward Aschoff


Wanna watch the Dream Team talk college football? Look no further folks! http://t.co/g8Sidh1C0X
about 10 hours ago

SEC

SEC Sports


WATCH LIVE - Auburn vs. Kansas State football 7:30 p.m. ET on ESPN. #AUBvsKSU http://t.co/Oeg5w9mpdN #SEC
about 10 hours ago

Aggies

Texas A&M Aggies SDS


Through the Progressions: Game Managers and Playmakers http://t.co/Mf3kHHhFkr
about 11 hours ago

Aggies

Texas A&M Aggies SDS


Inside the Numbers: Week 4 http://t.co/wgFlgQDB8b
about 11 hours ago

SEC

SEC Sports


WATCH LIVE - Thursday night soccer on the @SECNetwork Tennessee at Texas A&M 7 p.m. ET: http://t.co/EmLrUfDDqJ #SEC
about 11 hours ago

SEC_Sean

Sean Cartell


The 2014-15 #SEC equestrian season begins Friday. Complete information: http://t.co/HGY8zUCfQY #SEC
about 12 hours ago

Aggies

Texas A&M Aggies SDS


Elite coaching gives SEC West an edge http://t.co/DoveGcB4xg
about 12 hours ago

SEC

SEC Sports


Six #SEC football players are candidates for the @SnrCLASSAward: http://t.co/jlJmYNmKqq
about 12 hours ago

SEC

SEC Sports


Arkansas' Alex Collins named Maxwell Award Player of the Week: http://t.co/chhn3XVd7G #SEC
about 13 hours ago

ESPN_SEC

ESPN_SEC


Everything you thought you knew about the SEC is wrong. @AschoffESPN explains http://t.co/tXtW4Ya07a
about 13 hours ago

Aggies

Texas A&M Aggies SDS


Sacked and Sacks: Tennessee's rebuilt OL exposed vs. Oklahoma http://t.co/nYc29bxxPO
about 13 hours ago

SEC

SEC Sports


Great feature story on South Carolina distance runner Stephanie Berger: http://t.co/U9IZ4SYZZa #SEC
about 13 hours ago

SEC

SEC Sports


.@SECNetwork Q&A with former Tennessee quarterback Heath Shuler: http://t.co/MVYVdiAytU #SEC
about 13 hours ago

beaty_david

David Beaty


#29 Great Day for a Great Aggie @DeUcE2NiNa9 http://t.co/bFqBdanIsF
about 14 hours ago

AschoffESPN

Edward Aschoff


After that last tweet: What's the biggest #SEC game you skipped work or a family function for? Game and work/event. GO!
about 14 hours ago

CFBHeather

Heather Dinich


#priorities MT @eric_adelson: So my 1st-grader's teacher is bringing in a substitute tomorrow b/c she is going to the Gator game. #chomp
about 14 hours ago

AggieEquestrian

Texas A&M Equestrian


Get your first look at the 2014-2015 Aggie Equestrian team this Saturday @ the Maroon & White Scrimmage! #12thMan 1/2 http://t.co/5ECGjn7cz8
about 15 hours ago

AschoffESPN

Edward Aschoff


He'll get his chance next year RT @ThomasGM: i dont think richard sherman can cover amari
about 15 hours ago

12thMan

Texas A&M Athletics


Don't forget to stop by the MedPlus at Northgate to enter to win a @CoachSumlin autographed football #12thMan
about 15 hours ago
SEC SCOREBOARD
Thursday, 9/18
Saturday, 9/20
BLOG ARCHIVE:
CATEGORIES: