LB Mike Mitchell takes in Aggies game
October, 21, 2012
10/21/12
6:38
PM ET
Texas A&M's clash with LSU brought with it a host of high-profile visitors on the recruiting front, including some of the Aggies' top remaining targets in the 2013 class.
Among those that fit in that category that were in attendance on Saturday was Plano (Texas) Prestonwood outside linebacker and ESPN 150 member
Mike Mitchell
.
[+] Enlarge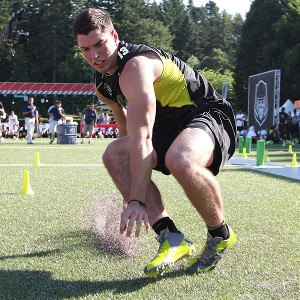 Tom Hauck for ESPN.comESPN 150 linebacker Mike Mitchell likely won't commit to a school until after his senior season.
According to his father, Ken, Mike enjoyed the trip.
To continue reading this article you must be an Insider
Insider
Fournette Runs Over Aggie On 22-Yd TD
LSU RB Leonard Fournette rushes 22 yards for a second-quarter touchdown in the Tigers' 23-17 win over Texas A&M.
Fournette Runs Over Aggie On 22-Yd TD
VIDEO PLAYLIST
TAMU FB RECRUITING SCORECARD
skhanjr

Sam Khan Jr.


Definitely. RT @aubreyrbloom: @skhanjr would have loved Homer's perspective on this season
about 4 hours ago

skhanjr

Sam Khan Jr.


Missed having this guy sit next to me all season. It wasn't the same without you, Homer. RIP. http://t.co/WO6PRbcVf2
about 4 hours ago

Aggies

Texas A&M Aggies SDS


Around College Football: SMU appears ready to hire Clemson OC Chad Morris http://t.co/aYXxi21WxZ
about 4 hours ago

skhanjr

Sam Khan Jr.


Death traps. RT @bradthejag: @skhanjr please take those chairs
about 4 hours ago

skhanjr

Sam Khan Jr.


Hater. RT @stringsays: RT if you think @skhanjr should burn the red jacket he wore to the game tonight regardless of how snazzy it is.
about 4 hours ago

TexAgs

TexAgs


Summary: Offsides. OFFSIDES. Sigh. (Premium) http://t.co/U4x65yWnbX
about 4 hours ago

Aggies

Texas A&M Aggies SDS


Report Card: Texas A&M gets all Cs after fizzling against LSU http://t.co/mm12sEWj0b
about 5 hours ago

skhanjr

Sam Khan Jr.


Last time Kyle Field will be in its current form. Press box side demolished 12/21. Should we loot? http://t.co/T2pxb2S5TJ
about 5 hours ago

skhanjr

Sam Khan Jr.


You really want me to burn this glorious thing? RT @stringsays: @skhanjr gonna need you to burn the red jacket sorry http://t.co/N0qXxplB1L
about 5 hours ago

skhanjr

Sam Khan Jr.


Interesting... RT @TaylorMade6190: @skhanjr ? http://t.co/9PRJPANPk4
about 5 hours ago

skhanjr

Sam Khan Jr.


LSU QB Anthony Jennings cleans up well. Nice suit, tie & purple pocket square http://t.co/Oo4q01qmfo
about 5 hours ago

sjarvis00

Scott Jarvis


VIDEO: The Fightin' Texas Aggie Band performs the technically impossible Four Way Cross at halftime. http://t.co/YmEli3hltu
about 5 hours ago

TexAgs

TexAgs


The Good, the Bad and the More Bad: with Gabe Bock and Seth McKinney. (Premium) http://t.co/QSYgG8P44M
about 5 hours ago

TexAgs

TexAgs


Kevin Sumlin and two of his senior leaders give one final take: http://t.co/cbtb0tKgDi
about 5 hours ago

skhanjr

Sam Khan Jr.


La'el Collins on Myles Garrett "If he puts the work in he'll be able to double his stats next year. In about a year he's gonna be a monster"
about 5 hours ago

skhanjr

Sam Khan Jr.


Addendum to LSU's Jamal Adams on Kyle Field, he did add "It was definitely a great atmosphere."
about 5 hours ago

skhanjr

Sam Khan Jr.


LSU's Jamal Adams on Kyle Field: "To be honest it wasn't as loud as the old stadium. They definitely started to get loud toward the end."
about 5 hours ago

skhanjr

Sam Khan Jr.


Les Miles' full quote on A&M-LSU being a "rivalry" and his potential trophy idea, which involves petroleum: http://t.co/GFUPdhthqg
about 6 hours ago

GabeBock

Gabe Bock


I decided to drive home down the road that runs north and south. None of this east-west stuff.
about 6 hours ago

TexAgs

TexAgs


Here's something to make you feel a little encouraged as this regular season ends. Gallery: http://t.co/GEeJKTOrlC http://t.co/7DyTwUfOeJ
about 6 hours ago

skhanjr

Sam Khan Jr.


LSU QB Anthony Jennings on Kyle Allen's late INT: "I don't think he would have thrown it up like that if he didn't think he had a free play"
about 6 hours ago

Aggies

Texas A&M Aggies SDS


Report Card: Texas A&M gets all Cs after fizzling against LSU http://t.co/8Wwtkc3E7y
about 6 hours ago

GabeBock

Gabe Bock


Listening to Sumlin, I would be shocked if there weren't staff changes...and sounds like it'll happen soon. Really soon.
about 6 hours ago

Aggies

Texas A&M Aggies SDS


Infographic: LSU's victory over Texas A&M http://t.co/oWDRB76xTe
about 6 hours ago

Aggies

Texas A&M Aggies SDS


Rapid Reaction: LSU hangs on to beat Texas A&M http://t.co/xcO1Uyo7rt
about 6 hours ago

KyleAllen_10

Kyle Allen


Awful way to lose.. Feel bad for the seniors they don't deserve to go out like that. Didn't even give us a chance
about 6 hours ago

SEC

SEC Sports


LSU Earns Road Win at Texas A&M. Recap/Highlights: http://t.co/f0gP4zonFw #SEC
about 6 hours ago

TexAgs

TexAgs


#FreeTexAgs #FreeTexAgs #FreeTexAgs #FreeTexAgs #FreeTexAgs #FreeTexAgs #FreeTexAgs (btw you need to be registered: http://t.co/BhPXASgXMJ)
about 6 hours ago

ralphDrussoAP

Ralph D. Russo


@AschoffESPN I see you also suggested maybe Allen should not have, with the game on the line, assumed a penalty and just threw it up.
about 7 hours ago

TexAgs

TexAgs


A&M was robbed, and we refuse to add insult to injury. At 11:45, TexAgs Premium WILL BE FREE FOR STUDENTS FOR A YEAR: http://t.co/BhPXASgXMJ
about 7 hours ago

AggieFootball

Texas A&M Football


Raw postgame: Kevin Sumlin http://t.co/8Rusyt4rsw #12thMan #LSUvsTAMU
about 7 hours ago

skhanjr

Sam Khan Jr.


Les Miles on team's plans next week: "We're going recruiting…going to see if we can find a few more Leonard Fournettes"
about 7 hours ago

TexAgs

TexAgs


Sumlin: [On Watts' hit] ... the replay looked like a shoulder [hit] to me.
about 7 hours ago

TexAgs

TexAgs


Sumlin: I'll sit down tomorrow and look at where we are and what we need to do from a big picture standpoint, and we'll go from there.
about 7 hours ago

skhanjr

Sam Khan Jr.


Les Miles on whether A&M-LSU is a rivalry: "Absolutely it is….Someone needs to come up with a trophy." Rambles about petroleum.
about 7 hours ago

AschoffESPN

Edward Aschoff


That escalated quickly with A&M fans ...
about 7 hours ago

skhanjr

Sam Khan Jr.


Les Miles said he wanted to get Brandon Harris in the game tonight. "Didn't get that done." Miles called it a "mistake"
about 7 hours ago

AggieFootball

Texas A&M Football


Raw postgame: Cedric Ogbuehi http://t.co/L7GKaEPPkF #12thMan #LSUvsTAMU
about 7 hours ago

Ranger222

Justin Kaspar


One final goodbye http://t.co/WabdVshCc8
about 7 hours ago

skhanjr

Sam Khan Jr.


Les Miles on Leonard Fournette: "I would get out of the way if he was running at me."
about 7 hours ago

Aggies

Texas A&M Aggies SDS


Football Falls Just Short Against LSU, 23-17 http://t.co/OkZyPmNend
about 7 hours ago

ESPN_SEC

ESPN_SEC


Instant analysis: LSU 23, Texas A&M 17 http://t.co/XlZkT3GrnV
about 7 hours ago

Aggies

Texas A&M Aggies SDS


Rapid Reaction: Texas A&M's regular season ends in collapse http://t.co/5B8oqAQgil
about 7 hours ago

AggieFootball

Texas A&M Football


Raw postgame: Deshazor Everett http://t.co/gKso9Vd27U #12thMan #LSUvsTAMU
about 7 hours ago

stevefullhart

Steve Fullhart


Les Miles says he thought the cannon went off a lot after the game, wonders if the Aggies were "slaying turkeys." http://t.co/jP3EU0Tabo
about 7 hours ago

Aggies

Texas A&M Aggies SDS


Rapid Reaction: Texas A&M's regular season ends in collapse http://t.co/kXAHVPL69Y
about 7 hours ago

Aggies

Texas A&M Aggies SDS


Video: LSU vs. Texas A&M controversial ending http://t.co/bHWCuFVM3h
about 7 hours ago

skhanjr

Sam Khan Jr.


Looked like offside to me. RT @fdog83: @skhanjr No offsides? Opinion??
about 7 hours ago

AschoffESPN

Edward Aschoff


So that no-call in the LSU-A&M game. I mean if you don't see a flag don't just heave up a pass ...
about 7 hours ago

TexAgs

TexAgs


A 3rd down do-over.No-call on an obvious pick.No-call on an obvious offside.Go home SEC refs, you're drunk.
about 7 hours ago

AggieFixFB

Aggies Football


FINAL: 23 Total Pts Allowed; 1 Interception; 1 Fumble Lost.
about 7 hours ago

AggieFixFB

Aggies Football


Q4 (1:21): Turnover Aggies. Kyle Allen pass intercepted by Jalen Collins at the LSU 14 returned to the LSU 18 for 4 yards. Tigers
about 7 hours ago

TexAgs

TexAgs


FINAL. LSU 23, Texas A&M 17.
about 7 hours ago

skhanjr

Sam Khan Jr.


Final: LSU 23, Texas A&M 17. Tigers go to 8-4 overall, Aggies fall to 7-5. #LSUvsTAMU
about 7 hours ago

therealjonlee

Jon Lee


Ridiculous. RT @Zach_Koenig: How is this not offside? http://t.co/9KLw6Uv4Rp
about 7 hours ago

AggieFootball

Texas A&M Football


FINAL: LSU 23 - Texas A&M 17 #12thMan #LSUvsTAMU
about 7 hours ago

skhanjr

Sam Khan Jr.


Looking at replay, it appeared an LSU DL Sione Teuhema was offside. Allen took a shot downfield assuming it was a free play, it appears.
about 7 hours ago

skhanjr

Sam Khan Jr.


Interception by LSU's Jalen Collins. That'll put an end to this one. #LSUvsTAMU
about 7 hours ago

TexAgs

TexAgs


ARE. YOU. SERIOUS. REFS?
about 7 hours ago

AggieFixFB

Aggies Football


SCORE UPDATE: Q4 (2:07) LSU 23 - Texas A&M 17
about 7 hours ago

skhanjr

Sam Khan Jr.


Timeout LSU. 1:38 left, Aggies facing a second-and-10 at their 49. #LSUvsTAMU
about 7 hours ago

edsbs

SPENCER HALL


This game is approaching the Les Miles Event Horizon. Be afraid.
about 7 hours ago

skhanjr

Sam Khan Jr.


Back-to-back first downs for the Aggies. They're at their 49 now, 1:43 left.
about 7 hours ago

TexAgs

TexAgs


And here. we. go.
about 7 hours ago

skhanjr

Sam Khan Jr.


Aggies will start at their 25.
about 7 hours ago

skhanjr

Sam Khan Jr.


DJ hit the Sandstorm button again. #LSUvsTAMU
about 7 hours ago

ESPNTAMU

ESPN Texas A&M


#LSU takes a 23-17 lead over the #Aggies with a 43-yard FG by Colby Delahoussaye. 2:07 left in the game. #LSUvsTAMU
about 7 hours ago

TexAgs

TexAgs


LSU field goal is good. De'Vante Harris ALMOST got a hand on it. It's 23-17 LSU with 2:07 left.
about 7 hours ago

Aggies

Texas A&M Aggies SDS


Video: Speedy Noil's incredible TD grab http://t.co/00DlddHMpO
about 7 hours ago

AggieFootball

Texas A&M Football


LSU FG is good, A&M trails 23-17 with 2:07 to play #12thMan #LSUvsTAMU
about 7 hours ago

skhanjr

Sam Khan Jr.


Delahoussaye attempt is good. LSU leads A&M 23-17 with 2:07 left. #LSUvsTAMU
about 7 hours ago

skhanjr

Sam Khan Jr.


Colby Delahoussaye back in for 43-yard FG attempt. #LSUvsTAMU
about 7 hours ago

TexAgs

TexAgs


If you have any voice left, 12th Man, it's time to use it on this field goal.
about 7 hours ago

TexAgs

TexAgs


SACK! Burns came in and forced a fumble, but it was covered by LSU. Field goal upcoming.
about 7 hours ago

skhanjr

Sam Khan Jr.


A&M nickel Devonta Burns with the sack. Aggies call timeout with 2:14 left. 4th-and-15 for LSU at A&M's 26. #LSUvsTAMU
about 7 hours ago

TexAgs

TexAgs


LSU runs out of bounds on 2nd down. HUGE 3rd and 7 for A&M.
about 7 hours ago

skhanjr

Sam Khan Jr.


LSU has 394 rushing yards so far tonight. Season-high allowed for Texas A&M (previous was 363 to Auburn). #LSUvsTAMU
about 7 hours ago

TexAgs

TexAgs


Huge run by Fournette makes it 1st and 10 for LSU on A&M's 32.
about 7 hours ago

skhanjr

Sam Khan Jr.


Fournette. Beast mode. (Though really, he ran untouched). 141 yards on 18 carries for the freshman tonight. #LSUvsTAMU
about 7 hours ago

skhanjr

Sam Khan Jr.


Travin Dural just silenced the Kyle Field crowd, which woke up briefly. But a holding call brings it back. #LSUvsTAMU
about 7 hours ago

skhanjr

Sam Khan Jr.


Kyle Field DJ hit the "Zombie Nation" button instead... RT @MrMiyAggie: @skhanjr hit the sandstorm button
about 7 hours ago

skhanjr

Sam Khan Jr.


This is why Speedy Noil was a 5-star recruit. Video of the #SCTop10-worthy 27-yard TD catch by the true frosh: http://t.co/SZwCHVrhDy
about 8 hours ago

AggieFootball

Texas A&M Football


What a catch by Noil! Aggies within 3 at 20-17. Here's the drive recap. #LSUvsTAMU #12thMan http://t.co/ZKm0seLDs6
about 8 hours ago

skhanjr

Sam Khan Jr.


What better time for another shameless plug of my Speedy Noil story? The NOLA native against his home-state school: http://t.co/BXFA8JEGzN
about 8 hours ago

AggieFixFB

Aggies Football


SCORE UPDATE: Q4 (6:42) LSU 20 - Texas A&M 17
about 8 hours ago

AggieFixFB

Aggies Football


SCORE UPDATE: Q4 (6:42) LSU 20 - Texas A&M 16
about 8 hours ago

ESPNTAMU

ESPN Texas A&M


Speedy Noil with an #SCTop10 caliber catch for a 27-yard TD. #Aggies in this game, down 20-17 to #LSU with 6:42 left. #LSUvsTAMU
about 8 hours ago

TexAgs

TexAgs


5-star Louisianimals making CRAZY plays on Kyle Field tonight. It's 20-17 LSU and the Aggies have LIFE.
about 8 hours ago

skhanjr

Sam Khan Jr.


Oh my. Speedy Noil really caught that. #Freak #LSUvsTAMU
about 8 hours ago

AggieFootball

Texas A&M Football


ALLEN TO NOIL! TOUCHDOWN! #12thMan #LSUvsTAMU
about 8 hours ago

TexAgs

TexAgs


HOLY SPEEDY NOIL!!!!!
about 8 hours ago

TexAgs

TexAgs


Second pass interference on LSU gives A&M another 1st down in LSU territory.
about 8 hours ago

skhanjr

Sam Khan Jr.


Pass to A&M OL/TE/H-back Ben Compton complete. 6-yard gain and a first down. He limps off the field (second time hurt tonight). #LSUvsTAMU
about 8 hours ago

TexAgs

TexAgs


Ben Compton giving it all out there right now. 1st down Ags.
about 8 hours ago

skhanjr

Sam Khan Jr.


FG missed. Tigers letting A&M hang around with 9:22 to go. #LSUvsTAMU
about 8 hours ago

AggieFootball

Texas A&M Football


LSU FG try is no good, Ags take over on their 23 yd line. 9:22 to play. LSU 20 - A&M 10 #12thMan #LSUvsTAMU
about 8 hours ago

TexAgs

TexAgs


LSU misses a 39-yard FG, and there's still a sliver of hope for A&M.
about 8 hours ago

skhanjr

Sam Khan Jr.


Anthony Jennings with some slick moves there to evade Myles Garrett. Incomplete pass, 4th-and-20. FG attempt coming for Tigers. #LSUvsTAMU
about 8 hours ago

TexAgs

TexAgs


A&M defense HAS to make this 3rd down stop to stay in this game.
about 8 hours ago

AggieFixFB

Aggies Football


SCORE UPDATE: Q4 (13:38) LSU 20 - Texas A&M 10
about 8 hours ago
SEC SCOREBOARD
Thursday, 11/27
Friday, 11/28
Saturday, 11/29
BLOG ARCHIVE:
CATEGORIES: