ESPN Junior 300 WR Kirk taking his time
July, 26, 2013
7/26/13
9:00
AM ET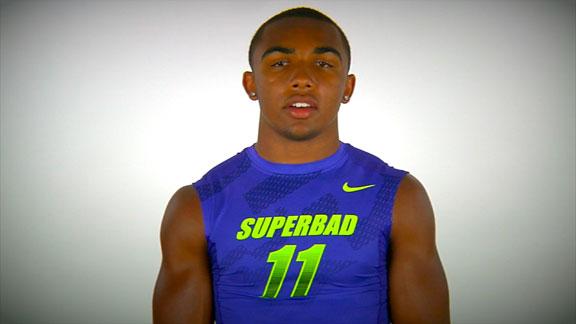 The summer has been a busy one for 2015 ESPN Junior 300 receiver
Christian Kirk
.
The highlight of the summer for the Scottsdale (Ariz.) Saguaro prospect came when Kirk made a trip to Beaverton, Ore., as one of only five 2015 prospects to participate in The Opening. Because of his schedule, he hasn't been able to visit as many colleges as he would have liked.
To continue reading this article you must be an Insider
Insider
Saturday's top plays in the SEC
Look back at an exciting week 12 in the Southeastern Conference.
Saturday's top plays in the SEC
VIDEO PLAYLIST
TAMU FB RECRUITING SCORECARD
skhanjr

Sam Khan Jr.


Hat tip to my guys @DamonSayles, @Brice_Jones & all the #txhsfbMediaMafia who covered the #txhsfb playoff quadruple header at @ATTStadium
about 3 hours ago

Aggies

Texas A&M Aggies SDS


Week 13 questionable calls: Onside kick fiasco costs Tennessee http://t.co/CUn8JcjU08
about 4 hours ago

sam_coltharp

Samborghini


Kyler Murray has won more playoff games in AT&T Stadium than Tony Romo
about 4 hours ago

ESPN_SEC

ESPN_SEC


Video: No. 20 Missouri 29, Tennessee 21 http://t.co/Kg68nM1W6b
about 4 hours ago

ESPN_SEC

ESPN_SEC


Video: Mississippi State 51, Vanderbilt 0 http://t.co/dovTlMXQWd
about 4 hours ago

SEC

SEC Sports


Missouri holds off Tennessee. Recap/Highlights: http://t.co/wwM52Dg3Of #SEC
about 4 hours ago

TravHaneyESPN

Travis Haney


Until committee truly punitive about noncon skeds, why wouldn't you set it up like Briles? Same with SEC and 8 conf games. What's incentive?
about 4 hours ago

ESPN_Pac12blog

ESPN Pac-12


'Jesus, girls and Marcus Mariota': Sixth grader asks if Ducks QB is leaving http://t.co/VB7gCE7H04
about 5 hours ago

SEC

SEC Sports


Cameron Artis-Payne leads Auburn to win against Samford. Recap/Highlights: http://t.co/hwD1vTl6pl #SEC
about 5 hours ago

SEC

SEC Sports


Mississippi State dominant in shutout of Vanderbilt. Recap/Highlights: http://t.co/RXwXz5ZWDr #SEC
about 5 hours ago

Dave_Matter

Dave Matter


Mizzou WR Jimmie Hunt: "The ugliest win is a win."
about 5 hours ago

SEC

SEC Sports


Alabama downs Western Carolina. Recap/Highlights: http://t.co/yPvq86YFlb #SEC
about 5 hours ago

aggiesbtb

AggiesBTB


Managers had a little extra prep work for tomorrow's game. #BTHOunm #17strong http://t.co/dvcNPD5SuA
about 5 hours ago

ESPN_SEC

ESPN_SEC


What we learned in the SEC: Week 13 http://t.co/lvagnPgWhd
about 5 hours ago

AschoffESPN

Edward Aschoff


Third Down for What RT @jayjett: that or USC's crowing... Which is worse?
about 5 hours ago

AschoffESPN

Edward Aschoff


No clue. Haven't slept on it yet RT @ECSward: you really think that Mizzou is gonna make it past the hogs on Friday?
about 5 hours ago

AschoffESPN

Edward Aschoff


In other news: The Toronto Raptors are legit. Best team in the Eastern Conference and they are dinosaurs. Awesome
about 5 hours ago

RadiNabulsi

Radi Nabulsi


Georgia's fate will be determined next Friday, by two teams that it curb stomped in back-to-back weeks.Nothing like college football.
about 5 hours ago

skhanjr

Sam Khan Jr.


Missouri one win away from a return to Atlanta for the SEC East title game. Tigers host Arkansas on Friday. Should be a heck of a game.
about 6 hours ago

AschoffESPN

Edward Aschoff


You might not like the way Missouri wins but that's all it's been doing since that 34-0 loss at home to Georgia. Ugly can still win
about 6 hours ago

TravHaneyESPN

Travis Haney



about 6 hours ago

skhanjr

Sam Khan Jr.


This. Brutal. RT @AschoffESPN: Why in the WORLD is Butch Jones challenging this???
about 6 hours ago

AschoffESPN

Edward Aschoff


That's a rookie coaching mistake by a veteran coach. Unbelievably bad there by Butch Jones
about 6 hours ago

AschoffESPN

Edward Aschoff


Why in the WORLD is Butch Jones challenging this???
about 6 hours ago

AschoffESPN

Edward Aschoff


I bet Butch Jones wishes he had all three timeouts ...
about 6 hours ago

skhanjr

Sam Khan Jr.


Take a shot every time something goofy happens. #MIZZvsTENN
about 6 hours ago

skhanjr

Sam Khan Jr.


SEC East drama. #MIZZvsTENN
about 6 hours ago

AschoffESPN

Edward Aschoff


Just start the game over tomorrow. Let both teams shake this one off RT @BarrettSallee: I have no idea what's going on.
about 6 hours ago

AschoffESPN

Edward Aschoff


Wait ... so where is the offside?
about 6 hours ago

AschoffESPN

Edward Aschoff


So MIzzou AND Tennessee just made boneheaded decisions on that onside kick. Just WOW #SECEast
about 6 hours ago

ESPN_SEC

ESPN_SEC


Video: No. 14 Auburn 31, Samford 7 http://t.co/eJ3HitYsKh
about 6 hours ago

AschoffESPN

Edward Aschoff


I meant overall RT @_Michael_Hansen: I don't care what you say @AschoffESPN, this #MIZZvsTENN game has NOT been entertaining!
about 6 hours ago

SEC_Chuck

Chuck Dunlap


South Carolina at Clemson: Noon, ESPN; Kentucky at Louisville: Noon, ESPN2; Florida at Florida State: 3:30pm, ESPN
about 6 hours ago

AschoffESPN

Edward Aschoff


The SEC East might not be very good overall but man it's been fun to watch this race. Bad football can still be entertaining
about 6 hours ago

skhanjr

Sam Khan Jr.


Mizzou is 6:22 away from clinching its second consecutive unblemished season on the road. 10 straight road Ws (8 SEC). #MIZZvsTENN
about 6 hours ago

SEC

SEC Sports


South Carolina at Clemson: Noon, ESPN; Kentucky at Louisville: Noon, ESPN2; Florida at Florida State: 3:30pm, ESPN
about 6 hours ago

skhanjr

Sam Khan Jr.


Oh my. What a catch by Bud Sasser. #MIZZvsTENN
about 6 hours ago

AschoffESPN

Edward Aschoff


Bud Sasser and Maty Mauk have been unstoppable in the second half
about 6 hours ago

ClowESPN

Chris Low


Mizzou with what is likely the dagger against the Vols, a 73-yard TD pass on third-and-8. Tigers bearing down on second straight East crown.
about 6 hours ago

AschoffESPN

Edward Aschoff


Oh you better believe it RT @alec_lewis: @JonSolomonCBS That Florida loss will haunt a lot of UGA fans for a long time...
about 6 hours ago

AschoffESPN

Edward Aschoff


Exactly RT @cbaldwin33: should've taken care of business against gators and wouldn't matter
about 6 hours ago

AschoffESPN

Edward Aschoff


Georgia must be absolutely beside itself watching this Mizzou-Tennessee game. The most talented team in the East might not go to Atlanta
about 6 hours ago

AschoffESPN

Edward Aschoff


UT's offense with another turnover. Gotta catch it before you look up field ...
about 6 hours ago

AschoffESPN

Edward Aschoff


How about they retire Third Down for What in Knoxville?
about 7 hours ago

AschoffESPN

Edward Aschoff


OK can both defenses play offense for Tennessee and Mizzou??
about 7 hours ago

AschoffESPN

Edward Aschoff


HA! RT @EricQuiz2096: it was a gentle shove.
about 7 hours ago

AschoffESPN

Edward Aschoff


This current Mizzou drive. NO ONE WANTS TO DO ANYTHING RIGHT ON EITHER SIDE!!!
about 7 hours ago

AschoffESPN

Edward Aschoff


Can't touch the QB like that
about 7 hours ago

Aggies

Texas A&M Aggies SDS


Western Carolina coach slams Kirk Herbstreit http://t.co/I2PpmuezW6
about 7 hours ago

therealjonlee

Jon Lee


[googles "donnybrook"] RT @AggieSoccer: A&M Hosts Notre Dame for a Sweet 16 Donnybrook on Sunday http://t.co/jicc4ZaJnW
about 8 hours ago

GabeDeArmond

Gabe DeArmond


Why is Butch Jones wasting 40 seconds here? Poor clock management. Why did #Mizzou punt with 15 seconds? Equally poor clock management.
about 8 hours ago

PaulMyerberg

Paul Myerberg


At Texas Tech, Kliff Kingsbury is 4-0 against KU and Iowa State and 2-11 against the rest of the B12.
about 8 hours ago

AschoffESPN

Edward Aschoff


Jalen Hurd might have a future in football
about 8 hours ago

AschoffESPN

Edward Aschoff


UUUGGGGGGGHHHHHHH RT @BonaguraESPN: it's not just tonight, unfortunately.
about 8 hours ago

AschoffESPN

Edward Aschoff


What is with UCLA and the awful face paint tonight?
about 8 hours ago

AschoffESPN

Edward Aschoff


Teeth NEVER touched RT @BarrettSallee: His knee, elbow and face were down. So is he down?
about 8 hours ago

SEC

SEC Sports


South Carolina defeats South Alabama, 37-12. Recap/Highlights: http://t.co/Kuk050z4UI #SEC
about 8 hours ago

AschoffESPN

Edward Aschoff


Hurd is down. That'll be Tennessee ball
about 8 hours ago

SEC

SEC Sports


Arkansas shuts down Ole Miss 30-0. Recap/Highlights: http://t.co/Mzc3HXkIO8 #SEC
about 8 hours ago

AschoffESPN

Edward Aschoff


Murphy did that just to be funny
about 8 hours ago

AschoffESPN

Edward Aschoff


Maty Mauk looking like a Playstation QB on that run
about 8 hours ago

AschoffESPN

Edward Aschoff


FAKE FAKE FAKE FAKE
about 8 hours ago

skhanjr

Sam Khan Jr.


What. A. Fake. Great call, great execution by Tennessee. #MIZZvsTENN
about 8 hours ago

AschoffESPN

Edward Aschoff


QB runs on third-and-5 ...
about 8 hours ago

AschoffESPN

Edward Aschoff


Mauk a little slow there after that hit. OUCH
about 8 hours ago

AschoffESPN

Edward Aschoff


That defense is so much fun to watch RT @BarrettSallee: Shane Ray gets Dobbs. Tennessee went backward after flirting with FG range.
about 8 hours ago

AschoffESPN

Edward Aschoff


Third down has belonged to the defenses tonight in Knoxville
about 8 hours ago

AschoffESPN

Edward Aschoff


It's always fun to watch Pig Howard get free
about 9 hours ago

skhanjr

Sam Khan Jr.


Markus Golden with relentless effort on that third down play. All over the place and got the tackle. Love his effort. #MIZZvsTENN
about 9 hours ago

DavidCMorrison

David Morrison


Markus Golden gets his third sack in two games to end that drive. Tennessee has -7 yards. And a really good punter.
about 9 hours ago

AschoffESPN

Edward Aschoff


Those Mizzou defensive ends ...
about 9 hours ago

ESPN_SEC

ESPN_SEC


Video: No. 1 Alabama 48, Western Carolina 14 http://t.co/xcSQ5T0bMP
about 9 hours ago

AschoffESPN

Edward Aschoff


Tennessee's tackling is very bad on this drive. Like REALLY bad
about 9 hours ago

skhanjr

Sam Khan Jr.


If Mizzou converts third downs at the rate it did last week, the Tigers are going to love #ThirdDownForWhat by night's end. #MIZZvsTENN
about 9 hours ago

AschoffESPN

Edward Aschoff


Now time for Mizzou-Tennessee. SEC East on the line. Dawgs watching and singing Rocky Top
about 9 hours ago

skhanjr

Sam Khan Jr.


Consecutive shutouts for Arkansas. Back in spring DC Robb Smith preached aggressiveness (http://t.co/3xkFHg6a7w); paying off now.
about 9 hours ago

AschoffESPN

Edward Aschoff


No excuse against that team RT @DinkDumpDish: 10 days with a new QB. Remember that too? Or naw?
about 9 hours ago

AschoffESPN

Edward Aschoff


Next time people complain about Mississippi State's nonconference slate always remember Virginia Tech ... U-G-L-Y
about 9 hours ago

skhanjr

Sam Khan Jr.


#SEC West. RT @SEC_Chuck: For the first time in history, an entire division in the SEC will advance to the postseason.
about 10 hours ago

skhanjr

Sam Khan Jr.


Arkansas now bowl-eligible. Kudos to Bret Bielema & staff for the job done so far. I thought it'd take 1 more year but I was wrong. #WPS
about 10 hours ago

ESPNCFB

ESPN CollegeFootball


Arkansas is leading #8 Ole Miss 30-0 with 12 min left 4Q. Rebels have 5 turnovers in the game. #MISSvsARK
about 10 hours ago

AschoffESPN

Edward Aschoff


it's not even close. Should get 99% of the carries every single game RT @bradyack: Dalvin Cook is easily FSU's best RB. #FSUvsBC
about 10 hours ago

AschoffESPN

Edward Aschoff


Why in the world does FSU hand the ball off to anyone not named Dalvin Cook? That makes absolutely no sense to me
about 10 hours ago

AschoffESPN

Edward Aschoff


@ESPNChing Don't even try it!
about 10 hours ago

AschoffESPN

Edward Aschoff


Arkansas' defense has been excellent with its back to the end zone. This team is getting better and better. Wait until next year ...
about 11 hours ago

AschoffESPN

Edward Aschoff


That's a good no-call in my eyes. Too close to call in real time
about 11 hours ago

AschoffESPN

Edward Aschoff


A major problem with having a gunslinger QB is that they can get careless close to the end zone. Bo Wallace has done that twice today
about 11 hours ago

skhanjr

Sam Khan Jr.


Wow. Arkansas laying the wood to Ole Miss. Rohan Gaines with the 100-yard #PickSix. 26-0 Hogs, PAT pending. #WPS
about 11 hours ago

AschoffESPN

Edward Aschoff


And that might do it ... Pick-six for Arkansas and it's 26-0 ... defense stepping up when it matters the most
about 11 hours ago

ESPNCFB

ESPN CollegeFootball


After slow start, #1 Alabama has taken over game, leading Western Carolina 38-14 at half #WCUvsBAMA on @SECNetwork http://t.co/6Hx8k4qfwn
about 11 hours ago

AschoffESPN

Edward Aschoff


An Arkansas FG makes it 20-0. The Rebels are in this game but they have to get a touchdown on this next drive. I'd onside it
about 11 hours ago

AschoffESPN

Edward Aschoff


Busted coverage helps Austin Allen's duck. Not pretty but it's easy when the coverage gives it to you
about 11 hours ago

AschoffESPN

Edward Aschoff


Alex Collins saw that hole and then it was behind him in like .005 seconds
about 11 hours ago

DamonSayles

Damon Sayles


Said it before, when LB Richard Moore (@xRichManex) is clapping, things are going well for #TTHL defense. #GigEm commit having a good game.
about 11 hours ago

AggieEquestrian

Texas A&M Equestrian


#9 @AggieEquestrian downs #5 Georgia 11-7 Saturday, full recap and stats can be found here - http://t.co/VoNfWncQtD #12thMan
about 11 hours ago

AschoffESPN

Edward Aschoff


Well then RT @BryanDFischer: Chuckling at the Jameis/ref thing, kind of surprised he didn't get a flag though: http://t.co/4wWhg8bhYJ
about 11 hours ago

AschoffESPN

Edward Aschoff


Bo Wallace had a guy wide open over the middle but Arkansas' pressure came at him perfectly. Arkansas ball
about 11 hours ago

skhanjr

Sam Khan Jr.


Florida's Treon Harris (2 TDs) & Jeff Driskel (3 TDs) are 1st UF QBs to throw multiple TD passes in same game since '09 (via @ESPNStatsInfo)
about 11 hours ago

ESPN_SEC

ESPN_SEC


Video: Florida 52, Eastern Kentucky 3 http://t.co/EBHHsMHmqR
about 11 hours ago

ESPN_SEC

ESPN_SEC


Video: South Carolina 37, South Alabama 12 http://t.co/7MHuNvNhqR
about 11 hours ago
BLOG ARCHIVE:
CATEGORIES: