Offers coming for 'deadly' '15 QB Granato
May, 22, 2013
May 22
8:00
AM ET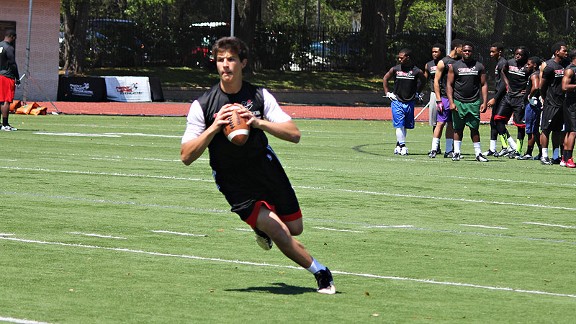 Sam Khan Jr./ESPN.comClass of 2015 quarterback J.T. Granato doesn't have any offers yet, but has interest from several schools.
CROSBY, Texas — The first time Houston Kinkaid coach Stephen Hill saw 2015 quarterback
J.T. Granato
play, the then-eighth grader threw three interceptions in a game.
That day, Hill didn't doubt his future signal-caller's skills. Instead, he went to J.T.'s father, John, and spoke prophetically.
To continue reading this article you must be an Insider
Welcome
!
We see that you are not an ESPN Insider. Upgrade today and gain access to our exclusive coverage.
ESPN The Magazine subscribers

Need more information?
Weekend Recruiting Wrap: SEC - Dec. 2
Derek Tyson discusses the latest SEC recruiting news, including a junior college addition at Texas A&M, recruit reaction of Auburn's miraculous win and what Florida's quarterback commit thinks of the Gators firing their offensive coordinator.
Tags:
Avery Gennesy
,
Rashaan Evans
,
Derrell Scott
,
Kerryon Johnson
,
Texas A&M Aggies
,
Auburn Tigers
,
Florida Gators
,
RecruitingNation
,
ESPN 300
,
ESPN Juco 100
,
high school football recruiting
Weekend Recruiting Wrap: SEC - Dec. 2
VIDEO PLAYLIST
Weekend Recruiting Wrap: SEC - Dec. 2

Weekend Recruiting Wrap: SEC - Dec. 2

Derek Tyson discusses the latest SEC recruiting news, including a junior college addition at Texas A&M, recruit reaction of Auburn's miraculous win and what Florida's quarterback commit thinks of the Gators firing their offensive coordinator.

Tags: Avery Gennesy

,

Rashaan Evans

,

Derrell Scott

,

Kerryon Johnson

,

Texas A&M Aggies

,

Auburn Tigers

,

Florida Gators

,

RecruitingNation

,

ESPN 300

,

ESPN Juco 100

,

high school football recruiting

The Point After: Week 14

The Point After: Week 14

Missouri Tops Manziel, Texas A&M

Missouri Tops Manziel, Texas A&M
AGGIENATION RECRUITING NEWS
TAMU FB RECRUITING SCORECARD
AschoffESPN

Edward Aschoff


Tre Mason with 190 rushing yards and we have six minutes left ... IN THE FIRST HALF! He's 12 yards from breaking SEC champ record #SECATL
less than a minute ago

ESPN_SEC

ESPN_SEC


Tre Mason was the most underrated RB in the SEC last season. He's made a compelling argument this season as the best RB in the SEC.#SECATL
about a minute ago

skhanjr

Sam Khan Jr.


#MACtion #SEC
about a minute ago

SEC

SEC Sports


#SECATL: Three-yard touchdown run by Tre Mason of Auburn ... Auburn leads Missouri 28-20. 6:26 2nd qtr. #SEC
3 minutes ago

ESPN_SEC

ESPN_SEC


Mizzou's defense has to feel like it's already played six quarters.#SECATL
3 minutes ago

AschoffESPN

Edward Aschoff


Did #Mizzou not watch film of Tre Mason??? My goodness he's making this look waaaaay too easy #SECATL
4 minutes ago

ESPN_SEC

ESPN_SEC


Tre Mason's going to have 300 yards at the half at this rate. Geez, he's had some huge holes to run through.#SECATL
4 minutes ago

AschoffESPN

Edward Aschoff


Tre Mason for Heisman ...
4 minutes ago

ESPN_SEC

ESPN_SEC


This game almost has an eight-man football feel to it. Remember when you had to play stifling defense to win an SEC title.#SECATL
6 minutes ago

AschoffESPN

Edward Aschoff


Welp ... RT @slmandel: The ACC Fan Fest consists of thousands of people standing around in the cold watching the SEC game.
6 minutes ago

SEC

SEC Sports


#SECATL: Missouri gets a 36-yard field goal from Andrew Baggett. Auburn 21, Missouri 20. 7:19 2nd qtr. #SEC
7 minutes ago

ESPN_SEC

ESPN_SEC


Mizzou connects on the FG and pulls within 21-20. The way this one is going, you better get some points on every possession.#SECATL
7 minutes ago

AschoffESPN

Edward Aschoff


Most athletic and impressive incomplete pass I've seen #SECATL
9 minutes ago

AschoffESPN

Edward Aschoff


#Mizzou's offense having no trouble moving the ball right now either. Holes everywhere with these two defenses #SECATL
12 minutes ago

SEC

SEC Sports


#SECATL: Tre Mason 7-yard run for Auburn. Auburn 21, Missouri 17.10:12 2nd qtr. #SEC
13 minutes ago

ESPN_SEC

ESPN_SEC


How surreal is it that we have an absolute track meet here in Atlanta and the Big 12 title game is tied 3-3 at the half?#SECATL
15 minutes ago

AschoffESPN

Edward Aschoff


Tre Mason has 111 rushing yards on 17 carries. This #Mizzou line is just getting knocked around right now. Sam a non-factor #Auburn #SECATL
16 minutes ago

ESPN_SEC

ESPN_SEC


Auburn playing at break-neck pace, snapping the ball before Mizzou can get lined up, and retakes the lead in this ping-pong match.#SECATL
17 minutes ago

AschoffESPN

Edward Aschoff


So many holes up the middle right now. #Auburn is having no problem running right through this #Mizzou D #SECATL
18 minutes ago

SEC

SEC Sports


#SECATL: Missouri's E.J. Gaines with an 11-yard fumble recovery for touchdown. Missouri 17, Auburn 14. 13:11 2nd qtr. #SEC
19 minutes ago

ESPN_SEC

ESPN_SEC


Auburn offensive line hasn't gotten enough credit all season long.#SECATL
20 minutes ago

ESPN_SEC

ESPN_SEC


Green-Beckham with a shoulder strain, and his availability for the rest of the game is questionable.#SECATL
22 minutes ago

ESPN_SEC

ESPN_SEC


Marshall is one electrifying player, but you can't put the ball on the ground (in one half) in the SEC championship game.#SECATL
23 minutes ago

AschoffESPN

Edward Aschoff


Can't turn the ball over in a game like this. You need extra possessions and constant red zone pressure #SECATL
24 minutes ago

SEC

SEC Sports


#SECATL: Missouri's E.J. Gaines with an 11-yard fumble recovery for touchdown. Missouri 17, Auburn 10. 13:11 2nd qtr. #SEC
25 minutes ago

AschoffESPN

Edward Aschoff


#Mizzou knew that Marshall run was coming and then got the ole scoop and score. Some life back in these Tigers #SECATL
26 minutes ago

AschoffESPN

Edward Aschoff


Per #Mizzou: Dorial Green-Beckham has a left shoulder issue. He's being evaluated in the locker room #SECATL
30 minutes ago

TexAgs

TexAgs.com


RT @decadeplan: @decadeplan: For my friends at @GBHunting and @TexAgs - a new Stunned Okie! http://t.co/n6Oh1JjMtJ
31 minutes ago

SEC

SEC Sports


#SECATL: End of the first quarter - Auburn leads Missouri 14-10. #SEC
33 minutes ago

ESPN_SEC

ESPN_SEC


Auburn's Chris Davis down with an injury. Tigers can't afford to lose him.#SECATL
36 minutes ago

ESPN_SEC

ESPN_SEC


Love the decision by Pinkel. Near midfield and this is a game that's going to take big points to win it.#SECATL
36 minutes ago

AschoffESPN

Edward Aschoff


I like this call. Go for it #SECATL
38 minutes ago

AschoffESPN

Edward Aschoff


How good is #Auburn's running game right now? It has 92 rush yards in the 1st against a defense that was allowing just 119 rush yds per game
39 minutes ago

ESPN_SEC

ESPN_SEC


Surprising that Malzahn changed his mind and decided on the long FG, which was wide right.#SECATL
40 minutes ago

AschoffESPN

Edward Aschoff


Watching fans think a field goal is good when it isn't is priceless. Hopes and dreams crushed #SECATL
40 minutes ago

ESPN_SEC

ESPN_SEC


Mizzou's defense looks like its on its heels right now. Auburn tends to do that to you.#SECATL
44 minutes ago

AschoffESPN

Edward Aschoff


The Plains ... I mean the Georgia Dome just erupted when the ruling stood #SECATL
44 minutes ago

skhanjr

Sam Khan Jr.


Right on Gus. Go on with your aggressive self.
45 minutes ago

ESPN_SEC

ESPN_SEC


Did the kick go 10 yards before the Auburn player touched it?#SECATL
46 minutes ago

AschoffESPN

Edward Aschoff


Tricky Tigers once again. Onside??? Of course because Gus Malzahn #SECATL
47 minutes ago

SEC

SEC Sports


RT @ESPNCFB: #AUBvsMIZZ both teams lighting up the scoreboard #SECATL
49 minutes ago

SEC

SEC Sports


#SECATL: Auburn regains the lead with a 9-yard run by Nick Marshall. Auburn 14, Missouri 10. 4:09 1st quarter. #SEC
49 minutes ago

AschoffESPN

Edward Aschoff


Well this game is going to destroy the scoreboards and keep us in here until New Years. No defenses out there right now #SECATL
50 minutes ago

SEC

SEC Sports


RT @CollegeGameDay: Don't blink. #AUBvsMIZZ #SECATL
50 minutes ago

skhanjr

Sam Khan Jr.


RT @ESPN_SEC: Hard to appreciate how big, athletic and what a matchup nightmare Dorial Green-Beckham is until you see him in person.#SECATL
53 minutes ago

SEC

SEC Sports


RT @SEC_Chuck: Tough to beat either of the two TD passes we've had so far tonight. Good stuff from both QBs. #SECATL
54 minutes ago

ESPN_SEC

ESPN_SEC


Hard to appreciate how big, athletic and what a matchup nightmare Dorial Green-Beckham is until you see him in person.#SECATL
54 minutes ago

SEC

SEC Sports


#SECATL: Missouri touchdown - Dorial Green-Beckham hauled in a 28-yard pass from James Franklin. Missouri 10, Auburn 7. #SECATL
54 minutes ago

ESPN_SEC

ESPN_SEC


Mizzou's Doral Green-Beckham with a sweet TD catch of his own. Better get settled in because it looks like this will be a wild one.#SECATL
about an hour ago

skhanjr

Sam Khan Jr.


DGB. And what a throw by Franklin.
about an hour ago

AschoffESPN

Edward Aschoff


Big WRs ... watch out for them because #Mizzou has plenty. Gold Tigers strike back. Scoreboard about to explode #SECATL
about an hour ago

AschoffESPN

Edward Aschoff


Great awareness there by Franklin to deliver that first-down pass #SECATL
about an hour ago

AschoffESPN

Edward Aschoff


#Mizzou starting to move faster and faster ... #SECATL
about an hour ago

AschoffESPN

Edward Aschoff


Hey Nelly is here. Good for him #SECATL
about an hour ago

SEC

SEC Sports


RT @CBSSports: TD Auburn! Tigers lead the other Tigers 7-3 with 8:22 left in the 1st quarter on CBS: http://t.co/gS5ZPdigNi. Mobile: http:/…
about an hour ago

skhanjr

Sam Khan Jr.


RT @12thManRusty: What an arm Marshall has!!! TD #Auburn 7-3 Auburn #
about an hour ago

AschoffESPN

Edward Aschoff


I'm pretty sure that TD play was the same one Gus ran with Cam back in the 2010 title game against South Carolina #SECATL
about an hour ago

SEC

SEC Sports


#SECATL: Auburn touchdown - Nick Marshall to Sammie Coates 38 yards. Auburn 7, Missouri 3. 8:22 1st quarter.
about an hour ago

ESPN_SEC

ESPN_SEC


Marshall with the presence to look up and see his receiver open before taking off up the middle. He's gotten so much better as a QB.#SECATL
about an hour ago

AschoffESPN

Edward Aschoff


Wow ... tricky Tigers do it again. #Auburn just has that mojo right now #SECATL
about an hour ago

skhanjr

Sam Khan Jr.


RT @MarkBermanFox26: Rice invited to Liberty Bowl
about an hour ago

SEC

SEC Sports


#SECATL: Missouri takes 3-0 lead on Auburn thanks to 42-yard field goal by Andrew Baggett. 10:50 first quarter.
about an hour ago

skhanjr

Sam Khan Jr.


RT @p_crawf: 43 games. Think about that for a second. #Mizzou's streak of takeaways continues with DE Ealy's third career forced fumble.
about an hour ago

AschoffESPN

Edward Aschoff


Wow. Miscommunication there for #Mizzou. Would have been an easy TD but they'll have to kick a field goal #SECATL
about an hour ago

SEC

SEC Sports


RT @SiriusXMCollege: We are in the building for the #SEC championship game. Who ya got? #Auburn #Mizzou http://t.co/kyHJQp9dGC
about an hour ago

AschoffESPN

Edward Aschoff


That's 43 straight games that #Mizzou has forced a turnover #SECATL
about an hour ago

SEC

SEC Sports


RT @mutigersdotcom: Hoch's fumble recovery is the FBS-leading 43rd straight game with a takeaway. #SECATL
about an hour ago

AschoffESPN

Edward Aschoff


FUMBLE #Mizzou ball. I mean you knew this team was going to force a turnover. It always does #SECATL
about an hour ago

AschoffESPN

Edward Aschoff


Shoelace tackle stopped a BIG Tre Mason TD run there #SECATL
about an hour ago

AschoffESPN

Edward Aschoff


#Auburn's defensive line just collapsed on James Franklin there the #Mizzou's punter shanks his punt. Jitters #SECATL
about an hour ago

SEC

SEC Sports


RT @CBSSports: @SEConCBS online: http://t.co/KHbB67ZMGS. On your phone: http://t.co/1qQormyKq4.
about an hour ago

AschoffESPN

Edward Aschoff


This VERY pro-Auburn crowd is making me feel like I'm on the Plains #SECATL
about an hour ago

SEC

SEC Sports


RT @SEC_Chuck: Here we go…. http://t.co/XCBlsDIsaE
about an hour ago

SEC

SEC Sports


Here we go .... #SECATL is underway.
about an hour ago

ESPN_SEC

ESPN_SEC


Been to most of the SEC title games and never seen it close to this one-sided in terms of fans. Auburn fans everywhere you look..#SECATL
about an hour ago

AschoffESPN

Edward Aschoff


Ha! RT @bomani_jones: i'd love to see a sideline reporter close with, "thanks, coach. thanks for giving us absolutely nothing."
about an hour ago

SEC

SEC Sports


RT @SEC_Tammy: It's coin toss time! #SECATL http://t.co/7IUVlfoqcH
about an hour ago

TexAgs

TexAgs.com


Pinkel with a detailed pregame message: "We're gonna play football today, and we play football pretty good."
about an hour ago

coachmarksnyder

Mark Snyder


RT @hornungaward: @coachmarksnyder only a few days left to vote Johnny Manziel for the Paul Hornung Award! Voting ends Dec. 9th ---> http:/…
about an hour ago

SEC

SEC Sports


The two coaches in today's #SECATL Championship Game meet prior to kickoff: http://t.co/wNn6dvuDig
about an hour ago

AschoffESPN

Edward Aschoff


#Auburn fans just cheered when a sad #Bama fan from the Iron Bowl came on the scoreboard #SECATL
about an hour ago

AschoffESPN

Edward Aschoff


RT @ZavalaA: Notable people on the pregame sidelines include Charles Barkley and Yankees manager Joe Girardi
about an hour ago

AschoffESPN

Edward Aschoff


#Auburn band #secatl http://t.co/NK5itpEtdw
about an hour ago

AschoffESPN

Edward Aschoff


#Mizzou band #secatl http://t.co/s7nKIgzfzb
about an hour ago

SEC

SEC Sports


Complete information on our #SEC Football Championship page, including live audio and stats: http://t.co/JJTgvSihuL #SECATL
about an hour ago

AschoffESPN

Edward Aschoff


#Auburn fans currently dominating the fan battle but I don't think they are playing the game today. #SECATL #Mizzou
about an hour ago

AschoffESPN

Edward Aschoff


Chris Davis announced during pregame. #Auburn fans erupt like he did something special ... oh wait #SECATL
about an hour ago

AschoffESPN

Edward Aschoff


The calm before the storm #Auburn #Mizzou #SECATL http://t.co/g7fhB2HzSV
about an hour ago

SEC

SEC Sports


RT @SiriusXMCollege: AUDIO: @SEC Commissioner Mike Slive talks about what distinguishes the SEC from other conferences on #CFBPlaybook http…
about an hour ago

SEC

SEC Sports


A look at the flipcard for today's #SEC Football Championship game. #SECATL http://t.co/XNLTdqHrAN
about an hour ago

SEC

SEC Sports


RT @SEC_Chevonne: Had to take a group shot with our media assistants. Thanks for all that you do! #SECATL @RealRobSlaman @Reloe03 http://t.…
about an hour ago

SEC

SEC Sports


A little more than a half hour away from kickoff. #SECATL http://t.co/HajX84CikN
about 2 hours ago

skhanjr

Sam Khan Jr.


Damn I love college football.
about 2 hours ago

skhanjr

Sam Khan Jr.


RT @Shane_Hinckley: #bedlam. Nothing more to say
about 2 hours ago

TexAgs

TexAgs.com


I ❤️ college football.
about 2 hours ago

skhanjr

Sam Khan Jr.


RT @ESPNCFB: Turn to ABC right now to see if OU can rally in #Bedlam
about 2 hours ago

SEC

SEC Sports


Link to live stats for today's #SEC Football Championship Game: http://t.co/LaRTbr3dc5 #SECATL
about 2 hours ago

SEC

SEC Sports


A look at the #Auburn endzone here at the @GeorgiaDome. #SECATL http://t.co/ZPMJXKyutL
about 2 hours ago

skhanjr

Sam Khan Jr.


RT @Jake_Trotter: #Bedlam
about 2 hours ago

SEC

SEC Sports


A look at the #Missouri endzone here at the @GeorgiaDome. #SECATL http://t.co/faOqImRrFA
about 2 hours ago
BLOG ARCHIVE:
CATEGORIES: