#BlueChipBattles: Feeding Frenzy
January, 18, 2013
Jan 18
11:18
AM ET
By
RecruitingNation
| ESPN.com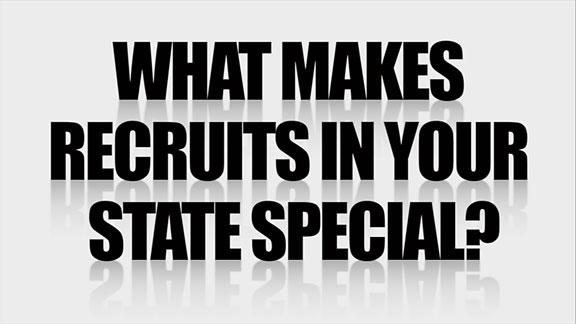 RecruitingNation has been ranking the top 10 battles for elite college football recruits for the past few months, but now it's time to switch things up a bit. Instead of pitting the top athletes against each other,
this week we rank the top 10 states

that have historically housed the most and most sought-after prospects to discover which is the best and which states will be the future hotbeds for elite talent.
Use the hashtag
#BlueChipBattles
to comment on the list, make a prediction or if you disagree with anything we say. Your tweet could end up on that week's page. And you can
rank the top recruiting hotbeds
in SportsNation.
Weekend Recruiting Wrap: SEC - Dec. 2
Derek Tyson discusses the latest SEC recruiting news, including a junior college addition at Texas A&M, recruit reaction of Auburn's miraculous win and what Florida's quarterback commit thinks of the Gators firing their offensive coordinator.
Tags:
Avery Gennesy
,
Rashaan Evans
,
Derrell Scott
,
Kerryon Johnson
,
Texas A&M Aggies
,
Auburn Tigers
,
Florida Gators
,
RecruitingNation
,
ESPN 300
,
ESPN Juco 100
,
high school football recruiting
Weekend Recruiting Wrap: SEC - Dec. 2
VIDEO PLAYLIST
Weekend Recruiting Wrap: SEC - Dec. 2

Weekend Recruiting Wrap: SEC - Dec. 2

Derek Tyson discusses the latest SEC recruiting news, including a junior college addition at Texas A&M, recruit reaction of Auburn's miraculous win and what Florida's quarterback commit thinks of the Gators firing their offensive coordinator.

Tags: Avery Gennesy

,

Rashaan Evans

,

Derrell Scott

,

Kerryon Johnson

,

Texas A&M Aggies

,

Auburn Tigers

,

Florida Gators

,

RecruitingNation

,

ESPN 300

,

ESPN Juco 100

,

high school football recruiting

The Point After: Week 14

The Point After: Week 14

Missouri Tops Manziel, Texas A&M

Missouri Tops Manziel, Texas A&M
AGGIENATION RECRUITING NEWS
TAMU FB RECRUITING SCORECARD
TexAgs

TexAgs.com


WBB: A 9-0 run gives A&M a 19-17 advantage over Washington with 7:53 left in the first half. Jones has eight points to lead the Aggies.
6 minutes ago

SEC

SEC Sports


RT @AUGoldMine: Missouri coach Gary Pinkel on if 1-loss Auburn deserves a chance at the BCS title game: "I hope it would be considered."
7 minutes ago

SEC

SEC Sports


RT @SEC_Chuck: Pinkel: 'Auburn has to be considered. With the strength of schedule in this league, hopefully they will be.'
7 minutes ago

TexAgs

TexAgs.com


WBB: At the under-12 media timeout, Washington leads A&M 15-10. UW's Jazmine Davis leads all scorers with 10 points.
14 minutes ago

SEC

SEC Sports


The postgame press conferences will air live on the SEC Digital Network here: https://t.co/Gfra9PZW1v #SECATL
16 minutes ago

TexAgs

TexAgs.com


WBB: With 13:46 left in the first half, Washington leads Texas A&M 10-7. Five early turnovers have hurt the Aggies.
22 minutes ago

SEC

SEC Sports


Tre Mason rushed 46 times for 304 yards with four touchdowns.#SECATL
23 minutes ago

SEC

SEC Sports


The 2013 #SEC Football Championship Most Valuable Player is Auburn's Tre Mason. #SECATL
24 minutes ago

SEC

SEC Sports


Get your official #Auburn #SEC Championship merchandise at http://t.co/qELBOHsc3r. http://t.co/7YI9uvWWxr
25 minutes ago

ESPN_SEC

ESPN_SEC


Instant analysis: Auburn 59, Missouri 42 http://t.co/ZhRoTQmMp4
26 minutes ago

SEC

SEC Sports


RT @SEC_Chuck: The one-loss SEC Champion Auburn Tigers are now 5-1 vs. Top 25 teams and 3-1 vs. the Top 10.
26 minutes ago

SEC

SEC Sports


CBS will air tonight's postgame trophy presentation live. Stay tuned. #SECATL
28 minutes ago

SEC

SEC Sports


RT @SEC_Tammy: And the confetti falls! Congrats to @FootballAU the 2013 SEC Football Champions. #SECATL http://t.co/p7NppQhM7f
31 minutes ago

SEC

SEC Sports


Auburn wins 2013 #SEC Football Championship. Quick recap: http://t.co/afAHAX8vYu #SECATL
31 minutes ago

SEC

SEC Sports


RT @jonsol: Gus Malzahn is 3rd coach to win SEC title in 1st season, joining LSU's Bernie Moore (1935) & Ole Miss' John Vaught (1947).
34 minutes ago

SEC

SEC Sports


#SECATL: Auburn now leading Missouri 59-42. 4:22 remaining in the game. Tre Mason scored on a 13-yard rushing touchdown. #SEC
40 minutes ago

TexAgs

TexAgs.com


LIVE from Reed Arena ... #23 Texas A&M vs. Washington: http://t.co/fTSzkl31QQ
41 minutes ago

AschoffESPN

Edward Aschoff


Tre Mason will be on a my Heisman list that doesn't matter at all
42 minutes ago

AschoffESPN

Edward Aschoff


101 points in this game. If you told me that would be the number of passing yards or rushing yards for a team I'd believe you
43 minutes ago

AschoffESPN

Edward Aschoff


That will do it here in Atlanta. Tre Mason is the certified man. #Auburn is now up 59-42 and is now a huge Michigan State supporter
44 minutes ago

AschoffESPN

Edward Aschoff


@DesmondHoward Good QB play across the league
about an hour ago

SEC

SEC Sports


Tonight's attendance 75,632. The Southeastern Conference thanks you. #SECATL
about an hour ago

SEC

SEC Sports


#SECATL: Auburn extends its lead to 52-42 with 11:09 left in the game. 1-yard rush by Tre Mason. #SEC
about an hour ago

ESPN_SEC

ESPN_SEC


Mason with 41 rushing attempts, tying an Auburn record. #SECATL
about an hour ago

AschoffESPN

Edward Aschoff


Tre Mason folks. Just too much for #Mizzou today #SECATL
about an hour ago

AschoffESPN

Edward Aschoff


I'd go for it ... #SECATL
about an hour ago

AggieFootball

Texas A&M Football


RT @TAMU: Why @JManziel2 is college football's "most outstanding" player: http://t.co/jMRFMoh0NZ via @aggiefootball #tamu #12thMan
about an hour ago

SEC

SEC Sports


RT @SEConCBS: HIGHLIGHT: James Franklin gets the TD and Mizzou makes 2pt conversion to cut in Auburn's lead - http://t.co/VjURUeKvQe @BofA…
about an hour ago

SEC

SEC Sports


RT @BCPowders: Congrats to our VIP winner Melissa Floyd!! Hope you're having fun at the game! #BCSEC #SECATL http://t.co/fub91vtCGH
about an hour ago

AschoffESPN

Edward Aschoff


Tonight and tomorrow are going to be a lot of fun ... RT @finebaum: And tell me again why Ohio State deserves to go over a 1-loss SEC team?
about an hour ago

ESPN_SEC

ESPN_SEC


Keep in mind that this was a Missouri defense giving up fewer than 120 rushing yards per game coming in.#SECATL
about an hour ago

AschoffESPN

Edward Aschoff


RT @Bachscore: 45-42, Auburn, end 3rd. Old-man football replaced with Red Bull football. #SEC
about an hour ago

ESPN_SEC

ESPN_SEC


I know this is going out on a limb, but they won't be showing this game tape at any defensive coaching clinics any time soon.#SECATL
about an hour ago

SEC

SEC Sports


#SECATL: End of the third quarter, Auburn leads Missouri, 45-42. #SEC
about an hour ago

AschoffESPN

Edward Aschoff


Why even have defense in this game?
about an hour ago

AschoffESPN

Edward Aschoff


What?? Crazy talk right there RT @Tomas_Verde: Never saw any of that defense in the Media games. Scouting reports had you as a one-way star.
about an hour ago

SEC

SEC Sports


#SECATL: Auburn 45, Missouri 42. 0:09 3rd quarter. 5-yard rushing touchdown by James Franklin and two-point conversion. #SEC
about an hour ago

AschoffESPN

Edward Aschoff


I feel like James Franklin wanted to celebrate after that TD and 2-pt but he's too calm and collected for that #SECATL
about an hour ago

AschoffESPN

Edward Aschoff


How do you not know a guy is out of bounds? Why the extra push? Makes no sense #SECATL
about an hour ago

AschoffESPN

Edward Aschoff


Josey with a great 65-yard run and then he goes down hard late. Flag on the play and Josey is grabbing his side #SECATL
about an hour ago

ESPN_SEC

ESPN_SEC


On second thought, forget what I just said about Mizzou keeping up. Wow, Henry Josey.#SECATL
about an hour ago

AschoffESPN

Edward Aschoff


One of the best flag football/UF drumline safeties during my college days RT @D_Munroe: Hey Ed, can you play any defense?
about an hour ago

SEC

SEC Sports


#SECATL: Auburn now leading Missouri 45-34. 31 seconds left in the third quarter. #SEC
about an hour ago

ESPN_SEC

ESPN_SEC


You get the feeling that Mizzou, which has continued to grind in this game, just isn't going to be able to keep up at this clip.#SECATL
about an hour ago

SEC

SEC Sports


This is officially the highest scoring game in #SEC Football Championship history. Previous 75 combined points 1996, Florida v. Alabama.
about an hour ago

AschoffESPN

Edward Aschoff


Is #Mizzou playing with just one defensive lineman today? #Auburn is slicing this front up & the linebackers dont have the speed to catch up
about an hour ago

AschoffESPN

Edward Aschoff


That ref just showed Tre Mason who was boss! #SECATL
about an hour ago

AschoffESPN

Edward Aschoff


#Mizzou players help #Auburn players up after tackles. Still new to the league I see
about an hour ago

ESPN_SEC

ESPN_SEC


Could be a costly three-and-out there by Mizzou. Giving the ball back to Auburn? Yikes.#SECATL
about an hour ago

ESPN_SEC

ESPN_SEC


Auburn with 397 rushing yards. Is it possible to lose a game when you rush for 400-plus yards?#SECATL
about an hour ago

SEC

SEC Sports


RT @AUGoldMine: Auburn has 499 yards of offense...still in the third quarter
about an hour ago

SEC

SEC Sports


#SECATL: Auburn goes in front of Missouri 38-34. Corey Grant scores on a 2-yard rush. 3:21 left in the third quarter. #SEC
about an hour ago

AschoffESPN

Edward Aschoff


RT @jonsol: Auburn sets SEC championship rushing record with 397 yards. There's 18:21 left in the game. We think.
about an hour ago

ESPN_SEC

ESPN_SEC


Hard to put in words the speed and athleticism out there on what was already a fast track.#SECATL
about an hour ago

AschoffESPN

Edward Aschoff


Nick "Playstation" Marshall at it again. Made Matt White look siiiiiiiiiilly on that run ... and now Auburn has the lead again #SECATL
about an hour ago

SEC

SEC Sports


#SECATL: Missouri leads Auburn 34-31. 4:06 left in the third quarter. Missouri's Marcus Murphy scored on a 10-yard pass from J. Franklin.
about an hour ago

ESPN_SEC

ESPN_SEC


Tre Mason is going to be one tired young man after this one is over.#SECATL
about an hour ago

ESPN_SEC

ESPN_SEC


This game might be over by the time the second half of the Big Ten championship game begins, and I said "might."#SECATL
about an hour ago

AschoffESPN

Edward Aschoff


Look at what you did ... RT @robsiske: whoops, sorry!
about an hour ago

ESPN_SEC

ESPN_SEC


What an impressive drive by Mizzou to take the lead, fueled by just a freakish catch and run by Green-Beckham, who equals NFL.#SECATL
about an hour ago

AschoffESPN

Edward Aschoff


I was wide open on that touchdown pass. Wow Auburn's defense just can't do anything in the secondary. Easy six for #Mizzou #SECATL
about an hour ago

AschoffESPN

Edward Aschoff


DGB is a physical freak. He's fast and elusive. Wow. Just wow #SECATL
about an hour ago

AschoffESPN

Edward Aschoff


Shhhh! RT @robsiske: you just need both defenses to play lights out for the rest of the game and your final score prediction is right on!
about an hour ago

AschoffESPN

Edward Aschoff


A 52-yard FG by Cody Parkey. Gives Auburn a 31-27 lead and is an SEC championship game record. Also a career-long for Parkey #SECATL
about an hour ago

SEC

SEC Sports


#SECATL: Auburn's Cody Parkey with an #SEC Championship Game record 52-yard field goal. Auburn 31, Missouri 27. 8:17 3rd quarter.
about an hour ago

SEC

SEC Sports


RT @drpepper: Brooks B. is our #SECATL Tuition Throw winner, scoring $100K in #DrPepperTuition. Congratulations! http://t.co/cEmZqHyhM2
about an hour ago

AschoffESPN

Edward Aschoff


Auburn revs up the pressure and gets a big stop on that drive. Putting pressure in Franklin's face made him rush and overthrow #SECATL
about an hour ago

ESPN_SEC

ESPN_SEC


Suddenly, this game has become a defensive struggle. OK, not really.#SECATL
about an hour ago

ESPN_SEC

ESPN_SEC


SEC's Mike Slive on what this game will mean: I know what it means. It's just a matter of whether everybody else agrees with me.#SECATL
about an hour ago

AschoffESPN

Edward Aschoff


Great stop by #Mizzou's defense. Gold Tigers could take a lot of momentum with a scoring drive here. Just throw it #SECATL
about an hour ago

AschoffESPN

Edward Aschoff


Clearly the only person capable of stopping Tre Mason today is Tre Mason
about 2 hours ago

SEC

SEC Sports


RT @HannahChalker: Closer game than I thought it would be! #SECATL @csssports http://t.co/OopWrptTip
about 2 hours ago

AschoffESPN

Edward Aschoff


Great defensive play there by Ponder. Marshall almost slipped that one by #Mizzou's defense #SECATL
about 2 hours ago

AschoffESPN

Edward Aschoff


Tre Mason now has the SEC championship game record for rushing yards with 210. Yeah there are more than 13 minutes left in the 3rd
about 2 hours ago

SEC

SEC Sports


Auburn's Tre Mason has rushed for 195 yards already - the second-highest total in #SEC Championship history. Needs seven more for record.
about 2 hours ago

SEC

SEC Sports


The 55 combined points is the highest first-half point total in an #SEC Championship Game. #SECATL
about 2 hours ago

ESPN_SEC

ESPN_SEC


680 yards total offense between these two teams in the first half. Old-school SEC football at its best.#SECATL
about 2 hours ago

AschoffESPN

Edward Aschoff


Of course the SEC title game halftime entertainment was exciting and went down to the wire.
about 2 hours ago

SEC

SEC Sports


Halftime here at the #SEC Football Championship Game. Auburn 28, Missouri 27. #SECATL http://t.co/1sPhtJmN8O
about 2 hours ago

AschoffESPN

Edward Aschoff


I predicted #Auburn 31-27 at the end of the game not at halftime
about 2 hours ago

AschoffESPN

Edward Aschoff


I mean 18 seconds ... Auburn can score like three touchdowns in that amount of time right? #SECATL
about 2 hours ago

SEC

SEC Sports


#SECATL: Missouri 55-yard pass from James Frankin to Dorial Green-Beckham. Auburn 28, Missouri 27. 0:18 left until halftime.
about 2 hours ago

ESPN_SEC

ESPN_SEC


Talk about accelerating after making the catch. Green-Beckham was gone ...#SECATL
about 2 hours ago

ESPN_SEC

ESPN_SEC


And just like that, Mizzou goes up top to DGB and pulls within one right before half. This is video game football at its finest.#SECATL
about 2 hours ago

skhanjr

Sam Khan Jr.


Wow. #DGB
about 2 hours ago

AschoffESPN

Edward Aschoff


DGB's shoulder looks to be fine ... and so are his legs. Just zipped through that defense on that touchdown #SECATL
about 2 hours ago

AschoffESPN

Edward Aschoff


Missed tackles have been the name of the game for both of these defenses #SECATL
about 2 hours ago

AschoffESPN

Edward Aschoff


Looks like a kid lost his toy monster truck in the stands. It just fell onto some guy's head in the stands below. Poor kid
about 2 hours ago

ESPN_SEC

ESPN_SEC


With Auburn getting the ball back to start second half, it could have easily been a three-score game before anybody could blink.#SECATL
about 2 hours ago

ESPN_SEC

ESPN_SEC


Can't begin to describe how important that stand was for Mizzou, especially to push Auburn out of FG range.#SECATL
about 2 hours ago

AschoffESPN

Edward Aschoff


#Auburn has tried that play three times on this drive and it has failed each time. I mean I guess try try again right? #SECATL
about 2 hours ago

AschoffESPN

Edward Aschoff


Dumb penalties will get you nowhere young man #SECATL
about 2 hours ago

ESPN_SEC

ESPN_SEC


First down by Mizzou overturned by replay. Franklin's knee was down. Mizzou has to punt. Huge reversal.@SECATL
about 2 hours ago

AschoffESPN

Edward Aschoff


Well after that review it looks like that first down is coming back ... #SECATL
about 2 hours ago

AschoffESPN

Edward Aschoff


Great effort there by James Franklin. Huge first down for gold Tigers #SECATL
about 3 hours ago

ESPN_SEC

ESPN_SEC


Freshman Carl Lawson finishes off Franklin there on the sack. Auburn has some really promising freshman defensive linemen.#SECATL
about 3 hours ago

AschoffESPN

Edward Aschoff


#Aubrun has the lead and all the momentum right now ... and #Mizzou is backed up near its own end zone #SECATL
about 3 hours ago

ESPN_SEC

ESPN_SEC


Mizzou desperately needs to answer here, more than anything, to keep that Auburn offense off the field.#SECATL
about 3 hours ago

AschoffESPN

Edward Aschoff


Tre Mason with 190 rushing yards and we have six minutes left ... IN THE FIRST HALF! He's 12 yards from breaking SEC champ record #SECATL
about 3 hours ago

ESPN_SEC

ESPN_SEC


Tre Mason was the most underrated RB in the SEC last season. He's made a compelling argument this season as the best RB in the SEC.#SECATL
about 3 hours ago
BLOG ARCHIVE:
CATEGORIES: