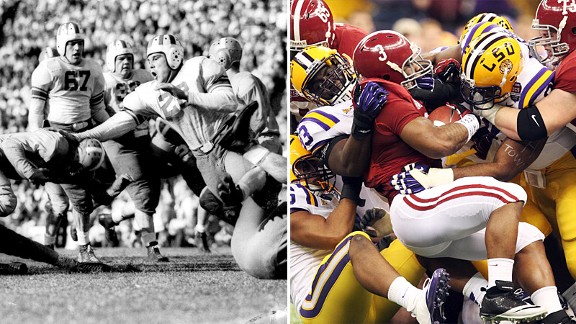 AP Photo, US PresswireSEC teams have always known their toughest opponents are one another.
To understand football's place in the South, you first have to see it from deep within the heart of Dixie. In ESPN The Magazine, southern author and
Alabama journalism professor Rick Bragg explains
why the SEC's fight for supremacy goes back to the Civil War.
Weekend Recruiting Wrap: SEC - Dec. 2
Derek Tyson discusses the latest SEC recruiting news, including a junior college addition at Texas A&M, recruit reaction of Auburn's miraculous win and what Florida's quarterback commit thinks of the Gators firing their offensive coordinator.
Tags:
Avery Gennesy
,
Rashaan Evans
,
Derrell Scott
,
Kerryon Johnson
,
Texas A&M Aggies
,
Auburn Tigers
,
Florida Gators
,
RecruitingNation
,
ESPN 300
,
ESPN Juco 100
,
high school football recruiting
Weekend Recruiting Wrap: SEC - Dec. 2
VIDEO PLAYLIST
Weekend Recruiting Wrap: SEC - Dec. 2

Weekend Recruiting Wrap: SEC - Dec. 2

Derek Tyson discusses the latest SEC recruiting news, including a junior college addition at Texas A&M, recruit reaction of Auburn's miraculous win and what Florida's quarterback commit thinks of the Gators firing their offensive coordinator.

Tags: Avery Gennesy

,

Rashaan Evans

,

Derrell Scott

,

Kerryon Johnson

,

Texas A&M Aggies

,

Auburn Tigers

,

Florida Gators

,

RecruitingNation

,

ESPN 300

,

ESPN Juco 100

,

high school football recruiting

The Point After: Week 14

The Point After: Week 14

Missouri Tops Manziel, Texas A&M

Missouri Tops Manziel, Texas A&M
AGGIENATION RECRUITING NEWS
TAMU FB RECRUITING SCORECARD
skhanjr

Sam Khan Jr.


Michigan State fans going HAM RT @Temro11: @SpartanProblems Cedar Village currently 🌹🌹🌹 http://t.co/VJaYQ2DWhb
about 4 hours ago

AschoffESPN

Edward Aschoff


RT @slmandel: Winston will win Heisman, but Tre Mason may have just Ingram'd his way from off the map to No. 2 with that performance today.
about 5 hours ago

ESPN_SEC

ESPN_SEC


Auburn fans celebrate Spartans and Tigers http://t.co/3bHg7RYk74
about 5 hours ago

skhanjr

Sam Khan Jr.


Good for Fresno State and Derek Carr. Heck of a journey for him. I still remember when he was a 6-0, 165 lb 15-year-old QB at Clements HS.
about 5 hours ago

skhanjr

Sam Khan Jr.


RT @DanWolken: Fresno St wins the MWC
about 5 hours ago

skhanjr

Sam Khan Jr.


Welp. Ballgame.
about 5 hours ago

skhanjr

Sam Khan Jr.


Give that man his catch.
about 6 hours ago

skhanjr

Sam Khan Jr.


RT @KegsnEggs: Oh goodness. That is a catch. HAM HAM HAM/
about 6 hours ago

skhanjr

Sam Khan Jr.


OK repeat….another fourth down stop and another chance for Utah State. Now under 2:00 left, still down 24-17 to Fresno State.
about 6 hours ago

skhanjr

Sam Khan Jr.


RT @MattZemek_CFN: This game might FEEL over, but Utah State could get one more shot if it produces a three-and-out.
about 6 hours ago

skhanjr

Sam Khan Jr.


Uh-oh. Getting interesting in the MWC. Utah State gets a 4th down stop, has the ball trailing Fresno State 24-17 with 3:32 left.
about 6 hours ago

AschoffESPN

Edward Aschoff


@Jhalapio67 @HolyRomanHammer Speaking from the heart
about 6 hours ago

ESPN_SEC

ESPN_SEC


Video: FSU, Auburn on collision course http://t.co/4a16SfKFqT
about 6 hours ago

ESPN_SEC

ESPN_SEC


Video: BCS bowl projections http://t.co/6hW4KNqRP6
about 6 hours ago

skhanjr

Sam Khan Jr.


It took a few minutes but Toomer's Corner is packed now: http://t.co/qKV07NEBuS
about 6 hours ago

TexAgs

TexAgs.com


**FREE** Photo Gallery ... #23 Texas A&M 74, Washington 68: http://t.co/NUbE36Tlpe via @texags #texags #SEC #TAMU #gigem
about 7 hours ago

skhanjr

Sam Khan Jr.


If you haven't had enough football the MWC title game is in the third quarter. Fresno State leading Utah State 17-7
about 7 hours ago

skhanjr

Sam Khan Jr.


RT @Jake_Trotter: ESPN BCS guru @JBradEdwards is predicting an Alabama-Oklahoma Sugar Bowl.
about 7 hours ago

AschoffESPN

Edward Aschoff


So the #SEC is headed back to the BCS title game. I've seen this movie like seven times before #Auburn
about 7 hours ago

TexAgs

TexAgs.com


**FREE** WBB: A&M moves to 6-2 with 74-68 victory over Washington | #TexAgs http://t.co/236xzW2NRl via @texags @Ronnie_Woodard
about 7 hours ago

skhanjr

Sam Khan Jr.


Ouch. "@AschoffESPN: #Gators WR RT @quintondunbar1: Lol lets see if Urban Meyer play sick again #UnLoyal"
about 7 hours ago

skhanjr

Sam Khan Jr.


RT @DerekTysonESPN: Whether you like Urban or not. The #OhioState winning streak was still very impressive. The man can flat out coach
about 7 hours ago

ESPN_SEC

ESPN_SEC


Ouch! Some of the tweets by Florida players tonight over Urban Meyer and Ohio State losing are stinging.
about 7 hours ago

AschoffESPN

Edward Aschoff


#Gators WR RT @quintondunbar1: Lol lets see if Urban Meyer play sick again #UnLoyal
about 7 hours ago

ESPN_SEC

ESPN_SEC


Yeah, the BCS has been filled with its share of controversy. But, boy, has it been interesting and given us some wild finishes to seasons.
about 7 hours ago

ESPN_SEC

ESPN_SEC


Auburn completes stunning turnaround http://t.co/uOiPO2bUpm
about 7 hours ago

skhanjr

Sam Khan Jr.


Fans steadily streaming in to Toomer's Corner now: http://t.co/qKV07NEBuS
about 7 hours ago

SEC

SEC Sports


#SEC #SEC #SEC
about 7 hours ago

SEC

SEC Sports


Of interest to #SEC fans - RT @MSU_Football: Spartans get 34-24 win over OSU for B1G championship.
about 7 hours ago

skhanjr

Sam Khan Jr.


Hmm. Pajama parties maybe? RT @Perroni247 @skhanjr surprisingly its still calm. http://t.co/9pCMpAAdFV
about 7 hours ago

AschoffESPN

Edward Aschoff


#Gators OG RT @jhalapio67: HAHAHAHHAHAHAHAHAHAHAHAHAHAHHAHAHAHAHAHAHAHAHAHHAHAHAHAHAHAHAHAHAHHAHAHAHAHAHAHAHAHAHAHAHAHAHHAHAHAHAHAHAHAHAHAHA
about 7 hours ago

skhanjr

Sam Khan Jr.


The party in Toomer's Corner has to be pretty epic right now.
about 7 hours ago

skhanjr

Sam Khan Jr.


RT @KegsnEggs: Auburn Pants Status: OFF
about 7 hours ago

SEC

SEC Sports


RT @SEC_Chuck: #SEC
about 7 hours ago

TexAgs

TexAgs.com


Now, officially: S-E-C! S-E-C! S-E-C!
about 7 hours ago

AschoffESPN

Edward Aschoff


Tre Mason and those treetrunk legs of his helped carry #Auburn to an #SEC title @TreMason21 http://t.co/Q9BUdxx8vj
about 7 hours ago

AschoffESPN

Edward Aschoff


So I just heard a loud commotion down I-85 South ... #Auburn
about 7 hours ago

texasambuzztap

Texas A&M Aggies


Dallas Morning News >> Women's basketball: Mays' career-high 34 can't save SMU; A&M tops Washington http://t.co/kwib6GdnyX
about 7 hours ago

ESPN_SEC

ESPN_SEC


Tre Mason helps carry Auburn to SEC title http://t.co/deuj7sNvzx
about 8 hours ago

TexAgs

TexAgs.com


Okay, it looks like we MAY be back up and running at http://t.co/Lvjqf4VSXa. http://t.co/m5Ei4DeUSq
about 8 hours ago

TexAgs

TexAgs.com


Everyone, TO YOUR PHONES! RT @theOoshwa Mobile back up for @TexAgs http://t.co/rjoWz61o0M
about 9 hours ago

TexAgs

TexAgs.com


Can't we blame Baylor? Or Michigan State (soon)? RT @TAMcGibblets @TexAgs I don't even know what to do. Way to ruin my championship Saturday
about 9 hours ago

TexAgs

TexAgs.com


RT @theOoshwa: @TexAgs mobile site back up. http://t.co/bst4L45qsD
about 9 hours ago

TexAgs

TexAgs.com


I can confirm that @***** has barricaded himself inside. RT @wee_ag Currently outside @TexAgs HQ. http://t.co/qfjyxOMkID …
about 9 hours ago

TexAgs

TexAgs.com


I can't argue with that logic. RT @JKeester @TexAgs This is what happens when Baylor wins a football championship.
about 9 hours ago

TexAgs

TexAgs.com


The general reaction to http://t.co/Lvjqf4VSXa being down for maintenance: http://t.co/AcdvPAA8L3
about 9 hours ago

TexAgs

TexAgs.com


Oh stop. STOP IT. [waves hand to continue] RT @wee_ag @TexAgs Thank you for the best maintenance page ever.
about 9 hours ago

TexAgs

TexAgs.com


I suggest you use them as you normally do: F5 F5 F5 F5 F5. RT @hazybassist @TexAgs is down... I don't know what to do with my hands.
about 9 hours ago

TexAgs

TexAgs.com


REMAIN CALM. TexAgs is down for maintenance, but we'll be back up in a few hours. In the meantime, enjoy some GIF TV: http://t.co/Lvjqf4VSXa
about 9 hours ago

AggieAthletics

Aggie Athletics


RT @AggieWBB: Texas A&M defeats Washington 74-68, go inside the boxscore with this infographic #12thMan http://t.co/Q9UNYLtUxM
about 9 hours ago

TexAgs

TexAgs.com


WBB: A&M defeats Washington 74-68 to move to 6-2 on the season. More from this one in a bit on http://t.co/Lvjqf4VSXa.
about 9 hours ago

TexAgs

TexAgs.com


WBB: A&M leads Washington 71-65 with :34.6 remaining in the second half.
about 9 hours ago

TexAgs

TexAgs.com


WBB: A&M leads UW 68-62 with 1:27 remaining in the game.
about 9 hours ago

TexAgs

TexAgs.com


WBB: With 3:53 left in the second half, A&M leads Washington 66-60. Gilbert has 11 points and 14 rebounds to lead the Aggies.
about 9 hours ago

skhanjr

Sam Khan Jr.


RT @EditorEdge: Well it's not on your TV screen, but a live shot of Toomer's Corner IS available online: http://t.co/pmmTeRLvjj (h/t to my …
about 10 hours ago

skhanjr

Sam Khan Jr.


RT @EditorEdge: Wish Fox had a camera in the lower-right corner with a live shot of Toomer's Corner.
about 10 hours ago

TexAgs

TexAgs.com


WBB: Back-to-back threes by Williams gives A&M a little breathing room. Ags lead Washington 61-54 with 7:36 left to play.
about 10 hours ago

TexAgs

TexAgs.com


WBB: Washington uses eight straight points from Talia Walton to pull back within striking range. A&M leads 53-46 with 10:14 remaining.
about 10 hours ago

SEC

SEC Sports


Auburn wins 2013 #SEC Football Championship. Full coverage on the SEC Digital Network: http://t.co/afAHAX8vYu #SECATL
about 10 hours ago

TexAgs

TexAgs.com


WBB: With 15:20 remaining, A&M leads Washington 47-30. Gilbert just one point shy of her second double-double in two games.
about 10 hours ago

SEC

SEC Sports


The Auburn running game dominated in Atlanta, just as it has all season long for Gus Malzahn's Tigers. Story: http://t.co/3DXKitLJnQ
about 10 hours ago

SEC

SEC Sports


Gus Malzahn press conference beginning now. Watch live here: https://t.co/Gfra9PZW1v #SECATL @footballAU
about 10 hours ago

TexAgs

TexAgs.com


WBB: Walker hits a three just before the halftime buzzer to give A&M a 36-28 lead over Washington as the teams head into the locker room.
about 10 hours ago

TexAgs

TexAgs.com


WBB: With 3:58 left in the first half, A&M leads Washington 28-21. Aggies shooting 50% from the field to just 15% for the Huskies.
about 10 hours ago

TexAgs

TexAgs.com


WBB: A 9-0 run gives A&M a 19-17 advantage over Washington with 7:53 left in the first half. Jones has eight points to lead the Aggies.
about 11 hours ago

SEC

SEC Sports


RT @AUGoldMine: Missouri coach Gary Pinkel on if 1-loss Auburn deserves a chance at the BCS title game: "I hope it would be considered."
about 11 hours ago

SEC

SEC Sports


RT @SEC_Chuck: Pinkel: 'Auburn has to be considered. With the strength of schedule in this league, hopefully they will be.'
about 11 hours ago

TexAgs

TexAgs.com


WBB: At the under-12 media timeout, Washington leads A&M 15-10. UW's Jazmine Davis leads all scorers with 10 points.
about 11 hours ago

SEC

SEC Sports


The postgame press conferences will air live on the SEC Digital Network here: https://t.co/Gfra9PZW1v #SECATL
about 11 hours ago

TexAgs

TexAgs.com


WBB: With 13:46 left in the first half, Washington leads Texas A&M 10-7. Five early turnovers have hurt the Aggies.
about 11 hours ago

SEC

SEC Sports


Tre Mason rushed 46 times for 304 yards with four touchdowns.#SECATL
about 11 hours ago

SEC

SEC Sports


The 2013 #SEC Football Championship Most Valuable Player is Auburn's Tre Mason. #SECATL
about 11 hours ago

SEC

SEC Sports


Get your official #Auburn #SEC Championship merchandise at http://t.co/qELBOHsc3r. http://t.co/7YI9uvWWxr
about 11 hours ago

ESPN_SEC

ESPN_SEC


Instant analysis: Auburn 59, Missouri 42 http://t.co/ZhRoTQmMp4
about 11 hours ago

SEC

SEC Sports


RT @SEC_Chuck: The one-loss SEC Champion Auburn Tigers are now 5-1 vs. Top 25 teams and 3-1 vs. the Top 10.
about 11 hours ago

SEC

SEC Sports


CBS will air tonight's postgame trophy presentation live. Stay tuned. #SECATL
about 11 hours ago

SEC

SEC Sports


RT @SEC_Tammy: And the confetti falls! Congrats to @FootballAU the 2013 SEC Football Champions. #SECATL http://t.co/p7NppQhM7f
about 11 hours ago

SEC

SEC Sports


Auburn wins 2013 #SEC Football Championship. Quick recap: http://t.co/afAHAX8vYu #SECATL
about 11 hours ago

SEC

SEC Sports


RT @jonsol: Gus Malzahn is 3rd coach to win SEC title in 1st season, joining LSU's Bernie Moore (1935) & Ole Miss' John Vaught (1947).
about 11 hours ago

SEC

SEC Sports


#SECATL: Auburn now leading Missouri 59-42. 4:22 remaining in the game. Tre Mason scored on a 13-yard rushing touchdown. #SEC
about 11 hours ago

TexAgs

TexAgs.com


LIVE from Reed Arena ... #23 Texas A&M vs. Washington: http://t.co/fTSzkl31QQ
about 11 hours ago

AschoffESPN

Edward Aschoff


Tre Mason will be on a my Heisman list that doesn't matter at all
about 11 hours ago

AschoffESPN

Edward Aschoff


101 points in this game. If you told me that would be the number of passing yards or rushing yards for a team I'd believe you
about 11 hours ago

AschoffESPN

Edward Aschoff


That will do it here in Atlanta. Tre Mason is the certified man. #Auburn is now up 59-42 and is now a huge Michigan State supporter
about 11 hours ago

AschoffESPN

Edward Aschoff


@DesmondHoward Good QB play across the league
about 12 hours ago

SEC

SEC Sports


Tonight's attendance 75,632. The Southeastern Conference thanks you. #SECATL
about 12 hours ago

SEC

SEC Sports


#SECATL: Auburn extends its lead to 52-42 with 11:09 left in the game. 1-yard rush by Tre Mason. #SEC
about 12 hours ago

ESPN_SEC

ESPN_SEC


Mason with 41 rushing attempts, tying an Auburn record. #SECATL
about 12 hours ago

AschoffESPN

Edward Aschoff


Tre Mason folks. Just too much for #Mizzou today #SECATL
about 12 hours ago

AschoffESPN

Edward Aschoff


I'd go for it ... #SECATL
about 12 hours ago

AggieFootball

Texas A&M Football


RT @TAMU: Why @JManziel2 is college football's "most outstanding" player: http://t.co/jMRFMoh0NZ via @aggiefootball #tamu #12thMan
about 12 hours ago

SEC

SEC Sports


RT @SEConCBS: HIGHLIGHT: James Franklin gets the TD and Mizzou makes 2pt conversion to cut in Auburn's lead - http://t.co/VjURUeKvQe @BofA…
about 12 hours ago

SEC

SEC Sports


RT @BCPowders: Congrats to our VIP winner Melissa Floyd!! Hope you're having fun at the game! #BCSEC #SECATL http://t.co/fub91vtCGH
about 12 hours ago

AschoffESPN

Edward Aschoff


Tonight and tomorrow are going to be a lot of fun ... RT @finebaum: And tell me again why Ohio State deserves to go over a 1-loss SEC team?
about 12 hours ago

ESPN_SEC

ESPN_SEC


Keep in mind that this was a Missouri defense giving up fewer than 120 rushing yards per game coming in.#SECATL
about 12 hours ago

AschoffESPN

Edward Aschoff


RT @Bachscore: 45-42, Auburn, end 3rd. Old-man football replaced with Red Bull football. #SEC
about 12 hours ago

ESPN_SEC

ESPN_SEC


I know this is going out on a limb, but they won't be showing this game tape at any defensive coaching clinics any time soon.#SECATL
about 12 hours ago

SEC

SEC Sports


#SECATL: End of the third quarter, Auburn leads Missouri, 45-42. #SEC
about 12 hours ago

AschoffESPN

Edward Aschoff


Why even have defense in this game?
about 12 hours ago

AschoffESPN

Edward Aschoff


What?? Crazy talk right there RT @Tomas_Verde: Never saw any of that defense in the Media games. Scouting reports had you as a one-way star.
about 12 hours ago
BLOG ARCHIVE:
CATEGORIES: