Class reset: Inside the Aggies' 2013 class
December, 21, 2012
12/21/12
10:30
AM ET
Texas A&M officially added a handful of mid-year junior college prospects and one prep school prospect via national letters of intent on Wednesday and Thursday marking the first time those commitments could be officially considered Aggies.
With the calendar fast approaching 2013 and mid-year junior college signing day in the rearview mirror, let's take a glance at where the Aggies' class currently sits heading into the final month-and-a-half of recruiting: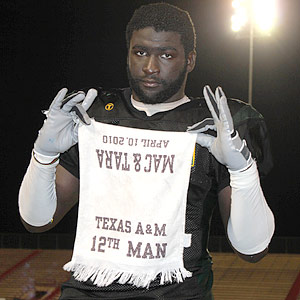 Sam Khan Jr./ESPN.comLinebacker Reggie Chevis is one of four high school recruits enrolling in January at Texas A&M.
Overall standing:
No. 7 in ESPN Class Rankings
This has all the makings of a top-10 class. There are six ESPN 150 prospects and two others who are ESPN 300 prospects. There are 16 four-star prospects in the group and just about every need the Aggies have is addressed, with the possible exception of defensive end, where the Aggies have just one.
Mid-year letters of intent signed:
TE
Cameron Clear
, OLB
Kenny Flowers
, OLB
Tommy Sanders
, WR
Ja'Quay Williams
, OT
Jeremiah Stuckey
Notable:
A lot of impact players in this group. Sanders was the No. 1 junior college linebacker in the ESPN JC 100 and Williams, a prep school prospect from Fork Union (Va.) Military Academy is a four-star prospect. Flowers will compete for time at outside linebacker and Stuckey will be an asset if the Aggies lose either of their junior draft-eligible tackles. The Aggies don't use tight ends a ton, so it will be interesting to see how Clear's role develops. He appears big enough to be a tackle if there's interest in making that transition.
Mid-year high school prospects:
ILB
Reggie Chevis
, DT
Jordan Points
, RB
Alex Sezer
, ILB
Brett Wade
Notable:
High school prospects that enter as early enrollees can't sign a "letter of intent" in December but they can sign their scholarship papers, otherwise known as "statements of financial aid." Points, Sezer and Wade have done so and Chevis will do so before classes begin in January. All four will enroll for the spring semester and join the team for spring football. Chevis will begin as a middle linebacker, Wade at weakside linebacker and Sezer will likely be a cornerback.
Strongest needs addressed: Receiver, defensive tackle, linebacker
To continue reading this article you must be an Insider
Insider
SEC: Most To Gain, Lose
Paul Finebaum discusses the SEC teams with the most to gain and lose this weekend.
SEC: Most To Gain, Lose
VIDEO PLAYLIST
SEC: Most To Gain, Lose

SEC: Most To Gain, Lose

Paul Finebaum discusses the SEC teams with the most to gain and lose this weekend.

Big Games, Big Impact

Big Games, Big Impact

Ivan Maisel and Heather Dinich explain what kind of effect the six big games this weekend could have on the playoff race, and which ones stand to have the greatest impact.

Big Weekend In Mississippi

Big Weekend In Mississippi

The state of Mississippi hasn't seen a college football weekend this big in decades. Chris Low and Toni Collins look ahead to the big matchups in the Magnolia State.
TAMU FB RECRUITING SCORECARD
TexAgs

TexAgs


You know what to do, Ags. MT @TBBuccaneers Vote for Mike Evans for Rookie of the Week: http://t.co/jppJyZwfEh http://t.co/diqpfK9qee
31 minutes ago

AschoffESPN

Edward Aschoff


Josh Robinson makes his name at Mississippi State http://t.co/LLknKY2UFN via @espncfb
31 minutes ago

ESPN_SEC

ESPN_SEC


Will Muschamp binds fate to Jeff Driskel http://t.co/KFm6hCYmq0
40 minutes ago

TexAgs

TexAgs


Hilarious.SEC Ready premieres in 10 days...Trailer: http://t.co/itZhbdeem1Tickets: http://t.co/BeuNao5dvv http://t.co/ZP9XxW13fk
43 minutes ago

AggieFootball

Texas A&M Football


Joining us is Donnie Baggs, fresh off his first start of the season last weekend #12thMan #TAMUvsMSSU http://t.co/j9cB8mrzX9
about an hour ago

AggieFootball

Texas A&M Football


The @SEC leader is passing yards (1,745yds), Kenny Hill joins us to talk about #TAMUvsMSSU #12thMan http://t.co/kJIPUwOiLT
about an hour ago

AggieFootball

Texas A&M Football


Making his first appearance at Tuesday media this season, Sr. DL Ivan Robinson #12thMan #TAMUvsMSSU http://t.co/dzEprubYCH
about an hour ago

AggieFootball

Texas A&M Football


Next up is Malcome Kennedy, the Cayuga native leads A&M with 33 catches this season #12thMan #TAMUvsMSSU http://t.co/5OEg4UQliX
about an hour ago

ESPN_SEC

ESPN_SEC


History on schedule for Mississippi http://t.co/VLdDhLtNH4
about an hour ago

AggieFootball

Texas A&M Football


.@SEC Defensive Player of the Week Deshazor Everett speaks with the collected media #12thMan #TAMUvsMSSU http://t.co/uIxJNzKbPW
about an hour ago

AggieFootball

Texas A&M Football


.@coachmarksnyder visits with the media at Tuesday's press conference: http://t.co/Xsl1Ughf4F #12thMan #TAMUvsMSST
about an hour ago

AggieFootball

Texas A&M Football


Watch @CoachSumlin's weekly press conference here: http://t.co/KJxCYOdtSQ #12thMan #TAMUvsMSST
about an hour ago

AggieFootball

Texas A&M Football


Joining us today is All-American left tackle, Cedric Ogbuehi. Leads A&M with 35 career starts #12thMan #TAMUvsMSSU http://t.co/yrNu9voUGz
about an hour ago

AggieFootball

Texas A&M Football


Thats all from @JakeSpavital, video of all 3 coaches will available on YouTube today. Athletes to join us shortly #12thMan #TAMUvsMSST
about an hour ago

AggieFootball

Texas A&M Football


Watch @coachsumlin's weekly press conference here: http://t.co/IDWKIdHKxI #12thMan #TAMUvsMSST
about an hour ago

AggieFootball

Texas A&M Football


I love watching OL celebrate touchdowns, hope we get another opportunity for Ben Compton to score -@JakeSpavital #12thMan #TAMUvsMSST
about an hour ago

TexAgs

TexAgs


Spavital on the no-call on the Kennedy jump in OT: "I didn't see the [Kennedy flinch] from where I was (big smile)."
about an hour ago

DavidSPaschall

David Paschall


When Patton Robinette is not Vanderbilt's quarterback, the Commodores have been outscored 150-30. Robinette is doubtful this week.
about an hour ago

AggieFootball

Texas A&M Football


I woke up knowing that play was going to score for us that day. Malcome made they play and it worked -@JakeSpavital #12thMan #TAMUvsMSST
about an hour ago

TexAgs

TexAgs


Spavital: On the last drive [of regulation], Kennedy got hurt. But he came back [quickly]. On that first play of OT, I knew we would score.
about an hour ago

AggieFootball

Texas A&M Football


We know the task at hand with this Miss St defense, I think our guys our up to the challenge -@JakeSpavital #12thMan #TAMUvsMSST
about an hour ago

TexAgs

TexAgs


Spavital: Mississippi State has the largest [d-line] we'll face all year. Almost 300 pounds across the board. Take pride in stopping run.
about an hour ago

TexAgs

TexAgs


Spavital: Cam Clear's role is going to expand. It's a long decision ... I can't give away all of my bullets just yet.
about an hour ago

Aggies

Texas A&M Aggies SDS


SEC Wide Receiver Power Rankings: Week 6 http://t.co/9CKueHRGcf
about an hour ago

AggieFootball

Texas A&M Football


We had ups and downs, but Kenny kept playing and communicating well. -@JakeSpavital #12thMan #TAMUvsMSST
about an hour ago

TexAgs

TexAgs


Spavital: Kenny never panics and I always feel like there's hope when he's on the field. No doubt that we would tie the game late.
about an hour ago

TexAgs

TexAgs


Obioha: D-line coming along. We need to peak during this tie because next [few] opponents are no joke. We can be better than '12 D-line.
about an hour ago

ESPN_SEC

ESPN_SEC


Robinson finds stardom with Bulldogs http://t.co/LBTzWUutvO
about an hour ago

TexAgs

TexAgs


Obioha: Prescott is a great player. The QB run is a constant. Going to be like last week...we'll have to study film and pick up tendencies.
about an hour ago

12thMan

Texas A&M Athletics


The first 300 #TAMU students at Friday night's @AggieSoccer game vs. Florida will receive a 16 oz Dixie Chicken stadium cup! #12thMan
about an hour ago

TexAgs

TexAgs


Obioha: Impressed with how hard the younger guys have done in film study. The easiest way to separate yourself is through film study.
about an hour ago

mbpRivals

Mark Passwaters


Both Snyder and Sumlin have referred to Arkansas as Wisconsin.
about an hour ago

AggieFootball

Texas A&M Football


Jr. DL and team captain Julien Obioha talks to the media #12thMan #TAMUvsMSSU http://t.co/BjaAP9l7I2
about an hour ago

AggieFootball

Texas A&M Football


The difference this week is how they approach the running game -@coachmarksnyder #12thMan #TAMUvsMSST
about an hour ago

skhanjr

Sam Khan Jr.


Texas A&M DC Mark Snyder summed up Arkansas' offensive line thusly: "Five Paul Bunyans."
about an hour ago

AschoffESPN

Edward Aschoff


I debate with @ChantelJennings about who sould be the Heisman favorite -- Mariota or Gurley. OBVIOUSLY it's Gurley http://t.co/eAf3foq6oF
about an hour ago

TexAgs

TexAgs


Snyder: On fourth down play, pretty impressive. You see Qualen pointing to the gap [Collins was running to]. We built a wall. Nice to see.
about an hour ago

AggieFootball

Texas A&M Football


Gotta give a shout out to our crowd, they were great down the stretch. Our guys really fed off them -@coachmarksnyder #12thMan #TAMUvsMSST
about an hour ago

TexAgs

TexAgs


Snyder: [Everett] did a great job of leading on Sat. They did a fantastic job of leading. Crowd was awesome down stretch...we fed off that.
about an hour ago

TexAgs

TexAgs


Snyder: Everyone knows about [Jameon Lewis] for Mississippi State, but when they need a big play, [Prescott] is going to [De'Runnya Wilson].
about an hour ago

AggieFootball

Texas A&M Football


Alonzo, Ivan and Julien all played really well last week, happy with our DL last week -@coachmarksnyder #12thMan #TAMUvsMSST
about an hour ago

AggieFootball

Texas A&M Football


Alonzo, Ivan and Julien all played really well last week, happy with our DL last week -@coachmarksnyder #12thMan #TAMUvsMSST
about an hour ago

TexAgs

TexAgs


Snyder: Ivan Robinson played well. He's not the only one. Alonzo, Julien, the entire front.
about an hour ago

TexAgs

TexAgs


Snyder: Dak Prescott is really good. He's the cog that makes that [MSU] engine go. Real leader for that team.
about an hour ago

AggieFootball

Texas A&M Football


As you go through the @SEC schedule we are going to see a lot of different offenses -@coachmarksnyder #12thMan #TAMUvsMSST
about an hour ago

AggieFootball

Texas A&M Football


As the game went our guys settled in, shows maturity from our guys -@coachmarksnyder #12thMan #TAMUvsMSST
about an hour ago

TexAgs

TexAgs


Snyder: As the [Arkansas] game went, especially after halftime, our guys knew what was coming. That's a sign of maturity.
about an hour ago

AggieFootball

Texas A&M Football


Thats all from@CoachSumlin today, up next @coachmarksnyder #12thMan #TAMUvsMSST
about an hour ago

TexAgs

TexAgs


Sumlin: This team is a little different [than '12]. So many guys playing [on D]. In '12, we had about 15 guys playing on D. But older group.
about an hour ago

ESPNTAMU

ESPN Texas A&M


Sumlin on Mississippi State: "This team is as good as any team we're going to play this year."
about an hour ago

SEC_Sean

Sean Cartell


The #SEC has announced its Cross Country Runners of the Week: http://t.co/sjyRh3XuC5
about an hour ago

skhanjr

Sam Khan Jr.


Sumlin on Dak Prescott: "I think he's the QB that (Dan Mullen) has been wanting (for this offense). The complete quarterback."
about an hour ago

TexAgs

TexAgs


Sumlin: Dan [Mullen] has done a fabulous job. Have a lot of respect for him. Prescott is player that he's been [waiting for]. Complete QB.
about an hour ago

AggieFootball

Texas A&M Football


We're asking everyone to play at a high level, even @TAMUSpecialists. We have to play better everywhere -@CoachSumlin #12thMan #TAMUvsMSST
about 2 hours ago

TexAgs

TexAgs


Sumlin: Scheduling is tougher than picking up the phone and saying, 'Hey, do you guys want to play?' Maybe at the bar at coach's convention.
about 2 hours ago

TexAgs

TexAgs


Sumlin: Everybody gets on our schedule ... playing games now that current coach, AD and president didn't schedule. [Changing] next year.
about 2 hours ago

AggieFootball

Texas A&M Football


Deshazor is a guy that has played a bunch of football for us, the CBs lean on him as a leader -@CoachSumlin #12thMan #TAMUvsMSST
about 2 hours ago

ESPNTAMU

ESPN Texas A&M


Sumlin calls LB Justin Bass "the missing piece" for his ability to float around and play multiple LB positions.
about 2 hours ago

TexAgs

TexAgs


Sumlin: You can really see the difference that Shaan Washington makes for us. He is explosive and makes plays.
about 2 hours ago

TomMurphyADG

Thomas Murphy


Bielema: CBS invited me to be in to be an analyst on Saturday. Great opportunity for exposure for our program. He'll be in New York
about 2 hours ago

AggieFootball

Texas A&M Football


When you're winning you want to play again. Bye weeks can help you or hurt you -@CoachSumlin #12thMan #TAMUvsMSST
about 2 hours ago

TexAgs

TexAgs


Sumlin on whether Kennedy had a false start (not called) before his overtime TD catch: "I don't know. I didn't see that from where I was."
about 2 hours ago

skhanjr

Sam Khan Jr.


Kevin Sumlin said RB Brandon Williams was injured on the first drive Saturday...Calls him "probable" for this weekend vs. MSU.
about 2 hours ago

TexAgs

TexAgs


Sumlin: After 1st series, Brandon Williams was injured and we didn't put him back in. He's probable, which is better than probably probable.
about 2 hours ago

TexAgs

TexAgs


Sumlin: Malcome Kennedy talked to the team in the locker room at halftime. I said, 'That's better than anything I have to say.' That's big.
about 2 hours ago

AggieFootball

Texas A&M Football


The intensity level for last week's game was real high. Great chance for the younger guys to learn -@CoachSumlin #12thMan #TAMUvsMSST
about 2 hours ago

TexAgs

TexAgs


Sumlin: You play in the SEC and win a game, whether you're young, old or indifferent, a win is a win. The older guys pulled us out of it.
about 2 hours ago

Aggies

Texas A&M Aggies SDS


SDS playoff predictor: SEC in great shape with three in current top four http://t.co/AsBxjDykjC
about 2 hours ago

TexAgs

TexAgs


Sumlin: Hill's demeanor lends itself to not being too high or too low ... really helps him and helps our team.
about 2 hours ago

TexAgs

TexAgs


Sumlin: A lot of things besides quarterback doing what he needed to do. A lot of near misses or drops or falling down. Not all on [Hill].
about 2 hours ago

ESPNTAMU

ESPN Texas A&M


Sumlin: (Mississippi QB) Dak Prescott is playing really well...you can argue they're as hot as any team in the country.
about 2 hours ago

TexAgs

TexAgs


Stuck at work on a Tuesday ... we've got you covered with full A&M press conference quotes (Premium): http://t.co/FrDWXSPQ8O
about 2 hours ago

TexAgs

TexAgs


Sumlin: Armani Watts got a real look at a big-time atmosphere and two real running backs. He missed early and got on his heels.
about 2 hours ago

AggieFootball

Texas A&M Football


The way we played in the 4th qtr and OT is a credit to CoachJackson and his staff -@CoachSumlin #12thMan #TAMUvsMSST
about 2 hours ago

TexAgs

TexAgs


Sumlin: Ivan Robinson doesn't get enough credit for playing 58 snaps. Wasn't supposed to play this year.
about 2 hours ago

SEC

SEC Sports


This edition of #SEC One on One features LSU head football coach Les Miles: http://t.co/jAtutgoETz
about 2 hours ago

ClowESPN

Chris Low


Lot of neat people in Mississippi and some pretty stout FB, too. Enjoyed my time in the state last week. My story: http://t.co/joOavx9MR0
about 2 hours ago

ESPNTAMU

ESPN Texas A&M


Sumlin: A lot of accolades have gone to our young players, but we wouldn't have won that game (Arkansas) without our older guys.
about 2 hours ago

ESPNTAMU

ESPN Texas A&M


Kevin Sumlin beginning his weekly press conference. #Aggies
about 2 hours ago

AggieFootball

Texas A&M Football


Really enjoyed the atmosphere last week, thanks to the corps for coming out and supporting us -@CoachSumlin #12thMan #TAMUvsMSST
about 2 hours ago

TexAgs

TexAgs


Sumlin: Last week was a great atmosphere. Team enjoys playing at AT&T Stadium. Great show of support by Corps. Played well enough to win.
about 2 hours ago

AggieFootball

Texas A&M Football


Live video ($) of today's press conference available here: http://t.co/pQC1VJDi63 #12thMan #TAMUvsMSST
about 2 hours ago

TexAgs

TexAgs


We're inside Kyle Field for the A&M weekly press conference, starting NOW. Keep it here for notes.
about 2 hours ago

AggieFootball

Texas A&M Football


Today's presser starts soon. We'll tweet select quotes from @CoachSumlin, @coachmarksnyder & @JakeSpavital #12thMan #TAMUvsMSST
about 2 hours ago

DavidNunoABC13

David Nu\u00F1o


Source: #aggie @Labhart15 is signing again with the #Texans practice squad later today- good guy who has worked extremely hard. #abc13
about 2 hours ago

ESPN_SEC

ESPN_SEC


SEC Heisman watch: Week 5 http://t.co/4MyvL80iuW
about 2 hours ago

TexAgs

TexAgs


What's the national No. 1 recruit in the 2016 class got going on these days? (Premium) http://t.co/8W42qNLtiY
about 2 hours ago

ESPN_SEC

ESPN_SEC


Why Ole Miss can upset Alabama http://t.co/TmBxpvACOA
about 3 hours ago

Aggies

Texas A&M Aggies SDS


General Preview: Mississippi State vs. Texas A&M http://t.co/hAhZZ2RrMw
about 3 hours ago

ESPN_SEC

ESPN_SEC


Auburn, LSU swap roles from 2013 game http://t.co/KE1uaR4WKe
about 3 hours ago

AggieFootball

Texas A&M Football


Weekly football press conference starts at 12:00 from Kyle Field. Watch live here: ($) http://t.co/pQC1VJDi63 #12thMan #TAMUvsMSST
about 3 hours ago

SEC

SEC Sports


Auburn's (@FootballAU) Sammie Coates Named #SEC Football Community Service Team Player of the Week: http://t.co/y9xwF93dij
about 4 hours ago

Aggies

Texas A&M Aggies SDS


Early opponent analysis: Texas A&M http://t.co/s5CyCuQafD
about 4 hours ago

ESPNTAMU

ESPN Texas A&M


Which #SEC team has the most to prove in Week 6? Our SEC writers offer their takes: http://t.co/h158pFiDBY
about 4 hours ago

ESPN_SEC

ESPN_SEC


Heisman Debate: Marcus Mariota vs. Todd Gurley http://t.co/1ghK0YMcNS
about 4 hours ago

TexAgs

TexAgs


Down at half against an excellent game plan? Ain't no thang for the nation's top dual-threat QB. (Premium) http://t.co/Cv8yYaBk3A
about 4 hours ago

ESPN_SEC

ESPN_SEC


Week 6 SEC roundtable: Team with the most to prove http://t.co/oU0IZV8Ese
about 4 hours ago

AggieMensHoops

Aggie Men\'s Hoops


Had an amazing time with our friends from Still Creek Ranch last night! Thanks for coming out guys! #12thman http://t.co/j9vMfcUcVc
about 5 hours ago

Aggies

Texas A&M Aggies SDS


Early opponent analysis: Mississippi State http://t.co/6lYlib1QjA
about 5 hours ago
BLOG ARCHIVE:
CATEGORIES: