Through adversity, Seals-Jones trudges on
September, 17, 2012
9/17/12
8:00
AM ET
SEALY, Texas -- Though he didn't log a single minute on the field and watched from the sidelines on crutches as his Sealy (Texas) teammates battled to a 26-20 come-from-behind win over Cleveland (Texas),
Ricky Seals-Jones
was still the king at Tiger Stadium on Friday night.
Homecoming king, that is.
Complete with a black-and-white crown and a black-and-gold sash commemorating his achievement, which was announced at halftime, the no. 10 player in the ESPN 150 and the No. 1 receiver in the nation was still a popular man, even though he physically couldn't contribute to the Tigers' victory. He signed autographs for kids. A little girl even brought him fresh-baked brownies.
[+] Enlarge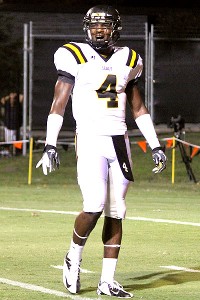 Sam Khan Jr./ESPN.comRicky Seals-Jones, the top prospect in Texas, has narrowed down his finalists to Texas A&M and LSU.
Dislocated knee and all, Seals-Jones was feeling the love from Sealy fans.
The last week-and-a-half has been a tough one for the 6-foot-5, 230-pound receiver. On Sept. 6, he suffered the dislocated knee, an injury that likely will sideline him for 6-8 weeks. One of the top schools he was considering to attend, Texas, stopped recruiting him. And he had to spend his senior year homecoming game on the sideline, on crutches.
But the homecoming crown certainly helped the injured star's spirits.
"I'm very thankful, proud," Seals-Jones said. "It gave me a boost in my confidence because I was down, being out so long. A lot of my teammates were telling me, 'Man, we miss you.' That was getting me down, but it's kind of helped out. And them winning this game helped out a lot too."
Just eight days prior, Seals-Jones wasn't even sure if he still had a football future. After making a tackle in the third quarter of his team's 45-21 loss to Houston St. Pius X, his left kneecap popped out. As trainers tended to him, he was in visible and audible pain. He was scared.
"First, when I looked at it, I thought my whole knee had shifted over," Seals-Jones said. "I just thought my football career was over, that my dream was over. ... I was freaking out."
When a team doctor informed him that it was likely just a dislocation and that he would be able to come back from it, he was optimistic. After spending the night at Memorial Hermann Northwest Hospital, he had an MRI that revealed no major structural damage to the knee. Seals-Jones, his family, teammates and coaches were relieved.
The day after the game, Seals-Jones woke up and got a taste of the outpouring of support from family, friends, teammates, coaches and even fans.
"It was crazy," he said. "I woke up the next morning with 153 unread messages, 50 phone calls and Twitter was just blowing up for like two or three days. Stuff like, 'Get well,' 'Speedy recovery.' I felt loved. I'm proud of that."
The next day he also learned about the infamous helicopter that Texas A&M coach Kevin Sumlin and recruiting coordinator Clarence McKinney arrived in for the game. His father, Chester Jones, didn't want Ricky to be nervous for the game by thinking about that, so when the helicopter hovered over Parsley Field before kickoff, Ricky thought it might be a television station.
"I really didn't know about it until like a day later," Seals-Jones said. "I went on Instagram and somebody had tweeted it. I didn't know. At first, I heard a chopper, and I thought it was the news, maybe ABC or something, and then once I realized (it was the Texas A&M coaches), I said, 'They're doing it big down there at A&M.'"
Seals-Jones spent the next week icing his knee, going to classes and spending some time out at practices to support his teammates. He's not the only Tiger injured -- head coach Jimmie Mitchell is dealing with a host of injuries to key players, including running back
Jowan Davis
(CQ), a Rice commitment, quarterback A.J. Viertel and receiver Kris Brown.
Then the news of
Texas dropping out of his recruitment hit
. Seals-Jones was puzzled by it, but said he's not worrying about it and moving on.
"I don't know why, but it is what it is," Seals-Jones said. "I'm going to move forward, and they'll move forward, so I'll just find another school."
Chester said that Texas was still leading Ricky's list when the Longhorns dropped out of the race.
"I'll be honest with you," he said. "Texas was on top."
2015 Spring Football Tour: Texas A&M
SEC SCOREBOARD
Thursday, 9/3
Saturday, 9/5