April, 17, 2014
Apr 17
10:00
AM ET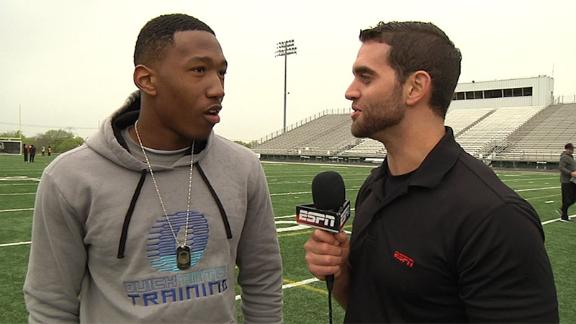 Throughout this recruiting cycle, RecruitingNation will profile a number of ESPN 300 prospects in the 2015 class, including an inside look at the prospect, his recruitment, a scouting report and what college program could benefit when he ultimately makes his decision
.
DESOTO, Texas -- With all the multiple camps, combines and special events happening each spring,
DaMarkus Lodge
chooses not to be a regular on the circuit.
It's not that Lodge is against them, or that he thinks he's above them. The ESPN 300 receiver has simply prioritized his life as a student-athlete. The camp circuit happens to be a middle-of-the-pack priority.
To continue reading this article you must be an Insider
April, 17, 2014
Apr 17
9:49
AM ET
April, 17, 2014
Apr 17
9:00
AM ET
It would be easy to assume that 15 spring football practices would bring some clarity to the Texas A&M quarterback race.
Instead, there were seemingly as many questions coming out of spring as there were when it began.
The arrest and subsequent suspension of sophomore quarterback
Kenny Hill
, one of three Aggies who entered spring competing for the right to succeed
Johnny Manziel
, complicated matters in the final week of spring practice as senior
Matt Joeckel
and true freshman
Kyle Allen
spent the final week of spring drills splitting reps.
The
announcement Wednesday of Joeckel's decision to transfer
cleared things up somewhat, but it's still a marathon until the Aggies pick a starter.
Hill, who was suspended on March 28 following an arrest for public intoxication, has since been reinstated to the team and will have to stay out of trouble moving forward. He has experience on his side, having appeared in five games last season and having plenty of experience in a no-huddle, up-tempo spread-style offense like the Aggies run.
Allen, who went through customary true freshman growing pains in the early portions of spring practice while working to grasp the offense, came along nicely toward the end of spring drills, throwing a quality deep ball and handling the entire menu of plays that offensive coordinator Jake Spavital threw at him.
Joeckel's departure thins out the quarterback depth, leaving the Aggies with just two scholarship players at the position (look for walk-on
Conner McQueen
to be the third-string quarterback). Joeckel was still in the race when he made his decision, and the Aggies would have liked to have his veteran presence around, but he clearly felt his chance to start in 2014 was better somewhere else than Aggieland. And keep in mind, the Aggies continue to look for a quarterback in the 2015 recruiting class, with the focus currently set on ESPN 300 prospect and two-time Texas Class 5A Division I state champion
Kyler Murray
, son of former Aggies quarterback Kevin Murray.
With Joeckel out, it's a two-man race between Allen and Hill until mid-August, but it's too early to call a winner just yet. That's not the way A&M coach Kevin Sumlin works. He prefers to wait until approximately two weeks before the season opener before calling the quarterback competition, something he stayed true to in 2008 (his first year at Houston) and in 2012 (his first year at Texas A&M).
So Hill and Allen will continue to battle it out this summer and when preseason training camp begins in late July or early August. Speculation will run rampant as it did in 2012 (when many observers felt
Jameill Showers
led Manziel coming out of spring ball, though Manziel ultimately won the job), but the bottom line is we won't truly know who's trotting out into the offensive huddle first on Aug. 28 against South Carolina until Sumlin says so in about four months.
April, 16, 2014
Apr 16
5:38
PM ET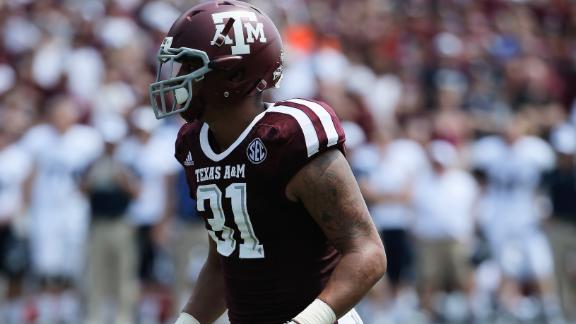 Texas A&M football players Howard Matthews, Edward Pope and Gavin Stansbury were arrested by the College Station Police Department around midnight last Thursday, according to police records.
The offseason as a whole hasn't been kind to coach Kevin Sumlin's program. The arrests of Matthews, Pope and Stansbury come on the heels of Kenny Hill's arrest for public intoxication late last month. The quarterback, in competition with freshman Kyle Allen to succeed NFL-bound Johnny Manziel, was suspended from the team indefinitely and then reinstated this week.
In response to the arrests, the school released a statement that read: "We are continuing to gather information. Gavin Stansbury was initially suspended from all athletic activities, but has since been reinstated to the team. Howard Matthews and Ed Pope were not suspended and are still members of the football team."
Matthews faces charges of speeding, failure to exhibit a driver's license and failure to appear. The 6-foot-2 senior defensive back was second on the team with 90 tackles last season and tied for first with three interceptions.
Pope faces a charge of failure to appear. The 6-4 junior wide receiver finished last season with nine receptions for 65 yards.
April, 16, 2014
Apr 16
12:20
PM ET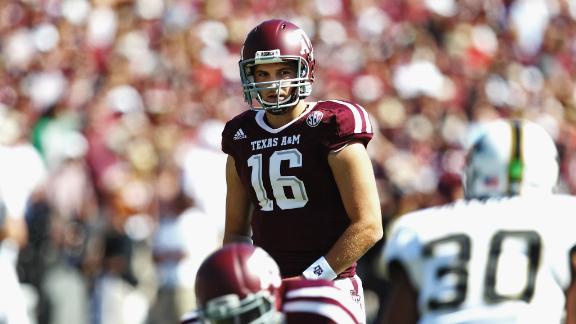 The departure
of senior
Matt Joeckel
means that
Texas A&M
is down to two in its quarterback race. From here on out, it's all about sophomore
Kenny Hill
and early-enrollee freshman
Kyle Allen
.
[+] Enlarge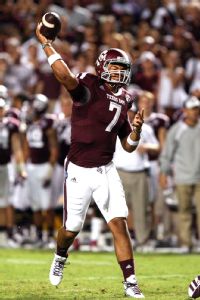 Troy Taormina/USA TODAY SportsSophomore Kenny Hill threw for 183 yards and a touchdown in limited playing time last fall.
The question now becomes who has the edge at the position entering summer workouts and fall camp?
It really is up in the air. Coach Kevin Sumlin is not expected to announce a starter until August, much like when he chose
Johnny Manziel
to be the starter before the 2012 season. Sumlin isn't the type to make a decision like this early, so there's plenty of time for both guys to prove themselves before the season opener against South Carolina on Aug. 28.
While Allen, a U.S. Army All-American and former ESPN 300 member, arrived in College Station with a mountain of hype and expectations, the more experienced Hill might still have a leg up on the rising star. Yes, Hill was indefinitely suspended this spring after he was
arrested in late March on a public intoxication charge
, but that setback won't disqualify him from taking the starting job this fall.
After all, Manziel was also arrested -- much later in the process, too -- and did just fine with the quarterback battle in 2012. He also turned out to be a pretty decent starter for the Aggies.
Now, Hill isn't Manziel. He isn't going to make the kind of jaw-dropping plays that made Manziel so much fun to watch and so tough to defend, but he knows the offense the best and has the only on-field experience. Hill played in five games last season, throwing for 183 yards and a touchdown on 16-of-22 passing. With that said, Hill is on thin ice and certainly can't afford to have another off-field transgression if he wants a shot at being the starter.
Hill's suspension set him back this spring, giving Allen more opportunities. Allen showed the expected freshman jitters and errors this spring. He was far from perfect and still has a way to go in this offense. He might have an advantage in the arms race, as he threw arguably the best ball of all the competitors this spring. Allen might be the quarterback of the future with his talent and upside, but that doesn't mean he'll be the quarterback of 2014.
Hill has some work to do to get fully back into his coaches' good graces, but his knowledge of the offense gives him an advantage at the moment. Both will likely see playing time this fall, but Sumlin isn't one to swap quarterbacks in and out on a regular basis during the season.
Eventually there's going to be one guy for the job, and the next few months will still go a long way in determining who starts for the Aggies at quarterback in the fall.
April, 16, 2014
Apr 16
12:00
PM ET
Finish your taxes on time? Then sit back and enjoy Wednesday's lunch links.
April, 16, 2014
Apr 16
11:37
AM ET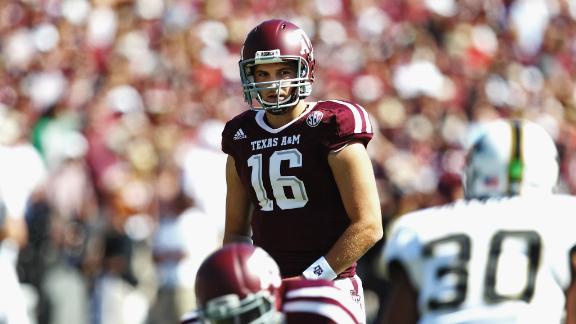 The race to replace Johnny Manziel as starting quarterback at Texas A&M is down to two, after the school announced Wednesday that Matt Joeckel will transfer from the program.
The Arlington, Texas, native and former three-star recruit played in four games last season, connecting on 22 of 37 passes for 293 yards and two touchdowns.
"Matt is a great Aggie and he has decided to transfer," coach Kevin Sumlin said in a news release. "We wish him all the best."
With Joeckel out of the picture, the competition at quarterback falls to Kenny Hill and Kyle Allen.
Hill, a 6-foot-1 sophomore from Southlake, outside of Dallas, played in four games as a freshman, completing 16 of 22 passes, including one for a touchdown. He also ran the ball seven times for 37 yards.
But Hill took a significant step backward late last month when he was arrested for public intoxication and soon thereafter suspended indefinitely.
Allen, the No. 1 quarterback in the ESPN 300, enrolled at Texas A&M in January and was able to compete throughout spring practice, which ended on April 5.
Sumlin has not set a timetable for naming a starter. Whoever it is will have enormous shoes to fill after Manziel's storied two-year reign at the position that yielded a Heisman Trophy and numerous school and conference records on offense.
Joeckel, who finished his undergraduate degree in December, will have immediate eligibility to play in his senior season. His brother, Luke Joecke
April, 16, 2014
Apr 16
9:00
AM ET
The last two seasons, Texas A&M hasn't had to tap deep into its offensive line because the Aggies have had good fortune health-wise at the position.
In 2012, the Aggies had the same starting five offensive linemen for all 13 games and in 2013, they had the same starting five for 11 of their 13 games, missing only tackle
Cedric Ogbuehi
for two games in the middle of the season.
But with left guard
Jarvis Harrison
sitting out the spring while recovering from offseason shoulder surgery, the Aggies were able to see that they do have quality depth on their offensive line should they need it.
Harrison's absence made way for two players to find their way into the lineup with the first team this spring:
Garrett Gramling
and
Joseph Cheek
.
Texas A&M returns four of five starters from 2013: Ogbuehi, Harrison, center
Mike Matthews
and right guard
Germain Ifedi
. The right tackle spot is open for competition and though the spring began with junior college transfers
Avery Gennesy
and
Jermaine Eluemunor
competing for the position, the majority of the spring saw Ifedi manning that spot.
With Ifedi shifted over and Harrison out, that left the two guard spots open, which both Gramling and Cheek ably filled during spring drills.
Offensive line coach B.J. Anderson made it clear during spring football that "we're not earning any jobs right now" and that his players were focusing on technique and fundamentals. Still, Ifedi established himself as a candidate to be the future right tackle and Gramling -- who started at left guard the two games Ogbuehi was out while Harrison played left tackle -- has positioned himself to compete for a starting guard job.
"I've got Joe Cheek over at the right guard and Garrett at the left guard and you add Jarvis to that mix and there's three guys for those two positions," Anderson said. "We'll find out who wins it in fall camp."
Eluemunor spent most of the spring working at guard and Gennesy at tackle and Anderson wanted both to get comfortable in their new surroundings. He also noted that both were training at both right guard and right tackle.
"I think that's important," Anderson said. "They need to do be able to do both in case we get into an injury scenario."
Ogbuehi, who played right tackle last year, spent the spring getting acclimated to the left side of the offensive line. He felt good about his progress from the first spring practice to the last one on April 5.
"I feel a lot better," Ogbuehi said. "I feel better than I was last year at right tackle."
Matthews, who is entering his junior season at center, will be a steady presence for the Aggies in the middle.
"Mike has total control of the offense," Anderson said.
The standard this group has to live up to is a high one. The last two seasons, the Aggies have been considered one of the country's best offensive lines, paving the way for a top-10 offense and protecting quarterback
Johnny Manziel
. It's a unit that produced the No. 2 overall pick in the 2013 NFL draft (
Luke Joeckel
) and likely will produce another top-10 pick next month (
Jake Matthews
). Even SEC fans
are picking the Aggies to be the league's best unit
this season.
Though it remains to be seen how this group develops, there certainly is no shortage of options for the Aggies up front.
April, 15, 2014
Apr 15
6:47
PM ET
April, 15, 2014
Apr 15
1:30
PM ET
Maybe it's a surprise to some, and maybe it shouldn't be. Either way, Texas A&M's offensive line will be the cream of the crop in the SEC in 2014, according to the fans.
More than 17,000 people voted in our
SportsNation poll last week
, and the Aggies were a clear winner. They received 34 percent of the vote. LSU was second with 23 percent and then Auburn with 16 percent, Alabama with 14 percent and South Carolina with 13 percent.
The Aggies will have a bit of a new look up front offensively in 2014. Senior
Cedric Ogbuehi
is moving from right tackle to left tackle and is another in a long line of outstanding tackles to play at Texas A&M. Luke Joeckel was the second overall pick in the 2013 NFL draft.
Jake Matthews
is being projected as a top-10 pick in May's draft, and Ogbuehi also has the makings of a first-rounder when the 2015 draft rolls around. He got a first-round grade from the advisory board this past year but decided to return for his senior season.
Ogbuehi is one of four returning starters up front for the Aggies, who should also have more depth next season. Senior left guard
Jarvis Harrison
was out all spring with a shoulder injury, and senior
Garrett Gramling
worked with the first team. He played well enough that he could work his way into the starting lineup. Every good offensive line is stout right up the middle, and junior
Mike Matthews
returns as one of the top centers in the league. He has excellent command of the offense in terms of all his checks and calls.
The right tackle job is the big question, although sophomore
Germain Ifedi
worked there this spring after playing last season at guard. The 6-5, 330-pound Ifedi is a mammoth individual, but seems to move well enough to play outside at tackle. Junior college tackles
Avery Gennesy
and
Jermaine Eluemunor
will benefit from having gone through the spring, and junior
Joseph Cheek
got a lot of first-team work at guard this spring.
The big surprise coming out of the SportsNation poll was that South Carolina received the fewest votes. The Gamecocks also return four starters and have three players -- tackles
Corey Robinson
and
Brandon Shell
and left guard
A.J. Cann
-- who are likely to be drafted. This also will be their third season playing together. When it's all said and done, here's betting that the Gamecocks are as good as anybody up front offensively in 2014.
We'll see how it all plays out in the fall.
April, 15, 2014
Apr 15
12:00
PM ET
April, 15, 2014
Apr 15
9:00
AM ET
When it comes to Texas A&M's spring, the first question surrounding the Aggies often relates to the quarterback battle and who is in the lead to succeed
Johnny Manziel
.
The next question is usually relates to the defense, and how much better -- if at all -- the unit will be after a disastrous 2013 season.
While neither can be definitively answered, when it comes to the defense, there is at least some reason for optimism coming out of spring football. The Aggies can't get much worse than they were a year ago, when the ranked last or near last in the SEC in virtually every major statistical category, but there were signs during spring practice that indicate that brighter days are ahead for defensive coordinator Mark Snyder's group.
One reason the Aggies have to feel better about their defense is the experience they'll have. Last year the root of the struggles seemed to be the youth and inexperience up and down the depth chart, with the Aggies having as many as a dozen freshmen in the defensive two-deep.
Though the Aggies will still be relatively young in some areas (particularly linebacker), most of the players who are candidates to start or see significant time were thrown in the fire last season.
Middle linebacker
Jordan Mastrogiovanni
is a perfect example. Though he'll only be a sophomore this fall, he started against Alabama last Sept. 14 and in the Chick-Fil-A Bowl against Duke. Mastrogiovanni called it "overwhelming," but as the guy getting first-team work at his position this spring, coaches have heaped praise upon the former ESPN 300 prospect.
Should defensive tackle
Isaiah Golden
and linebacker
Darian Claiborne
return from suspensions (both missed the spring after February arrests), they too will benefit. Both started a large portion of the season as true freshmen.
Other players who could be in position to contribute, such as linebacker
Shaan Washington
or cornerback
Noel Ellis
, weren't starters but saw enough field time to give them a taste of what life in the SEC is like.
Add to those young players a host of returning veterans, such as the starting secondary of
Deshazor Everett
,
De'Vante Harris
,
Howard Matthews
and
Julien Obioha
,
Gavin Stansbury
and
Alonzo Williams
and the Aggies can begin piecing together a more experienced defense.
With so many players returning (nine starters return from last year's defense) and a top-five recruiting class on the way, the Aggies will continue to add to their talent level on defense. One defensive player is already on campus (defensive tackle
Zaycoven Henderson
) and showed flashes of his potential during spring football.
With players like defensive end
Myles Garrett
, the nation's No. 4 overall prospect, ESPN 300 athlete
Nick Harvey
, who will be a defensive back at Texas A&M and other ESPN 300 prospects like
Deshawn Washington,
Otaro Alaka
,
Qualen Cunningham
,
Armani Watts
and
Josh Walker
, competition will only increase when preseason training camp starts.
The increased depth on the defensive line could be the biggest factor in helping the defense improve. Snyder indicated how critical it was earlier this month.
"Up front for the first time, we're going to be able to roll people," Snyder said. "I told [defensive line coach] Terry [Price] … that when we get to the fall, we're going to have to practice our rotations, which is a great thing."
For the Aggies, there really is nowhere to go but up defensively. They could be another year away from being the kind of defense they hope to be, but the developments this spring suggest at least some improvement is in order in 2014.
TAMU Asst. Tops Recruiter Power Rankings
SEC SCOREBOARD
Thursday, 8/28
Saturday, 8/30
Sunday, 8/31