January, 22, 2015
Jan 22
11:10
AM ET
The SEC took some flak in 2014 for not having enough elite quarterback play.
Expect some of that flak to return this season, as the SEC once again deals with a handful of young and relatively inexperienced quarterbacks running amok through the league. Seven of the top 14 SEC passers from 2014 won't be returning in 2015, giving some offensive coordinators extra work to do this year.
But fear not OCs and QBs, the league is still stocked with running back talent that should be able to carry some of those offenses still looking for stability at quarterback.
It sounds redundant, but 2015 really could be the "Year of the Running Back." And this group of running backs is on the younger side, but that shouldn't matter. Freshmen running backs took the league by storm last season, and unfortunately for SEC defenses, those kids are only going to get better.
[+] Enlarge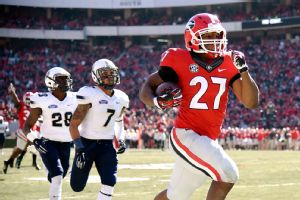 Dale Zanine/USA TODAY SportsNick Chubb rushed for 1,547 yards and 14 TDs last season, despite making just eight starts.
Six of the top-10 statistical running backs return in 2015, and all of them have the capability of making up for some quarterback deficiencies their teams might have.
The four schools that immediately come to mind are Alabama, Arkansas, Georgia, and LSU.
T.J. Yeldon
might be gone at Alabama, but the Crimson Tide will be in very good hands with rising junior
Derrick Henry
taking over as the lead back. Henry and Yeldon shared the carries in 2014, with Henry leading the way with 990 rushing yards. The return of
Kenyan Drake
will add another dimension to Alabama's running game, but Henry is a special talent, and with Alabama breaking in a new quarterback, a restructured offensive line and a young group of receivers, Henry will have plenty of opportunities to shine.
Leading the charge of the running back revolution is rising sophomore
Nick Chubb
, who will be the center of attention in Georgia's offense while the Bulldogs look for a quarterback. You think that's an issue for Chubb? All he did was rank second in the SEC in rushing (1,547 yards and 14 touchdowns) after making just eight starts last season. He was thrust into the starting role after star running back
Todd Gurley
was suspended by the NCAA for four games and then tore his ACL in his late-season return.
That led to Chubb running over, around and through so many unfortunate defenders. In those eight starts, he never dipped below 100 rushing yards and averaged 165.4 per game. Like Gurley, Chubb just runs on another level and appears to either be from another planet or constructed in a lab hidden in the Mojave Desert. The Bulldogs bring back solid talent around Chubb, but let's face it, if new offensive coordinator Brian Schottenheimer isn't routinely handing the rock to Chubb, something just isn't right.
About 600 miles southwest of Chubb is his position rival for the next two years: LSU's
Leonard Fournette
. Another manchild who roughed up plenty of defenders this past season (
so, so sorry Aggies
), Fournette will have to carry the load for the Tigers in 2015, because we just don't know what to expect from the quarterback position. He needed some time to feel comfortable, but when he did, he made his opponents suffer, finishing the season with 1,034 and 10 touchdowns.
Then, there is Arkansas, which has the SEC's best running back duo in
Jonathan Williams
and
Alex Collins
. Both rushed for more than 1,000 yards last season, and with
Brandon Allen
still needing to find his way at quarterback, those two will be relied upon again in 2015. And why not? Coach Bret Bielema wants to pound his opponents into submission anyway, and those two have done it well for the past two seasons.
And just for the heck of it, Tennessee's
Jalen Hurd
will rush for 1,000 yards, even with talented quarterback
Joshua Dobbs
under center.
Here are some other running backs who might have to push their quarterbacks:
Kelvin Taylor/Adam Lane Jr., Florida:
With new coach Jim McElwain installing yet another offense in Gainesville, the Gators have yet another quarterback battle on their hands. The good news is that Taylor and Lane have the potential to be a solid duo. Taylor rushed for 565 and six touchdowns as a backup last season, and Lane broke out in Florida's bowl game, rushing for 109 yards and touchdown.
Brandon Wilds, South Carolina:
The Gamecocks lose
Dylan Thompson
at quarterback, and there is a bit of a battle brewing for his replacement. Wilds, who has 1,277 career rushing yards, has been very solid, and should have no trouble taking over as the starter for
Mike Davis
.
Ralph Webb, Vanderbilt:
Another freshman standout in 2014, Webb will have to continue to be Vandy's top offensive weapon in 2015. The quarterback situation was up-and-down last season, and who knows what it will look like this year. Webb rushed for 907 yards and four touchdowns last season.
Russell Hansbrough, Missouri:
But the Tigers have veteran
Maty Mauk
at quarterback! Well, he wasn't exactly consistent last season, and proved to be a liability at times for Mizzou's offense. Hansbrough, on the other hand, rushed for 1,084 yards and 10 touchdowns in a breakout year. With
Marcus Murphy
gone, Hansbrough should grab the majority of carries and improve on a very solid first year as a starter.
January, 22, 2015
Jan 22
10:55
AM ET
By
ESPN.com staff
| ESPN.com
[+] Enlarge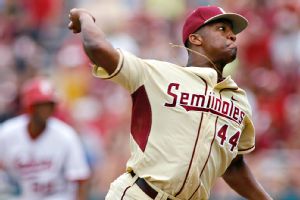 AP Photo/Phil SearsIn addition to being a Heisman winner and national champion quarterback, Jameis Winston excelled at baseball for the Seminoles.
While the Super Bowl pits two quarterbacks who were both MLB draft picks, Russell Wilson and Tom Brady aren't the only signal callers who thrived in multiple sports . The potential No. 1 pick in this year's NFL draft, Jameis Winston, was also a baseball star for the Seminoles. And in the high school ranks, the nation's top-rated quarterback, Texas A&M commit Kyler Murray, could be an early-round MLB draft pick even though most expect him to play football in college.
Here's a look at six high school and college quarterbacks who have also excelled on the diamond:
January, 21, 2015
Jan 21
6:55
PM ET
January 21, 2015
January 21, 2015
Everything is bigger in Texas, including the recruiting battles.
Kyler Murray
, the nation's No. 13 overall player and top dual-threat quarterback, and ESPN 300 receiver
DaMarkus Lodge
took a surprise unofficial visit to Texas Wednesday, sending shockwaves through the Lone Star State. All involved had kept quiet about these plans until Murray and Lodge tweeted photos of Texas uniforms with their respective numbers on Wednesday afternoon.
The news of Murray, who completed his career at Allen High School with a perfect 43-0 record and three Texas state championships, visiting the Forty Acres is big enough by itself. But when you consider Murray has been committed to rival Texas A&M for more than seven months, news of the visit quickly mushroomed into one of the biggest recruiting headlines for the entire 2015 recruiting cycle.
The pursuit of Murray comes at a time when Jim Harbaugh and Michigan are attempting to flip the Longhorns' lone quarterback commit,
Zach Gentry
. Murray did take an official visit to Oklahoma during the season. He took his official to Texas A&M last weekend. Charlie Strong has said Texas needs to take two quarterbacks for its class. ESPN 300 athlete
Kai Locksley
, a Florida State quarterback commit, is scheduled to visit Texas this weekend.
Texas was once the leader for Lodge while Mack Brown was head coach, but the nation's No. 57 prospect committed to Texas A&M last summer. He backed out of that commitment and just took his official visit to College Station with Murray last weekend. Lodge is expected to take his official to Ole Miss on Friday.
The odds of landing both in a signing day stunner probably aren't great, but Strong and the Longhorns at least got their chance on Wednesday to show Murray and Lodge what Texas has to offer and put a little pressure on their recruiting rival.
January, 21, 2015
Jan 21
12:10
PM ET
DALLAS -- It's a sign of the times when you start seeing ground-and-pound Alabama running tempo.
There's a reason one of Will Muschamp's final orders at Florida was to have his team attempt to run more of a spread offense with some tempo. There's a reason Texas A&M and Missouri's offenses have flourished and have a combined record of 56-23 during their first three seasons in the SEC. There's a reason the Mississippi schools have been on the rise. There's a reason Gus Malzahn has had immediate success in two short years as head coach at Auburn.
There's a reason we saw two spread-minded teams -- one incredibly tempo-driven -- with offenses ranked in the top 10 and defenses outside the top four of their own conferences reach the first College Football Playoff National Championship game.
As rugged and as defensive-minded as the SEC has been for years and years, offense is taking over college football, and the SEC -- for the most part -- is trying not to get left behind.
"Any offense is trying to find any advantage against the defense," Oregon running back
Royce Freeman
said during media day for the College Football Playoff National Championship Presented by AT&T. "Why wouldn't you? If it's tempo or if it's different personnel, if it's by the rules, do it."
[+] Enlarge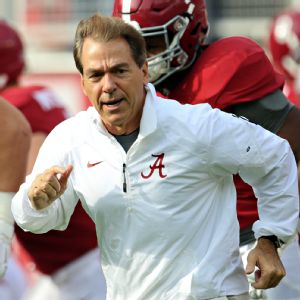 Marvin Gentry/USA TODAY SportsAlabama's Nick Saban once led a crusade against up-tempo offenses, but employed a little of it himself this past season.
Exactly.
Times are changing in all forms of football. Offense is in and defense is ailing.
In each of the last two seasons, the SEC has had six teams finish the year allowing more than 390 yards per game. From 2008-12, only nine teams allowed more than 390 yards a game. The disintegration of defense is apparent in the SEC, and how long it lasts is unknown. Offense is having a trickle-up effect with high school teams adopting the spread more and more and ramping up the tempo. Running quarterbacks feel like more of a necessity in the sport than a luxury.
Nobody thought the spread would work in the NFL, but the read-option is there to stay (hello, Super Bowl-bound Seattle Seahawks) and even the New England Patriots have been running a version of the spread during the last few years at times.
It's a natural evolution in sports for people to try and find the next best thing. Football is no different. For a while, defenses were stagnant and offenses would shift and motion to create leverage. Now, defenses can move at and before the snap to create temporary advantages and mismatches. So offenses have answered by lining up quicker and snapping the ball faster.
It's in all forms of the sport, but Oregon coach Mark Helfrich, whose Ducks have been perfecting this thing since the Chip Kelly days, believes this offensive fad his school helped create might not be the future of football.
"It'll cycle though. People that believe in certain things will keep it at their core," Helfrich said. "… There are also certain people who are just experimenting with it, so to speak."
Cyclical or not, programs are realizing that the current offensive evolution -- or revolution -- is real. Most teams in the SEC implement some form of higher tempo in their offenses. Some are spreading guys out more and finding homes in the shotgun. While it goes against all old-school football mantras, it's something coaches realize is the style of the times, and it's working and it's greatly affecting defenses.
Just look at Alabama. This is a team that dominated college football with a very traditional -- and successful -- offense. But Nick Saban's defenses have struggled with the spread recently. Johnny Manziel and his high-flying Texas A&M Aggies lit up Alabama for an average of 523 yards and 35.5 points in games in 2012 and 2013. Against Auburn and that uptempo Malzahn spread the last two years, Alabama has surrendered 1,023 yards and 78 points.
Alabama went 2-2 in those four games.
[+] Enlarge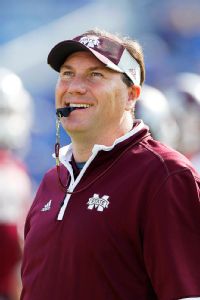 Mark Zerof/USA TODAY SportsDan Mullen has turned Mississippi State into a league power with a personnel-based spread offense he helped develop with Urban Meyer at Bowling Green, Utah and Florida.
Take it a step further and look at Alabama's two-game losing streak in the postseason where Oklahoma (spread and tempo) and Ohio State (spread) combined to score 87 points and reeled off 966 yards.
Running quarterbacks, spread and tempo have been weaknesses for Saban's defenses, so he added all three to his offense this year and watched Alabama set all sorts of offensive records and average 484.5 yards per game (most during his Alabama tenure) and 36.9 points a contest.
"Three or four years ago, Nick Saban was talking about how he didn't really like [uptempo offense], and the disadvantages to it," Oregon defensive back
Juwaan Williams
said. "He's making the evolution himself."
Ohio State coach Urban Meyer, a week removed from his third national championship victory, began some of the transformation down South by bringing his version of the spread offense from Utah to Florida in 2005. His very personnel-driven philosophy changed as the players did. That's why you saw Florida's 2008 national championship-winning offense look so different from the 2006 one.
And that's why Dan Mullen's spread at Mississippi State looks a little different from the one he helped run as the offensive coordinator at Florida. That's why Hugh Freeze's spread at Ole Miss has some philosophical differences from Mizzou's. That's why Tennessee is now spreading things out more now to go with its tempo with a more mobile quarterback in
Joshua Dobbs
.
"It's not system-driven; it's personnel-based," Meyer said of the spread.
That's why Bret Bielema isn't interested in it at Arkansas. He has his big guys plowing into everyone every chance they get, and he likes it. And that's fine, but as we continue to look around the league, more tempo and more spread is coming. Even new Florida coach Jim McElwain, who was a part of the ground-and-pound Bama philosophy during his time with Saban, would like to inject more tempo in the Gators. Steve Spurrier has even experimented with some tempo at South Carolina.
As we dive into this new playoff thing and football gets faster and faster, the SEC appears for the most part to be ready and adapting. And really, it had better be.
"It seems like every team is trying to conform to that," Ohio State offensive lineman
Darryl Baldwin
said. "I guess it's more about scoring points now than playing defense now."
January, 20, 2015
Jan 20
9:55
AM ET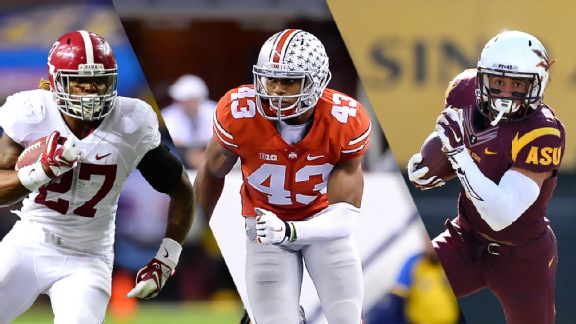 ESPN Images, Icon Sportswire, Icon SportswireAlabama's Derrick Henry, Ohio State's Darron Lee and Arizona State's D.J. Foster just missed the cut.
Choosing the top 100 players in college football is about as hard as picking the four teams for the inaugural College Football Playoff.
We all know how that went.
But after a survey of 32 writers and editors at ESPN.com, we've ranked the top players in the sport on a scale of 1 to 10. We ranked the top players at the start of the 2014 season, and our postseason list looks much different from the one we unveiled in August.
But once again, there are several standout players from teams around the country who just missed the list.
Here's a look at a few of the players who just missed the cut:
There were plenty of stars on Ohio State's national championship team this past season, but few players were as consistent as Lee.
Lee played only six plays in two games in 2013 before suffering a season-ending injury. After taking a medical redshirt that season, Lee was one of the team's most surprising stars this season. He was second on the team with eight sacks and 16½ tackles for loss and was third with 81 tackles.
January, 19, 2015
Jan 19
10:00
AM ET
It's that time again. Time to count down who the best players in the SEC were this past season.
21. Markus Golden, DE, Missouri
Shane Ray
got most of the attention on Missouri's defense, and rightfully so considering he led the league in sacks. But don't sleep on Golden, who it could be argued had a more complete season than his running mate. Not only did the senior rack up 8.5 sacks, he had 20 tackles for loss and led the team in quarterback hurries (12), forced fumbles (3) and fumble recoveries (3).
22. A'Shawn Robinson, DL, Alabama
At first glance, Robinson wasn't the player he was as a freshman in 2013 when he led the team with 5.5 sacks. But as an interior lineman in coach Nick Saban's 3-4 system, stats don't tell the full story -- at least not individual ones. Rather, the 6-foot-4, 320-pound sophomore was a vital cog in a defense that ranked 12th nationally, taking on countless double-teams in the running game while also lending a hand rushing the passer.
23. Nick Marshall, QB, Auburn
Auburn didn't make it back to the national championship, but it wasn't the fault of its quarterback. Rather, Marshall's numbers were actually much better than his first season under center as he went from 1,976 yards passing to 2,531 and his quarterback rating jumped eight points. With a record of 20-7 as a starter, 6,425 total yards and 57 total touchdowns, Marshall's career stands out in SEC history.
24. Myles Garrett, DE, Texas A&M
Speaking of ridiculously talented freshmen, how about Texas A&M's stud defensive end? On an abysmal defense, Garrett, a former five-star prospect in his own right, shined. The 6-5, 250-pound rookie wound up finishing second in the SEC in sacks with 11.5. He also had 14 tackles for loss, 10 quarterback hurries and one blocked kick.

25. Leonard Fournette, RB, LSU
OK, so the Heisman Trophy talk was a little premature, but don't let that obscure the solid freshman season the nation's former No. 1-ranked recruit had. After all, in a backfield that was plenty deep with
Terrence Magee
and
Kenny Hilliard
, it was Fournette who led the team in rushing with 1,034 yards. In his final two games, he showed why there was such eagerness to see him in purple in gold as he ran for 289 yards and three touchdowns against Texas A&M and Notre Dame.
January, 18, 2015
Jan 18
1:45
PM ET
Auburn hosted an incredible seven five-star prospects over the weekend, while Alabama, Tennessee, Florida, Texas A&M and other SEC schools also had big recruiting weekends. Here's a closer look at some of the top sights and sounds from the weekend visitors.
Three-star linebacker Dwaine Thomas flipped his commitment from Louisiana-Lafayette to Texas A&M on Saturday afternoon. Thomas tweeted out a photo of himself wearing an Aggies jersey and helmet.
GigEm< pic.twitter.com/qp5TMUQjTT

— Dweezy (@_dweezy15) January 17, 2015
Auburn had a huge recruiting weekend. Here are several photos prospects tweeted out over the course of the weekend:
Georgia commit
Terry Godwin
posing with Auburn head coach Gus Malzahn.
Me and coach Malzahn on my Official Visit ....=/=/ #4sUp pic.twitter.com/kJJ6bivmM0

— DreamTeam_Austin (@TerryGodwin_4) January 18, 2015
Five-star defensive end
CeCe Jefferson
posing with a young fan after Auburn's basketball game Saturday night.
@cecejeferson7 thank you for the picture with my son #WarEagle pic.twitter.com/qOMGPbMnnY

— Jay (@AUJay17) January 18, 2015
Byron Cowart
posted an Instagram photo of himself along with Jefferson and four-star linebacker
Jeffery Holland
on Auburn's field.
Auburn commit
Jordan Colbert
posted several pictures of other targets wearing Auburn jerseys in the Tigers locker room.
in da locker room wit da homies = look at my face wit the head man son = WAR EAGLE pic.twitter.com/JL0Y96nidB

— Hollywood (@Og_smxx) January 18, 2015
ESPN 300 defensive end
Arden Key
took an official visit to LSU with his family. Here are a few photos of his time in Baton Rouge.
LSU Visit == pic.twitter.com/3jxEopHeSG

— Ronald & Aden (@Loveyourangel_) January 17, 2015
Alabama also had a big recruiting weekend. Here is a photo of Arkansas wide receiver commit
K.J. Hill
, Miami receiver commit
Lawrence Cager
and Alabama safety commit
Rico McGraw
.
#Alabama visit @LawrenceCager3 @KayJayHill @LoveHateRico pic.twitter.com/S1IvnWi2S3

— InsideBamaRecruiting (@RTRnews) January 18, 2015
Here's Alabama commit
Adonis Thomas
in a Crimson Tide uniform.
It's really gonna be a honor and privilege wearing that Crimson&White #RollTide #BuiltByBama pic.twitter.com/yJqy4BQIxP

— Adonis Thomas (@_SimplyThatGuy5) January 18, 2015
Tennessee commit
Kyle Phillips
tweeted a photo of several Tennessee commits goofing around.
Kahlil said just wait on it but I can't wait any longer #GBO #VFL pic.twitter.com/BDHqovL3ys

— kyle phillips#5 (@K5_Phillips) January 17, 2015
Mississippi State wide receiver commit Farrod Green tweeted a photo of himself in a Bulldogs uniform.
Home is wherever the authentic , unconditional love is - THIS IS HOME =6= pic.twitter.com/7p7VanIXZF

— Farrod Green (@iamfarrodgreen) January 18, 2015
Virginia Tech commit
Houshun Gaines
poses for a picture with Vanderbilt head coach Derek Mason.
Quick selfie with the head man.. #AnchorDown pic.twitter.com/bhyYsYgfDd

— Houshun Gaines (@HZGduoUno) January 17, 2015
Kentucky commit
Jeremiah Dinson
poses with uncommitted cornerback
Rashad Fenton
at the University of Florida.
"@_sleepp: @New_EraJD3 TV TIME= pic.twitter.com/2trSfzvanN"===

— 3" The Hard Way " (@New_EraJD3) January 17, 2015
Florida commit
Tyler Jordan
and South Carolina commit
Christian Pellage
pose for a picture while at Florida.
Wit the big bois pic.twitter.com/ALfbEV8Lde

— Daniel Imatorbhebhe (@_bhex2) January 18, 2015
Another Florida commit,
Mike Horton
, tweeted out a photo of him in a Gators jersey.
We bringing that Orange on Orange back! pic.twitter.com/dUCSaB0xLv

— Mike Horton7"9" (@big_mike247) January 18, 2015
January, 16, 2015
Jan 16
1:00
PM ET
College football is getting younger and younger. Gone are the days of just relying on upperclassmen to guide your football programs. Really, gone are the days of waiting for freshmen to develop.
Getting guys on the field earlier and earlier is more than just the norm, it's a necessity. Just look at all the young skill players tearing it up around the country.
The SEC has a treasure trove of young stars, so today we're going to look at rising sophomores and redshirt freshmen to keep an eye on in 2015.
Now, we aren't going to talk about the obvious guys. No All-SEC members from the coaches or the Associated Press. That's just too easy. We're diving into guys who just slid under the title of star in 2014 and could jump right in to the limelight this fall.
Here are the obvious guys who either made All-SEC teams, were honorable mentions or already are well known:
There are a ton of youngsters to choose from, so this certainly wasn't easy, but here are 10 rising sophomores and redshirt freshman from the SEC to keep an eye on in 2015:
EAST
[+] Enlarge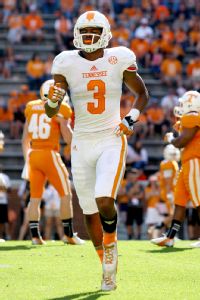 Randy Sartin/USA TODAY SportsJosh Malone didn't live up to the hype as a freshman, but expectations for him remain high.
Will Grier, QB, Florida:
He redshirted last year but will be in an all-out battle with Harris for the starting job. Some feel he might be more suited to run new coach Jim McElwain's more pro-style offense.
Jacob Park, QB, Georgia:
Another quarterback who redshirted in 2014, Park will challenge for the starting spot in Athens, and he might be the most physically gifted of the three guys competing for that job this spring.
Lorenzo Carter, LB, Georgia:
He really came on at the end of last season, proving to be one of the Bulldogs' best pass-rushers. He finished the year with 4.5 sacks and 18 quarterback hurries.
Isaiah McKenzie, WR/RS, Georgia:
Running back
Sony Michel
should be fun to watch too, but McKenzie has a chance to really take a big step forward in the receiving, rushing and return game. He registered 684 all-purpose yards in 2014.
Dominick Sanders, S, Georgia:
Sanders started all 13 games for the Bulldogs last season and finished the year on a very high note with a two-interception performance in Georgia's bowl win over Louisville.
Matt Elam, DT, Kentucky:
He started seven games last season and finished the year with 10 tackles. He has to become a more disruptive player up front, but he really has a chance to help this defense in 2015.
Chris Lammons, CB, South Carolina:
The Gamecocks' defense will be a little bit older and hopefully a little bit wiser in 2015, and Lammons could be a big part of the improvements in the secondary.
Josh Malone, WR, Tennessee:
The Vols return a pretty deep receiving corps, but Malone could have a bright future in Knoxville and should improve on his 23 catches for 231 yards and a touchdown from 2014.
Ethan Wolf, TE, Tennessee:
Another talented, young weapon in the Vols' offense, Wolf made an instant impact as a freshman and should continue to be a key part of the Vols' aerial attack in 2015.
Nigel Bowden, LB, Vanderbilt:
Not much went right for the Commodores in 2014, but Bowden could be a budding star. He led Vandy with 78 tackles and added two tackles for loss and a sack.
WEST
[+] Enlarge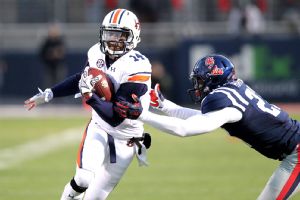 Nelson Chenault/USA TODAY SportsFreshman defensive end Marquis Haynes led Ole Miss in sacks.
Da'Shawn Hand, DE, Alabama:
He registered only seven tackles with two sacks in 2014, but Hand, a former five-star prospect, is a monster talent for the Tide who should see plenty of time this fall.
Marlon Humphrey/Tony Brown, CBs, Alabama:
Brown played in 13 games, making two starts, while Humphrey redshirted. Alabama had issues at corner all year and these two youngsters, who might be the most talented corners on the team, will have every opportunity to take both starting spots.
Cam Sims, WR, Alabama:
With
Amari Cooper
,
DeAndrew White
and
Christion Jones
all departing, Alabama will be rebuilding at receiver. Sims, a former top high school prospect, could jump right into a key role at receiver for the Tide.
Jojo Robinson, WR, Arkansas:
Coaches knew that he was really talented when he arrived last year, but he wasn't ready. There are high hopes for the former four-star prospect, who has a chance to make a strong impact in Arkansas' passing game.
Roc Thomas, RB, Auburn:
In a crowded backfield, Thomas played in 12 games and registered 214 rushing yards with two touchdowns. With both
Cameron Artis-Payne
and
Corey Grant
gone, Thomas will take over as Auburn's lead back so of course he'll be productive.
Travonte Valentine, DT, LSU:
Eligibility issues cut into Valentine's chances of playing in 2014, but he has the potential to be a major player up front for the Tigers. He was probably physically ready to play last year.
Clifton Garrett, LB, LSU:
Garrett didn't really play much last season but was one of LSU's top prospects in its 2014 recruiting class. Garrett just wasn't ready last season, but that will all change this year.
Gerri Green, LB, Mississippi State:
While he sat out the 2014 season, the good news is that he's built like
Benardrick McKinney
, who just left Starkville for the NFL. He's a big, fast, strong, long, athletic linebacker, who the coaches are very excited about.
C.J. Hampton, S, Ole Miss:
With
Cody Prewitt
gone, Hampton should step right in at that safety spot. There was even talk before the 2014 season that he could have replaced Prewitt and moved him to linebacker. He already has had good field experience, playing in 13 games.
Marquis Haynes, DE, Ole Miss:
The Rebels are loaded with defensive line talent, but Haynes was Ole Miss' best pass-rusher in 2014. He started four of the 13 games he played in and led the team with 7.5 sacks while tying for the team lead with nine tackles for loss.
January, 16, 2015
Jan 16
11:00
AM ET
The postseason wasn't just about the SEC Western Division going 2-5, sending the rest of the country into a state of euphoria. There were also some impressive individual performances that the league could hang its hat on, and it's time to acknowledge them.
Here's our All-SEC bowl team:
Offense
QB: Dak Prescott, Mississippi State:
His team might have faltered in the Capital One Orange Bowl, but no other quarterback had close to the numbers he did in the Bulldogs' loss. Prescott threw for 453 yards with three touchdowns and ran for 47 yards with another score.
[+] Enlarge
Jeremy Brevard/USA TODAY SportsNick Chubb had an SEC bowl-record 269 rushing yards and two touchdowns on 33 carries in the Belk Bowl against Louisville.
RB: Nick Chubb, Georgia:
Is there anything this freshman can't do? He earned Belk Bowl MVP honors with his SEC bowl-record 269 rushing yards and two touchdowns on 33 carries in the win over Louisville.
RB: Jalen Hurd, Tennessee:
Another incredibly talented freshman, Hurd ran for 122 yards and two touchdowns on 16 carries in Tennessee's Outback Bowl win over Iowa.
WR: Pharoh Cooper, South Carolina:
The Gamecocks' star receiver had a nice closing act to the season, catching nine passes for 170 yards, including a 78-yard touchdown to jump-start South Carolina's offense in a win over Miami in the Duck Commander Independence Bowl.
WR: De'Runnya Wilson, Mississippi State:
He was Prescott's top receiving threat all season, and he didn't disappoint in the bowl game, catching nine passes for 105 yards and two touchdowns.
WR/TE: Amari Cooper, Alabama:
Cooper's final game in an Alabama uniform didn't go exactly as planned, but he still had an impressive night with nine catches for 71 yards and two touchdowns in the Tide's 42-35 loss to Ohio State in the Allstate Sugar Bowl.
OL: Jacob Gilliam, Tennessee:
Despite playing with a torn ACL in his left knee and a heavily wrapped, injured left hand, Gilliam, a former walk-on, was an intricate part of Tennessee's impressive offensive performance against Iowa.
OL: A.J. Cann, South Carolina:
The main cog on South Carolina's line for years, Cann had another impressive day for the Gamecocks, helping push South Carolina's offense to 344 yards.
OL: Cedric Ogbuehi, Texas A&M:
The Aggies piled up 529 yards of offense in the win over West Virginia with Ogbuehi leading the way on the left side. He didn't have the most impressive year, but a solid showing in the AutoZone Liberty Bowl helped send the Aggies off on a high note.
OL: Evan Boehm, Missouri:
Yes, he's a center, but he was just too good in the Tigers' 33-17 win against Minnesota in the Florida Citrus Bowl. It didn't hurt that the Tigers ran for 337 yards.
C: David Andrews, Georgia:
Chubb was able to do a lot of his damage because of his own talent, but Andrews helped by having a very impressive game in front of him. Georgia finished with 492 offensive yards.
All-Purpose: Leonard Fournette, LSU:
How about that? Another freshman running back. Fournette capped his first season in college football with 143 rushing yards and two touchdowns on 11 carries. He also returned a kickoff 100 yards for a touchdown.
Defense
DL: Dante Fowler Jr., Florida:
Considered one of the top defensive end prospects in this year's NFL draft, Fowler registered three sacks and was a constant disruptive force in Florida's win against East Carolina in the Birmingham Bowl.
DL: Markus Golden, Missouri:
Not a real shocker that Golden ended the season on such a high note. He recorded 10 tackles, including four for loss and 1.5 sacks. He also forced a fumble and had three quarterback hurries.
DL: Trey Flowers, Arkansas:
During the Razorbacks' impressive defensive performance in their win against Texas, he had five tackles with a sack and two tackles for loss.
DL: Shane Ray, Missouri:
Another solid game for the SEC's top pass-rusher. Ray had four tackles with 1.5 tackles for loss, half a sack and a forced fumble.
LB: Kris Frost, Auburn:
Frost really cleaned up in the Outback Bowl despite the Tigers' loss. He piled up 12 tackles (nine solo) and a sack.
LB: Lorenzo Carter, Georgia:
The freshman just continued to impressive during the latter part of the season. He had eight tackles (tied for team lead) and a sack against Louisville.
LB: Martrell Spaight, Arkansas:
He was all over the field for the Hogs, registering five tackles, including two for loss.
CB: Brian Poole, Florida:
He returned an interception 29 yards for a touchdown, forced a fumble, recovered one and registered four tackles.
CB: Damian Swann, Georgia:
In his final game with the Bulldogs, Swann grabbed an interception, broke up four passes and totaled three tackles.
S: Dominick Sanders, Georgia:
The youngster snagged two interceptions and broke up another pass in Georgia's win against Louisville.
S: Jermaine Whitehead, Auburn:
He finished Auburn's bowl game with eight tackles and two interceptions.
Special teams
K: Marshall Morgan, Georgia:
When you hit 3 of 3 field goals, with a long of 41 yards, and all four extra points, you've done well.
P: JK Scott, Alabama:
Another great game by Scott in the Allstate Sugar Bowl. He boomed five punts 50-plus yards, including a long of 73 yards. Five of his punts were downed inside the 20-yard line.
January, 16, 2015
Jan 16
10:30
AM ET
With the dead period ending and less than three weeks remaining until national signing day, recruiting is coming down to crunch time. Each school is working feverishly to fill out the remainder of their 2015 recruiting class. Here's a closer look at the top remaining targets for each school.


January, 16, 2015
Jan 16
9:00
AM ET
With national signing day less than three weeks away, it is officially crunch time. There are only three recruiting weekends left for visits, and most schools plan to take full advantage of those available weekends. Here are a closer look at some of the top visits around the SEC this weekend.
Auburn
To continue reading this article you must be an Insider
January, 15, 2015
Jan 15
11:00
PM ET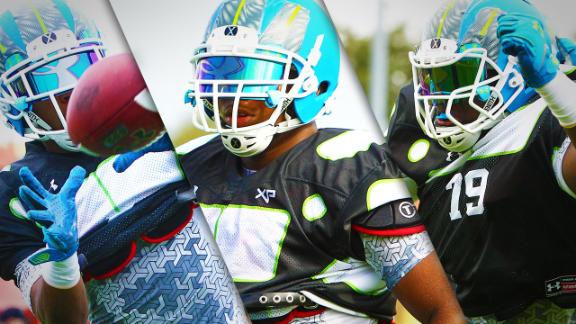 Few recruiting battles are more intriguing than the ones going on in Texas for high-profile players such as
Daylon Mack
,
Soso Jamabo
and
Chris Warren III
. What schools they pick could tilt recruiting supremacy in the Lone Star State moving forward
To continue reading this article you must be an Insider
ESPN 300 Recruits: Does Tradition Matter?