December, 5, 2013
Dec 5
4:20
PM ET
Texas A&M picked up its 19th commitment of the 2014 recruiting class when Tyler (Texas) Junior College receiver
Joshua Reynolds
committed to the Aggies on Thursday.
The 6-foot-3, 178-pound receiver is the second receiver in the Aggies' 2014 class, joining Lufkin (Texas) High School receiver
Jamal Jeffery
. Tyler Junior College associate head coach Ryan Muhon confirmed the news of Reynolds' commitment to ESPN.com.
To continue reading this article you must be an Insider
December, 5, 2013
Dec 5
1:26
PM ET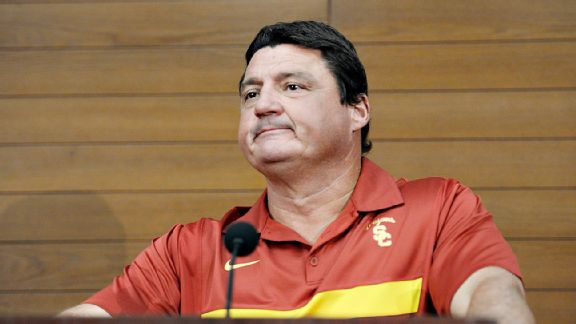 Kelvin Kuo/USA TODAY SportsInterim head coach Ed Orgeron walked out on his USC players, many of whom he recruited, when things didn't go his way.
Once again we're presented with a tale – a parable, really – involving men who demand loyalty, devotion and persistence from others while displaying none themselves.
Steve Sarkisian left his job as coach of Washington on Monday to take the same job at USC. No big deal, right? It's the way the game is played. It's unfortunate but inevitable. It's a business, and this is how business gets done.
Ed Orgeron left his job as interim coach of USC on Monday because Sarkisian was given the permanent job. No big deal, right? Coach O was 6-2 as a head coach. He brought the Trojans back to relevance after the firing of Lane Kiffin. He was bypassed by athletic director Pat Haden despite the vocal support of his players, so it only makes sense that he would go somewhere else to soak his hurt feelings.
This kind of thing happens every December. Why fight it?
But consider this: A hypothetical Washington Huskies' player, recruited by Sarkisian under the assumption that he would get four years of his coaching, might be sitting in his dorm room thinking about transferring to follow his coach. He can do that, of course, providing he's willing and able to sit out the mandatory Pac 12 "academic year-in-residence" -- euphemisms, arise! -- during which he is not eligible to receive an athletic scholarship.
December, 5, 2013
Dec 5
12:00
PM ET
Conference championship Saturday is almost upon us. Catch the fever!
December, 5, 2013
Dec 5
12:00
PM ET
If
Johnny Manziel
's intention was to conquer the college football world in his second season, it didn't work out quite the way he planned.
[+] Enlarge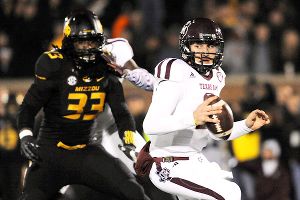 Denny Medley/USA TODAY SportsJohnny Manziel's season didn't go as planned, but he still gave everyone plenty to talk about.
There will be no BCS national championship for Texas A&M. No SEC championship. No BCS bowl game. No second Heisman Trophy for the once-in-a-generation talent at quarterback. All of these things were on the redshirt sophomore's radar.
Even with the lofty goals unmet, Johnny Football still gave the country plenty to talk about this season.
It began with Manziel under a microscope, dealing with a level of scrutiny that perhaps no college football player has ever experienced. Everyone seemed to have an opinion about Manziel, what he did on the field, off the field, whether he was good for the game or bad or what his future held. The questions and comments ranged from valid and insightful to bewildering and off-the-wall.
How long ago that seems now.
Despite the pressure of an NCAA investigation into allegations that he accepted money for autographs (the investigation found no evidence that Manziel accepted money, but he was suspended for a half for an "inadvertent" violation) and the constant spotlight that followed him around from coast to coast, whether it was a talk-show appearance or a fraternity party, Manziel began the season playing at a level even higher than that of his first season. All his passing numbers went up, his interception count -- at least initially -- was down and soon, all anyone was left to talk about was his play on the field.
Perhaps that was Manziel's most astonishing accomplishment this season. He didn't get swallowed by the tidal wave of sudden fame. He was able to cast it all aside, focus on football and raise his level of play.
"The scrutiny he was under in the offseason was probably unlike anybody else in the country, or ever has been in college football," Texas A&M coach Kevin Sumlin said last month. "But he's back to just playing football and doing what he likes to do."
And football was the reason people began talking about him in the first place. His captivating 2012, in which he became the first freshman to win the Heisman Trophy, was the reason everyone was so enthralled with him in the first place.
He also became virtually absent from social media. After his infamous
"why I can't wait to leave college station" tweet in mid-June
(which has since been deleted), Manziel stopped posting on his Twitter page until SEC media days in July. He picked it back up for a couple weeks, but once preseason training camp began, Manziel stopped posting, period. He hasn't tweeted from his account since Aug. 1. He has posted photos to his Instagram account, but it's been sporadic throughout the season.
Back at SEC media days, when asked about his initial month-long absence, he said "No more talking off the field. All the talking's done on the field," and that he'd have a better game plan for his social media participation. He's lived up to both promises.
Which again, brings the conversation back to his play. The adversity he faced this season was mostly of the on-the-field type and in the second half of the season, it became about his health. After a terrific start, Manziel suffered a right shoulder injury against Auburn, a throwing hand injury against Mississippi State, and he seemingly hurt his ankle against Missouri (or perhaps aggravated an earlier injury to it). By season's end, the nation's most electrifying player began to look human.
Still, the numbers are staggering. He ranks in the top 10 in passing yards per game (311), passing touchdowns (33), completion percentage (69.1), yards per pass attempt (9.55), passer rating (170.4), total offensive yards per game (368.2), yards per play and points responsible for per game (3.41). He's the only quarterback in the FBS to rank in the top 10 of all eight of those categories. He also reduced the number of times he ran the football, in order to show that he could be a pocket passer and perhaps minimize the number of hits he took.
He has raised his passing yard total (3,732), and his completion percentage and passing touchdown total are all up. His play gave the Aggies a chance to win virtually every game except the LSU contest, a 34-10 defeat that is A&M's only double-digit setback in the Sumlin era. Even in losses to Alabama and Auburn, Manziel put up eye-popping numbers and made highlight-worthy plays, but as coaches often say, this is a team sport and one man can't do it all.
As the injuries piled up toward the end of the season, the effect it had on his play became evident. Sumlin and Texas A&M don't often go into details about injuries so it's difficult to know how badly he was beat up at season's end. But there's no questioning his toughness; he played whenever he was physically able or found a way to get on the field.
And for all the scrutiny he took this offseason, Manziel's heartfelt side was revealed in a few under-the-radar instances, whether it was
spending time on the sideline with 6-year-old cancer survivor Charlie Dina
, a Houstonian who suffers from rare form of cancer known as Neuroblastoma and who has formed a bond with Manziel, or
making the day of Joel Fitch
, the uncle of Manziel's friend Nate Fitch (known as "Uncle Nate"). According to TexAgs.com, Joel is 43 and has cerebral palsy but was able to share a few moments with the quarterback the day the Aggies lost to Auburn.
With the regular season over, questions about his future abound. Manziel hasn't publicly indicated on whether he's going to declare for early entry into the 2014 NFL draft, though many seem to think he will. If this was his last season in Aggieland, it was quite the ride. He helped Texas A&M make some history and a true splash upon its entry into the SEC.
There might never be another player like him in the sport again.
December, 4, 2013
Dec 4
2:00
PM ET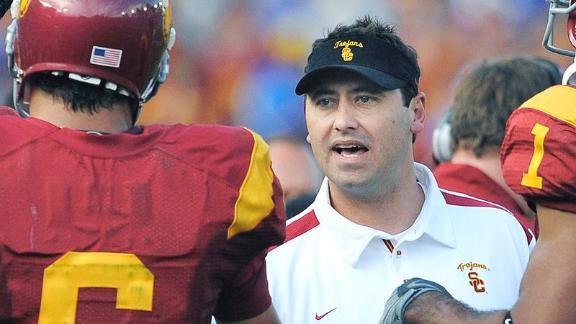 The latest update to the
RecruitingNation class rankings
features a number of moves due in large part to the release of the
ESPN Junior College 50 rankings
. Within the conference, Alabama still has a strong grasp on the top spot with all 14 schools in the top 35 classes nationally. Here's a look at the
conference's rankings

.

Trending up:
Both Texas A&M and Auburn are trending up thanks to the release of the ESPN JC 50. The Aggies jumped from No. 5 to No. 4 and into the top 3 in the conference rankings with junior college offensive linemen
Avery Gennesy
(Southhaven, Miss./East Mississippi Community College) and
Jermaine Eluemunor
(Rockaway, N.J./Lackawanna College) coming in at No. 13 and 15 in the ESPN JC 50. Auburn junior college commitment
D'haquille Williams
(Reserve, La./Mississippi Gulf Coast Community College) and
Dalvon Stuckey
(De Funiak Springs, Fla./Pearl River Community College) came in at No. 1 and 9 in the JC 50. Auburn jumped from No. 14 nationally to No. 12, and the Tigers are in striking position on several other highly-ranked prospects.
To continue reading this article you must be an Insider
December, 4, 2013
Dec 4
12:00
PM ET
Like Georgia QB Aaron Murray before him, it's tough to see a senior like LSU's
Zach Mettenberger get hurt
before he has a chance to play his final bowl game and ride off into the sunset. Here's to good health in the NFL.
December, 3, 2013
Dec 3
6:13
PM ET
Associated Press
COLLEGE STATION, Texas -- A demolition worker has died of injuries received when he fell four stories from Texas A&M's under-renovation football stadium.
A university statement says Angel Garcia was working for Lindamood Demolition when the accident happened about 11:30 a.m. Tuesday at the north end of Kyle Field. The 25-year-old worker died a short time later at St. Joseph's Regional Medical Center in Bryan.
The U.S. Occupational Safety and Health Administration, the Texas A&M University System and university police are investigating the accident.
Kyle Field is undergoing $450 million in upgrades to put in new grass and expand seating from 82,600 to 102,500. That would make it the largest stadium in the Southeastern Conference.
December, 3, 2013
Dec 3
4:30
PM ET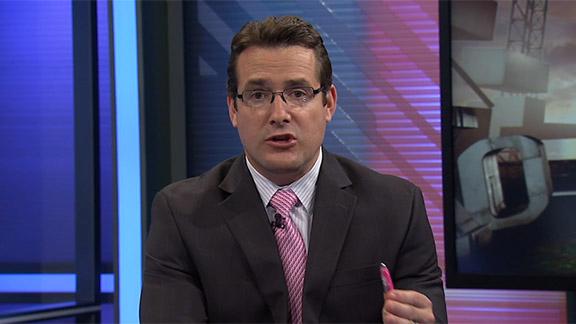 Looking over the newly released
ESPN JC 50
, there are several recruits on that list already committed to SEC schools. There are also many that still remain undecided. With signing day quickly approaching, here's a closer look at five prospects, who's destination is still unknown.
[+] Enlarge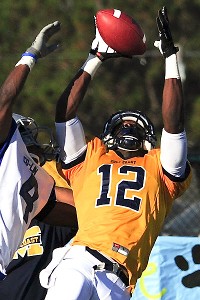 Courtesy of Mississippi Gulf Coast C.C.D'haquille Williams is an Auburn commit, but the No. 1 prospect in the ESPN JC 50 is also still strongly considering LSU.
1. WR D'haquille Williams (Laplace, La./Mississippi Gulf Coast CC):
The No. 1-ranked prospect in the ESPN JC 50 is already committed to Auburn and visited this past weekend for Auburn's miracle win over Alabama. This talented wide receiver, however, is still considering LSU and it appears to be a neck-and-neck battle. Williams' MGCCC teammate
Derrick Moncrief
is also committed to Auburn which could certainly play in the favor of the Tigers -- Auburn that is.
To continue reading this article you must be an Insider
December, 3, 2013
Dec 3
12:00
PM ET
You have to feel bad for old Ed Orgeron. The former Ole Miss head coach had a good run as interim coach at USC, but last week's loss to UCLA seemed to seal his fate. How long before he ends up back in the South as a head coach?
December, 3, 2013
Dec 3
11:57
AM ET
While most recruiting attention goes to the nation's top high school prospects, mining junior colleges for elite talent can be the difference between a BCS bowl and mediocrity. Just ask Auburn, which went 11-14 in the two seasons between juco phenom QBs Cam Newton and Nick Marshall.
With the new ESPN JC 50 player rankings out, here's a look at the recruits who could be making a difference for your favorite team at this time next year.
The fight for No. 1
The No. 1 prospect in the ESPN JC 50 is uberathletic wide receiver D'haquille Williams (Reserve, La./Mississippi Gulf Coast). The vertical threat with instant-impact talent and elite ball skills was once committed to LSU but is now an Auburn pledge. It continues to be a battle between the two SEC West programs with a final decision possibly coming soon. Williams was on campus at Auburn over the weekend for the historic Iron Bowl. His Mississippi Gulf Coast teammate Derrick Moncrief is No. 14 in the JC 50 and an Auburn commit.
To continue reading this article you must be an Insider
December, 3, 2013
Dec 3
9:00
AM ET
Remember when ESPN 300 wide receiver
Frank Iheanacho
(Houston/Westside) thought his future was on the basketball court?
That was during the summer. Fast forward a few months, and Iheanacho is now preparing for in-home visits from three SEC programs this week. Iheanacho, No. 89 in the ESPN 300, will host Arkansas on Tuesday, LSU on Wednesday and Texas A&M on Thursday. The 6-foot-7, 220-pound receiver, a U.S. Army All-American, will announce where he'll take his talents at the game on Jan. 4 in San Antonio.
To continue reading this article you must be an Insider
December, 2, 2013
Dec 2
1:15
PM ET
Texas A&M lost a game to Missouri on Saturday, but that setback pales in comparison to the bigger picture for the Aggies.
[+] Enlarge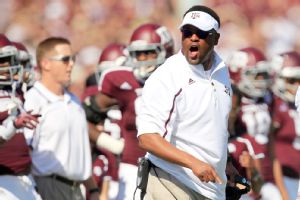 Thomas Campbell/USA TODAY SportsCoach Kevin Sumlin is a big part of Texas A&M's long-term success.
The other story to come out of Columbia, Mo., on Saturday -- one that bodes well for the long-term health of the football program -- was the new six-year contract for head coach Kevin Sumlin.
It sends a message that Texas A&M is willing to play with the big boys.
"The Texas A&M University has made as an unbelievable commitment toward the football program, the best I've ever seen, in such a short period of time," athletic director Eric Hyman said on Saturday night. "And that's a credit to Texas A&M. There's no question about it. They showed to Kevin and really to the world that Texas A&M wants to have a viable program and competitive on a national level."
In the last two seasons, the Aggies have upped the ante in several areas in order to be competitive with their new mates in the SEC. They approved plans and have since begun construction on a $450 million renovation project for Kyle Field that will turn it into a 102,500-seat monstrosity, scheduled for completion prior to the 2015 season.
Just before Sumlin's first season began, work was completed on the Davis Player Development Center, a $9 million football-only weight room that is 20,000-square feet and has state-of-the-art technology in place.
This year, a new dining hall, the R.C. Slocum Nutrition Center, was installed on the second floor of the Bright Football Complex, a project that cost an estimated $12 million. And in the front of the Bright Complex is the Tommie E. Lohman '59 Center, where a $4 million renovation of the lobby took place. It's where John David Crow and Johnny Manziel's Heisman trophies are displayed, as are numerous other awards and mementos of Texas A&M football history.
Sumlin was one of the hottest names in the offseason coaching rumor mill. With the USC vacancy, not to mention the threat of NFL teams pursuing the sixth-year head coach, Texas A&M beat other suitors to the punch.
Sources told ESPN Senior NFL Insider Chris Mortensen that
Sumlin's new deal
, which runs through 2019, raised his salary to $5 million per year and guarantees him to coach the Aggies until the school has completed and played in the new Kyle Field.
Texas A&M wants to be competitive long-term in the SEC, often called the country's best college football conference, so it has put its money where its mouth is.
"This is a very sincere, long-time commitment to an individual who has done a marvelous job, in all aspects of the job," Hyman said. "From our student-athletes, from a competitive standpoint, from the community to the Aggie family, everybody is extremely excited to have him leading the programs."
Hyman made it clear he understands there isn't just one aspect of the program that takes priority. Many parts have to work together for it to happen. The Aggies are 19-6 in their first two SEC seasons under Sumlin. Alhough this season's 8-4 record wasn't what some had hoped, the future appears bright. The program is on track to sign a second consecutive top-10 recruiting class and is off to a strong start in its 2015 class.
"You have to understand, you build that cathedral one brick at a time," Hyman said. "There's a good foundation, but we still have a ways to go with the program. It's not there. Kevin has done an absolutely marvelous job. We're going to have some challenges ahead of us.
"It's not all about facilities, because Army and Navy would be undefeated every year [if that were the case], but it's about a cross-section of a lot of different things. And there's a lot of momentum and a lot of excitement going on with the program, and I think everybody couldn't be more enthusiastic."
December, 2, 2013
Dec 2
9:00
AM ET
We have a new No. 1 in our Power Rankings, and there's a chance that either of the top two teams on this list could back its way into the BCS title game:

1. Auburn (11-1, 7-1 SEC; last week: 3):
Call it luck, but don't forget to call the Tigers good. Auburn won the Iron Bowl 34-28 over No. 1 Alabama on a last-second field goal return for a touchdown by
Chris Davis
. It was another improbable win for the Cardiac Cats, but Auburn also ran for 296 yards on the SEC's best rush defense. Back-to-back thrillers have Auburn No. 3 in the BCS standings and SEC Western Division champions.
2. Missouri (11-1, 7-1 SEC; LW: 2):
These Tigers will meet those Tigers in the SEC championship game on Saturday. After beating Texas A&M 28-21 at home, Mizzou completed its own improbable season in its second year in the league. Missouri now has five wins over opponents that were ranked when it played them. Like Auburn, Mizzou is very much in the national championship picture. The Tigers need help, but a win over Auburn would push a team that was left for dead last season a step closer to Pasadena, Calif.
3. Alabama (11-1, 7-1 SEC; LW: 1):
The three-peat is likely over after Alabama was bested by its archrival. Why Nick Saban would attempt a 57-yard field goal with a second left without any speedy athletes on the field is mind-blowing. Saban rarely makes mistakes, but this one will sting for a very long time. Alabama is still very much in the hunt for a BCS bowl game, but a return to the title game is a long shot.
4. South Carolina (10-2, 6-2 SEC; LW: 4):
Another year, another win over Clemson. That makes five in a row for Steve Spurrier and his Gamecocks after his guys walked over the Tigers 31-17. South Carolina forced six turnovers, and quarterback
Connor Shaw
impressed yet again with 246 yards of offense and two touchdowns. The BCS is out of reach for the Gamecocks, but they have a shot at three straight 11-win seasons.
5. LSU (9-3, 5-3 SEC; LW: 5):
This is easily the most confusing team to follow in 2013. The Tigers started hot, hit some bumps and then finished strong with an exciting 31-27 win over Arkansas. LSU was without starting quarterback
Zach Mettenberger
(knee) late, but it didn't matter, as freshman
Anthony Jennings
drove the Tigers 99 yards, with a 49-yard go-ahead touchdown pass with 1:15 left. This could be another double-digit-win season for the Tigers.
6. Texas A&M (8-4, 4-4 SEC; LW: 6):
Johnny Manziel
went from carving up defenses to being smothered in his last two outings. In Saturday's loss to Mizzou, Manziel was held to a season-low 216 total yards and a touchdown. The defense was gutted -- again -- allowing 225 rushing yards, including a 57-yard
Henry Josey
touchdown run with 3:34 remaining. It's been a long November in College Station, but at least Kevin Sumlin is locked up for the long haul.
7. Vanderbilt (8-4, 4-4 SEC; LW: 8):
Coach James Franklin might be near the top of USC's coaching list, but for now, he's doing a heck of a job as Vandy's coach. There's no wonder he's on the Trojans' radar. Vandy has won four straight, will make its third straight bowl game and is in line to win nine in back-to-back seasons. The Commodores didn't make it look easy against Wake Forest, but a
Carey Spear
field goal with 39 seconds left kept the Dores' winning streak alive.
8. Georgia (8-4, 5-3 SEC; LW: 9):
Another team that didn't want things to be easy over the weekend, Georgia needed double overtime to beat rival Georgia Tech. The Bulldogs' defense was pushed around for 495 yards, but the offense was there to bring the Dawgs back from deficits of 20-0 and 27-17. When you have a guy like
Todd Gurley
(158 total yards and four touchdowns), it doesn't matter who you have at quarterback.
9. Mississippi State (6-6, 3-5 SEC; LW: 10):
After being on the outside of the bowl picture just a couple of weeks ago, the Bulldogs rallied to win their last two, including an overtime victory against bitter rival Ole Miss on Thanksgiving. It wasn't the prettiest of games, but injured quarterback
Dak Prescott
came into the fourth quarter and threw for 115 yards, while running for 29, including the eventual winning 3-yard score. Dan Mullen has Mississippi State in the postseason for the fourth straight season.
10. Ole Miss (7-5, 3-5 SEC; LW: 7):
Oh, what could have been for this team. Not only have the Rebels lost two straight, but they allowed their archrivals to make it to the postseason. For a season that started 3-0, some poor play in the red zone -- especially near the goal line -- against Missouri and turnovers against Mississippi State cost Ole Miss in its final two games.
11. Tennessee (5-7, 2-6 SEC; LW: 11):
A long first year for Butch Jones ended with a nice 27-14 win over Kentucky. The Vols aren't going bowling, but now is the time when Jones has to ramp up the development phase and keep an already stellar recruiting class together. Remember, this team was a fake Vandy jump pass from a bowl berth.
12. Florida (4-8, 3-5 SEC; LW: 12):
The Gators' nightmare of a season ended with a 37-7 rout by rival Florida State inside the Swamp. Florida then fired embattled offensive coordinator Brent Pease and offensive line coach Tim Davis. Florida lost seven straight to end the season without scoring more than 20 points. And it isn't going bowling for the first time in 22 years and has its first losing season since 1979.
13. Arkansas (3-9, 0-8 SEC; LW: 13):
With that heartbreaking loss to LSU, the Razorbacks have dropped a school-record nine straight and went 0-8 in conference play for the first time. This team fought hard in its final act, but it's clear that development and recruiting need to amp up during the offseason if Bret Bielema is going to have a chance at really competing in this league.
14. Kentucky (2-10, 0-8 SEC; LW: 14):
The Wildcats have now gone 0-8 in SEC play in back-to-back seasons for the first time since 1941-42 and have lost 16 straight SEC games. Mark Stoops is building a pretty impressive recruiting class right now, but we all know it takes more than recruiting. The Wildcats need more than talent, as they took steps back on both sides of the ball late in the season.
December, 2, 2013
Dec 2
8:00
AM ET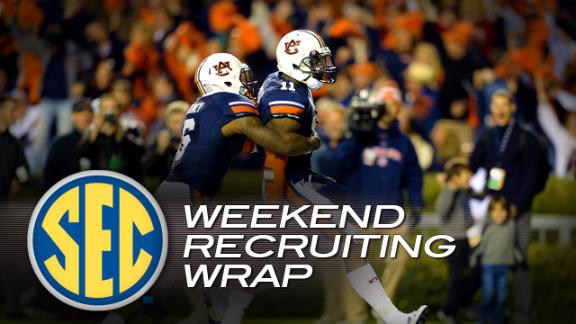 As the regular season winds down, there was a lot of news around the SEC over the weekend. Texas A&M received a big commitment on Thanksgiving at a position of need, and Auburn hosted several visitors for its incredible last-second victory over Alabama. Here's a closer look at some of the top storylines in the SEC this weekend.

Biggest commitment:
Though Texas A&M suffered a tough loss to Missouri on Saturday night, the Aggies did have something to be thankful for when junior college offensive tackle
Avery Gennesy
(Southhaven, Miss./East Mississippi CC) verbally committed to Texas A&M on Thursday.
The 6-foot-5, 315-pound tackle chose the Aggies over Ole Miss, Tennessee and Ohio State.
Texas A&M now has 18 commitments, including 10 from in the ESPN 300. The Aggies have the fifth-ranked recruiting class in the country.

Georgia, Tennessee lose commitments:
ESPN 300 defensive tackle
Dontavius Russell
(Carrollton, Ga./Carrollton), after visiting Auburn over the weekend, decided to open back up his recruitment. The four-star defensive lineman announced his decision on Twitter.
I'm reopening my Recruitment.

— Dontavius Russell (@Russ_Dont98) December 2, 2013
Auburn now appears to be the team to beat for Russell. Tennessee lost another wide receiver commit from ESPN 300 wideout Dominique Booth (Indianapolis/Pike) on Sunday. Booth is the third pass-catcher to decommit from the Vols this year. Junior college prospects Eric Lauderdale (Fayettville, Ga./Saddlebrook) and Kameel Jackson (Arlington, Texas/Blinn) also backed off their pledges to Tennessee earlier in the season.
To continue reading this article you must be an Insider
Weekend Recruiting Wrap: SEC - Dec. 2