January, 15, 2015
Jan 15
11:00
PM ET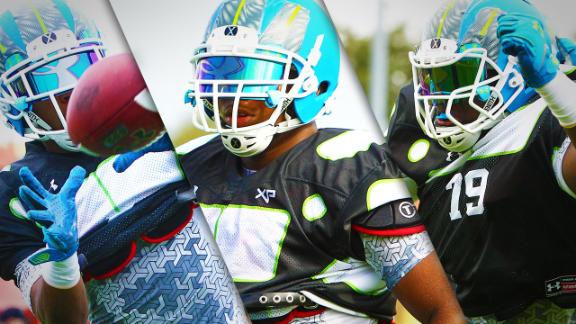 Few recruiting battles are more intriguing than the ones going on in Texas for high-profile players such as
Daylon Mack
,
Soso Jamabo
and
Chris Warren III
. What schools they pick could tilt recruiting supremacy in the Lone Star State moving forward
January, 15, 2015
Jan 15
11:00
AM ET
It's maddening, but not all schedules are created equal.
Some SEC teams have an easier path through the regular season, snacking on nonconference cupcakes while enjoying easy divisional draws, while others must slog through ranked opponent after ranked opponent.
With that said, here's an early look at three teams with easy paths to the conference championship game in Atlanta and three with hard journeys ahead.
Three easiest
Mississippi State: Just like it was this past year, one loss could mean the difference for the Bulldogs. Why? Because the nonconference schedule is that bad: Southern Miss, Northwestern State, Troy and Louisiana Tech. With Kentucky and Missouri from the East, the non-West portion of the schedule isn't exactly daunting either.
Missouri: OK, so their nonconference portion of the schedule is better than last year. But while we give credit for scheduling BYU, who thinks the Tigers are going to struggle with Southeast Missouri State, Arkansas State or Connecticut? Throw into the equation that Missouri doesn't have to face Alabama, Auburn, LSU or Ole Miss from the West, and you're looking at a manageable lineup.
Texas A&M: The opener against Arizona State will be difficult, but even so the Aggies don't leave the state of Texas until late October. With that, their East draws are manageable (South Carolina, Vanderbilt), the rest of the nonconference is a breeze (Ball State, Nevada, Western Carolina) and the week before playing Alabama they get a bye.
Three hardest
Florida: Rebuilding could have its growing pains for Jim McElwain and his staff. Week 1 against New Mexico State shouldn't be an issue, but East Carolina and Kentucky won't be gimmes. Throw in Ole Miss and LSU from the West and Florida State at the end of the regular season, and you're looking at a schedule most any coach would run away from.
LSU: Opening with McNeese State will be a welcome reprieve from last season, but it doesn't get much easier from there. Week 2 LSU has to go to Mississippi State, Week 3 it hosts Auburn and two weeks later it travels to Syracuse. Then, to end the regular season, it plays Alabama, Arkansas, Ole Miss and Texas A&M in consecutive weeks.
Ole Miss: Rest up, ye Rebels. You're going to need your strength because you don't get your bye until mid-November. Before that, you'll face Fresno State and Memphis from out of the conference, along with West rivals Alabama, Texas A&M, Auburn and Arkansas.
January, 15, 2015
Jan 15
10:30
AM ET
Our world is full of overreactions. The slightest flap of a butterfly's wings has us all in a tizzy.
That's why we were so quick to jump on Texas A&M as a title contender after Week 1. That's why the SEC was thrashed after going 7-5 in bowl season. It's a never-ending cycle of instant hyperbole, and it usually comes back to haunt us.
The 2014 SEC season certainly didn't lack overreaction during an exciting year, and here are some of the major ones we got wrong:
The Magnolia State takeover
[+] Enlarge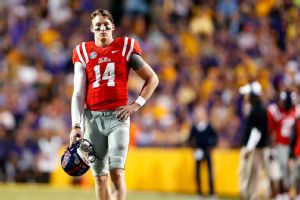 AP Photo/Jonathan BachmanA promising start for Bo Wallace and Ole Miss fell apart with consecutive losses to LSU and Auburn.
After Mississippi State and Ole Miss beat Texas A&M and Alabama, respectively, at home on the same day, the state of college football resided in the 20th state admitted to the Union. The Bulldogs thrashed A&M 48-31, and Ole Miss topped Alabama 23-17 at home and watched the Grove overflow onto the field inside Vaught-Hemmingway Stadium. The schools then tied for third in the Associated Press Poll, and Mississippi State would eventually rank No. 1 in the College Football Playoff Rankings.
All was good in Mississippi until Ole Miss lost an ugly one at LSU and a heartbreaker at home to Auburn in consecutive weeks. Two weeks later, the Bulldogs suffered their first loss of the season at Alabama. The regular season culminated with neither Mississippi team in the SEC title game after the Rebels were blown out at Arkansas 30-0, then eliminated Mississippi State from the race with a 31-17 win at home.
Bowl season erased any remnants of that magical Magnolia run, as Ole Miss was demolished 42-3 by TCU in the Chick-fil-A Peach Bowl, and Mississippi State surrendered 452 rushing yards in a 49-34 loss to Georgia Tech in the Capital One Orange Bowl.
Kenny Thrill for Heisman
After a record-setting 511-yard passing debut by
Kenny Hill
in Texas A&M's 52-28 drubbing of South Carolina
in
Columbia, we all thought we were seeing another College Station Heisman winner. And he just kept bringing us back in with more jaw-dropping performances. By the start of October, Hill had thrown for 1,745 yards and 17 touchdowns with just two interceptions. He also had a QBR that didn't dip below 91.5 at any point during the Aggies' 5-0 start, which pushed them to No. 6 in the country -- another thing that caused us to overreact.
Then the meat of the SEC season arrived, and the Thrill was gone. During three straight blowout losses, Hill turned it over seven times with just six touchdowns. After a disastrous 59-0 loss at Alabama, Hill was benched for freshman
Kyle Allen
and would never see the field again. He dealt with a suspension and decided to transfer from A&M after the season.
South Carolina's East run
We in the media picked South Carolina and Steve Spurrier to represent the SEC East in the conference championship. After opening night, that prediction imploded. Despite sporting a record-setting offense, the defense was atrocious, ranking 13th in the SEC (432.7 yards allowed per game). South Carolina surrendered 36.8 points per game in SEC play; made choking in the fourth quarter with double-digit leads an art; and finished the season 7-6 (3-5, SEC). Not exactly title-worthy.
The SEC West
The SEC West took a lot of heat for its embarrassing 2-5 bowl record. Arkansas and Texas A&M -- the only winners -- were ashamed of their division mates, and the 5-0 SEC East was left smiling after being lambasted for most of the season. Chants of "overrated" rained down around the SEC, especially after No. 1 Alabama was left out of the national title game after losing to Ohio State -- the eventual champion -- in the Allstate Sugar Bowl. All that talk of how great the West was during the season went out the window because of its bowl showing. Is the SEC still the deepest conference? Yes, but when your star attraction (the West) fails to show up against everyone else, it's hard to call it the best division ever. It's hard not to at least listen to some of those "overrated" chants. It puts a damper on such an exciting regular season from that side of the conference. And I don't buy the excuse that the division was beaten up from the regular season.
Save it. A few teams played better opponents, and others just fell flat at the worst time.
The conference certainly isn't in ruins now, but the gap between the SEC and the rest of the nation is closing.
Some early overreactions for 2015
Alabama's run of dominance is over
You never quite got the feeling that you were looking at a dominant Alabama team in 2014, and Ohio State's 42-35 College Football Playoff Semifinal win against the Crimson Tide supported those feelings. The Tide was the No. 1 team in the country, but couldn't make it to the final game. Now, Alabama loses a lot of what pushed the team to a No. 1 ranking. Only two starters -- left tackle
Cam Robinson
and center
Ryan Kelly
-- return on offense, and four very valuable defensive starters are gone, including safety
Landon Collins
and linebacker
Trey DePriest
. Plus, two defensive coaches left.
Are we seeing the demise of the Tide? Heck, no! Don't throw dirt on Nick Saban and his squad just yet. The Tide will rebuild on offense, still has some young talent to work with, and running back
Derrick Henry
might as well have been a starter last season. The defense has some work to do, yes, but if you think Saban is going to let his program leave the realm of relevance, you are greatly mistaken.
Steve Spurrier is done
From three straight 11-win seasons to a disappointing 7-6, the Head Ball Coach has seen better days. Rumors swirled about his possible retirement, but Spurrier will return in 2015, and like Saban, he is not one to just let his program fall apart. The defense will be older in 2015, and you better believe that Spurrier will be coaching with a chip on his shoulder this fall. Will the Gamecocks win the East? Not gonna put money on it, but Spurrier will make his squad much more competitive in 2015.
Will Muschamp will turn Auburn's defense around
Regardless of what you think of Will Muschamp's head-coaching job at Florida, he's an excellent defensive mind. And his hiring as Auburn's defensive coordinator has the Plains all abuzz with the thought of an SEC and playoff run with only three starters departing on the defensive side. But not so fast, Auburn fans. Can Muschamp have the same sort of success Lane Kiffin did in his first year at Alabama? Kiffin wasn't exactly working with an inept offense when he arrived. Muschamp must turn around one of the SEC's worst defensive units. I'm not saying Auburn won't challenge for the West, but let's be careful immediately crowning the Tigers this early.
Nick Chubb for Heisman
Yeah, he's the best running back returning in the SEC and should be one of the nation's best ... again ... but come on, this a quarterback award.
January, 14, 2015
Jan 14
10:00
PM ET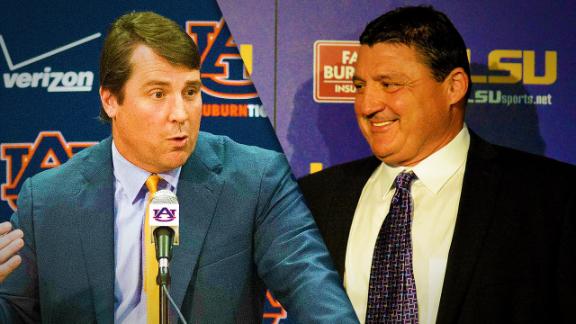 No. 1 ranked inside linebacker
Leo Lewis
of Brookhaven (Mississippi) High School changed his commitment once from Alabama to Ole Miss and all indications are the four-star linebacker is about to have another change of heart.
To continue reading this article you must be an Insider
January, 14, 2015
Jan 14
12:35
PM ET
By
Brett Edgerton
| ESPN.com
Maybe it's the unmatched passion of the fans. Maybe it's our collective need to laugh about a sport that many take waaaay too seriously. Maybe it's the fact that seemingly everything is televised or caught on camera these days.
But for whatever reason, college football lends itself to hilarious viral moments, and this season was no exception. Below you'll find a collection of the lighthearted posts that you the readers clicked on the most during the 2014 season. Enjoy the trip down memory lane!
Big-guy touchdowns
Everyone loves it when one of the big ol' boys in the trenches gets the chance to find the end zone. It seemed to happen a lot in 2014, but three really stood out. At Arkansas, a 6-foot-5, 350-pound offensive lineman actually
threw
a touchdown pass to a
long snapper
. Seriously,
it happened
. On the FCS level, a Mercer O-lineman scored a touchdown and led a phenomenal celebration that included him pulling off a cartwheel. No,
seriously
. And during the Cotton Bowl, Baylor's
LaQuan McGowan
-- at 6-foot-7, 400 pounds -- rumbled into the end zone for the
biggest of all big-guy touchdowns
.
Refs can be funny, too!
Like the one who
got emotionally descriptive
while flagging a player for removing his helmet "in disgust." Like the one who once penalized a player for "giving him the business" and
making us laugh again
. Like the one who got really mad at himself for
accidentally turning his back
to the camera while making a call.
Arkansas State of hilarity
An unlikely candidate for viral team of the season, but Arkansas State was just that for a beautiful two-week stretch in September. First, it was the pair of teammates named Clark and Griswold that TV cameras caught standing next to each other for this
splendid image
. Then, the following week at Miami, a Red Wolves player named
Booker Mays
played dead in the
now-infamous "Fainting Goat" play
that you all couldn't get enough of, along with
Mitch Sherman's profile
of the Fainting Goat himself.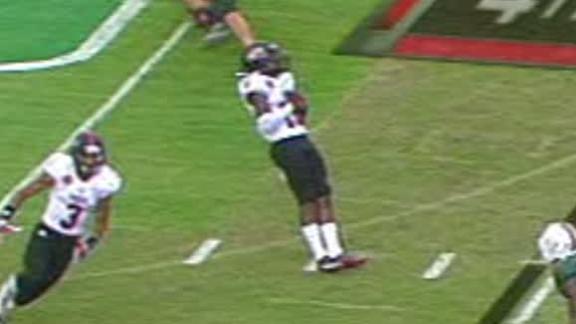 Campus cops bring the funny
We didn't see this one coming. But two of our most popular posts involved a humorous Twitter back-and-forth between the campus police departments at Iowa and Iowa State
before
and
after
the two schools met on the gridiron. Then, a couple of months later, the police at Wisconsin
had a memorable exchange
with the genius that runs the great
@FauxPelini
Twitter account.
Non-FBS play of the year
You don't know much about Indiana State football, but you know a good trick play when you see it. And many of you
clicked on this post
and saw it clear as day as the Sycamores pulled off the hidden-ball trick to perfection and set up the winning kick against Missouri State.
News conference moment of the year
After Oregon's win against Colorado, one industrious 12-year-old student reporter took it upon himself to get to the bottom of whether the Ducks' quarterback would declare for the NFL draft. It led to a hilarious and endearing back-and-forth with Oregon coach Mark Helfrich in which he declared that
"Jesus, girls and Marcus Mariota"
were all anyone talked about at his Catholic school in Eugene. The memorable phrase led to a T-shirt, a Tom Rinaldi
video feature on the phenomenon
and our very own Chantel Jennings visiting the school to get some
hilarious answers
from the student body.
Same team, fellas!
First,
Penn State pulled it off early
in the season, letting Florida off the hook for its infamous self-blocking incident in 2013. Then Florida, as if almost offended by someone challenging its title as the King of Teammate Blocking Schemes,
managed to pull it off
for a second straight year, this time against Florida State. Then FSU, not content to let the rival Gators steal the spotlight in this seemingly unenviable category,
insisted on doing
just the same during its
much-mocked
, second-half collapse against Oregon in the playoff.
Celebrity central
Hollywood and the music industry mixed well with college football in 2014. Among our favorite moments: Matthew McConaughey
doing Matthew McConaughey things
during a pep talk to his beloved Texas Longhorns. Tennessee creating a "Third Down for What" tune that fired up the fan base and
made a Vols fan out of Lil Jon
. George Clinton himself endorsing a
Michigan player's "Atomic Dog" funk
. And of course, Katy Perry taking over Ole Miss and
besting Lee Corso on picks
on "College GameDay" during the show's unforgettable first visit to the Grove.
Dancing coaches
It sure seemed as if 2014 was the year victorious coaching dances in the locker room became
a thing
. There were so many to choose from, but among our favorites: Oklahoma State's Mike Gundy, the self-proclaimed "dance-circle" king,
living up to the billing
after a stunning win against rival OU; Virginia Tech's Frank Beamer not letting his age get in the way of a
good celebration
; Wisconsin interim coach Barry Alvarez
getting one last dance in
after a bowl win, before settling back into his job as the school's AD. Oh, and then there was
whatever this was
, an unearthed video of Auburn coach Gus Malzahn breakdancing to "U Can't Touch This" in one of the most 1990s images you'll ever see.
SEC's 'enthusiastic' fans
The passion people have for college football never ceases to impress or entertain us. And this season did not disappoint, especially in the ever-passionate SEC. There was the fan
driving around in a car transformed
to look like Alabama's elephant mascot. The Vandy man who got so frustrated at the refs that he
threw his hat and shirt onto the field
and stormed off. The
SEC sing-off
between "That's Amari" and "I'm A Bielemer." The negative political ad and $14 barber shop debt
that awaited Lane Kiffin
upon his return to Knoxville. And of course, the King of All Crazy down South, Harvey Updyke, the infamous tree poisoner who claimed he'd be
dressed as a dead tree
for his Halloween costume.
Of course, there were others -- some sneaky Michigan State students painting
Michigan's block "M" Spartan green
, Penn State fans giving the Ohio State players an
early wake-up call
, creative haircuts
throughout the nation
-- but the SEC, despite some of the shine coming off this season on the field, still is the undisputed champion of viral fans.
Best of the rest
There were some moments that didn't fit neatly into one of our categories, but were so popular with you the fans that we had to find a place for them here in our end-of-season recap. For example, who could forget Ohio State assistant strength coach Anthony Schlegel
body-slamming an idiot fan
who ran onto the field? Or the Minnesota man who affectionately became known as "Dilly Bar Dan" after TV cameras
caught him eating an ice cream bar
on the sidelines when it was 15 degrees and snowing. His 15 minutes of fame
was pretty amazing
.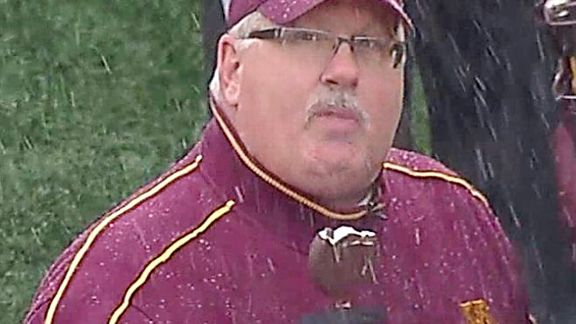 ESPNOut of nowhere, on a snowy day in Minnesota, Dilly Bar Dan came into our lives. And it was beautiful.
So was
the last-second block
that a member of the Texas A&M Corps of Cadets delivered on a fast-charging SMU player, thus saving a sideline collision with Reveille, the school's revered dog mascot. And speaking of the sideline, how about that Auburn kid who challenged FSU's "Red Lightning" for most-celebrated ball boy status by
showing crazy SEC speed while sprinting
down the sideline? That dash was so popular that it spawned an
ESPN Sport Science segment
comparing the two ball boys.
But we close this piece with our favorite
opening
of the college football season. It occurred when Eastern Michigan attempted to illustrate a season-long theme by sledge-hammering their way through a wall before running onto the field. Only problem was, the
wall put up quite a fight
. Let's just say ... it took awhile. And it was awkward. And it was awesome. All at the same time.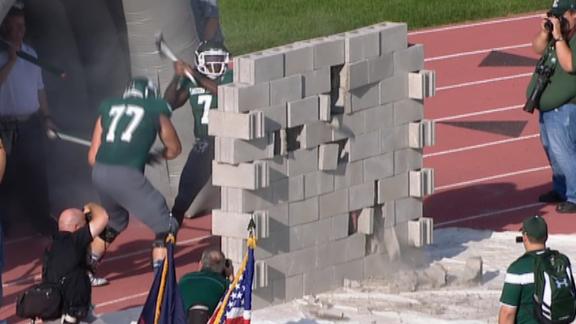 January, 14, 2015
Jan 14
10:00
AM ET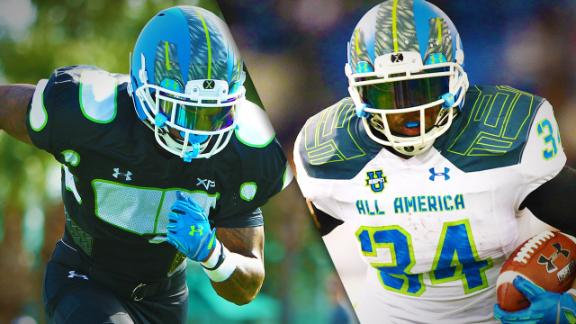 Newcomers to the SEC made a huge impact throughout the conference this past season. From running back
Jalen Hurd
at Tennessee, to offensive tackle
Cam Robinson
at Alabama and to wide receivers
D'haquille Williams
and
Speedy Noil
at Auburn and Texas A&M, respectively, these prospects who enrolled last January left their mark on the 2014 football season. Whether it be junior college transfers or true freshmen, these newcomers are counted on every year to help fill voids. Here's a closer look at some of the top candidates who are likely to make an impact early on in their collegiate careers.
To continue reading this article you must be an Insider
January, 14, 2015
Jan 14
9:00
AM ET
On Tuesday, we released our
too-early conference rankings
. By now, most of you have seen that Georgia, Auburn and Alabama were the top three. But the great thing about ranking teams is that there are so many ways to dissect them. With that said, I thought it would be interesting to come up with a few superlatives heading into the 2015 season.
Highest ceiling: There are questions galore for Alabama, but when you bring in three consecutive No. 1 recruiting classes and are running out the clock on a fourth, you don't worry about potential.
Safest bet: Georgia's schedule is manageable and running back Nick Chubb is sensational. Jeremy Pruitt brought the defense along last season, and further progress there could mean an East crown.
Wild card: Does anyone in the SEC have more young talent on offense than Texas A&M? If John Chavis can coax a heartbeat out of the defense, watch out for the Aggies.
Sleeper: It's a scary place to be one quarterback away, but that's where LSU is today. With Leonard Fournette at running back and a solid defense, the only missing ingredient is a passing game.
Spoiler: Kentucky is only getting better. With Patrick Towles, a Ben Roethlisberger clone, back at QB and a roster steadily improving thanks to the staff's work on the recruiting trail, the Wildcats are a team no one wants to see on the schedule.
Around the SEC
January, 13, 2015
Jan 13
10:00
AM ET
January, 12, 2015
Jan 12
11:00
PM ET
LOUISVILLE, Ky. -- Most coaches at AFCA agree an early signing period is a good thing, but when to have it will be a hot topic at Tuesday's NCAA recruiting seminar.
To continue reading this article you must be an Insider
January, 12, 2015
Jan 12
7:52
PM ET
Texas A&M Aggies offensive tackle Cedric Ogbuehi will have surgery Friday for a torn ACL and will not compete in the Senior Bowl, sources said Monday.
Before the injury, Ogbuehi was projected as a mid-to-late first round pick by ESPN's Todd McShay. ESPN's Mel Kiper has Ogbuehi ranked as his No. 2 offensive tackle and 11th overall on his latest Big Board.
It's unknown if Ogbuehi will miss the 2015 season.
Ogbuehi suffered the torn ACL in Texas A&M's Liberty Bowl win against West Virginia.
January, 9, 2015
Jan 9
1:19
PM ET
ESPN.com news services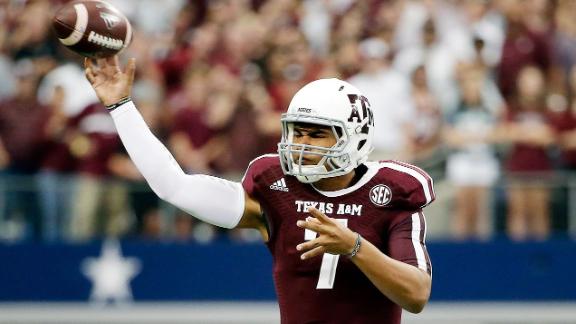 Texas A&M coach Kevin Sumlin confirmed Friday that quarterback Kenny Hill has been granted his release from the program and can transfer to any school of his choice.
"[Kenny] is meeting with his family and figuring out what he wants to do," Sumlin told 105.3 The Fan in Dallas.
Big 12 champion TCU is a strong possibility for Hill, a source told ESPN.com's Travis Haney.
Hill replaced former Heisman Trophy winner Johnny Manziel for the Aggies and surged to the forefront of the early Heisman race with a 511-yard, three-touchdown demolition of fellow SEC opponent South Carolina to open the 2014 season.
Soon after, Hill's parents filed for a trademark for the nickname "Trill," which Hill adopted in the wake of the revelatory performance.
Hill and the Aggies continued their march through September, preying mostly on weaker nonconference foes to land at 5-0 and earn a No. 6 ranking after the season's first month.
Then things changed. Texas A&M lost its next three games and five of its final seven. By November, Hill was replaced by freshman Kyle Allen, who led the team to wins against Louisiana-Monroe, Auburn and West Virginia to salvage an 8-5 finish.
When Allen took over, Hill was serving a two-game suspension for a violation of team rules and athletic department policy. Aggies coaches, though, insisted Allen would have taken over regardless of Hill's status.
Hill also was suspended for the final part of spring practice in 2014 after an alcohol-related arrest.
Ranking the new SEC defensive coordinators