April, 3, 2014
Apr 3
12:15
PM ET
It's not exactly like the fall, but at least we'll have some football (spring) games this weekend. Let's take a quick spin around the SEC and see what's happening as the final spring scrimmages approach at some of the league's schools.
April, 2, 2014
Apr 2
3:30
PM ET
COLLEGE STATION, Texas — Running back is one of positions on
Texas A&M
's roster with few, if any, real question marks or concerns heading into 2014.
There is talent and depth. Most of the returning players have experience. The main question might be which player emerges as the most reliable and productive.
The candidates are plenty, though, and that's pleasing to head coach Kevin Sumlin.
[+] Enlarge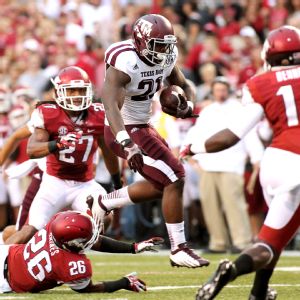 Nelson Chenault/USA TODAY SportsTra Carson has had a good spring, but still faces plenty of competition to be Texas A&M's first-string running back.
"We feel real good with our depth at running back," Sumlin said.
Junior running back
Tra Carson
has been the most consistent of the group this spring. Sumlin has praised his work several times in recent weeks, and the 6-foot, 230-pound Carson seems to be positioning himself well for the fall.
"I think Tra Carson has been very, very solid," Sumlin said. "I think
James White
has progressed and is probably a little bit further ahead than I thought he would be.
Brandon Williams
is doing well.
Trey Williams
-- they're all good backs. It depends on what you want to do."
Both Trey Williams and Brandon Williams had to miss brief portions of spring practice with minor injuries, but they have returned. Sumlin noted earlier this spring, particularly when Trey Williams was out, that every day he missed was "not helping his cause." Since returning, both have been able to shoulder more of the workload in practice.
"Trey's healthy and has been involved in the return game, obviously," Sumlin said. "Brandon has come back. We worked Tra Carson pretty hard early. Those guys missed a little bit, so Tra Carson's getting a little bit of a rest right now and they're catching up. But we know what we've got in those three guys."
Trey Williams is the returning yardage leader of the group, with 407 yards and six touchdowns on 58 carries last season. Carson is the returning leader in touchdowns (7) and logged 329 yards on 62 carries in 2013. Brandon Williams contributed but didn't play as much as Carson or Tra Williams, logging 44 carries for 269 yards and a score.
But with Malena (115 carries last season) gone, there are carries available. It's reasonable to expect the returning trio will get more carries, but don't count out White, a redshirt freshman, being a factor as well based on his spring performance.
"I think the surprise has been James White," Sumlin said. "He has really come on to be pretty solid. He's a guy that's going to play special teams for us this year, and then we'll see where he fits in this group. James does everything pretty good. He's big enough at 215, 220 [pounds]. He has soft hands, is a good runner, a good blocker, so he's another guy that gives us a mix."
Sumlin expects all of them to push each other as the Aggies wrap up spring practice and continue preparing for the 2014 season.
"That competition will continue and they know that," he said. "It's good for all of us to have to compete for playing time, and that's what happens in a real program."
April, 2, 2014
Apr 2
12:01
PM ET
April, 2, 2014
Apr 2
11:00
AM ET
By
ESPN.com staff
| ESPN.com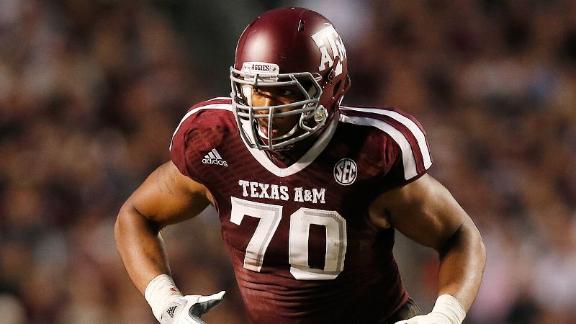 Texas A&M OT
Cedric Ogbuehi
talks with ESPN.com's Mark Schlabach about the Aggies replacing Johnny Manziel and moving from the right side to the left side this spring.
April, 2, 2014
Apr 2
9:00
AM ET
AUBURN, Ala. -- There wasn't much fire in the voice of Gus Malzahn as he stood at the podium following Auburn's first scrimmage of the spring on Saturday. All told, it was a pretty boring scene. No injuries to report. No position changes to speak of. Only one turnover and a handful of big plays. His team had to move indoors because of the threat of rain, but as he said, "It didn't bother us a bit."
Watching Malzahn, you got the feeling he wasn't playing coy. This was the difference a year makes. Last spring was an anxious time for Auburn. There was no quarterback, no depth chart and no sense of expectations. Malzahn and Co. were simply trying to pick up the pieces left behind from the previous staff.
This spring has a much different tone. All one needed to do was look at the long-sleeve, collared shirt Malzahn wore after practice, the one with the SEC championship patch on its left shoulder. The building phase of Malzahn's tenure is over. The questions are much fewer this year than the last. And with that, the sense of urgency is far more diminished.
"We've got more information now, so we're not as urgent," Malzahn said. "We pretty much know a lot about the guys returning."
Not every coach in the SEC is in the same enviable position.
"You've also got to keep in mind next year," Malzahn said. "You want to get your guys as much reps as you can moving forward for next year, because that's what it's all about ... but I would say, probably, for the most part, that we've got guys in the position that we want them to be in."
Not every coach can afford to look ahead this spring. Not every coach has the time.
With that said, let's take a look at the programs with the most to accomplish this spring, ranking all 14 schools by the length of their to-do list.

Vanderbilt:
Any new coaching staff has the most work to do, from determining the roster to installing new schemes on both sides of the ball. Throw in a new starting quarterback and the
raid James Franklin put on the recruiting class
, and it adds up to an enormously important spring for Derek Mason.

Kentucky:
Mark Stoops has done a lot to turn around the culture at Kentucky. In fact, veteran defensive end
Alvin Dupree
said it feels like more of a football school now
. But the fact remains that Stoops has a very young group to deal with, so inexperienced that true freshman
Drew Barker
is in contention to start at quarterback.

Tennessee:
The Vols are facing many of the same
challenges in Year 2 under Butch Jones
. He has brought in a wealth of talent, including a remarkable 14 early enrollees. Considering the Vols lost all of their starters on both the offensive and defensive lines, there's a lot of work to do.

Florida:
The hot seat knows no reason. All is good in Gator Land right now as a new offense under a new coordinator is installed, injured players -- including starting quarterback
Jeff Driskel
-- return, and expectations creep upward. But a bad showing in the spring game could change the conversation quickly for Will Muschamp.

Arkansas:
There's
nowhere to go but up for Bret Bielema
after a 3-9 finish his first year with the program. The good news is he has young playmakers on offense (
Hunter Henry
,
Alex Collins
, etc.). The bad news is the quarterback position is unsettled and his defensive coaching staff is almost entirely overhauled from a year ago.

LSU:
A depth chart full of question marks is nothing new for Les Miles, who has
endured plenty of underclassmen leaving for the NFL
before. But missing almost every skill player on offense (
Zach Mettenberger
,
Jeremy Hill
,
Odell Beckham
,
Jarvis Landry
) hurts. He has to find replacements at several key positions, and we haven't even gotten into the defense.

Texas A&M:
Cedric Ogbuehi
can replace
Jake Matthews
at left tackle. The combination of
Ricky Seals-Jones
and
Speedy Noil
can replace
Mike Evans
at receiver. But
who replaces the legend of Johnny Football
? Determining a starter under center won't be easy, but neither will be overhauling a defense that was far and away the worst in the SEC last year.

Georgia:
Jeremy Pruitt
should breathe some new life
into a struggling Georgia defense. Having
Hutson Mason
to replace
Aaron Murray
helps as well. But
off-the-field problems continue
to plague Mark Richt's program. With stars such as
Todd Gurley
, the players are there. The pieces just need to come together.

Missouri:
After 13 seasons in Columbia, Gary Pinkel knows how to handle the spring.
Maty Mauk
appears ready to take over for James Franklin at quarterback, and even with the loss of
Henry Josey
, there are still plenty of weapons on offense. The real challenge will be on defense, where the Tigers must replace six starters, including cornerstones
E.J. Gaines
,
Kony Ealy
and
Michael Sam
.

Alabama:
The quarterback position won't be settled this spring, so we can hold off on that. But still, Nick Saban faces several challenges, including finding two new starters on the offensive line, replacing
C.J. Mosley
on defense and completely overhauling a secondary that includes
Landon Collins
and a series of question marks.

Ole Miss:
Hugh Freeze has his players. Now he just has to develop them. With emerging stars
Robert Nkemdiche
,
Tony Conner
,
Laremy Tunsil
,
Evan Engram
and
Laquon Treadwell
, there's plenty to build around. Include a veteran starting quarterback in
Bo Wallace
and there's a lot to feel good about in Oxford.

Mississippi State:
It's a new day in the state of Mississippi as
both state institutions have high expectations this spring
. Mississippi State returns a veteran defense, a solid offensive line and a quarterback in
Dak Prescott
who could turn into a Heisman Trophy contender. A few months after Dan Mullen was on the hot seat, he now appears to be riding high.

Auburn:
Losing
Tre Mason
and
Greg Robinson
hurts, but outside of those two stars, the roster remains fairly intact.
Nick Marshall
figures to
improve as a passer
, the running back corps is well off, and the receivers stand to improve with the addition of
D'haquille Williams
. The defense should get better as youngsters such as
Montravius Adams
and
Carl Lawson
gain experience.

South Carolina:
Steve Spurrier would like to remind everyone that
Dylan Thompson
was the only quarterback in the country to beat Central Florida last season. Sure, Thompson wasn't the full-time starter last year, but he has
plenty of experience and is ready to be the man
. Throw in a
healthy and eager
Mike Davis
and an improving set of skill players, and the offense should improve. The defense has some making up to do on the defensive line, but there's no reason to panic, considering the rotation they used last year.
April, 1, 2014
Apr 1
4:00
PM ET
By
ESPN.com staff
| ESPN.com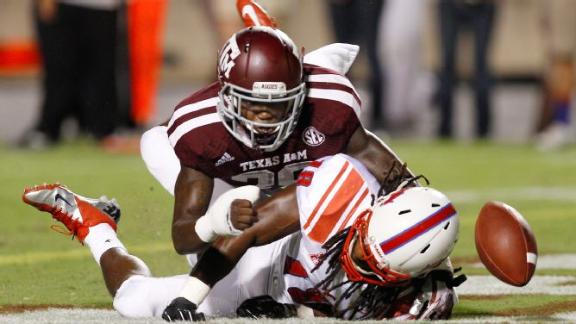 Aggies CB
Deshazor Everett
talks with Mark Schlabach about spring practice and rebuilding the A&M defense.
April, 1, 2014
Apr 1
2:01
PM ET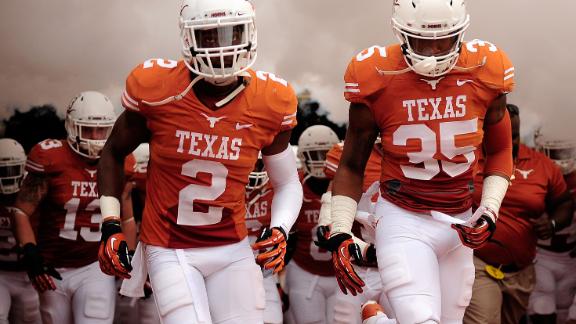 AUSTIN, Texas -- Texas athletic director Steve Patterson said Tuesday that he's not looking to schedule a nonconference football matchup against Texas A&M, at least not in the short term, because he's more concerned about expanding the Longhorns' brand with more opportunities for games outside the United States.
"There's a lot of great tradition with Texas A&M. At some point in time, does it make some business sense, some branding sense to play again? I don't know," Patterson said. "It's not at the top of my list. I'm really more focused on how we grow the footprint of the department."
The first-year athletic director has already scheduled a men's basketball game against Washington in China for 2015, and the program will participate in a three-city basketball event with Michigan State, North Carolina and Florida in 2018.
Patterson is focused on finding similar opportunities for Texas football, and for that reason he's in no hurry to reunite with Texas A&M.
He sees Texas as being in a unique position to grow its international brand and said it's essential to use athletics as a platform to tell the university's story.
"They shouldn't be done for junketeering purposes," Patterson said. "They should be done in a fashion that grows the profile and the interest of the university of a broad scale internationally."
April, 1, 2014
Apr 1
1:00
PM ET
COLLEGE STATION, Texas -- The race to replace
Johnny Manziel
as Texas A&M's starting quarterback is a marathon, not a sprint, but it fostered a compelling development when one of the contenders found himself on the outside looking in, at least temporarily.
[+] Enlarge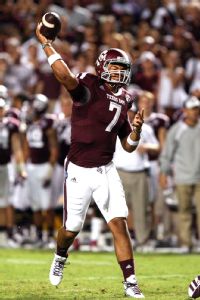 Troy Taormina/USA TODAY SportsKenny Hill is losing valuable time in the competition for Texas A&M starting QB.
The three-way battle between senior
Matt Joeckel
, sophomore
Kenny Hill
and true freshman
Kyle Allen
will continue this week sans Hill,
who was arrested (and later released) early Friday morning
on a charge of public intoxication.
On Friday night, the Aggies held their third scrimmage of the spring, this particular workout serving as coach Kevin Sumlin's annual "Friday Night Lights" event which draws numerous recruits but also serves as a live-action opportunity for the current players. Hill did not participate as he began serving his indefinite suspension (Texas A&M athletic department policy dictates that student-athletes are immediately suspended indefinitely, pending further investigation, after an arrest). The repetitions at quarterback were split "half and half" between Joeckel and Allen, according to Sumlin, who made his first public comments about Hill's incident on Monday.
With no timetable currently set for Hill's return, it appears Allen and Joeckel will continue splitting time in this final week of spring football for Texas A&M. Sumlin sounded pleased with both players' performances on Friday night.
"I think both of them did some good things," Sumlin said Monday. "They both are progressing. I think they understand the offense a lot more. Obviously, Kyle has to because he just got here. Joeckel, being two years into this [offense], he understands it a little bit more and he should. But we've got to get everybody on the same page."
Hill's absence obviously isn't helping his chances.
"I would say that if you're not out there practicing, then that would have an effect on your ability to compete for the job," Sumlin said.
He also expressed disappointment with Hill's actions. He is the third Texas A&M player to be arrested in the last six weeks and the fourth to be disciplined because of an off-field incident.
Darian Claiborne
and
Isaiah Golden
have both missed all spring after arrests in February and Sumlin dismissed safety
Kameron Miles
from the team last month.
"[It's] extremely disappointing," Sumlin said of Hill.
He noted that the team educates its players on a wide range of off-the-field matters, including drugs, alcohol and behavior, when they come into the program.
"We've got a whole educational process with our young guys when they come in," Sumlin said. "We have a 'CHAMPS' class that puts them through the structure of basically growing up. Helping guys with a sense of urgency about time management, about on the field and off the field situations, drug and alcohol counselors. We have a couple of those guys, at least, a semester that come in. We have a complete curriculum and an educational process for all those guys."
The misstep isn't necessarily a death knell for Hill's chances, if history serves as a guide. Manziel was arrested the summer before he was named the starting quarterback, just before his Heisman Trophy-winning 2012 campaign. At the time of his arrest, he was in a battle with then-Texas A&M quarterback
Jameill Showers
, Joeckel and former A&M quarterback Matt Davis for the starting job.
Sumlin has overseen two preseason starting quarterback competitions in his tenure as a head coach and both were decided in August, roughly two weeks before his team's scheduled season opener. That will be the case again this year, which quarterbacks coach Jake Spavital confirmed in February.
So while there is time for Hill to make up ground, the absence hurts him, especially in this final week of spring practice. Allen and Joeckel will have the benefit of seeing more exotic defensive looks from defensive coordinator Mark Snyder and his unit this week and in the final scrimmage of spring on Saturday, which will aid both quarterbacks' development in the ongoing battle to start on Aug. 28 at South Carolina.
"I'd like for them to see it all here this week," Sumlin said of his quarterbacks. "As we get into the summer, it gives them a chance to work against some base looks and work their progressions."
March, 31, 2014
Mar 31
6:38
PM ET
ESPN.com News Services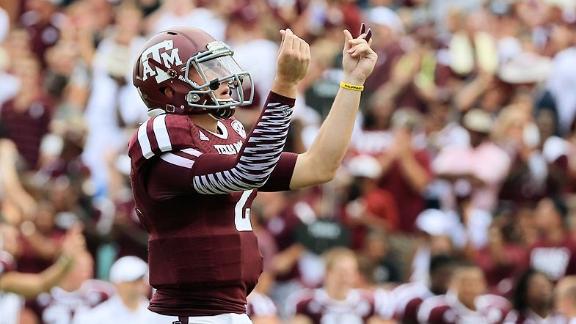 The spectacle surrounding Johnny Manziel's pro day last week and the celebrity status of the former Texas A&M quarterback seem to concern Minnesota Vikings head coach Mike Zimmer, who said "flags" popped up when the team met with Manziel for a private workout.
Manziel's pro day on Thursday included the presence of former President George H.W. Bush and wife Barbara -- and her two dogs, music from hip hop artist Drake being blasted through the building and the flashy quarterback wearing camouflage shorts, a black Nike jersey with his white No. 2 as well as a helmet and shoulder pads. Zimmer told the Houston Chronicle it was a "sideshow."
The Vikings, who met with Manziel on Friday, own the No. 8 pick and are expected by many to draft a quarterback.
"We asked him all kinds of questions. ... There are some flags that come up," Zimmer said Monday on 104.9 The Horn in Austin, Texas, per the Minneapolis Star-Tribune. "All of the things that happened out in Los Angeles, the commercials and all that stuff ... the position of quarterback in the NFL is such an important position and the reason these guys need to be a totally football-minded guy is the pressure of the position and being the face of an NFL team and doing everything right. That's the thing you want to know about him -- will he be into work early every single day? Will he be the last to leave? Will he be the guy that is working the hardest to get better?
March, 31, 2014
Mar 31
11:56
AM ET
By
Brian Fremeau
| ESPN Insider
It is the era of up-tempo, explosive offenses in college football, and records for scoring production are threatened or broken on an almost weekly basis. Nine teams averaged at least 40 points per game in the 2013 season, including six teams from "big five" conferences. There were as many 50-PPG offenses last season (Baylor and Florida State) as there were 40-PPG offenses four years earlier (Houston and Boise State).
We account for strength of opposition in our Offensive FEI (OFEI) ratings, a measure of scoring efficiency by possession based on starting field position. The top offenses according to OFEI are productive not only in terms of raw performance, but also have exceptional production against elite defenses. Florida State led the nation in baseline offensive efficiency last year, but since the Seminoles played only the 64th-toughest set of opposing defenses, their OFEI was a more modest No. 12 overall.
Which teams are projected to have the best opponent-adjusted offenses in 2014? Our model starts with a five-year measure of offensive success, Program Offense, which has a stronger correlation to next-year success than any other baseline factor we have tested.
As such, here are the top five offenses of the past five years according to opponent-adjusted Program Offense, and a breakdown of the challenges each will face in producing elite efficiency again this fall.
---

Program Offense rank (over past five years): No. 1
2013 Offensive FEI rank: No. 10
In 2013, the Bears led the nation in points per game for the season (52.4), their third straight season ranked in the top five nationally in scoring offense and in the top 10 in opponent-adjusted offensive FEI. However, their dominance early on in 2013 gave way to inconsistent production down the stretch. Baylor averaged at least 10 yards per play on 42 percent of its offensive possessions through the first seven weeks of the season, but posted a more modest explosive drive rate of only 21.4 percent the rest of the year. Oklahoma State held Baylor in check in its only regular-season loss (in late November), as the Bears punted on five of their first six drives against the Cowboys after having four or fewer total punts in eight of their previous nine games.
To continue reading this article you must be an Insider
March, 31, 2014
Mar 31
5:30
AM ET
The Early Offer is RecruitingNation's regular feature, giving you a dose of recruiting in the mornings. Monday's offerings: Maryland coach Randy Edsall raised eyebrows last week when he called for reform of the recruiting process by delaying scholarship offers to prospects, and his ideas were met with praise and criticism from his peers; A&M and Baylor landed big commitments over the weekend.
To continue reading this article you must be an Insider
March, 30, 2014
Mar 30
6:30
PM ET
AUSTIN, Texas -- The state of Texas' top track athletes descended on Austin this weekend to compete in the annual Clyde Littlefield Texas Relays on the campus of the University of Texas, and the field of competitors included several touted 2015 and 2016 recruits. Here's an update on where a few of them stand in their recruitment.
RB Jones wants to travel
The battle for
Ronald Jones
II, one of the state's top running back recruits out of McKinney North, rages on as he should be hitting the road in the next few months.
To continue reading this article you must be an Insider
March, 28, 2014
Mar 28
7:48
PM ET
Texas A&M
got an unwelcome distraction on Friday when the news of
Kenny Hill
's arrest broke.
Hill, a sophomore quarterback who is part of a three-way competition for the starting job,
is suspended indefinitely
, per Texas A&M athletic department policy after he was taken into custody on a public intoxication charge.
[+] Enlarge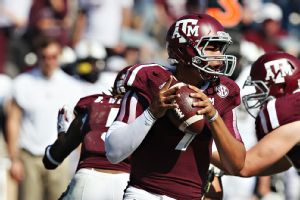 Bob Levey/Getty ImagesKenny Hill's suspension leaves him unable to participate in the rest of Texas A&M's spring practices.
This is the third arrest and Hill is the fourth A&M player involved in an off-field incident since mid-February -- not an ideal situation for coach Kevin Sumlin and his staff.
The news broke just hours before the Aggies were scheduled to hit the field for their annual "Friday Night Lights" practice, an energized scrimmage/recruiting event that Sumlin has hosted since his first year as the Aggies' head coach.
Hill's suspension likely means the other two contenders for the starting quarterback job, senior
Matt Joeckel
and true freshman
Kyle Allen
, will see increased repetitions in his absence. The Aggies have four spring football practices remaining after Friday's scrimmage.
Many observers might be quick to point out that Texas A&M's recently departed quarterback, Heisman Trophy winner and potential first-round NFL draft pick
Johnny Manziel
, survived an offseason arrest in 2012 and won the starting job before going on to his historic freshman season. However, Manziel's arrest came in the middle of the summer, not during the spring, thus Manziel did not miss valuable practice time or scrimmage opportunities.
By all accounts, the quarterback battle has been a tight one. One factor that could work in Hill's favor is Sumlin's patience in quarterback competitions: He typically does not name a starter until two weeks before the season opener, and that is likely to be the case again this season. So there is a long way to go until anything happens, giving Hill time to recover from his legal incident.
Hill came into this spring with an edge over newcomer Allen because of his game experience (he appeared in five games last season) and because he's a dual threat with plenty of experience dating back to high school with no-huddle spread offenses like the one the Aggies run. But by enrolling early, Allen -- the No. 1 pocket passer in the 2014 recruiting class -- is doing everything he can to put himself in position to succeed. And Joeckel, the veteran of the group, has the most experience and has long been waiting for his opportunity.
If this proves to be an isolated incident for Hill, it will likely become a footnote if he bounces back and wins the starting job. This doesn't help his case for the time being, though.
This is the latest off-field incident for the Aggies, as starting defensive teammates
Isaiah Golden
and
Darian Claiborne
were arrested last month, and safety
Kameron Miles
was dismissed from the team earlier this month. Claiborne and Golden have both sat out all spring (Golden actually withdrew from school recently, though Sumlin said he expects the defensive tackle to return) and Miles is headed to Butler Community College in Kansas.
Sumlin has been swift in dealing with off-field issues this offseason, but the last thing he wanted was to have to deal with another.
March, 28, 2014
Mar 28
6:22
PM ET
Texas A&M quarterback Kenny Hill has been suspended indefinitely following his arrest early Friday morning.
Hill, who will be a sophomore this season and is competing for the starting quarterback job, was arrested just before 3 a.m. on a public intoxication charge, according to the Bryan-College Station Eagle.
Texas A&M athletic department spokesman Alan Cannon confirmed that Hill is "suspended indefinitely from all athletic activities per athletics department policy."
According to the Eagle, which obtained the police reports, Hill was arrested at Chimy's, a College Station restaurant and bar, after being found passed out in front of the establishment. He later posted bail and was released.
Hill, a 6-foot-1, 215-pound quarterback from Southlake (Texas) Carroll High School, appeared in five games last season. He was 16-of-22 passing for 183 yards and a touchdown in relief duty. He is competing with senior Matt Joeckel and true freshman Kyle Allen this spring for the right to succeed former Texas A&M quarterback Johnny Manziel as the Aggies' starter.
TAMU Asst. Tops Recruiter Power Rankings
SEC SCOREBOARD
Thursday, 8/28
Saturday, 8/30
Sunday, 8/31