February, 5, 2015
Feb 5
11:03
AM ET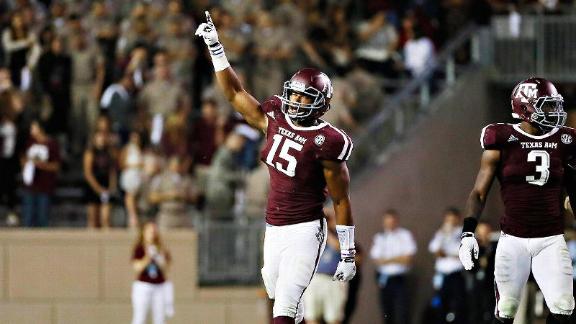 COLLEGE STATION, Texas -- Kevin Sumlin didn't shy away from the notion that the next two or three seasons will likely define his time at Texas A&M.
"Yeah," he said Wednesday, fiddling with a pen and a highlighter on his desk before looking up. "I think that's fair."
The honeymoon phase is most certainly over. Sumlin, entering his fourth season, is no longer new at Texas A&M. And Texas A&M isn't new to the SEC.
Instead of everyone finding their footing, there is angst following an 8-5 season -- and a strange sensation that the Aggies are not all that close to the top of the SEC West. Difficult as the division is, they are entering a window in which they must perform. Now.
"Here's where we are," Sumlin said. "What do we need to do better?"
The offense has needed depth, he said. The defense has needed talent.
The coaching staff believes -- or at least hopes -- those needs have been addressed the past three signing days. Youth can no longer be a crutch for A&M -- not after signing ESPN RecruitingNation's eighth-rated class in 2013, the No. 4 class in 2014 and the No. 12 class in 2015.
That sort of recruiting run means you either deliver soon and compete at a high level -- or risk being fired.
February, 5, 2015
Feb 5
9:00
AM ET
1. Hmm, whatever shall we discuss today? How about recruiting? If you've been paying any attention at all, Wednesday was national signing day and the SEC once again dominated the day.
ESPN's class rankings show
that SEC teams claimed five of the top 10 spots (No. 1 Alabama, No. 5 Tennessee, No. 7 Auburn, No. 8 Georgia and No. 10 LSU) and 12 of the top 22 (adding No. 12 Texas A&M, No. 16 Mississippi State, No. 18 Missouri, No. 19 Ole Miss, No. 20 Florida, No. 21 South Carolina and No. 22 Arkansas). SEC schools signed
five of the top six prospects on the ESPN 300
– No. 1 Byron Cowart to Auburn, No. 2 Terry Beckner Jr. to Mizzou, No. 3 Trenton Thompson to Georgia, No. 5 Martez Ivey to Florida and No. 6 Daylon Mack to Texas A&M – and 10 of the top 14 players. In other words, it was the typical national signing day for the conference. Sure, signing day can be an overblown, sometimes distasteful, exercise. But for those who don't follow recruiting closely, days like Wednesday are why SEC teams typically dominate the rankings and bowl season and have more players selected in the NFL draft than any other conference. Win on signing day --
and it's clear that the SEC did, once again
-- and you'll almost certainly win big in the fall.
2. As nutty as Cowart's "will-he-sign-or-won't-he?" saga was on Wednesday --
and it was certainly tumultuous
-- a different SEC target might have an even crazier story to tell. Roquan Smith committed to UCLA over Georgia, Michigan and Texas A&M on ESPN airwaves Wednesday, only to learn after the fact that the Bruins coach who had been the deciding factor in his recruitment, Jeff Ulbrich, might be leaving the program. Luckily for Smith,
he learned of Ulbrich's possible departure before faxing in his letter of intent
and was able to re-open his recruitment. It would have been a shame if Smith had based a binding decision upon a false understanding of who his coach would be, only to be stuck with UCLA
if Ulbrich does indeed leave Jim Mora's staff for an NFL job.
3. After weeks of speculation, it looks like Steve Spurrier will add a new coach to his staff, after all. Only it won't be a new coach -- not to Spurrier, anyway. Reports out of Columbia say that Jon Hoke, who worked under Spurrier for a decade at Florida,
is set to join Spurrier's South Carolina staff
-- possibly as early as today. Spurrier wouldn't discuss the subject at his signing day news conference on Wednesday, although he did say "we are not getting rid of any coaches, but we could add one." Nonetheless, Hoke is apparently on board to
take over as defensive coordinator
after Lorenzo Ward's defense struggled mightily in 2014.
Around the SEC
Tweet of the day
Miles: I've gone for three straight punters from Australia. We scoured the entirety of South Australia to find someone chasing kangaroos.

— Cody Worsham (@CodyWorsham) February 4, 2015
February, 4, 2015
Feb 4
4:43
PM ET
Texas A&M
has announced its 2015 class:
Five-stars
Daylon Mack
DT -- Gladewater High School, Texas

Kyler Murray
QB-DT -- Allen High School, Texas
ESPN 300
Christian Kirk
WR -- Saguaro High School, Arizona
James Lockhart
DE -- Ennis High School, Texas
Larry Pryor Jr
. S -- Sulphur Springs High, Texas
Kemah Siverand
WR -- Cypress Ridge High School, Texas
Justin Dunning
S -- Whitehouse High School, Texas
Trevor Elbert
OT -- Rockwall-Heath High School, Texas
Jordan Davis
TE-Y -- Clear Lake High School, Texas
Roney Elam
CB -- Newton High School, Texas
Connor Lanfear
OT -- Hays High School, Texas
ESPN JC 50
Justin Evans
S -- Mississippi Gulf Coast Comm College
Damion Ratley
WR -- Blinn College, Texas
Four-stars
Jay Bradford
RB -- Splendora High School, Texas
Kingsley Keke
DT -- George Ranch High School, Texas
Deshawn Capers-Smith
ATH -- Warren Easton High School, Louisiana
Keaton Sutherland
OT -- Marcus High School, Texas
Three-stars
Richard Moore
OLB -- Cedar Hill High School, Texas
Kendall Bussey
RB -- Isidore Newman School, Louisiana
Landis Durham
OLB -- Plano East Sr. High School, Texas
Claude George Jr
. OLB -- Hutchinson Community College, Louisiana
Riley Garner
OLB -- A & M Consolidated High, Texas
Daniel LaCamera
K -- East Lake High School, Florida
Erik McCoy
OT -- Lufkin High School, Texas
Dwaine Thomas
OLB -- Hahnville High School, Louisiana
February, 4, 2015
Feb 4
12:36
PM ET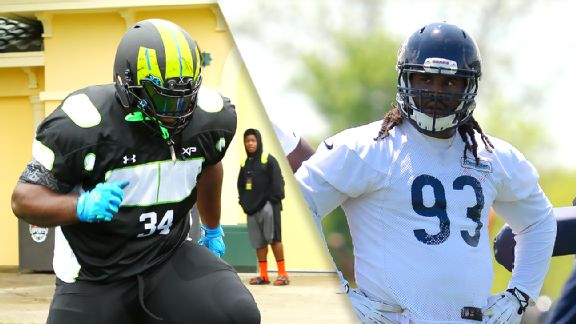 ESPN, Icon SportswireNo. 6 recruit Daylon Mack has a game that is reminiscent of former Arizona State star DT Will Sutton.
Daylon Mack
, No. 6 in the ESPN 300 and the No. 3-ranked defensive tackle prospect, committed to Texas A&M over TCU and Texas on Wednesday, live on ESPNU in a ceremony at Gladewater High in Texas. The 2015 Under Armour All-America Game MVP was a longtime commit to the Aggies before decommitting Dec. 19. He followed with official visits to College Station and Austin to check out rival Texas before deciding on the Aggies following in-home visits late last week.
[+] Enlarge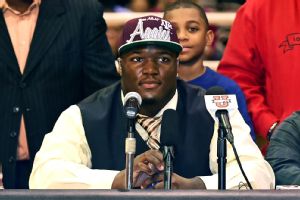 Ken Murray/Icon SportswireNo. 6 recruit Daylon Mack committed to Texas A&M on signing day.
Commitment impact:
This is a huge win for Texas A&M and head coach Kevin Sumlin. Not only is Mack a potential difference-maker at a premium position of need, but the East Texas product is a head-to-head win over Texas and TCU. With the Longhorns fighting to regain lost momentum in the state, it's imperative for the Aggies to continue winning the battles for players like this. Mack is expected to come in and challenge for a starting defensive tackle spot from day one in College Station.
What he brings:
To continue reading this article you must be an Insider
February, 3, 2015
Feb 3
11:20
PM ET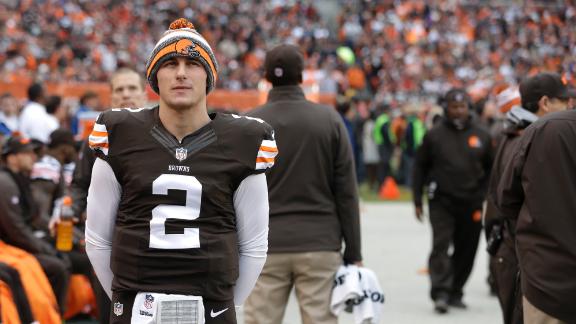 Johnny Manziel, the man who made Texas A&M's football program nationally relevant again, has been the epitome of an NFL bust.
The Cleveland Browns made him a first-round pick last spring, the 22nd selection in the draft. They gave him a $4.3 million signing bonus and another $420,000 in salary.
In return, Manziel gave them nothing except headache after headache. And when the Browns really needed him at the end of last season, when Cleveland still had an opportunity to make the playoffs, Manziel gave them zero.
Actually, he gave them less than zero.
Manziel, also known as Johnny Football, completed 10 of 18 passes against Cincinnati for only 80 yards with two interceptions in a 30-0 loss to the Bengals in Week 15.
And if we're to believe the recent reports, he missed the last practice of the season, a walk-through, because he was too intoxicated to get out of bed and get to work on time.
The Browns suspended him, and it's the best thing they could've done.
Now, we've learned Manziel is in rehab getting treatment. For what, we don't exactly know yet.
Good for him.
Going to a rehabilitation center, whether the idea came from Manziel or someone else, is a humbling experience for anyone, because it's an admission that help is needed to solve a problem.
It's hard for many folks to ask for help, especially for someone as public as Manziel. Let's hope rehab helps Manziel maximize his potential as an athlete and a man.
February, 3, 2015
Feb 3
10:30
AM ET
It's not easy to project how or when it will happen. Every year, though, months removed from the afterglow of signing day, there are a few true freshmen who do the remarkable and develop into stars right away.
Some of it is pure talent. Some of it is hard work. Some of it is simply falling into the right situation. But everything comes together, the depth chart aligns and a
Jalen Hurd
happens. A
Myles Garrett
happens. Even a
JK Scott
happens.
Hurd walked into Tennessee a tall, lanky running back full of promise, and in the second game of his career he scored a touchdown. By the time his freshman year was over, he had 899 yards and five scores on the ground.
And that pales in comparison to the exploits of his fellow rookie running backs
Leonard Fournette
and
Nick Chubb
, who each passed the 1,000-yard mark.
But it wasn't just the young running backs who had fun in 2014.
No, for a select few on defense, the transition from high school to the SEC wasn't overwhelming. Their bodies could handle the physicality of it all. Garrett tied for second in the league in sacks (11),
Derek Barnett
had 20.5 tackles for loss and
Lorenzo Carter
was second on his team in QB hurries (18).
Among those prospects that are already committed, here are a handful of rookies who could make a similar instant impact in 2015:
February, 3, 2015
Feb 3
10:00
AM ET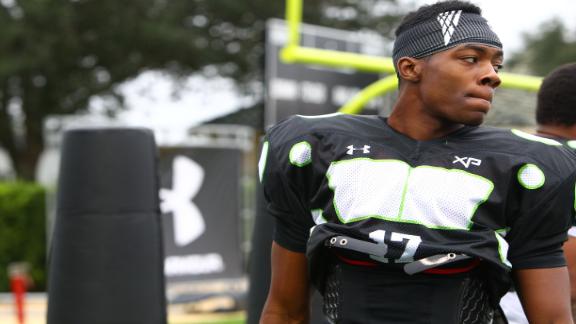 With national signing day only one day away, it is officially crunch time in recruiting. While some schools hosted several underclassmen for their junior day events, other schools hosted several official visitors in hopes of getting last-minute additions to their 2015 classes. Here is a closer look at some of the top news from around the SEC this weekend.
To continue reading this article you must be an Insider
February, 3, 2015
Feb 3
9:30
AM ET
We're officially less than 24 hours from signing day. Seventeen of the nation's top high school recruits will announce their college decisions on live television Wednesday, and if we've learned anything from the past five years, expect the unexpected.
Players have become more creative. Parents have become more involved. And nothing is official until the fax comes in.
Here are five of the SEC's craziest signing day moments in recent years.
Not so fast (2011):
On national television, five-star offensive tackle
Cyrus Kouandjio
announced he would be attending Auburn. There was just one problem. The fax never came through. Instead of signing his letter of intent and sending it off to the Plains, Kouandjio left his high school to "figure things out." Three days later, word got out he would be joining his big brother at the University of Alabama. Kouandjio went on to play three seasons in Tuscaloosa, won two national championships, and now he's in the NFL as a member of the
Buffalo Bills
. He not only spurned Auburn. He spurned Auburn for its biggest rival.
Puppy announcement (2011):
In a world dominated by Twitter and Instagram, high school recruits have gotten more creative when it comes to announcing big decisions. The hats on the table are still popular, but baby alligators and break-dancing elves have both been used in the past year. Still, nobody can top five-star running back
Isaiah Crowell
and the bulldog puppy he pulled out when he committed to Georgia on signing day. Does it get any cuter? It's a good thing he didn't choose Alabama. How exactly does one go about obtaining a miniature elephant? I'm sure it's only a matter of time before we see one at a recruit's news conference.
Going against mom (2011):
Floyd Raven
was torn between Ole Miss and Texas A&M all the way up until signing day. When the big day arrived, his mother was happy to lend a hand. And by lend a hand, I mean forge his signature and fax a letter of intent to Ole Miss without him knowing about it. Awkward. The Rebels thought they had inked the three-star cornerback only to find out that he was not the one who sent the document. Later that day, Raven faxed a real letter of intent to Texas A&M where he went on to play the next four years. For what it's worth, former Ole Miss coach Houston Nutt was a good sport about the whole thing.
Going against mom, Part 2 (2013):
Forging your son's signature might be in a class of its own. But
Alex Collins
' mother deserves runner-up honors after she refused to sign her son's letter of intent on signing day two years ago. She wanted her son to stay close to home and play for Miami, but the ESPN 300 running back had other ideas. He was ready to join new coach Bret Bielema at Arkansas. The saga dragged on for an entire day before eventually the father stepped in and Collins was able to send off his papers the next morning. This past season, the sophomore back rushed for 1,100 yards and 12 touchdowns.
In-state shocker (2014):
The Iron Bowl rivalry is no joke. So when
Rashaan Evans
holds a signing day news conference at Auburn High School, there's no way he picks Alabama right? Wrong. To the chagrin of most everybody in attendance, Evans announced his intentions to sign with the Tide. It went from bad to worse for Auburn when the university website added Evans' bio to the page with all of the 2014 signees. Too soon? The ESPN 300 linebacker played sparingly at Alabama this season and finished with 14 tackles, two for a loss and one sack. He'll make his return to the Plains next fall for the Iron Bowl.
February, 3, 2015
Feb 3
9:00
AM ET
National signing day is less than 24 hours away. On Monday, the commitments, decommitments and flips where announced throughout the day on social media with some schools having a good day, including Oregon, Florida and Louisville. Of course, on the flip side is South Carolina in what has turned into a free-falling class once ranked in the top 10.
To continue reading this article you must be an Insider
February, 2, 2015
Feb 2
11:00
PM ET
It's always fun to look into the history books to see how certain players lived up to their rankings. With signing day fewer than 24 hours away, here's a look at the last five No. 1 and where I think they would rank stacked up against each other.
To continue reading this article you must be an Insider
John Chavis Suing Texas A&M, LSU
SEC SCOREBOARD
Thursday, 9/3
Saturday, 9/5