September, 27, 2014
Sep 27
9:44
PM ET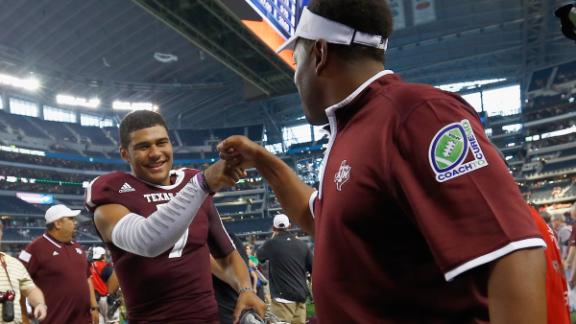 ARLINGTON, Texas -- In all honesty, Texas A&M probably shouldn't have won Saturday.
The Aggies' offense spent the better part of three quarters out-of-sync. Texas A&M's drive chart in that span looked foreign to those who know them best: Touchdown, punt, punt, punt, touchdown, missed field goal, punt, turnover on downs, punt.
Defensively, they weren't much better: 395 yards yielded in those first three stanzas and 214 on the ground (though 51 should be counted against the special teams for a fake punt). Those special teams had forgettable moments as well, with a missed field goal on top of everything else.
But as Kevin Sumlin-coached teams are wont to do, the No. 6 Aggies found a way to swipe a victory from Arkansas and remain undefeated by climbing out of a two-touchdown hole at AT&T Stadium for a thrilling
35-28 overtime win
.
[+] Enlarge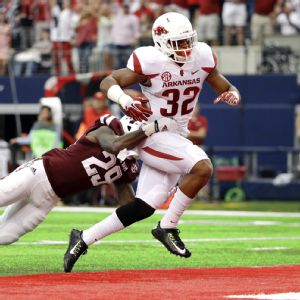 AP Photo/Tony GutierrezTexas A&M's defense struggled with Arkansas' running game through three quarters, but held firm in the fourth quarter and overtime.
"Was it perfect? No," Sumlin said afterward. "But it was a heck of a football game, and there's a lot of things we can learn from today."
The win provided both cause for concern and signs of encouragement. For starters, the Aggies didn't play to their lofty ranking and often showed why this young team gave so many pause prior to the season.
The Aggies (5-0, 2-0 SEC)
knew
their run defense would get their first true test of the year from the SEC's top rushing attack. It did (Arkansas ran for 285 yards), and it often left Texas A&M frustrated and chasing Arkansas running backs
Alex Collins
(131 yards) and
Jonathan Williams
(95 yards). When the Aggies weren't failing to fill their gaps, play-action passing from
Brandon Allen
and Co. gave them several headaches.
But when Arkansas (3-2, 0-2) smelled blood and tried to put the Aggies away, the Aggies' defense found its backbone (and the Razorbacks shot themselves in the foot a few times, too). The Razorbacks' final five drives went as such: punt, punt, punt, missed field goal, punt, turnover on downs. The final stop, which came on fourth-and-1 in Arkansas' overtime possession and secured the win, might prove to be a seminal moment for an A&M defense still trying to shake off its 2013 reputation -- last in the SEC in every statistical category that mattered.
Defensively, are the Aggies more what we saw in the first three quarters or the unit seen in the fourth quarter and overtime? That remains to be seen.
Similarly, Texas A&M sophomore sensation
Kenny Hill
and the Aggies' offense were off, as Sumlin admitted. Starting only his fifth game, Hill showed some of the ills that come with a young quarterback -- forced throws, inaccuracy, inconsistent play -- and his receivers and offensive line contributed at times with dropped passes or by allowing Hill to get pressured.
Conversely, when the Aggies needed a spark, Hill was on the money. He hit
Edward Pope
and
Joshua Reynolds
for two huge, fourth-quarter touchdown passes to pull even with the Hogs. He threw a dart to
Malcome Kennedy
for the game-winning, 25-yard score. It was fitting, considering Hill threw one behind Kennedy in the first half that -- had it been thrown perfectly -- would have likely resulted in a touchdown.
"I just saw him run wide open and said, 'I need to put it on him,'" Hill said. "They had the defender getting there late, and I had to fit it in to him, and he took care of the rest."
Let's make one thing clear: The Aggies are a good football team. Exactly how good is the question and one that won't be answered for a few weeks.
This improved Arkansas team gave Texas A&M everything it could handle, and though the Hogs are winless in two SEC games (and in 14 straight conference games dating back to 2012), they came away from home against highly-ranked foes (Auburn being the other), and both were contests in which the Razorbacks competed well. The Razorbacks no longer look like pushovers in Bret Bielema's second year, and they have made significant progress from a year ago.
Meanwhile, A&M's season-opening shocker at South Carolina and the Aggies' subsequent dominance of three cupcake opponents has sparked talk of the Aggies being perhaps the best in the SEC and a serious contender for the College Football Playoff. Those goals remain attainable, but those discussions should perhaps pause as this team navigates a gauntlet of a schedule that starts a week from now with a showdown against rising Mississippi State in Starkville. That will be followed by a home date with Ole Miss and a trip to Tuscaloosa for a clash with Alabama.
If the Aggies emerge from that stretch unscathed, they truly do deserve to be mentioned in the top-four discussion.
September, 27, 2014
Sep 27
9:05
PM ET
By
ESPN.com staff
| ESPN.com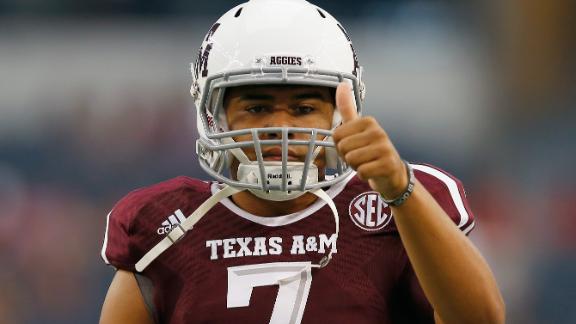 Kenny Hill, after playing in front of friends and family in Dallas, talks about Texas A&M's
35-28 overtime win
over Arkansas.
September, 27, 2014
Sep 27
7:46
PM ET
ARLINGTON, Texas -- In a thrilling finish, No. 6 Texas A&M rallied to claim a
35-28 overtime win
over Arkansas on Saturday at AT&T Stadium, a win that came after the Aggies were down by as many as 14 points in the fourth quarter. Let's take a look at how it went down:


How the game was won:
The Aggies stopped Arkansas running back
Alex Collins
on a fourth-and-1 in the first overtime, getting a stop when they had to have it. Texas A&M had to scratch and claw after being harassed by Arkansas' defense all day, but it was able to escape by the skin of its teeth thanks to huge fourth-quarter touchdown passes by
Kenny Hill
(an 86-yarder to
Edward Pope
and a 59-yarder to
Joshua Reynolds
) that turned a 14-point deficit to a tie ballgame and eventually set up overtime. Hill threw a 25-yard strike to
Malcome Kennedy
to start overtime, and the defense did the rest to secure the win in OT, piggybacking a strong fourth-quarter effort the Aggies gave to keep the Razorbacks from extending the lead.
Gameball goes to:
Hill. He had his struggles, from errant throws, including an interception and had to weather the storm as the Aggies looked out of sorts offensively for much of the day. But he made the big throws when the Aggies had to have them late in the game and led the come-from-behind victory. He finished with 386 passing yards and four touchdowns on 21-of-41 passing.
What it means:
Texas A&M's playoff hopes and high ranking are safe for now, but it has a lot of work to do. Arkansas exploited many of the Aggies' flaws today. The Razorbacks (3-2, 0-2 SEC), meanwhile, are as improved as advertised. Bret Bielema's bunch has to feel sick after this one, leading by two scores (and having a chance to go up three when a penalty nullified the score). They had control of the game but let it slip away. The SEC West is on alert though, as Arkansas is a pushover no longer.
Playoff implication:
The Aggies' hopes remain alive as they move to 5-0 (2-0 in the SEC).
What's next:
Another huge test for Texas A&M at No. 14 Mississippi State in Starkville a week from today.
Dak Prescott
and Co. are coming off an open date following their landmark win at LSU on Sept. 20.
September, 27, 2014
Sep 27
7:37
PM ET
Associated Press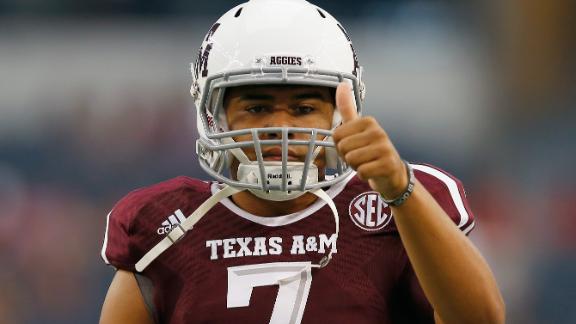 ARLINGTON, Texas -- Kenny Hill threw for 386 yards and four touchdowns, with a 25-yarder to Malcome Kennedy on the first play of overtime, and sixth-ranked Texas A&M rallied from a two-touchdown deficit to beat Arkansas 35-28 on Saturday.
The Aggies (5-0, 2-0 Southeastern Conference) trailed 28-14 going into the fourth quarter before Hill threw two long scoring passes -- 86 yards to Edward Pope and 59 yards to Josh Reynolds, the later with 2:08 left only two plays after Arkansas missed a field goal.
After Hill's quick strike in overtime, Arkansas faced fourth-and-1 when a handoff went to Alex Collins, who finished with 131 yards rushing. But Collins was stuffed at the line by defensive end Julien Obioha to end the game.
Hill completed 21 of 41 passes.
Texas A&M is 5-0 for the first time since 2001. Arkansas (3-2, 0-2) has lost 14 consecutive SEC games.
September, 27, 2014
Sep 27
8:00
AM ET
A look ahead at Saturday's games in the Southeastern Conference. All times Eastern:
Noon
Vanderbilt at Kentucky, SEC Network:
The nation's longest active conference losing streak will be on the line, and that 17-game skid could very well come to an end if Kentucky beats Vanderbilt. The Wildcats are coming off an impressive, yet heartbreaking triple-overtime loss to Florida on the road and are heavy favorites at home this weekend. The Commodores, however, have won the last three meetings.
Tennessee at No. 12 Georgia, ESPN:
Who can forget the overtime thriller these teams played in Knoxville last year? It was memorable not only for the outcome but also for all of the injuries Georgia suffered in a 34-31 victory. The Bulldogs are much healthier this season and are hungry to prove they're still the team to beat in the East despite a 38-35 loss to South Carolina on Sept. 13. This will be the first SEC game for a young Tennessee team that is looking to make some noise in Butch Jones' second season. A victory in Athens would do just that.
[+] Enlarge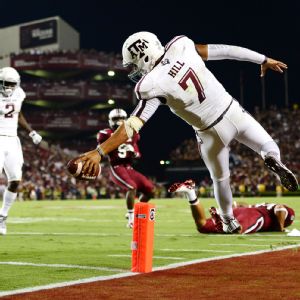 Phil Ellsworth / ESPN ImagesCalling Texas A&M-Arkansas a big game seemed a stretch a few weeks ago, but Kenny Hill and the Aggies could have their hands full against the Razorbacks.
3:30 p.m.
Arkansas vs. No. 6 Texas A&M, CBS:
After the opening weekend, it didn't look as if this would be much of a game. Texas A&M looked unstoppable at South Carolina, and the Razorbacks fell apart in the second half against Auburn. Four weeks later, it's now the marquee matchup. Bret Bielema's squad has played much better since that opening game, dominating its last three opponents. With
Kenny Hill
at quarterback for the Aggies and the Hogs' three-headed monster at running back, expect a shootout in Cowboys Stadium.
4 p.m.
Louisiana Tech at No. 5 Auburn, SEC Network:
Not to overlook Louisiana Tech, but this might be the calm before the storm in Auburn's schedule. Seven of the Tigers' final eight opponents are currently ranked in the Top 25, beginning next Saturday with a home game against No. 17 LSU. But first things first: The Tigers need to take care of business against Louisiana Tech. A victory for Auburn would mark the 300th win at Jordan-Hare Stadium, which opened in 1939.
7 p.m.
Missouri at No. 13 South Carolina, ESPN:
Not unlike Georgia-Tennessee, this matchup stirs memories to last year's game and the fourth-quarter comeback by Connor Shaw and the Gamecocks. It was Missouri's only regular-season loss. The Tigers' first loss this year came much sooner with a home loss to Indiana last weekend, but all could be forgotten with a victory at South Carolina on Saturday night. The winner has a leg up in the SEC East. Oh yeah, did we mention "College Gameday" will be there?
7:30 p.m.
New Mexico State at No. 17 LSU, SEC Network:
How does LSU pick up the pieces after last Saturday's home loss to Mississippi State? The bigger question might be which quarterback will play better,
Anthony Jennings
or
Brandon Harris
? The best remedy for LSU after a loss might be to get away from the SEC. The Tigers have won a FBS record 48 consecutive regular-season nonconference games, including a 38-0 record under current coach Les Miles.
Memphis at No. 10 Ole Miss, ESPN3:
Don't look now, but Ole Miss has crept into the top 10, and fans are already eager for next Saturday's home showdown against Alabama. You'd better go ahead and get your spot in the Grove now. That's not the mindset of Hugh Freeze and his team, though. They know they will have their hands full as Memphis (2-1) comes to town, and they're doing their best not to look ahead to the Crimson Tide.
September, 27, 2014
Sep 27
4:00
AM ET
[+] Enlarge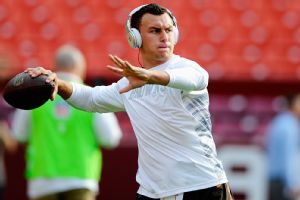 TJ Root/Getty ImagesJohnny Manziel is expected to receive his Aggie Ring at Texas A&M's game against Arkansas on Saturday, sources said.
ARLINGTON, Texas -- As if Dallas Cowboys owner Jerry Jones weren't tortured enough about not drafting Johnny Manziel, the Cleveland Browns' rookie quarterback will be in Jones' building Saturday -- and rooting against Jones' alma mater.
Manziel, the former Texas A&M star, is expected to be in attendance when the No. 6 Aggies play Arkansas in a neutral-site game.
Manziel's Browns are off this week.
In addition to Manziel being on hand, sources close to the team said the Aggies are expected to have freshman receiver Speedy Noil against the 3-1 Razorbacks.
Noil injured his left knee during the Sept. 13 win over Rice. Those close to the team said Noil required minor surgery but has made a "miraculous" recovery. He returned to practice this week and was "making cuts" a little more than a week after surgery, one source said.
Asked earlier in the week about Noil's availability, Aggies coach Kevin Sumlin said simply, "We'll see."
September, 26, 2014
Sep 26
11:00
AM ET
Before he was breaking records at Williams-Brice or tossing touchdowns before six-figure crowds at Kyle Field,
Kenny Hill
was busy trying to fulfill the lofty expectations that come with being a quarterback at Southlake Carroll.
[+] Enlarge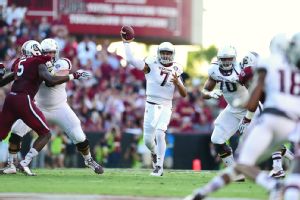 Phil Ellsworth/ESPN ImagesKenny Hill, whose Aggies play Arkansas on Saturday, is a big fan of AT&T Stadium.
The Texas high school football powerhouse, which is one of the most successful and storied programs in the state's illustrious prep history, has a well-documented history of state championships and, in the last decade, a track record for producing Division I quarterbacks.
Hill, Texas A&M's sophomore sensation, has both boxes checked off his résumé. The first one -- a state title -- he checked off on Dec. 17, 2011 at then-
Dallas Cowboys
Stadium (now called AT&T Stadium), the same place he and the No. 6 Aggies (4-0) will meet a rising Arkansas (3-1) team on Saturday in Arlington, Texas.
For obvious reasons, it's one of Hill's favorite venues to play.
"I love playing there," Hill said.
It's Hill's second time in the Metroplex in as many weeks. Last week the Aggies traveled to SMU for a 58-6 win at Ford Stadium. But the venue often dubbed "Jerry World" holds special meaning after Hill guided the Dragons to a 36-29 title-game win over Hightower High School (Missouri City, Texas) in his junior season.
Hill was named the offensive most valuable player of that game, accounting for 345 combined rushing and passing yards and four total touchdowns. His Texas A&M teammate,
Sabian Holmes
(then a senior for the Dragons), also turned in a shining performance for Carroll, catching 11 passes for 138 yards and a touchdown in the win.
Kevin Sumlin, who had officially accepted the Texas A&M head coaching job just the week before, was well aware of Hill's exploits and a state championship only added to his appeal as a recruit.
"A lot of people argue that being a quarterback at Southlake is as [pressurized] a deal as there is because of the expectation to not only be successful as a quarterback, but to win and win it all," Sumlin said. "To watch him win it all as a junior, it was a big deal in our eyes."
Sumlin remembered something Joe Tiller, the longtime Purdue coaching great who Sumlin played for and coached under, once told him about recruiting quarterbacks.
"'Always recruit a guy who wins in high school,'" Sumlin recalls. "'Because when he doesn't, it becomes somebody else's fault. If he's that talented, why aren't they winning?' I kind of listened to that."
Hill eventually committed to Texas A&M in April 2012 and signed with the Aggies in February 2013.
Southlake Carroll coach Hal Wasson said he has never compared his quarterbacks to their predecessors (the Dragons sent a succession of six quarterbacks to Division I schools prior to Hill taking the reins) and has always tried to instill confidence in them by telling them to "Go be a baller." Hill did just that.
"There is pressure, no doubt about it," Wasson said. "But pressure is a good thing. We always say pressure is a good thing, stress is a bad thing. Knowing how to cope with it and handle it is important."
Hill, who carries a cool, calm demeanor (Texas A&M quarterbacks coach Jake Spavital called his relaxed demeanor "creepy" before the season-opening win at South Carolina) handled that pressure just fine, performing exceptionally in the biggest of moments for a prep quarterback, doing so in an NFL stadium in front of a crowd of 42,822.
"I remember a few specific plays, but mostly it was the atmosphere," Hill said this week, recalling the title game. "There were 43,000 or something like that there. To play in that kind of environment was pretty cool. And after we won, I just remember we went pretty crazy. We were so happy."
And as someone who grew up in the Dallas area, the chance to play in the Cowboys' state-of-the-art home was a memorable one.
"I used to watch the Cowboys all the time growing up in Dallas," Hill said. "To play on the same field as them is sick."
The Aggies are hopeful Hill can create more positive memories on Saturday vs. the Razorbacks.
September, 26, 2014
Sep 26
8:30
AM ET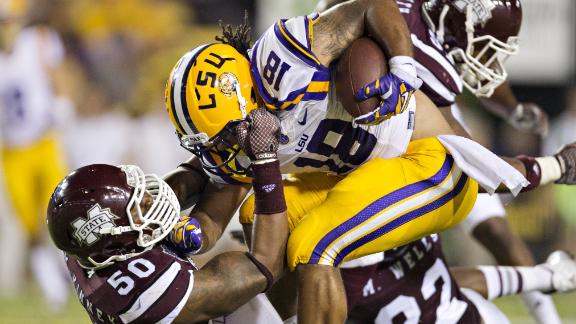 After inheriting an Ole Miss program that won two games in 2011 and had suffered 14 consecutive losses against SEC opponents, coach Hugh Freeze guided the Rebels to a 7-6 record in his first season in 2012.
In February 2013, Ole Miss signed the country's
No. 5-ranked recruiting class
, according to ESPN RecruitingNation, and landed several blue-chip prospects, including defensive end
Robert Nkemdiche
, offensive tackle
Laremy Tunsil
, receiver
Laquon Treadwell
and safety
Tony Conner
.
With those freshmen playing significant roles, the Rebels went 8-5 in 2013, upsetting then-No. 6 LSU 27-24 along the way, and won a bowl game for the second season in a row.
Yet, as Ole Miss entered Freeze's third season in August, it was still staring up at Alabama, Auburn and LSU in the preseason Associated Press Top 25 poll.
Such is life in the rugged SEC West.
[+] Enlarge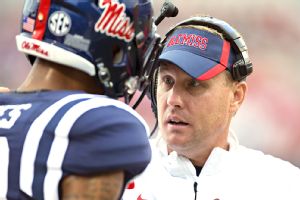 Wesley Hitt/Getty ImagesHugh Freeze's Rebels are 3-0, but they have a difficult schedule filled with SEC West opponents in coming weeks.
"I'm probably the only coach that speaks the truth about that," Freeze said. "I don't know if our fans like it or not, but there are times you feel like it's insurmountable. The confidence you have is that you know in your heart that you've closed the gap from what it was, and that on a given day, you're good enough to beat them."
We're about to find out how much the upstarts have closed the gap on the recent heavyweights in college football's best division. Heading into this weekend's games, six of the seven SEC West teams are ranked in the Associated Press Top 25 poll: No. 3 Alabama, No. 5 Auburn, No. 6 Texas A&M, No. 10 Ole Miss, No. 14 Mississippi State and No. 17 LSU.
The other team, Arkansas, lost to defending SEC champion Auburn 45-21 in its opener, but then won its next three games by an average of 42 points.
"I can't remember a time when there were that many good teams in one division," said former Alabama coach Gene Stallings, who guided the Crimson Tide to the 1992 national championship. "Texas A&M probably wishes it was on the other side. It's a really strong division right now."
Consider the strength of the SEC West through the first month of the 2014 season:
• SEC West teams are 22-0 against teams not in the division and are winning those games by an average margin of 34 points. SEC West teams are a combined 24-2, with the only losses coming against each other. Along with Auburn's victory over Arkansas, Mississippi State upset LSU 34-29 on the road last week.
• The SEC West has a 99.3 rating on a 0-100 scale in ESPN's division power rankings, which is 33 points higher than any other division in college football.
• Each of the SEC West teams rank in the top 20 of ESPN's Football Power Index, which is more teams than the Big 12, Big Ten and ACC have combined. The top three teams in the FPI are from the SEC West: No. 1 Alabama, No. 2 Texas A&M and No. 3 Auburn.
• Five SEC West teams (Alabama, Auburn, Ole Miss, Mississippi State and Texas A&M) rank in the Top 25 among FBS teams in both scoring offense and scoring defense. Texas A&M is No. 2 in scoring offense (55.3 points per game) and No. 8 in scoring defense (11.8 points). Arkansas is No. 3 in scoring offense (48.8 points), and the Razorbacks and Aggies are on pace to break the SEC scoring record set by Florida (46.6 points) in 1996.
A month into the season, the weight of the SEC seems to have shifted dramatically back to the West. Every SEC East team has already suffered at least one loss, including defending division champion Missouri and preseason favorites Florida, Georgia and South Carolina. SEC East teams are 0-3 against SEC West foes.
"I think these things kind of run in cycles," Alabama coach Nick Saban said. "They run in cycles from team to team and they run in cycles from division to division. I just think this happens to be one of those years where it seems like the West has a lot of really good teams. I think our league is just really, really strong from top to bottom. There's a lot of balance, and I just think our side of it seems to be especially strong this year."
Starting this weekend, the SEC West teams will start to cannibalize themselves. Texas A&M plays Arkansas at AT&T Stadium in Arlington, Texas, on Saturday, and then plays three consecutive games against ranked opponents from the SEC West. After hosting Memphis on Saturday, Ole Miss plays four ranked SEC West foes in its next five games, and the Razorbacks will face ranked opponents in six of their next seven games.
Auburn might play the most arduous schedule of anyone, with six consecutive games against ranked SEC opponents after Saturday's home game against Louisiana Tech. After playing that murderer's row, the Tigers close the regular season with a home game against FCS foe Samford on Nov. 22 before a road trip to Alabama for the Iron Bowl the next week.
How difficult will the stretch run be in the SEC West? ESPN Insider's Brian Fremeau, who created the Fremeau Efficiency Index, gives each of the five remaining undefeated SEC West teams less than a 5 percent chance of finishing the regular season unbeaten. Fremeau predicts defending national champion Florida State has a 41.8 percent chance of finishing undefeated, with Oregon (18.2 percent) and Oklahoma (13.2 percent) having the best opportunities to go unbeaten among the other Power 5 conference teams.
According to FPI projections, there's a 56 percent chance the SEC champion will have at least two losses. The Big 12 and ACC champions are each projected to have one or fewer losses.
"If you're going to win and be in the playoff, you've got to be a good football team anyway," Stallings said. "The bad thing is they're going to knock each other off. I don't know who's choosing the teams for the playoff, but the [SEC West] teams could lose two games by a couple of points and still be a better team than an undefeated or one-loss team from another league."
Over the next 10 weeks, the SEC West will separate the contenders from the pretenders. Over the next few weeks, we'll start to learn whether an upstart like Arkansas, Ole Miss or Mississippi State is ready to take a stand against Alabama and Auburn.
"We've made progress," Arkansas coach Bret Bielema said. "We've done certain things better. I think, without a doubt, our guys have a lot more confidence than they maybe had a year ago. But until you've done it on a big stage and against a quality opponent like we're going to see Saturday, it's really just talk."
September, 26, 2014
Sep 26
8:00
AM ET
1. Texas turnaround:
Kevin Sherrington from the Dallas Morning News took a look at
which college football program is actually the top dog in the state of Texas
. The Lone Star State belonged to the
Texas Longhorns
for many years, but programs like Texas A&M and Baylor have completely altered things in recent years -- a sea of change that has only become more dramatic because of the problems that have occurred in Austin. Here's another odd coincidence that hints at the changes within the state: Texas A&M announced on Thursday a
home-and-home series with Notre Dame
in 2024 and 2025. On the same day, Notre Dame confirmed that
half of its four-game series against Texas
(the games in 2019 and 2020 are off, while the 2015 and 2016 games will still be played) is cancelled.
2. East showdown:
Between the retrospectives on
South Carolina's overtime win
at eventual SEC East champ Missouri last season and rundowns of the
ESPN College GameDay hoopla
that will parade into Gamecocks country this weekend --
Kenny Chesney is the guest picker, y'all!
-- let's also remember that South Carolina and Missouri will play a pretty big game on Saturday. South Carolina defensive coordinator Lorenzo Ward says his defense is
developing a better pass rush
, and it will need to with
Maty Mauk
and Missouri's passing game coming to town. The Tigers have
tinkered with their starting offensive line
, but their sophomore quarterback can sling it around. And the Tigers are pretty good on kick returns, too, which has been
a problem for South Carolina of late
.
3. Volunteers-Bulldogs:
How's this for a statement on the changing philosophies in college football. Tennessee defensive coordinator John Jancek says it's unusual these days to scheme for
Georgia's relatively traditional pro-style offense
. Of course, former UGA assistant Jancek has seen more of Mike Bobo's offense than most, but the Bulldogs have also shaken things up a bit schematically since Jancek left the staff after the 2009 season. Saturday's game pits two teams
who have relied heavily on freshman contributors
so far. It should be an interesting matchup between a Tennessee program that's on the rise and one from Georgia that seems to rank among the
favorites to win its third SEC East title in four seasons
.
Around the SEC:
" As it turns out, LSU coach Les Miles has an appreciation for
baseball's advanced statistical analysis
. Who wants to hear him break down sabermetrics?
" After an underwhelming performance against Kansas State last week, Auburn hopes to
get its running game back on track
against Louisiana Tech.
" Although he still weighs 360 pounds, Kentucky defensive tackle
Matt Elam
says
he's dropped 30 pounds
since he arrived on campus.
" Alabama's defense has worked lately on
toughening up
.
" Associated Press writers Steve Megargee and David Brandt give us a list of
matchups and items to watch
in this weekend's SEC games.
Tweets of the day
@DjShockley3 @aaronmurray11 Tribute for Gurley! Just got put on today! pic.twitter.com/h39Jw4IdH0

— Benny Richie (@Georgiaboi0214) September 25, 2014
#38 being readied for each #OleMiss player in honor of Chucky Mullins.... pic.twitter.com/r1QXcFkKVi

— Ross Bjork (@RossBjorkAD) September 24, 2014
September, 26, 2014
Sep 26
2:10
AM ET
Week 6 Picks