December, 3, 2013
Dec 3
9:00
AM ET
Remember when ESPN 300 wide receiver
Frank Iheanacho
(Houston/Westside) thought his future was on the basketball court?
That was during the summer. Fast forward a few months, and Iheanacho is now preparing for in-home visits from three SEC programs this week. Iheanacho, No. 89 in the ESPN 300, will host Arkansas on Tuesday, LSU on Wednesday and Texas A&M on Thursday. The 6-foot-7, 220-pound receiver, a U.S. Army All-American, will announce where he'll take his talents at the game on Jan. 4 in San Antonio.
To continue reading this article you must be an Insider
December, 2, 2013
Dec 2
1:15
PM ET
Texas A&M lost a game to Missouri on Saturday, but that setback pales in comparison to the bigger picture for the Aggies.
[+] Enlarge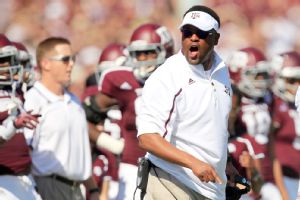 Thomas Campbell/USA TODAY SportsCoach Kevin Sumlin is a big part of Texas A&M's long-term success.
The other story to come out of Columbia, Mo., on Saturday -- one that bodes well for the long-term health of the football program -- was the new six-year contract for head coach Kevin Sumlin.
It sends a message that Texas A&M is willing to play with the big boys.
"The Texas A&M University has made as an unbelievable commitment toward the football program, the best I've ever seen, in such a short period of time," athletic director Eric Hyman said on Saturday night. "And that's a credit to Texas A&M. There's no question about it. They showed to Kevin and really to the world that Texas A&M wants to have a viable program and competitive on a national level."
In the last two seasons, the Aggies have upped the ante in several areas in order to be competitive with their new mates in the SEC. They approved plans and have since begun construction on a $450 million renovation project for Kyle Field that will turn it into a 102,500-seat monstrosity, scheduled for completion prior to the 2015 season.
Just before Sumlin's first season began, work was completed on the Davis Player Development Center, a $9 million football-only weight room that is 20,000-square feet and has state-of-the-art technology in place.
This year, a new dining hall, the R.C. Slocum Nutrition Center, was installed on the second floor of the Bright Football Complex, a project that cost an estimated $12 million. And in the front of the Bright Complex is the Tommie E. Lohman '59 Center, where a $4 million renovation of the lobby took place. It's where John David Crow and Johnny Manziel's Heisman trophies are displayed, as are numerous other awards and mementos of Texas A&M football history.
Sumlin was one of the hottest names in the offseason coaching rumor mill. With the USC vacancy, not to mention the threat of NFL teams pursuing the sixth-year head coach, Texas A&M beat other suitors to the punch.
Sources told ESPN Senior NFL Insider Chris Mortensen that
Sumlin's new deal
, which runs through 2019, raised his salary to $5 million per year and guarantees him to coach the Aggies until the school has completed and played in the new Kyle Field.
Texas A&M wants to be competitive long-term in the SEC, often called the country's best college football conference, so it has put its money where its mouth is.
"This is a very sincere, long-time commitment to an individual who has done a marvelous job, in all aspects of the job," Hyman said. "From our student-athletes, from a competitive standpoint, from the community to the Aggie family, everybody is extremely excited to have him leading the programs."
Hyman made it clear he understands there isn't just one aspect of the program that takes priority. Many parts have to work together for it to happen. The Aggies are 19-6 in their first two SEC seasons under Sumlin. Alhough this season's 8-4 record wasn't what some had hoped, the future appears bright. The program is on track to sign a second consecutive top-10 recruiting class and is off to a strong start in its 2015 class.
"You have to understand, you build that cathedral one brick at a time," Hyman said. "There's a good foundation, but we still have a ways to go with the program. It's not there. Kevin has done an absolutely marvelous job. We're going to have some challenges ahead of us.
"It's not all about facilities, because Army and Navy would be undefeated every year [if that were the case], but it's about a cross-section of a lot of different things. And there's a lot of momentum and a lot of excitement going on with the program, and I think everybody couldn't be more enthusiastic."
December, 2, 2013
Dec 2
9:00
AM ET
We have a new No. 1 in our Power Rankings, and there's a chance that either of the top two teams on this list could back its way into the BCS title game:

1. Auburn (11-1, 7-1 SEC; last week: 3):
Call it luck, but don't forget to call the Tigers good. Auburn won the Iron Bowl 34-28 over No. 1 Alabama on a last-second field goal return for a touchdown by
Chris Davis
. It was another improbable win for the Cardiac Cats, but Auburn also ran for 296 yards on the SEC's best rush defense. Back-to-back thrillers have Auburn No. 3 in the BCS standings and SEC Western Division champions.
2. Missouri (11-1, 7-1 SEC; LW: 2):
These Tigers will meet those Tigers in the SEC championship game on Saturday. After beating Texas A&M 28-21 at home, Mizzou completed its own improbable season in its second year in the league. Missouri now has five wins over opponents that were ranked when it played them. Like Auburn, Mizzou is very much in the national championship picture. The Tigers need help, but a win over Auburn would push a team that was left for dead last season a step closer to Pasadena, Calif.
3. Alabama (11-1, 7-1 SEC; LW: 1):
The three-peat is likely over after Alabama was bested by its archrival. Why Nick Saban would attempt a 57-yard field goal with a second left without any speedy athletes on the field is mind-blowing. Saban rarely makes mistakes, but this one will sting for a very long time. Alabama is still very much in the hunt for a BCS bowl game, but a return to the title game is a long shot.
4. South Carolina (10-2, 6-2 SEC; LW: 4):
Another year, another win over Clemson. That makes five in a row for Steve Spurrier and his Gamecocks after his guys walked over the Tigers 31-17. South Carolina forced six turnovers, and quarterback
Connor Shaw
impressed yet again with 246 yards of offense and two touchdowns. The BCS is out of reach for the Gamecocks, but they have a shot at three straight 11-win seasons.
5. LSU (9-3, 5-3 SEC; LW: 5):
This is easily the most confusing team to follow in 2013. The Tigers started hot, hit some bumps and then finished strong with an exciting 31-27 win over Arkansas. LSU was without starting quarterback
Zach Mettenberger
(knee) late, but it didn't matter, as freshman
Anthony Jennings
drove the Tigers 99 yards, with a 49-yard go-ahead touchdown pass with 1:15 left. This could be another double-digit-win season for the Tigers.
6. Texas A&M (8-4, 4-4 SEC; LW: 6):
Johnny Manziel
went from carving up defenses to being smothered in his last two outings. In Saturday's loss to Mizzou, Manziel was held to a season-low 216 total yards and a touchdown. The defense was gutted -- again -- allowing 225 rushing yards, including a 57-yard
Henry Josey
touchdown run with 3:34 remaining. It's been a long November in College Station, but at least Kevin Sumlin is locked up for the long haul.
7. Vanderbilt (8-4, 4-4 SEC; LW: 8):
Coach James Franklin might be near the top of USC's coaching list, but for now, he's doing a heck of a job as Vandy's coach. There's no wonder he's on the Trojans' radar. Vandy has won four straight, will make its third straight bowl game and is in line to win nine in back-to-back seasons. The Commodores didn't make it look easy against Wake Forest, but a
Carey Spear
field goal with 39 seconds left kept the Dores' winning streak alive.
8. Georgia (8-4, 5-3 SEC; LW: 9):
Another team that didn't want things to be easy over the weekend, Georgia needed double overtime to beat rival Georgia Tech. The Bulldogs' defense was pushed around for 495 yards, but the offense was there to bring the Dawgs back from deficits of 20-0 and 27-17. When you have a guy like
Todd Gurley
(158 total yards and four touchdowns), it doesn't matter who you have at quarterback.
9. Mississippi State (6-6, 3-5 SEC; LW: 10):
After being on the outside of the bowl picture just a couple of weeks ago, the Bulldogs rallied to win their last two, including an overtime victory against bitter rival Ole Miss on Thanksgiving. It wasn't the prettiest of games, but injured quarterback
Dak Prescott
came into the fourth quarter and threw for 115 yards, while running for 29, including the eventual winning 3-yard score. Dan Mullen has Mississippi State in the postseason for the fourth straight season.
10. Ole Miss (7-5, 3-5 SEC; LW: 7):
Oh, what could have been for this team. Not only have the Rebels lost two straight, but they allowed their archrivals to make it to the postseason. For a season that started 3-0, some poor play in the red zone -- especially near the goal line -- against Missouri and turnovers against Mississippi State cost Ole Miss in its final two games.
11. Tennessee (5-7, 2-6 SEC; LW: 11):
A long first year for Butch Jones ended with a nice 27-14 win over Kentucky. The Vols aren't going bowling, but now is the time when Jones has to ramp up the development phase and keep an already stellar recruiting class together. Remember, this team was a fake Vandy jump pass from a bowl berth.
12. Florida (4-8, 3-5 SEC; LW: 12):
The Gators' nightmare of a season ended with a 37-7 rout by rival Florida State inside the Swamp. Florida then fired embattled offensive coordinator Brent Pease and offensive line coach Tim Davis. Florida lost seven straight to end the season without scoring more than 20 points. And it isn't going bowling for the first time in 22 years and has its first losing season since 1979.
13. Arkansas (3-9, 0-8 SEC; LW: 13):
With that heartbreaking loss to LSU, the Razorbacks have dropped a school-record nine straight and went 0-8 in conference play for the first time. This team fought hard in its final act, but it's clear that development and recruiting need to amp up during the offseason if Bret Bielema is going to have a chance at really competing in this league.
14. Kentucky (2-10, 0-8 SEC; LW: 14):
The Wildcats have now gone 0-8 in SEC play in back-to-back seasons for the first time since 1941-42 and have lost 16 straight SEC games. Mark Stoops is building a pretty impressive recruiting class right now, but we all know it takes more than recruiting. The Wildcats need more than talent, as they took steps back on both sides of the ball late in the season.
December, 2, 2013
Dec 2
8:00
AM ET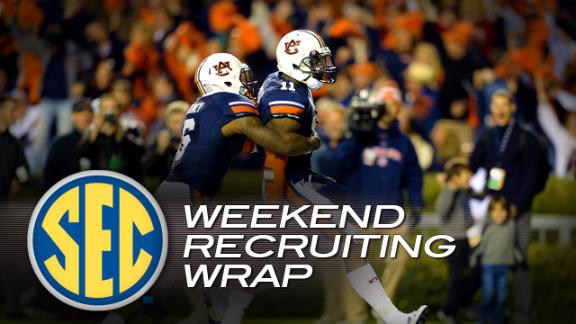 As the regular season winds down, there was a lot of news around the SEC over the weekend. Texas A&M received a big commitment on Thanksgiving at a position of need, and Auburn hosted several visitors for its incredible last-second victory over Alabama. Here's a closer look at some of the top storylines in the SEC this weekend.

Biggest commitment:
Though Texas A&M suffered a tough loss to Missouri on Saturday night, the Aggies did have something to be thankful for when junior college offensive tackle
Avery Gennesy
(Southhaven, Miss./East Mississippi CC) verbally committed to Texas A&M on Thursday.
The 6-foot-5, 315-pound tackle chose the Aggies over Ole Miss, Tennessee and Ohio State.
Texas A&M now has 18 commitments, including 10 from in the ESPN 300. The Aggies have the fifth-ranked recruiting class in the country.

Georgia, Tennessee lose commitments:
ESPN 300 defensive tackle
Dontavius Russell
(Carrollton, Ga./Carrollton), after visiting Auburn over the weekend, decided to open back up his recruitment. The four-star defensive lineman announced his decision on Twitter.
I'm reopening my Recruitment.

— Dontavius Russell (@Russ_Dont98) December 2, 2013
Auburn now appears to be the team to beat for Russell. Tennessee lost another wide receiver commit from ESPN 300 wideout Dominique Booth (Indianapolis/Pike) on Sunday. Booth is the third pass-catcher to decommit from the Vols this year. Junior college prospects Eric Lauderdale (Fayettville, Ga./Saddlebrook) and Kameel Jackson (Arlington, Texas/Blinn) also backed off their pledges to Tennessee earlier in the season.
To continue reading this article you must be an Insider
December, 1, 2013
Dec 1
9:15
PM ET
Oh, how the mighty have fallen.
Alabama is no longer No. 1 in the
BCS standings
, thanks to Saturday's
heartbreaking loss
on the road at Auburn. Instead, Florida State sits atop the latest standings, Ohio State trails at No. 2 and Auburn elevates to third, while Alabama takes the short, yet precipitous fall to fourth overall.
The Crimson Tide isn't completely out of the title hunt, but it's certainly on the far fringe of any championship conversation. The Buckeyes would have to lose to No. 10 Michigan State in the Big Ten Championship Game, the Seminoles would have to lose to No. 20 Duke in the ACC Championship Game and then Alabama would have to hope that the voters would allow an all-SEC title game to happen for the second time in three years.
Eastern Division champion Missouri, by virtue of its win over Texas A&M, is a solid No. 5 and the top one-loss teams in the country. Saturday's conference tilt between Missouri and Auburn -- an all-Tigers matchup -- will determine who stays in the top five and who has a shot at a trip to Pasadena, Calif., to compete in the VIZIO BCS National Championship.
All told, seven SEC teams made the top 25. South Carolina, which narrowly missed out on the East crown, sits at No. 8. LSU, which rebounded nicely in the final weeks with wins over Texas A&M and Arkansas, comes in at No. 15. And finally, Georgia and Texas A&M round out the top 25 at No. 22 and No. 24, respectively.
December, 1, 2013
Dec 1
8:45
PM ET
Call it Shakeup Saturday in terms of our weekly bowl projections. Auburn's miraculous turnaround season has taken college football's center stage. The Tigers might not be in position to reach the BCS title game at this moment, but Auburn is likely to be favored in Saturday's SEC championship game. So if the Tigers beat Missouri, the computers could sway the human voters to move Auburn all the way to No. 1 or No. 2. It's complicated, but the bottom line is that AU can turn the final year of the BCS into one last referendum on conference clout and strength of schedule.
Alabama is not out of the picture either. If this crazy season keeps spinning off its axis, next week's games could feature another slew of upsets and surprises. For now, we'll pencil the Tide into the Sugar Bowl. By beating Texas A&M on Saturday, Missouri actually has a chance to get into the national championship debate as well, but it has to start by beating Auburn this week in Atlanta. If that doesn't happen, a two-loss Missouri might still have raised its national profile enough to be an attractive choice for the Capital One Bowl.
The Cotton Bowl picks next, and while many see the potential for a
Johnny Manziel
draw, A&M's four losses now move it behind LSU in the pecking order. The Bayou Bengals have plenty of pull at ticket offices in their neighboring Lone Star State, by the way.
The rest of the SEC projections haven't changed. Georgia is clinging to a New Year's Day bowl thanks to a double-overtime win against Georgia Tech on Saturday. Ole Miss is still holding on to its spot in Nashville thanks to its seven wins this year. Vanderbilt is stuck with the Liberty Bowl because the Music City Bowl is not expected to make the Dores repeat last year's appearance. And Mississippi State is now bowl eligible thanks to its upset in Thursday's Egg Bowl.
VIZIO BCS National Championship Game, Jan. 6:
Auburn
Allstate Sugar Bowl, Jan. 2:
Alabama
Capital One Bowl, Jan. 1:
Missouri
AT&T Cotton Bowl, Jan. 3:
LSU
Outback Bowl, Jan. 1:
South Carolina
Chick-fil-A Bowl, Dec. 31:
Texas A&M
TaxSlayer.com Gator Bowl, Jan. 1:
Georgia
Franklin American Mortgage Music City Bowl, Dec. 30:
Ole Miss
AutoZone Liberty Bowl, Dec. 31:
Vanderbilt
BBVA Compass Bowl, Jan. 4:
Mississippi State
December, 1, 2013
Dec 1
8:35
PM ET
ESPN.com news services
No. 1 Florida State and No. 2 Ohio State have taken over the top spots in the BCS standings with just one week to go before the final pairing for the VIZIO BCS National Championship Game is announced.
The Seminoles and Buckeyes are the only two remaining undefeated teams from the automatic qualifying conferences and have the inside track to play for the title.
Alabama, which had been the No. 1 team in each previous edition of this year's standings, fell from the ranks of the unbeatens after losing to Auburn on the final play of the game Saturday.
Auburn moved up to No. 3 by winning the Iron Bowl, while Alabama dropped to No. 4, barely ahead of No. 5 Missouri.
Auburn will play Missouri on Saturday in the SEC Championship Game, but both teams will likely need either Florida State or Ohio State to lose in order to move into the top two.
Florida State is ranked first in both polls used by the BCS and is also first in the computer ratings. The Seminoles need only beat No. 20 Duke in the ACC Championship Game to remain at the top of the standings.
Ohio State needed to stop Michigan on a two-point conversion in the final minute to stay unbeaten, but the Buckeyes' ugly win doesn't seem to have hurt them too badly. They are second in both polls as well as the computers.
December, 1, 2013
Dec 1
1:00
PM ET
COLUMBIA, Mo. -- It wasn't the ending Texas A&M envisioned.
[+] Enlarge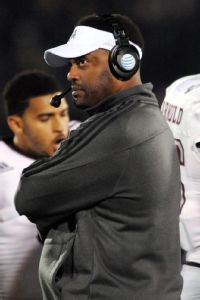 Denny Medley/USA TODAY SportsThe Aggies received hype in the preseason, but coach Kevin Sumlin's team failed to live up to their lofty expectations.
The Aggies quickly headed to the visitor's locker room on Saturday night as thousands of Missouri fans, most of them clad in black for the stadium "blackout," rushed Faurot Field to celebrate the Tigers' SEC East Division championship and berth in the SEC Championship Game.
It was the kind of ending A&M would have loved to experienced for itself. Coming into the season with a preseason top-10 ranking, those were the goals the Aggies set for themselves.
The primary goal was simple: Get to Atlanta.
After the impressive 11-2 debut season in the SEC that the Aggies put together in 2012, you probably would have been hard pressed to find anyone predicting that Mizzou would be getting to the Georgia Dome before Texas A&M. But that's how quickly things can change in college football.
Rather than play for a championship, the Aggies finished a somewhat underwhelming 8-4 overall and 4-4 in SEC play. They didn't beat a single ranked team this season. They lost their final two games, both on pretty big stages. That's the cold reality of the situation. Now they're simply left to play in whatever bowl game they wind up in, possibly the Chick-Fil-A Bowl, but not quite a BCS bowl like they once hoped.
"We're going to have one more opportunity with this group of guys to go out and win a football game, and we're not happy about what happened the last couple of weeks, obviously," head coach Kevin Sumlin said late Saturday. "But we've still got one more opportunity and it's probably going to be [against] another really, really good team."
There are a few reasons why the Aggies faltered at certain points this season. The young defense, which was inconsistent and downright bad in several games, made the offense work in losses to Alabama and Auburn.
However, in the past two weeks, the unit began to make some strides. Considering how high-powered the Aggies offense has been the past two seasons, the defense played well enough -- at least in the first half of the past two games -- to give Texas A&M a chance to take control of the game. But the offense sputtered, having an ugly showing at LSU and simply being inconsistent against Missouri.
Johnny Manziel
's health status didn't help. The Heisman Trophy winner is not 100 percent -- though many players aren't at this point in the season -- and even Missouri players noticed that he was hurting. With a nagging thumb injury on his throwing hand and a pair of taped ankles, Johnny Football looked human the past two weeks, not like the magician that has captivated the college football world for two seasons. If he was too hurt, Sumlin wasn't saying it.
"If he wasn't healthy enough to play, he wouldn't have played," Sumlin said.
A player as talented as Manziel can help mask deficiencies. Seemingly unable to do so these past two weeks, it uncovered several issues against two talented defenses. LSU and Missouri were certainly quality defensive teams that made life difficult for Manziel.
"He's had better performances, he's had worse performances," Sumlin said. "There's a lot of pressure on him to perform at a high level all the time. I've said before, quarterbacks are like the head coach. You get too much credit when you win, you get most of the blame when you lose. Whenever you don't win, everything focuses on that. There's a lot of people out there playing besides him. For us to be effective, there has to be more than one guy that's going to have to make plays. We made some, we didn't make some, and that was across the board."
It would have been impossible to make this statement a season ago when the Aggies were all the rage and Missouri was getting through a 5-7 season, but the Tigers are where the Aggies want to be. Across the sideline they saw a savvy, veteran group, led by strong seniors and playmakers on both sides of the football. The Tigers, who lead the SEC in sacks and interceptions, have an athletic front seven and a solid secondary.
Offensively, senior quarterback
James Franklin
provides a steady hand and gets the ball to the myriad playmakers around him, running back
Henry Josey
and receivers
L'Damian Washington
and
Dorial Green-Beckham
among them. Coach Gary Pinkel has provided stability as the head coach, having been with the Tigers for 13 years now. They won three division titles in their final five years in the Big 12, so Saturday's victory is just continued success under Pinkel, albeit in a new league.
The good news for the Aggies? The fact that finishing 8-4 is a disappointment speaks to the progress that the program has made in a short time under Sumlin. Expectations have been raised significantly in Aggieland, and that will continue after Sumlin agreed to a new six-year contract on Saturday. The last time the Aggies even won eight games in back-to-back seasons was 1998 and 1999.
Sumlin's on the way to signing his second consecutive top-10 recruiting class. The school has begun work on a $450 million renovation of Kyle Field, and the Aggies continue to improve facilities. So the commitment to getting where they want to be is there.
Now, it's simply a matter of making it happen. But for now, Missouri gets the bragging rights among the SEC newbies because it's the Tigers who will be playing for a championship in the Georgia Dome on Saturday.
It will take some time for the Aggies to write the ending they're looking for.
December, 1, 2013
Dec 1
10:00
AM ET
COLUMBIA, Mo. -- Texas A&M closed out its regular season with a 28-21 loss to No. 5 Missouri on Saturday night at Faurot Field. Here are three takeaways from the Aggies' loss:

Manziel wasn't right:
Sophomore quarterback
Johnny Manziel
has taken his fair share of hits this season, and it looks like they're adding up. He appeared to be a beat up player, with his lingering thumb issue on his throwing hand and both ankles taped (one of which wasn't until the second half began). His performance wasn't quite what people have come to expect from Johnny Football (195 passing yards, one touchdown, 21 rushing yards) and Missouri's relentless defense certainly deserves credit for that. But even Tigers' players noted that they thought Manziel was hurt. Asked about his health status afterward, head coach Kevin Sumlin said: "If he wasn't healthy enough to play, he wouldn't have played."
Brighter days ahead for the D:
The Aggies' defense has struggled all season, but the unit has showed signs of progress in certain spots. On Saturday night, it happened in the first half. A&M held Missouri to just seven first-half points and 5-of-14 on third down conversions for the night. However, in the third quarter, the Tigers were able to assert their will on a couple drives and got a huge play late on a 57-yard run by
Henry Josey
. Still, with several freshmen out on the field, the unit gave the team a chance to win. The Aggies' defense a mostly young group that took its lumps this season, but with a large chunk of the players returning in 2014, this should be an improved group.
The Aggies aren't invincible on the road, or at night:
Saturday marked Texas A&M's second straight road loss after a streak of 10 wins away from Kyle Field, including nine straight road victories under Kevin Sumlin. The Aggies also were 11-0 in night games under Sumlin prior to Saturday night so that streak came to an end as well.
December, 1, 2013
Dec 1
9:00
AM ET
COLUMBIA, Mo. -- Texas A&M came up short in its regular-season finale, falling on the road to No. 5 Missouri 28-21 on Saturday at Faurot Field. Despite the loss, here were some good performances so we hand out a few helmet stickers:

Drew Kaser:
The punter had another strong day at the office, punting eight times for an average of 44.8 yards. He had a long of 58, placed three punts inside the Missouri 20-yard line and had three kicks of 50 yards or more.
Jay Arnold:
The true freshman defensive end got probably his most significant playing time of the season and he delivered, coming up with a game-high two quarterback sacks. Arnold finished with three tackles total for the night.
Darian Claiborne:
The true freshman middle linebacker had 10 tackles, marking the fifth game of the season he's reached double digits in that category. He's now tied with senior
Steven Jenkins
for the team lead with 89 tackles this season.
December, 1, 2013
Dec 1
2:30
AM ET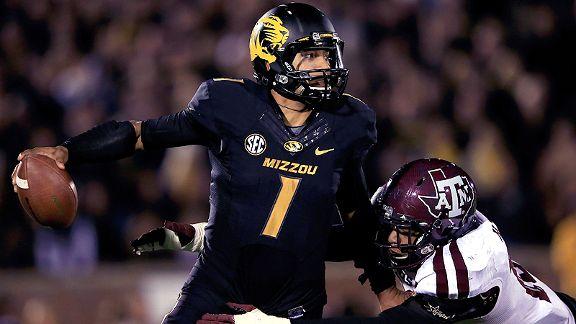 COLUMBIA, Mo. -- About 10 minutes after the clock hit triple zeroes, as thousands of Missouri fans covered Faurot Field after rushing it in celebration of the Tigers' historic victory on a cool, crisp, clear November night they'll never forget, five words played over the stadium loudspeakers that led those fans to swoon.
"Georgia. Georgia ... the whole day through."
[+] Enlarge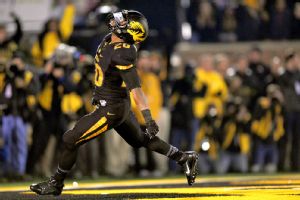 Peter G. Aiken/USA TODAY SportsHenry Josey's 57-yard touchdown scamper sealed the Tigers' win over Texas A&M.
It was Ray Charles' rendition of "Georgia On My Mind." As the song continued to play, it sounded oh-so-sweet to the Tigers and their fans because they are indeed headed to Georgia next week, the result of a
28-21 win
on Saturday night over Texas A&M which clinched the outright SEC East Division title and secured their spot in Atlanta for the SEC championship game against Auburn.
"Wow," coach Gary Pinkel said after plopping down in front of the microphone to meet with the media.
Wow, indeed.
The scenario that led to this sequence of events seemed impossible two years ago, because the Tigers and Aggies had yet to even enter the SEC and though they were on their way, many thought it would be a long time before either would have marked success or would play for the kind of stakes the Tigers did on Saturday night.
After a rough 2012 season that was marred by injuries, the Tigers heard the whispers. They weren't SEC-worthy. They didn't belong. They were in over their heads.
Saturday night -- and this entire season -- has been Missouri's way of silencing the critics. Even after putting the finishing touches on an 11-1 regular season, one that had the Tigers ranked fifth in the country heading into the weekend, there might be some who qualify Missouri's magical season by claiming it was a "down year" for the SEC East with Florida and Georgia not meeting preseason expectations.
Don't listen to them. This Missouri team is legitimate and worthy of being in the position it is in. It has done nothing but prove it week in and week out. With much more good fortune on the injury front this year than last, the Tigers have simply answered the bell at every turn with a lone exception, when they allowed a late lead to slip away in an overtime loss to South Carolina.
As heartbreaking as that loss was, the Tigers didn't allow it to snowball into something worse. Missouri had done enough good work in the first half of the season that it still controlled its own destiny in the division race. And down the stretch the Tigers did what they had to do -- win every game -- to secure their spot in the Georgia Dome.
For Missouri fans who are accustomed to having their hearts ripped out -- think "Five downs" against Colorado in 1990 or the kicked-ball touchdown against Nebraska in 1997 and all the "north end zone" heartbreak -- it's forgivable if their optimism was of the cautious type. But Saturday night, even when trailing, the Tigers didn't panic and they didn't collapse. They responded the way a championship team does.
Down 14-7 at halftime, the Tigers came out and made a statement drive to start the second half, coasting 75 yards down the field in seven plays and 2:45 to tie the game. Then, after a defensive stop, they covered 57 yards in eight plays to take a 21-14 lead. With the steady play of senior quarterback
James Franklin
(233 passing yards, 80 rushing yards, two touchdowns) and big-time plays from guys like
L'Damian Washington
and
Marcus Murphy
, the Tigers were in good hands.
[+] Enlarge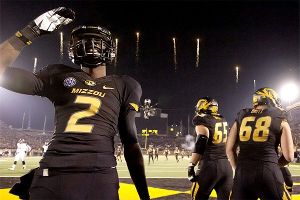 MCT via Getty ImagesWideout L'Damian Washington led Missouri with 97 receiving yards on six catches.
Defensively, Missouri kept a bruised and battered
Johnny Manziel
in check and though the Aggies were able to tie the score in the fourth, the game never felt like it was out of the Tigers' control. Some Missouri defensive players said afterward they could tell Manziel wasn't 100 percent and they kept applying pressure. The Heisman Trophy winner finished 24-of-35 passing for 195 yards and one touchdown and had just 21 rushing yards on 11 carries.
"We were relentless in the effort," Pinkel said. "Our defensive line wanted him so bad. They wanted a piece of him every chance they got. He's a great, great player, one of the best players [I've seen]."
With 3:34 left, junior
Henry Josey
burst through the line of scrimmage and broke free for a 57-yard touchdown and the game-winning points. It was a fitting way to cap the victory, as Josey has been through catastrophic damage to his left knee after gruesomely injuring it in November 2011 and missing all of 2012.
"It's really special," Franklin said. "I kind of see Henry as senior. We've been together since the beginning."
As the clock wound down and Missouri ran its final few plays to secure its win, fans around the stadium could be heard chanting "S-E-C! S-E-C!" While their first campaign wasn't exactly what Pinkel and Co. had hoped, the second stanza has been one for the ages in Columbia.
Trying to digest the magnitude of the moment in the aftermath, Pinkel recalled words from his mentor and a coach he long admired, the late Don James, as Pinkel pondered the next challenge ahead against Auburn.
"This is awesome," Pinkel said. "This is great. The most important thing -- I know what Coach James would say right now -- he'd say 'Get the guys back
fast
. Get their heads back
fast
.'
"Honestly, I'm so happy and so excited for my players and team."
Better Freshman Season: Manziel Or Winston?