January, 9, 2015
Jan 9
1:17
PM ET
ESPN.com news services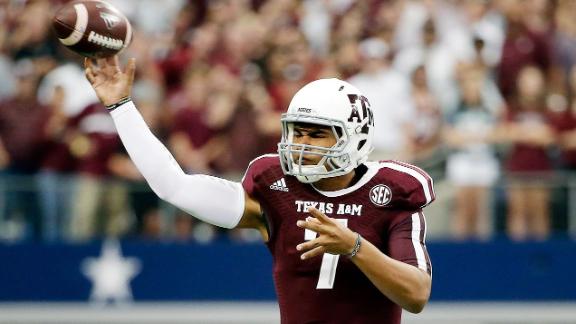 Texas A&M coach Kevin Sumlin confirmed Friday that quarterback Kenny Hill has been granted his release from the program and can transfer to any school of his choice.
"[Kenny] is meeting with his family and figuring out what he wants to do," Sumlin told 105.3 The Fan in Dallas.
Big 12 champion TCU is a strong possibility for Hill, a source told ESPN.com's Travis Haney.
Hill replaced former Heisman Trophy winner Johnny Manziel for the Aggies and surged to the forefront of the early Heisman race with a 511-yard, three-touchdown demolition of fellow SEC opponent South Carolina to open the 2014 season.
Soon after, Hill's parents filed for a trademark for the nickname "Trill," which Hill adopted in the wake of the revelatory performance.
Hill and the Aggies continued their march through September, preying mostly on weaker nonconference foes to land at 5-0 and earn a No. 6 ranking after the season's first month.
Then things changed. Texas A&M lost its next three games and five of its final seven. By November, Hill was replaced by freshman Kyle Allen, who led the team to wins against Louisiana-Monroe, Auburn and West Virginia to salvage an 8-5 finish.
When Allen took over, Hill was serving a two-game suspension for a violation of team rules and athletic department policy. Aggies coaches, though, insisted Allen would have taken over regardless of Hill's status.
Hill also was suspended for the final part of spring practice in 2014 after an alcohol-related arrest.
January, 9, 2015
Jan 9
1:56
AM ET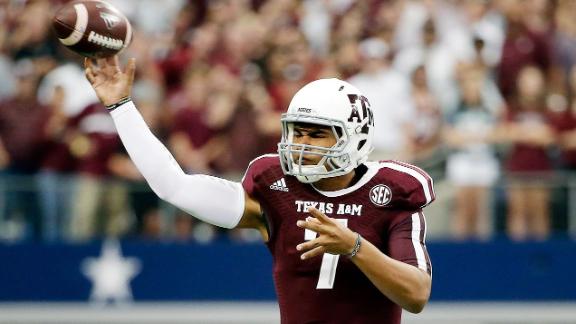 Texas A&M sophomore quarterback Kenny Hill has asked for his release from the school and is expected to transfer, sources close to Hill and the program told ESPN.com on Thursday.
Hill, from the north Dallas suburb of Southlake, could be looking to play closer to home. Big 12 champion TCU is a strong possibility for Hill, a source said.
Hill replaced former Heisman Trophy winner Johnny Manziel for the Aggies and surged to the forefront of the early Heisman race with a 511-yard, three-touchdown demolition of fellow SEC opponent South Carolina to open the 2014 season.
Soon after, Hill's parents filed for a trademark for the nickname "Trill," which Hill adopted in the wake of the revelatory performance.
Hill and the Aggies continued their march through September, preying mostly on weaker nonconference foes to land at 5-0 and earn a No. 6 ranking after the season's first month.
Then things changed. Texas A&M lost its next three games and five of its final seven. By November, Hill was replaced by freshman Kyle Allen, who led the team to wins against Louisiana-Monroe, Auburn and West Virginia to salvage an 8-5 finish.
When Allen took over, Hill was serving a two-game suspension for a violation of team rules and athletic department policy. Aggies coaches, though, insisted Allen would have taken over regardless of Hill's status.
January, 8, 2015
Jan 8
11:00
AM ET
Texas A&M fans were hoping for a "home-run" hire when Texas A&M head coach Kevin Sumlin began his search for a new defensive coordinator in late November.
Snagging "The Chief" from a division rival whom they have yet to beat or finish ahead of in the standings since joining the SEC qualifies as a grand slam.
Bringing John Chavis to Aggieland to revive Texas A&M's defense could have significant positive consequences in 2015 and beyond.
[+] Enlarge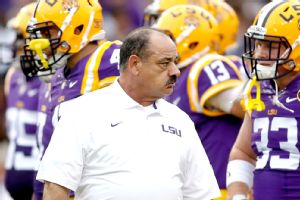 Derick E. Hingle/USA TODAY SportsThe arrival of veteran coordinator John Chavis at Texas A&M is expected to fix a defense that has been the program's weakness under Kevin Sumlin.
Chavis' résumé speaks for itself. He has coached in the SEC continuously since 1989, with the past 20 years spent as a defensive coordinator -- the first 14 for Tennessee, the past six for LSU. At Tennessee, he was part of a national-championship team and regularly had his defenses ranked in the top 25 nationally. During the six-season span Chavis led the LSU defense, only one team in the nation allowed fewer points per game than the 17.1 the Tigers allowed: Alabama (12.8).
Choose the measuring stick, and Chavis' Tigers stood up well. Over the past six seasons combined, the Tigers rank in the top five nationally in yards per game, yards per play, passing defense, red-zone defense and defensive goal-to-go efficiency. They were 11th nationally in rushing defense and 17th in defensive third-down conversion percentage over the past six seasons (35.3 percent).
Against only SEC teams, LSU remained strong. The Tigers are either second, third or fourth in the SEC over the past six years in 11 separate defensive categories, including scoring, third downs, and turnovers.
The Aggies are in dire need of defensive improvement after spending the past two seasons at the bottom of the SEC in yards per game allowed and rushing defense. In the three-year span since Texas A&M joined the SEC, the Aggies rank among the bottom five teams in the league against SEC competition in each of those 11 defensive categories: scoring, yards per game, yards per play, rushing, yards per rush, passing, yards per pass attempt, third down, goal-to-go, red-zone conversion rates, and turnovers. Sumlin went after Chavis precisely to remedy those glaring statistics.
On paper, it looks like a dream team: Sumlin's offensive reputation paired with Chavis' defensive experience.
At LSU, Chavis didn't usually have the benefit of a top-flight offense to go with the Tigers' salty defense. Quarterback questions were the norm rather than the exception, though LSU traditionally has a strong ground game stocked with good offensive linemen and quality running backs. In Chavis' six seasons at LSU, the Tigers averaged 26.1 points per game against SEC opponents, which ranked seventh in the conference.
Now, he's joining a Texas A&M program that has averaged 35.1 points per game against SEC teams since joining the league in 2012. The Aggies have a wealth of young playmakers, including a bright-eyed freshman quarterback,
Kyle Allen
, who just came off a career performance in the AutoZone Liberty Bowl.
Like any transition, it's unlikely to progress snags. Chavis is used to having a team that controls time of possession and thus doesn't leave his defenses on the field for the majority of the game. Sumlin has never been a time-of-possession head coach, and his teams usually operate at a breakneck tempo, though he did show signs this season of slowing the pace occasionally in wins against Auburn and Louisiana-Monroe.
In Baton Rouge, Louisiana, Chavis had the benefit of deeper and more talented defenses than what will initially be at his disposal in College Station, Texas. It's normal for LSU to have multiple defensive players chosen in the NFL draft, but for the Aggies in recent years, it has been the exception.
Young talent does exist across Aggies' current defensive two-deep, led by true freshman defensive end
Myles Garrett
. Of the 29 players on the Aggies' final 2014 depth chart, 15 were freshmen or sophomores, and seven true freshmen -- Garrett, defensive tackle
Zaycoven Henderson
, linebackers
Otaro Alaka
and
Josh Walker
, and defensive backs
Armani Watts
,
Nick Harvey
and
Donovan Wilson
-- started at least one game for the Aggies this season.
The Aggies are still trying to stock sufficient defensive talent to field a top-flight SEC defense. They did a good job in the 2014 recruiting class, which yielded those true freshmen starters, but they still need more talent, frankly, LSU-type talent -- and depth -- in order to make this work how they hopes it will.
If they continue to acquire the necessary talent, the potential that exists in the Aggies' marriage to Chavis seems limitless. The expectations will certainly be stratospheric.
Sumlin's teams have never been known for great defense: his squads finished worse than 100th nationally in yards allowed per game in five of his seven seasons as a head coach. But this is a promising sign that he's committed to reversing that trend.
He reached across the Texas-Louisiana border to pluck one of the most respected defensive names in the country from an SEC West rival, one that coordinated defenses that even Johnny Manziel couldn't conquer. Sumlin had a front row seat to the Chief's success the past three years and took a simple approach in hopes of delivering defensive success at Texas A&M:
If you can't beat 'em, hire 'em.
January, 7, 2015
Jan 7
9:00
AM ET
January, 7, 2015
Jan 7
8:00
AM ET
January, 6, 2015
Jan 6
11:00
PM ET
OU coach Bob Stoops fired co-offensive coordinators Josh Heupel and Jay Norvell on Tuesday, and the moves might help the Sooners get new life on the recruiting trial.
To continue reading this article you must be an Insider
January, 6, 2015
Jan 6
9:00
AM ET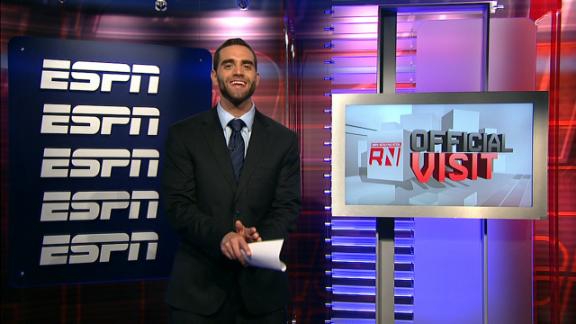 All-star week brings a lot of news, notes and observations on the recruiting front. As we take inventory of the more than 15 commitments at the Under Armour All-America Game, U.S. Army All American Bowl and Semper Fidelis All-American Bowl, let's take a look at 10 topics worthy of note.
10. Tennessee's defensive line class
. The Volunteers already had three ESPN 300 defensive lineman committed before No. 164
Kyle Phillips
cast his lot with Tennessee Saturday. While No. 41
Shy Tuttle
and No. 46
Kahlil McKenzie
are expected to fill needs on the interior from day one, the addition of Phillips could be just as impactful after his dominant performance at the U.S. Army All American Bowl. Phillips could bring pass-rush ability from jump street. Add in the upside of edge rusher
Marques Ford
and four-star end
Darrell Taylor
, and the Volunteers are set to ink an impressive defensive line class for a second-straight season.
[+] Enlarge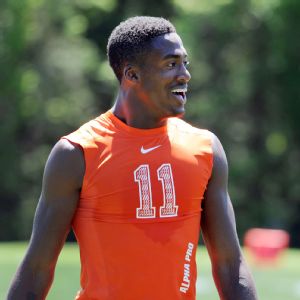 Steve Dykes/USA TODAY SportsFive-star George Campbell is one of seven early enrollees the Seminoles are expecting.
9. FSU's early enrollees
. Not only is Florida State likely to sign a top-3 class, but the impact of the class will be felt this spring on the field with seven prospects set to enroll in January. That list includes No. 5
Josh Sweat
, No. 10
George Campbell
, No. 19
Derwin James
, No. 42
Jacques Patrick
and No. 58
Da'Vante Phillips
. Campbell and Phillips will very likely work into the receiver rotation quickly with Campbell adding a true vertical threat, while James should push for a starting safety spot quickly. Patrick is the perfect load carrying back to team with the explosive
Dalvin Cook
.
8. Chris Clark and Michigan.
While many believe ESPN 300 No. 111 Clark will end up back at Michigan, UCLA is the team to beat headed into the Jan. 16 visit to Ann Arbor. The Bruins are set to receive the last visit Jan. 23 making Clark's trip to Michigan and in-person meetings with Jim Harbaugh and staff vital if the Wolverines are to get a key prospect and former commit back in the fold.
7. Daylon Mack's recruitment takes twists
. While Mack tweeted on Sunday that TCU is his current leader, the hiring of defensive coordinator John Chavis at Texas A&M could be a game-changer. While Mack is scheduled to visit Texas Jan. 16 and take an unofficial to TCU Jan. 30, it's the Jan. 23 official visit to College Station that could be huge. The hiring of Chavis caused Mack to immediately cancel his LSU official visit and replace the Tigers with the Aggies, the school he decommitted from Dec. 19. At the end of the day, it's tough to see TCU winning out Feb. 4.
6. Auburn's Jan. 16 official visit weekend taking shape.
The Tigers' first official visit weekend with Will Muschamp in the fold as defensive coordinator will include No. 2
Byron Cowart
, No. 9
CeCe Jefferson
, No. 40
Jeffery Holland
(unofficial) and possibly No. 1
Terry Beckner Jr
., who struck up a friendship with Cowart at the Under Armour All-America Game. Auburn is also working hard on No. 33 and South Carolina soft commit No. 33
Arden Key
. On offense, No. 34 and Tennessee commit
Preston Williams
and No. 38 and Georgia pledge
Terry Godwin
headline the impressive list.
To continue reading this article you must be an Insider
January, 6, 2015
Jan 6
9:00
AM ET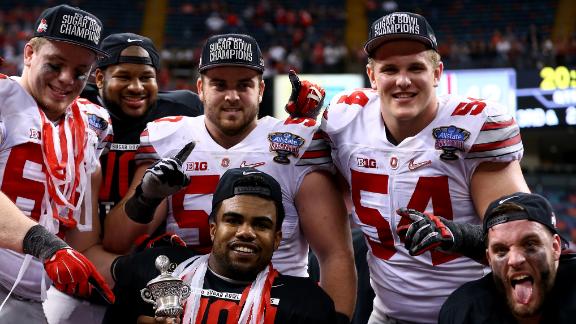 Four of the seven SEC West teams will have new defensive coordinators next season, which is fitting, given the carnage we saw in that division during the bowl season.
It's a carnage particularly glaring on the defensive side and yet another reminder that times are changing -- or, more precisely, have changed -- in college football.
Remember when the SEC was known for its defense?
Well, there is no defending how the five Western Division teams that lost in bowl games played, defensively, last week.
The numbers were abysmal, the kind of cataclysmic meltdown that only lends credence to the biggest criticism of SEC defenses over the past few years: They rack up most of their numbers against offenses within the league that aren't very explosive.
Now, before we go any further, not everybody in the West suddenly forgot how to play defense during the postseason.
Arkansas crushed Texas
31-7 in the Advocare V100 Texas Bowl
and made the Longhorns look even worse than they really were offensively, which took some doing. The Hogs held the Longhorns to 59 total yards on 43 offensive plays, which marks the fewest yards by any FBS team this season.
It wasn't just that Texas was that bad, either. First-year Arkansas defensive coordinator Robb Smith did an amazing job of transforming the Hogs' defense all season. They held opponents to 17 or fewer points in eight of their 13 games, and six of the eight were against bowl teams.
With only the College Football Playoff National Championship presented by AT&T remaining, Arkansas ranks 10th nationally in both scoring defense and total defense and 12th in rushing defense. The only other SEC team in the top 12 in all three categories is Alabama.
[+] Enlarge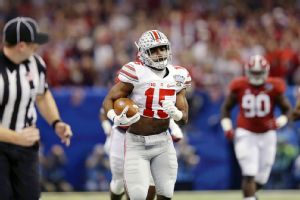 AP Photo/Brynn AndersonAlabama, which gave up 281 rushing yards to Ohio State, was just one of several SEC West teams with poor showings defensively in bowl games.
No wonder Arkansas coach Bret Bielema moved fast to make sure Smith had a new three-year deal that will pay him $750,000 annually. But the way Arkansas' defense played in the bowl game was the exception to the rule for the West this postseason.
Alabama, Auburn, LSU, Mississippi State, Ole Miss and Texas A&M all gave up more than 30 points each in their games. The Aggies were able to escape with a
45-37 win
against West Virginia, though their biggest win might have been prying away defensive coordinator John Chavis from LSU a few days later.
It wasn't a memorable final game for Chavis' LSU defense. The Tigers gave up 263 rushing yards to Notre Dame in a
31-28 loss
and were especially vulnerable on third down. The Irish converted 11 of 17 third-down opportunities and drove 71 yards in 14 plays for the winning field goal.
As it was, LSU's defensive performance might have been the best one of the bunch among the five West teams that lost bowl games, which underscores what a shoddy three days of defense it was for those five teams.
The final damage: Averages of 39.6 points allowed, 501.4 total yards allowed and 314.6 rushing yards allowed, not to mention a combined defensive third-down percentage of 55.4 percent.
The rushing totals were most incriminating. Mississippi State
was gashed for 452 yards
on the ground by Georgia Tech's option attack and gave up 49 points.
Melvin Gordon
and Wisconsin did a number on Auburn, to the tune of 400 rushing yards, and Alabama allowed 281 rushing yards -- including a back-breaking 85-yard touchdown run in the fourth quarter -- in its
42-35 playoff loss
to Ohio State.
That's two bowl games in a row in which Alabama has laid an egg defensively. The Tide gave up a combined 87 points and 966 yards in losses to Oklahoma a year ago in the Sugar Bowl and Ohio State this year in the playoff.
Does that mean Alabama has lost it defensively? Of course not. The Tide are always going to be a force defensively as long as Nick Saban is around.
But it is fair to say they haven't been nearly as dominant defensively on some of the biggest stages as they were during their national championship seasons in 2009, 2011 and 2012.
In their
55-44 win
against Auburn this season, they gave up a school-record 630 total yards. In the
34-28 loss
to Auburn last season, they gave up 296 rushing yards, and earlier in that year, they allowed 628 total yards to Johnny Manziel and Texas A&M in a wild
49-42 win
over the Aggies.
Spotty play at cornerback has been a recurring problem for the Tide the past two seasons. They've had trouble covering people, which has been magnified by their inability to consistently get to the quarterback.
Nobody's writing off the Tide defensively. Teams all over the country would gladly take their numbers -- and certainly their talent. But mobile quarterbacks have tormented them, and the way they've finished seasons defensively each of the past two seasons has been a concern.
Last impressions are what they remember in college football, and that also goes for Alabama's brethren in the West.
Reputations are earned. Right now, the entire SEC -- specifically the West -- has some work to do in earning back its reputation on the defensive side of the ball.
January, 6, 2015
Jan 6
8:00
AM ET
1. Hey Starkville: Manny Diaz is back. The former Mississippi State defensive coordinator
returned to the Bulldogs in the same position, Dan Mullen announced on Tuesday
. He'll work with linebackers as well as being the defensive coordinator, which is what he did in 2010 at Mississippi State. Diaz stopped at Texas and Louisiana Tech before returning to Starkville, where he'll be paid $1.8 million over three seasons.
2. Want to have a quality defense in the SEC? It'll cost you. While Diaz signed his new deal,
Arkansas defensive coordinator Robb Smith got a new contract as well
, one that pays him
$750,000 per season and increases $50,000 each year,
Bret Bielema sounds committed to keeping Smith there after the Razorbacks thrived defensively under his watch. In the Razorbacks' final five games, they allowed only 31 total points and recorded two shutouts. Their Advocare V100 Texas Bowl win over Texas was particularly impressive, as the Razorbacks held Texas to only 59 yards, the fewest an FBS team produced all season. But there's plenty of money being thrown around to SEC defensive coordinators, with $1.6 million going to Auburn's Will Muschamp and a similar figure rumored for John Chavis, who went to Texas A&M.
3. Not surprising, but Missouri defensive end
Shane Ray
has decided to enter the NFL draft,
according to a report
. Missouri
called a press conference for Tuesday afternoon
for Ray to make an announcement. Ray is one of the latest in a long line of productive Missouri defensive linemen and turned in a 14.5-sack season, setting a school record. He and
Markus Golden
made quite a pass-rush tandem for the Tigers, who won the SEC East for a second consecutive season.
Around the SEC
Tweet of the day
Doing a little math, and taking into account the recent raises, the average salary for D-coordinators in the SEC is just under $1 million.

— Chris Low (@ClowESPN) January 6, 2015
January, 5, 2015
Jan 5
1:30
PM ET
With about five minutes left in the first quarter of his first bowl game, Texas A&M true freshman quarterback
Kyle Allen
took a snap, looked left and fired a pass toward the left hashmark. There were Aggie receivers in the vicinity, but also a host of West Virginia defenders.
One of those defenders, Mountaineer defensive back
K.J. Dillon
, picked off
the pass and returned it 35 yards for a touchdown
and a 17-7 West Virginia lead. Upon returning to the sideline, offensive coordinator Jake Spavital aimed to settle his young signal caller. Head coach Kevin Sumlin opted for a more direct message to Allen.
[+] Enlarge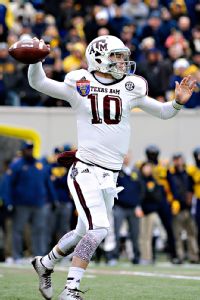 Justin Ford/USA TODAY SportsTexas A&M true freshman Kyle Allen says the lessons learned this season will benefit him during the 2015 season.
"We said 'Don't do that again,'" Sumlin said with a laugh after the Aggies completed a 45-37 victory against the Mountaineers in the AutoZone Liberty Bowl on Dec. 29. "Actually, that's exactly what I said."
Allen didn't repeat his mistake and completed a career day, completing 22-of-35 passes for 294 yards and four touchdowns, while adding a rushing touchdown. It put an exclamation point on his five-game stretch since taking over as the starter on Nov. 1 against Louisiana-Monroe.
It was a positive way to end the season, which had its ups and downs for the country's No. 1-ranked pocket passer in the 2014 recruiting class.
"Yeah, these last five games have been a big learning experience for me," Allen said after the bowl win. "Obviously, coming into the Monroe game, I came in a little nervous and didn't really trust what we were doing. I think I've grown a lot as a quarterback, and I think the guys have trusted me a lot more in the backfield. We're meshing together better as a team, the line understands blocking for me, and the receivers are running routes for me. They're playing great, which helps me play better, and you could see it this game."
Allen showed significant growth by bouncing back from his pick-six and performing virtually flawlessly the rest of the game. He showed off his mobility with a 14-yard touchdown run that included a nifty spin move, and showcased his decision-making skills by calling a key audible that led to a touchdown.
The drive after the interception, Texas A&M faced a fourth-and-5 at West Virginia's 40 and elected to go for it. When the Mountaineers showed blitz, Allen made a check at the line of scrimmage,
threw the ball before pressure reached him, and hit
running back
Trey Williams
, who was uncovered, for a 40-yard touchdown.
"That's a play we had put in specifically for that blitz they were bringing us," Allen said. "They brought everyone, and left four people to cover the receivers, but we knew they wouldn't cover the running back. So we had a play where he fake-blocked and took it right up the seam, and I knew right when they put it in that look, I checked to that play and it was going to be money. Trey made a nice catch and I didn't make a great throw. He made a nice catch and took it in the end zone, and that was great."
Allen arrived at Texas A&M in January with visions of winning the starting job from the jump, but sophomore
Kenny Hill
took the reins after an offseason competition and had a stronghold on the job initially, after a record-setting performance in the season opener against South Carolina. As the Aggies struggled, Hill did, too, opening the door for the Aggies to reopen the quarterback competition. Allen took over as the starter and had a rough debut (13-for-28 passing, 106 yards, one touchdown, one interception) against Louisiana-Monroe. But he looked the part the next week in an upset win at Auburn (19-of-29, 277 yards, four touchdowns).
There were peaks and valleys against Missouri and LSU to close out the regular season, but the bowl win signified progress for Allen -- not only for the freshman quarterback, but for the offense as a whole, which is filled with young skill-position players.
"I think he gave us a chance to understand him a little bit more and him understand himself a little bit more," Sumlin said. "Because the speed of the game is different than in high school. A lot of the things that happen are different. Some of the things he was able to achieve in high school, he found out 'Maybe I can't do all those things all the time. And I don't have to make every play, and we don't have to score every time we have the ball. It's OK to punt, and it's OK to kick field goals.' When a guy is talented coming out of high school, sometimes that's the first thing they have to learn."
At the moment, Hill remains on the roster and five-star dual-threat quarterback Kyler Murray, who just put the finishing touches on a 43-0 career and three state championships at Texas high school's largest classification, is currently committed as the lone quarterback in the Aggies' 2015 recruiting class.
But Allen's showing in the Liberty Bowl signaled promise for he and the Aggies moving into next season.
"Winning this game is huge for us, because we get confidence going into next year, especially with the young guys," Allen said. "Next year, we're going to be a much more experienced team. We'll work harder in the offseason because we know what's at stake and how our work ethic produced this year. It didn't produce the record that we wanted."
January, 5, 2015
Jan 5
11:00
AM ET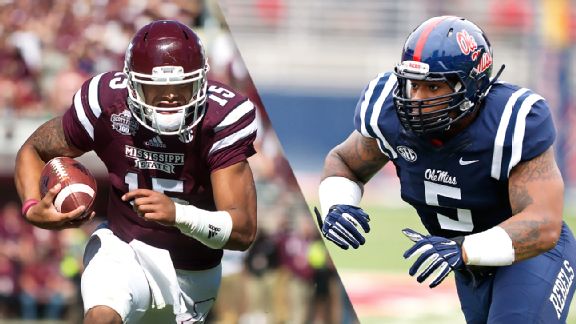 Icon Sportswire, AP PhotoDak Prescott and Robert Nkemdiche give the Mississippi schools plenty of hope for 2015.
Now is not the time for excuses.
Don't tell me about a lack of motivation. Don't tell me about key injuries. Whatever you do, don't try to tell me about luck.
Last week, the SEC was exposed. The West, in particular, failed. Miserably. Undeniably. Disappointingly.
If we're being honest about what we saw, it was destruction. Ole Miss fell flat on its face. Mississippi State continued its downward slide. Auburn's defense, once again, had the resistance of a wet napkin. And Alabama, supposedly the best of the them all, couldn't function on third down -- the money down -- if it's life depended on it.
And before you start saying that it was about the SEC beating itself, stop. TCU, Georgia Tech, Wisconsin and Ohio State weren't lucky beneficiaries; they were the better teams. Period. The Big Ten and Big 12 were superior conferences this bowl season.
Try that on for size: The SEC was a second-tier league when it mattered. Before any talk of next season, that must be accepted as fact.
But for how long can we expect that to continue? A week after the league's meltdown on the national stage, that feels like the logical question.
Here's a guess at the answer: Right up until the preseason polls come out.
[+] Enlarge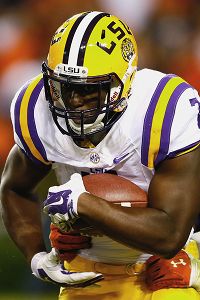 Kevin C. Cox/Getty ImagesLeonard Fournette posted 100 rushing yards in five of LSU's final nine games.
It's going to whip the #SECBias posse into a frenzy, but the league isn't going anywhere anytime soon. Because when you start projecting who will be among the top teams in college football next season, it's going to look oddly familiar: Alabama, Auburn, LSU, Ole Miss, Mississippi State.
Nick Chubb
will carry Georgia into the mix, and with enough good feelings toward Jim McElwain, the East might even gain more representation in the top 25.
A decade's worth of dominance can't be wiped away in a single bowl season. But more importantly, neither can a decade's worth of recruiting.
Though the ACC, Big Ten, Big 12 and Pac-12 all will surge forward in 2015, none will have the cache of talent the SEC still enjoys. None will lay claim to the same number of NFL-ready prospects.
When ESPN's Scouts Inc. compiled its
top 25 non-draft-eligible players
last month, 13 hailed from the SEC. The next-closest conference: the ACC with five. Ole Miss alone had that many underclassmen on the list.
Before we start declaring Alabama's dynasty dead, consider that the Crimson Tide are running out the clock on their fourth straight No. 1 recruiting class. If
Jake Coker
doesn't work out replacing
Blake Sims
at quarterback, Nick Saban can turn to a pair of blue-chip prospects in
David Cornwell
and
Blake Barnett
. If they need help, there's always
Derrick Henry
to hand the ball off to.
The other side to the Iron Bowl should be fine as well.
Nick Marshall
may be gone, but
Jeremy Johnson
has been preparing for his chance to lead Auburn for two years now. Thanks to
Duke Williams
' return at receiver and the running back tandem of
Roc Thomas
and junior college transfer
Jovon Robinson
, Gus Malzahn's offense should keep on humming. Coupled with the addition of Will Muschamp as defensive coordinator, the Tigers might find that scoring 30 points is enough.
LSU, meanwhile, has nowhere to go but up. With
Leonard Fournette
and
Malachi Dupre
to build around, the offense is in good shape. And the defense, in spite of the loss of coordinator John Chavis, is still stacked with talent across the board.
The state of Mississippi may be hurting now, but that pain will soon give way to hope as both Ole Miss and Mississippi State have reasons to believe that next year could yield a breakthrough. The Rebs reload thanks to back-to-back stellar recruiting classes and could find better consistency at QB with
Bo Wallace
gone. Meanwhile, the Bulldogs already have their playmaker under center in
Dak Prescott
and a solid defensive line thanks to future pro
Chris Jones
.
And that's just the teams that lost their bowl games from the SEC West.
In the division, there's still Arkansas and Texas A&M to consider. No one will be caught sleeping on the Hogs in 2015, and with a change at coordinator, the Aggies might develop a defense to match the production on the other side of the ball.
In the East, Florida is a sleeping giant, and Georgia is a QB away from breaking through. Missouri is a program that in spite of appearances always finds a way, and keep an eye on Tennessee. The Vols blew out Iowa in the Taxslayer Gator Bowl, and Butch Jones has compiled a recruiting class that currently
ranks sixth nationally
.
If you're setting the over/under on the number of preseason top 25 teams from the SEC, where does it lie? Say for argument's sake that it's eight. Do you dare take the under? If so, who do you leave out?
While preseason polls carry as much weight as skinny-armed Rob Lowe, it illustrates a point about perception. Today the perception is the SEC is an overinflated bubble that's poised to pop, if it hasn't already. But soon that will change.
The rest of the Power 5 conferences should enjoy mocking the SEC's failures this bowl season. After the runaway hype of the regular season and how things ultimately played out, they have every right to call the West a joke and question the conference's strength as a whole.
When the playoff runs its course on Monday, it will have been two years without a national champion from the SEC.
Let's repeat that number: two. After seven titles in seven years.
Since when is a two-year drought the End of Days? The league isn't exactly wandering Egypt right now.
Downgrade the SEC if you must, but be careful because the league isn't dead. The divide between conferences is just becoming thinner.
January, 5, 2015
Jan 5
9:00
AM ET
Naturally, just about everyone outside of the Deep South is reveling in the fact that the title game in the inaugural College Football Playoff will not feature an SEC team. After eight straight years of seeing an SEC team grace the national championship game, the conference that has towered over the sport for so long will be watching from home on Jan. 12.
The SEC's reign of terror and string of seven straight national titles seems like an afterthought following back-to-back years without a national champion coming from the league. The SEC's 7-5 bowl season, which actually tied its own NCAA single-season record for bowl wins by a conference, is viewed as a disappointment -- especially when you consider that the seemingly ferocious SEC West went an unsatisfactory 2-5 -- and a sign that the leagues around the SEC are closing the gap.
[+] Enlarge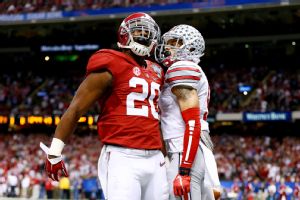 Streeter Lecka/Getty ImagesOhio State showed it was not intimidated by Alabama in the Sugar Bowl, and the SEC West finished a surprising 2-5 in bowl games.
Though SEC fans might not want to acknowledge that, it's happening and it's a good thing for college football. The SEC's narrative of being the baddest conference around isn't necessarily gone, but it's hurt, and that makes the sport more fun. The element of surprise isn't a bad thing.
This isn't to say that the SEC won't bounce back, and I'm in no way saying the SEC has fallen behind the pack or that its days of glory are behind it. But parity in college football is a good thing. Like the years prior to the SEC's improbable run from 2006-2012, it feels like the sport is once again a free-for-all.
Though talk of SEC bias was incredibly ridiculous, SEC fatigue was very much a real thing. With Oregon and Ohio State to play for the national championship a week from today, that fatigue has quelled some. Yes, the SEC was front and center for most of the season because of how successful the West was, but a no-show in the title game and the collapse of the Wild West proved that the SEC, while great, is getting a mighty push from the rest of the country.
Even with seven wins and the fact that the SEC East, loathed all season, went 5-0, the SEC's overall perception took a hit because the big boys of the SEC West crumbled in front of the nation.
For so long, the SEC was ahead of the pack because of its coaches and its ability to continuously reel in the nation's top high school talent. That is still very true, and it's not like the fertile southeast recruiting ground is going to dry up -- ever -- but other conferences are catching up in both areas.
The Big Ten is definitely making up ground when it comes to coaches. Urban Meyer, once the SEC's top coach, has No. 4 Ohio State, which days ago stunned No. 1 Alabama 42-35 in the Allstate Sugar Bowl, in the big game with a 37-3 record during his three years in Columbus, Ohio. Mark Dantonio has won 75 games at Michigan State, and just shocked No. 5 Baylor in the Goodyear Cotton Bowl Classic. Then, of course, there's Michigan, which hasn't had much of a football pulse over the past few years, but just made the best coaching hire in college football this year by snagging Jim Harbaugh from the NFL.
And if you think the Big Ten isn't slowly making ground in the talent department, just look at how Meyer has blended SEC and Big Ten traits in a team that steamrolled Alabama's vaunted defense for 537 yards. Though the SEC mainly held its hat on suffocating defenses during its magical run, other leagues have evolved into offensive juggernauts, something the SEC might want to consider before it is left behind in the points department.
Look at the success the Pac-12 has had. No. 2 Oregon obliterated No. 4 Florida State in the Rose Bowl, and after the defenseless performance we saw by the Tide in New Orleans, it would be hard not to feel confident picking the Ducks' high-flying quack attack to do some damage if given the chance against Alabama. The Pac 12 is also 6-2 in bowl play, and finished the regular season with five teams in the College Football Playoff rankings.
And we haven't even touched a TCU team that demolished Ole Miss, a one-time top-3 team, by 39 in the Chick-fil-A Peach Bowl, and might be better than everyone.
Parity is back in college football, and the SEC is learning that it can't win on name alone anymore. Like Tiger Woods in golf, just being there doesn't make you intimidating anymore. Ask Georgia Tech, which ran all over Mississippi State, or Notre Dame and Wisconsin, which both went down to the final plays to beat LSU and Auburn, respectively.
The SEC is hurting, but the sport is flourishing. The league -- more specifically the SEC West -- took one on the chin this postseason, and it might have lost its benefit of the doubt in future playoffs. But that's fine. Maybe we'll see beefier nonconference schedules. Maybe it will make things that much more exciting late in the season going forward.
Regardless, the SEC will be fine if it continues to evolve, and college football will be great.
ESPN 300 Recruits: Does Tradition Matter?