January, 2, 2014
Jan 2
5:00
AM ET
1. Stanford outgained Michigan State on the ground, 162-65, and won the turnover battle, 2-1. Forget the stats. The Spartans won the 100th edition of the Rose Bowl presented by VIZIO, 24-20, because they controlled the line of scrimmage when the Cardinal had the ball. Take away
Tyler Gaffney
's 47-yard rush in the first quarter, and he gained 44 yards on 23 carries. The Cardinal defense committed two penalties inside its 10-yard line and dropped two picks. Simply put, the better team won.
2. The state of Texas has a rich history of playing physical football. You line up and you hit the guy in front of you and you see who's best. That's how it went until the state's schools fell in love with the uptempo spread. Texas A&M gave up 48 points and won. Baylor surrendered 52 and lost. Rice allowed 44 to Mississippi State and lost. Texas gave up 30 to Oregon and got embarrassed. You would think with all that talent in Lone Star State, someone could play defense.
3. Nebraska beat Georgia, 24-19, in the TaxSlayer.com Gator Bowl and extended to six seasons head coach Bo Pelini's streak of finishing either 9-4 or 10-4. Given the emotional highs and lows that Pelini has endured in Lincoln -- this week he's popular -- the notion that he has become the model of consistency is a headscratcher. Here's another one -- only three head coaches in the Big Ten (Kirk Ferentz of Iowa, Pat Fitzgerald of Northwestern and Mark Dantonio of Michigan State) have longer tenures than Pelini.
January, 1, 2014
Jan 1
7:50
PM ET
FULLERTON, Calif. -- Four-star outside linebacker
Jimmie Swain IV
(Olathe, Kan./North) is listed as an uncommitted recruit, but that distinction is not exactly true.
Following the first day of practice for the 2014 Semper Fidelis All-American Bowl, Swain said he has known for a while where he will play his college football and he has let the coaches of his finalists know his decision. The public will be let in on the secret during the game on Sunday, when the 6-foot-3, 229-pound linebacker will announce his commitment.
Swain is down to four schools -- Arkansas, Michigan State, Oregon and Texas A&M -- and all but the Spartans have received official visits.
As for his leaders, Swain gave a quick look into why they stand out in the race for his signature.
"[Michigan State has] always been in my top five ever since I started watching college football," Swain said. "At Arkansas, I have a good relationship with Randy Shannon and I fit in well with the players on my visit. At Oregon, it's the whole coaching staff. My mom really enjoyed them when they came to visit. They've been at Oregon so long, and the football there speaks for itself, when a 10-2 season is considered a bad season. With Texas A&M, I had a fun visit down there. A lot of people worry about what happens to them when Johnny [Manziel] is gone, but their recruiting class is really good and I don't think they're going to skip a beat."
Swain has been avoiding interviews and any real talk of recruiting in recent weeks, as he said he's been "relaxing and enjoying time with family." But he'll make some significant noise on Sunday, particularly for the program that receives a verbal commitment from the standout linebacker, who plans on pursuing a double major in marketing and finance.
To continue reading this article you must be an Insider
January, 1, 2014
Jan 1
1:45
PM ET
Happy new year. Take some time from watching football all day and see what's happening around the SEC in today's lunch links, the first of 2014.
January, 1, 2014
Jan 1
11:00
AM ET
Paging Clemson and Florida State. Pick up the white courtesy phone.
The ACC would like a word.
Because more than ever, the league needs both to stop the league bowl slide and win their respective BCS games. That would at least bring some much needed credibility to the league. Because right now, its rep remains in shambles.
A record 11 teams made bowl games, wonderful news for the newly expanded league. However, winning those games has been a different story. The ACC stands to finish with a losing record this bowl season, the same way it did back in 2008, when its record 10 bowl teams went a collective 4-6.
After a miserable New Year's Eve, in which the ACC went 0-3, the bowl record for 2013 stands at 3-6. What's worse is the way everybody lost, most especially the teams in the biggest games:
Miami got blown out by Louisville 36-9 in the Russell Athletic Bowl in what qualifies as the most disappointing showing among ACC teams so far. The Canes were inept on offense, completely dominated physically and exposed once again on defense -- by a roster filled with players from the South Florida area. It is inexplicable for a team coming off a two-year postseason ban to show such a complete lack of intensity or urgency. Headed into the contest, this was billed as one of the best non-BCS bowl matchups. Only one team came to play.
Virginia Tech thought it might have a chance to contain Brett Hundley and the UCLA offense with its top-notch defense in the Hyundai Sun Bowl. But after Logan Thomas got hurt, the Hokies seemed to go in a shell. That still does not explain a horrendous fourth quarter in which UCLA turned a close game into a rout. It was Virginia Tech's most lopsided bowl loss since falling to North Carolina 42-3 in the 1998 Gator Bowl.
Georgia Tech had one chance after another to beat Ole Miss in the Franklin American Mortgage Music City Bowl, but once again the Jackets could not take advantage. The dagger came late in the fourth quarter, when a fumble in the end zone led to a safety and the end of any shot to win. Georgia Tech has lost eight of its last nine bowls.
Then the heartbreaker on Tuesday night. Nobody gave Coastal champ Duke a chance to beat Texas A&M in the Chick-Fil-A Bowl. But the Blue Devils looked like they would save the day for the ACC, jumping all over the Aggies from the start en route to a 38-17 lead headed into the fourth quarter. But Johnny Manziel saved his Manziel Magic for the end, and Anthony Boone threw two interceptions to turn the tide. Duke lost 52-48 in a thrilling game that nearly gave the ACC the upset of bowl season. Duke had an unbelievable season, but that loss will not be easily forgotten.
Four of the six losses so far have been by double digits. Of the three wins, only one came against a power 5 conference team -- kudos to Syracuse for beating Minnesota in the Texas Bowl.
So that brings us to the two BCS games. No. 12 Clemson takes on No. 7 Ohio State in the Discover Orange Bowl on Friday night; No. 1 Florida State plays No. 2 Auburn in the VIZIO BCS National Championship.
If both win, they will go a long way toward erasing the nightmare that has been the 2013 bowl season. The truth is, these two teams have been the highest ranked ACC teams all season, the two that people across the country associate with ACC success. Two big wins over two big programs -- and most especially a national championship -- will show the ACC does have an elite upper class.
Does the middle of the league have work to do? Absolutely. What was already known headed into bowl season has been made even clearer. But the ACC ultimately will not be judged by what happened between Boston College and Arizona in the AdvoCare V100 Bowl. It will be judged by what happens on the biggest stage.
That's why the ACC needs Clemson and Florida State to come through.
January, 1, 2014
Jan 1
2:00
AM ET
ATLANTA -- They lined up inside the bowels of the Georgia Dome hoping to catch one final glimpse of Johnny Football. One boy wore his No. 2 Texas A&M jersey, shifting nervously from one foot to another as he waited impatiently for his hero's arrival. His father barely noticed, his eyes trained on where the team bus should arrive.
Suddenly a security attendant shouted something inaudible, a pair of doors swung open and a rush of cold air swept inside. The Aggies went by like a blur as they readied for the start of the Chick-fil-A Bowl against Duke on Tuesday night.
"Did you see him?" one Texas A&M fan asked another when all the players had passed.
[+] Enlarge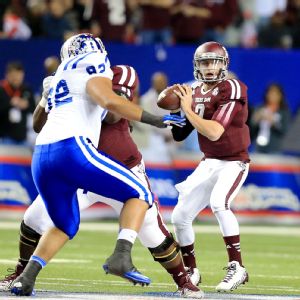 Daniel Shirey/USA TODAY SportsWith all eyes focused on him as usual, Johnny Manziel delivered another virtuoso performance in the Chick-fil-A bowl in possibly his final game at Texas A&M.
"No, did you?" someone responded.
"He must have come in earlier to avoid all this," they decided, shaking their heads in defeat.
Kevin Sumlin was easy to spot. Texas A&M's coach was as dapper as ever in a well-tailored navy blue suit, a baby blue shirt and a pink paisley tie.
Mike Evans
couldn't be missed, either. Texas A&M's unstoppable sophomore receiver stood at an unattainable 6-foot-5, a head taller than most of his teammates.
But
Johnny Manziel
was nowhere to be found. Favorably listed as 6-foot-1, Texas A&M's quarterback instead kept to the middle of the procession, pulled a grey hoodie over his head and turned his face down as he listened to music on a pair of oversized headphones.
It was like he never was there. Some saw him pass by, most didn't. Like a ghost, Manziel reached the locker room without the usual glow of cameras flashing upon his every arrival.
"There he is. You see him?" a Duke fan shouted at his friends in the front row of the Dome a few minutes later, grabbing a buddy by the shoulder as he pointed to Manziel near midfield, now in shorts and a T-shirt as he warmed up, sporting the same headphones he used to block out the world.
If anyone missed Texas A&M's superstar quarterback, all they had to do was look for the hoard of cameras documenting his every move. Hundreds of photographers lined the end zone, snapping shot after shot of what could prove to be Manziel's final game with the Aggies. The NFL could be the next stop for the redshirt sophomore with mind-boggling statistics and breathtaking athleticism. He's done so much in two years at College Station -- some the NCAA would like you to know, some it would like you to forget -- that moving on seems natural.
But if the Chick-fil-A Bowl was indeed Manziel's final hurrah, it felt appropriate.
Two years ago the undersized quarterback won the starting job at Texas A&M to no acclaim. He hit the field to no applause and won fans over with each dazzling play. Not everyone came to his games knowing what he looked like, but everyone left with an impression of Manziel forever burned in their minds. Enough noticed that he won the Heisman Trophy.
Tuesday felt the same way. The nation's focus has been on places like New Orleans, Dallas, Miami and Pasadena, not Atlanta. But Manziel got fans' attention anyways by doing what he's always done -- the impossible. Manziel led a comeback for the ages, bringing the Aggies back from 21 down to beat Duke 52-48.
Manziel accounted for 455 yards and five touchdowns and was named the game's Most Outstanding Player on offense.
"It was an unreal feeling," Manziel said afterwards, not quite dodging questions about the NFL, but somehow avoiding them entirely.
He wanted to talk about the game, and who could blame him? While the Aggies defense was pulverized, failing to make a single stop in the first half, Manziel rallied the troops on the sidelines, grabbing teammates by the collar and even talking up defensive coordinator Mark Snyder -- saying and doing anything he could to end the season a winner.
Offensive tackle
Jake Matthews
had never seen Manziel so riled up.
"It was special to watch, special to be a part of," he said.
Fellow offensive lineman
Cedric Ogbuehi
was just as in awe.
"We forgot how great he is," he said of Manziel. "This game we saw that he is one of the best players in college football history."
After the game, Manziel wasn't the off-the-field diva he's sometimes been portrayed to be. He was reserved, sluggish even. He was getting sick, he said, coughing as he told reporters to keep a safe distance. He didn't know if he had the flu coming on. He slouched and sat on the floor outside the media room, checking his phone as he waited for Duke coach David Cutcliffe to finish up inside.
If he were listening, he would have heard Cutcliffe say how he "spun the ball really well" and just how "special" he was. All that coming from a coach who mentored NFL icon Peyton Manning.
Manziel, for his part, was as understated as ever at the podium, deflecting praise to his offensive linemen and wide receivers. He didn't thump his chest. He didn't bring his trophy into the news conference like his teammate Toney Hurd.
When asked to look back on his career at Texas A&M, he said what he had pretty much all night: that he couldn't believe it.
"It's unreal how things have played out," he said.
He didn't answer any more questions as he walked back to his team's locker room. A reporter asked once again if he'd turn pro, and he didn't answer. He just kept walking, his head down in that familiar zone.
But as he left the locker room, a fan begged him to stop and pose for a picture, and he obliged. He stood still for two shots and smiled before turning down the tunnel and out into the night.
Manziel wasn't a ghost as he left the Georgia Dome early Wednesday morning. He wasn't a blur. He was a legend in full view for the world to see.
After so much talk and so much acclaim the past two years, he left a quiet winner.
January, 1, 2014
Jan 1
1:08
AM ET
Johnny Manziel might have played his last college game on Tuesday night, but he's going to have to wait a little longer to be the owner of the trademark "Johnny Football."
An examining attorney in the U.S. Trademark and Patent Office sent a letter to Manziel's attorney earlier in the day, stating that he was suspending the trademark application filed by Manziel's corporation, JMAN2 Enterprises LLC, until an earlier application for the trademark "Johnny Football" is either abandoned or registered.
Manziel filed for the trademark on Feb. 2, 2013, three months after an organization called Kenneth R. Reynolds Family Investments, which is based in College Station, Texas -- the same city that calls A&M home -- filed for the trademark.
Manziel's team filed a letter of protest, suggesting that the previous filing can't be trademarked because it refers to Manziel and therefore requires his consent. The trademark filing specfically seeks to use "Johnny Football" on jerseys and footballs.
Kenneth R. Reynolds Family Investments has until Feb. 16 to answer why the nickname doesn't refer to Manziel. Failure to answer by that time will result in a refused registration and Manziel's trademark filing would then likely be further examined.
Manziel's "Johnny Football" trademark filing seeks to protect his use of the phrase on everything from jackets to padded elbow compression sleeves, from skirts and blouses to motivational speaking services.
January, 1, 2014
Jan 1
12:26
AM ET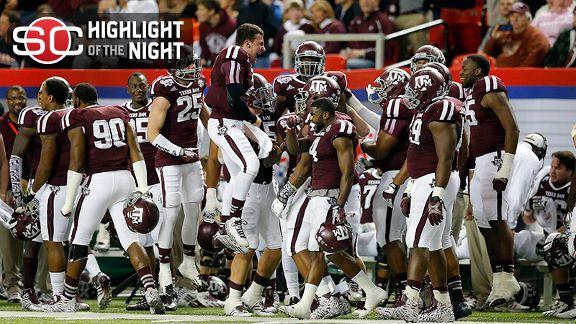 If this was
Johnny Manziel
's final college football game, he couldn't have scripted it any better if he tried. Behind the heroics of the former Heisman Trophy winner, Texas A&M overcame a three-touchdown deficit to stun Duke 52-48 and win the Chick-fil-A Bowl.
Here's how it all went down:


It was over when:
The Texas A&M defense had struggled all night, but the Aggies came up with back-to-back stops on Duke's last two drives to storm past the Blue Devils. First, it was
Toney Hurd Jr
. returning an interception 55 yards to give Texas A&M its first lead of the game. Then, with Duke driving, it was linebacker
Nate Askew
who preserved the victory with another interception. All Manziel had to do was take a knee at the end.
Game ball goes to:
Seriously? Was there ever any doubt? Johnny Football might never play another down for Texas A&M, but if so, he ended his career with a bang. The Aggies' quarterback went 30-of-38 for 382 yards and four touchdowns through the air. He also had 73 yards and a touchdown on the ground. The highlight came early in the third quarter when he went all Johnny Manziel on the Blue Devils. He eluded the rush, hurdled a defender and somehow found a wide open
Travis Labhart
for a 19-yard touchdown.
Unsung hero:
Labhart. While Texas A&M star
Mike Evans
was losing his cool early in the game, it was Labhart who stayed calm and quickly became Manziel's go-to wide receiver. The former practice-squad player for the women's basketball team caught not one, not two, but three touchdowns and finished with seven catches for 76 yards. He might not have made the men's basketball team, but the Aggies are glad he went the football route.
Stat of the game:
Despite two late interceptions, Duke quarterback
Anthony Boone
played a tremendous game in his own right, throwing for 427 yards and three touchdowns. But even more impressive was his composure on third down. The junior went 11 of 12 for 144 yards on third-down passing attempts. The lone incompletion came on Duke's final drive, but he turned around and completed a pass to convert on fourth down.
What we learned:
If that was Manziel's last game, he will be missed in college football. Despite his off-field troubles and fiery personality, he was fun to watch. Texas A&M might struggle next year without him, but the Aggies are clearly moving in the right direction under Kevin Sumlin. It doesn't hurt that Sumlin recently signed an extension and looks to be staying for the long haul. As for Duke, it was an incredible season. The Blue Devils won 10 games for the first time in program history, and though they're still looking for their first bowl win since 1960, the future looks bright in Durham.
To watch the trophy presentation of the Chick-fil-A Bowl,
click here.
December, 31, 2013
12/31/13
9:10
PM ET
SAN ANTONIO -- The second day of practice for the U.S. Army All-American Bowl -- on the last day of 2013 -- has come to a conclusion. Here is Tuesday's notebook featuring some of the nation's elite athletes:
LB Williams: Law and order equals '98 percent'
To continue reading this article you must be an Insider
December, 31, 2013
12/31/13
7:55
PM ET
Three days of practice are now in the books and overall execution was sharper as the players begin to move into final preparations for the Under Armour All-America Game on Thursday. The productivity of the players picked up as did the speed of the play, and they're continuing to think less and display their natural ability more. It was a physical day, with the pads popping and some big hits throughout the practice. Here are some of the highlights.
Top performers
To continue reading this article you must be an Insider
December, 31, 2013
12/31/13
6:15
PM ET
It looks like Kevin Sumlin will be staying awhile.
That news should come as no surprise, given that earlier this month Sumlin and Texas A&M put the finishing touches on a new six-year, $30 million contract that could keep the coach in Aggieland through the 2019 season.
But when it comes to a league like the NFL, you can never count out deep-pocketed owners and the allure of coaching at the highest level. That's hard for anybody to turn down. However,
Chris Mortensen reported on Tuesday that Sumlin is essentially saying "thanks, but no thanks" to NFL teams
that have openings.
[+] Enlarge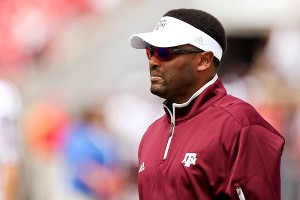 Thomas Campbell/USA TODAY SportsWith a new contract in place and facilities upgrades ongoing, Kevin Sumlin has laid to rest any possibility of a jump to the NFL in the immediate future.
So it looks like Sumlin's getting comfortable in College Station. That's good news for the Aggies and
Sumlin is being richly rewarded
for doing so.
Sumlin has publicly said that maybe there will be a time he chooses to look into NFL possibilities, but that it will be later. It seems he's making good on that promise.
The most ideal situation for Sumlin would have been in Houston with the NFL's Texans. Sumlin spent the 2008-2011 seasons as the University of Houston's head coach before the Aggies came calling. He had success there, and it would be an easy transition to move back and still keep his family in a familiar situation, which is important since he and his wife, Charlene, have four kids, all of whom are in school.
But Texans owner Bob McNair said after he fired Gary Kubiak that he was looking for someone who had both head coaching experience and NFL experience. So with the Texans off the table, it makes sense for Sumlin to stay put and continue to build on what he has already achieved in maroon and white.
Since taking over the Texas A&M program, Sumlin has guided the Aggies to success in the SEC faster than most anticipated. Heading into Wednesday' night's battle against Duke in the Chick-fil-A Bowl, the Aggies are 19-6 in two seasons under Sumlin, finished last season ranked fifth in the country and have a chance to finish in the top 25 once again this season should they win. Texas A&M is recruiting at a high level under Sumlin, turning in the No. 8 class in the country in the 2013 recruiting cycle, and the Aggies currently have the nation's fourth-ranked 2014 class with roughly five weeks until national signing day.
As the Aggies stockpile talent, Sumlin will be charged with continuing to move the program upward. In addition to incoming talent, facilities have and continue to be built (a $450 million renovation of Kyle Field is ongoing, and the Aggies added a new weight room, nutrition center and renovated the lobby of the football complex since Sumlin arrived), and the school continues to leverage its membership in the SEC in recruiting, marketing and myriad other areas.
When asked earlier this month why he believes so strongly in Sumlin, Texas A&M athletic director Eric Hyman said that "the proof's in the pudding."
"You look at the excitement, the momentum and enthusiasm that the program, under his tutelage, has generated," Hyman said. "There's a wide cross-section of people in Aggieland who are so appreciative of the job that he has done. The future is in good shape. This is a long-term commitment to Coach Sumlin. I don't think there's any question about it, the belief that people in Aggieland feel toward their football coach, how he represents the university, how he goes about doing his business and his primary focus is on the student-athlete and that resonates with a lot of people."
While there was no question the Aggies were committed to Sumlin moving forward, this development of Sumlin declining NFL interview requests gives weight to Sumlin's idea of making a sincere commitment to Texas A&M in return.
"As Eric said, it speaks to the university's commitment to us as a program, to me personally, but also our commitment to the university," Sumlin said. "We've got a ways to go with what we're doing, but I think what it says is that people believe we're on the right track and not just from a contractual standpoint with me. But you look around this building and what's going on with Kyle Field and the facilities that have been put in place in the last couple of years and the what's coming down the road shows a commitment to all of our athletic programs, and particularly football, and you add all those things together and I think it's what Eric said, it shows a tremendous amount of commitment to where the program is headed and I'm extremely appreciative of that."
By all accounts, Sumlin and his family seem happy in College Station. The community has embraced the family in their return -- Sumlin was a Texas A&M assistant in the early 2000s under R.C. Slocum -- and he has a chance to build a strong legacy and elevate the program to a high level.
Charlene Sumlin said earlier this year that she knew they'd eventually return to town. How or when was unknown, but she had a feeling.
"I always knew the Sumlins had unfinished business here," she said.
Looks like they'll be staying awhile to finish what they started.
December, 31, 2013
12/31/13
5:31
PM ET
December, 31, 2013
12/31/13
2:22
PM ET
[+] Enlarge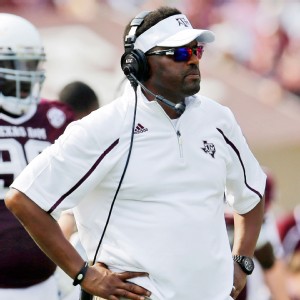 AP Photo/David J. PhillipTexas A&M coach Kevin Sumlin has guided the Aggies to a 19-6 record in the school's first two seasons since joining the SEC.
Texas A&M's Kevin Sumlin not only walked away from a chance to be USC's coach, but he is also declining all requests to interview for NFL coaching jobs as he'll honor the six-year, $30 million contract he signed with the Aggies on Nov. 30, according to several sources.
An NFL source insists Sumlin is open to coaching a select professional team or two, but a source close to Sumlin said, "That's 100 percent not true, and it has no chance of happening. Zero."
Sumlin has passed on several inquiries and job opportunities from NFL and high-profile collegiate jobs, including USC, sources said.
Sumlin is committed to coaching Texas A&M until the school finishes its $450 million renovation of Kyle Field. The renovation, which also has been labeled a redevelopment, is being done in three phases, with the grand opening set for August 2015.
Sumlin also wants to build a championship program to consistently contend in the SEC after spending the past two seasons as an instantly relevant team that nevertheless fell short in its two chances to win the SEC West. The Aggies moved from the Big 12 to the SEC in 2012, with Sumlin compiling a 19-6 record since becoming coach.
December, 31, 2013
12/31/13
12:00
PM ET
The SEC bowl season kicked off Monday with a win by Ole Miss in the Franklin American Mortgage Music City Bowl. The league will now play five bowl games over the next two days so get caught up with the latest news and notes in the last lunch links of 2013.
December, 31, 2013
12/31/13
12:00
PM ET
Spend enough time around him, and it's easy to discover that
Mike Evans
is a man of few words.
[+] Enlarge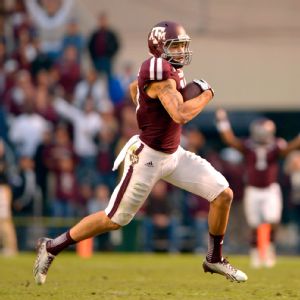 Thomas Campbell/USA TODAY SportsTexas A&M's Mike Evans has emerged as one of college football's best receivers.
Watch him hold court during an interview session with the press. The answers are direct and often short. Evans prefers to let his actions do the talking.
This season, those actions spoke loud and clear as the Texas A&M redshirt sophomore emerged as one of college football's best receivers. There were times when you could make a case for a Heisman Trophy candidate on the Texas A&M roster who was
not
named
Johnny Manziel
. Evans was
that
good for a stretch.
In two of A&M's biggest games, Evans had his biggest performances. Alabama had no answer for him and he hauled in seven passes for 279 yards -- including a 95-yard touchdown -- as a result. Auburn didn't do any better. Evans bettered his receiving totals against the eventual SEC champions, catching 11 balls for 287 yards and four touchdowns.
Even with a finish that wasn't as strong statistically as he'd probably prefer, the 6-foot-5, 225-pound force still put together a record-setting season with 65 catches, 1,322 yards and 12 touchdowns. Evans' yardage total is a Texas A&M single-season record.
During spring practice in April, Evans said he hoped he could do something special in 2013. When asked what would constitute special, he answered with one word.
"Biletnikoff."
He almost made good on that goal, earning a spot at the finalists' table with Oregon State's
Brandin Cooks
(the eventual winner) and Clemson's
Sammy Watkins
.
"He's got exceptional ability because of his size," Texas A&M head coach Kevin Sumlin told reporters on Monday. "I think, as I've said before, the thing that separates him from a lot of people is the fact that he will play as hard without the ball as he plays with the ball, as a blocker, doing things that creates an attitude on the perimeter that we need. He's going to continue to get better."
Whether he gets better this fall in College Station, Texas, or in one of 32 NFL cities will be determined in a matter of time. When the No. 21 Aggies (8-4) meet No. 24 Duke (10-3) in the Chick-Fil-A Bowl tonight, it could be Evans' final game in maroon and white. Like Manziel, Evans is draft-eligible and has until Jan. 15 to decide whether he'll declare for early entry into the 2014 NFL draft.
To this point, Evans is not indicating which way he is leaning. If he chooses to leave school and go pro, he leaves behind a spectacular two-year playing career that includes one of college football's more compelling journeys to the top.
As has been well-documented, Evans didn't come out of high school as a big-time football recruit. Back at Galveston (Texas) Ball High, he was known more for his hardwood exploits than those on the gridiron. He played only one season of varsity football, and that came as a senior. He spent the majority of his high school athletic career starting for Ball High's basketball team.
His decision to go for football as a high school senior was life-changing. A handful of colleges came calling, looking past Evans' raw skill set and focusing on what he did bring to the table: size, speed and work ethic.
"Before he even put any pads on, we were in offseason and basketball season was over with and he came over to the fieldhouse and we got him suited out and it just so happened that we were [speed] testing during that time," said David Suggs, who was Ball's head football coach at the time. "He came out and ran two 4.5 [second 40-yard dashes]."
Evans eventually chose Texas A&M, and the rest is history. He redshirted his first season, and while practicing on the scout team in 2011, he built quite the rapport with the scout-team quarterback at the time, a spry, athletic young man from the Hill Country named Manziel.
That chemistry became stronger as the two entered their redshirt freshman seasons, as both won starting jobs at their respective positions. En route to becoming college football's first freshman Heisman Trophy winner, Manziel made Evans his go-to receiver (or as offensive coordinator and quarterbacks coach Jake Spavital calls Evans, Manziel's "panic guy").
As a result, Evans enjoyed two 1,000-yard receiving seasons. He has 147 career catches for 2,427 yards and 17 touchdowns in his two-year career. And he's done it without saying much.
"He doesn't talk a whole lot," receivers coach David Beaty said. "I'll tell you this: When he gets fired up, he gets fired up. He's a tough kid, and he demands a lot from people around him. He will not stand for people [who] are not success people. If you're a mediocre guy, he's not a fan. You have to be a high-achieving guy."
Beaty called Evans "humble" and "coachable."
"I'll tell you what, you won't find a more humble guy," Beaty said. "And he allows me to coach him, and sometimes that doesn't happen. Sometimes guys push [back]. But Mike's one of those guys that will come up to me, just out of the blue, randomly and say 'Coach, I need you to stay on me. I need to get better than what I am today' and that's refreshing."
No. 2 CB Sheffield Talks Recruiting
SEC SCOREBOARD
Thursday, 8/28
Saturday, 8/30
Sunday, 8/31