January, 3, 2014
Jan 3
7:49
PM ET
Associated Press
NEWPORT BEACH, Calif. -- Texas A&M left tackle Jake Matthews won the Bobby Bowden Award on Friday, presented for high performance on the field, in the classroom and in the community.
Matthews, the son of former NFL lineman Bruce Matthews, is a two-time all-Southeastern Conference player who moved from right to left tackle for his senior season.
Matthews is considered by many experts to be a top-five pick in this year's NFL draft.
The award, named after the former Florida State coach, is sponsored by the Seminole Tribe of Florida.
Other finalists for the award were Mississippi punter Tyler Campbell, Arizona linebacker Jake Fischer, Oklahoma offensive lineman Gabe Ikard, Oklahoma State linebacker Shaun Lewis and Alabama receiver Kevin Norwood.
January, 3, 2014
Jan 3
2:43
PM ET
ESPN.com news services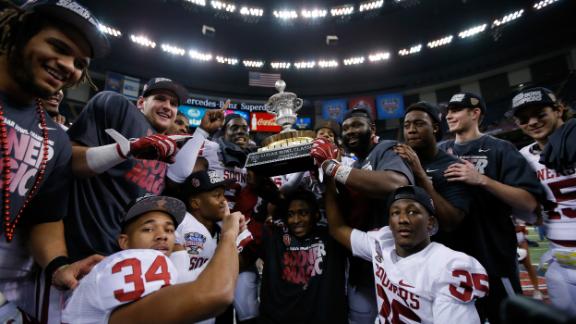 After Oklahoma toppled Alabama in the Allstate Sugar Bowl on Thursday, Sooners coach Bob Stoops said he wouldn't have to "dodge any more punches" for suggesting in the offseason that the SEC being the best league in college football was "propaganda."
Speaking on ESPN Radio's "The Herd with Colin Cowherd" on Friday, Stoops elaborated on those critical comments.
"When I made the comment, the bottom half of the SEC was like zero-and-36 against the top half of the SEC. You realize that? A year ago … nobody talks about that. My point was, don't say SEC like they're all doing that [beating everyone]. One or two or three top teams … sure, you give them the credit. Alabama … I've got the utmost respect for them. Are you kidding me? How could you not? But in the end, don't talk about the entire conference that way. It's just not true.
"Hey, I've got total respect for Alabama, but you can't deny what we did last night. Obviously, we can play with anybody, whether it's the SEC or anyone else. And to say we can't … well, Alabama's been rolling the SEC for the last three years and we didn't seem to be overwhelmed last night. I'm done with that talk."
Stoops also invoked Missouri and Texas A&M, which have enjoyed success since moving from the Big 12 to the SEC. The Aggies won 11 games last year and knocked off Alabama on the road. This year, Missouri went 11-2 and won the SEC Eastern Division.
January, 3, 2014
Jan 3
12:48
PM ET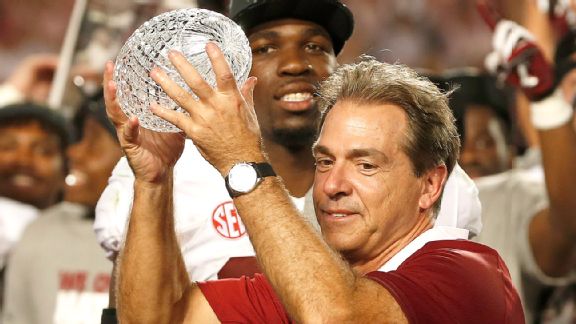 Joel Auerbach/Getty ImagesNick Saban hoisting the Coaches' Trophy back in January of last year. If Gus Malzahn does this Monday, a certain writer will be very sad.
NEWPORT BEACH, Calif. -- If Auburn wins the national title Monday night, I swear I'm going to eat my fist. I'm going to weep softly. I'm going to go to Columbus, Ohio, and termite-tent Urban Meyer's house with him zipped inside. After all, he and his Ohio State team let Auburn into this game in the first place.
I need undefeated Florida State to win Monday. I need it like I need circulating blood. If Auburn wins and gives the SEC its eighth straight national championship I'm going to dress backwards and take up the flugelhorn.
Before you start yelling, I know. This is a reason-free column. It's leaking emotion from the bilge. It's journalistically wrong. I know.
I just don't care.
I can't take another year of the bragging, the self-slobbering and the chest-thumping. And that's just from Condoleezza Rice. SEC people are the acknowledged GOATs -- Gloatingest Of All Time. If they make it eight in a row, they will be as insufferable as Russell Brand.
Oh, no? Here's what Auburn fullback Jay Prosch told me Thursday: "The competition in the SEC is way beyond any other conference in the country … SEC players are smarter, faster and stronger." Smarter? Really? Smarter than a conference that has Stanford, UCLA and Cal? Bet me a first-year Google salary on that?
January, 3, 2014
Jan 3
12:15
PM ET
The SEC took a hit with Alabama's loss to Oklahoma, but the conference still has a chance to finish strong, beginning Friday with Missouri in the Cotton Bowl. Take a look around the league with the latest news and notes.
January, 3, 2014
Jan 3
5:30
AM ET
The Early Offer is RecruitingNation's regular feature, giving you a daily dose of recruiting in the mornings. Today's Early Offering is coming to you from the Under Armour Combine in St. Petersburg, Fla. Here's a look at who stood out among the 150-plus competitors.
Campbell steals the show
George Campbell
(Tarpon Springs, Fla./East Lake) showed why he is ranked as the No. 2 player in the ESPN Junior 300. The 6-foot-4, 185-pound Campbell tested off the charts with a 4.36-second time in the 40-yard dash and a 4.06 shuttle. He then backed it up with a strong performance in the one-on-one and seven-on-seven portion of the combine. Defensive backs lined up to face him and, in most cases, he burned them with either his speed or his ability to go up get the ball at its highest point. "I felt good about what I did today," Campbell said. "I wanted to test myself against the best-of-the-best." Consider the test passed. On the recruiting front, Campbell recently backed away from his commitment to Michigan and said at Wednesday's registration he's
slowing down the process
.
To continue reading this article you must be an Insider
January, 2, 2014
Jan 2
8:10
PM ET
SAN ANTONIO -- Thursday's practice session for the U.S. Army All-American Bowl saw players in more of a rhythm on offense, but it also saw defensive players showing their skills. If Thursday is any indication, Saturday's contest could be a low-scoring affair.
Here are a few notes:
Cannon reaffirms Baylor commitment … again.
For the Baylor fans who read the late-Wednesday tweet coming from ESPN 300 receiver
K.D. Cannon
(Mount Pleasant, Texas/Mount Pleasant), don't read anything into it.
To continue reading this article you must be an Insider
January, 2, 2014
Jan 2
4:50
PM ET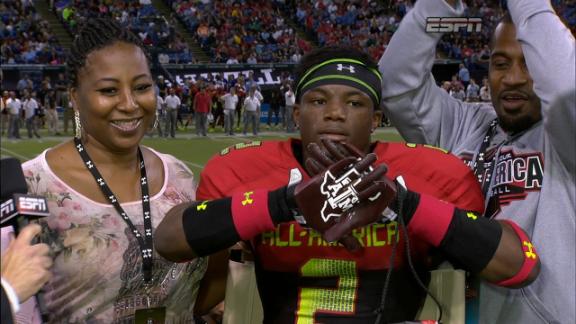 Speedy Noil
(New Orleans/Edna Karr), the No. 8 player in the ESPN 300, has committed to Texas A&M. The dynamic athlete should provide the Aggies' offense with an instant-impact player.
What will he bring to coach Kevin Sumlin's crew? Let's break it down:
To continue reading this article you must be an Insider
January, 2, 2014
Jan 2
4:37
PM ET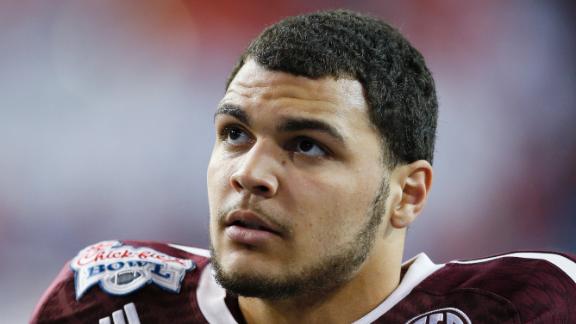 It comes as no surprise, but Texas A&M sophomore receiver
Mike Evans
made his plans officially known Thursday when the school announced that
Evans will declare for the 2014 NFL draft
and forgo his final two seasons of eligibility.
The 6-foot-5, 225-pound receiver was one of college football's best receivers this season and was a finalist for the Biletnikoff Award. Evans caught 69 passes for 1,394 yards and 12 touchdowns this season. He led the SEC in receiving yards, tied for the league lead in receiving touchdowns, and was No. 1 in the country in receptions of 30 or more yards with 17.
Evans showcased his ability several times this season, particularly when the Aggies hosted Alabama and Auburn. Against the Crimson Tide, Evans caught seven passes for 279 yards and a 95-yard touchdown. Against the Tigers, he hauled in 11 passes for 287 yards and four touchdowns.
Todd McShay of Scouts Inc. projects Evans as a first-round pick. If Texas A&M quarterback
Johnny Manziel
follows Evans (the deadline to declare is Jan. 15), it means the Aggies will have to replace their two best offensive skill position players next season.
The
journey Evans took to this point
is an interesting one. He was a basketball star at Galveston (Texas) Ball High and played only one season of varsity high school football. After signing with Texas A&M, he redshirted his first year but broke out as a redshirt freshman with 82 catches for 1,105 yards and five touchdowns.
The Aggies will head into the fall minus three of their top four pass-catchers.
Derel Walker
(51 catches, 818 yards, 5 touchdowns) and
Travis Labhart
(51 catches, 626 yards, 8 touchdowns) were both seniors. Junior receiver
Malcome Kennedy
(60 catches, 658 yards, 7 touchdowns) looks to be the returning statistical leader in the group.
That means a lot of youth will be served at the position come next season. Freshman
LaQuvionte Gonzalez
, who saw playing time in the second half of the season and the bowl game, projects to have a role, as will freshman
Ricky Seals-Jones
, who caught a touchdown in the season opener but missed most of the season with a knee injury and is seeking a medical redshirt.
And there might be an even younger receiver who could make an impact. The Aggies got good news on the recruiting front Thursday when five-star athlete
Speedy Noil
announced at the Under Armour All-America Game that
he has committed to Texas A&M
. Noil, the nation's No. 1 athlete and the SPARQ national champion at The Opening this past summer, projects as a receiver in the wide-open Aggies offense. The talent pipeline at receiver appears to be flowing nicely.
As for Evans, he leaves College Station having rewritten some A&M receiving records and making a significant impact in a short amount of time.
January, 2, 2014
Jan 2
3:47
PM ET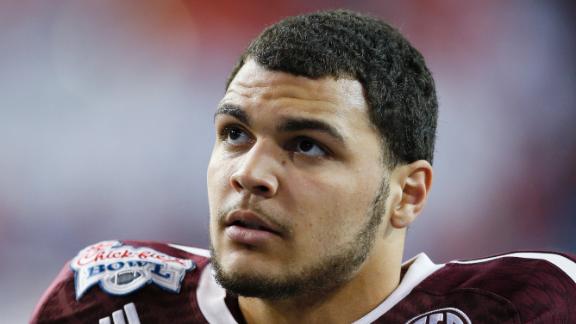 Texas A&M sophomore receiver Mike Evans will forgo his final two seasons of eligibility and enter the 2014 NFL draft, the school announced Thursday.
Evans, a finalist for the 2013 Biletnikoff Award as the nation's best receiver, just put the finishing touches on a career season in which he posted personal highs in receiving yards (1,394) and receiving touchdowns (12).
"After talking things over with Coach [Kevin] Sumlin and my family I have decided to enter the NFL draft," Evans said in a statement. "... I made this decision based on what I thought was best for myself and my family."
The 6-foot-5, 225-pound Evans was a handful for opposing defenses this season. Against Alabama and Auburn, Evans combined for 18 receptions for 566 yards and five touchdowns and was the first player in SEC history to have two games of 225 or more receiving yards.
ESPN College Football and NFL Draft Analyst Todd McShay had Evans going 20th overall in the first round of his first mock draft of the 2014 cycle. Evans is ranked as the 24th-best draft prospect in Scouts Inc.'s Top 32 for 2014 and ranked as the third-best receiver in the draft.
"It's been a pleasure watching Mike's development as a receiver and a person the past two seasons," Sumlin said in a release by the school. "Mike was one of the team's hardest workers in whatever he was doing, and it paid off for him on the field."
Evans, who played only one season of varsity high school football at Galveston Ball High, signed with Texas A&M in 2011 and redshirted his first season. In 2012, Evans burst on the scene with 82 receptions for 1,105 yards and five touchdowns.
January, 2, 2014
Jan 2
12:00
PM ET
After New Year's Day, the SEC is now 5-1 in bowl games. But four teams still have games left to play, including Auburn in Monday's VIZIO BCS National Championship Game. For the latest news and notes from around the conference, check out today's lunch links.
January, 2, 2014
Jan 2
5:00
AM ET
1. Stanford outgained Michigan State on the ground, 162-65, and won the turnover battle, 2-1. Forget the stats. The Spartans won the 100th edition of the Rose Bowl presented by VIZIO, 24-20, because they controlled the line of scrimmage when the Cardinal had the ball. Take away
Tyler Gaffney
's 47-yard rush in the first quarter, and he gained 44 yards on 23 carries. The Cardinal defense committed two penalties inside its 10-yard line and dropped two picks. Simply put, the better team won.
2. The state of Texas has a rich history of playing physical football. You line up and you hit the guy in front of you and you see who's best. That's how it went until the state's schools fell in love with the uptempo spread. Texas A&M gave up 48 points and won. Baylor surrendered 52 and lost. Rice allowed 44 to Mississippi State and lost. Texas gave up 30 to Oregon and got embarrassed. You would think with all that talent in Lone Star State, someone could play defense.
3. Nebraska beat Georgia, 24-19, in the TaxSlayer.com Gator Bowl and extended to six seasons head coach Bo Pelini's streak of finishing either 9-4 or 10-4. Given the emotional highs and lows that Pelini has endured in Lincoln -- this week he's popular -- the notion that he has become the model of consistency is a headscratcher. Here's another one -- only three head coaches in the Big Ten (Kirk Ferentz of Iowa, Pat Fitzgerald of Northwestern and Mark Dantonio of Michigan State) have longer tenures than Pelini.
January, 1, 2014
Jan 1
7:50
PM ET
FULLERTON, Calif. -- Four-star outside linebacker
Jimmie Swain IV
(Olathe, Kan./North) is listed as an uncommitted recruit, but that distinction is not exactly true.
Following the first day of practice for the 2014 Semper Fidelis All-American Bowl, Swain said he has known for a while where he will play his college football and he has let the coaches of his finalists know his decision. The public will be let in on the secret during the game on Sunday, when the 6-foot-3, 229-pound linebacker will announce his commitment.
Swain is down to four schools -- Arkansas, Michigan State, Oregon and Texas A&M -- and all but the Spartans have received official visits.
As for his leaders, Swain gave a quick look into why they stand out in the race for his signature.
"[Michigan State has] always been in my top five ever since I started watching college football," Swain said. "At Arkansas, I have a good relationship with Randy Shannon and I fit in well with the players on my visit. At Oregon, it's the whole coaching staff. My mom really enjoyed them when they came to visit. They've been at Oregon so long, and the football there speaks for itself, when a 10-2 season is considered a bad season. With Texas A&M, I had a fun visit down there. A lot of people worry about what happens to them when Johnny [Manziel] is gone, but their recruiting class is really good and I don't think they're going to skip a beat."
Swain has been avoiding interviews and any real talk of recruiting in recent weeks, as he said he's been "relaxing and enjoying time with family." But he'll make some significant noise on Sunday, particularly for the program that receives a verbal commitment from the standout linebacker, who plans on pursuing a double major in marketing and finance.
To continue reading this article you must be an Insider
TAMU Asst. Tops Recruiter Power Rankings
SEC SCOREBOARD
Thursday, 8/28
Saturday, 8/30
Sunday, 8/31