August, 17, 2014
Aug 17
9:45
PM ET
August, 16, 2014
Aug 16
6:54
PM ET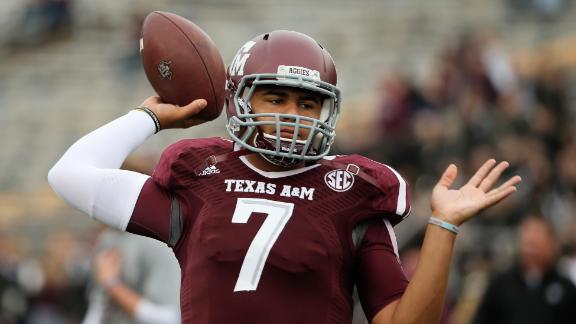 COLLEGE STATION, Texas -- The wait is over. Texas A&M's starting quarterback has been named.
Coach Kevin Sumlin announced Saturday that sophomore Kenny Hill will be the starter when the Aggies take the field at South Carolina on Aug. 28 at Williams Brice Stadium.
Hill beat out true freshman Kyle Allen in an offseason competition to become the heir apparent to Heisman Trophy winner Johnny Manziel. Hill, a product of Southlake (Texas) Carroll High, played four games in a reserve role last season, completing 16-of-22 passes for 183 yards and a touchdown. His start on Aug. 28 will be his first as an Aggie.
"I thought both guys really competed in a great way," Sumlin said. "We put a lot more emphasis on situational football in this camp and put guys in some situations to see how they'd perform and see what their learning curve is and not just playing 7-on-7. There's not really one deciding factor; I think it's a body of work and a feel that you have through practice and with your team."
A three-star recruit who was ESPN RecruitingNation's 21st-ranked dual-threat quarterback in the 2013 class, Hill had a decorated high school career. He was named Gatorade Texas Player of the Year as a senior and led Southlake Carroll to a Texas Class 5A state championship as a junior. Pursued by numerous Power 5 conference programs, Hill chose the Aggies over Baylor and Kansas State, among others.
In his final two seasons at Southlake Carroll, he threw for 5,305 yards and 45 touchdowns and ran for 2,305 yards and 46 touchdowns.
August, 15, 2014
Aug 15
5:28
PM ET
Cornerback
Roney Elam
is the latest ESPN 300 prospect to select Texas A&M. Read on to see what type of impact Elam can make on Kevin Sumlin's defense:
August, 15, 2014
Aug 15
12:00
PM ET
The
Texas A&M Aggies
were dressed out, padded up and ready to begin their second practice of the day on Thursday and their 15th of preseason training camp until Texas A&M coach Kevin Sumlin delivered a special message with a change of plans.
"We're going to see a movie ... no practice."
The way the players celebrated, you would think they were just told they won the SEC championship.
The good folks at AggieFBLife.com captured Sumlin delivering the news and the player reaction:
The Aggies got some rest before a full scrimmage scheduled for Friday evening, their third scrimmage of camp and their second of the week after a "mini-scrimmage" on Wednesday.
Let's just say the team was a fan of the decision and of Sumlin himself. Here are some of the reactions from A&M players on Twitter:
August, 14, 2014
Aug 14
9:30
AM ET
As we count down the days, hours, minutes and seconds until the official start of the 2014 college football season, we're also gearing up for our first trip through the College Football Playoff.
Yes, after
waaaaay
too many years of being stubborn and different, this beloved sport is finally getting a playoff system to determine its national champion at the end of the year.
Better late than never.
[+] Enlarge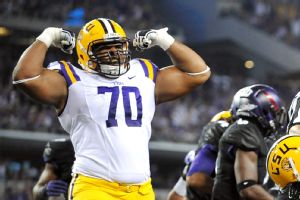 Patrick Green/Icon SMIThere's strong support among SEC players such as La'el Collins for the new College Football Playoff, but they have different ideas on how big it should get.
There's a 13-member playoff committee, revolving playoff sites and newfound excitement attached to the playoff. Fans, coaches, media members and school administrators have all weighed in on the pros and cons of the College Football Playoff, but we haven't really heard a lot from the players who will actually be partaking in the playoff and throwing their bodies around a couple of more times each season.
What do the players think of it? Are four teams enough? Should it expand? What effect will it have on players' bodies and academics? What about travel for their families and friends? Do they want the playoff at all?
Over the past month, we asked players around the conference to weigh in on the playoff and give us
their
thoughts on the playoff.
Enough teams?
You were hard-pressed to find a player who didn't agree with FBS football adopting a playoff system. So with that out of the way, we asked players whether they thought four games was enough. The majority were happy with that number.
What if the playoff were to expand to eight or 16 teams?
"That might be too much because it's a hard game already. Playing all those games, there would definitely be more injuries. Four is fine, eight could be cool too, but I don't think 16 would be smart." -- Ogbuehi

"That would probably be a little too much." -- Gurley

"As players, we don't think about it like that. We think of it as some players are going to go on and play in the NFL where there are 16 games on top of a playoff and a Super Bowl -- mind you that some of those guys play in a wild-card game. By the time they finish, it's like 20-something games." -- Florida defensive end/linebacker Dante Fowler Jr.
What about your life away from football? Wouldn't an expanded playoff eat into your family time during the holidays and conflict with finals?
"Fans don't think about that. Fans don't think about us spending time with our families or finishing out our classes with good grades. That's something that they have to take into consideration." -- Driskel
Travel
A playoff, whether it has four teams or 16, means more travel for players, fans and family members. That means more money out of people's pockets when it comes to transportation -- which is more than likely going to be by plane -- food, lodging, and miscellaneous. And that's just for one game.
Let's face it, some people are going to have to decide between going to the semifinal game or the national championship.
"Not every family can make that trip. The fact that there are more games and both are immensely huge games could make it difficult on a lot of families [to plan travel]. I could see that happening. ... It's not necessarily something that we thought about. But when we look at the schedule and we know how that's going to play out, then some people have to start thinking about that, and some more than others." -- Georgia WR Chris Conley

"It's definitely a concern. It's something that guys' families are going to have to start preparing themselves now." -- Collins

"You can watch us on TV. As long as we win, that's all that matters." -- Fowler
Even South Carolina coach Steve Spurrier thinks players and families should be helped out with travel.
"They have to do that now because most of them don't have enough money to make all those trips. That's why I think we should give the players and the parents expense money -- $200 to the player, $200 to the parents. Every time we play, here's $400 of expense money."
Injury concern?
More games mean more chances for injuries. That's just science. So are players concerned about wearing down?
"I just see it as more games, and I love playing games. You can get hurt literally at any point in the season. At the end of the season, some guys are going to be completely healthy, some guys are gonna be beat up." -- Crowder

"That's the sacrifice you make, but it all pays off in the end." -- Collins

"It's a lot of games, but it's something that you have to prep yourself up for and prepare yourself to just go. You're going to have aches and injuries, and things like that, but if you want to win it takes hard work, dedication, blood, sweat, and tears." -- Fowler
For now, players will go through the motions of the season before they sniff what life in the playoff will be like. It's worked at all other levels of sport, and now Division 1 football is getting in on the act. All these questions and concerns will be approached head-on in the months to come, and we'll see how players' opinions on the playoff change.
August, 13, 2014
Aug 13
11:00
PM ET
The
Early Offer
is RecruitingNation's regular feature, giving you a daily dose of recruiting news across the country. Today's offerings: A look at how landing
Trenton Thompson
could help Georgia land even more highly coveted players and who might be next to join the Dawgs' commitment list. Plus, Alabama has the top-ranked class by far, but there's something that could loosen the Tide's grip on No. 1, and our daily tour of the top recruiting happenings on social media.
To continue reading this article you must be an Insider
August, 13, 2014
Aug 13
4:00
PM ET
Now that we've checked out the quarterbacks I think
could reach 3,000 passing yards
and the guys who
could hit 1,000 yards rushing
, it's time to see what this season's crop of receivers is all about.
Who can reach the 1,000-yard club?
Last season, four receivers made it to the 1,000-yard club -- Vanderbilt's
Jordan Matthews
(1,477 yards), Texas A&M's
Mike Evans
(1,394 yards) and LSU's
Jarvis Landry
(1,193 yards) and
Odell Beckham Jr
. (1,152 yards). All four of those guys are gone. Actually, the SEC lost eight of its top 10 receivers from a year ago.
[+] Enlarge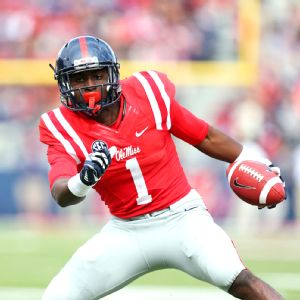 Spruce Derden/USA TODAY SportsLaquon Treadwell scored five receiving touchdowns in his freshman season at Ole Miss.
There are still some talented pass-catchers lurking in the league, so I'm going to go with three 1,000-yard receivers. Here are the guys I think have the best chance of getting to that number (in order):
1. Amari Cooper, Alabama:
One of the nation's best receivers, Cooper wasn't at his best and wasn't 100 percent healthy last season, but he still managed 736 receiving yards. He's playing at a faster level now and is tougher, which means he'll have no trouble crossing the 1,000-yard mark this fall.
2. Laquon Treadwell, Ole Miss:
He learned a ton from
Donte Moncrief
and still caught more passes than him in 2013. Treadwell is a physical specimen and is already the most athletic person when he steps out on the field. As the No. 1 guy in Oxford, he'll easily surpass the 608 yards he had last season.
3. Jameon Lewis, Mississippi State:
He was so close to 1,000 yards and probably would have made it into triple digits if he didn't have to work with multiple quarterbacks all season. Lewis is still developing his game, but he's the perfect playmaker for Mississippi State's spread offense.
4. Sammie Coates, Auburn:
Talk about coming out of nowhere. Coates was a real unknown before last season and somehow wound up with 902 yards. He's a deep threat and someone who isn't afraid to make plays over the middle. Getting pushed more by other players might cut into his numbers, though.
5. Malcolm Mitchell, Georgia:
If Mitchell is healthy, he's one of the most athletic and talented receivers that this league has to offer. A knee injury cost him just about all of his 2013 season, and he's already have complications with his knee this fall. But if he's out there and ready to go, he'll be fun to watch.
6. Marquez North, Tennessee:
In a struggling passing game, North finished the 2013 season with 496 yards. He's so much better than that, and he's playing like it this fall. He's added some needed weight and is understanding his role more and running his routes better.
7. Ricky Seals-Jones, Texas A&M:
Another player who basically saw the 2013 season from the sideline, don't sleep on Seals-Jones. He was one of the nation's best recruits a couple of years ago and when he's at full speed, Seals-Jones can really fly. He'll make tons of plays inside and out.
8. D'haquille Williams, Auburn:
The junior college transfer could be really special. He has all the talent to make a ton of plays in such a wide open offense. Williams will push Coates all season for the role as the Tigers' No. 1 target.
9. Shaq Roland, South Carolina:
Dealing with the hype that came with him out of high school hasn't been easy, but the thought out of Columbia is that this could be a big season for Roland. He can stretch the field and is great in space.
August, 13, 2014
Aug 13
12:46
PM ET
By
ESPN.com staff
| ESPN.com
How will Texas A&M replace Johnny Football? If Kevin Sumlin's past is any indcation, the Aggies will find a way. Sumlin, an All-Big Ten linebacker in college, reinvented himself as an offensive coach and has worked with standout quarterbacks every step of the way, from Drew Bledsoe to
Drew Brees
to
Johnny Manziel
.
As he preps to make the next big -- and most heavily scrutinized -- quarterback decision of his career, it's worth looking at how he got here. How much of his quarterback resume is luck and how much is skill?
Click here
for more from Sam Khan Jr. on Sumlin's rise and what it means for the Aggies moving forward.
August, 13, 2014
Aug 13
10:00
AM ET
COLLEGE STATION, Texas -- Choosing a successor for a Heisman Trophy winner and one of the most electrifying quarterbacks in college football history would be enough to keep most offensive coordinators up late, obsessing over every detail in hopes of making the right decision.
If Texas A&M offensive coordinator and quarterbacks coach Jake Spavital is stressed out about that task, which is at the top of his to-do list this month, he doesn't show it. The laid-back 29-year-old has taken everything in stride this offseason, his second at A&M and first as the Aggies' lone offensive coordinator and playcaller.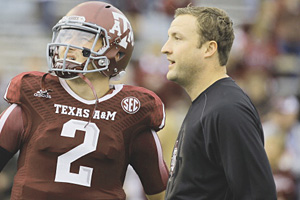 Scott Halleran/Getty ImagesAfter working with Johnny Manziel, it's now up to Texas A&M offensive coordinator Jake Spavital, right, to pick his successor.
Overseeing the quarterback battle that will yield
Johnny Manziel
's successor seems anything but overwhelming for the budding star assistant. That's important because keeping
Kyle Allen
and
Kenny Hill
on an even keel when one of them makes their first career start on Aug. 28 at South Carolina is a priority.
"When they go out there to South Carolina, they're going to be wide-eyed, and that's tough," Spavital said. "For a first start, that's a very tough atmosphere to go into."
Of course, things are a little different in Aggieland now than they were at this time a year ago. Texas A&M's Bright Football Complex became a fishbowl as national media swarmed in the middle of an NCAA investigation into Manziel. Overseeing the polarizing Manziel was quite an initiation for Spavital.
By season's end, Spavital was handed play-calling duties for the Chick-fil-A Bowl, which the Aggies won 52-48 over Duke, and a new chapter began for the Oklahoma native.
"That was a wild game," Spavital recalled. "It reminded me back of the Conference USA days when it was just shootouts all the time. It was a very memorable game."
Conference USA is where Spavital got his coaching start. He started in his hometown of Tulsa as an offensive quality control coach for then-Golden Hurricane offensive coordinator Gus Malzahn. Then he landed a graduate assistant job in Houston, where he studied under Dana Holgorsen and Kevin Sumlin. Spavital followed Holgorsen to Oklahoma State, then West Virginia before Sumlin tabbed him to succeed Kliff Kingsbury as Texas A&M's offensive coordinator in 2013.
Sumlin has shown a knack for hiring quality offensive minds. Holgorsen, the offensive coordinator/quarterbacks coach under Sumlin in 2008-09, is now the head coach at West Virginia. Kingsbury, who served that dual role from 2010-11 in Houston and in 2012 at Texas A&M, is now Texas Tech's head coach. Spavital appears ready to continue that trend.
He arrived with the experience of working with
Case Keenum
,
Brandon Weeden
and
Geno Smith
on his résumé. A close friend of Kingsbury, with whom he crossed paths at Houston, Spavital still talks to Kingsbury daily, and that proved valuable when Spavital tutored Manziel. Now, they continue to exchange offensive ideas, something they've done for years.
"I talk with Kliff every day to see if he's doing anything differently," Spavital said.
This season, Spavital enters without a Manziel-like talent but two gifted quarterbacks, nonetheless. Neither is proven, but both were decorated recruits: Allen as the nation's top-ranked pocket passer, Hill as a Texas state champion and one-time state player of the year. Before camp began, Spavital sat both down and let them know where they stood.
"I told them [before camp] they're all even right now and we're splitting reps 50-50," Spavital said. "Each day, we hope to get equal amounts to run with the ones and twos. I got it all planned out; we're going to put them all in the same situations."
Sumlin, who has a strong history with signal-callers himself, said he's "pretty hands-on" with quarterbacks. Spavital said Sumlin lets his opinion be known, but he doesn't micro-manage.
"He's great," Spavital said. "He lets me go out there and do my thing with the installations and how I'm going to rep the kids. We talk on a daily basis and he gives his opinion on what he thinks. ... We'll have many discussions by the time we announce a starter, I promise you that.
"It's good just to bounce ideas off of each other and get some advice from him, and he's pretty good at not stepping on my toes and letting us go out there and see what direction this offense is going to go."
The new NCAA rule allowing coaches to meet with players in the summer allowed Spavital to speed up his installation timetable. By time training camp started, the entire offense was installed, which wouldn't have been the case previously. Spavital was able to change his practice script accordingly, which allowed for more creativity and evolution of the offense in camp while monitoring Hill and Allen's progress.
The Aggies will announce their starting quarterback within the next week. No matter who it is, Spavital is confident.
"I think they're both capable of coming in here and doing big things," he said. "I'm pretty fortunate to have both of these kids. I think they can go and compete for a starting job anywhere across the country. I think they both have the capability to take this offense where it needs to go."
August, 13, 2014
Aug 13
8:00
AM ET
1. On Tuesday, ESPN unveiled
campaign posters for the top four contenders
in the College Football Playoff hunt. Each came with a clever tagline, such as Alabama's "Process of elimination" and Oregon's "Look good, play better." Florida State's "Dallas to Dallas" was a nod, of course, to the Seminoles opening the season in Big D against Oklahoma State and, hopefully, closing the season there in the CFB Playoff title match. But it got me thinking: What taglines would other SEC programs employ in their bid to make the Playoff? Auburn's is easy:
#AuburnFast
. Florida's could read: No Georgia Southern, no problem. LSU's might go: The young and the relentless. And South Carolina's could nod to the Head Ball Coach: Keeping the SEC spicy. There's a comments section, so go ahead and have fun with the concept.
2.
Laquon Treadwell
is not a man to be trifled with. Even in practice, he does things that make your jaw hit the floor.
Just look at this catch the other day
. His Go-Go-Gadget fingertips are just ridiculous. How he corralled that pass is mesmerizing. To me, he seems like a young Joe Horn (
without the cell-phone celebrations
). He not physically imposing or particularly fast, yet he's explosive. If he can't get by a DB, he'll simply jump around or over them. He's got that knack for getting his hands on the football. Though there are definite questions about the quarterbacks in the SEC, I'm excited to see the crop of receivers. Treadwell and
Amari Cooper
are clearly at the top of the list. But look out for young studs such as
Ricky Seals-Jones
(
Mike Evans
2.0),
Speedy Noil
(the SEC West's long-awaited answer to
Percy Harvin
) and
Malachi Dupre
(think of a young
A.J. Green
).
3. A few weeks ago, ESPNU replayed the South Carolina-Missouri game from last season. You remember it, I'm sure:
Connor Shaw
comes off the bench to lead the Gamecocks to a furious come-from-behind win in double overtime. It was a doozy. But watching it again, I paid closer attention to the offense under
Dylan Thompson
. It was a best case-worst case scenario. At times, Thompson was sharp. It wasn't his fault
Mike Davis
fumbled twice in the first half. But there were other times where Thompson left you wanting more. I had to rewind and replay his interception at least a dozen times. His footwork and fundamentals were unspeakably bad. It was what you teach a QB not to do. Turns out, he has a little gunslinger in him.
Now he's trying to tone some of that down
. That's good news if you're a Gamecocks fan. You don't need Thompson to be Brett Favre. With a stellar group of tailbacks, a strong offensive line and an underrated receiving corps, Thompson needs to simply manage the game. If he limits his mistakes and keeps his defense out of short-field situations, South Carolina has a chance to separate itself in the East.
More around the SEC
August, 12, 2014
Aug 12
5:00
PM ET
COLLEGE STATION, Texas -- If one of the two starting quarterback contenders,
Kenny Hill
or
Kyle Allen
, took a step in front of the other after the Texas A&M Aggies' first training camp scrimmage on Saturday, don't bet on Kevin Sumlin telling you.
After having a chance to review video from Saturday's scrimmage, Sumlin was asked late Monday night whether there was any separation between the two signal-callers after their first extended live action of this month.
"No," Sumlin said, "and if there was I wouldn't tell you."
Pressed again if he would at least compare and contrast the two, Sumlin stuck to his script.
"No," Sumlin said to a chorus of laughs. "It's a good question. Ask next week some time."
This week for the Aggies is a critical one. They have what Sumlin called a "mini-scrimmage" on Wednesday and another full scrimmage coming up on Friday. Sumlin said he hopes to have "95 to 98 percent" of the two-deep for the season opener at South Carolina decided once this week of practice is complete. And by this time next week, it's likely the Aggies will have announced their starting quarterback.
Until then, the waiting game continues.
LB Washington breaks collarbone
One loss the Aggies suffered in Saturday's scrimmage was sophomore linebacker
Shaan Washington
, who Sumlin said suffered a broken collarbone. He'll miss an estimated four to six weeks of action.
"Where [Shaan's injury] hurts us is he was really coming on [at linebacker] and was 230-something [pounds] and a great special teams player for us last year," Sumlin said. "So you were counting on that, too. We've got to have somebody step up in that position defensively and also fill that void on special teams until he comes back."
Sumlin said the injury is similar to the one suffered early last season by safety
Floyd Raven
, who returned late in the year. Whether the Aggies explore using a redshirt season on Washington, who has one available, is to be determined.
The Aggies have no shortage of linebackers, though they're mostly young and/or relatively inexperienced. Sumlin mentioned senior
Tommy Sanders
and true freshman
Otaro Alaka
has two players who have had solid training camps that could help pick up some of Washington's playing time. Seniors
Donnie Baggs
and
Justin Bass
can play all three linebacker positions so the Aggies have options to mix and match their linebackers with one constant --
Jordan Mastrogiovanni
remaining at middle linebacker.
DT Robinson sees action
Texas A&M senior defensive tackle
Ivan Robinson
, who missed spring football with an Achilles tendon injury, received playing time in Saturday's scrimmage and is being worked back into the lineup.
Should he be able to contribute, he'll add valuable depth to a defensive tackle unit that is mostly young and suffered the offseason loss of Isaiah Golden, a starter who was dismissed after two offseason arrests.
"Ivan played some for us [Saturday]," Sumlin said. "We're bringing him along slowly. He's going to give us some depth. We've got to continue to bring him along. If he can give us 15-20 plays a game, that's a real boost for us with what we have in there."
August, 12, 2014
Aug 12
12:49
PM ET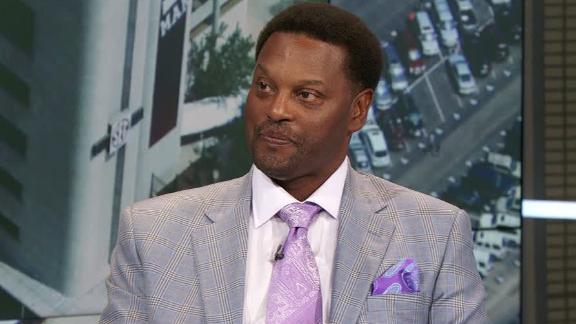 Beginning Aug. 3, we're counting down the days until the college football season starts with a look at the 25 most interesting people in the sport.
COLLEGE STATION, Texas - Johnny Manziel is in Aggieland no more. Life after Johnny Football beckons for Texas A&M.
While much of the college football world is focused on who is not in College Station, A&M fans are concerned more with who will be atop the quarterback depth chart now that one of the most dynamic players in the sport's history is gone.
Kyle Allen or Kenny Hill? Those are the options; the answer will be known within the next week. The winner earns the right to start at South Carolina on Aug. 28.
This isn't new for Texas A&M coach Kevin Sumlin. He traveled the preseason quarterback competition path twice before as a head coach, and both times, the winner became a record-setting passer who changed his school's history forever. Look deeper into Sumlin's history and it becomes evident that he has a knack for being in the presence of elite college quarterbacks, including Drew Bledsoe at Washington State, Drew Brees at Purdue, Jason White and Sam Bradford at Oklahoma, and Case Keenum at Houston.
"This guy has had the darndest luck with quarterbacks," joked retired Purdue coach Joe Tiller, who both coached Sumlin and coached with him. "He's been at the right place at the right time."
August, 12, 2014
Aug 12
10:55
AM ET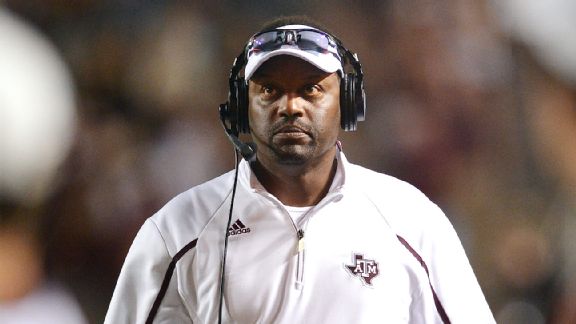 Patrick Green/Icon SMIKevin Sumlin's Texas A&M Aggies have high expectations for this season.
As we count down 50 days until the start of the 2014 college football season, ESPN Insider Travis Haney is answering at least one big question a day until South Carolina and Texas A&M's kickoff Aug. 28.
Heisman contenders, breakout freshmen, conference winners -- it all will be covered as part of Insider's Ultimate Season Preview.
Today's question: Which four teams should not be in the ESPN Power Rankings?
To continue reading this article you must be an Insider
Perception vs. Reality: TAMU and SC
SEC SCOREBOARD
Thursday, 8/28
Saturday, 8/30
Sunday, 8/31