May, 23, 2014
May 23
12:00
PM ET
May, 23, 2014
May 23
9:00
AM ET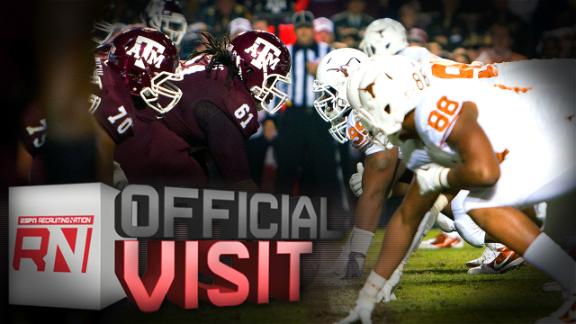 There are those who believe the rivalry between Texas and Texas A&M is dead because the two programs are no longer in the same conference.
[+] Enlarge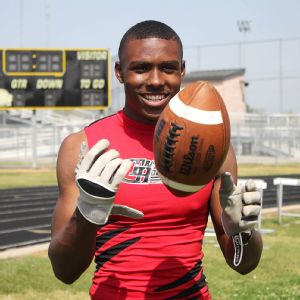 Sam Khan Jr./ESPNTexas and Texas A&M are both after Kendall Sheffield, the No. 2 CB in the nation.
Those people are misguided. And emphatically incorrect.
Two words in February by new Texas head coach Charlie Strong helped light a new spark in the rivalry between two of the most respected programs in the Lone Star State. When asked about A&M's recruiting methods -- which includes coach Kevin Sumlin making player visits in a helicopter dubbed the "Swagcopter" -- Strong said the Longhorns didn't need to be a "gadget program," as the university and its prestige still was enough to attract recruits.
The rest of the spring and the upcoming summer will be perfect opportunities to gauge where both programs stand among some of the elite athletes who are still uncommitted. Which school will dominate in recruiting the 2015 class?
May, 22, 2014
May 22
12:00
PM ET
May, 21, 2014
May 21
12:00
PM ET
The SEC baseball tournament kicked off Tuesday with a shutout, a Top-25 upset and a walk-off win in the 10th inning. What's in store for Day 2? For your latest football news, be sure to check out Wednesday's lunch links.
May, 21, 2014
May 21
11:00
AM ET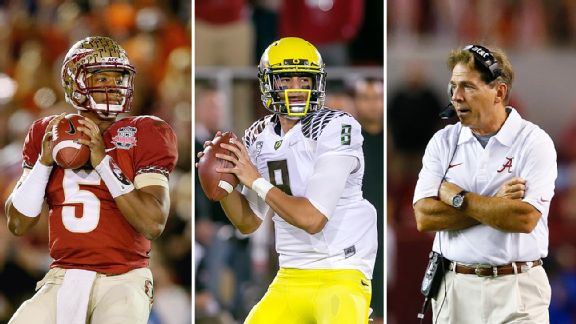 Getty Images, AP PhotoFSU, Oregon and Alabama should all be in the playoff mix. But how open are their title windows?
As a part of
ESPN.com's college football mock playoff
, I thought I would evaluate the current title windows for each of the 16 participants.
In 2014, are the teams in their prime for title contention? Are their windows closing (they'd better win now)? Or are their windows opening (hope for the next cycle)?
Disclaimer: If your team is among those with closing windows, remain calm. It doesn't mean your school's program is folding; you're a recruiting class or a quickly developing quarterback away from again wedging open that window.
Closing ...

Oregon Ducks
Bluntly, it's a big year for Mark Helfrich. The second-year coach needs to show program sustainability beyond Chip Kelly, and he needs to do so by getting Oregon -- among the preseason favorites on an annual basis -- into the first playoff.
Oregon isn't falling into the Pacific, but immediacy has been created by the surprising decisions two Ducks standouts made to return to school. Quarterback
Marcus Mariota
and cornerback
Ifo Ekpre-Olomu
were projected first-rounders, but now they'll be veteran leaders on their respective sides of the ball. (Center
Hroniss Grasu
also would have been an early-round pick and returned.)
As I wrote earlier in the year, it's time for the 2012 recruiting class to emerge. Running back
Byron Marshall
and receiver
Bralon Addison
figured to be the team's most established playmakers, but then Addison tore his ACL this spring. The defensive front is comprised of '12 signees
Arik Armstead
,
DeForest Buckner
and
Alex Balducci
.
After averaging the 18th-best class in our recruiting rankings from 2010 to '12, the Ducks dipped to 26th in 2013 and 27th in 2014.
To continue reading this article you must be an Insider
May, 20, 2014
May 20
1:00
PM ET
It's
Day 2 of ESPN.com's May Madness
, and the field of 16 contenders for the first ever College Football Playoff was cut in half. The ACC, Big Ten, Big 12 and Pac-12 each had at least one team advance, but only Alabama and Auburn remain from the SEC.
The other four teams -- Georgia, LSU, South Carolina and Texas A&M -- each had a
fatal flaw
that prevented them from moving on.


So what helped Alabama and Auburn make the cut? The quarterbacks.
Jacob Coker
has only been on Alabama's campus for only two weeks and has yet to throw to a receiver, but as he goes, so goes the Crimson Tide's offense. And he has the bloodlines and résumé to be very successful.
Meanwhile, Auburn quarterback
Nick Marshall
is a little more established, but his best is yet to come. Now that he's been through a winter and a spring practice, he's more comfortable with the offense and the expectations are even higher.
Will we see a rematch of the Iron Bowl in the first ever College Football Playoff? We'll find out Wednesday when the field gets cut to four.
May, 20, 2014
May 20
12:00
PM ET
The SEC unveiled
a 12-year rotation of nondivision opponents
through 2025, and while Alabama returns to Georgia next season, we have to wait until 2019 to see Auburn and Florida play again. For more on the schedule and other league news, check out Tuesday's lunch links.
May, 20, 2014
May 20
10:30
AM ET
It's Texas A&M's third tour through the SEC and the Aggies' first without Johnny Football:
Nonconference opponents (with 2013 records)
Sept. 6: Lamar (5-7)
Sept. 13: Rice (10-4)
Sept. 20: at SMU (5-7)
Nov. 1: Louisiana-Monroe (6-6)
SEC home games
Sept. 27: Arkansas (AT&T Stadium in Arlington, Texas)
Oct. 11: Ole Miss
Nov. 15: Missouri
Nov. 27: LSU
SEC road games
Aug. 28: at South Carolina
Oct. 4: at Mississippi State
Oct. 18: at Alabama
Nov. 8: at Auburn
Gut-check time:
Yes, there are big-boy tests at both Alabama and Auburn, but that first game of the season on the road at South Carolina on a Thursday night will be a massive undertaking for Kevin Sumlin's club. For one, it will be the first career start at quarterback for either sophomore
Kenny Hill
or true freshman
Kyle Allen
, and Williams-Brice Stadium will be rocking. The Gamecocks have been money in Thursday night games under Steve Spurrier. Plus, given the way the Aggies yielded points at an alarming rate last season, they still have to prove they can stop somebody. All in all, it's one heck of a test for a team that hasn't been lights out in openers the last two seasons.
Trap game:
Texas A&M and Arkansas resume playing in Arlington, Texas, this season after alternating between the two campus sites the last two seasons. Unless Arkansas upsets Auburn to open the season, the Hogs will enter that game mired in a 13-game SEC losing streak and would love nothing more than to end that drought against their old Southwest Conference rivals.
Snoozer:
After opening the season against South Carolina on a Thursday night on the SEC Network, Texas A&M comes back home to newly renovated Kyle Field to face FCS foe Lamar in Week 2. There will be plenty of buzz about the Aggies' new digs, but not so much about the game.
Telltale stretch:
The Aggies close the season by traveling to defending SEC champion Auburn on Nov. 8, then returning home to face defending Eastern Division champion Missouri on Nov. 15 and LSU on Thanksgiving Day. There's a bye between the Missouri and LSU games, but it's still a daunting stretch. Texas A&M lost to all three teams a year ago.
Final analysis:
On one hand, Texas A&M gets a break because the Aggies for the second-straight season don't play anybody from the ACC, Big Ten, Big 12 or Pac-12 during the nonconference part of their schedule. In other words, they better go 4-0 in nonconference games. The conference part of their schedule is brutal. Good luck in finding three tougher road games in the league -- at South Carolina to open the season, at Alabama on Oct. 18 and at Auburn on Nov. 8. Those last three games to close the season are obviously huge, but that three-game stretch in October is equally pivotal. Texas A&M plays at Mississippi State, home against Ole Miss and at Alabama in three successive weeks. The Aggies, who will be counting on a lot of new faces on offense, need to find a way to be at least 4-1 heading into October. That's when they hit the teeth of their schedule, and building up some confidence early could go a long way in their third season in the SEC.
May, 20, 2014
May 20
9:00
AM ET
One more time, and with emphasis, the 6-1-1 scheduling format the SEC has settled on going forward stinks.
If the league's not going to play nine conference games (and it should), then the only sensible way to make eight conference games work is to play six divisional foes and two rotating cross-divisional foes -- a 6-0-2 format -- and punt the old 6-1-1 format for good.

A conference really isn't a conference when you go eight years without playing a team that's supposed to be in your conference. And, yet, that's the warped reality of the SEC schedule, at least through 2025. The league office announced Monday a 12-year rotation of cross-divisional opponents for all 14 SEC schools.
Some of the highlights … or lowlights:
Alabama and South Carolina won't meet again until 2019 in Columbia, S.C. The two teams last met in 2010, also being in Columbia, when the Gamecocks upset the then No. 1-ranked Crimson Tide 35-21. Moreover, South Carolina won't play again in Tuscaloosa until 2024. The Gamecocks' last visit to Bryant-Denny Stadium came in 2009.
Alabama will play Florida in the Swamp again in 2021, a decade after they last met in Gainesville in 2011. Tim Tebow and Nick Saban might both be in the broadcast booth by then.
Auburn and Florida won't play again until 2019 when they meet in the Swamp. The Gators' next visit to Jordan-Hare Stadium will come in 2024. Auburn and Florida played every season from 1945-2002. They last met during the 2011 season. Talk about a rivalry slowing fading away.
Texas A&M, heading into its third season in the SEC, won't make its first appearance in Neyland Stadium to take on Tennessee until 2023. Heck, by then, Texas might be in the SEC, too.
Tennessee won't venture back to Tiger Stadium to face LSU until 2022. Tennessee's last visit to Death Valley came in 2010. That's 12 years in between visits. The Vols have had four head coaches in the last six years.
Remember how entertaining that Georgia-LSU game was a year ago with the Bulldogs out-gunning the Tigers for a 44-41 win? Well, they won't play again in Athens until 2025. Uga's grandson could be patrolling the Dawgs' sideline by then.
Get the picture?
Saving the annual Alabama-Tennessee and Auburn-Georgia rivalries were important, which is why the league presidents voted to keep the 6-1-1 format and permanent cross-divisional opponents. But the conference has simply become too detached when certain teams go so long without playing each other in the regular season.
Every player who stays for four years should get the opportunity to face every team in the league at least once. And as a fan, it would be nice to see every team come to your home stadium at least a couple of times before you're too old to climb up to your seats.
Maybe we'll still get to nine conference games at some point, which would solve a lot of problems.
The coaches in the league, except for Saban, don't want any part of nine games. In their mind, eight is plenty, especially if everybody is going out and also playing one nonconference game against a team from one of the other four power conferences.
It's worth mentioning that none of the coaches liked the idea of playing an SEC championship game back in the early 1990s when that subject was first broached by then-SEC commissioner Roy Kramer. More than two decades later, it's fair to say they've warmed up to the idea, particularly since it's aided more than a few teams' paths to a national championship.
Here's a look at the
cross-divisional rotation for all 14 teams
over the next 12 years.
May, 20, 2014
May 20
5:00
AM ET
1. The SEC released Monday its schedule rotation for nondivisional conference opponents, laying out in stark terms the cost of playing only eight conference games a year. For instance, Texas A&M players who enroll this fall will play UCLA twice (2016-17) and never play Georgia or Vanderbilt (the fifth-year guys will get Kentucky in 2018). Or this: Missouri plays at Kyle Field this fall, and the Tigers won't return to College Station before 2026, when this year's first-graders will enroll in college. That's conference play?
2. I can't recommend highly enough the breakdown of Big Ten balance sheets that my colleague
Matt Fortuna began Monday
in a four-part series. The numbers are staggering, yes, but the explanation of expenditures by Michigan State athletic director Mark Hollis provides depth and detail to the amount of resources afforded to scholarship student-athletes. I'm for giving them full cost of attendance, but as Fortuna highlighted, the increase in services provided by schools over the last decade is staggering.
3. At the Tulane commencement Saturday, Wynton Marsalis used words and his horn to give graduates a compelling message. But the best moment came when university president Scott Cowen singled out former Green Wave defensive back Devon Walker, paralyzed in a game two years ago. When Cowen asked spectators and Walker's fellow graduates "to show our love and our respect for this incredible young man," they responded with a 40-second standing ovation.
May, 19, 2014
May 19
8:55
PM ET
By
ESPN Stats & Information
| ESPN.com
[+] Enlarge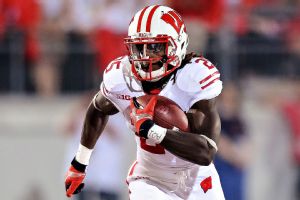 Jamie Sabau/Getty ImagesMelvin Gordon is one of the fastest returning players in college football this season.
The college football season kicks off in 100 days. Can't wait? Neither can we. Here's a look at 100 numbers to know while we count down the days till college football returns.
1. Preseason No. 1: The last preseason No. 1 team to win the AP national championship was USC in 2004.
2. Two losses and you're done: Only two teams have won the FBS national championship with two or more losses: the 1960 Minnesota Golden Gophers and 2007 LSU Tigers.
3. FSU national championships: Florida State defeated Auburn in the BCS National Championship to win its third national title in program history. Will the Seminoles repeat? They have never won back-to-back championships.
4. College Football Playoff: The selection committee will pick four teams this season for the first College Football Playoff.
5. Bama's recruiting dominance: Alabama signed five of the 15 five-star recruits in the Class of 2014, according to ESPN's rankings, most of any FBS school.
May, 19, 2014
May 19
7:43
PM ET
The SEC on Monday announced its non-division rotation for SEC schedules through the 2025 season.

The 12-year cycle, which begins this fall, ensures that every team gets a home and away game against every non-permanent opponent in its opposite division.
Here's how it breaks down:
Alabama:
2014 vs. Florida; 2015 at Georgia; 2016 vs. Kentucky; 2017 at Vanderbilt; 2018 vs. Missouri; 2019 at South Carolina; 2020 vs. Georgia; 2021 at Florida; 2022 vs. Vanderbilt; 2023 at Kentucky; 2024 vs. South Carolina; 2025 at Missouri.
Arkansas:
2014 vs. Georgia; 2015 at Tennessee; 2016 vs. Florida; 2017 at South Carolina; 2018 vs. Vanderbilt; 2019 at Kentucky; 2020 vs. Tennessee; 2021 at Georgia; 2022 vs. South Carolina; 2023 at Florida; 2024 vs. Kentucky, 2025 at Vanderbilt.
Auburn:
2014 vs. South Carolina; 2015 at Kentucky; 2016 vs. Vanderbilt; 2017 at Missouri; 2018 vs. Tennessee; 2019 at Florida; 2020 vs. Kentucky; 2021 at South Carolina; 2022 vs. Missouri; 2023 at Vanderbilt; 2024 vs. Florida; 2025 at Tennessee.
Florida:
2014 at Alabama; 2015 vs. Ole Miss; 2016 at Arkansas; 2017 vs. Texas A&M; 2018 at Mississippi State; 2019 vs. Auburn; 2020 at Ole Miss; 2021 vs. Alabama; 2022 at Texas A&M; 2023 vs. Arkansas; 2024 at Auburn; 2025 vs. Mississippi State.
Georgia:
2014 at Arkansas; 2015 vs. Alabama; 2016 at Ole Miss; 2017 vs. Mississippi State; 2018 at LSU; 2019 vs. Texas A&M; 2020 at Alabama; 2021 vs. Arkansas; 2022 at Mississippi State; 2023 vs. Ole Miss; 2024 at Texas A&M; 2025 vs. LSU.
Kentucky:
2014 at LSU; 2015 vs. Auburn; 2016 at Alabama; 2017 vs. Ole Miss; 2018 at Texas A&M; 2019 vs. Arkansas; 2020 at Auburn; 2021 vs. LSU; 2022 at Ole Miss; 2023 vs. Alabama; 2024 at Arkansas; 2025 vs. Texas A&M.
LSU:
2014 vs. Kentucky; 2015 at South Carolina; 2016 vs. Missouri; 2017 at Tennessee; 2018 vs. Georgia; 2019 at Vanderbilt; 2020 vs. South Carolina; 2021 at Kentucky; 2022 vs. Tennessee; 2023 at Missouri; 2024 vs. Vanderbilt; 2025 at Georgia.
Ole Miss:
2014 vs. Tennessee; 2015 at Florida; 2016 vs. Georgia; 2017 at Kentucky; 2018 vs. South Carolina; 2019 at Missouri; 2020 vs. Florida; 2021 at Tennessee; 2022 vs. Kentucky; 2023 at Georgia; 2024 vs. Missouri; 2025 at South Carolina.
Mississippi State:
2014 vs. Vanderbilt; 2015 at Missouri; 2016 vs. South Carolina; 2017 at Georgia; 2018 vs. Florida; 2019 at Tennessee; 2020 vs. Missouri; 2021 at Vanderbilt; 2022 vs. Georgia; 2023 at South Carolina; 2024 vs. Tennessee; 2025 at Florida.
Missouri:
2014 at Texas A&M; 2015 vs. Mississippi State; 2016 at LSU; 2017 vs. Auburn; 2018 at Alabama; 2019 vs. Ole Miss; 2020 at Mississippi State; 2021 vs. Texas A&M; 2022 at Auburn; 2023 vs. LSU; 2024 at Ole Miss; 2025 vs. Alabama.
South Carolina:
2014 at Auburn; 2015 vs. LSU; 2016 at Mississippi State; 2017 vs. Arkansas; 2018 at Ole Miss; 2019 vs. Alabama; 2020 at LSU; 2021 vs. Auburn; 2022 at Arkansas; 2023 vs. Mississippi State; 2024 at Alabama; 2025 vs. Ole Miss.
Texas A&M:
2014 vs. Missouri; 2015 at Vanderbilt; 2016 vs. Tennessee; 2017 at Florida; 2018 vs. Kentucky; 2019 at Georgia; 2020 vs. Vanderbilt; 2021 at Missouri; 2022 vs. Florida; 2023 at Tennessee; 2024 vs. Georgia; 2025 at Kentucky.
Tennessee:
2014 at Ole Miss; 2015 vs. Arkansas; 2016 at Texas A&M; 2017 vs. LSU; 2018 at Auburn; 2019 vs. Mississippi State; 2020 at Arkansas; 2021 vs. Ole Miss; 2022 at LSU; 2023 vs. Texas A&M; 2024 at Mississippi State; 2025 vs. Auburn.
Vanderbilt:
2014 at Mississippi State; 2015 vs. Texas A&M; 2016 at Auburn; 2017 vs. Alabama; 2018 at Arkansas; 2019 vs. LSU; 2020 at Texas A&M; 2021 vs. Mississippi State; 2022 at Alabama; 2023 vs. Auburn; 2024 at LSU; 2025 vs. Arkansas.
May, 19, 2014
May 19
3:30
PM ET
The NFL, NBA, NHL and MLB all have a playoff. The 68-team bracket in college basketball is as good as it gets when it comes to the postseason. Now, for the first time ever, college football will introduce a playoff system of its own.
How will it work? Who will be among the four teams chosen to play in it? The season doesn't start for another three months, I get it, but it's never too early to start looking ahead.

This week, ESPN.com will preview the upcoming season in five days. Day one begins with the 16 best teams in the nation, as selected by a committee of 13 college football experts, and by Friday, we'll find out who the favorite is to win the inaugural College Football Playoff.
It's not March Madness. It's
May Madness
.
And it shouldn't come as any surprise that six of the 16 teams selected come from the SEC. After all, seven of the past eight national champions hail from the SEC, and it would've been eight and counting if not for a late touchdown by Florida State in January's BCS title game.
The 2014 contenders include Alabama, Auburn, Georgia, LSU, South Carolina and Texas A&M. All six teams are viable options to win it all, but all six still have their fair share of question marks heading into fall camp.
Who will emerge from the pack? Will the SEC reign supreme again? We won't know until the fall, but we may get a glimpse into the future this week. Stay tuned.
Drive Through: Playoff Fallout for Gamecocks
SEC SCOREBOARD
Saturday, 8/30
Thursday, 8/28
Sunday, 8/31