April, 9, 2014
Apr 9
2:30
PM ET
COLLEGE STATION, Texas -- Like many of
Texas A&M
's defensive players,
Jordan Mastrogiovanni
was thrown onto the field sooner than most anticipated.
He got his first career start in the Aggies' most anticipated game of 2013, the Sept. 14 clash against Alabama. He appeared in all 13 games last season and made another start in the Aggies' Chick-Fil-A Bowl game win over Duke.
[+] Enlarge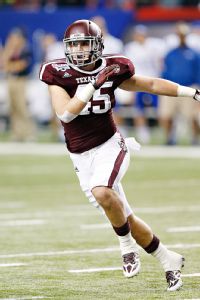 Joe Robbins/Getty ImagesThe Texas A&M coaches expect sophomore linebacker Jordan Mastrogiovanni to be a defensive leader in 2014.
Most incoming recruits relish the chance at early playing time, but for the ESPN 300 prospect out of Dallas Jesuit, the excitement was also met with a dose of reality.
"To be honest with you, it was overwhelming at times," Mastrogiovanni said. "To think that a year [before] I was playing in front of 2,000 people in a high school football game, that's just one of those things where you have to man up and take care of your responsibilities and do the best you can."
What was overwhelming about it? In a word, everything.
"Really, every aspect of the game," he said. "The players, the calls, just looking up in the stands and seeing 100,000 people, that's something not many people get to experience. As an 18-year-old kid looking up, it's something that not a lot of people get to experience."
In the bowl game against Duke, Mastrogiovanni started at middle linebacker in place of the suspended
Darian Claiborne
, who served as the starter for most of the season. Linebackers coach Mark Hagen recalls the difficult start the defense had across the board against the Blue Devils, as the Aggies surrendered 38 first-half points while a handful of glossy-eyed freshmen, Mastrogiovanni included, tried to figure things out.
"It was a disaster from the opening kickoff in the bowl game," Hagen said. "Nothing went right. I think like most of our guys they were questioning themselves in the locker room and it was just a matter of going out there and getting a stop and I think you saw the confidence start to come back a little bit. It was a playing time issue really as much as anything [for Mastrogiovanni], just not having a ton of [first-team] reps."
But as the Aggies regrouped in the locker room, Mastrogiovanni spoke up and the defense collected itself. The unit allowed only 10 points in the second half as the team completed its come-from-behind effort to steal a
52-48 win
.
"At halftime I went in and was pretty frustrated with my performance and the rest of the defense's," Mastrogiovanni said. "I tried to take over as the leader at that point and I said 'Turn the page. Don't even think about it.' That's what
Johnny [Manizel]
was saying too. I really think we went out there and bought in on what the coaches and players were preaching in the locker room. I think you can see on tape that we were a lot more physical and we trusted each other so it paid off."
The Aggies are hoping the instinct the 6-foot-3, 235-pound linebacker showed that night carries over into this season, because he figures to be Texas A&M's starting middle linebacker. Mastrogiovanni spent the spring working with the first team. The Aggies are looking for improved play -- and leadership.
"I think we lacked a lot of it last year," coach Kevin Sumlin said of the defensive leadership. "We need a guy who's going to step up and talk and make sure we know everything and that we play with some confidence. I think that whole year has given him some confidence and some credibility among his teammates. It's one thing for you to be confident, but what about the guys around you? Mastro has spoken up."
Spring football, which wrapped up for the Aggies on Saturday, was productive for Mastrogiovanni. He became much more comfortable in his role as the middle linebacker and showed the qualities the coaching staff seeks.
"I just think you see a totally different person out there," Hagen said. "Much more comfortable, he's taking charge, he's getting our guys lined up which is over half the battle on defense."
The coaches want him to continue to progress, but so far he has given them reason for optimism. The one thing Sumlin wants him to work on is, of all things, his voice, so his teammates can hear him.
"I give him a hard time because I tell him to put some bass in his voice," Sumlin said with a smile. "I keep forgetting he's a freshman. He has played a bunch of football here. 'Yell from the diaphragm, act like a middle linebacker, put some bass in your voice.'"
With Claiborne likely to move to the weakside linebacker position and the Aggies mulling over a number of options for strongside linebacker, Mastrogiovanni's play is key. Texas A&M is looking to improve a defense that was last in the SEC in most major defensive statistical categories and struggled mightily against the run. It also didn't deal with offensive wrinkles well, something that having an experienced middle linebacker with the leadership qualities coaches are looking for will help improve.
Mastrogiovanni doesn't want to see another season go by with the Aggies ranking in the bottom 30 nationally defensively, like they did in 2013.
"That's just unacceptable, especially for a program the caliber of Texas A&M," he said. "The fans deserve better and we need to push ourselves. That's not the product we want to put out on the field. We're driven, we're motivated, we just don't want to have another defensive season like that."
April, 9, 2014
Apr 9
1:14
PM ET
HOUSTON -- Both Bob Stoops and Mike Gundy know Oklahoma does not have a deep enough talent pool for both programs to win at the highest level relying primarily on homegrown recruits. So they've made it a priority to look south of the Red River to stockpile talent. The approach has worked quite well for years, as the Sooners and Cowboys have won conference titles with rosters loaded with Lone Star State prospects.
But the recruiting climate in Texas has changed dramatically over the past three years thanks to the Johnny Football-fueled rise of Texas A&M and the turnaround job Art Briles has done at Baylor. Schools that used to only have to truly recruit against the Longhorns for the state's top prospects are now locked in three- or four-team tussles. Suddenly, the ability of OU and OSU to go deep in the heart of Texas has been met with resistance. Could the days of the Cowboys and Sooners landing players like Dez Bryant, Justin Gilbert, Tommie Harris, Russell Okung, Trent Williams and Adrian Peterson be over?
April, 9, 2014
Apr 9
12:00
PM ET
April, 8, 2014
Apr 8
12:00
PM ET
April, 7, 2014
Apr 7
4:00
PM ET
The SEC has long been a line-of-scrimmage league. It's no coincidence that the team winning the title going back a decade or more has almost always been outstanding in the offensive line.

It's not absolute. The team with the best offensive line doesn't always win the title, but good luck in finding a recent SEC champion that was just average in the offensive line. Case in point: Was anybody better up front offensively last season than Auburn?
Looking ahead, we're asking you (the fans) to tell us who in the SEC will carry the banner in the offensive line this fall. So go vote in our SportsNation poll, and we'll break down the results later this week.
We've come up with five choices, including Auburn. The Tigers lost star left tackle
Greg Robinson
, who's being projected as a top-5 pick in May's NFL draft. But they're still plenty salty up front, led by All-SEC center
Reese Dismukes
.
The other four choices -- Alabama, LSU, South Carolina and Texas A&M -- also have a chance to be really good. And that's not to say that one of the other nine teams in the league could end up with the SEC's top offensive line by November. After all, how many people were touting Auburn as the best offensive line in the league this time a year ago?
Auburn, LSU, South Carolina and Texas A&M all return four starters. Alabama returns three.
Of note, the SEC returns an extremely talented crop of centers. The tackle position is equally loaded with LSU's
La'el Collins
, Florida's
Chaz Green
, Texas A&M's
Cedric Ogbuehi
, South Carolina's
Corey Robinson
and
Brandon Shell
, and Ole Miss'
Laremy Tunsil
.
April, 7, 2014
Apr 7
2:16
PM ET
[+] Enlarge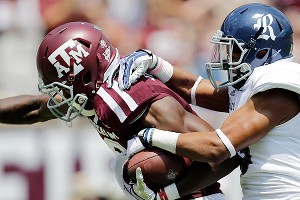 AP Photo/Eric GayTexas A&M receiver Ricky Seals-Jones was limited to parts of two games in 2013 because of a knee injury.
Texas A&M receiver Ricky Seals-Jones plans to fight the disorderly conduct (language) charge he was levied following an arrest early Sunday morning, according to his attorney.
Cameron Reynolds, an attorney based in Bryan, Texas, said the freshman receiver is "absolutely" fighting the charges and that Seals-Jones was struck by another individual while he was trying to help a friend leave the Northgate bar district in College Station.
"Ricky Seals-Jones is absolutely fighting these charges," the statement reads. "He had nothing to drink and was at home when a friend called him to come to Northgate to give him a ride home. Ricky went to Northgate to help his friend toward the car when someone struck him. When Ricky turned toward him that person cursed him and called Ricky the 'N' word. Words were exchanged and Ricky was arrested. The other individual was not arrested.
"I have personally spoken with an independent witness who confirms these facts. Ricky volunteered to take a breath test since he had not consumed alcohol but this request was never granted."
April, 7, 2014
Apr 7
1:00
PM ET
COLLEGE STATION, Texas — While Texas A&M had no formal Maroon and White game to cap spring football as construction continues at Kyle Field, the Aggies did conduct one last scrimmage on Saturday at the Coolidge grass practice fields to close things out.
The 15th and final practice of the spring for the 2014 Aggies went as smoothly as coach Kevin Sumlin could have hoped, as no major injuries were reported. It put a cap on an interesting spring for the squad.
[+] Enlarge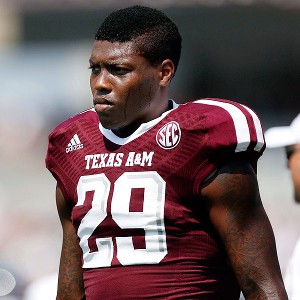 Thomas Campbell/USA TODAY SportsSenior cornerback Deshazor Everett was generally pleased with how the defense played during Texas A&M's final spring scrimmage.
"It went well," senior offensive tackle
Cedric Ogbuehi
said. "Young guys got a lot of reps. The three quarterbacks, they battled hard. Overall, it was a fun last spring [as a senior]."
Ogbuehi called the offensive performance "kind of shaky" on Saturday and noted that the Aggies' defense performed well. It appears Texas A&M is still jelling with new players at the key skill positions on offense and with a couple new faces on the offensive line. Starting left guard
Jarvis Harrison
sat out the spring, recovering from offseason shoulder surgery.
"There are still young quarterbacks and new quarterbacks, a young O-line," Ogbuehi said. "We'll get there, but it was kind of shaky today and hats off to the defense. They played fast and hard and it's good for them."
Senior cornerback
Deshazor Everett
, one of the leaders of the Aggies' defense, seemed mostly pleased with how his unit fared.
"I think [Saturday] was pretty good," Everett said. "We had a few plays that we should have made a play, but we didn't. But I can't really say there are any lowlights. We went out there and competed with the offense."
The defense is a focal point for observers this offseason as the Aggies ranked last or near last in the SEC in most major defensive statistical categories last season. Everett noted how the unit progressed from scrimmage to scrimmage as March turned to April.
"The first scrimmage, we went out there and we competed just like this," Everett said. "The second scrimmage, it [didn't go] as well, but we still came out in the second half of the scrimmage and did a good job with the offense. This scrimmage, we pretty much stopped them and competed with them. That's what we need to do so we can go into the season with this motivation, that we can compete with anybody."
The future tasks for the team are clear. The defense must improve. The veteran secondary has to become more consistent, especially at safety. The defensive line needs to improve its level of play and depth and the Aggies hope to find the right mix at linebacker, a group that's likely to include a lot of youth.
On offense, the quarterback battle among
Matt Joeckel
,
Kenny Hill
and
Kyle Allen
will carry into the summer and preseason training camp. An offensive line that returns four of five starters should help, as should a running back group that returns three lettermen, but there are battles for jobs in both areas. There also will be many new faces at receiver.
After 15 practices, the Aggies believe they have improved and will spend this summer trying to continue that progress.
"We're still far away from where we need to be," Ogbuehi said. "But we're progressing every day. It's a plus, but we're still far from where we need to be that great team."
April, 7, 2014
Apr 7
12:00
PM ET
April, 6, 2014
Apr 6
9:00
PM ET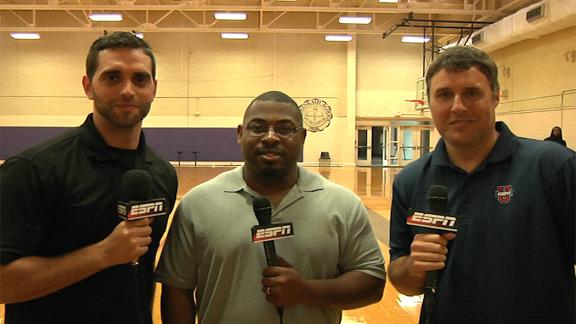 HOUSTON -- On-again, off-again rain couldn't put a damper on the Houston Nike Football Training Camp on Sunday, and three athletes -- safety
Deionte Thompson
, tight end
Jordan Davis
and offensive tackle
Jerry Tillery
-- earned golden tickets to compete at The Opening this summer in Oregon.
Seven players left The Kinkaid School practice facility with MVP honors at their respective positions: Skyler Bonneau (quarterbacks),
Remus Bulmer
(running backs),
Gary Haynes
(wide receivers),
Erik McCoy
(offensive linemen),
Nikolas Daniels
(defensive linemen),
Spencer Choka
(linebackers) and
Deontay Anderson
(defensive backs).
To continue reading this article you must be an Insider
April, 6, 2014
Apr 6
3:59
PM ET
Texas A&M freshman receiver Ricky Seals-Jones was arrested early Sunday morning on a charge of disorderly conduct (language) in the Northgate bar district, according to College Station Police Department records.
Texas A&M athletic department spokesman Alan Cannon said that Texas A&M athletics personnel have been made aware of the arrest and are looking into the incident.
KBTX-TV in Bryan, Texas, had earlier reported the news of Seals-Jones' arrest.
According to the probable cause statement, a copy of which was obtained by ESPN.com, the arresting officer witnessed another male bump into Seals-Jones, which led to the two individuals exchanging words on the 100 block of College Main after area bars had closed.
The officer said he could not hear what was being said at the time but that it appeared the other male said something as he turned around to Seals-Jones. The officer said Seals-Jones then "broke away from his friends [and] yelled 'F--- you! You want some?' then "threw his hands downward to his sides with his palms facing the other person in a common gesture when one is trying to initiate a fight."
Seals-Jones, 19, was taken into custody on the misdemeanor charge at approximately 2:25 a.m. and later released after posting $445 bond. Texas A&M athletic department policy usually results in an indefinite suspension from all athletics activities following an arrest but a suspension has not been levied on Seals-Jones at this time as the department investigates the incident.
April, 6, 2014
Apr 6
1:04
AM ET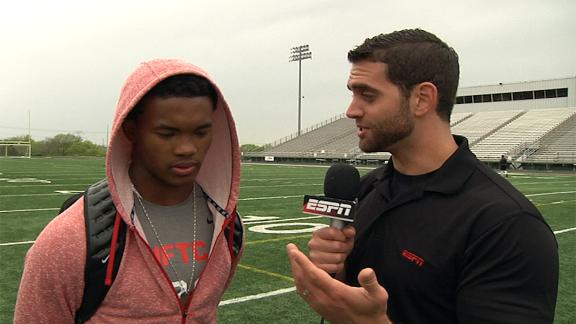 DESOTO, Texas -- The Dallas area was the seventh stop in the 2014 Nike Football Training Camp tour. As is annually the case, this stop brings out a bevy of talented prospects from the states of Texas, Oklahoma, Louisiana and Arkansas.
Despite a chilly day and track meets that kept some talented prospects from attending, the group of talent on hand eclipsed a number of other stops due to sheer numbers of prospects with FBS and BCS offers on hand. Here are some of the event's most notable performers in the RecruitingNation NFTC awards.
To continue reading this article you must be an Insider
April, 5, 2014
Apr 5
7:02
PM ET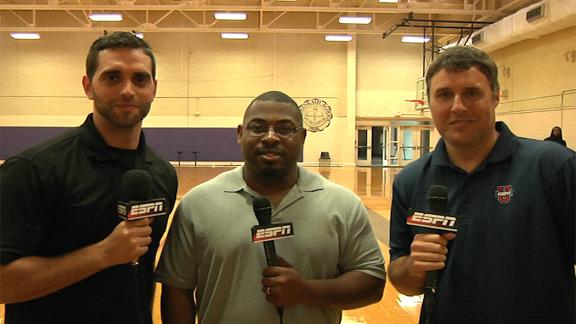 DeSOTO, Texas -- Rain flirted with the Dallas Nike Football Training Camp on Saturday, but held off long enough for seven athletes to earn invitations to The Opening this summer.
Quarterback
Kyler Murray
, linebacker
Malik Jefferson
, wide receiver
DaMarkus Lodge
, offensive lineman
Patrick Vahe
(Texas commit) and defensive backs
Justin Dunning
(Texas A&M commit),
Will Sunderland Jr
and
P.J. Mbanasor
. all earned golden tickets after stellar performances at DeSoto High School. Murray, Jefferson, Lodge, Vahe and Sunderland were named camp MVPs of their respective positions.
To continue reading this article you must be an Insider
April, 4, 2014
Apr 4
4:00
PM ET
COLLEGE STATION, Texas -- Although spring football games are rarely meaningful in the grand scheme of a college football season, Texas A&M's Maroon-and-White game in 2013 was about as memorable as it gets for Aggies.
They hosted a record crowd (45,212) at Kyle Field. The game was televised live on ESPN. Even the Coaches Trophy, which was awarded to the BCS national champion each year, made an appearance. And of course, there was Johnny Football, who was the center of attention.
[+] Enlarge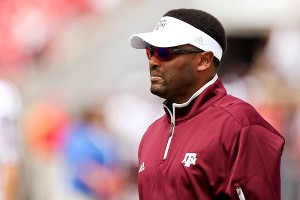 Thomas Campbell/USA TODAY SportsKevin Sumlin and the Aggies will get one final scrimmage this spring, but without all the fanfare of a spring game.
On Saturday, Texas A&M will host its final spring practice of its 2014 spring football season and none of those bells and whistles will be present. There will be no large crowds, no television coverage, no Manziel. It won't even be at Kyle Field, which is surrounded by cranes and construction workers as it undergoes a $450 million renovation.
There is no Maroon-and-White game this year (or next) as the school officially announced in February, because of the ongoing construction at Kyle. Instead, the Aggies' 15th and final practice of spring will be a scrimmage at the Coolidge grass practice fields, just the way coach Kevin Sumlin likes it.
"It's not for me, it's more for the fans," Sumlin said of a spring game. "I miss it for the fans. Shoot, last year we had 50,000 people here and we had ESPN here. It was a great recruiting opportunity. Great national exposure for the program, and it's a great day for fans. It was a beautiful day to get out and see the team, but from a football standpoint, I'll be honest with you: you guys know me, that second half goes real quick [laughs]. I'm ready to get out of there."
Sumlin used a running clock in the second half of last year's spring game (and has traditionally done so in his tenure as a head coach) in order to minimize the risk of injury.
"The goal that day is to look halfway decent and get out of that thing without getting anybody hurt or some guy getting all juiced up because he's playing in front of a crowd for the first time," he said. "So that's really the goal of that."
What Saturday afternoon will serve as is a significant evaluation opportunity, the last one until preseason training camp begins in August. The Aggies have had a couple already this spring -- their annual "Friday Night Lights" scrimmage last week and a scrimmage the week before spring break last month. For some players who are fighting for jobs or just trying to get on the field, Saturday will be the last chance to leave a good impression on Sumlin and the coaching staff heading into the summer.
"We've got one more [scrimmage] to really define who you are coming out of spring football," Sumlin said. "When the coaches aren't on the field for some of these young guys and it's a game-like situation, that's where my evaluations are coming from. It's like quizzes and tests. The practice sessions are quizzes. They count so much. But the exams are weighted a little bit more than the quizzes and that's what the scrimmages are. We need guys to come out of this last scrimmage situation and let me know and let their teammates know that they're ready to play football in the SEC."
April, 4, 2014
Apr 4
12:00
PM ET
LSU and Ole Miss will hold their spring games on Saturday, with six more teams set to play their games next Saturday. As spring practice winds to a close at many of the schools around the conference, let's take a look at some of today's headlines.
Blue Chip Battles: ESPN 300 Update
SEC SCOREBOARD
Thursday, 8/28
Saturday, 8/30
Sunday, 8/31