October, 27, 2014
Oct 27
3:00
PM ET
More than a week has passed since Texas A&M's beatdown at 'Bama.
[+] Enlarge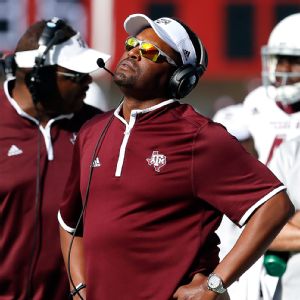 AP Photo/Butch DillKevin Sumlin and the Aggies have four games left in 2014 to turn around a three-game losing streak.
After spending a much-overdue off week meeting, practicing, resting and regrouping, the Aggies are focusing on the future, even if everyone else is zeroed in on their recent past. Life after
59-0
won't officially start until Texas A&M hosts Louisiana-Monroe at noon ET/11 a.m. CT Saturday at Kyle Field, and it may be impossible to completely scrub that embarrassment from the Aggies' collective memories.
Saturday is the start of a crucial season-ending, four-game regular-season stretch for the Aggies, head coach Kevin Sumlin and the current group of players. How they respond to the jaw-dropping loss to Alabama on Oct. 18 will define the 2014 Aggies and perhaps the teams to come in the next year or two.
SEC contenders or pretenders? That's what's at stake moving forward.
The Aggies had more success in their first two seasons as SEC members than most expected. Coming into the league off a disappointing 7-6 campaign in 2011, many wondered if Texas A&M could hold its own in college football's premier league. An 11-2 debut season in 2012 that included an upset of No. 1 Alabama, Johnny Manziel becoming the first freshman to win the Heisman Trophy and recruiting success charging toward new heights re-calibrated long-term expectations for the program, both internally and externally.
The 20-6 mark in the Aggies' first two years in the SEC provided a foundation to build from and the Aggies showed no signs of slowing down early this season when new starting quarterback
Kenny Hill
& Co. bushwhacked South Carolina to start the season. The win looked a lot better then than it does now, with the Gamecocks not living up to high preseason expectations. Three consecutive Texas A&M losses to Mississippi State, Ole Miss and Alabama -- all of which have been in convincing fashion -- have brought the Aggies back down to earth and left them searching for the spark that got them to 5-0.
"This program was founded on three things: play hard, play smart, be physical," Sumlin said. "The last couple weeks, that has not been the case and has directly contributed to us losing. Our challenge is to get back to those three things and be the program that we were when we started the season and have been since we've been here."
Losses like the one the Aggies suffered in Tuscaloosa, Alabama, are rare for championship programs. Since the Associated Press poll began in 1936, only six other ranked teams have suffered a shutout loss as bad or worse than the Aggies' 59-0 debacle. Four of the teams on the winning end of those blowouts went on to a national title that season. Championship teams deliver those blows, they don't absorb them.
Since 2000, only one head coach who eventually went on to win a national championship or SEC championship suffered a loss with a margin of defeat in a similar vicinity to the Aggies' 59-point loss:
Mack Brown
.
While at Texas, Brown's Longhorns lost by 49 points (63-14) to Oklahoma in 2000 and by 52 points (
65-13
) to the Sooners in 2003. Each time, both teams were ranked in the top 11; but both times the Longhorns responded by winning six consecutive games. The program was able to bounce back and continue moving forward, building toward its eventual 13-0 campaign in 2005 when the Longhorns won the BCS championship.
Nick Saban, Bob Stoops, Les Miles, Jimbo Fisher and Urban Meyer don't have regular-season losses nearly as ugly as 59-0 on their record prior to winning a championship. Yes, there are some convincing losses and blowouts but none of that magnitude for that tier of coaches. Why is that relevant? Because where they've been is where the Aggies want to be and that's why the powers that be at
Texas A&M committed to Sumlin
to the tune of six years and $30 million, an annually salary of $5 million, last December.
The Aggies can't change the past, they can only salvage the future. Whether the historic loss and the recent three-game losing streak is a mere blip on the radar of otherwise positive progress or the start of a troubling new direction will be largely determined in the next month and next season. It certainly was cause for some soul-searching.
"I don't think there is anything that's off the table [in terms of changes] from a position standpoint in evaluating where we are right now," Sumlin said. "Something like what happened [at Alabama] is an eye-opener and should be an eye-opener to coaches and fans and to players, too."
Section Of Kyle Field Imploded For Renovations
SEC SCOREBOARD
Monday, 12/22
Saturday, 12/20
Tuesday, 12/23
Wednesday, 12/24
Friday, 12/26
Saturday, 12/27
Monday, 12/29
Tuesday, 12/30
Wednesday, 12/31
Thursday, 1/1
Friday, 1/2
Saturday, 1/3
Sunday, 1/4
Monday, 1/12