October, 20, 2014
Oct 20
9:00
AM ET
It wasn't that long ago that Texas A&M departed Tuscaloosa, Alabama, feeling on top of the college football world.
The Aggies had an eventual Heisman Trophy winner, an up-and-coming coach and made a loud statement after upsetting the then-No. 1 Crimson Tide, 29-24, on Nov. 10, 2012.
[+] Enlarge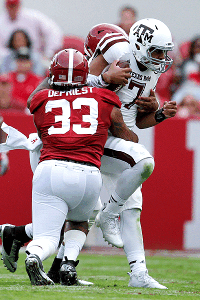 Marvin Gentry/USA TODAY SportsThe woes of quarterback Kenny Hill and Texas A&M are only growing after a blowout loss at Alabama.
That seminal moment in Texas A&M history was less than two years ago, but it might as well be 1939, because that's about how long ago it feels after the Aggies returned home from the site of their past triumph, bruised and battered after taking a 59-0 whipping from Alabama this past Saturday.
Suddenly, after their worst defeat since a 77-0 loss to Oklahoma in 2003, the Aggies are at a crossroads in their third SEC season.
Serious questions must be asked. It's one thing to lose to a top-10 team like Alabama. It's quite another to be utterly destroyed.
"However you cut it, that performance was unacceptable and embarrassing," Texas A&M coach Kevin Sumlin said.
Never in his seven-year head coaching career had Sumlin led a team that got shut out, and how it's addressed will say a lot about the coach. Last Saturday's loss was Texas A&M's third straight and they've come by an average margin of 30.3 points. This is uncharted territory for him. Never have Sumlin's teams been dominated like how the Aggies have recently.
"I think we need to evaluate where we are and whenever something like this happens, you can't stick your hand in the sand and say, 'Hey, we're going to keep doing the same stuff,'" Sumlin said. "We've got to make some changes. What those are, I couldn't tell you right now. But the bye week comes at a good time for us."
Offensively, the Aggies are the worst they've been since they entered the SEC. After ranking in the top five nationally each of the past two seasons in scoring offense, yards per game, yards per play and QBR, the Aggies have fallen out of the top 10 in each of those categories. In third-down conversions, an area they were No. 1 in 2012, they're now 48th. They're struggling to run the football, ranking 80th in rushing yards per game after ranking 11th nationally in 2012 and 45th last season. Offensive coordinator Jake Spavital's unit doesn't share any resemblance to the group that dominated South Carolina on Aug. 28.
Defensively, the Aggies couldn't be worse than they were a year ago, when they were last in the SEC in most major statistical categories, including scoring, yards per game, yards per play, rushing yards per game and red zone efficiency.
After a better start to this season, Texas A&M is beginning to trend in the 2013 direction again. The Aggies are last in the SEC in rushing yards allowed per game, 13th in yards allowed per game, 12th in scoring and 12th in yards per play. Defensive coordinator Mark Snyder is staring down a second consecutive season of poor defensive results.
On the field, quarterback
Kenny Hill
has struggled. So has the Texas A&M offensive line, once considered the strength of this program. The receivers, who looked spry and fierce early in the season, have wilted lately. The running game appears nonexistent.
Defensively, the Aggies have yielded an average of 255.7 rushing yards per game in their past four games. If extrapolated over the whole season, that would rank Texas A&M 121st nationally in the category. That means the job isn't getting done in the front seven. The Aggies have had their inconsistencies in the secondary as well. Just check out what Alabama's
Amari Cooper
did: eight catches, 140 yards, two touchdowns.
It wasn't even two full months ago when a confident Sumlin sat before reporters in the moments after Texas A&M's 52-28 domination of then-No. 9 South Carolina, presumably sending a message about the future, post-Johnny Manziel.
"I think what we did tonight kind of showed that we're not a one-trick pony," Sumlin said that night. "We're not going anywhere anytime soon."
The jury may still be out on that one. Those words resonated that night and -- given the perception of what South Carolina, a program coming off three consecutive 11-win seasons, was supposed to be -- it gave initial validation to the words. The Gamecocks turned out to be fool's gold and the Aggies, once ranked as high as No. 6 in the country but now out of the top 25, look that way, too.
The Aggies, who went 20-6 in their first two SEC seasons, reaped plenty of benefits from their early SEC success. It accelerated the fundraising for a $450 million redevelopment of Kyle Field. Millions were spent to renovate the football complex.
Sumlin received two raises and is getting paid $5 million per season, which is in the tax bracket of head coaches who have rings. The assistant coaches got raises, too. On social media the Aggies say they run this state (#WRTS). It's hard to justify that claim when they have yet to beat a top-25 team in their home stadium since joining the SEC.
All those resources were spent with building a championship-caliber program in mind. Nobody said it was going to be easy, but this past Saturday's events and what has transpired the past three weeks is cause for some soul searching.
October, 19, 2014
Oct 19
8:00
PM ET
The SEC's ability to get two teams into the College Football Playoff field is what should and will generate the most headlines as we push toward the final month of the season.
Each highly ranked team that loses -- hello, Baylor, Notre Dame and Oklahoma -- makes it seem like more of a possibility, but we're not yet ready to project that half of the playoff teams will come from the SEC.
We'll stick with top-ranked Mississippi State as the SEC's playoff pick for now, but Ole Miss, Alabama, Auburn and Georgia remain in the middle of the discussion as well. Those teams still have several key games ahead that will determine the top half of the SEC's postseason pecking order.
Meanwhile, the bottom half of the pecking order should also become a source of late-season drama. After their losses on Saturday, we're dropping Arkansas (3-4) and Florida (3-3) from this week's bowl projections and adding Tennessee (3-4), although none of those teams is a sure bet at this point. Kentucky (5-2) gets to stay in, but the Wildcats are coming off a 41-3 loss at LSU and will face a challenging second half of the schedule where earning another victory (and achieving bowl eligibility) might be tough.
At any rate, there is assuredly plenty of movement ahead in these projections, but here is where we are entering the ninth week of the regular season:
College Football Playoff semifinal (Rose Bowl):
Mississippi State
Capital One Orange Bowl:
Ole Miss
Cotton Bowl:
Alabama
Chick-fil-A Peach Bowl:
Georgia
Citrus Bowl:
Auburn
TaxSlayer Bowl:
LSU
Outback Bowl:
Missouri
Franklin American Mortgage Music City Bowl:
Texas A&M
Belk Bowl:
South Carolina
AdvoCare V100 Texas Bowl:
Tennessee
AutoZone Liberty Bowl:
Kentucky
October, 19, 2014
Oct 19
2:13
PM ET
ESPN.com news services
The Southeastern Conference has reached a new milestone in The Associated Press college football poll, becoming the first league to place four teams in the top five -- all from the western division.
Mississippi State stayed No. 1 after a weekend off. The Atlantic Coast Conference's Florida State held its ground at No. 2 after beating then-No. 5 Notre Dame 31-27.
Ole Miss remains No. 3. Alabama jumped three spots to No. 4 after a 59-0 victory against Texas A&M. Auburn moved up a spot to No. 5 during a bye week, taking advantage of losses by previously unbeaten Notre Dame and Baylor.
The Irish dropped two spots to seventh. Baylor fell to No. 12 after losing 41-27 at West Virginia.
Thirty times since 2001 a conference has placed three teams in the top five of the AP Top 25. The SEC had done it 16 times since 2009.
The Seminoles (7-0, 4-0 ACC) control their own destiny, however, as no currently ranked teams remain on the schedule.
They are one of only three top-five teams that are still undefeated, and both No. 1 Mississippi State and No. 3 Ole Miss have at least two more games against ranked teams.
October, 19, 2014
Oct 19
2:00
PM ET
By
ESPN.com staff
| ESPN.com
Well, that wasn't a very competitive weekend, was it? Not a single close game, highlighted by the weekend's marquee Alabama-Texas A&M matchup turning into a 59-0 rout for the Crimson Tide. Ole Miss shook off a slow start to run past Tennessee, Georgia kept rolling without
Todd Gurley
and Missouri put Will Muschamp on the hottest of hot seats. How did it all affect this week's Power Rankings? Let's find out.
Edward Aschoff, Jeff Barlis, David Ching, Sam Khan Jr., Chris Low, Greg Ostendorf and Alex Scarborough contributed to these rankings.
October, 19, 2014
Oct 19
9:00
AM ET
The day after his Texas A&M team blistered South Carolina in Week 1, Kevin Sumlin was downright giddy. Each time he remembered an anecdote about the win and its aftermath, he grew more excited.
[+] Enlarge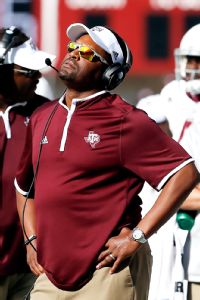 AP Photo/Butch DillKevin Sumlin's season has been in a freefall since the win at South Carolina.
The victory left Sumlin hopeful about the near future -- and the extended forecast in College Station. There was a certainty in place. Sumlin told me he felt as if he had a program that was still climbing the SEC ladder, with or without
Johnny Manziel
.
Things have changed, and quickly.
Saturday evening, a dejected, subdued Sumlin fielded questions after a 59-0 loss at Alabama.
One line stuck out to me as if it were said in bold print:
"It's hard to say where we are right now," Sumlin told reporters after the game.
Here's where: The Aggies are 5-3 after a 5-0 start. They have a week off and then host Louisiana-Monroe. But after that, the slate ahead is no picnic: at Auburn, and then home games against Missouri and LSU. A 6-6 finish isn't out of the realm of possibility.
The Aggies trailed Alabama 45-0 at halftime, outgained by 400 yards. A Sumlin-coached team had never been held to single digits, let alone shut out.
"There's no excuse for that regardless of how young they are," a coach texted me Saturday night.
The honeymoon is over, clearly.
Since beating Bama in Tuscaloosa in 2012 -- in what some thought might be a changing of the guard -- Texas A&M is 0-6 against ranked SEC West opponents. That's where the Aggies are. But is it where they'll stay?
October, 18, 2014
Oct 18
11:58
PM ET
It wasn't as exciting a Saturday as we hoped for, in terms of competitiveness. Every SEC game was decided by double digits. Still, there is plenty to glean from Week 8. Here are the things we learned from the weekend's action:
[+] Enlarge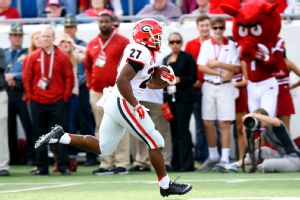 Nelson Chenault/USA TODAY SportsNick Chubb helped keep Georgia rolling with 202 rushing yards on Saturday.
Georgia is a great team, with or without its biggest star:
Even without running back
Todd Gurley
, this is your SEC East Division favorite. Some, including me, thought the Bulldogs could be stepping into a minefield in going on the road to face an Arkansas team that seemed to be knocking on the door of an SEC win. Well, No. 10 Georgia (6-1) is carrying the flag proudly for the SEC East after they cruised to a
45-32
win, a victory that included 38 first-half points. Running back
Nick Chubb
(30 carries, 202 yards, two touchdowns) was fantastic, quarterback
Hutson Mason
was sharp, and the defense came up with four turnovers. There's no doubt this is one of the best one-loss teams in the country.
Alabama silenced its critics, for now:
Nick Saban was a little irritated earlier this week by his fan base's outsized expectations, which had many disappointed the Crimson Tide "only" beat Arkansas 14-13 (a week after Alabama lost to Ole Miss). Well, there's nothing to criticize this week. Alabama played about as close to a perfect game as a team can. The Crimson Tide (6-1) had 602 offensive yards, converted 60 percent of their third downs, held Texas A&M to a meager 172 yards, had
zero
penalties and won the time of possession battle (36:31 to 23:29). Hard to be upset with
59-0
. Although two undefeated teams are ahead of Bama in the standings, you never know what might happen. The No. 7 Crimson Tide's playoff hopes are alive and well at the moment.
Texas A&M has serious soul-searching to do:
It's one thing to lose and quite another to be destroyed the way the Aggies were Saturday by the Crimson Tide. Kevin Sumlin used the words "embarrassing" and "unacceptable" in his postgame news conference, and those are pretty accurate. Alabama controlled the game in every phase while shutting out a Sumlin team for the first time in his seven-year coaching career. The Aggies (5-3) don't have a game next week, and it's a good time for them to reevaluate everything about their team, from top to bottom, to figure out why they've been dominated by three SEC West foes in the past three weeks.
Kentucky might be on the rise, but there's still a long way to go:
The Wildcats have been one of the surprise teams in the SEC this year, with their 5-1 start and talk of making a bowl game. The progress the program continues to make is admirable, and coach Mark Stoops should be commended for the job done so far, but after a
41-3
loss to LSU, it's clear there still is a lot of progress to be made. LSU handled its business and showed it's in a different class than the Wildcats (5-2), at least this weekend. This should serve as a good learning experience for a young Kentucky team that still has a bright long-term future.
It's not getting better in Gainesville anytime soon:
There has been a lot of discussion about Will Muschamp's job, and that isn't going to die down after Florida's performance against Missouri. The Gators were hammered
42-13
in their own backyard. What makes it even worse is the Tigers didn't do it with offense -- Missouri quarterback
Maty Mauk
threw for only 20 yards and no touchdowns, and Missouri finished with a minuscule 119 offensive yards. The Tigers did their damage with a kickoff return and punt return for touchdowns (both courtesy of
Marcus Murphy
), as well as an interception return (
Darvin Ruise
) and fumble return (
Markus Golden
) for touchdowns. That's ugly for Florida, who is 3-3 (2-3 in the SEC) with Georgia coming up in two weeks. It looks like it will only get worse before it gets better for the Gators.
Ole Miss' offense doesn't have to be great -- just good enough:
The No. 3 Rebels (7-0) took some time to get started offensively, as they went scoreless in the first quarter against Tennessee and were down 3-0 in the second quarter. No worries when you "Landshark D." The 27-yard
Aaron Medley
field goal was the only points the Vols would get, quarterback
Bo Wallace
started making some plays, and Ole Miss cruised to a
34-3
victory. The offensive numbers weren't great (383 total yards for the Rebels), but more importantly, they committed zero turnovers and won time of possession. With the type of defense Ole Miss has (it held Tennessee to zero yards rushing and 3-of-16 on third-down conversion attempts), that's a recipe for success.
October, 18, 2014
Oct 18
7:07
PM ET
The first two times Alabama and Texas A&M met as SEC members, they provided us with some entertaining games. Sadly, the same can't be said for today as Alabama routed the Aggies
59-0
at Bryant-Denny Stadium in Tuscaloosa. The game was over early on, but here is the gist of it all:
How the game was won:
Alabama showed up, Texas A&M didn't. That's the bottom line. The Crimson Tide dominated in all three phases of the game, and it was over before halftime. They embarrassed the Aggies to the tune of 45-0 in the first two quarters. Alabama had 449 yards at halftime, Texas A&M had 51. The Crimson Tide were 7-of-9 on third downs in the first half, the Aggies were 0-for-6. I could go on, but you get the picture. The second half was academic.
Game ball goes to:
Nick Saban. After a loss two weeks ago to Ole Miss and a not-so-pretty win over Arkansas that caused some heartache among the Crimson Tide faithful (and caused Saban to go postal to fans' reactions to a one-point win), he had his team ready to go from the jump. Alabama pummeled the Aggies in every way possible and will likely silence the critics for the time being. Saban also became the first coach to shut out a Kevin Sumlin-coached team in his seven-year head-coaching career.
What it means:
Alabama fans can calm down. The Crimson Tide only have one loss, and there are still many games left before season's end. They still have everything left to play for. For the Aggies, this is the wake-up call of all wake-up calls. After three straight losses, and this one in embarrassing fashion, Texas A&M must re-evaluate everything heading into its off week. A season that once looked promising is now looking disastrous.
Playoff implication:
The Crimson Tide's playoff hopes are still alive. They only have one loss, and who knows what will happen with the two Mississippi teams with more than a month left in the season? A&M, on the other hand, was already out of it before Saturday.
What's next:
Alabama gets a rivalry game as it travels to Knoxville to take on Tennessee next week. Texas A&M is off, and it's clear the Aggies need all the time they can get to regroup.
October, 18, 2014
Oct 18
7:04
PM ET
Associated Press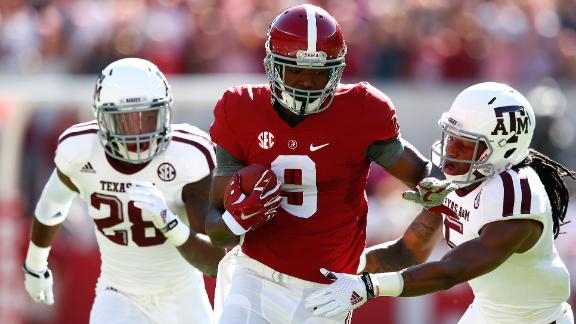 TUSCALOOSA, Ala. -- Blake Sims passed for 268 yards and three touchdowns, and he also scored on a 43-yard run while leading No. 7 Alabama to 35 second-quarter points and a 59-0 pummeling of No. 21 Texas A&M on Saturday.
The Crimson Tide (6-1, 3-1 SEC) shut down the nation's No. 4 offense and dominated a game that had produced two straight thrillers.
Led by Sims, T.J. Yeldon and Amari Cooper, Alabama outgained the Aggies 602-172. Texas A&M (5-3, 2-3) has lost its past three games, all to teams now ranked in the top 10.
Alabama set a school record for points in a quarter and matched the second-most scored in a half while racing to a 45-0 lead.
Yeldon had 114 yards and two touchdowns on 13 carries, all in the first half. Cooper gained 140 yards on eight catches with two touchdowns.
October, 17, 2014
Oct 17
1:00
PM ET
Since Texas A&M joined the SEC, the Aggies and Alabama have had memorable battles. There was Johnny Manziel's coming-out party in 2012 when the Aggies upset the Crimson Tide, Alabama traveled to College Station last year to get redemption, outlasting Texas A&M in a shootout. The third annual meeting between these SEC West foes takes place Saturday at Bryant-Denny Stadium. This time, both teams could use some positive momentum in the form of a win. Alabama (5-1, 2-1 SEC) beat Arkansas 14-13 last week but has plenty of concerns stemming from the win and the Tide lost to Ole Miss the week prior. Texas A&M (5-2, 2-2), meanwhile, took beatings at the hands of Mississippi State and Ole Miss in back-to-back weeks. What should we expect Saturday? Alex Scarborough and Sam Khan Jr. break it down:
Alabama's key to victory:
If Alabama's offensive line can't move the ball effectively then all bets are off. We've seen the past two weeks what Lane Kiffin's offense looks like when the running game can't get going, especially this past weekend when the Tide mustered just 66 yards rushing against Arkansas. But Texas A&M's defensive front is among the most porous in the SEC. If Alabama can reestablish the run then everything else falls into place: It takes the pressure off
Blake Sims
in the passing game and helps the defense by keeping
Kenny Hill
and Co. off the field.
Texas A&M's key to victory:
The Aggies need to get off to a quick start. They seem to be at their best when they get into an offensive rhythm early. Remember 2012? The Aggies jumped out to a 20-0 lead in the first quarter against Alabama. That's probably asking too much this time around, but considering how much the offense has struggled the last two weeks, it behooves the Aggies to get points on the board early, otherwise it could facilitate a "here we go again" feeling and result in the Aggies trying to play catch-up, which they haven't done a good job of in recent weeks.
Alabama's X-factor:
I'm still not sold on Alabama's secondary, especially in a game where the opponent can throw the ball effectively to four or five receivers on any down. The Tide just doesn't have enough quality depth at cornerback this year. That's why the play of Alabama's defensive line will be huge against Texas A&M. The Aggie o-line hasn't been great in recent weeks, so
A'Shawn Robinson
,
Jonathan Allen
and Co. have a chance to get after the quarterback. If they do that, it will be a boost to the secondary and potentially create a few turnovers that gets the defense off the field.
Texas A&M's X-factor:
There are several items to choose from here from offensive line play, which was not good last week, to secondary play or the defensive play as a whole. The bottom line is for the Aggies to have a chance, they need to be able to force some turnovers and make timely stops in crucial situations, like third downs or in the red zone. I don't think anybody expects them to shut down Alabama's running game or contain
Amari Cooper
, but if they can be good in those three areas defensively, they'll have a fighting chance.
What a win will mean for Alabama:
Well for starters it keeps the Crimson Tide's playoff hopes alive. Considering some of the discussion that followed the "ugly" win at Arkansas, you might be fooled into thinking Alabama is out of it. On the contrary. There are still plenty of big games left, including showdowns with Mississippi State and of course, the Iron Bowl against Auburn. A win might get some folks to step back from the ledge after one loss and one not-so-pretty win a week ago.
What a win will mean for Texas A&M:
It would generate some much-needed positive momentum. The Aggies don't want to take a three-game losing streak into their off week so a win on Saturday would help restore some confidence, especially for the Aggies young players. It also could serve as a springboard for a solid finish to the season, which includes two off weeks, one nonconference opponent and three SEC foes (two at home).
October, 17, 2014
Oct 17
11:00
AM ET
COLLEGE STATION, Texas -- Almost two years ago, Texas A&M walked into Alabama's Bryant-Denny Stadium with boundless confidence and impetus to make a statement.
The Aggies possessed college football's best player at the time and a 7-2 start to their debut SEC season but still lacked the signature win that would validate their first-season success in college football's biggest, baddest league.
After 60 intense minutes, the statement was made. The Aggies beat then-No. 1 Alabama 29-24 and officially announced their SEC arrival in Tuscaloosa.
[+] Enlarge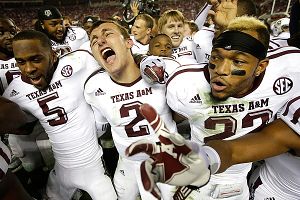 AP Photo/Dave MartinThe Aggies hope for a repeat performance of their 2012 matchup with Alabama, when Johnny Manziel & Co. beat the No. 1 team in the country.
"It just proved a point," said senior receiver
Malcome Kennedy
, who caught the Aggies' final touchdown that day. "It gave us so much confidence as a team and as a unit. We knew what we set out to do could be accomplished."
Saturday, for the first time since that seminal victory, the Aggies return to the scene of the crime. Both teams are vastly different and neither enters with the type of momentum they'd like to have: the Aggies have lost two straight; Alabama squeaked out a 14-13 win at Arkansas after a loss to Ole Miss the week prior.
For Texas A&M, the game is pivotal for reasons much different than 2012. By starting 25-8 in their first two-and-a-half seasons as SEC members, the Aggies no longer need validation. They've produced a Heisman Trophy winner and proved they can hold their own in the league, though they're still trying to move up the ladder to prove they can win at the highest level of this league, or more specifically, the SEC West.
The Aggies (5-2, 2-2 SEC) need this win to help a young team regain full confidence, as two convincing losses to Mississippi State and Ole Miss has provided a wake-up call to this group in the post-
Johnny Manziel
era.
"I think this is very big and important," sophomore linebacker
Jordan Mastrogiovanni
said. "These last couple weeks have been disappointing for us and the fans. We're trying to get back on track and prove to people that we're a really good team and these last couple weeks don't define who we are."
Kennedy, considered the vocal leader of the Aggies' offense, missed each of the losses with a separated shoulder but is expected back Saturday. Prior to Monday's practice, the veteran could sense some uncertainty among his teammates and decided to speak up to the team to help restore any shaken confidence.
"Just trying to stay positive," Kennedy said. "I just told them there will be a lot of outside voices trying to tell you how things go, but nobody knows how this team works best but us. We have to fix the problems we have, look at each other, look at ourselves and figure out what we have to do."
Texas A&M coach Kevin Sumlin isn't concerned about his team losing confidence based on its recent performances.
"Coming into this thing, nobody said this was going to be easy," Sumlin said. "This is a difficult league and there's no doubt, that based on the last two weeks against the type of opponents that we're playing, that we've got to coach better and we've got to play better. That's our expectation within the building, to win games. Confidence is something you don't gather overnight and I don't think you lose it overnight. It's something you build and that's who you are. I don't see that waning."
The team has a handful of veterans that saw significant time and have positive memories of 2012. Kennedy caught the Aggies' final touchdown, senior cornerback
Deshazor Everett
intercepted A.J. McCarron near the goal line to deny Alabama's final scoring chance. Senior safety
Howard Matthews
, junior cornerback
De'Vante Harris
and junior defensive end
Julien Obioha
are also among those who were a part of that program-changing night.
Offensively, tackle
Cedric Ogbuehi
, guard
Jarvis Harrison
and running back
Trey Williams
join Kennedy as players with experience in T-Town.
It's likely impossible for a victory this time around to have the kind of impact the 2012 one did. That one changed the national perception of Texas A&M's program, was a catalyst in Manziel's Heisman Trophy campaign and the Aggies reaped the benefits in recruiting as well. A win would be critical to this season though, to keep the Aggies from going on a three-game losing streak, restoring confidence in young players like sophomore quarterback
Kenny Hill
and perhaps serving as a springboard for a strong finish. The Aggies have an open date coming up followed by a nonconference game and three SEC contests in the final month.
Kennedy feels the veterans will draw on the images from their last time there. If they can recapture some of the magic from that blissful November night, it would be big for the current Aggies.
"Going to Alabama, having those positive memories from two years ago, I think the guys will walk into a more welcoming environment," Kennedy said. "I know there will be a lot of Aggies there. It'll be noisy, loud. I think that's when we play best, when it's loud and noisy."
October, 17, 2014
Oct 17
10:00
AM ET
A look ahead to Saturday's games in the Southeastern Conference. All times Eastern:
Noon
Furman at South Carolina, SEC Network:
Poor Furman, you couldn't have picked a worse time to play South Carolina. The Gamecocks have been stewing the past two weeks about their loss at Kentucky. You think they will play with something to prove Saturday at home? For
Mike Davis
,
Dylan Thompson
and that offense, it's a chance to put up a bunch of points and gain some much-needed confidence. For the defense, it's a chance to take a step in the right direction and actually stop an opponent with some consistency. In reality, this game might as well be a scrimmage for South Carolina. But nonetheless, it's an important springboard into the second half of the schedule, when the Gamecocks can either continue to circle the drain or rebound and regain the respect they have lost this season.
3:30 p.m.
[+] Enlarge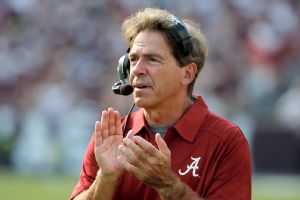 Scott Halleran/Getty ImagesNick Saban and Alabama will have their hands full against Texas A&M on Saturday.
No. 21 Texas A&M at No. 7 Alabama, CBS:
Only one team will leave Bryant-Denny Stadium with hopes of reaching the College Football Playoff. The Aggies, coming off back-to-back losses, are on the razor's edge, and the Crimson Tide, coming off a loss at Ole Miss and a one-point win at unranked Arkansas, are teetering. Alabama's defense has played much better of late, but its secondary will be put to the test by
Kenny Hill
and the A&M passing game. Conversely, Hill could feel the pressure considering his line hasn't played well the past two games and Alabama's defensive front has the size and talent to get into the backfield. One thing is certain, though: Emotions should be running high come kickoff as both teams have something to prove.
4 p.m.
No. 10 Georgia at Arkansas, SEC Network:
Time to find out the answer to the question that has been on the mind of SEC fans everywhere: How would Arkansas do in the dreadful East Division? The Hogs have played well this season, but haven't been able to overcome Texas A&M and Alabama. Against Georgia, will Bret Bielema's squad break through? The Bulldogs, on the other hand, are riding high after a dominant performance at Missouri in which the absence of
Todd Gurley
was hardly felt in the final outcome. They now lead the East, and the race hardly appears close.
Leonard Floyd
and that defense will be put to the test, though. And Georgia quarterback
Hutson Mason
won't face as porous a secondary as Missouri's this time around.
7 p.m.
Missouri at Florida, ESPN2:
Watch out for turnovers. Florida and Missouri have combined to give the ball away 11 times in October alone. Just last week,
Maty Mauk
threw four interceptions against Georgia, and Florida quarterback
Jeff Driskel
had two costly interceptions against LSU. In other words, both defenses should be licking their chops. The difference in this game, however, could be the running backs. If Florida can establish the run and negate the pressure from Missouri's
Shane Ray
and
Markus Golden
, the Gators should be in good shape. However, if Missouri can get
Russell Hansbrough
& Co. going, the pressure should fall off Mauk's shoulders. It's a lot of what-ifs, but for two teams headed in the wrong direction, should that really surprise you?
Tennessee at No. 3 Ole Miss, ESPN:
The Vols have been knocking on the door this season, but the divide between competitive football and winning football has been tough to cross. Will they do it against No. 3-ranked Ole Miss? On the road? Now that's asking a lot of Butch Jones' young squad, which is high on talent (
Jalen Hurd
,
Cameron Sutton
, etc.) but low on experience. The Rebs, meanwhile, have both confidence and experience on their side. If anyone thought their home win against Alabama was a fluke, they changed their mind after watching them go on the road and destroy Texas A&M. So long as quarterback
Bo Wallace
continues to take care of the football and that defense stays healthy, it's hard to imagine Ole Miss having a hiccup game.
Kentucky at LSU, SEC Network:
This game feels a lot like a battle of youth and momentum. On the one side, you have Kentucky, which has surprised many with the way it jumped out to a 5-1 record, most recently beating South Carolina at home.
Patrick Towles
has played well and the defense has been aggressive. But the Cats are young and don't have pedigree on their side. On the other hand, you have LSU, which has gone from a dark horse playoff contender to unranked and outside the conversation in the West. But don't count out Les Miles' squad just yet. After beating Florida in The Swamp, the Tigers could have confidence going for them. And considering all the young talent in Baton Rouge, that is a scary thought.
October, 17, 2014
Oct 17
9:00
AM ET
No football season ever goes the way we think it will.
Some teams come out of the woodwork to contend for titles. Others expected to contend for titles tank. Coaches go from the hot seat to a hot commodity. Players go from part-time starter to Heisman Trophy candidate, and entire states are transformed into the epicenter of football.
Welcome to the first half of the SEC season.
Here's my list of some of the things we thought we knew about the league back in August, but as it turns out, really didn't:
[+] Enlarge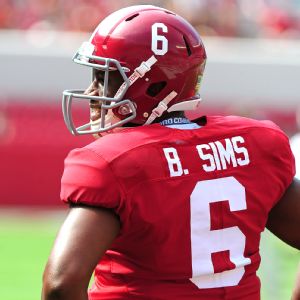 Scott Cunningham/Getty ImageDespite a slowdown in recent weeks, Blake Sims has held the reins to the Alabama offense since Week 1.
Jake Coker will be the answer at quarterback for Alabama
Not only was Coker not the answer, he's yet to even start a game and has attempted just 33 passes, most of those coming in a blowout 41-0 win over Florida Atlantic. Fifth-year senior
Blake Sims
, who played running back as a redshirt freshman, has been the Tide's starting quarterback the whole way. Sims got off to a hot start, but the entire Alabama offense has bogged down the last two weeks with just three offensive touchdowns in a 14-13 win over Arkansas and 23-17 loss to Ole Miss.
The Iron Bowl will determine the West champion
Hey, it still might with the way the West is beating up on each other. But it's another bowl on Nov. 29 everybody can't wait for -- the Egg Bowl. Mississippi State and Ole Miss are the only two unbeaten teams remaining in the SEC. Not only that, but the Bulldogs are No. 1 in the polls and the Rebels No. 3. Just the way we all figured it, huh? Seriously, it probably shouldn't be a huge surprise when you consider they both have experienced difference-makers at quarterback in
Dak Prescott
and
Bo Wallace
and deep, talented front sevens on defense.
Kentucky won't make a bowl in Mark Stoops' second year
The Wildcats still aren't there. They need one more win, but how many people had them at 5-1 at the midway point? It could easily be 6-0, too, if not for a triple-overtime loss at Florida and a controversial no-call when the play clock hit zero on the Gators' fourth-down touchdown pass to force the second overtime. Stoops and his staff have done an exceptional job with this team, which is infinitely more explosive on offense than it was a year ago. Coming back from a two-touchdown deficit in the fourth quarter to beat South Carolina was the kind of win that should pay dividends all season. Two of the Wildcats' next three games are on the road, starting with LSU on Saturday, but this is a team that believes right now.
Texas A&M will have a big drop-off offensively
On further review, the Aggies really haven't missed a beat offensively, even though they head to Alabama this weekend trying to snap a two-game losing streak. They lead the SEC in scoring offense (43.9 points per game) and total offense (564.9 yards per game).
Kenny Hill
, who torched South Carolina in his debut as the Aggies' starter in the opener, is fifth nationally with an average of 358.7 passing yards per game and second nationally with 23 touchdown passes. Hill has had five interceptions in his last two games, both losses, but he's filled in better than anybody could have imagined for Johnny Manziel. In fact, Hill's numbers through seven games (2,511 passing yards and 23 touchdown passes) are better than Manziel's were through seven games a year ago (2,289 yards and 18 touchdown passes).
South Carolina is the East's team to beat
The Gamecocks have already lost three games. Granted, the way the East is looking, three losses might very well win it the way it did in 2010 when South Carolina went to Atlanta with a 5-3 record. It's difficult, though, to see the Gamecocks rebounding in the second half. They still have to play at Auburn and at Florida. Moreover, they haven't done the things it takes to win a divisional crown, like holding fourth-quarter leads and winning the turnover battle. In their two losses to Kentucky and Missouri, they were outscored 35-14 in the fourth quarter and are minus-3 for the season in turnover margin.
LSU RB Leonard Fournette will be the biggest-impact freshman
Fournette has gobs of ability and has thrown it into overdrive of late with 100-yard rushing performances in two of his last three games, but he hasn't been the league's top true freshman. That distinction belongs to Texas A&M defensive end
Myles Garrett
, who's been a big-time finisher off the edge for the Aggies. He's second in the SEC with 7.5 sacks and leads Texas A&M with nine tackles for loss and seven quarterback hurries. The scary part is he's only going to get bigger, stronger and more in tune with how opposing offensive linemen are trying to block him.
Georgia's Todd Gurley is the league's most dynamic player
And he was … until an investigation into whether he was paid for autographing memorabilia took him off the field. Tackling Gurley was like tackling a runaway freight train. And when somebody went low on him, he simply used his hurdling skills. He was perhaps on his way to winning the Heisman Trophy. Now, he and the Bulldog Nation wait impatiently to see how many more games he'll have to sit.
October, 17, 2014
Oct 17
8:00
AM ET
It's easy to overreact to the results of one game, and Texas A&M is classic evidence of that this season. One blowout road win over a South Carolina team that was ranked high in the preseason, but has turned out not to be good as advertised, created strong feelings about the Aggies' chances early this season. The same can be said for quarterback
Kenny Hill
, the Aggies' sophomore who will be making just his eighth career start on Saturday when the Aggies' head to Alabama. Remember the "Johnny Who?" and "Kenny Trill" comments after he broke
Johnny Manziel
's passing yards record in the win over the Gamecocks?
Hill and the rest of Aggieland are learning that life in the SEC West with a young quarterback isn't so easy
after two convincing losses to two undefeated Mississippi teams have brought everyone back down to Earth. Six turnovers in those last two games have been one of many factors stalling the Aggies' usually high-powered offense. Whether he and the rest of the offense can bounce back from their issues will go a long way in deciding how competitive a game it will be in Tuscaloosa on Saturday.
Speaking of up-and-down quarterbacks, Missouri's
Maty Mauk
knows the feeling. He had a solid start to the season but had a dismal day in a 34-0 loss to Georgia last week. After a five-turnover performance against the Bulldogs,
Mauk said he's aware of the criticism from some fans, who wanted Gary Pinkel to yank him, but it doesn't faze Mauk
. Pinkel said it never crossed his mind and offered a vote of confidence to the quarterback, saying "He's our guy." Mauk and the Tigers will have a chance for redemption when they head to The Swamp to take on Florida.
The Gators know firsthand that Mauk can play
after going for 295 passing yards against Florida last season.
The
Todd Gurley
autograph saga continues.
Georgia officials met with NCAA officials in Indianapolis on Thursday
and gave us an update -- in the form of no real update. In a statement, Georgia said "there is no news at this time and no further comment necessary." An NCAA spokesperson did note that it is awaiting a request for reinstatement from Georgia. If the Bulldogs are to make such a request, they have to resolve any issues surrounding his eligibility before doing so. For what it's worth, coach Mark Richt tweeted early Thursday morning that he's "
not anticipating [Gurley's status] to change this week.
"
Around the SEC
Tweet of the day
Nick Saban smiling. pic.twitter.com/7Cz5NhKalb

— TexAgs (@TexAgs) October 16, 2014
October, 16, 2014
Oct 16
9:31
AM ET
Who is the best in the West?