February, 26, 2013
Feb 26
3:45
PM CT
By
GigEmNation staff
| ESPN.com
February, 26, 2013
Feb 26
1:30
PM CT
The Texas A&M linebacker corps served as a backbone for the Aggies defense in 2012.
With a trio of upperclassmen as starters, including two senior leaders in
Sean Porter
and
Jonathan Stewart
, it was one area the Aggies defensive coaches didn't have to worry too much about.
With Porter and Stewart having graduated and looking toward NFL futures, the Aggies will have two new bodies to line up next to the lone remaining starter of the group,
Steven Jenkins
.
To continue reading this article you must be an Insider
February, 26, 2013
Feb 26
12:34
PM CT
The remodeled lobby of the Bright Football Complex at Texas A&M will feature exhibits of Aggies football history, as well as the team's newest hardware: the Heisman Trophy won by quarterback
Johnny Manziel
and the Outland Trophy won by left tackle
Luke Joeckel
.
As far as head coach Kevin Sumlin is concerned, the trophies are right where they belong -- in a museum.
Aggies never lack for enthusiasm. When their football team debuts in the Southeastern Conference by going 11-2 and finishing fifth in the nation, and their quarterback wins the Heisman, and three Aggies are first-team All-Americans, well, the parade down Texas Ave. may still be going.
Sumlin loves the enthusiasm. But he doesn't think the game is over. He's pretty sure the game isn't out of the first quarter. Texas A&M won 11 games for the fourth time in 117 seasons of football. Sumlin won 11 games four times in his five seasons as an Oklahoma assistant. He has won 11 games twice in his five seasons as a head coach.
To read more of Ivan Maisel's piece on Texas A&M,
click here
.
February, 26, 2013
Feb 26
10:15
AM CT
The run was an unforgettable one for
Josh Walker
and the Gilmer (Texas) High School Buckeyes.
From one of Texas' toughest districts in Class 3A, Walker and his Gilmer teammates emerged to put on an impressive run to the Class 3A Division II championship game before falling to Navasota (Texas) High School in the state title match.
To continue reading this article you must be an Insider
February, 25, 2013
Feb 25
1:58
PM CT
Wide receiver
Dallis Todd
(La Mirada, Calif./La Mirada) has seen his recruitment take off over the past few months. Offers from Clemson, Florida, Nebraska, Ohio State and Texas A&M, among others, made him one of the more sought-after receivers in the West region. But this past weekend, Todd was able to take his first up-close look at an in-state school as he visited USC for the Trojans' junior day.
To continue reading this article you must be an Insider
February, 25, 2013
Feb 25
1:00
PM CT
The area that was probably of most concern for Texas A&M heading into the 2012 season was the defensive line.
With the Aggies entering their first year in the SEC, the coaches kept a close eye on the depth, particularly on the interior. But that unit turned out to be a pleasant surprise for the Aggies last season, playing consistently well throughout the year.
Now, as the Aggies go into spring football, there are again questions about the defensive line.
To continue reading this article you must be an Insider
February, 25, 2013
Feb 25
8:00
AM CT
Jamal Jeffery
is a busy young man these days.
After his football season completed, he started basketball season. His Lufkin (Texas) High School Panthers are still playing, entering the third round of the Texas Class 5A state playoffs on Tuesday when Lufkin meets Houston Westfield.
To continue reading this article you must be an Insider
February, 23, 2013
Feb 23
8:06
PM CT
The Longhorns didn't come away with any commitments on Saturday, at least not yet, but they did make lasting impressions on two out-of-state ESPN Watch List recruits who made it to Austin.
To continue reading this article you must be an Insider
February, 23, 2013
Feb 23
6:37
PM CT
The trek from Manvel, Texas to Tuscaloosa, Ala., is roughly nine hours.
On Friday, ESPN Watch List tight end
Koda Martin
and his father, Manvel (Texas) High School head coach Kirk Martin, made that journey -- with a stop in Baton Rouge, La., added in for good measure -- so that Koda could attend Alabama junior day on Saturday.
To continue reading this article you must be an Insider
February, 23, 2013
Feb 23
12:41
AM CT
By
GigEmNation staff
| ESPN.com
During
Johnny Manziel
's memorable 2012 season, the redshirt freshman quarterback saw his nickname, "Johnny Football," explode in popularity.
Now, the Texas A&M signal caller is doing what he can to protect the moniker.
Manziel's corporation, JMAN2 Enterprises, filed a lawsuit in Texas last week against a man selling T-shirts bearing the "Johnny Football" nickname, according to a story by ESPN's Darren Rovell. In the suit, Manziel claims that Eric Vaughan, a man who was selling T-shirts that read, "Keep Calm and Johnny Football," infringed on his trademark rights.
Read the full story here
.
February, 22, 2013
Feb 22
4:49
PM CT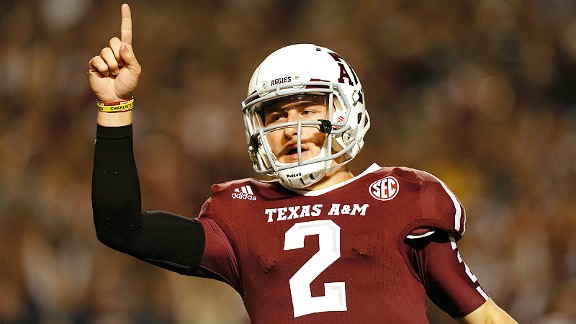 AP Photo/Aaron M. SprecherIt will be extremely difficult for Johnny Manziel to win the Heisman Trophy again next season.
GigEmNation writer Sam Khan Jr. chatted with readers on Friday about Texas A&M football and recruiting. Here's the
full transcript
of the chat. Here's an excerpt from the chat:

Hallan (Boston):
Does
Manziel
get another Heisman despite losing WRs and
Joeckel
?
Sam Khan Jr.:
It won't be easy. Manziel is talented enough to do it, but it won't be good enough to go 11-2 again this year to win it. Because of the huge season the Aggies had last year, they probably have to be ranked in the top two at the end of the regular season for him to have a serious chance at winning it again. After seeing what I saw last year though, I'll never count against him.
Evan (CS):
Will
Zach Whitley
make his decision before his senior season starts?
Sam Khan Jr.:
Evan, when I visited with Whitley a couple of weeks ago, he told me he doesn't intend to decide until after his senior season. Now a lot of recruits say that, and things can change. Whitley said he's committed to his high school team and focused on that. If he wavers from that plan, we'll know by late spring/early summer. If in the summer time he still talks about waiting until the end of his senior season, then I'll for sure believe that.
Chad (Houston):
What is the best way to utilize all of the playmakers on the RB depth chart next year? There are a couple of studs, but when you run 4- and 5-WR sets, you can't have a lot of RBs on the field also.
Sam Khan Jr.:
Chad, that's going to be on Clarence McKinney and Kevin Sumlin. I think you could see some wrinkles like Houston used when they had three quality starting running backs in 2011 (Sumlin's last year at Houston). They had some diamond formation packages with all three running backs back there, and if any of them are good enough to split out at receiver, you can put those guys in motion in the passing game. More than anything, it's huge for their depth. Naturally, because of his size, I think you see
Tra Carson
(230-240 pounds) being more of a short-yardage, in-between-the-tackles type;
Ben Malena
probably remains the starter; and
Trey Williams
will probably continue to be a change-of-pace type. The wild card is
Brandon Williams
, who is extremely talented. He has the potential to be a game-breaker.
February, 22, 2013
Feb 22
1:00
PM CT
The increased attention and piling up of offers has been a new experience for Katy (Texas) Seven Lakes defensive end
Jarrett Johnson
.
Johnson has seen his stock rise recently, picking up a slew of offers after his initial two, Missouri and Northwestern.
To continue reading this article you must be an Insider
February, 22, 2013
Feb 22
10:40
AM CT
Renderings of the
$425 million renovation to Kyle Field
are starting to leak out, and they look mighty impressive.

The work is supposed to begin on Nov. 10, a day after Texas A&M plays its final home game of the 2013 season.
The new seating capacity is expected to exceed 100,000 and could make Kyle Field the largest stadium in the SEC. Currently, Tennessee's Neyland Stadium has the largest seating capacity (102,455).
To get a glimpse of some of the renderings of the new Kyle Field, click
here
.
With Kyle Field expected to surpass 100,000 in seating capacity, that means the SEC would have three stadiums that seat more than 100,000. Alabama's Bryant-Denny Stadium has a seating capacity of 101,821.
Eight of the 14 home stadiums in the SEC seat at least 80,000 people.
Tennessee (Neyland Stadium) -- 102,455
Alabama (Bryant-Denny Stadium) -- 101,821
Georgia (Sanford Stadium) -- 92,746
LSU (Tiger Stadium) -- 92,542
Florida (The Swamp) -- 88,548
Auburn (Jordan-Hare Stadium) -- 87,451
Texas A&M (Kyle Field) -- 82,589
South Carolina (Williams-Brice Stadium) -- 80,250
February, 22, 2013
Feb 22
9:00
AM CT
By
GigEmNation staff
| ESPN.com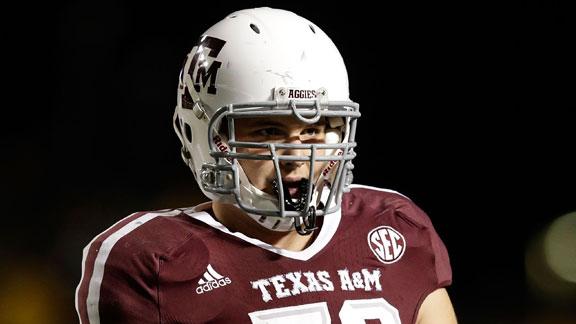 John Clayton says that when workouts start Saturday, scouts should keep an eye on Texas A&M offensive tackle
Luke Joeckel
.
February, 21, 2013
Feb 21
2:00
PM CT
"Introducing the class" is a series in which GigEmNation conducts a Q&A session with each of the incoming recruits in Texas A&M's 2013 class to give readers a closer look at each recruit individually. Today, we visit with Santa Monica (Calif.) High School receiver Sebastian LaRue.
LaRue was an ESPN 150 prospect, ranked No. 74 overall nationally and No. 9 amongst receiveres. The four-star prospect stands 5-foot-11, 185 pounds and was committed to USC before reopening his recruitment in early January. He committed to Texas A&M on Jan. 25, just days after his official visit.
As a senior, LaRue caught 51 passes for 868 yards and eight touchdowns while also rushing for 100 yards and a touchdown. He was an All-Ocean League first-team pick and an All-California Interscholastic Federation first-team pick by the Los Angeles Times. Here's our Q&A with LaRue:
To continue reading this article you must be an Insider