March, 3, 2014
Mar 3
9:00
AM ET
Spring football practice in the SEC begins in earnest over the next two weeks, and there's a bit of a "Twilight Zone"-feel in the air.
[+] Enlarge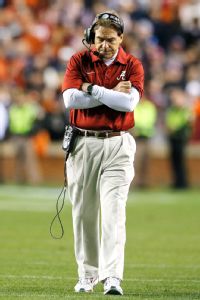 Kevin C. Cox/Getty ImagesExpect Nick Saban's Crimson Tide to begin the season in the top 10.
For the first time since 2006, nobody in the SEC enters the spring as the reigning national champions.
Need a little perspective?
The last time a school in this league wasn't sporting a brand new crystal football in its trophy case, Nick Saban was coaching the Miami Dolphins. Gus Malzahn had just departed the high school coaching ranks, and Tim Tebow, Cam Newton and
Johnny Manziel
had yet to take a college snap.
"We all knew it wasn't going to last forever," Saban said.
Auburn, though, came agonizingly close to extending the SEC's national championship streak to eight straight years last season, but didn't have any answers for Florida State and
Jameis Winston
in the final minute and 11 seconds of the VIZIO BCS National Championship in Pasadena, Calif.
So for a change, the SEC will be the hunter instead of the hunted in 2014, the first year of the College Football Playoff. And much like a year ago, the SEC's biggest enemy may lie within.
The cannibalistic nature of the league caught up with it last season, even though Auburn survived an early-season loss to LSU to work its way back up the BCS standings and into the national title game.
Alabama and Auburn will both start the 2014 season in the top 10 of the polls, and Georgia and South Carolina could also be somewhere in that vicinity. And let's not forget that Auburn and Missouri came out of nowhere last season to play for the SEC championship, so there's bound to be another surprise or two.
The league race in 2014 has all the makings of another free-for-all, and with a selection committee now picking the four participants in the College Football Playoff, polls aren't going to really matter.
The translation: The playoff in the SEC will be weekly, or at least semi-weekly.
"When you have this many good teams, it's really hard to play well every week," Saban said. "If you have a game where you don't play very well, you're going to have a hard time winning.
"It's the consistency and performance argument and whether your team has the maturity to prepare week in and week out and be able to play its best football all the time. If you can't do that in our league, you're going to get beat and probably more than once."
While the SEC hasn't necessarily been known as a quarterback's league, the quarterback crop a year ago from top to bottom was as good as it's been in a long time.
Most of those guys are gone, and as many as 10 teams could enter next season with a new starting quarterback.
"We're all looking for that individual who can lead your football team and be a difference-maker at the quarterback position, and it seemed like every week you were facing one of those guys last season in our league," Tennessee coach Butch Jones said.
[+] Enlarge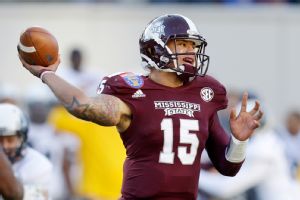 AP Photo/Mark HumphreyMississippi State's Dak Prescott has a chance to be one of the new QB stars of the SEC.
Mississippi State's
Dak Prescott
has the talent and experience to be the next big thing at quarterback in the SEC, and the folks on the Plains are stoked to see what
Nick Marshall
can do with a spring practice under his belt and another year of experience in Malzahn's system.
Florida's
Jeff Driskel
returns from his season-ending leg injury a year ago, and new offensive coordinator Kurt Roper will shape that offense around Driskel's strengths in what is clearly a pivotal year for fourth-year coach Will Muschamp.
The Gators are coming off their first losing season since 1979, and if they're going to be next season's turnaround story similar to Auburn and Missouri a year ago, they have to find a way to be more explosive offensively. In Muschamp's three seasons in Gainesville, Florida has yet to finish higher than eighth in the league in scoring offense and 10
th
in total offense.
There are big shoes to fill all over the league and not just at quarterback.
Replacing Alabama's "defensive" quarterback,
C.J. Mosley
, and all the things he did will be a daunting task. The same goes for
Dee Ford
at Auburn. He was the Tigers' finisher off the edge and a force down the stretch last season. Missouri loses its two bookend pass-rushers,
Michael Sam
and
Kony Ealy
, while there's no way to quantify what Vanderbilt record-setting receiver
Jordan Matthews
meant to the Commodores the past two seasons.
The only new head-coaching face is Vanderbilt's Derek Mason, who takes over a Commodores program that won nine games each of the past two seasons under James Franklin. The last time that happened was ... never.
Auburn will be trying to do what nobody in the SEC has done in 16 years, and that's repeat as league champions. Tennessee was the last to do it in 1997 and 1998.
Alabama's consistency since Saban's arrival has been well-documented. The Crimson Tide have won 10 or more games each of the past six seasons and 11 or more each of the past three seasons. To the latter, the only other team in the league that can make that claim is South Carolina, which has three straight top-10 finishes nationally to its credit under Steve Spurrier.
"We're proud of what we've done, but we think there's an SEC championship out there for us," Spurrier said. "That's still the goal, and we're going to keep working toward it."
With Texas A&M having already kicked off its spring practice last Friday, the 2014 race has begun.
We'll see if there's another streak out there for the SEC.
March, 1, 2014
Mar 1
11:26
AM ET
[+] Enlarge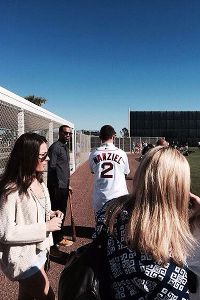 Gordon Edes for ESPNJohnny Manziel visited Red Sox spring training this weekend and wore a No. 2 jersey.
FORT MYERS, Fla. -- Johnny Football became Johnny Baseball, at least for a weekend.
Johnny Manziel appeared at Red Sox spring training on Friday night at the team's annual casino charity event to benefit the Red Sox Foundation.
He posed for pictures with a number of players and staff, then showed up the next morning in camp, wearing a Red Sox jersey with the No. 2, the number he wore at Texas A&M, and his name on the back of the jersey.
Manziel has hired LRMR marketing, which represents LeBron James and has a marketing deal with Fenway Sports Management.
LRMR's boss, Maverick Carter, accompanied Manziel to spring training.
Through his representatives, Manziel declined to speak with reporters.
February, 28, 2014
Feb 28
10:24
PM ET
COLLEGE STATION, Texas -- Texas A&M started spring practice on Friday without two defensive starters.
Sophomore linebacker Darian Claiborne and sophomore defensive tackle Isaiah Golden are continuing to serve their indefinite suspensions after both were arrested on separate charges early Sunday morning.
Texas A&M athletic department spokesman Alan Cannon said on Monday that both were immediately suspended from all athletic activities per department policy. Coach Kevin Sumlin, who made his first public comments on the pair since their arrests, said it is unclear when they will return to practice.
"No timeline," Sumlin said. "Pending investigation and everything else, they're suspended indefinitely."
Golden, 19, faces a marijuana possession charge of less than two ounces; Claiborne was charged with a noise violation. Both were in a car parked in a handicap spot at an apartment complex at the time of their arrests. Both were released Sunday on bond. It was the second arrest in three months for Claiborne, who was charged with marijuana possession in December and subsequently suspended for the Chick-fil-A Bowl.
Golden appeared in 11 games (six starts) for the Aggies last season. Claiborne, an All-SEC freshman team selection in 2013, appeared in 12 contests (nine starts).
Sumlin expressed concern over the off-field decisions his players made.
"It's a concern," he said. "Every program faces challenges, not just during the offseason, but during the season. I think we do a great job of educating our players, and it's an ongoing process.
February, 28, 2014
Feb 28
8:45
PM ET
Texas A&M's recent recruiting momentum received another positive bump on Friday night when the Aggies landed a 2015 prospect who was committed to a rival.
The Aggies scored a commitment from 2015 offensive tackle
Connor Lanfear
, previously a Texas commitment, on Friday. The 6-foot-6, 270-pound junior from Buda (Texas) Hays Consolidated was making an unofficial visit to College Station.
[+] Enlarge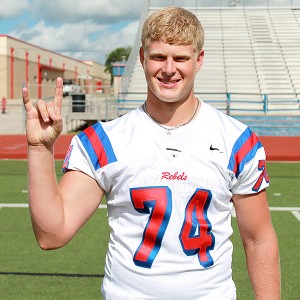 Max Olson/ESPNJunior offensive lineman Connor Lanfear was all about Texas last summer, but he committed to Texas A&M on Friday.
Lanfear, who committed to Texas on June 9, 2013 to the Longhorns' previous coaching staff, made his second unofficial visit to Aggieland in as many months. He was at the Aggies' first junior day on Jan. 26 and returned Friday for the first day of Texas A&M spring football practice.
The three-star prospect, who also had offers from Florida State, Oklahoma, Baylor and Miami, is the ninth commitment in Texas A&M's 2015 class.
"A&M really fits my personality," Lanfear said. "I mean, they have horses 500 yards from Kyle Field. That's me. I grew up in the middle of a pasture. A&M is country and folks are up front and friendly out there."
Lanfear is the third player this year who committed to Texas A&M after being previously committed to Texas. In January, senior outside linebacker and ESPN 300 prospect
Otaro Alaka
and senior defensive tackle
Zaycoven Henderson
both flipped from Texas to Texas A&M. Henderson enrolled in classes at Texas A&M in mid-January and Alaka signed a letter of intent with the Aggies on Feb. 5.
The Aggies now have two offensive tackles in their 2015 recruiting class. Lanfear joins ESPN Junior 300 prospect
Trevor Elbert
. Lanfear said the Aggies' membership in the SEC was a big factor in his decision.
"Texas A&M being in the SEC -- that's a very big pull to me," Lanfear said. "It's playing against the best of the best. I heard something like more than half the players that declared early for the draft came out of the SEC. That's a large pull for me."
February, 28, 2014
Feb 28
9:00
AM ET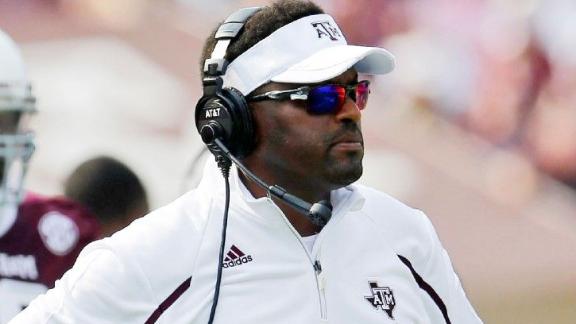 COLLEGE STATION, Texas --
Texas A&M
enjoyed two years of one of the greatest quarterbacks in college football history, 2012 Heisman Trophy winner and 2013 Heisman finalist
Johnny Manziel
. Today, as the Aggies open up spring football practice, life after Johnny Football officially begins.
Avid A&M fans know the main candidates for the starting quarterback job by now: senior
Matt Joeckel
, sophomore
Kenny Hill
and early enrollee freshman
Kyle Allen
. Offensive coordinator and quarterbacks coach Jake Spavital is charged with grooming Manziel's successor, and he has history working with talented quarterbacks.
The 28-year-old Spavital said all three will have a chance to win the starting job.
"Everybody's going to get a fair shot," Spavital said. "I think competition brings out the best in everybody. I can tell you that the [quarterback meeting] room is not very comfortable right now, but that's what I want. They all want that starting job. Let's see who wants it the most."
[+] Enlarge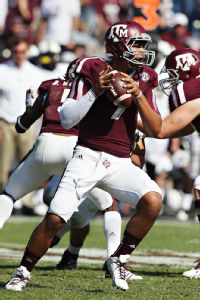 Bob Levey/Getty ImagesFormer three-star recruit Kenny Hill, a sophomore, played in five games last season. Could he be the successor to Johnny Manziel?
The most experienced is Joeckel. He started the 2013 season opener against Rice when Manziel had to sit the first half while
serving a suspension
resulting from an NCAA investigation. Joeckel finished the day completing 14 of 19 passes for 190 yards and a touchdown.
"[Joeckel] plays within the system and he understands what needs to be accomplished," Spavital said. "That's the reason why he started vs. Rice, because the kid doesn't mess up very often."
The 6-foot-4, 234-pound Joeckel, the twin brother of current Jacksonville Jaguar offensive tackle
Luke Joeckel
, has been working in the Aggies' offense longer than any quarterback on the roster. Last season, Matt Joeckel was 22-of-37 passing for 293 yards and two touchdowns with no interceptions in four appearances.
"Matt's the most experienced guy out of all of them in terms of running this offense," Spavital said. "I was very pleased with how he handled himself. He plays to his strengths. He knows his limitations; he's not the most mobile quarterback, but he understands that. He's not going to try to make Johnny Manziel plays out there, he's going to go out there and try to make Matt Joeckel plays."
Hill also received playing time last season and competed with Joeckel throughout training for the backup job. A product of high school football power Southlake Carroll, Hill is who some fans might handicap as the favorite based on the fact that he's a dual-threat who has playing experience and plenty of potential.
During the Aggies' Chick-Fil-A Bowl preparation in December, the 6-1, 215-pound Hill earned some valuable practice time.
"The bowl prep was good for [Hill], it really was," Spavital said. "Johnny was gone on those award shows and everything so it gave him the opportunity to rep the offense and run with the [first team] a couple times and try to get used to them.
"Kenny has come a long way. You can tell he was raised in a spread, no-huddle system. That comes pretty much second nature to him. He's starting to understand the offense, he's good at the communication and the operation part of it, which is a big deal. Going into Year 2 he can focus on the execution of it, where it is more situational stuff that he needs to keep getting better at it. He's smart enough and he has been around it enough that he can keep learning from his mistakes and moving on."
In five games Hill was 16-of-22 passing for 183 yards and a touchdown. Even though his time was mostly mop-up duty, getting him on the field was important, Spavital said, in case he winds up being the starter this fall.
"If you walk out into Kyle Field, you understand how intimidating that can be," Spavital said. "There's a lot of eyes on you. No matter who the opponent is, there are going to be some nerves. We did the same thing with [center]
Mike Matthews
, just to get him acclimated, get him trained, get him traveling, let him see venues and crowds and environments that he's going to be a part of. I thought that was very important to get [Hill] some playing time just so he we won't throw him out there and say 'Hey, go win a game' next year."
Allen is the wild card. Ranked as the No. 1 pocket passer in the 2014 recruiting class, he has the physical tools required. As the No. 35 overall player in the ESPN 300, the four-star prospect comes to Aggieland with high expectations.
"Kyle was considered one of the top quarterbacks in the country because of his playmaking ability," Spavital said. "He has a very strong arm, he has a quick release, he's a bigger kid, about 6-3, 200 pounds. He's big in stature and he has a hell of an arm. From a coaching standpoint and how we handle it, you can look at that and there's a lot of good quarterbacks out there that can throw a ball and they can make a highlight tape look good. But when you talk to the kid, he's a very intelligent kid and I liked his confidence and the way he carried himself. That was what separated him from everybody else."
Allen enrolled at Texas A&M in January. Though his lack of experience is a disadvantage, enrolling early affords him a real chance to compete. He sat in meetings with the coaches and began learning the offense during the staff's installation.
"That's huge," Spavital said. "Just him being here now, he can compete. We're not going to announce a starter until fall, about two weeks or a week-and-a-half before the game. It's going to give him an opportunity to go through our installation four times and play some live scrimmages in the spring and get acclimated to the speed and then also have a good summer and go into fall camp."
It should be a compelling race to watch unfold.
"You can sense the competition," Spavital said. "We try to keep it as laid back as possible but you can sense that everybody's wanting that starting job. I like it."
February, 28, 2014
Feb 28
8:30
AM ET
Editor's note: This is the final part in a week-long series of predictions for Texas A&M spring football practice, which begins on today.
[+] Enlarge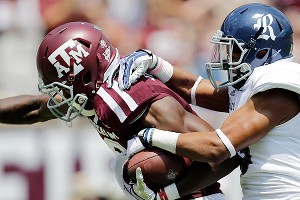 AP Photo/Eric GayThe Aggies got a brief glimpse at what Ricky Seals-Jones could do before a knee injury cut short his 2013 season.
At the time he committed,
Ricky Seals-Jones
was a watershed recruit for Texas A&M.
When the Sealy (Texas) High School product
announced he was headed to Aggieland on Dec. 11, 2012,
he was ranked No. 1 nationally at his position and was considered the top overall prospect in the state at that moment.
When he arrived in College Station, Texas, Seals-Jones naturally came with high expectations and early on it appeared he might deliver on them sooner rather than later. In his first collegiate game, he caught a 71-yard touchdown and finished with three receptions for 84 yards in a win over Rice.
The Aggies didn't get a chance to see what the 6-foot-5, 240-pound receiver had in store next because of a knee injury suffered in that game. He missed the following game and played briefly against Alabama before opting for season-ending surgery on the knee.
But this spring and later this season, look for Seals-Jones to deliver the goods.
He has a solid combination of size and speed and he'll likely be a matchup problem for opposing defenses. The Aggies worked him out mostly as an inside receiver during preseason training camp last August, but he also received work as an outside receiver and is versatile enough to play both positions if necessary.
Texas A&M receivers coach David Beaty is excited about what's in store for Seals-Jones.
"Getting him back healthy is a blessing for us," Beaty said. "The guy's got unlimited potential. We really needed him back. I look for him to make huge waves for us."
He has the kind of size that A&M's best receiver last season --
Mike Evans
-- has. If Seals-Jones can develop his skills as a receiver at a fast pace, he could be on track to be a real star. With three starting receivers from the 2013 team gone, there are catches and yards to be had.
If he has the kind of spring that Beaty is hoping for, look for Seals-Jones to claim a lot of them.
February, 27, 2014
Feb 27
10:30
AM ET
Schedule:
The Aggies begin spring practice on Friday and will go through the first week of April, while taking off spring break week in between. Because of the redevelopment project of Kyle Field, the Aggies will not have their annual maroon-and-white spring game.
What's new:
The Aggies have a new offensive coordinator (Jake Spavital, previously A&M's quarterbacks coach) and a new secondary coach (Terry Joseph, previously at Nebraska and replacing departed secondary coach Marcel Yates, who is now at Boise State). Aside from that, the coaching staff stayed stable and most of the newness will come on the field, as the Aggies face life post-
Johnny Manziel
,
Mike Evans
and
Jake Matthews
.
[+] Enlarge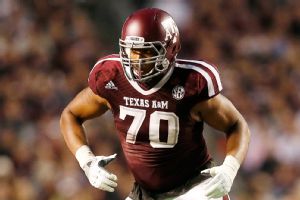 AP Photo/Aaron M. SprecherWhoever Texas A&M names at quarterback will have Cedric Ogbuehi protecting him at left tackle.
On the move:
Offensive tackle
Cedric Ogbuehi
moves from right tackle to left tackle to fill the void left by Jake Matthews. On defense, linebacker
Darian Claiborne
-- who started nine games at middle linebacker -- moves to his natural position of weakside linebacker.
New faces:
Texas A&M had seven recruits who enrolled in January and who will be available for spring football: quarterback
Kyle Allen
, junior college offensive linemen
Jermaine Eluemunor
and
Avery Gennesy
, offensive lineman
J.J. Gustafson
, defensive tackle
Zaycoven Henderson
, receiver
Speedy Noil
and junior college receiver
Joshua Reynolds
.
Also, outside linebacker
A.J. Hilliard
-- a transfer from TCU -- will go through his second spring in Aggieland, but 2014 will be the first year he is eligible to play for A&M after sitting out the 2013 season due to NCAA transfer rules.
Question marks:
Some of the biggest question marks going into spring practice are related to off-the-field issues. Head coach Kevin Sumlin hasn't publicly commented on defensive tackle
Isaiah Golden
and Claiborne, both of whom were arrested over the weekend on separate charges. Athletics department policy calls for them to be suspended immediately and indefinitely while things are sorted out, but how much time will they miss this spring? As for on the field, most of the questions exist on a defense that was last in the SEC in points allowed, yards allowed, rushing and red zone efficiency last season. Will the young defensive line show improvement? Will the secondary play, specifically from the safeties, get better? Can two new faces at linebacker help the cause?
Key battle:
The main one everyone will watch is at quarterback, where senior
Matt Joeckel
, sophomore
Kenny Hill
and Allen will square off. At right tackle, expect the junior college transfers, Eluemunor and Gennesy, to compete for the starting job initially. There are receiver positions up for grabs and a host of candidates. There's a spot at strongside linebacker up for grabs as well.
Breaking out:
With Mike Evans gone, there are a lot of catches and yards to be had. Only one starter returns at receiver (
Malcome Kennedy
), but look for one of the young up-and-comers to break out. That guy could be
Ricky Seals-Jones
, who missed most of last season with a knee injury that he suffered in the season opener against Rice. Seals-Jones is big (6-foot-5, 240 pounds), fast and can be a matchup problem wherever the Aggies put him. Also keep an eye at running back for potential breakout players. The team's two leading rushers the last two seasons -- Manziel and running back
Ben Malena
-- are gone, so someone has to get those carries.
Tra Carson
,
Trey Williams
and
Brandon Williams
will get the chance to prove their worth, and someone will emerge as the No. 1 back on the depth chart.
Don't forget about:
Deshazor Everett
and
De'Vante Harris
. For much of last season, you could say Everett was the Aggies' best and most versatile defensive player, flip-flopping from cornerback to safety and vice versa. His versatility gives the Aggies options in the secondary. Harris showed significant improvement last season as a sophomore over his true freshman season in 2012, when he started right out of the gate. If those two remain at corner, their veteran presence will provide some stability in the defensive backfield, and both have shown the ability to be playmakers.
All eyes on:
The coordinators. Mark Snyder had a strong first season as the Aggies' defensive coordinator in 2012, but last season's defensive performance had Aggies frustrated. Everyone, including Snyder and his staff, is looking for significant improvement from a group that will be a year older after having a dozen freshmen on the defensive two-deep depth chart at times last season. On offense, Spavital takes over as the play-caller, a duty he assumed before the Chick-Fil-A Bowl. He'll call the plays straight from the sideline and, as the quarterbacks coach, should have a symbiotic relationship with Manziel's successor. It will be interesting to see what wrinkles are added to the offense and what it transforms to under the 28-year-old's watch.
February, 27, 2014
Feb 27
9:00
AM ET
While the head coaching carousel turns frequently each offseason, the movement is even more active among assistant coaches. Guys come and go and that includes coordinators, even at the big-time programs.
Alabama, Arkansas, Florida, Georgia, Texas A&M and Vanderbilt were among the SEC schools that saw changes in coordinators on at least one side of the ball this offseason, and there's no doubt those changes will have an effect on their new programs. But which new coordinators will make the biggest impact? Here's four that catch our eye:
[+] Enlarge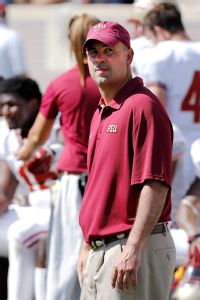 AP Photo/Don Juan MooreIt will be Jeremy Pruitt's task to bring the bite back to Georgia's defense.
Jeremy Pruitt, Georgia:
It doesn't get much better than hiring a coordinator fresh off a national championship, but that's what Georgia pulled off. Head coach Mark Richt added Pruitt, who guided the Florida State defense to a No. 1 national ranking in scoring defense (12.1 points allowed per game) and No. 3 ranking in yards allowed per game (281.4). His specialty is the secondary, as he spent three seasons as Alabama's defensive backs coach before moving to Florida State last season. Georgia's young defense was 45th nationally in yards allowed per game (375.5) and 78th in scoring defense (29 ppg). Pruitt has a strong reputation as a recruiter, as well, and should be able to make an instant and significant impact on the Bulldogs this fall.
Lane Kiffin, Alabama:
Much maligned as a head coach, Kiffin has taken his fair share of criticism, which was often justified, during his head coaching stops at Tennessee and USC. But he's not being hired to run the program, just the offense, so most of the pressures that come with being "the man" won't exist for Kiffin as the offensive coordinator. At Alabama, coordinators rarely meet with the media, so there won't be a lot of Kiffin soundbites or quotes out there, allowing him to focus on the task at hand. Nick Saban thinks highly of Kiffin's play-calling ability and offensive mind, and that's an area Kiffin has a strong reputation. The Crimson Tide ranked sixth in the SEC in yards per game (454.1), sixth in red zone efficiency (66 percent) and fourth in points scored per game (38.2). Those are all areas Kiffin can help improve, though he'll have to develop a new quarterback, the successor to Heisman Trophy finalist
AJ McCarron
. Kiffin was offensive coordinator of a national championship team at USC, which certainly doesn't hurt as he returns to the coordinator role.
Kurt Roper, Florida:
Florida's offense has nowhere to go but up after finishing last in the league in points scored per game (18.8), yards per game (316.7), red zone efficiency (44.2 percent) and goal-to-go efficiency (43.5 percent). That's where Roper comes in. He helped Duke set a school-record for touchdowns as its offensive coordinator. He has worked with three quarterbacks who have thrown for 3,000 or more yards in a season, including Eli Manning. He has SEC experience, making stops at Ole Miss, Tennessee and Kentucky, and this league is where he has spent the bulk of his assistant coaching career. The Gators will spread it out, and Roper will be charged with developing
Jeff Driskel
, who hasn't yet lived up to the potential some hoped he would when he signed in the 2011 recruiting class. Expect Roper to have an impact on Driskel and the offense as a whole, and the Gators should be much strong on that side of the ball this fall.
Jake Spavital, Texas A&M:
Texas A&M's offense was pretty good, which is understandable with
Johnny Manziel
at quarterback. But Spavital has the challenging task of steering the Aggies' offense post-Johnny Football,
Mike Evans
and
Jake Matthews
. That's three probable first-round picks leaving the offense, not to mention losing three starting receivers and the team's top running back from last season,
Ben Malena
. Spavital, who was the Aggies' quarterbacks coach last season, was given the play-calling and offensive coordinator reigns for the Chick-Fil-A Bowl and oversaw a unit that produced 52 points in a victory, but this will be his first fall as a full-time college playcaller. Just 28 years old, the up-and-coming Spavital must choose and develop Manziel's successor (either sophomore
Kenny Hill
, senior
Matt Joeckel
or true freshman
Kyle Allen
) and figure out who the go-to receiver will be in 2014. The young assistant does have a history of working with or being around great college quarterbacks though, having been at Houston when Case Keenum was there, at Oklahoma State with Brandon Weeden, and at West Virginia with Geno Smith.
February, 26, 2014
Feb 26
12:00
PM ET
Even more NFL combine talk, a player returns to his alma mater as a coach, recruiting and more in today's lunch links:
February, 26, 2014
Feb 26
9:00
AM ET
Editor's note: This is the third part in a weeklong series of predictions for Texas A&M spring football practice, which begins on Friday.
Texas A&M is not hurting for talent at running back.
It is perhaps the deepest position on the Aggies' roster and typically has been since Kevin Sumlin arrived prior to the 2012 season. The team has consistently used a rotation of running backs and that is likely to be the case this season, with the junior trio of
Tra Carson
,
Trey Williams
and
Brandon Williams
all returning and redshirt freshman
James White
joining the fray.
The previous two seasons saw
Ben Malena
emerge as the No. 1 running back in terms of workload and total production, but Malena has bid Aggieland farewell.
With Malena gone (as well as quarterback
Johnny Manziel
, who led the team in rushes each of his two seasons as quarterback), there are many carries up for grabs for the returning backs. Who will get the lion's share this fall?
[+] Enlarge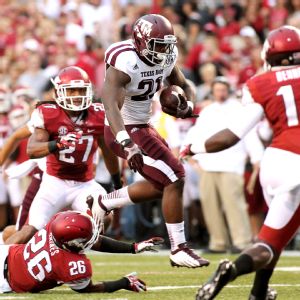 Nelson Chenault/USA TODAY SportsTra Carson's combination of size and speed make him a prime candidate to become Texas A&M's featured running back.
That can be a game-to-game, or even series-to-series, decision for the offensive coaching staff because all of the above names are talented. But if I had to guess which back might emerge as the next one to lead the Aggies in rushing attempts, Carson comes to mind.
He's the biggest back of the group, checking in at 6-foot-1 and around 235 pounds. He showed the ability last season to not only be a short-yardage back, but also illustrated his knack for getting larger chunks of yards by consistently breaking tackles.
The Texarkana (Texas) Liberty-Eylau product will never be confused with Trey Williams or Brandon Williams in terms of pure speed, so it would be unreasonable to expect him to start breaking off 60-yard runs. But he had a carry of 10 or more yards in eight of the 11 games in which he appeared last season, including touchdown runs of 29 yards and 21 yards in the final two games of the season. He finished last season with 329 yards and seven touchdowns on 62 carries.
His size and physicality makes him an ideal between-the-tackles back, and running backs coach Clarence McKinney noted last season that Carson has the best hands of the running back group. So even though he hasn't been used much in the passing game (Carson had three catches last season), McKinney's words suggest that Carson can fill that role when needed.
Trey Williams (58 carries, 407 yards, six touchdowns in 2013) is probably the most elusive back of the group and showed that in several opportunities last season. He'll continue to be a significant part of the Aggies' attack and likely could see his touches increase also with Malena and Manziel gone. His smaller frame (5-8, 195) is something to keep in mind when it comes to workload, however, and Williams has dealt with nagging injuries throughout his A&M career.
Brandon Williams had a lot in terms of expectations going into last season, but a foot injury during preseason camp disrupted his season's start. Once he got on the field, carries came sparingly (44 attempts). But he has appealing speed and playmaking ability, so it will be interesting to see how his workload is affected and where he winds up in the pecking order.
In A&M's uptempo offense, there is no such thing as an "every-down back," though Malena was as close to one as the Aggies had the last two seasons. I'm betting Carson is the most likely to emerge as the next one in that role this spring and fall.
February, 26, 2014
Feb 26
5:30
AM ET
The Early Offer is RecruitingNation's regular feature, giving you a daily dose of recruiting in the mornings. Today's offering: There are plenty of great storylines to follow with the Class of 2015, but few will be bigger than the recruiting battles between new Texas coach Charlie Strong and Texas A&M coach Kevin Sumlin. At the frontlines of the battle between the two Lone Star State powers is
Kendall Sheffield
, the top ranked prospect in the state.
To continue reading this article you must be an Insider
February, 25, 2014
Feb 25
1:26
PM ET
Associated Press
COLLEGE STATION, Texas -- Former Texas A&M and NFL quarterback Bucky Richardson has been arrested on a driving while intoxicated charge.
Police in College Station, Texas, stopped a vehicle driven by Richardson on Sunday morning. He was freed from jail Monday after posting $3,000 bail.
A message left Tuesday for Richardson was not immediately returned.
Richardson was with the Aggies from 1987 through 1991, missing the 1989 season with an injury. He was drafted by the Houston Oilers in 1992 and played three seasons.
Recruit Comparison: Murray to Allen
SEC SCOREBOARD
Saturday, 12/21
Monday, 12/23
Tuesday, 12/24
Thursday, 12/26
Friday, 12/27
Saturday, 12/28
Monday, 12/30
Tuesday, 12/31
Wednesday, 1/1
Thursday, 1/2
Friday, 1/3
Saturday, 1/4
Sunday, 1/5
Monday, 1/6