October, 23, 2014
Oct 23
1:00
PM ET
COLLEGE STATION, Texas — Texas A&M has had a rough stretch in October, going from No. 6 in the country to unranked after its most recent loss, a 59-0 whipping from Alabama.
There are countless issues to address for the Aggies (5-3, 2-3 SEC). What are some potential ways to address the issues and turn things around? Here are some suggestions and thoughts from the Aggies' coaches.
Making a quarterback change
[+] Enlarge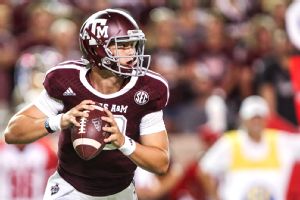 Troy Taormina/USA TODAY SportsWill the Aggies look for a spark from true freshman quarterback Kyle Allen in their next game on Nov. 1 against Louisiana-Monroe?
It doesn't take an expert to see that sophomore quarterback
Kenny Hill
's play hasn't been as good in the last three games as it was in the first five. The first-year starter saw his name discussed in the Heisman Trophy race after the Aggies' 5-0 start, but in the last three weeks, Hill has thrown six interceptions and also lost a fumble. He isn't the only one struggling – there has been poor play from the offensive line and receivers – but it's a wonder if simply having a fresh face behind center might provide a spark. The Aggies have a highly-touted freshman as Hill's backup:
Kyle Allen
, the nation's No. 1-ranked pocket passer in the 2014 recruiting class.
Could a change happen? The coaching staff didn't rule it out this week.
"I'm going to open every position this week," offensive coordinator and quarterbacks coach Jake Spavital said. "I want to find the 11 guys who want to fight and be physical and go out there and play. When it comes down to it, it's a physical sport and you've got to out there and fight. We're going to have a lot of discussions this week and see who the best 11 players are that want to go out and compete for it."
Reshuffling the offensive line
The running game has been unable to get started in recent weeks (the Aggies had a horrid 1.5 yards-per-carry average on Oct. 11 vs. Ole Miss) and Hill hasn't had much time to throw (he was sacked five times vs. Alabama). The lack of time in the pocket for Hill has also affected the downfield passing game. Changes could be on the horizon for the offensive line, once considered the strength of Texas A&M's program but now simply another question mark.
"When you go into the season and that's the strength of your team and you see them getting beat, that's obviously tough and makes it tough on your other players," Spavital said. "They've got to know the truth and see it. The film is not going to lie. I think some of them see how their performance is out there. They've got to fix it or they're going to be replaced."
Improving tackling
Tackling has been an issue for the Aggies and it was painfully apparent against Alabama. For evidence, just see how quarterback
Blake Sims
evaded defender after defender en route to a 43-yard touchdown run or how easily
T.J. Yeldon
sliced through the middle of the Aggies' defense.
It is the No. 1 issue on defensive coordinator Mark Snyder's fix-it list.
"Mistakes are tackling. There's your mistakes, it's tackling people," Snyder said. "You go out and tackle people. We've got a bye week this week, and we're going to tackle this week."
Injecting more fresh faces on defense
The results on defense the last four weeks have been poor. The Aggies have allowed 42.5 points per game, 495.8 yards per game, 255.7 rushing yards per game, 8.89 yards per pass attempt and are tied for worst nationally in red-zone efficiency in that stretch (86.7 percent). We might see some players on the field who haven't played as much as others, perhaps true freshmen such as linebacker
Otaro Alaka
, cornerback
Nick Harvey
or defensive tackle
Zaycoven Henderson
, couldn't hurt the results at this point.
"You can get beat 59-0 with anybody on the field," Sumlin said. "So the guys who are going to play to the standard we've set, I think we got away from that and it's our job to get back to that."
Coaching staff changes
This is something that some fans have called for in the wake of the recent losing streak and the embarrassment on Saturday. Sumlin made it clear that making a change to the coaching staff, whether it is Snyder, Spavital or anyone else, is not something he's considering at this moment.
"There's nobody who's working harder at coaching technique, game-planning, all that kind of stuff than our guys in this building," Sumlin said. "We've got to get the right pieces of the puzzle on the field and do a better job. Don't get it confused; that starts with me. There are a lot of things that need to be fixed. It's not one player, it's not one coach, it's not one thing, when you have a situation like what happened Saturday."
In his seven-year head coaching career, Sumlin has never made a midseason coaching change, so don't expect that to happen now. If he is to consider changes, the timing would more likely be after the regular season is complete.
Who is the best in the West?