July, 15, 2014
Jul 15
8:15
PM ET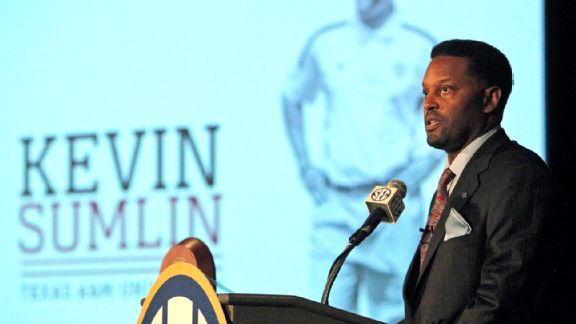 AP Photo/Butch DillAggies coach Kevin Sumlin still found himself answering questions about his departed star quarterback Johnny Manziel at Tuesday's SEC media days.
HOOVER, Alabama -- In the back right corner of Ballroom C of the Hyatt Regency Birmingham, the main interview room for SEC media days, Texas A&M punter
Drew Kaser
sat during his scheduled slot and gladly answered every question that came his way from the handful of reporters surrounding him.
He sat in the same spot that the most popular and polarizing figure in Texas A&M football history did a year ago, when
Johnny Manziel
sat surrounded by seemingly hundreds of reporters asking about every aspect of his offseason. The crowd around Kaser in Ballroom C on Tuesday could sometimes be counted with two hands.
What a difference a year makes.
Last season the Aggies were the center of attention at SEC media days, thanks in large part to Manziel. He was then the reigning Heisman Trophy winner who made news not only with his play on the field but his life off of it, coined "The Summer of Johnny."
Manziel still had a presence Tuesday -- the first question asked to Aggies coach Kevin Sumlin invoked Manziel's offseason, to which Sumlin replied, "That's a great question ... about the
Cleveland Browns
." -- but the Aggies weren't under the microscope quite like they were in 2013.
Even senior cornerback
Deshazor Everett
noticed. Asked what it's like not having Manziel on the team, Everett quipped, "Less media attention," which elicited laughter from the media contingent.
"I love the guy to death but the cameras follow him," Everett said.
In some ways, the Aggies bear a slight resemblance to the group that had so many question marks surrounding it in the summer of 2012, when they were about to begin their life as SEC members.
Two years ago, Sumlin and his players were peppered with questions about how they would survive life in the rugged SEC, who their quarterback was going to be and whether their defense could hold up in a conference built on strong offensive line play. Outsider expectations weren't high then and they aren't terribly high now, either.
On Tuesday, Sumlin proactively addressed the quarterback situation without addressing it, stating flatly that he isn't naming a starter until mid-August. The defense, which was often poor in 2013 and was last in the SEC in numerous statistical categories, was again the subject of numerous questions. And the Aggies have yet to finish higher than third in the SEC West since joining; with three first-round NFL draft picks gone, questions abound about the young players and whether they're ready to meet the challenge.
"I don't believe it's a rebuilding year," Everett said. "We have players that are ready to play."
Maybe it's a good thing for the Aggies. While the publicity was ultimately beneficial for Texas A&M as a football program, the Aggies had marked success in 2012 when they were a largely off-the-radar team coming into the year, one that few thought could be serious contenders in the SEC. Manziel's rare ability and presence was a huge factor in that success, but Sumlin is banking on the talent his two competing quarterbacks (
Kyle Allen
and
Kenny Hill
) have as well as the talent the Aggies have hauled in on the recruiting trail, where the Aggies have scored two top-10 national classes in the past two years and are on track for a third this cycle.
One thing that was similar to last season were the questions about off-the-field "distractions." There might not be Manziel to take the headlines, but the Aggies had nine arrests this offseason and three players dismissed from the team (two of whom contributed to that arrest total), so it's not as though the Aggies have been out of the spotlight.
Sumlin seems to be unaffected by it all. He handled his SEC debut in 2012 smoothly and weathered the storm that surrounded Manziel a year ago. This year, he seemed as comfortable as ever. The Aggies hope to show a similar level of comfort in the SEC this fall by answering those lingering questions.
"It's all part of it," Sumlin said. "The first year was a bit of whirlwind ... last year was obviously a lot different situation ... I'm feeling like a veteran for the first time."
July, 15, 2014
Jul 15
3:54
PM ET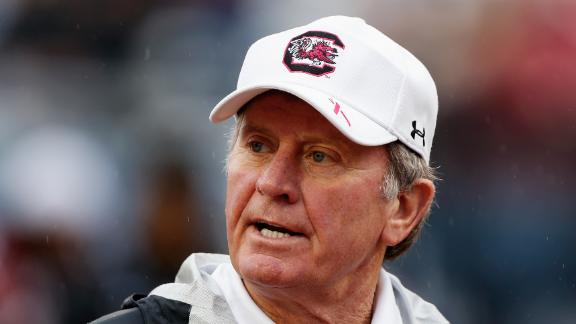 HOOVER, Ala. -- Texas A&M must move on with a new quarterback in 2014, but that doesn't mean the previous one was absent from the discussion at SEC media days on Tuesday.
Aggies coach Kevin Sumlin discussed the transition to a new signal-caller after the departure of record-setting quarterback Johnny Manziel, who was a first-round draft pick by the Cleveland Browns. A&M will turn to a young quarterback this season, either sophomore Kenny Hill or true freshman Kyle Allen.
"I understand there's not going to be another Johnny Manziel, the way he played the game," Sumlin said. "That's all part of it. Now, does that mean that we change offensively? Maybe. Does that mean that we changed offensively for him? That might be the case, too."
Sumlin touted the credentials of the two quarterbacks on his roster, neither of whom have started a college game even though both were well-regarded recruits.
"You wouldn't be so excited if you hadn't recruited the Gatorade Player of the Year out of the state of Texas at quarterback [Hill] and the No. 1 quarterback in the country [Allen] behind him. ... What we have done is we've gone out and been able to recruit very, very well to a system that we believe in."
As for a timetable on naming a starter, Sumlin pointed to the middle of preseason training camp.
"I didn't come here today to tell you who the quarterback was going to be. ... That will play itself out," Sumlin said. "I think we're looking at a couple weeks before we play South Carolina that we'll name a starter."
July, 15, 2014
Jul 15
10:00
AM ET
By
ESPN.com staff
| ESPN.com
It's the unofficial start of college football season as media events kick off with the biggest one of all, the four-day SEC circus in Hoover, Alabama. Keep this page open throughout today's proceedings as we bring you all of the latest from our array of reporters, who will cover all 14 teams at the event.
July, 15, 2014
Jul 15
9:00
AM ET
HOOVER, Ala. -- So what will Day 2 in Hoover hold? Let's take a look and see, in order of appearance.
South Carolina (10 a.m. ET):
This is Steve Spurrier's element, so sit back and enjoy. Expect the Head Ball Coach to hold court in his 13th SEC media days appearance. And he won't even have to discuss
Jadeveon Clowney
this go around. So what shall we talk about? At the risk of answering a rhetorical question: plenty. How is
Dylan Thompson
settling in at quarterback now that
Connor Shaw
is gone? Is
Mike Davis
a legitimate Heisman Trophy contender? Where does the defense go without Clowney,
Kelcy Quarles
and
Chaz Sutton
up front? And how do you navigate a schedule that starts with Texas A&M and rounds out with Auburn, Florida and Clemson? You better believe Spurrier will have something to say about scheduling and more, so make sure you're tuned in.
Mississippi State (11:30 a.m. ET):
Welcome to the Era of Expectations, Bulldogs fans. This isn't your father's Mississippi State. After five seasons building the program in his image, Dan Mullen is on the clock. He's got a potential star at quarterback, a burgeoning group of playmakers at receiver and running back, and a defense that's as talented and deep as any in the SEC. All of that must translate into wins. But how? That's the overarching question for a program that has only recently become accustomed to going to bowl games. How will
Dak Prescott
respond to being the man at quarterback? How will
Benardrick McKinney
wrap his head around no longer being an underdog? What about the ever-present threat of Ole Miss? Mississippi State has plenty of reasons to hope for a great 2014. Now it's time to really start talking about it.
Texas A&M (1 p.m. ET):
We hope Kevin Sumlin is ready to hear about two dozen variations of the question "What's life without
Johnny Manziel
going to be like?" because that's probably what's on the minds of most. Sumlin is likely to reply poignantly, citing something about how he has worked with successful quarterbacks his entire career. And who is the quarterback going to be anyway --
Kyle Allen
or
Kenny Hill
? (Don't hold your breath for a clear answer to that one.) Aside from that, questions abound about the defense, which was mostly awful last season, and what about the off-the-field incidents? The Aggies had nine arrests this offseason and dismissed three players. How will the rash of off-the-field incidents impact the Aggies this fall?
Tennessee (2:30 p.m. ET):
How quickly can the Volunteers turn their recent recruiting success into on-field results? Butch Jones brought in the nation's fifth-ranked recruiting class in the 2014 cycle, impressive for a team that hasn't been as successful on the field as it has historically been accustomed to. Are the Vols ready to take the next step, and perhaps go bowling? Also, questions about who the starting quarterback will be will certainly be directed at Jones. One other topic of discussion is likely to center on the status of leading receiver Pig Howard, who took a leave of absence from the team during spring practice for personal reasons and who Jones
said in May would be part of summer strength and conditioning
but has "certain stipulations and requirements that must be met for him."
July, 15, 2014
Jul 15
9:00
AM ET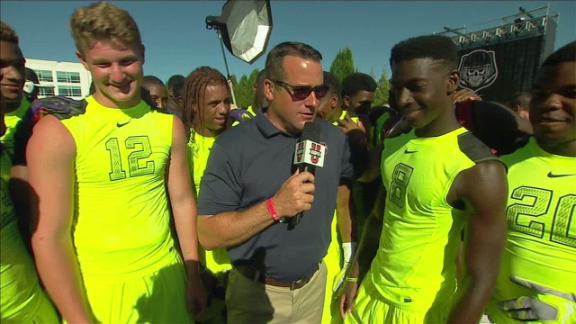 After reviewing performances at
The Opening
last week, here are a few quick hits on how each
Elite 11
quarterback performed:
July, 15, 2014
Jul 15
6:53
AM ET
ESPN.com news services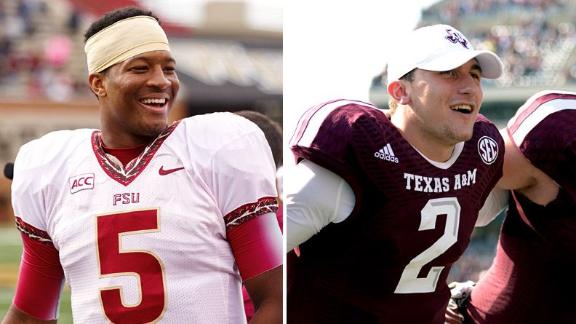 After a season in which he won the Heisman Trophy, led Florida State to a BCS national championship and faced an investigation into an alleged sexual assault, few players can match the pressure quarterback Jameis Winston has faced.
Yet Winston says the scrutiny he deals with pales in comparison to what Johnny Manziel dealt with at Texas A&M.
"I have some online classes and I have some [regular] classes, but in Johnny's case, I mean, he was getting heckled at Texas A&M," Winston said Friday at the Manning Passing Academy. "They didn't have a player like him. He's electric, he's a great person to be around, he's a fun guy. Of course, he attracts people to him.
"At Florida State, our fan base isn't like that. We are to ourselves. We've got a bunch of foreign girls and foreign boys that don't know [anything] about football. In College Station, they live and breathe that, so he was their idol. People wanted to be around him, so of course it was harder."
Manziel, the No. 22 overall pick by the Cleveland Browns in this year's NFL draft, has become a bit of a lightning rod thanks to social media, which has captured him during his weekends away from Cleveland doing things as varied as holding a "money phone" and spraying champagne from an inflatable swan. The regularity of Manziel's weekend soirees prompted Hall of Famers Emmitt Smith and Joe Montana to weigh in that perhaps Manziel might want to dial things back a bit.
Winston said he is conscious of cellphones and social media while out in public.
July, 14, 2014
Jul 14
2:30
PM ET
The opening of SEC media days isn't the only news of the day. Two more college football award watch lists debuted Monday, and the SEC is a major player on both.
Thirteen of the 123 watch list honorees for the Lombardi Award, which is given annually to the top lineman or linebacker, are from the conference. Likewise, nine of the 51 nominees for the Butkus Award, which goes to the top linebacker, are SEC players.
Here are the full lists of SEC nominees:
Lombardi
G
A.J. Cann
, South Carolina
OT
La'el Collins
, LSU
C
Reese Dismukes
, Auburn
DE
Trey Flowers
, Arkansas
LB
Leonard Floyd
, Georgia
LB
A.J. Johnson
, Tennessee
DT
Chris Jones
, Mississippi State
OG
Arie Kouandjio
, Alabama
LB
Benardrick McKinney
, Mississippi State
DT
Robert Nkemdiche
, Ole Miss
OT
Cedric Ogbuehi
, Texas A&M
DE
A'Shawn Robinson
, Alabama
LB
Ramik Wilson
, Georgia
Butkus
Trey DePriest
, Alabama
Leonard Floyd, Georgia
Kris Frost
Jordan Jenkins
, Georgia
A.J. Johnson, Tennessee
Benardrick McKinney, Mississippi State
Braylon Mitchell
, Arkansas
Reggie Ragland
, Alabama
Ramik Wilson, Georgia
July, 14, 2014
Jul 14
1:55
PM ET
By
Brett Edgerton
| ESPN.com
Alabama is seemingly everywhere these days -- and not just on the recruiting trail.
Look what was found recently at the construction site of Texas A&M's Kyle Field, which is undergoing a massive expansion and renovation project.
Someone on the Kyle Field job site wants to get fired. pic.twitter.com/zbjGnR884r

— Doug Keegan (@doug_keegan) July 14, 2014
The picture was taken over the weekend and we're told the Alabama flag has since been taken down. But will the passionate Aggies fan base stand for this grievous breach of home territory? At least one fan on Twitter playfully vowed revenge on the Crimson Tide.
@doug_keegan @InsideTAMU I will be traveling through Tuscaloosa this summer. I will get even.

— Matthew Burt (@mburt32) July 14, 2014
July, 14, 2014
Jul 14
12:23
PM ET
By
ESPN.com staff
| ESPN.com
It's the unofficial start of college football season as media events kick off with the biggest one of all, the four-day SEC circus in Hoover, Alabama. Keep this page open throughout today's proceedings as we bring you all of the latest from our array of reporters, who will cover all 14 teams at the event.
July, 14, 2014
Jul 14
9:00
AM ET
HOOVER, Ala. -- Welcome to SEC media days!
It didn't seem as if we'd ever get here, but in a couple of hours, the inside of the Wynfrey Hotel will be transformed into a circus. The arrival of SEC media days brings us ever closer to the start of the 2014 season. Remember, this is the first season in which we'll be seeing an actual playoff end the season. That right there might be too much to digest.
But before we dive into the nitty-gritty of the season, we're turning our attention to SEC media days. It's where you can have 1,000 media members all together -- along with a lobby jam-packed with ravenous fans (usually Alabama ones) -- crowding around kids and coaches.
It really is a beautiful thing, and here are 10 things to keep an eye on this week in Hoover:
1. Life without Marshall:
Monday was supposed to be a chance for Auburn to truly introduce quarterback
Nick Marshall
to the world. Sure, we've all seen what he can do with a football in his hand, but this was where we were supposed to hear Auburn's quarterback
talk
about all he does with a football. After all, Marshall could be a Heisman Trophy candidate this fall. But after Marshall was cited for possession of a small amount of marijuana Friday, he's out for media days. Tight end
C.J. Uzomah
will take his place. Marshall should be here to own up to his mistake. He should be here to take responsibility, but he isn't. Now his coach and teammates have to do that.
[+] Enlarge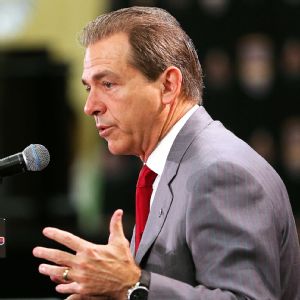 Mike Ehrmann/Getty ImagesNick Saban and Alabama may be picked for the fourth time in five years to win the SEC.
2. Bama talk:
For the first time since the 2011 SEC media days, Alabama did not arrive as the defending national champs. The Crimson Tide didn't even make it to the SEC title game. But that won't matter. Alabama still will steal the show. Everyone is here to see coach Nick Saban and ask questions about
why
Alabama couldn't get it done last season. We'll hear questions about the present and future for Alabama. And with so much talent returning, Alabama will likely be picked to win the SEC for the fourth time in five years.
3. Mason's debut:
Vanderbilt coach Derek Mason is headed to the big leagues, but his first official stop as the man in charge of the Commodores is in Hoover. This ain't Stanford, and it definitely isn't the Pac-12. He'll meet a throng of media members inside a gigantic ballroom. He'll be bombarded with questions about replacing James Franklin, and we'll all wonder if he has what it takes to keep Vandy relevant. Will he wow us during his introductory news conference? Or will he take the businesslike approach and just try to get through such a long day?
4. Muschamp's hot seat:
After a 4-8 season that saw an anemic offense and a loss to FCS foe Georgia Southern, Florida coach Will Muschamp is feeling the heat under his seat. While he has been very collected about the pressure he should be feeling, he knows that this is the most important season of his tenure. To be fair, Florida dealt with an unfair amount of important injuries, but that means nothing now. Muschamp has yet to take Florida back to the SEC title and is 0-3 against archrival Georgia. Muschamp knows he has to win, and he and his players will be grilled about it all day today.
5. Sumlin dealing with distractions:
Johnny Manziel might be gone, but Texas A&M is still dealing with distractions away from the football. Before Kevin Sumlin could even get to media days, he had to dismiss two of his best defensive players in linebacker Darian Claiborne and defensive tackle Isaiah Golden, who were arrested on charges of aggravated robbery earlier this year. One of his quarterbacks --
Kenny Hill
-- also was arrested in March on a public intoxication charge. Once again, Sumlin will have to talk about more than just football this week.
[+] Enlarge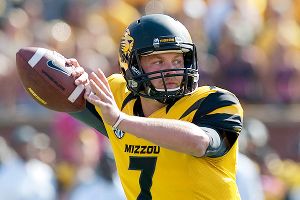 AP Photo/L.G. PattersonMissouri's Maty Mauk threw for 1,071 yards with 11 touchdowns and just two interceptions in place of the injured James Franklin.
6. Quarterback composure:
A lot of talented quarterbacks left this league after last season, but we'll get our fill this week. Marshall might be absent, but we'll hear from
Jeff Driskel
,
Dak Prescott
,
Dylan Thompson
,
Bo Wallace
and
Maty Mauk
. All these guys could have big seasons and will be crucial to their respective teams' success. Can Florida's Driskel rebound after his early, season-ending injury? Is Thompson ready to replace Connor Shaw at South Carolina? Can Wallace of Ole Miss finally find some consistency? And can Prescott (Mississippi State) and Mauk (Missouri) prove their 2013 success wasn't just a flash in the pan?
7. Mauk's composure:
Speaking of Missouri's quarterback, he's an incredibly interesting character to watch. He went 3-1 as a starter in place of the injured James Franklin last season, and has the right attitude and moxie that you want in a quarterback. Is he ready to be the guy full time? Is he ready to lead without a stud like Dorial Green-Beckham to throw to or Franklin to help him? A lot of veteran leadership is gone, so all eyes are on Mauk. He's also a very confident person who isn't afraid to speak his mind. Let's hope he's on his game.
8. Players and the playoff:
This is the first season of the College Football Playoff, and we've received just about everyone's opinion on the matter. Well, almost. We haven't heard much from the people who might be playing in it. What do players think about it? Are there too many games now? Not enough? Do they care about the bowl experience? Do they even care about the playoff?
9. What do players think about getting paid?
With the Power Five a real thing and autonomy becoming more of a reality, what do the players think about it all? What are their thoughts on the prospect of getting some sort of compensation from their schools? Are they getting enough now? How much is enough?
10. What will Spurrier say?
Need I say more? We all want to know what Steve Spurrier will say. Will he take shots at Georgia or Saban? Will Dabo Swinney come up? Will another coach be a target? Who knows, and who cares? We just want him to deliver some patented Spurrier gold!
Sumlin Interested To See New QBs
SEC SCOREBOARD
Thursday, 8/28
Saturday, 8/30
Sunday, 8/31