August, 31, 2014
Aug 31
10:00
AM ET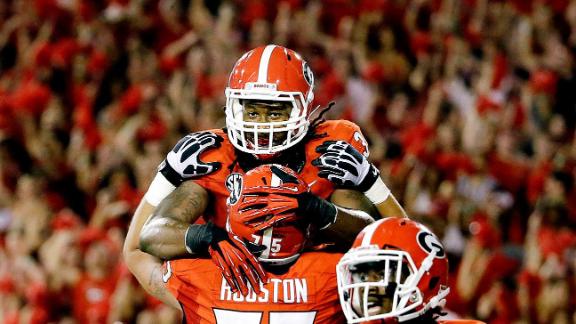 There is one thing the College Football Playoff
didn't
change, and that's the importance of the regular season. The playoff picture has already been affected. Here's a look at how the biggest games impacted the postseason in Week 1:
NOBODY LOOKED INVINCIBLE
[+] Enlarge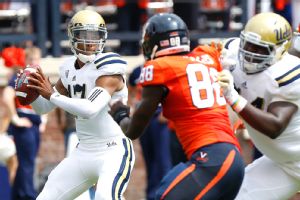 Geoff Burke/USA TODAY SportsHeisman candidate Brett Hundley looked rather ordinary against Virginia on Saturday.
Nobody looked as good as Florida State did a year ago -- including this Florida State. The No. 1-ranked Seminoles got a good scare from Oklahoma State. No. 7 UCLA traveled across the country and ran into a shockingly good Virginia defense. No. 5 Ohio State's defense looked like it had one week to prepare for Navy's triple option -- not all summer. No. 2 Alabama looked vulnerable on defense and had its hands full with West Virginia. Two Heisman hopefuls – FSU quarterback
Jameis Winston
and UCLA's
Brett Hundley
-- looked more average than they did spectacular, and were overshadowed by the likes of
Melvin Gordon
,
Todd Gurley
and – surprise --
Kenny Hill
. Nothing came easy in Week 1 -- including any indication as to who the best team in the country might be -- but that's typical. Look for significant improvement and more clarity in Week 2 now that the nerves have settled and the rust is off.
GAMECOCKS WENT SOUTH
South Carolina coach Steve Spurrier had no answers following his team's 52-28 loss to Texas A&M, one of the most surprising results of the week. The Aggies looked in midseason form against a porous South Carolina defense that allowed a school-record 680 yards. Hill outplayed South Carolina quarterback
Dylan Thompson
, and while South Carolina's playoff stock plummeted, the Aggies' rose. Consider this: The next four opponents for A&M are Lamar, Rice, SMU and Arkansas. The Aggies should be 5-0 heading into October and a trendy playoff pick – especially if Hill continues to play with that poise and accuracy. It was a rough opening for the entire state of South Carolina, as Clemson lost to Georgia, which looked very capable of winning the SEC East. The Bulldogs, led by Gurley's school-record 293 all-purpose yards, scored 24 unanswered points in the second half to break away for a 45-21 win.
GOOD NOT GREAT
Ohio State doesn't look like it's going to bulldoze its way through the Big Ten with
J.T. Barrett
at quarterback and a young offensive line paving the way, but it certainly isn't going to roll over for anyone, either. The loss of
Braxton Miller
to injury was a game-changer, but the team's relentless performance against Navy showed that the Buckeyes can't be counted out just yet. Barrett threw for 226 yards and two touchdowns in his collegiate debut, and coach Urban Meyer used a conservative game plan to keep his rookie comfortable. Ohio State has three straight home games against unranked opponents (Virginia Tech, Kent State and Cincinnati) before opening league play at Maryland on Oct. 4. The Hokies' defense should present the biggest challenge, but the Buckeyes can still enter their Big Ten schedule in exactly the same place everyone thought they'd be with Miller -- in the playoff conversation.
PERCEPTION PROBLEMS
The Big Ten was oh-so-close to gaining some respect this weekend until Wisconsin squandered its 10-point halftime lead against LSU. With the exceptions of Wisconsin and Northwestern, the conference won all of its games. League newcomer Rutgers found a way to beat Washington State in Seattle, and Penn State beat UCF in Ireland, but the Badgers missed their opportunity on the biggest stage. They had the best chance at making a statement for the entire conference. Instead, it was an underwhelming debut for quarterback
Tanner McEvoy
, who completed 8 of 24 passes for 50 yards, no touchdowns and two interceptions. Melvin Gordon had 140 yards -- but only had 16 carries. With Wisconsin's schedule -- the Badgers don't play Ohio State, Michigan State or Michigan -- a win over LSU would've pushed them into the playoff conversation. Now? The Big Ten better hope the Spartans or Buckeyes can live up to the expectations.
BUH-BYE BOISE (and UCF)
The Broncos had one chance to impress the College Football Playoff selection committee against a Power 5 opponent, and it disappeared with a 35-13 loss to Ole Miss on Thursday night. If an undefeated Boise State couldn't get into the title game in the old BCS system, a one-loss Broncos team probably isn't going to sneak into the four-team playoff. The same can be said for UCF, which had high expectations for this season coming off its Fiesta Bowl win over Baylor. A tough 26-24 loss to Penn State in Ireland was hardly an embarrassment, but it's going to be nearly impossible to overcome as a member of the American Athletic Conference.
That's not to say that Boise State or UCF won't play on New Year's Day. The highest-ranked conference champion not from the Group of 5 will earn a spot in one of the New Year's Six bowls, but that's a consolation prize to two programs that have already been there, won that.
August, 31, 2014
Aug 31
1:10
AM ET
Wow, what a first weekend of football around the SEC. And it's not over yet, since Tennessee-Utah State will wrap up the weekend on Sunday.
For now, though, let's recap some of what we've learned so far about the SEC of 2014.
[+] Enlarge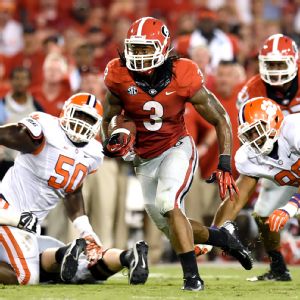 Dale Zanine/USA TODAY SportsTodd Gurley and Georgia made a loud statement with their 45-21 trouncing of Clemson on Saturday.
The league looks wide open:
If we learned anything over the last couple of days, it's that both of these division races will be wide open. It started when Eastern Division favorite South Carolina laid an egg against Texas A&M on Thursday, but several of Saturday's games only solidified the point.
Alabama -- particularly its reconstructed secondary -- had all sorts of problems against West Virginia and its vaunted passing game. Defending league champ Auburn remains an offensive juggernaut, but its defense got manhandled at times early by an improving Arkansas offense. And LSU was on the verge of getting blown out early in the second half before a fake punt gave the Tigers some life, helping them rally from a 24-7 deficit to beat Wisconsin 28-24.
With Texas A&M and Georgia also making statements with impressive wins in their season debuts, it's evident that nobody has a cakewalk to reach Atlanta. The preseason favorites all have questions to answer, and there are several candidates to rise from the middle of the pack to challenge them.
Heisman hopefuls make moves:
Texas A&M quarterback
Kenny Hill
wasn't the only SEC player to jump into the Heisman Trophy conversation. Hill's school-record 511 passing yards and three touchdowns on 44-for-60 passing had to go down as one of the most impressive starting debuts in recent memory. But he had company among SEC offensive standouts.
Todd Gurley
broke Rodney Hampton's Georgia record with 293 all-purpose yards against Clemson -- 198 on the ground and 100 more on a kickoff return for a touchdown (he lost five yards receiving). Between his running and a dominant second half from Jeremy Pruitt's defense, the Bulldogs were able to bury Clemson 45-21.
Cameron Artis-Payne
ran for 122 yards in the second half against Arkansas and finished with 26 carries for 177 yards and a touchdown as Auburn held the Razorbacks scoreless in the second half to put away a 45-21 win.
Quarterback races progress:
Hill made as emphatic a statement as possible about his status as Texas A&M's starting quarterback after winning a preseason battle. But some of the league's other QB races remain, well, unclear.
Blake Sims
(24-33, 250 yards, INT, plus 42 rushing yards) did a fine job in taking nearly every snap in Alabama's win over West Virginia. And
Patrick Towles
(20-29, 377 yards, TD, plus a 23-yard rushing score) was outstanding in Kentucky's rout of overmatched Tennessee-Martin.
But then a couple of QB battles don't seem resolved at all. LSU's
Anthony Jennings
played most of the game against Wisconsin, but the Tigers' offense struggled mightily before closing with a flourish. He finished 9-for-21 for 238 yards and two touchdowns. However, freshman
Brandon Harris
looked lost during the one series he was in the game, so he doesn't appear to be a better option right now.
Vanderbilt also faces a bit of a quandary at the position.
Stephen Rivers
(12-25, 186 yards, INT),
Patton Robinette
(4-6, 38 yards) and
Johnny McCrary
(0-3, 2 INTs) all played, but nothing went right for the Commodores in a 37-7 loss to Temple.
We'll see how Tennessee's
Justin Worley
fares on Sunday night after winning the Volunteers' preseason QB battle.
Bad teams are better:
Arkansas and Kentucky -- two teams that went winless in SEC play a season ago -- made it clear that they will be tougher in 2014.
It's difficult to know what to make of Kentucky's 59-14 win over UT-Martin. We probably shouldn't read too much into a blowout against a middling FCS program, after all. And yet the Wildcats showed off some impressive new weapons.
How about Nebraska transfer
Braylon Heard
taking his only two carries for touchdowns of 73 and 43 yards? And Towles connecting with 10 different receivers? It was an impressive debut to be sure.
Even in a losing effort, Arkansas' physicality had to be what Razorbacks fans wanted to see from a club that lost nine straight games to close out the 2013 season. They pushed Auburn around for a portion of the game and were still thinking upset until Auburn's
Jermaine Whitehead
made it a two-touchdown game by returning a deflected pass for a score with 2:39 left in the third quarter.
Auburn really can pass:
We heard all offseason that Auburn would put the ball in the air more frequently this season, and it looks like the Tigers have the pieces in place to do that.
Junior college transfer
D'haquille Williams
was outstanding in his Auburn debut, catching nine passes for 154 yards and a touchdown, while
Nick Marshall
and
Jeremy Johnson
combined to throw for 293 yards and a pair of scores. The ground game is still the Tigers' calling card (Auburn rushed for 302 yards), but they're going to be even tougher to defend if they keep throwing like this.
August, 31, 2014
Aug 31
12:51
AM ET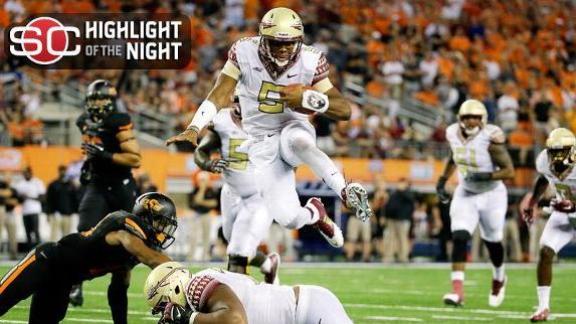 ARLINGTON, Texas -- We pontificate and analyze and study for months, and then the games start, and we find out how much we don't know. We write and speak with good intentions. We're as excited about the season getting here as you are.
But then, like most newborns, it acts nothing like imagined. Little 2014 has a mind of its own, and already we see the darling barely resembles our expectations.
We thought Florida State was invincible, and it's not.
We thought the SEC would hang on to its predominance, and it didn't.
We thought UCLA would resemble a top-five team, and we didn't see it. In fact, we thought the Pac-12 might be the best conference in the nation, and -- oh, wait a minute, we might have gotten that one right.
It's August, not November, and we are trying to solve big puzzles with small clues.
All that practice, all those meetings, all that information has to be synthesized and turned into efficient, crisp football. History tells us we don't see a lot of that on Labor Day weekend. But who remembers history when there's a new season to embrace?
No. 21 Texas A&M kicked off the season by looking all grown up and embarrassing No. 9 South Carolina 52-28. But the Aggies proved to be the anomaly. No. 4 Oklahoma and No. 15 USC dominated overmatched foes.
No. 2 Alabama looked exactly like Florida State and against a similar opponent, and they defeated West Virginia, 33-23. Those games might have been won on the past couple national signing days. When neither team is executing well, talent rules the day. It might wait until the fourth quarter, when minds are tired and precision is an elusive goal. No. 5 Ohio State and No. 13 LSU eventually found a way to beat Navy and No. 14 Wisconsin, respectively.
August, 30, 2014
Aug 30
7:27
PM ET
[+] Enlarge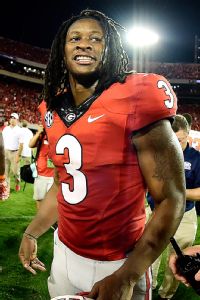 Scott Cunningham/Getty ImagesTodd Gurley scored four touchdowns in No. 12 Georgia's win over No. 16 Clemson.
ATHENS, Georgia -- For the first 30 minutes of Saturday's opener against No. 16 Clemson at Sanford Stadium, No. 12 Georgia looked like a lot of other teams on the opening weekend of the college football season.
Pretty average.
Georgia's much-maligned defense couldn't keep the Tigers off the field, and its offense couldn't seem to stay on on it.
At least the Bulldogs had junior tailback Todd Gurley.
Gurley, who was plagued by ankle injuries the past season, carried the ball only four times in the first half, but his 100-yard kickoff return for a touchdown helped the Bulldogs tie the score at 21 before the half.
In the second half, Gurley showed why he's among the frontrunners for the Heisman Trophy, as he ran wild to finish with a career-high 198 rushing yards on 15 carries with four total touchdowns.
"He had four [carries], huh?" Bulldogs coach Mark Richt said, when asked about Gurley's first-half workload.
With Gurley finally healthy, Georgia might be the team to beat in the SEC East and a contender for one of the four spots in the first College Football Playoff. Gurley gives the Bulldogs a commodity that a lot of other teams don't have -- a player who can change a game in an instant and do it time and time again.
"I think he's the best player in America, or at least one of them," Richt said.
August, 29, 2014
Aug 29
11:44
AM ET
ESPN.com news services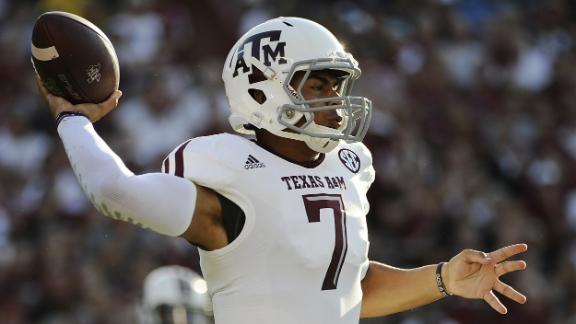 CLEVELAND -- Johnny Manziel is ready to hand off his nickname. Or at least share it.
After Texas A&M sophomore quarterback Kenny Hill shredded No. 9 South Carolina for 511 yards passing on Thursday, breaking Manziel's single-game school record, the Cleveland Browns rookie QB acknowledged that his replacement had more than earned some respect and attention.
Manziel, who praised Hill on his Twitter account, later gave a shoutout during his news conference. "Kenny Football, baby!" Manziel bellowed when it was mentioned to him that he might be old news at A&M. "Let's go!"
KENNY FOOTBALL!!! #GigEm

- Johnny Manziel (@JManziel2) August 29, 2014
Texas A&M was playing its first game in two years without Manziel, the first freshman to win the Heisman Trophy. Hill completed 44 of 60 passes with three touchdowns.
Hill, though, would prefer making his own name.
"I don't really like 'Kenny Football,'" he said after upsetting the Gamecocks.
Manziel, who threw a TD pass and showed some of his elusiveness in Cleveland's win over Chicago, was asked whether he could give up his "Football" nickname so easily.
August, 29, 2014
Aug 29
9:00
AM ET
Here are five things I learned in college football this week:
1. We're often guilty of putting too much stock in a team's opening performance, but it was clear Thursday night that South Carolina is going to miss star defensive end Jadeveon Clowney a lot more than Texas A&M is going to miss Heisman Trophy-winning quarterback Johnny Manziel.
South Carolina's defense had no answer for A&M coach Kevin Sumlin's high-flying offense, as sophomore
Kenny Hill
threw for 511 yards and three touchdowns on 44-for-60 passing in the Aggies'
52-28
rout at South Carolina. Hill broke Manziel's single-game record for passing yards in his first career start and never seemed nervous on the road.
[+] Enlarge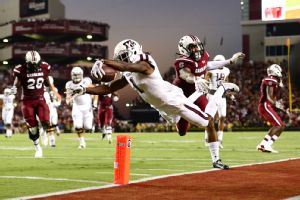 Phil Ellsworth/ESPN ImagesSouth Carolina's new 3-4 defense had a rough debut against Texas A&M as the Aggies racked up 680 total yards.
Afterward, South Carolina coach Steve Spurrier even seemed to criticize defensive coordinator Lorenzo Ward, who installed a 3-4 defense during the offseason.
"I thought we would play a lot better," Spurrier said. "I have been reading like you guys have about our new 3-4 defense. Did anybody like that 3-4 defense? But I don't know if it would have mattered if we'd have played a 6-6 defense. I don't know if 12 out there would have helped that much."
During the offseason, I said several times that I thought South Carolina might be one of the most overrated teams in the country, given its personnel losses on defense. I also believed the Gamecocks would miss departed quarterback
Connor Shaw
much more than some people believed. I might have been right on both accounts.
2. Ole Miss had its struggles against Boise State in Thursday night's opener at the Georgia Dome in Atlanta. Quarterback
Bo Wallace
threw three interceptions in the first half, and the Rebels couldn't pull away from the Broncos until early in the fourth quarter of a
35-13 victory
.
Still, Ole Miss coach Hugh Freeze has plenty of reasons to be excited, mainly that his vaunted freshman class of 2013 is a year older and wiser. Sophomore defensive tackle
Robert Nkemdiche
is becoming one of the toughest blocking assignments in the country and safety
Tony Conner
is a future NFL first-round draft choice. Receiver
Laquon Treadwell
is also fantastic.
Are the Rebels deep enough and experienced enough to challenge Auburn, Alabama and Texas A&M in the SEC West? Probably not. But the Rebels might be good enough to knock off any of those teams in one game and have a say in which team wins the division.
3. The season can't get here soon enough for new USC coach Steve Sarkisian. One day after Sarkisian had to indefinitely suspend team captain
Josh Shaw
for lying about how he suffered two high ankle sprains over the weekend, he was accused of being a racist by running back
Anthony Brown
, who quit the team.
Brown made his accusations on Instagram and other social media, claiming, "Sark treated me like a Slave in his office." Sarkisian said the accusations were "shocking," and anyone who has met the former Washington coach would have a very difficult time believing they're true.
4. So-called football factories such as Georgia, Oklahoma and Texas were in the news for all the wrong reasons during the offseason, as coaches at those schools had to dismiss several players for off-field problems.
But the recent troubles at high-academic institutions like North Carolina and Notre Dame prove it can happen anywhere. UNC coach Larry Fedora suspended four players from the Tar Heels' opener against FCS foe Liberty on Saturday, a couple of days after Yahoo! Sports reported that a walk-on receiver suffered a concussion during an alleged hazing incident.
The Fighting Irish announced Thursday that a fifth player, safety
Eilar Hardy
, is being held out of practice and games while the school investigates an allegation of academic misconduct. The Irish have already suspended receiver
DaVaris Daniels
, cornerback
KeiVarae Russell
, defensive end
Ishaq Williams
and linebacker
Kendall Moore
.
5. Kudos to Virginia Tech for giving coach Frank Beamer a new two-year contract extension, which might keep him with the Hokies through the 2018 season. Sure, the Hokies have uncharacteristically struggled the past couple of seasons, but we too easily forget that Beamer built his alma mater into a national powerhouse when most people believed it could never be done.
It's also significant that new Virginia Tech athletics director Whit Babcock gave him the deal instead of Jim Weaver, the retired AD who was one of Beamer's biggest supporters. The Hokies have won 15 games the past two seasons, after winning 10 games or more in each of the previous eight. Beamer built the program, and he should be given an opportunity to get it back to the top of the ACC.
August, 29, 2014
Aug 29
8:00
AM ET
1. Raise your hand if you saw that coming from Texas A&M last night? Nobody? That's OK, I didn't and neither did my SEC colleagues,
as evidenced by our Week 1 predictions
. The Aggies coming out of Columbia, South Carolina with a win wasn't far-fetched but absolutely dominating? That was unexpected. Especially for the College Station-area Ashley Furniture store. Ashley promised customers free furniture if the Aggies beat the Gamecocks by 10 or more points.
The result? More than $1 million in free furniture given away.
The Aggies themselves were pretty fired up,
evidenced by this celebration video involving Kevin Sumlin and the team
. But the biggest story on Thursday night was none other than quarterback Kenny Hill, who -- in his first career start -- broke Johnny Manziel's single-game school record for passing yards and completions.
Hill proved that the Aggies are far from a one-trick pony.
2. There's some good and some not so good to take away from Ole Miss' win against Boise State on Thursday night. The good is the defense was stout. The not so good was that quarterback Bo Wallace wasn't as consistent as you'd like a senior quarterback and third-year starter to be, throwing three interceptions and four touchdowns. Those are two of the
three things we learned from the Rebels 35-13 win
over the Broncos. Robert Nkemdiche
was certainly pleased with the defensive effort
. Here's a look at some of
the plays that changed the game
for the Rebels.
3. Nick Saban hasn't publicly named Alabama's starting quarterback, but reading into his commentary during his radio show on Thursday night, but it certainly sounds like Blake Sims might take the first snap.
Saban dropped a few hints into his thought process
Thursday and
one report claims that Sims will indeed start
, citing a source. Saban lauded Sims' experience, something Jacob Coker lacks after arriving in Tuscaloosa, Alabama just this summer. "Here's the thing everybody needs to understand that people don't understand," Saban said. "We have a guy playing quarterback who has been in the system for a long time and really has a really good understanding, very confident in what he's doing. I know he didn't play very well in the spring game and that's how a lot of people evaluate him. But he has done very well this fall and he did very well last spring and he has a lot of experience and a lot of knowledge."
More from around the SEC
Tweets of the day
KENNY FOOTBALL!!! #GigEm

— Johnny Manziel (@JManziel2) August 29, 2014
Hill: I don't really like "Kenny Football." [crowd burst in laughter]

— Gabe Bock (@GabeBock) August 29, 2014
August, 28, 2014
Aug 28
11:14
PM ET
By
ESPN Stats & Information
| ESPN.com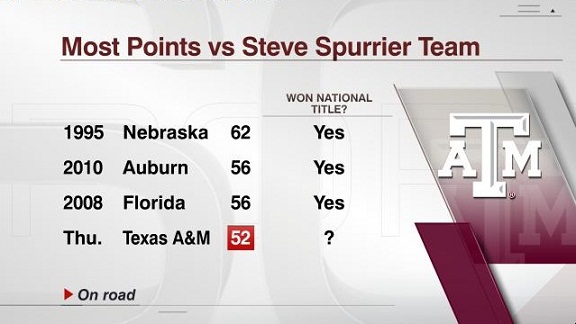 The precedent has been set for Texas A&M to do big things in 2014.
Kenny Hill made Texas A&M fans turn the page from
Johnny Manziel
with a debut to remember on Thursday night.
Hill completed 44 passes for 511 yards, both school records. Texas A&M gained 680 yards, the most by any team against South Carolina in school history as it ended the Gamecocks' 18-game home winning streak. The 52 points A&M scored are also the most ever scored by a road team against a Steve Spurrier-coached team and fourth-most overall.
We take you inside the numbers on this record-setting night in Columbia.
Don't blitz
South Carolina attempted to blitz Hill on over 40 percent of his dropbacks on Thursday night, but Hill was not rattled by the pressure. He completed 72 percent of his passes and threw two touchdowns when facing added pressure compared to 74 percent and one touchdown against no blitz.
Johnny who?
Hill's debut far surpassed Manziel's debut against Florida in 2012. Manziel passed for 173 yards and no touchdowns in a 20-17 loss. Manziel did rush for 60 yards and a touchdown in that game.
Catch and run
The Aggies gained 278 of their 511 passing yards after the catch Thursday, including 106 by Malcome Kennedy. Last season, Texas A&M averaged an SEC-high 179.8 yards after the catch per game.
Curtains for South Carolina?
Despite tonight's big loss for the Gamecocks, their season is far from over. Four teams have reached the SEC championship game after losing their season opener and six teams have done so after losing their SEC opener.
The most recent team to do both was Georgia in 2011, which reached the SEC title game after losing its opener to Boise State and its SEC opener to South Carolina.
August, 28, 2014
Aug 28
11:11
PM ET
COLUMBIA, S.C.-- On Thursday night, Kenny Hill, the Texas A&M quarterback whom a lot of people assumed wouldn't be the starting quarterback, put on the kind of performance that a lot of people also assumed wouldn't be seen much from the Aggies this season.
After all, Johnny Manziel is in the past, right? And Kyle Allen is the future, right? The answers to those questions are "yes" and "more than likely," but for now, Hill is the present. With all due respect to the Heisman Trophy-winning, finger-rubbing Cleveland Browns backup, the present is actually a much more natural fit for coach Kevin Sumlin's spread offense.
Don't take my word for it. Take the word of the 13 NFL scouts in attendance at the Aggies' 52-28 win at South Carolina to open the season.
August, 28, 2014
Aug 28
10:18
PM ET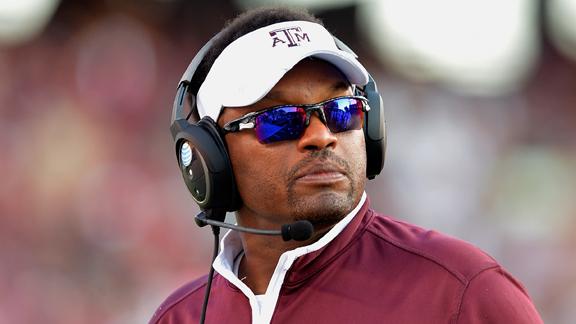 Texas A&M's big 24-point win over South Carolina on Thursday night paid off to the tune of more than $1 million for some Aggies fans.
The Ashley Furniture branch located in College Station, where Texas A&M is based, offered all furniture purchased from Aug. 16 through Aug. 27 for free if the Aggies beat the Gamecocks by at least 10 points.
Mark Wilks, who owns the store, told ESPN.com on Thursday night that more than 600 people bought items during that time period totaling more than $1 million in sales. One customer, Wilks said, bought $20,000 worth of furniture.
"We've wanted to do this for three or four years now," said Wilks, whose store is an official sponsor of Aggies athletics. "This was really good for us."
Wilks said that thanks to the promotion, his store had its best month of sales in the eight years it has been open.
The furniture store is not going out of business thanks to fact that Wilks took out insurance. With the Aggies a 10½-point underdog, Wilks was able to get the insurance relatively cheap. He says he'll pay the insurance company roughly 15 percent of the total that they will reimburse to customers.
Said Wilks: "We're going to have a big check-writing party at the store."
Furniture stores have been popular businesses when it comes to sports giveaways.
Drive Through: Week 1 Thoughts