April, 16, 2014
Apr 16
12:20
PM ET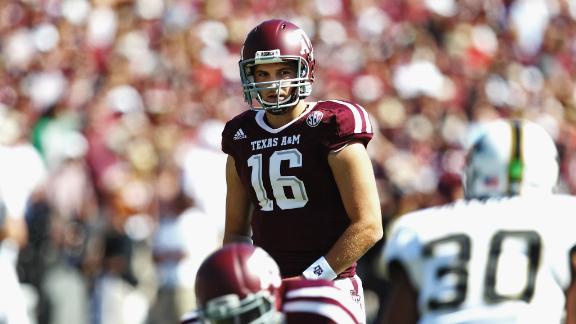 The departure
of senior
Matt Joeckel
means that
Texas A&M
is down to two in its quarterback race. From here on out, it's all about sophomore
Kenny Hill
and early-enrollee freshman
Kyle Allen
.
[+] Enlarge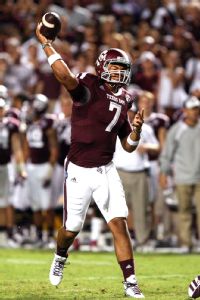 Troy Taormina/USA TODAY SportsSophomore Kenny Hill threw for 183 yards and a touchdown in limited playing time last fall.
The question now becomes who has the edge at the position entering summer workouts and fall camp?
It really is up in the air. Coach Kevin Sumlin is not expected to announce a starter until August, much like when he chose
Johnny Manziel
to be the starter before the 2012 season. Sumlin isn't the type to make a decision like this early, so there's plenty of time for both guys to prove themselves before the season opener against South Carolina on Aug. 28.
While Allen, a U.S. Army All-American and former ESPN 300 member, arrived in College Station with a mountain of hype and expectations, the more experienced Hill might still have a leg up on the rising star. Yes, Hill was indefinitely suspended this spring after he was
arrested in late March on a public intoxication charge
, but that setback won't disqualify him from taking the starting job this fall.
After all, Manziel was also arrested -- much later in the process, too -- and did just fine with the quarterback battle in 2012. He also turned out to be a pretty decent starter for the Aggies.
Now, Hill isn't Manziel. He isn't going to make the kind of jaw-dropping plays that made Manziel so much fun to watch and so tough to defend, but he knows the offense the best and has the only on-field experience. Hill played in five games last season, throwing for 183 yards and a touchdown on 16-of-22 passing. With that said, Hill is on thin ice and certainly can't afford to have another off-field transgression if he wants a shot at being the starter.
Hill's suspension set him back this spring, giving Allen more opportunities. Allen showed the expected freshman jitters and errors this spring. He was far from perfect and still has a way to go in this offense. He might have an advantage in the arms race, as he threw arguably the best ball of all the competitors this spring. Allen might be the quarterback of the future with his talent and upside, but that doesn't mean he'll be the quarterback of 2014.
Hill has some work to do to get fully back into his coaches' good graces, but his knowledge of the offense gives him an advantage at the moment. Both will likely see playing time this fall, but Sumlin isn't one to swap quarterbacks in and out on a regular basis during the season.
Eventually there's going to be one guy for the job, and the next few months will still go a long way in determining who starts for the Aggies at quarterback in the fall.
April, 16, 2014
Apr 16
12:00
PM ET
Finish your taxes on time? Then sit back and enjoy Wednesday's lunch links.
April, 16, 2014
Apr 16
11:40
AM ET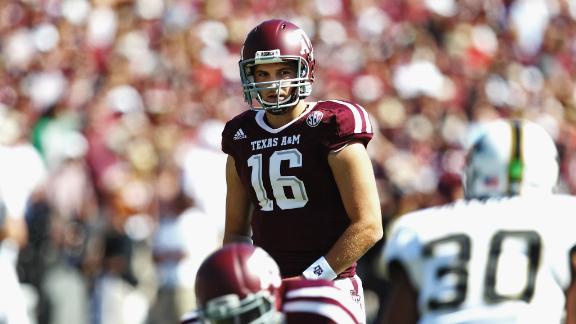 The race to replace Johnny Manziel as starting quarterback at Texas A&M is down to two, after the school announced Wednesday that Matt Joeckel will transfer from the program.
The Arlington, Texas, native and former three-star recruit played in four games last season, connecting on 22 of 37 passes for 293 yards and two touchdowns.
"Matt is a great Aggie and he has decided to transfer," coach Kevin Sumlin said in a news release. "We wish him all the best."
With Joeckel out of the picture, the competition at quarterback falls to Kenny Hill and Kyle Allen.
Hill, a 6-foot-1 sophomore from Southlake, outside of Dallas, played in four games as a freshman, completing 16 of 22 passes, including one for a touchdown. He also ran the ball seven times for 37 yards.
But Hill took a significant step backward late last month when he was arrested for public intoxication and soon thereafter suspended indefinitely.
Allen, the No. 1 quarterback in the ESPN 300, enrolled at Texas A&M in January and was able to compete throughout spring practice, which ended on April 5.
Sumlin has not set a timetable for naming a starter. Whoever it is will have enormous shoes to fill after Manziel's storied two-year reign at the position that yielded a Heisman Trophy and numerous school and conference records on offense.
Joeckel, who finished his undergraduate degree in December, will have immediate eligibility to play in his senior season. His brother, Luke Joecke
April, 16, 2014
Apr 16
9:00
AM ET
The last two seasons, Texas A&M hasn't had to tap deep into its offensive line because the Aggies have had good fortune health-wise at the position.
In 2012, the Aggies had the same starting five offensive linemen for all 13 games and in 2013, they had the same starting five for 11 of their 13 games, missing only tackle
Cedric Ogbuehi
for two games in the middle of the season.
But with left guard
Jarvis Harrison
sitting out the spring while recovering from offseason shoulder surgery, the Aggies were able to see that they do have quality depth on their offensive line should they need it.
Harrison's absence made way for two players to find their way into the lineup with the first team this spring:
Garrett Gramling
and
Joseph Cheek
.
Texas A&M returns four of five starters from 2013: Ogbuehi, Harrison, center
Mike Matthews
and right guard
Germain Ifedi
. The right tackle spot is open for competition and though the spring began with junior college transfers
Avery Gennesy
and
Jermaine Eluemunor
competing for the position, the majority of the spring saw Ifedi manning that spot.
With Ifedi shifted over and Harrison out, that left the two guard spots open, which both Gramling and Cheek ably filled during spring drills.
Offensive line coach B.J. Anderson made it clear during spring football that "we're not earning any jobs right now" and that his players were focusing on technique and fundamentals. Still, Ifedi established himself as a candidate to be the future right tackle and Gramling -- who started at left guard the two games Ogbuehi was out while Harrison played left tackle -- has positioned himself to compete for a starting guard job.
"I've got Joe Cheek over at the right guard and Garrett at the left guard and you add Jarvis to that mix and there's three guys for those two positions," Anderson said. "We'll find out who wins it in fall camp."
Eluemunor spent most of the spring working at guard and Gennesy at tackle and Anderson wanted both to get comfortable in their new surroundings. He also noted that both were training at both right guard and right tackle.
"I think that's important," Anderson said. "They need to do be able to do both in case we get into an injury scenario."
Ogbuehi, who played right tackle last year, spent the spring getting acclimated to the left side of the offensive line. He felt good about his progress from the first spring practice to the last one on April 5.
"I feel a lot better," Ogbuehi said. "I feel better than I was last year at right tackle."
Matthews, who is entering his junior season at center, will be a steady presence for the Aggies in the middle.
"Mike has total control of the offense," Anderson said.
The standard this group has to live up to is a high one. The last two seasons, the Aggies have been considered one of the country's best offensive lines, paving the way for a top-10 offense and protecting quarterback
Johnny Manziel
. It's a unit that produced the No. 2 overall pick in the 2013 NFL draft (
Luke Joeckel
) and likely will produce another top-10 pick next month (
Jake Matthews
). Even SEC fans
are picking the Aggies to be the league's best unit
this season.
Though it remains to be seen how this group develops, there certainly is no shortage of options for the Aggies up front.
April, 15, 2014
Apr 15
6:47
PM ET
April, 15, 2014
Apr 15
1:30
PM ET
Maybe it's a surprise to some, and maybe it shouldn't be. Either way, Texas A&M's offensive line will be the cream of the crop in the SEC in 2014, according to the fans.
More than 17,000 people voted in our
SportsNation poll last week
, and the Aggies were a clear winner. They received 34 percent of the vote. LSU was second with 23 percent and then Auburn with 16 percent, Alabama with 14 percent and South Carolina with 13 percent.
The Aggies will have a bit of a new look up front offensively in 2014. Senior
Cedric Ogbuehi
is moving from right tackle to left tackle and is another in a long line of outstanding tackles to play at Texas A&M. Luke Joeckel was the second overall pick in the 2013 NFL draft.
Jake Matthews
is being projected as a top-10 pick in May's draft, and Ogbuehi also has the makings of a first-rounder when the 2015 draft rolls around. He got a first-round grade from the advisory board this past year but decided to return for his senior season.
Ogbuehi is one of four returning starters up front for the Aggies, who should also have more depth next season. Senior left guard
Jarvis Harrison
was out all spring with a shoulder injury, and senior
Garrett Gramling
worked with the first team. He played well enough that he could work his way into the starting lineup. Every good offensive line is stout right up the middle, and junior
Mike Matthews
returns as one of the top centers in the league. He has excellent command of the offense in terms of all his checks and calls.
The right tackle job is the big question, although sophomore
Germain Ifedi
worked there this spring after playing last season at guard. The 6-5, 330-pound Ifedi is a mammoth individual, but seems to move well enough to play outside at tackle. Junior college tackles
Avery Gennesy
and
Jermaine Eluemunor
will benefit from having gone through the spring, and junior
Joseph Cheek
got a lot of first-team work at guard this spring.
The big surprise coming out of the SportsNation poll was that South Carolina received the fewest votes. The Gamecocks also return four starters and have three players -- tackles
Corey Robinson
and
Brandon Shell
and left guard
A.J. Cann
-- who are likely to be drafted. This also will be their third season playing together. When it's all said and done, here's betting that the Gamecocks are as good as anybody up front offensively in 2014.
We'll see how it all plays out in the fall.
April, 15, 2014
Apr 15
12:00
PM ET
April, 15, 2014
Apr 15
9:00
AM ET
When it comes to Texas A&M's spring, the first question surrounding the Aggies often relates to the quarterback battle and who is in the lead to succeed
Johnny Manziel
.
The next question is usually relates to the defense, and how much better -- if at all -- the unit will be after a disastrous 2013 season.
While neither can be definitively answered, when it comes to the defense, there is at least some reason for optimism coming out of spring football. The Aggies can't get much worse than they were a year ago, when the ranked last or near last in the SEC in virtually every major statistical category, but there were signs during spring practice that indicate that brighter days are ahead for defensive coordinator Mark Snyder's group.
One reason the Aggies have to feel better about their defense is the experience they'll have. Last year the root of the struggles seemed to be the youth and inexperience up and down the depth chart, with the Aggies having as many as a dozen freshmen in the defensive two-deep.
Though the Aggies will still be relatively young in some areas (particularly linebacker), most of the players who are candidates to start or see significant time were thrown in the fire last season.
Middle linebacker
Jordan Mastrogiovanni
is a perfect example. Though he'll only be a sophomore this fall, he started against Alabama last Sept. 14 and in the Chick-Fil-A Bowl against Duke. Mastrogiovanni called it "overwhelming," but as the guy getting first-team work at his position this spring, coaches have heaped praise upon the former ESPN 300 prospect.
Should defensive tackle
Isaiah Golden
and linebacker
Darian Claiborne
return from suspensions (both missed the spring after February arrests), they too will benefit. Both started a large portion of the season as true freshmen.
Other players who could be in position to contribute, such as linebacker
Shaan Washington
or cornerback
Noel Ellis
, weren't starters but saw enough field time to give them a taste of what life in the SEC is like.
Add to those young players a host of returning veterans, such as the starting secondary of
Deshazor Everett
,
De'Vante Harris
,
Howard Matthews
and
Julien Obioha
,
Gavin Stansbury
and
Alonzo Williams
and the Aggies can begin piecing together a more experienced defense.
With so many players returning (nine starters return from last year's defense) and a top-five recruiting class on the way, the Aggies will continue to add to their talent level on defense. One defensive player is already on campus (defensive tackle
Zaycoven Henderson
) and showed flashes of his potential during spring football.
With players like defensive end
Myles Garrett
, the nation's No. 4 overall prospect, ESPN 300 athlete
Nick Harvey
, who will be a defensive back at Texas A&M and other ESPN 300 prospects like
Deshawn Washington,
Otaro Alaka
,
Qualen Cunningham
,
Armani Watts
and
Josh Walker
, competition will only increase when preseason training camp starts.
The increased depth on the defensive line could be the biggest factor in helping the defense improve. Snyder indicated how critical it was earlier this month.
"Up front for the first time, we're going to be able to roll people," Snyder said. "I told [defensive line coach] Terry [Price] … that when we get to the fall, we're going to have to practice our rotations, which is a great thing."
For the Aggies, there really is nowhere to go but up defensively. They could be another year away from being the kind of defense they hope to be, but the developments this spring suggest at least some improvement is in order in 2014.
April, 14, 2014
Apr 14
12:09
PM ET
April, 14, 2014
Apr 14
11:00
AM ET
At this time last year, Texas A&M was the epicenter of college football during spring practice. The Aggies' 2013 spring game drew a record crowd. ESPN televised the game, "Johnny Football" was the face of the sport and it helped swing in-state recruiting momentum from the Longhorns.
It would only make sense that Texas A&M coach Kevin Sumlin was ready to do it all again this spring.
"No, it's not for me," Sumlin said in March. "I'll be honest with you, you guys know me, that second half [of spring games] goes real quick. I'm ready to get out of there."
The spring game in many ways goes against the core belief of Sumlin, and really every coach, of using every practice to get better. So the Aggies went without a game this spring, and will do so again in 2015 as Kyle Field's renovations continue.
[+] Enlarge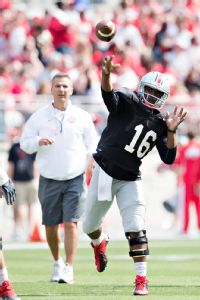 Greg Bartram/USA TODAY SportsOhio State coach Urban Meyer likes the opportunity to get young players, such as redshirt freshman quarterback J.T. Barrett, some playing time in a spring game.
Spring games are at somewhat of a crossroads in college football. They're hardly fighting off extinction as 54 FBS programs held games this past weekend. But the watered-down product is giving coaches reason for pause. The argument against holding the spring game is picking up steam, and coaches are questioning the value in using the final spring practice on a half-speed "dog-and-pony show," as Tulsa coach Bill Blankenship puts it.
A handful of programs aren't holding spring games this year. Oklahoma State coach Mike Gundy did not plan a spring game, and Pittsburgh coach Paul Chryst believed it wasn't in the program's best interest to have one, either.
Both Chryst and Gundy have young rosters. Only Utah State returns fewer starters than the Cowboys. Chryst is still trying to put his stamp on a program that has had more head coaches than winning seasons in the last decade, and he is breaking in a new quarterback. To Chryst and Gundy, it did not make sense to waste a practice day for a haphazard game.
"Truly looking at this from the inside of the program and what this group needs, it was, 'What's the best use of the 15 opportunities we get in the spring,'" Chryst said. "I felt like we didn't have a group where we're going to take just one full day and scrimmage. Bottom line is we wanted to make sure we're maximizing our opportunities."
Two coaches not questioning a spring game finale are the leaders of programs with some of the best odds to win the first College Football Playoff. Both Florida State's Jimbo Fisher and Ohio State's Urban Meyer are in favor of the model most programs still subscribe to: 14 practices, mix in a few scrimmages and hold a game at the end of camp. Fisher and Meyer believe it's the only time in the spring to get an accurate read on how players react to a fall Saturday game atmosphere.
"What you get is the people in the stadium, you get pressure, you get outside people watching you get the lights on the scoreboard and [the game] matters," Fisher told ESPN.com last week. "You get a game environment. It might not be the one in the fall, but it's as close as you'll ever get out in this practice field. To get a guy in front of 40,000 people and watch how they play in front of them, to me, I put more value in that."
However, Meyer acknowledges the issues the modern-day spring game presents. Ohio State star quarterback
Braxton Miller
was out with an injury, but
Joey Bosa
,
Noah Spence
and
Adolphus Washington
were healthy scratches. Fisher elected to sit starting running back
Karlos Williams
, leaving a fullback and a handful of walk-on running backs to carry the spring load Saturday. The sustainability of the spring game could come down to depth, but rosters are thinner with the 85 scholarship limit, and coaches are keeping their proven commodities out of harm's way.
"

To get a guy in front of 40,000 people and watch how they play in front of them, to me, I put more value in that.

"

-- Florida State coach Jimbo Fisher, on the value of spring games
Northwestern coach Pat Fitzgerald said the lack of numbers at certain positions causes the few available players to "double dip" and play both sides, opening those few healthy players up to injury. The emphasis on preventing and identifying concussions has grown substantially in the last few years, and Blankenship added that "a lot more guys are missing practice today with concussion-related symptoms, and that's been consistent across the board with other coaches I talk to."
Meyer said spring games are often a "great opportunity to get scout-team guys a chance to play," which in itself can be considered an indictment of the spring game's inherent value.
"One time at Florida we had only five or six offensive linemen and they had to play both ways," Meyer said, "but the experience of playing in front of [fans], if you want to have a practice but arrange how the receiver has to be the guy, to be in coverage and catch a pass and hear the crowd, that's real."
There are only so many programs that consistently draw 30,000 or more fans for a spring game, though. Those other programs don't have the benefit of putting their players in a game-day atmosphere when only a few thousand fans fill the bleachers.
Blankenship understands he needs to promote his Tulsa program and bring in as many fans as possible. So last year, they tried a new spring game model. Instead of a traditional game of the roster being split, Blankenship operates on only 50 percent of the field and allows fans to sit on the other side of the 50 to get a more intimate view. The game resembles more of a practice as the team works on situations such as red zone and fourth down instead of keeping score.
A piece of him still wants a sound 15th practice, though.
"I do think [the spring game] is worth it from the fan standpoint," he said, "but the coach in me would like to have another practice."
[+] Enlarge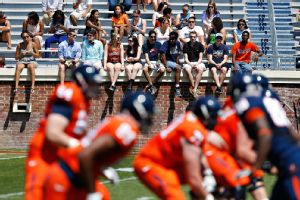 Geoff Burke/USA TODAY SportsThese Virginia students received a better-than-front-row view of the Cavaliers' spring game.
Fans and alumni are maybe the most overlooked part of the equation of whether it is realistic to ditch the spring game. Florida State director of marketing Jason Dennard said it would be nearly impossible to change the Seminoles' spring game model, which begins with downtown events Friday. The school even receives grant dollars from the local economic development council to fortify the weekend lineup.
"It's a complete home run," Dennard said. "After what we've built, it'd be hard to scale it down. People have come to expect this to be a big deal. It's an investment into the future of our program."
While Pittsburgh has struggled to draw fans for its spring games in recent years, Chryst was still cognizant of the program's fans when he decided to cancel the spring game. So Chryst met with the marketing department at Pitt and helped introduce a football clinic for young players and offensive and defensive breakdowns of the Panthers' schemes for the Xs-and-Os fan.
"It was different at first and people said, 'What, no spring game?' But when Coach Chryst announced the Field Pass, the response was overwhelming," said Chris Ferris, associate athletic director for external relations at Pitt.
Could that union of a standard 15th practice with an added day of fan interaction be the union that seals the fate of spring games? Maybe.
"I think it is," Blankenship said. "We're much closer to that in our part of the country. I think the tradition of the spring game is something we're all kind of tied to, but we're all figuring out there's a better way."
April, 14, 2014
Apr 14
9:30
AM ET
Texas A&M's defense has been a point of emphasis this offseason as the Aggies look to improve on a rough 2013 on that side of the football.
One of the storylines throughout spring practice was the new face on the defensive coaching staff: secondary coach Terry Joseph.
After former Aggies' secondary coach Marcel Yates left after last season to accept the defensive coordinator job at Boise State, coach Kevin Sumlin sought Joseph, who was at Nebraska. With spring practice in the books, it appears he has had a quick impact.
"[He's an] attention-to-detail guy," defensive coordinator Mark Snyder said. "Kids are bought in, are listening. You're seeing some things that were mistakes last year that aren't showing their face right now."
Reducing mistakes will be key, because those contributed to the group's overall inconsistency last season. The Aggies have veterans at cornerback and safety and they have talent, but getting them on the same page or reducing the number of mental errors is important if Texas A&M wants improvement in that area.
Returning are both starting cornerbacks from last season,
Deshazor Everett
and
De'Vante Harris
, as well as all three safeties who saw a start,
Clay Honeycutt
,
Floyd Raven
and
Howard Matthews
. Junior
Devonta Burns
finds himself in the mix at safety and nickel cornerback, and several young cornerbacks --
Victor Davis
,
Noel Ellis
,
Tavares Garner
and
Alex Sezer
-- made strides.
Joseph, a Louisiana native, has spent time coaching in the SEC with stops at LSU and Tennessee. The biggest difference with Joseph on hand has to do with his approach, according to one player.
"The intensity," Everett said. "Coach Joseph is on us
every
play. He doesn't let anybody get a play off. If you have violations with your eyes or your technique, you're running after practice or what we call 'painting the lines.' When you're getting punished for bad techniques, it makes you really focus on what you need to do so that in the game it will come second nature to you and you won't have to focus on it and you can play football."
April, 11, 2014
Apr 11
3:00
PM ET
Texas A&M receiver
Mike Evans
went from relative unknown to bonafide star in college football circles and now is preparing for the NFL draft.
With the sophomore departing early, the Aggies hit the recruiting trail to find someone who they hope could be the next Evans, ESPN 300 receiver
Frank Iheanacho
.
The comparisons have been drawn for several reasons. The Houston Westside High School product, like Evans,
was a varsity basketball player first before deciding to join the varsity football team as a senior
and both have impressive size (6-foot-6, 220 pounds) and leaping ability.
We caught up with the U.S. Army All-American to talk about the comparisons and much more.
Q: You recently attended one of Texas A&M's spring football practices and spent some time with coach Kevin Sumlin. How did that go?
[+] Enlarge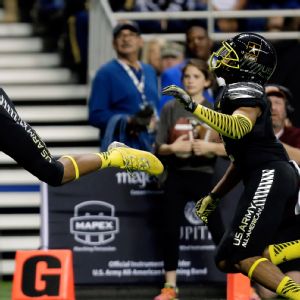 AP Photo/Eric GayFrank Iheanacho could be Texas A&M's replacement for Mike Evans.
Iheanacho:
"It was good. I got to see how practice works, chat it up with all the players and get to learn about the offense. It got me more anxious to get there. [Sumlin and I] were just chatting it up. He told me he can't wait until I get down there to play and practice for them."
Q: How big a factor was Sumlin in your decision to sign with Texas A&M?
Iheanacho:
"He's the type of coach that you can build a relationship with pretty easily. He's cool to talk to. He understands the game and understands where you're coming from so I felt like the connection is easy to make. The vibe that I got from him was good. He's a coach I want to play for."
Q: What was it like for you to go from virtually unknown in football circles to one of the top 100 recruits in the country and receive the accolades and attention that you did?
Iheanacho:
"It was dream come true for me, honestly. I grew up always wanting to be considered one of the best. That's what I worked for. When the moment actually came, it was crazy. I'm still awestruck about everything that happened."
Q: Was it ever overwhelming?
Iheanacho:
"Yeah it was definitely overwhelming. You ask yourself a lot of questions. 'How did this happen?' In my situation, coming on so late, 'Do you deserve to have this role?' You just learn to accept it and appreciate everything that you're given."
Q: I know many who followed your recruitment know your backstory, but for those who don't, summarize your journey to the gridiron
Iheanacho:
"I grew up as a little kid playing basketball and started playing organized in the eighth grade. I was in the AAU circuit and I worked hard every day trying to get my school paid for. That was the goal. I played football in my freshman and sophomore year but I never really took it seriously. It wasn't something I felt was in my future. I decided I was going to go straight to basketball and focus on that. My friends brought me back [to football] my senior year and it just took off from there."
Q: Many people make the comparison between you and Mike Evans because of your paths. How do you react to that?
Iheanacho:
"It's a compliment. He's going to be a great player in my eyes. I'm flattered to have that comparison. At the end of the day, I want people to remember my name and that's what I'm striving for. I want to be a player people look up to and I want to be considered the best."
Q: Did you get to know Mike throughout your recruitment?
Iheanacho:
"Yeah. He's a cool dude. He accepted me from the jump. I actually just talked to him [Thursday]. He had great things to say about the program and how things are going to go."
Q: How helpful is it to have that relationship with someone who has gone down the path you're trying to travel?
Iheanacho:
"It gives me a positive vibe about what I'm doing in life. I listen to him and the No. 1 think he told me is to listen to [receivers] coach [David] Beaty and he'll steer me in the right direction. That's what I plan to do."
Q: Most people call you by your nickname, "Nacho." How often do folks mispronounce your actual last name?
Iheanacho:
(Laughs) "Hundreds of times. But 'Nacho' has been with me since forever."
Q: For those who don't know, how do you say your last name?
Iheanacho:
"Eye-HAN-uh-cho"
Q: What have you been doing during the offseason as you prepare for your arrival in Aggieland this summer?
Iheanacho:
"I've just been getting ready and prepared for the next season. Just working hard and trying to get better at my craft."
Q: Is playing early a goal that you've set?
Iheanacho:
"I set that as a goal. When I come through, I'm going to work hard to achieve that goal."
April, 11, 2014
Apr 11
12:00
PM ET
Spring games galore this weekend! Florida, Georgia, Mississippi State, South Carolina, Tennessee and Vanderbilt will be in action on Saturday. But news isn't just on the field; there's plenty off the field, too:
April, 11, 2014
Apr 11
11:00
AM ET
COLLEGE STATION, Texas -- With a backfield as deep as Texas A&M's was in 2013, it wasn't easy to find a healthy number of carries for everyone.
Four scholarship running backs, all with different talents, shared carries not only with each other, but with quarterback
Johnny Manziel
, who was the team's leading rusher and had the most carries of any Aggie each of the last two seasons.
[+] Enlarge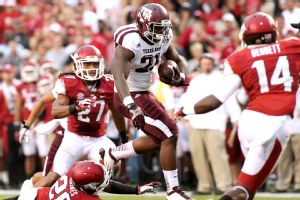 Nelson Chenault/USA TODAY SportsTra Carson is making a push for more carries in Texas A&M's backfield rotation.
For instance,
Tra Carson
's role primarily consisted of short-yardage situations, including third downs and goal-to-go scenarios. Given his size (6 feet, 230 pounds), it seemed appropriate. But in several instances, including
late in the season against Missouri
and in the
Chick-Fil-A Bowl against Duke
, Carson showed he was more than a power back: he had some agility and speed also.
"Maybe y'all should have [been surprised] because y'all hadn't seen me do it," Carson told reporters last week. "But I wasn't surprised."
With Manziel and running back
Ben Malena
-- last season's leader in touches and yards among the running backs -- having moved on, there are likely to be more touches to go around this fall for the running backs: Carson,
Brandon Williams
,
Trey Williams
and redshirt freshman
James White
.
Carson put together a solid spring and is positioning himself to be more than a situational back this fall.
"He's really smart, he understands what we're doing," running backs coach Clarence McKinney said. "He's running the ball really well right now, and as you know, when he gets that opportunity to get in the secondary he can really hurt you."
When he arrived in Aggieland, Carson needed some work and patience. A transfer from Oregon, he had to sit out the 2012 season per NCAA transfer rules. McKinney said there was some obstacles for Carson, but he waited his turn and met that challenge head on.
"Tra's biggest issue when he first got here has been conditioning," McKinney said. "He's lost about 15 pounds since he's been here. He's picked up our offense."
Carson said he was initially drawn to Oregon coming out of high school because of his friendship with current NFL running back
LaMichael James
, who hails from the same high school that Carson does -- Texarkana (Texas) Liberty-Eylau -- and was playing for the Ducks at the time Carson committed.
Though he appeared in 10 games as a true freshman, Carson decided Oregon wasn't the right fit and decided to return to the Lone Star State.
"For me, it was the weather, it was too far away from home," Carson said. "I wasn't ready to make that adjustment as an 18-year-old kid out of high school. Now that I'm matured, it's just different."
Carson said he and James remain close friends to this day.
Now a junior, Carson is working to be a well-rounded player -- not just a running back -- for the Aggies. He played on special teams last season and continued to get work in that phase this spring, earning practice time as a member of the kickoff return team, though not as the primary return man. Malena served a similar role last season.
With 58 carries in 11 games last season, Carson has yet to be a full-time player. If Carson has to carry an increased load this season, McKinney has no doubt that he can.
"He just understands what we're doing really well," McKinney said. "He's really great in protection. He's not just a big back that's in the third-down and goal-line package. He's a guy who can make people miss and he can play in our open sets as well as our big sets. He's a complete back."
TAMU Asst. Tops Recruiter Power Rankings
SEC SCOREBOARD
Thursday, 8/28
Saturday, 8/30
Sunday, 8/31