Texas A&M Aggies:

Sam Houston State Bearkats
September, 8, 2013
9/08/13
1:30
AM ET
COLLEGE STATION, Texas — With the biggest game of the season a week away, there's still some good and bad when it comes to Texas A&M. And that should make the Aggies' showdown with Alabama on Sept. 14 even more compelling.
The Aggies ran away with a
65-28 win over FCS power Sam Houston State
on Saturday at Kyle Field in a game that provided plenty of positives for A&M but also raises some concerns.
[+] Enlarge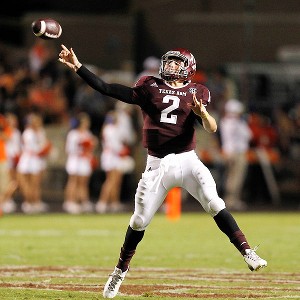 Bob Levey/Getty ImagesQuarterback Johnny Manziel, who passed for 403 yards in Texas A&M's win over Sam Houston State, said he had an emotional meeting with his teammates last week after the conclusion of an NCAA investigation.
Saturday was the final dress rehearsal for Texas A&M (2-0) before it opens up SEC play against defending BCS champion Alabama, the nation's No. 1 team. The Aggies defeated the Crimson Tide 29-24 last season in Tuscaloosa, Ala., and will be looking to make it two in a row against coach Nick Saban & Co.
Offensively, the Aggies looked like one of the nation's best teams on Saturday against Sam Houston State, rolling up 714 yards in quarterback
Johnny Manziel
's first start of the year. The Heisman Trophy winner played a little more than a quarter last week and didn't start while serving a suspension in the first half of a win over Rice.
The redshirt sophomore quarterback showed shades of the player that won the Heisman last season, making a few plays with his feet. He scooted for a 6-yard touchdown run with 5:24 to go in the third quarter that kick-started a string of 21 unanswered points that the Aggies would close the game out with.
He also showed plenty of his signature emotion on the field, including when he lowered his head like a power running back and ran through cornerback
Shelby Davis
for a would-be 7-yard touchdown run that was reviewed on replay and later turned into a 6-yard gain for stepping out of bounds, setting up a 1-yard
Ben Malena
touchdown in the second quarter.
"It was just an emotional play and I play with my heart on my sleeve," Manziel said. "That play, I was doing anything I could to get six points on the board and get this team a bigger lead, to, by any means, get this team six points. That's what I was going for."
While his feet were still a factor occasionally, Manziel showed his progression as a pocket passer when planting his feet and throwing the ball downfield. He found his favorite receiver, sophomore
Mike Evans
(seven catches, 155 yards) plenty of times and threw a picturesque fade pass to freshman
Ja'Quay Williams
for a 20-yard touchdown in the second quarter. He finished 28 of 41 passing for 403 yards and three touchdown tosses.
"He was very efficient," coach Kevin Sumlin said. "There was some maturity shown on the scrambles, the ability to throw the ball away and not take big losses and take care of the football in times where he might have just slung it up in the middle of the field."
His only significant mistake was an interception thrown when the Aggies were inside the Bearkats' 10 in the first quarter, something Sumlin attributed to a bad play call.
The Aggies were also effective running the ball, compiling 214 yards between five different players, led by Ben Malena (10 carries, 91 yards) and
Tra Carson
(nine carries, 51 yards) who combined for three scores.
And while the offense functioned smoothly, the area that the Aggies struggled for a second straight week was on defense and specifically, defending the run. Sam Houston State's option attack was effective early, as the Bearkats marched 74 yards on six plays -- all runs -- on their first drive of the game.
For the night, Sam Houston State finished with 240 rushing yards, 170 of which came from running back
Timothy Flanders
. In the first game of the season, the Aggies allowed 306 rushing yards to Rice, while missing six key defensive players to suspensions (Texas A&M was still missing three starters to suspension on Saturday, plus starting defensive end
Julien Obioha
, who was injured). There were also big plays given up in the passing game, notably a 75-yard touchdown pass from
Brian Bell
to
Torrance Williams
.
With the Crimson Tide looming, the Aggies have plenty of work to do when it comes to shoring up the defense.
"We had our moments," Sumlin said. "You look at about really, four big plays, we can't do that. We'll go back and watch the video and assess where we are. I know one, in particular, was a missed tackle. We had a young guy jump out of a gap and they got out to the edge on us. We've got to continue to keep coaching and I think the addition this week of having [Steven] Jenkins back [will help]."
The Aggies also have health issues to deal with. Safety
Floyd Raven
sat out the second half because of what Sumlin called a collarbone injury. Obioha didn't play, nor did freshman receiver
Ricky Seals-Jones
or sophomore running back
Trey Williams
. Williams is expected back, Sumlin said after the game, but the status on the others is uncertain at this point.
As for Manziel, it was his first time speaking to the media since SEC media days in July. He touched on his meeting with his teammates last week after the conclusion of an NCAA investigation and noted that it was somewhat emotional.
"I said a lot of good things," Manziel said. "It was kind a little bit of an emotional deal for me getting up [there] and trying to get them fired up and let them know that I'm here and I'm focused on this season and I love each and every one of these guys and that these guys mean the world to me.
"There's so much other stuff that gets played on and is out in the public and we know what's in this building and what's in this room, stays in this room. There's a general love for each and every guy on this team, so that's what we were focusing on and that's the message I was trying to get across."
He said his teammates have provided good support for him during the recent months as he has endured criticism and scrutiny nationally.
"The biggest thing that has helped has been being around these guys here in this building and having my teammates and still being able to be around them," Manziel said. "It was easy to block all the stuff out, get off everything and not read anything and just grow with my teammates and continue to get a better bond with them and just being up here, spending time with them, that was something that was really, really helpful."
Alabama rested with an open date on its schedule this weekend after a season-opening win over Virginia Tech on Aug. 31. The Aggies got to tune up a little more. So who had the advantage? Time will tell, but Manziel feels like the Aggies benefited from playing.
"We had another opponent, another game, a full-speed game to play before they did," Manziel said. "It's hard to simulate a game in practice even though you get to go over more tape and what-not, but we had another game to go out and get some of these young guys up to speed and that's hard to really simulate in practice."
Now, the Aggies turn their attention toward trying to repeat history.
September, 7, 2013
9/07/13
6:00
AM ET
After another week spent in the national discussion, Texas A&M gets to turn its focus back to the football field tonight when the Aggies host FCS squad Sam Houston State at 6 p.m. at Kyle Field.
The game serves as a rematch from a November clash last season, one that Texas A&M claimed 47-28.

The Aggies are heavy favorites, as expected, but coach Kevin Sumlin has hammered home two main points to his team in preparing for the Bearkats. One traces back to last season's battle.
Sam Houston State outscored the Aggies 28-6 once A&M's backups entered the game. Sumlin noted Tuesday that many of those that were on the field at that time have significant roles on this season's squad.
Also, seven FCS teams earned upsets over FBS teams in the opening week of the season. One of those teams was Sam Houston State's opponent in the FCS national championship game last year, North Dakota State, which went into Manhattan, Kan., last week and upset defending Big 12 champion Kansas State.
"Anybody who watched North Dakota State last week win their game last week, that'll get your attention in a hurry," Sumlin said. "They go to Kansas State and win. Then you turn on last year's Sam Houston-North Dakota State game and it's a heck of a ballgame. Our players get that."
Texas A&M comes into the game shorthanded in a few areas. Four players are serving the second of a two-game suspension for a violation of athletic department rules, three of whom are defensive starters: cornerback
De'Vante Harris
, outside linebacker
Steven Jenkins
, defensive end
Gavin Stansbury
and reserve receiver
Edward Pope
. The Aggies will also begin the game without the services of starting cornerback
Deshazor Everett
(targeting) and true freshman defensive end
Daeshon Hall
(throwing a punch). Both were ejected in the second half for their respective infractions and thus, by rule, must sit out the first half of tonight's game.
The Aggies do regain the services of starting defensive tackle
Kirby Ennis
and safety Floyd Raven, both of whom served one-game suspensions as the result of offseason arrests. Tonight will also mark the first start of the season for quarterback
Johnny Manziel
, who was suspended the first half of the season-opening 52-31 win over Rice because of "inadvertent violations" discovered during an NCAA investigation that concluded last week.
So now that all the personnel issues are hashed out, here are some keys to look out for from Texas A&M:
Improvement on defense?: The Aggies yielded a whopping 509 offensive yards, including 306 on the ground, to Rice. Many of the struggles can be attributed to the fact that six key defensive players sat part or all of the game because of suspensions, and a total of 11 defensive true freshmen saw the field at some point. Against a veteran offense like Rice that's well-coached, that's a bad combination. But the Aggies need to show some improvement from game one to game two because some of those young players will have to play significant minutes later this season, starting next week in the Aggies' showdown against Alabama.
Assignment football: Sam Houston State an option attack which will require the Aggies to stay disciplined on defense and play assignment football. That should be useful experience for Texas A&M's young defensive players. The Bearkats return the two-time Southland Conference Player of the Year in running back Tim Flanders and starting quarterback Brian Bell, who has engineered 31 victories in the last three seasons. A transfer from Texas A&M, Chance Nelson, is also back after a freshman season that saw him record 671 receiving yards and nine touchdowns. That experience will help the Bearkats, who are have appeared in the FCS national championship game the last two seasons.
Keep the offense rolling: When Manziel took hold of the offense, he engineered four scoring drives and threw three touchdown passes, looking much like his 2012 self. Backup quarterback Matt Joeckel was solid in his starting debut, leading the Aggies to 28 first-half points. What is often overlooked is the Aggies' running game, which was productive in Week 1. Starter Ben Malena compiled 82 rushing yards and a touchdown while Tra Carson added 76 rushing yards and two scores. Sophomore transfer Brandon Williams is expected to play after healing up from offseason foot surgery, adding a dynamic option to the Aggies' backfield.
When it's all said and done, the Aggies are hoping to come away with a solid win to put themselves at 2-0 prior to their much-anticipated showdown with defending BCS champion Alabama.
September, 5, 2013
9/05/13
7:00
AM ET
COLLEGE STATION, Texas -- After a season-opening win against Rice, Texas A&M looks for a 2-0 start as it hosts FCS foe Sam Houston State on Saturday at Kyle Field.
While the Aggies are heavy favorites, players say they're still preparing for the Bearkats as if they were a conference opponent. Here are a few keys to success this weekend for the Aggies:
[+] Enlarge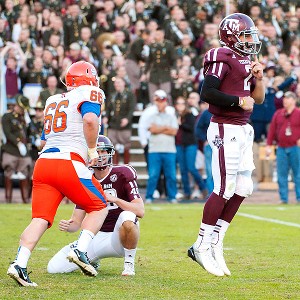 AP Photo/Dave EinselTexas A&M had its way with Sam Houston State last season, but recent upsets by FCS teams have the Aggies on notice.
1. Beware the upset:
Head coach Kevin Sumlin said on Tuesday that he had no problem getting his players' attention when it comes to Sam Houston State after the first weekend of college football yielded seven wins for FCS teams over FBS foes, with three of those upsets coming against teams in the "power five" conferences. Sumlin specifically cited North Dakota State's road win over Kansas State for one primary reason: North Dakota State faced Sam Houston State in the FCS national championship game last season (North Dakota State won 39-13). Sam Houston State has been to the FCS national title game two years in a row, so the Bearkats aren't an easily dismissed lower-division team.
2. Watch the video:
Another point Sumlin hammered home was the fact that Sam Houston State outscored Texas A&M by more than three touchdowns in the final quarter-and-a-half last season when the Aggies put their backups in the game. "A lot of those guys that were backups, in my opinion, lost the second half 28-6," Sumlin said. "And when you turn on that film of the guys who were in the game in the second half, you saw a lot of those guys playing last Saturday [against Rice]. That gets their attention, that's got our attention."
3. Improvement from youth:
The Aggies played 16 true freshman and 21 newcomers total in their win over Rice. There were plenty of struggles -- particularly on defense, where 11 true freshmen saw action at some point -- as the young players adjusted to live action. Now that there's a game under their collective belt, Sumlin expects improvement from that group. The sense of urgency in preparation this week should have gone up a few notches for those players and thus help them play better this week.
4. Regaining personnel:
Texas A&M had a host of suspensions in its season-opener, but the Aggies will get a few of those players back this week. Starting defensive tackle
Kirby Ennis
returns and that should be a significant help to the run defense. Safety Floyd Raven is back as well. Cornerback
Deshazor Everett
, who missed the first half of the Rice game, will miss the first half of the Sam Houston State game because he was ejected in the second half for targeting by the officials and must sit the first two quarters on Saturday by rule. But having him back out there in any capacity will help, particularly since the other starting corner,
De'Vante Harris
, is serving the second of a two-game suspension, as are three others (defensive end
Gavin Stansbury
, linebacker
Steven Jenkins
and receiver
Edward Pope
).
5. Ground and pound:
Those are terms not necessarily synonymous with the Aggies' offense, but it ran the ball with plenty of success in the win over Rice. Texas A&M compiled 202 rushing yards, averaged 5.2 yards per rush and got solid efforts from both starting running back
Ben Malena
(82 rushing yards, 18 receiving yards, two total touchdowns) and transfer
Tra Carson
(14 carries, 76 yards, two touchdowns). Another transfer,
Brandon Williams
, joins the fray this week to help bolster the Aggies' ground attack.
6. Good special teams work:
The Aggies were just about perfect on the special teams end of things on Saturday. Punter
Drew Kaser
averaged a whopping 62.7 yards per punt, which included a long of 76. Placekicker
Taylor Bertolet
was perfect on all his kicks (seven extra points, one field goal), something that he couldn't always say last season. That will be important for the Aggies to continue all season if they want to reach some of their lofty goals.
7. Let Johnny be Johnny:
Texas A&M's Heisman Trophy-winning quarterback,
Johnny Manziel
, played well in his short stint (6-of-8 passing, 94 yards, three touchdowns) against Rice. He showed a desire to stay and throw from the pocket once he got rid of the early nerves of entering the game at halftime and the Aggies simply need to let him continue to do what he does best -- make plays.
March, 27, 2013
3/27/13
1:15
PM ET
With five days remaining in the regular signing period, ESPN Junior College 100 offensive tackle
Aleon Calhoun
(Navasota, Texas/Navarro College) has some quick decisions to make.
February, 7, 2013
2/07/13
3:00
PM ET
Under Armour All-American punter
Shane Tripucka
had several schools to choose from. But something about Texas A&M just felt right.
So on Thursday, he committed to the Aggies.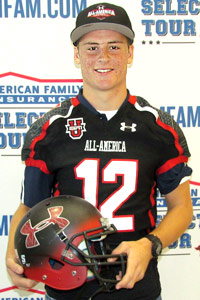 Scott Drucker/IntersportThree-star punter Shane Tripucka will be a preferred walk-on at Texas A&M.
Tripucka, a 6-foot-3, 210-pound punter from Allen (Texas) High School, will join the Aggies as a preferred walk-on next season after informing head coach Kevin Sumlin and special teams coach Jeff Banks that he's A&M-bound.
"A&M, I talked to the coaches, I know they want me," Tripucka said. "They come down and see me, they call me all the time. It really felt like a good place to be....It feels like a great place to play football and a great choice for me."
Tripucka had a scholarship offer to Sam Houston State and had preferred walk-on opportunities to Texas, Texas Tech and Boston College.
Tripucka attended an A&M kicking camp over the summer and was originally recruited by former Aggies' special teams coach Brian Polian. Banks picked up where Polian left off when Polian left to become Nevada's head coach, making Tripucka one of his first calls.
"Both special teams coaches knew what they were doing," Tripucka said. "They knew about the position and cared about having good special teams and good kickers because it was important to them.
"When coach Polian left to Nevada, coach Banks called me right away. He just went from there and he was great and I really like him because he's a coach who has been in my situation before, being a punter. He knows what he's talking about and the technical parts of punting and kicking and I just really liked him."
At Allen, Tripucka was part of a team that won the Texas Class 5A Division I state championship this year. He averaged 42 yards per punt for the Eagles and his father Chris, who played for Boston College, said opponents have no punt return yardage against Shane in two seasons because of his consistent hangtime.
"It takes a huge weight off my chest," Tripucka said. "For the last two years, I've been working my butt off to get noticed by these schools. To finally have a decision, it makes you feel a lot better."
Tripucka is the second specialist in the 2013 class to receive a preferred walk-on opportunity at Texas A&M. Dallas/Jesuit kicker Cody Wicker, teammate of Texas A&M linebacker signee
Jordan Mastrogiovanni
, accepted an opportunity to be a preferred walk-on at Texas A&M as a placekicker according to his coach, Brandon Hickman.
November, 17, 2012
11/17/12
6:11
PM ET
COLLEGE STATION, Texas -- It took a little bit for the Texas A&M offense to get kick-started, but once it did, it was smooth sailing.
The No. 8 Aggies recorded their fourth straight win,
a 47-28 victory
over the FCS's third-ranked team, Sam Houston State, before 87,101 on Saturday at Kyle Field.
Let's glance at the notables from the game:


It was over when:
The Aggies' offense stepped on the field for the third quarter. Already holding a 34-point lead, A&M quickly turned it to 47-0 by scoring on its first two plays of the second half -- an 89-yard touchdown pass from
Johnny Manziel
to
Uzoma Nwachukwu
and and 80-yard touchdown pass from backup quarterback
Jameill Showers
to
LeKendrick Williams
.
Game ball goes to:
Stop me if this is beginning to sound like a broken record ... Manziel. The redshirt freshman quarterback didn't really do anything to hurt his Heisman Trophy candidacy as he was 14-of-20 passing for 267 yards and three touchdowns. He also ran for 100 yards and two touchdowns on 16 carries. He became the first freshman in NCAA history to throw for 3,000 yards and rush for 1,000 yards and also broke the FBS freshman rushing and total offense yardage marks.
Key stat: 20.6
, the average yards per completion for the Aggies. Big plays were the theme for the Texas A&M offense, particularly in the passing game. In addition to two third-quarter touchdown passes,
Mike Evans
had receptions of 33 and 20 yards.
What it means:
The Aggies are now one win away from 10. If they are able to get a win next week versus Missouri, it would be the first time since 1998 that the Aggies have won 10 games in a season. A win would also ensure the Aggies finish no lower than second in the SEC West, which is well above the preseason expectations many pundits had.
November, 16, 2012
11/16/12
12:00
PM ET
Texas A&M 66, Sam Houston State 17



Sam Houston State is one of the best teams in the FCS (the Bearkats are ranked third nationally in their division) and they made an impressive run to the national championship game last season. While it wouldn't be surprising to see the Bearkats show some fight, the Aggies are simply too talented and deep. Some wonder if the Aggies will come out sluggish or slow because they're coming off the high of beating then-No. 1 Alabama. I don't think they will, for a few reasons. First, this is their first home game since Oct. 20, so they'll feed off some of the crowd's energy. Second, the Aggies are traditionally a fast starting team. Third, not letting up has been drilled into their heads from the start of the week, when Kevin Sumlin sat with his seniors and discussed finishing their careers strong. Look for those seniors to lead the way to a comfortable win.
To continue reading this article you must be an Insider
2015 Spring Football Tour: Texas A&M
SEC SCOREBOARD
Thursday, 9/3
Saturday, 9/5