Texas A&M Aggies:

Pittsburgh Panthers
April, 14, 2014
4/14/14
11:00
AM ET
At this time last year, Texas A&M was the epicenter of college football during spring practice. The Aggies' 2013 spring game drew a record crowd. ESPN televised the game, "Johnny Football" was the face of the sport and it helped swing in-state recruiting momentum from the Longhorns.
It would only make sense that Texas A&M coach Kevin Sumlin was ready to do it all again this spring.
"No, it's not for me," Sumlin said in March. "I'll be honest with you, you guys know me, that second half [of spring games] goes real quick. I'm ready to get out of there."
The spring game in many ways goes against the core belief of Sumlin, and really every coach, of using every practice to get better. So the Aggies went without a game this spring, and will do so again in 2015 as Kyle Field's renovations continue.
[+] Enlarge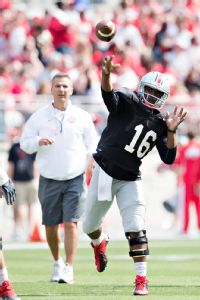 Greg Bartram/USA TODAY SportsOhio State coach Urban Meyer likes the opportunity to get young players, such as redshirt freshman quarterback J.T. Barrett, some playing time in a spring game.
Spring games are at somewhat of a crossroads in college football. They're hardly fighting off extinction as 54 FBS programs held games this past weekend. But the watered-down product is giving coaches reason for pause. The argument against holding the spring game is picking up steam, and coaches are questioning the value in using the final spring practice on a half-speed "dog-and-pony show," as Tulsa coach Bill Blankenship puts it.
A handful of programs aren't holding spring games this year. Oklahoma State coach Mike Gundy did not plan a spring game, and Pittsburgh coach Paul Chryst believed it wasn't in the program's best interest to have one, either.
Both Chryst and Gundy have young rosters. Only Utah State returns fewer starters than the Cowboys. Chryst is still trying to put his stamp on a program that has had more head coaches than winning seasons in the last decade, and he is breaking in a new quarterback. To Chryst and Gundy, it did not make sense to waste a practice day for a haphazard game.
"Truly looking at this from the inside of the program and what this group needs, it was, 'What's the best use of the 15 opportunities we get in the spring,'" Chryst said. "I felt like we didn't have a group where we're going to take just one full day and scrimmage. Bottom line is we wanted to make sure we're maximizing our opportunities."
Two coaches not questioning a spring game finale are the leaders of programs with some of the best odds to win the first College Football Playoff. Both Florida State's Jimbo Fisher and Ohio State's Urban Meyer are in favor of the model most programs still subscribe to: 14 practices, mix in a few scrimmages and hold a game at the end of camp. Fisher and Meyer believe it's the only time in the spring to get an accurate read on how players react to a fall Saturday game atmosphere.
"What you get is the people in the stadium, you get pressure, you get outside people watching you get the lights on the scoreboard and [the game] matters," Fisher told ESPN.com last week. "You get a game environment. It might not be the one in the fall, but it's as close as you'll ever get out in this practice field. To get a guy in front of 40,000 people and watch how they play in front of them, to me, I put more value in that."
However, Meyer acknowledges the issues the modern-day spring game presents. Ohio State star quarterback
Braxton Miller
was out with an injury, but
Joey Bosa
,
Noah Spence
and
Adolphus Washington
were healthy scratches. Fisher elected to sit starting running back
Karlos Williams
, leaving a fullback and a handful of walk-on running backs to carry the spring load Saturday. The sustainability of the spring game could come down to depth, but rosters are thinner with the 85 scholarship limit, and coaches are keeping their proven commodities out of harm's way.
"

To get a guy in front of 40,000 people and watch how they play in front of them, to me, I put more value in that.

"

-- Florida State coach Jimbo Fisher, on the value of spring games
Northwestern coach Pat Fitzgerald said the lack of numbers at certain positions causes the few available players to "double dip" and play both sides, opening those few healthy players up to injury. The emphasis on preventing and identifying concussions has grown substantially in the last few years, and Blankenship added that "a lot more guys are missing practice today with concussion-related symptoms, and that's been consistent across the board with other coaches I talk to."
Meyer said spring games are often a "great opportunity to get scout-team guys a chance to play," which in itself can be considered an indictment of the spring game's inherent value.
"One time at Florida we had only five or six offensive linemen and they had to play both ways," Meyer said, "but the experience of playing in front of [fans], if you want to have a practice but arrange how the receiver has to be the guy, to be in coverage and catch a pass and hear the crowd, that's real."
There are only so many programs that consistently draw 30,000 or more fans for a spring game, though. Those other programs don't have the benefit of putting their players in a game-day atmosphere when only a few thousand fans fill the bleachers.
Blankenship understands he needs to promote his Tulsa program and bring in as many fans as possible. So last year, they tried a new spring game model. Instead of a traditional game of the roster being split, Blankenship operates on only 50 percent of the field and allows fans to sit on the other side of the 50 to get a more intimate view. The game resembles more of a practice as the team works on situations such as red zone and fourth down instead of keeping score.
A piece of him still wants a sound 15th practice, though.
"I do think [the spring game] is worth it from the fan standpoint," he said, "but the coach in me would like to have another practice."
[+] Enlarge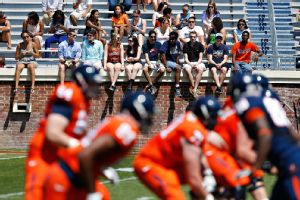 Geoff Burke/USA TODAY SportsThese Virginia students received a better-than-front-row view of the Cavaliers' spring game.
Fans and alumni are maybe the most overlooked part of the equation of whether it is realistic to ditch the spring game. Florida State director of marketing Jason Dennard said it would be nearly impossible to change the Seminoles' spring game model, which begins with downtown events Friday. The school even receives grant dollars from the local economic development council to fortify the weekend lineup.
"It's a complete home run," Dennard said. "After what we've built, it'd be hard to scale it down. People have come to expect this to be a big deal. It's an investment into the future of our program."
While Pittsburgh has struggled to draw fans for its spring games in recent years, Chryst was still cognizant of the program's fans when he decided to cancel the spring game. So Chryst met with the marketing department at Pitt and helped introduce a football clinic for young players and offensive and defensive breakdowns of the Panthers' schemes for the Xs-and-Os fan.
"It was different at first and people said, 'What, no spring game?' But when Coach Chryst announced the Field Pass, the response was overwhelming," said Chris Ferris, associate athletic director for external relations at Pitt.
Could that union of a standard 15th practice with an added day of fan interaction be the union that seals the fate of spring games? Maybe.
"I think it is," Blankenship said. "We're much closer to that in our part of the country. I think the tradition of the spring game is something we're all kind of tied to, but we're all figuring out there's a better way."
January, 1, 2014
1/01/14
7:50
PM ET
FULLERTON, Calif. -- Four-star outside linebacker
Jimmie Swain IV
(Olathe, Kan./North) is listed as an uncommitted recruit, but that distinction is not exactly true.
Following the first day of practice for the 2014 Semper Fidelis All-American Bowl, Swain said he has known for a while where he will play his college football and he has let the coaches of his finalists know his decision. The public will be let in on the secret during the game on Sunday, when the 6-foot-3, 229-pound linebacker will announce his commitment.
Swain is down to four schools -- Arkansas, Michigan State, Oregon and Texas A&M -- and all but the Spartans have received official visits.
As for his leaders, Swain gave a quick look into why they stand out in the race for his signature.
"[Michigan State has] always been in my top five ever since I started watching college football," Swain said. "At Arkansas, I have a good relationship with Randy Shannon and I fit in well with the players on my visit. At Oregon, it's the whole coaching staff. My mom really enjoyed them when they came to visit. They've been at Oregon so long, and the football there speaks for itself, when a 10-2 season is considered a bad season. With Texas A&M, I had a fun visit down there. A lot of people worry about what happens to them when Johnny [Manziel] is gone, but their recruiting class is really good and I don't think they're going to skip a beat."
Swain has been avoiding interviews and any real talk of recruiting in recent weeks, as he said he's been "relaxing and enjoying time with family." But he'll make some significant noise on Sunday, particularly for the program that receives a verbal commitment from the standout linebacker, who plans on pursuing a double major in marketing and finance.
December, 31, 2013
12/31/13
9:10
PM ET
SAN ANTONIO -- The second day of practice for the U.S. Army All-American Bowl -- on the last day of 2013 -- has come to a conclusion. Here is Tuesday's notebook featuring some of the nation's elite athletes:
LB Williams: Law and order equals '98 percent'
To continue reading this article you must be an Insider
January, 2, 2013
1/02/13
2:08
PM ET
SAN ANTONIO -- Wednesday was a day off for the U.S. Army All-American Bowl teams. Instead of working out and participating in drills, the players took in visits around the city -- including a stop at the Alamodome for photo opportunities and to see their game apparel -- and used the day to recover from two days of practice.
The teams will return to the fields on Thursday in arguably the most important practice of the week. Here are five things to keep an eye on for Thursday's practice:
To continue reading this article you must be an Insider
January, 1, 2013
1/01/13
6:52
PM ET
SAN ANTONIO – ESPN 150 wide receiver
James Quick
(Louisville, Ky./Trinity) has drawn plenty of attention for his play through two practices for the East team in preparation for the U.S. Army All-American Bowl.
He'll garner even more eyes his way on Saturday when he announces his commitment during the game.
[+] Enlarge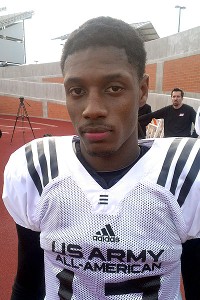 Damon Sayles/ESPN.comESPN 150 WR James Quick is set to decide between Ohio State, Louisville and Oregon on Saturday.
The 6-foot-1, 180-pounder said he is down to Louisville, Ohio State and Oregon. Though his decision will come Saturday, it could be finalized by Wednesday morning, as he sits down to discuss his options with his parents, who are in town for the event.
"I am basically going to ask them which coach they have the best relationship with," Quick said. "There has to be a relationship with the head coach and family as well."
When asked if there was a head coach among his finalists that was stood out to him the most, he said no. But Louisville coach Charlie Strong and his tendency of playing freshmen is intriguing to him and is one of the main reasons that Louisville is in the mix.
The sales pitch for all of them is pretty much the same: Join our program, and early playing time will likely be there.
"They are all basically saying that I am going to get early playing time. Some are saying that I am going to get the ball more than others," he said. "It's all about early playing time, really."
Quick has taken official visits to Louisville and Ohio State. He wasn't able to make it to Oregon for an unofficial visit but has the Ducks squarely in the mix because of his relationship with the coaching staff.
"I have built a good relationship with their coaches and the offense that they run. It's up-tempo, which really excites a player of my caliber," he said.
Newsmaker
: Last week, offensive tackle
Jake Campos
(West Des Moines, Iowa/Valley) wasn't expecting to play football over his break. On Tuesday, he was preparing for a nationally televised appearance in a U.S. Army All-American Bowl uniform.
Campos, a three-star Iowa State commit, was called Sunday afternoon as a replacement for injured lineman
Chris Fox
(Parker, Colo./Ponderosa). By 6 a.m. Monday, he was on a flight to San Antonio. At the end of Tuesday, he was fully taking on the responsibility of fending off stud defensive linemen such as
Eddie Vanderdoes
(Auburn, Calif./Placer),
Justin Manning
(Dallas/Kimball) and
A'Shawn Robinson
(Fort Worth, Texas/Arlington Heights).
"I was shocked at first, but then, I got really excited," said Campos, a 6-7, 250-pound tackle who said he's "110-percent committed" to Iowa State.
"It was so out of the blue, but it's great to be here. At first, learning the plays was tough, but I got those down now. I'm just adjusting to right tackle. I was still working the kinks out, that's all."
Superlatives
: The East defensive line really stepped up in afternoon practice during 11-on-11 action. Alabama defensive end commit
Jonathan Allen
(Ashburn, Va./Stone Bridge) was unstoppable. Virginia Tech defensive end commit
Wyatt Teller
(Bealeton, Va./Liberty) also stepped up his game from Monday, intercepting a pass in the morning session from Auburn-bound quarterback
Jeremy Johnson
(Montgomery, Ala./Carver) and playing even better in the afternoon. … The best hands on the West team may not be on a wide receiver. ESPN 150 tight end
DeSean Smith
(Lake Charles, La./Barbe) made some great catches on Monday, and he continued to shine on Tuesday. Smith an LSU commitment, is the No. 5 tight end in the country. … The catch of the day from the East goes to ESPN 300 athlete
Tyler Boyd
(Clairton, Pa./Clairton), who ripped a ball away from Florida defensive back commitment
Nick Washington
(Jacksonville, Fla./Trinity Christian). An uncommitted, four-star athlete, Boyd is expected to announce his college future on Saturday. … ESPN 150 running back
Derrick Green
(Richmond, Va./Hermitage) continued to be the best running back for the East. He shined in the early morning practice, with help from a very good offensive line.
To continue reading this article you must be an Insider
December, 31, 2012
12/31/12
6:52
PM ET
LAKE BUENA VISTA, Fla. -– Team Nitro and Team Highlight took to the fields at Disney's ESPN Wide World of Sports on Monday for Day 1 of practice for Friday's Under Armour All-America Game (5 p.m. ET, ESPN). Two powerhouse programs in the Southeastern Conference look to battle it out for one of the standout running backs, and one of the top uncommitted offensive linemen is out with an injury.
Tide and Dawgs at top for RB Kamara
The Under Armour All-America Game boasts a bevy of talented running backs, and after the first practice ESPN 150 prospect
Alvin Kamara
(Norcross, Ga./Norcross) drew comparisons to one of the best.
[+] Enlarge
Miller Safrit/ESPN.comESPN 150 RB Alvin Kamara says Alabama defensive coordinator Kirby Smart and Georgia running backs coach Bryan McClendon have been key to his recruiting process.
"They say I play like
Percy Harvin
," Kamara said.
The 5-foot-10, 192-pound tailback has made a name for himself as a home-run threat out of the backfield or lined up in the slot, which makes it no surprise that programs across the country are pining for his commitment. Two from the SEC are in the lead.
"Alabama and Georgia are the front-runners, but I am still looking at Oregon -- and Tennessee too, with Butch Jones being there now," Kamara said.
The nation's No. 4 running back has yet to set any official visits, but plans to do so after he gets home from the UA Game. A decision will likely come after his visits.
"This is not going to be a busy month so much as it is just something I need to buckle down and do," Kamara said. "I am going to take these visits and base my decision off of that."
One factor in his decision will be the relationship he has with the coaches recruiting him. The Tide could have a slight advantage because they made first contact with Kamara.
"Kirby Smart and I are really close," Kamara said. "He was the first coach to ever talk to me. He snuck me his card after practice and I could not believe it. For a coach of his stature to be the first coach to talk to me is great. We have been in contact ever since, and we have a great relationship."
Georgia might counter that with their running backs coach being Kamara's recruiter of record.
"Coach [Bryan] McClendon and I have a great relationship too," Kamara said. "With him being my position coach, I could see myself playing for him. We are on a friend level and we do not even talk about football most of the time."
The in-state Bulldogs also have a few people in Kamara's ear this week, though he admits they have been putting the pressure on him for quite some time.
"Even when we are not in a big event like this, guys like
Shaq Wiggins
,
Brice Ramsey
, even
Reuben [Foster]
, even though he is not committed, are always asking where I am going," Kamara said. "They are joking, but they are on me pretty hard sometimes."
Newsworthy: OL Crowder deals with injury, sets officials
ESPN 150 offensive lineman
Tyrone Crowder
(Rockingham, N.C./Richmond) will be unable to play in Friday's UA Game after aggravating a hand injury he sustained a few weeks ago at the Shrine Bowl of the Carolinas. While he is disappointed, Crowder said today he is looking forward to the home stretch of his recruitment and choosing from one of two programs.
"It is Clemson No. 1 and Georgia No. 2, and I will decide on signing day," said Crowder, ranked the No. 2 OG in the country.
The Tigers have been after the 6-foot-1, 330-pound offensive lineman for more than three years now, and they have location and familiarity working in their favor.
"Clemson has been recruiting me since I was in ninth grade," Crowder said. "I like what they have going on and I have built a strong relationship with them. It is close to home and I have some family close to Clemson. I will take my official there Jan. 11."
Crowder has not been to Athens for six months, but he has fond memories of his visit.
"Georgia is a great powerhouse team in the SEC," Crowder said. "When I went down there during the summer I really liked the campus and enjoyed meeting the coaches. I spoke to them two weeks ago and set an official visit Jan. 18."
Trending
It was only the first day of practice, but Team Highlight (Black team) quarterbacks got off to an impressive start.
To continue reading this article you must be an Insider
November, 2, 2012
11/02/12
12:42
PM ET
By
RecruitingNation staff
| ESPN.com
RecruitingNation has summoned its writers from around the country to compile
a list of the top 10 battles for elite football recruits

leading up to February's signing day. We'll update our rankings periodically to reflect a change in a player's status (i.e., new offers, trimmed-down list or a positive/negative official visit).
Our writers have debated the list for weeks, but we value your input as well. Voice your opinion on Twitter (
@RecruitingESPN
) using
#BlueChipBattles
or vote for which player should hold the No. 1 spot on
Facebook
.
October, 26, 2012
10/26/12
12:12
PM ET
By
RecruitingNation staff
| ESPN.com
Pitt doesn't want WR
Robert Foster
to leave the Keystone State and USC hopes to keep CB
Max Redfield
in Cali. The local programs' bid to keep those two stars in-state highlights
this week's #BlueChipBattles

.
#BlueChipBattles
is the Twitter hashtag to use if you want to voice your opinion on our list or to view other fans' reactions as the commitments begin to roll in. Get recruiting updates on the players above as well as the nation's other top football prospects here:
@RecruitingESPN
.
Recruits Miss Lone Star Showdown
SEC SCOREBOARD
Thursday, 9/3
Saturday, 9/5