Texas A&M Aggies:

Penn State Nittany Lions
December, 31, 2013
12/31/13
10:47
PM ET
Three days of practice are now in the books and overall execution was sharper as the players begin to move into final preparations for the Under Armour All-America Game on Thursday. The productivity of the players picked up as did the speed of the play, and they're continuing to think less and display their natural ability more. It was a physical day, with the pads popping and some big hits throughout the practice. Here are some of the highlights.
Top performers
To continue reading this article you must be an Insider
December, 30, 2013
12/30/13
5:26
PM ET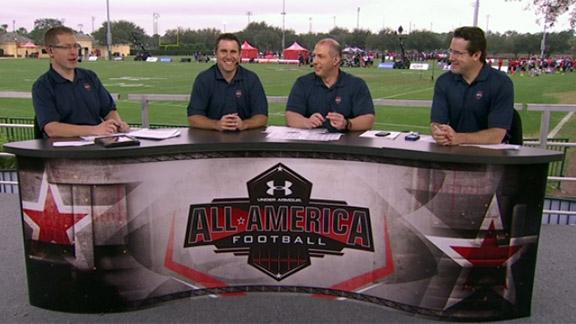 As expected, Day 2 at the Under Armour All-America practices were smoother, more concise and much more productive. The players are now starting to think less and play more. Natural ability is starting to come to the forefront, which allows for them to be more productive. There have been fewer dropped passes, fewer misses by the QBs and the offensive lines are starting to jell quicker than expected. Perhaps the most impressive thing about this group is there have not been any true letdowns. They have stepped up and been as advertised almost top to bottom for both squads. Let's hit the highlights of the day:
Top performers
WR Cameron Sims (Monroe, La./Ouachita Parish):
Sims might not wow anyone with his 40-yard dash time, but it may not matter. Sims is so similar to
Mike Evans
at Texas A&M. He just makes plays. He has extremely long arms and is outstanding when in contested matchups. The ball will look like it is uncatchable and then next thing you know he jumps out of nowhere, extends and makes a play and the defender is left scratching his head. When it comes down to it, the QBs for Team Highlight can trust that if they need to throw it up, Sims will make a play. The most basic thing about the position is catching the football and Sims has no problem doing that.
To continue reading this article you must be an Insider
December, 29, 2013
12/29/13
10:30
AM ET
ORLANDO, Fla. -- There are many topics of conversation among prospects playing in the 2014 Under Armour All-America Game. One of them centers around the past two Heisman Trophy winners.
On Saturday, upon checking in for the prestigious game, a number of prospects weighed in on a hot topic involving Texas A&M's
Johnny Manziel
and Florida State's
Jameis Winston
.
If they had to choose between the two, who would the players take as their college quarterback? Here are their responses:
[+] Enlarge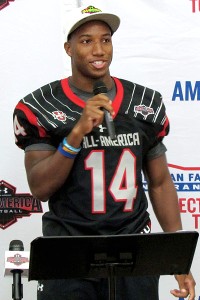 Courtesy of IntersportNo. 9 overall prospect Marlon Humphrey likes how Johnny Manziel makes others around him better.
Five-star cornerback Marlon Humphrey (Hoover, Al./Hoover High)
: Ah man, I think I'm going to have to go with Johnny Manziel. I just feel like he kind of made a team out of nothing. Jameis Winston is a great quarterback too, but he doesn't have the scrambling skills that Manziel has. This year, you could tell that his teams defense wasn't that good, the players around him weren't as good, but he kept making his team better. He's has the fight in him I would want on my team.
Florida commit and No. 20-ranked Dalvin Cook (Miami/Central High)
: I would say Jameis Winston. He's really a pure quarterback, and I think he sets up things more for a running back than Johnny Manziel does.
Auburn running back commit Racean Thomas (Oxford, Al./Oxford High)
: I would probably pick Jameis Winston. The reason behind that is because he is more of a leader for a young quarterback, and I think he can make his team a more mature team. I really think he would be a great quarterback to play with.
Florida wide receiver commit and No. 28 Ermon Lane (Homestead, Fla./Homestead Senior High)
: Whew, I don't know. I think Jameis Winston. I look at how both of them played as a freshman, and I like how Jameis Winston leads his team. He is also more pro-ready than Manziel.
Texas defensive end commit and No. 78-overall Derick Roberson (San Antonio, Texas/William J. Brennan High)
: I guess I would say Johnny Manziel. I like how he plays with his swagger and confidence the most, so I would probably say him.
Notre Dame commit and No. 76-ranked Tyler Luatua (la Mirada, Calif./La Mirada High)
: I would take Manziel just because of the way he plays. If he doesn't have a wide receiver open, he can make plays himself. He can get the ball to his players if and when he wants to, but can also do it on his own when he needs to.
No. 38 overall John Smith (Long Beach, Calif./Long Beach Polytechnic High School)
: That's a hard one. As of right now, I would go with Jameis Winston. Overall, he's a great player. I think Winston has an awesome football IQ. Johnny had his year too, but I think Winston is just a great player. Outstanding.
Dylan Sumner-Gardner
: Jameis Winston, man. I feel comfortable with Jameis Winston as my quarterback because he's smart and accurate. Johnny is accurate too, but Johnny is Johnny. How he runs around, people may get nervous. I would just feel more comfortable with Jameis as my quarterback.
No. 22 overall Laurence Jones (Monroe, La./Neville High)
: That's a hard one right there. Let me think ... maybe Johnny Manziel because I don't think I've ever seen a white boy get down like that. It would have to be Johnny Manziel.
Penn State wide receiver commit Chris Godwin (Middletown, De./Middletown High)
: I think Jameis Winston. I think overall he's a better passer. I want a quarterback back there that can get me the ball on a consistent basis, but Johnny Manziel is a great player, too. I'm actually a big fan of both of them.
Five-star and Virginia defensive tackle commit Andrew Brown (Chesapeake, VA
Oscar Frommel Smith High)
: Dang, that's a good question, man. I would go with Jameis Winston. His leadership qualities, coming in as a freshman and doing the things he is doing is definitely uncommon. It just foreshadows what he is going to do in the future, too. He's already established a great foundation for himself, and I would definitely take him in the future.
Maryland commit Will Ulmer (Washington, D.C./Saint John's High)
: I'm going with Johnny Manziel. I think he's more dynamic, and more of a game-changer. Jameis Winston is a great quarterback too, but you have to think about all the dudes he has around him at FSU -- all the great receivers and good running backs. I would go with Manziel because if you put him on the Florida State team, or a stacked team like that, it would be a scary sight.
October, 18, 2013
10/18/13
5:30
AM ET
The Early Offer is RecruitingNation's regular feature, giving you a daily dose of recruiting in the mornings. Today's offerings: The winner of Saturday's Florida State-Clemson game will have something big to sell to recruits; one of Wisconsin's earliest commitments is taking trips to other schools, including a trip to visit former Badgers coach Bret Bielema; and the nation's No. 7 player and a top tight end are expected to announce this weekend.
To continue reading this article you must be an Insider
April, 2, 2013
4/02/13
8:11
PM ET
Being the champs has its benefits, especially when it comes to impressing recruits.
One of the country's top junior college offensive tackles,
Jermaine Eluemunor
(Scranton, Pa./Lackawanna College) was planning several trips and set official visits to Ohio State and Texas A&M, but now the only trip for certain is a visit to Alabama in mid-July.
To continue reading this article you must be an Insider
December, 31, 2012
12/31/12
7:51
PM ET
SAN ANTONIO -- ESPN 150 outside linebacker
Mike Mitchell
(Plano, Texas/Prestonwood Christian) isn't big on speaking publicly. He'd rather let his game do the talking -- and it speaks volumes.
On Monday, the 6-foot-5, 222-pound linebacker officially confirmed that he will announce his college plans during Saturday's U.S. Army All-American Bowl. Oregon, Texas A&M and Ohio State are his three finalists.
To continue reading this article you must be an Insider
December, 31, 2012
12/31/12
6:52
PM ET
LAKE BUENA VISTA, Fla. -– Team Nitro and Team Highlight took to the fields at Disney's ESPN Wide World of Sports on Monday for Day 1 of practice for Friday's Under Armour All-America Game (5 p.m. ET, ESPN). Two powerhouse programs in the Southeastern Conference look to battle it out for one of the standout running backs, and one of the top uncommitted offensive linemen is out with an injury.
Tide and Dawgs at top for RB Kamara
The Under Armour All-America Game boasts a bevy of talented running backs, and after the first practice ESPN 150 prospect
Alvin Kamara
(Norcross, Ga./Norcross) drew comparisons to one of the best.
[+] Enlarge
Miller Safrit/ESPN.comESPN 150 RB Alvin Kamara says Alabama defensive coordinator Kirby Smart and Georgia running backs coach Bryan McClendon have been key to his recruiting process.
"They say I play like
Percy Harvin
," Kamara said.
The 5-foot-10, 192-pound tailback has made a name for himself as a home-run threat out of the backfield or lined up in the slot, which makes it no surprise that programs across the country are pining for his commitment. Two from the SEC are in the lead.
"Alabama and Georgia are the front-runners, but I am still looking at Oregon -- and Tennessee too, with Butch Jones being there now," Kamara said.
The nation's No. 4 running back has yet to set any official visits, but plans to do so after he gets home from the UA Game. A decision will likely come after his visits.
"This is not going to be a busy month so much as it is just something I need to buckle down and do," Kamara said. "I am going to take these visits and base my decision off of that."
One factor in his decision will be the relationship he has with the coaches recruiting him. The Tide could have a slight advantage because they made first contact with Kamara.
"Kirby Smart and I are really close," Kamara said. "He was the first coach to ever talk to me. He snuck me his card after practice and I could not believe it. For a coach of his stature to be the first coach to talk to me is great. We have been in contact ever since, and we have a great relationship."
Georgia might counter that with their running backs coach being Kamara's recruiter of record.
"Coach [Bryan] McClendon and I have a great relationship too," Kamara said. "With him being my position coach, I could see myself playing for him. We are on a friend level and we do not even talk about football most of the time."
The in-state Bulldogs also have a few people in Kamara's ear this week, though he admits they have been putting the pressure on him for quite some time.
"Even when we are not in a big event like this, guys like
Shaq Wiggins
,
Brice Ramsey
, even
Reuben [Foster]
, even though he is not committed, are always asking where I am going," Kamara said. "They are joking, but they are on me pretty hard sometimes."
Newsworthy: OL Crowder deals with injury, sets officials
ESPN 150 offensive lineman
Tyrone Crowder
(Rockingham, N.C./Richmond) will be unable to play in Friday's UA Game after aggravating a hand injury he sustained a few weeks ago at the Shrine Bowl of the Carolinas. While he is disappointed, Crowder said today he is looking forward to the home stretch of his recruitment and choosing from one of two programs.
"It is Clemson No. 1 and Georgia No. 2, and I will decide on signing day," said Crowder, ranked the No. 2 OG in the country.
The Tigers have been after the 6-foot-1, 330-pound offensive lineman for more than three years now, and they have location and familiarity working in their favor.
"Clemson has been recruiting me since I was in ninth grade," Crowder said. "I like what they have going on and I have built a strong relationship with them. It is close to home and I have some family close to Clemson. I will take my official there Jan. 11."
Crowder has not been to Athens for six months, but he has fond memories of his visit.
"Georgia is a great powerhouse team in the SEC," Crowder said. "When I went down there during the summer I really liked the campus and enjoyed meeting the coaches. I spoke to them two weeks ago and set an official visit Jan. 18."
Trending
It was only the first day of practice, but Team Highlight (Black team) quarterbacks got off to an impressive start.
To continue reading this article you must be an Insider
December, 22, 2012
12/22/12
8:00
AM ET
By
RecruitingNation staff
| ESPN.com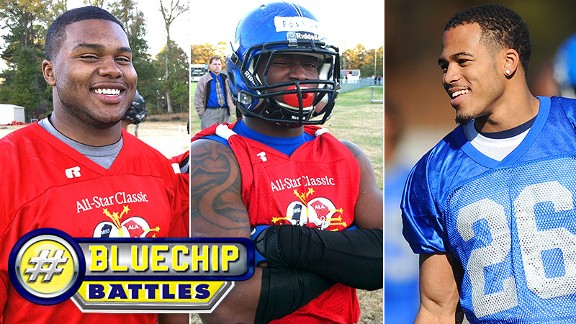 ESPN.comReuben Foster (center) is torn between good friends Dee Liner (left) and Tray Matthews (right).
No. 1 ILB Reuben Foster has voiced his desire to play with at least one of his SEC-bound friends next season. But will he follow Tray Matthews to Georgia or hook up with Dee Liner wherever the ESPN 150 DL settles? It remains to be seen, but the mystery surrounding his recruitment keeps Foster at the top of our #BlueChipBattles.
Each week, RecruitingNation summons its writers from around the country to compile a list of the top 10 battles for elite football recruits leading up to February's signing day.
Here are
this week's top battles

, and you can take a shot at
ranking the top 10 recruiting battles
on SportsNation.
December, 16, 2012
12/16/12
5:38
PM ET
By Jan. 5, Ohio State will have a much clearer picture of its linebacker situation in the recruiting class of 2013.
To continue reading this article you must be an Insider
October, 31, 2012
10/31/12
1:15
PM ET
With two weeks remaining before early signing period, there are 23 ESPN 100-caliber basketball prospects still uncommitted for 2013. Here is RecruitingNation's ongoing list of schools still in the running to land these stars.
Read Dave Telep's story here

.
September, 6, 2012
9/06/12
3:17
PM ET
Dave Hooker and the RecruitingNation regional writers deliver all the latest news and notes from around the nation in this week's edition of
The Verbal Commitment podcast.

TAMU Asst. Tops Recruiter Power Rankings
SEC SCOREBOARD
Thursday, 8/28
Saturday, 8/30
Sunday, 8/31