March, 28, 2014
3/28/14
5:30
AM ET
The Early Offer is RecruitingNation's regular feature, giving you a dose of recruiting in the mornings. Today's offerings: Colorado has struggled on the field and in recruiting since its transition to the Pac-12, but this season is going to be key for the Buffs to turn things around with local prospects. And don't be surprised if there's some major news out of Texas A&M this weekend with the Aggies hosting their Friday Night Lights practice.


October, 15, 2013
10/15/13
12:30
PM ET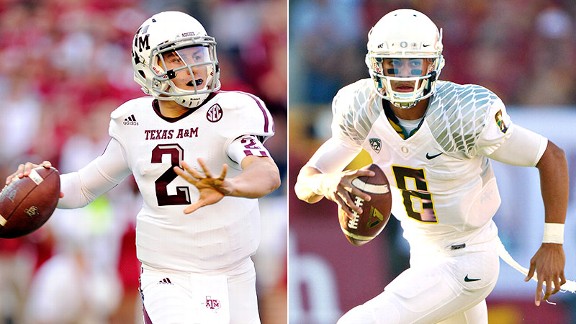 US PresswireBoth Johnny Manziel and Marcus Mariota have made some electric plays this season.
We've hit the midway point of the 2013 college football season and we're looking at midseason All-Americans.
There are plenty of worthy options at QB, but we all know it comes down to two names:
Johnny Manziel
and
Marcus Mariota
.
They are the two most exciting players at their position, and both are on teams that could be playing in the BCS title game. But which one truly is No. 1? Well, Pac-12 reporter Ted Miller and SEC reporter Edward Aschoff decided to take this argument to the streets!
We made our cases for both, but you guys decide the winner:
Edward Aschoff:
Well, this one really is an easy one for me.
Remember when we all buried Manziel for his off-field shenanigans? We wondered if he'd be focused enough to duplicate his record-setting, Heisman Trophy-winning first year. Well, through six games, Manziel has totaled 2,273 yards of offense and 19 touchdowns. He's averaging 378.8 yards and 3.2 touchdowns per game and has completed 73.2 percent of his passes. He's a little behind last year's production, but he also has less receiving weapons this year and his line isn't as strong.
Watching Manziel is like watching poetry in motion. He's standing in the pocket longer, scanning the field, making reads and thinking about running second. And when he does run, watch out. He's easily the slipperiest player in the country. He jukes guys out of their shoes and can make NFL throws on the run or in the pocket. Nothing gets to this kid, and you'd be crazy not to have him No. 1 on any awards list.
Ted Miller:
Over at the Pac-12, we respect good quarterback play, so we are excited the SEC is finally getting to see what good QB play can do. Further, we love watching that little spark plug Johnny Football play. He's a neat little guy. So please accept a pat on the head from us.
Why is Mariota the midseason first-team QB? It's because, well, he's so completely freaking better than anyone else.
We'll start with
QBR
first.
Our boy Mariota is No. 1. Manziel is No. 6.
Mariota has 17 touchdown passes. Manziel has 14. Mariota has zero interceptions (no turnovers, in fact). Manziel has five.
Manziel is slippery. He slipped his way to 438 rushing yards, which beats Mariota by 12. Of course, Mariota averages 10.4 yards per carry compared to 6.5 for Manziel. And Mariota has eight touchdown runs compared to five for Manziel.
Heck, if we just went bottom line with points accounted for, Mariota has 150 compared to 114 for Manziel.
Oh, and Mariota is 6-foot-4 and a sure NFL first-round draft pick. Manziel is 6-1 if you measuring him while he stands on his tippy toes.
EA:
What Mariota has done this year has been very impressive, but he's just not Manziel. He can't change games like Manziel does.
You never see Manziel hesitate in the pocket or on runs. He stands tall, even though he really does look like a kicker out there with his size, and isn't afraid to take a hit or two. Manziel just has a magical way of extending plays and turning trash into treasure. A switch goes on when he walks into a stadium and he immediately becomes the best athlete on the field.
Look at what he did against Alabama and Ole Miss. The Crimson Tide built a 35-14 lead early in the third quarter and Manziel did everything he could to break that lead down bit by bit. He threw for a school-record 464 yards and five TDs and ran for another 98 yards in the Aggies' 49-42 loss. What if Manziel got the ball back on that onside kick with 15 seconds remaining?
Remember his Eli Manning-David Tyree moment against Alabama? I mean, Manziel only slipped out of
Jeoffrey Pagan
's attempted wrap-up and heaved an errant pass off his back foot into traffic on third-and-8, only for it to fall right into the hands of wide receiver
Edward Pope
for a 12-yard gain.
By the way, that Alabama defense now ranks No. 8 nationally.
Against Ole Miss, Manziel had a scary left knee injury in the first quarter, missed a play and then proceeded to play better. He made PlayStation-like plays with his legs, delivered some beautiful throws and sliced his way through Ole Miss' defense to deliver a come-from-behind, game-winning drive. He accounted for 346 passing yards, 124 rushing yards and two touchdowns, with 177 of those yards and a score coming in the fourth quarter.
He's easily the most exciting player to watch and the toughest player to stop. He'll burn you with his feet and carve you up with his arm. There just isn't another gamer like Manziel.
TM:
I do love watching Manziel play. There's not only something magical about his devil-may-care playmaking, it's also cool that he doesn't look like he was constructed in a lab.
Further, when taking a measure of both, it doesn't help that they haven't played through the meat of their schedules yet. The only good team Manziel has faced is Alabama. The only good team Mariota has faced is Washington. Heck, the big deal from the win over the Huskies was that Mariota threw his first pass of the year in the fourth quarter because it was the first time he was needed in the fourth. And, yes, No. 1 Alabama is a far greater test, even at home, than a visit to No. 20 Washington.
So what did Mariota do when the Ducks only led by seven entering their first meaningful fourth quarter? He was 5-of-6 for 75 yards with a 3-yard touchdown pass and a 5-yard touchdown run. Like Manziel, Mariota took over the game. He completed 24-of-31 passes for 366 yards with three touchdowns and no interceptions. He also rushed 13 times for 88 yards and a score. Those numbers came against a defense that was playing at home and ranked 10th in the nation in total defense, 11th in scoring defense and third in pass efficiency defense.
It wasn't a Nick Saban defense. But if you ask around, a Justin Wilcox defense isn't too shabby either.
In the end, I see Mariota with significantly better numbers at midseason leading an undefeated, No. 2-ranked team.
Of course, we have two very good QBs who still have half a season to play. No one ever remembers the midseason MVP. It's all about where things stand in January.
October, 11, 2013
10/11/13
3:50
PM ET
Forgive ESPN 300 cornerback
Tony Brown
(Beaumont, Texas/Ozen) if he hasn't been as open with discussions on recruiting. He's been occupied with trying to help his football team -- in every capacity possible.
Along with being a shutdown cornerback, Brown said he's been spending some time on the offensive side of the ball, working as a wide receiver because of injury within the team. The 6-foot-1, 196-pound athlete is hoping to have an impact on both sides of the ball this weekend when Ozen plays Livingston, Texas, on Saturday.
[+] Enlarge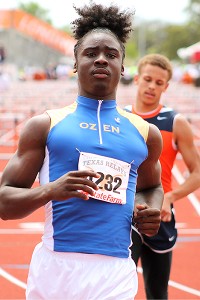 Max Olson/ESPNA decorated hurdler, ESPN 300 cornerback Tony Brown expects to participate in track no matter which football program he picks.
"I'm falling back [with recruiting] to focus on the team and winning games," said Brown, the nation's No. 13 player in the ESPN 300. "Recruiting's kind of been a distraction. Right now, I'm focused on playing. I had a bad ankle sprain the first game, so I'm still getting right from that. I'm just trying to help get us to the playoffs."
To continue reading this article you must be an Insider
September, 21, 2013
9/21/13
7:00
PM ET
By
ESPN.com staff
| ESPN.com
Can Texas right the ship against K-State? Will Michigan avoid another upset scare? Can Auburn-LSU produce another close one? And what about that Arizona State-Stanford showdown in the Pac-12?
We'll be watching these games and many more on Saturday night and we'd like you to join in on the conversation. Head on over to
Campus Connection
at 8 ET and follow the action along with our eight reporters. Post your comments and questions and we'll include as many of them as possible.
August, 16, 2013
8/16/13
12:45
PM ET
By
ESPN.com staff
| ESPN.com
The
All-American wealth
has spread across the land. The Pac-12 leads the conferences with seven, one more than the SEC. Dual-threat QB
Marcus Mariota
and RB
Lache Seastrunk
both originally signed with Oregon. Now that Seastrunk plays for Baylor, he and Mariota no longer have to share a backfield. Seastrunk and G
Cyril Richardson
make the Bears the only team with two on offense. Richardson is surely the first All-American named Cyril, but Lache is not the first body of water to make it. He joins 1939 Heisman winner Nile Kinnick.
Alabama has won three of the past four BCS titles with defense and placed LB
C.J. Mosley
and S
Ha Ha Clinton-Dix
on this team. Alabama and Oregon lead with three players apiece on the list. That's one more than the Big Ten and two more than the ACC and Conference USA. -- Ivan Maisel
View ESPN.com's 2013 Preseason All-America team here
.
August, 15, 2013
8/15/13
10:30
AM ET
By
ESPN.com staff
| ESPN.com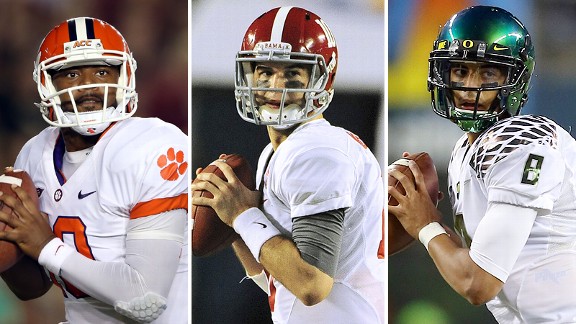 Getty ImagesTajh Boyd, AJ McCarron and Marcus Mariota all rank near the top of Brock Huard's top 10.
The 2013 NFL draft featured a weaker-than-usual class of quarterbacks, to be sure, but there was another reason why
EJ Manuel
was the only QB taken in the first round: NFL teams knew that the 2014 class of passers is loaded with intriguing talent that comes in a variety of sizes, skill sets and experience levels.
Which brings us to the preseason edition of ESPN Insider Brock Huard's QB rankings. Unlike his Insider colleagues Todd McShay and Mel Kiper, who will be projecting these signal-callers (and all the 2014 draft-eligible prospects) all season long based on their NFL potential, and unlike analysts who are ranking them based on their collegiate performance, Huard is setting out to do a little of both.
View Huard's complete rankings here
.

August, 14, 2013
8/14/13
2:00
PM ET
By
ESPN.com staff
| ESPN.com
This is the last year of the BCS, and our writers look at its impact on college football:
From Ivan Maisel
: The BCS has moved NCAA football forward in a way no system before it could and given it a national stage, but along with exposure comes greater pressure and expectations, which in the end the series couldn't overcome.
From Mark Schlabach
: As we prepare for the final season of the BCS, let's take a look back at its highs and lows.
From Brian Bennett
: Five of the last seven national champions have had at least one loss, and with a playoff looming, going undefeated will be harder than ever.
August, 9, 2013
8/09/13
12:37
PM ET
One of the most popular proposals for paying college athletes involves giving players a share of the revenue from jersey sales. After all, the athletic department must be making millions off all those jerseys you see people wearing on game day, right? And the only explanation for a fan wearing a No. 2 Texas A&M jersey is because they want to wear
Johnny Manziel
's number, right?
What if I told you Texas A&M made just $59,690 on jersey sales for the fiscal year ending June 30, 2013?
That's correct. The Texas A&M athletic department received just $59,690 for jersey sales last year, Heisman Trophy winner and all. That number isn't just football, either. It includes basketball, baseball, cycling and all other jersey sales. Collegiate Licensing Company handles the licensing for Texas A&M and does not break jersey revenue down by sport or by number in its schools reports. That means we don't know how much revenue was generated from football jerseys or the No. 2 worn by Heisman Trophy winner Manziel.
[+] Enlarge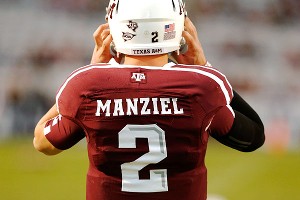 AP Photo/Aaron M. SprecherDespite having a the Heisman Trophy award winner, Texas A&M saw only $59,690 in revenue from jersey sales last fiscal year.
The bottom line is that athletic departments aren't getting rich off jersey sales. Texas A&M receives just 10 percent of the wholesale price for jerseys under its contract with adidas. If the jersey is sold through the campus bookstore, they make about 15 percent, but 92 percent of all merchandise is sold somewhere other than the campus bookstore.
Jersey sales accounted for just 1.53 percent of Texas A&M's licensing revenue last fiscal year. Out of the total of $3.9 million, the largest source of revenue was $750,000 in men's T-shirt sales. SEC co-branded product was also popular, eclipsing jersey sales at $102,000.
The situation isn't unique to Texas A&M. Wisconsin, whose licensing revenues also totaled $3.9 million, says just 1.23 percent, or $47,437, of its licensing revenue last year was derived from jersey sales. Similarly, West Virginia says $56,728 of its licensing revenue last year came from jersey sales, 1.62 percent of its $3.3 million total licensing revenue.
In the ACC, Clemson saw less than one percent of its $1.75 million licensing revenue come in from jersey sales, a grand total of $12,375. Cal estimates its jersey sales account for 1.5 percent of total licensing revenue, but it's tough to give an exact figure because the report it receives from Nike includes jerseys in a category with helmets, swim caps and other team gear.
"Jerseys are not insignificant in years where a current player has Heisman potential or when an alumnus goes to the Super Bowl or NBA Finals. But in general, it's not a big item," Cal licensing director Dan Perkins said.
Collegiate Licensing Company, which handles licensing for 157 universities, says jersey sales account for an average of 1.1 percent of all licensing revenue for the schools it represents. The largest sources of licensing revenue for these schools are from T-shirts, women's apparel and fleece apparel.
Even if the NCAA allowed schools to share jersey revenue with student-athletes, we're not talking life-changing money. First, at many schools, licensing revenue is split between the athletic department and the university. For example, all of North Carolina's licensing money is collected by the university, not the athletic department. At Virginia Tech, 25 percent net of expenses is transferred to the athletic department from the university, which amounted to approximately $300,000 last year.
Since the university's brand is part of the jersey (and jerseys are often sold with inactive numbers, like Texas A&M's No. 12), student-athletes would surely have to split the money with some combination of the university and athletic department. Then there's the issue of whether jersey sales money would go directly to the student-athletes whose numbers are used on jerseys sold at retail or if those funds would be divided between all student-athletes.
For the ease of the math, let's say the split between the university and student-athletes was 50/50. Texas A&M's count of student-athletes last year was 674, according to data filed with the Department of Education.
Each student-athlete at Texas A&M last year would have received $44.28 if jersey sales were shared with all student-athletes. Wisconsin's 878 student-athletes would have each received $27.01. West Virginia's 533 student-athletes would have each received $53.22. Clemson's 472 would have come in at just $13.11 each.
Of course, revenue from jersey sales could go directly to the student-athlete whose number was associated. Universities only choose to produce jerseys with a few selected numbers each year, however. What if a student-athlete didn't think he or she was getting the same opportunities as others? Would the potential for an issue be enough to keep universities from producing jerseys with the numbers of current players, effectively reducing their risk of a lawsuit? Perhaps.
Following revelations by ESPN's Jay Bilas earlier this week in which current student-athletes' names -- such as Manziel and
Jadeveon Clowney
-- were available in search results on the NCAA's online store, Mark Emmert announced Thursday the NCAA will no longer be in the business of selling jerseys. This doesn't impact the ability of schools to continue to sell jerseys, but it's foreseeable they might get out of the business of selling jerseys with numbers corresponding to current student-athletes if push came to shove.
Nancy Hogshead-Makar, the senior director of advocacy for the Women's Sports Foundation, says she thinks there's an issue bigger than simply how to divide the money.
"If the school says they want to give athletes extra money on top of any educational model -- on top of tuition, room and board and cost of attendance -- then they're employees. That's your biggest problem, not Title IX."
In addition to added costs, including payroll taxes, 401(k) plans and insurance, student-athletes becoming employees could put the athletic department's, and potentially even the university's, tax-exempt status at risk.
With a number of unresolved issues, and the relatively small amount of money at stake, it's tough to imagine student-athletes will be pocketing money from jersey sales anytime soon.
November, 15, 2012
11/15/12
4:22
PM ET
As the Oregon Ducks try to piece together a huge recruiting weekend, one of the rumored visitors was LB
Mike Mitchell
of Plano (Texas) Prestonwood Christian Academy. The No. 121 player in the ESPN 150 has the Ducks among his top four schools, along with Ohio State, Oklahoma and Texas A&M. The Ducks currently trail favorite Ohio State, as well as the Sooners and the Aggies, and seem like a long shot. By Mitchell's own admission, the Ducks are running fourth, but mostly due to the fact that he knows less about them than his other finalists.
[+] Enlarge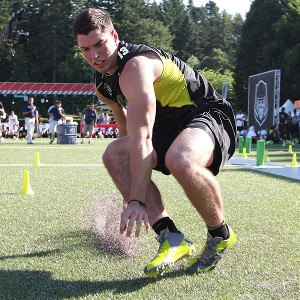 Tom Hauck for ESPN.comContrary to some reports, LB Mike Mitchell won't be visiting Oregon this weekend.
Mitchell was rumored to be heading to Oregon for an official visit this weekend. But like so many other potential visitors, Mitchell is focused on the playoffs and will not make the trip to Eugene according to his father, Ken.
"I'm not sure where that rumor came from really. He is only focused on football right now. During the football season it's really just school work and football for Mike," Ken Mitchell said. "I believe he has been in contact with Oregon but he will not be visiting there this weekend or any other weekend until his season is over."
To continue reading this article you must be an Insider
November, 14, 2012
11/14/12
12:00
PM ET
SEC blogger Edward Aschoff and Pac-12 blogger Kevin Gemmell take a look at the hottest young quarterbacks in the country right now, Texas A&M's Johnny Manziel and Oregon's Marcus Mariota.
Who would you rather build your team around if you were choosing between the two? Aschoff and Gemmell take on that very question in this week's Hot Button.
Read the full analysis here
.
September, 7, 2012
9/07/12
10:00
AM ET
By
ESPN.com staff
| ESPN.com
Join our ESPN.com college football experts as they give their predictions for this weekend, review the top-25 and pontificate on the Heisman contenders.

Contribute your thoughts and questions beginning at noon ET. See you there.


Recruits Miss Lone Star Showdown
SEC SCOREBOARD
Thursday, 9/3
Saturday, 9/5