February, 9, 2013
2/09/13
9:00
AM ET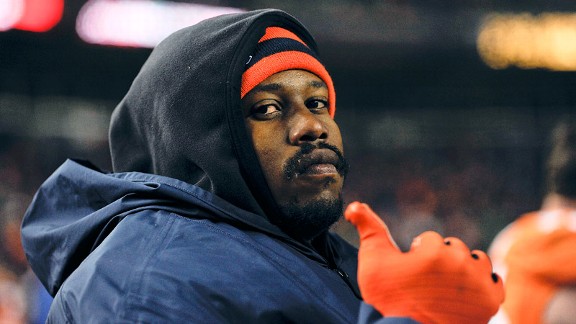 AP Photo/Jack DempseyA flag football game between Von Miller and Johnny Manziel would be entertaining.
Von Miller may be as feared as any defensive player when he's on the field, with 30 sacks in 31 career NFL games.
But off the field, he's one of the NFL's quirkiest players.
The bespectacled blitzer, a Texas A&M product,
speaks glowingly about poultry science
and the chicken industry, can
chug Gatorade
faster than you, and
enjoys sack dances
enough to invent his own, the "
Desoto Shuffle,
" named after his hometown in Texas.
Playbook spoke to Miller by phone, while he was in New Orleans for the Super Bowl. As part of the festivities, EA Sports
pit Miller against 49ers wide receiver Michael Crabtree
, a longtime friend also from the Dallas area.
Miller discussed "Madden," his own personal Batmobile, and if he could sack Heisman Trophy winner and fellow Aggie Johnny Manziel (whom
he also ran into
in New Orleans).
How did your game shake out with Crabtree?
The game was getting out of hand. I think Von was on his way to a great win yesterday. I'm trying to stay neutral on the topic because [Crabtree is] not here to defend himself.
You've done interviews with us in the past about your favorite games. How much do you play?
If I'm not in the locker room with the guys playing the game, I'm playing video games 24/7. If I'm not playing "Madden," "FIFA" or "Call of Duty," I'm probably sleeping. I'm a big-time gamer. All the guys who come over and spend time with me, they become gamers too.
What's your favorite play to utilize as yourself?
I like to blitz, because I play with the Denver Broncos. I like to get us in [a 4-3] "under" front. It's a good run-stopping defense. My favorite player would be an "Edge Sting." I'm sending the sam linebacker, and the weak linebacker too. I've got the backside A and the frontside C gaps filled, so I think it's a great play.
2015 Spring Football Tour: Texas A&M
Texas A&M's defensive coordinator John Chavis looks to instill a swagger in his defense's style of play.
2015 Spring Football Tour: Texas A&M
VIDEO PLAYLIST
AGGIENATION RECRUITING NEWS
TAMU FB RECRUITING SCORECARD
greystonegcc

Greystone Golf & CC


Only 2 weeks until the @SEC Women's Golf Championship hits the @greystonegcc Legacy Course! http://t.co/zf9XsYZkLz http://t.co/mf88yaMzuJ
3 minutes ago

ESPN_SEC

ESPN_SEC


Draft process a lesson in humility for Rasco http://t.co/Mu1TPIXotR
5 minutes ago

TexAgsRadio

TexAgs Radio


TUE's show heard Olin Buchanan, Rusty Burson, Dominique Kirk, Brice Jones, Rob Childress and Stewart Wade (Premium): http://t.co/1AIxgLxWn6
19 minutes ago

Aggies

Texas A&M Aggies SDS


De'Vante Harris a beneficiary of Texas A&M seconday cranking up aggression http://t.co/ZhLBpwFirw
21 minutes ago

TexAgs

TexAgs


Who knew an offense that can make touchdowns and a DC like John Chavis could be a perfect fit? http://t.co/Km0PRMtawW
29 minutes ago

ESPN_SEC

ESPN_SEC


LSU sees progress, little separation at QB http://t.co/PBHvzYwSRl
32 minutes ago

TexAgs

TexAgs


The Aggies and Northeast Oklahoma A&M LB Chris Baccus could be looking for the same thing. (Premium) http://t.co/XHJaFiSbPh
about an hour ago

ESPN_SEC

ESPN_SEC


Hugh Freeze to drive pace car at Talladega http://t.co/aCOEsaCNwO
about an hour ago

AggieFootball

Texas A&M Football


Ready to waste rest of your work day? Play @googlemaps PacMan #kylefield edition: https://t.co/rQPHCLfzHc #12thMan http://t.co/cQ8jtBS4rw
about an hour ago

AggieFootball

Texas A&M Football


More spring FB talk w. @SECNetwork. @CoachSumlin chats w. @GVMcElroy in Davis Player Center #12thMan http://t.co/jDhVeD8xjP
about an hour ago

Aggies

Texas A&M Aggies SDS


The top 10 SEC coaches of all time http://t.co/ywFrpvHlO4
about an hour ago

ESPN_SEC

ESPN_SEC


Kenyan Drake's return a bright spot for Alabama http://t.co/y1ZNl47ReG
about 2 hours ago

SEC

SEC Sports


This just in: Rick Barnes named head basketball coach at Tennessee. #Volshttp://t.co/KINLsBWBU9 http://t.co/w43B1BrwOP
about 2 hours ago

ESPN_SEC

ESPN_SEC


Brandon Powell providing a spark at Florida http://t.co/qhxmuG54Tu
about 2 hours ago

Aggie_Baseball

Texas A&M Baseball


It's #Gameday for the #1 ranked Aggies! Join us for Bingo Tuesday tonight for your chance to win Aggie Gear. http://t.co/IwcSGJpEB4
about 3 hours ago

Aggies

Texas A&M Aggies SDS


Longest, shortest SEC coaching tenures by team http://t.co/MtyuxzHjv1
about 3 hours ago

ESPN_SEC

ESPN_SEC


Georgia QBs on display in first scrimmage http://t.co/qyzS6fRp6a
about 3 hours ago

SEC

SEC Sports


Are you ready? #SECPride #SECFamily #Gamecocks http://t.co/N2vAhLaF9h
about 3 hours ago

ESPN_SEC

ESPN_SEC


Trending Five: LSU, Bama battle for top Louisiana talent http://t.co/pTztvWEFNB
about 4 hours ago

Aggies

Texas A&M Aggies SDS


SEC Network money helping teams pay football, hoops coaches big bucks http://t.co/jdDXqypdRR
about 5 hours ago

ESPN_SEC

ESPN_SEC


Early Offer: 2017 RB Cordarrian Richardson blowing up http://t.co/5VPffeqBKm
about 14 hours ago

ESPN_SEC

ESPN_SEC


Nick Saban: Not sorry for opportunity http://t.co/wN363rS7JW
about 14 hours ago

SEC

SEC Sports


South Carolina's Tiffany Mitchell named Wooden Award finalist: http://t.co/iNjsymkySj#SEC http://t.co/C6aLQgi2t5
about 14 hours ago

Aggies

Texas A&M Aggies SDS


Introducing the SDS All-SEC Coaching Staff http://t.co/5sSepYlfMq
about 16 hours ago

dawnstaley

dawnstaley


Good luck to our @SEC family @LadyVol_Hoops tonite against Maryland, we are waiting for you in Tampa. @HollyWarlick @LawLaw08 @CoachLZ
about 16 hours ago

AschoffESPN

Edward Aschoff


A QBs best friend? Help from guys who can catch the ball and those three will be crucial to QB development as well at UF #Gators
about 16 hours ago

AschoffESPN

Edward Aschoff


If TE Jake McGee and WR Brandon Powell stay healthy Florida will have two really nice receiving options to help Demarcus Robinson
about 16 hours ago

AschoffESPN

Edward Aschoff


The good news for Gators is that they're only halfway through spring and still have fall. Lots of holes but guys are at least hungry
about 17 hours ago

AschoffESPN

Edward Aschoff


McElwain knows the QB position is incredibly important but he needs freshmen OL, RBs and WRs to come in this fall and immediately help
about 17 hours ago

AschoffESPN

Edward Aschoff


Good checking in at UF today. McElwain knows he has an uphill battle with this current roster but he's staying optimistic
about 17 hours ago

CoachSumlin

Kevin Sumlin


Two rr's...... Smh!
about 17 hours ago

CoachSumlin

Kevin Sumlin


Happy Birrthday @CourtneySumlin and congrats on the latest news! We love you! http://t.co/YzPGnu8MOD
about 17 hours ago

ShelbySumlin

Shelby Sumlin


Happy Birthday @CourtneySumlin !!! Love you lots shorty💖 http://t.co/eXP1D4W1A6
about 18 hours ago

Aggies

Texas A&M Aggies SDS


Bear Bryant's coaching tree http://t.co/3KXuQNo0ag
about 18 hours ago

Aggies

Texas A&M Aggies SDS


CFB appears ready to add even more bowl games in 2015 http://t.co/oAPvuAkqZA
about 18 hours ago

AggieVolleyball

Texas A&M Volleyball


Last week to vote for Angela Lowak for Ultimate Achievement Award. Vote daily thru 4/3 at http://t.co/kcllozXkB7 http://t.co/esHAgDocg5
about 18 hours ago

Aggies

Texas A&M Aggies SDS


Texas A&M will put heavier emphasis on run game next season http://t.co/kjL7h6c0u0
about 20 hours ago

Aggies

Texas A&M Aggies SDS


SEC players who could make an impact at a new position in 2015 http://t.co/tmC8aU2DTb
about 20 hours ago

SEC

SEC Sports


Kentucky's Willie Cauley-Stein named First-Team All-American today. #SECPride #BBNhttp://t.co/bFmOqtXk2u http://t.co/bR0xPYg0TM
about 20 hours ago

AschoffESPN

Edward Aschoff


Taking in practice at UF #Gators https://t.co/xQqOZNeWdi
about 20 hours ago

SEC_Sean

Sean Cartell


#SEC Baseball Players of the Week announced: http://t.co/sOHzTUeDs2 http://t.co/OchDG41JMX
about 21 hours ago

AschoffESPN

Edward Aschoff


First spring visit of the year is at UF where the seven suns of Gainesville showed up for practice
about 21 hours ago

beaty_david

David Beaty


Saturday was the first day in pads and these guys were outstanding! #PlayersoftheDay http://t.co/8LhVY6APHE
about 21 hours ago

AggieVolleyball

Texas A&M Volleyball


Last week to vote for Angela Lowak for Ultimate Achievement Award. Vote daily thru 4/3 at http://t.co/kcllozXkB7 http://t.co/esHAgDocg5
about 22 hours ago

Aggies

Texas A&M Aggies SDS


The SEC's 'second chances' that have paid off http://t.co/XuI7rRqTfw
about 22 hours ago

ESPN_SEC

ESPN_SEC


Early Commit: DE Charles Wiley to Ole Miss http://t.co/3seSUXsMr2
about 22 hours ago

ESPN_SEC

ESPN_SEC


Alvin Kamara making noise at Tennessee http://t.co/clQRSxBr8Z
about 22 hours ago

TexAgs

TexAgs


The USA Today poll makes it official: Texas A&M — your new No. 1 team in the nation. http://t.co/TghVCQlk4c
about 23 hours ago

12thMan

Texas A&M Athletics


This Week in Aggieland brought to you by The Med Plus, visit http://t.co/nHJOcK3ykn for more info. #12thMan http://t.co/nZUn1GjEHN
1 day ago

ESPN_SEC

ESPN_SEC


Who will be Auburn's starting RB in 2015? http://t.co/ATFq97Adye
1 day ago

SEC

SEC Sports


#SEC Softball players of the week are out:http://t.co/Vf8KA3Mems http://t.co/iOFVMunL9V
1 day ago

TexAgsRadio

TexAgs Radio


Monday's show featured Olin Buchanan, Logan Lee, Sarah Davis, Alex Parker and Billy Liucci (Premium): http://t.co/M3hGeWz89g
1 day ago

ESPN_SEC

ESPN_SEC


D.J. Chark leads LSU players' breakout picks http://t.co/D4GtmKkj8m
1 day ago

TexAgs

TexAgs


McAllen RB Trevor Speights made it back to Aggieland for the weekend, and now he's got some thinkin' to do. (Premium) http://t.co/ZDKTWFLDRO
1 day ago

ESPN_SEC

ESPN_SEC


McElwain: Florida roster 'really insufficient' in some areas http://t.co/RXmwzdnGyT
1 day ago

ESPN_SEC

ESPN_SEC


Steve Spurrier hopes Jon Hoke breathes new life into South Carolina's defense http://t.co/mheobcB2ll
1 day ago

Aggies

Texas A&M Aggies SDS


Spring checkup: SEC West quarterback situations http://t.co/0ZutE8OCzT
1 day ago

beaty_david

David Beaty


Fast hands, fast feet. Let's Gooo! #EarnIt https://t.co/yNwdeJKHDo
1 day ago

ESPN_SEC

ESPN_SEC


Five spring developments in the SEC http://t.co/HOhQ9x3Ohx
1 day ago

ESPN_SEC

ESPN_SEC


Alabama wide receiver Cam Sims suffers knee injury http://t.co/ZBjtpdqzl0
1 day ago

ESPN_SEC

ESPN_SEC


Sights and sounds: Dwayne Haskins, Jack Allison shine http://t.co/8q1CGveq52
1 day ago

TexAgs

TexAgs


Start your Monday off with an in-depth look at A&M corner De'Vante Harris from @JordanPugh29: http://t.co/eVrCXu8ENq
1 day ago

therealjonlee

Jon Lee


Seriously though, I'm beyond thrilled to be back. Ready to get to work with the @12thManFndtn .
1 day ago

therealjonlee

Jon Lee


I really appreciate everyone pitching in to make the upgrades to Kyle while I was gone 😉 http://t.co/LSNx5solCq
1 day ago

Ranger222

Justin Kaspar


DeAndre Jordan gets way WAY up for the alley-oop smash! #NBAvine (Vine by @NBA) https://t.co/SqLs6M8A8X
1 day ago

Aggies

Texas A&M Aggies SDS


SEC Madness Championship: Bear Bryant vs. Herschel Walker http://t.co/v5y6yaOPKc
1 day ago

coachmarksnyder

Mark Snyder


"@DHarris_45: MSU has the best athletic program in the country and it ain't even close !!"agreed
1 day ago

seideljeff

Jeff Seidel


Dantonio greets Izzo http://t.co/CEUmctiVEM
1 day ago

AggieMTEN

Aggie Men\'s Tennis


Aggies Sweep Sunday Doubleheader #12thManhttp://t.co/GZbpJrkXUz http://t.co/P2BBaQf6XZ
1 day ago

TexAgs

TexAgs


Aggie baseball sent a message to the rest of the country on Sunday, they don't like losing: http://t.co/c9dd9NdYJg
1 day ago

Aggie_Baseball

Texas A&M Baseball


Huge shout out to the #12thMan this weekend as broke the Blue Bell Park series attendance record with 18,776! http://t.co/UnWK8KNdXN
1 day ago

Aggie_Baseball

Texas A&M Baseball


Texas A&M defeats Missouri 14-6 to improve to 27-2, 7-2 in @SEC play #12thMan #ShareTheWIN http://t.co/AvdcbLHFLs
1 day ago

AggieSoftball

Texas A&M Softball


That's the ballgame! Texas A&M defeats Alabama 11-5! #12thMan #ShareTheWIN http://t.co/6nZTGI1bM2
1 day ago

ESPN_SEC

ESPN_SEC


Sam Bruce, Jack Allison stand out at IMG7v7 Southeast Regional http://t.co/CK0iyx2uhX
1 day ago

MariaTaylor7

Maria Taylor


Nets cut DOWN Congrats @GamecockWBB first @sec team to make the Final 4 since 2008 and no one is more deserving http://t.co/yrz8uRVEtH
1 day ago

SEC

SEC Sports


SEC in the #NCAA Women's Basketball Final Four. Notes and highlights: http://t.co/dO6DPWVVwB
1 day ago

ESPN_SEC

ESPN_SEC


Schlabach: Alabama's Jonathan Taylor gamble backfires badly http://t.co/meFJOLVaOA
1 day ago

GamecockWBB

GamecockWBB


FINAL FOUR!!! #Gamecocks WIN 80-74 to advance to the Final Four for the first time in school history! #oneNCAA #ncaaW http://t.co/ioDIFzWb29
1 day ago

Aggies

Texas A&M Aggies SDS


Texas A&M has long list of offensive linemen waiting in the wings http://t.co/ZiTlwrC9aW
1 day ago

pbethancourt

Phillip Bethancourt


Rick Barnes was fired as Texas basketball coach this weekend yet was worshipping at his church, @TheAustinStone today. That's real faith!
1 day ago

CoachSumlin

Kevin Sumlin


MT thanks for coming out!"@RHuff_TX: @CoachSumlin Thanks for your time with the Aggie youth football clinic. http://t.co/lwA9By7TS3"
2 days ago

ESPN_SEC

ESPN_SEC


Georgia prospects shine at Adidas showcase http://t.co/2WfxGpGpMz
2 days ago

Aggies

Texas A&M Aggies SDS


Ranking the SEC's best centers in 2015 http://t.co/6rfu2ucLSh
2 days ago

SEC

SEC Sports


#SEC Men's Basketball in the Final Four. Notes and highlights: http://t.co/RLQWoOxUV3
2 days ago

SEC

SEC Sports


No. 1 @KentuckyMBB advances past Notre Dame to NCAA Final Four.RECAP: http://t.co/dEFTxOIisI#SEC
2 days ago

AggieWTEN

Aggie Women\'s Tennis


WTEN: Texas A&M, Ole Miss Meet in Top 25 Showdown http://t.co/eDX9JHnlhN
2 days ago

aggietrk

aggietrk


A&M men named Most Outstanding Team at 88th Texas Relays, Shelbi Vaughan breaks meet record to win 3rd discus title. http://t.co/YXWQU2HlCA
2 days ago

AggieMTEN

Aggie Men\'s Tennis


Aggies Host Pair of Ranked Teams for Sunday Doubleheader #12thManhttp://t.co/5plnVxoVBw http://t.co/jHdNkDeoT4
2 days ago

AggieSoccer

Texas A&M Soccer


Aggies Dominate in 7-on-7 Exhibitions http://t.co/IR3rfEvxMR
2 days ago

SEC

SEC Sports


Six different SEC teams (Arkansas, Florida, Georgia, Kentucky, LSU and Mississippi State) have appeared in the NCAA Final Four.
2 days ago
SEC SCOREBOARD
Thursday, 9/3
Saturday, 9/5
BLOG ARCHIVE:
CATEGORIES: