Texas A&M Aggies:

Maryland Terrapins
December, 29, 2013
12/29/13
10:30
AM ET
ORLANDO, Fla. -- There are many topics of conversation among prospects playing in the 2014 Under Armour All-America Game. One of them centers around the past two Heisman Trophy winners.
On Saturday, upon checking in for the prestigious game, a number of prospects weighed in on a hot topic involving Texas A&M's
Johnny Manziel
and Florida State's
Jameis Winston
.
If they had to choose between the two, who would the players take as their college quarterback? Here are their responses:
[+] Enlarge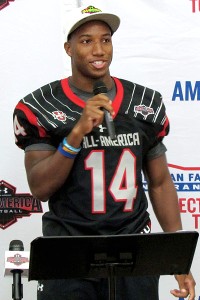 Courtesy of IntersportNo. 9 overall prospect Marlon Humphrey likes how Johnny Manziel makes others around him better.
Five-star cornerback Marlon Humphrey (Hoover, Al./Hoover High)
: Ah man, I think I'm going to have to go with Johnny Manziel. I just feel like he kind of made a team out of nothing. Jameis Winston is a great quarterback too, but he doesn't have the scrambling skills that Manziel has. This year, you could tell that his teams defense wasn't that good, the players around him weren't as good, but he kept making his team better. He's has the fight in him I would want on my team.
Florida commit and No. 20-ranked Dalvin Cook (Miami/Central High)
: I would say Jameis Winston. He's really a pure quarterback, and I think he sets up things more for a running back than Johnny Manziel does.
Auburn running back commit Racean Thomas (Oxford, Al./Oxford High)
: I would probably pick Jameis Winston. The reason behind that is because he is more of a leader for a young quarterback, and I think he can make his team a more mature team. I really think he would be a great quarterback to play with.
Florida wide receiver commit and No. 28 Ermon Lane (Homestead, Fla./Homestead Senior High)
: Whew, I don't know. I think Jameis Winston. I look at how both of them played as a freshman, and I like how Jameis Winston leads his team. He is also more pro-ready than Manziel.
Texas defensive end commit and No. 78-overall Derick Roberson (San Antonio, Texas/William J. Brennan High)
: I guess I would say Johnny Manziel. I like how he plays with his swagger and confidence the most, so I would probably say him.
Notre Dame commit and No. 76-ranked Tyler Luatua (la Mirada, Calif./La Mirada High)
: I would take Manziel just because of the way he plays. If he doesn't have a wide receiver open, he can make plays himself. He can get the ball to his players if and when he wants to, but can also do it on his own when he needs to.
No. 38 overall John Smith (Long Beach, Calif./Long Beach Polytechnic High School)
: That's a hard one. As of right now, I would go with Jameis Winston. Overall, he's a great player. I think Winston has an awesome football IQ. Johnny had his year too, but I think Winston is just a great player. Outstanding.
Dylan Sumner-Gardner
: Jameis Winston, man. I feel comfortable with Jameis Winston as my quarterback because he's smart and accurate. Johnny is accurate too, but Johnny is Johnny. How he runs around, people may get nervous. I would just feel more comfortable with Jameis as my quarterback.
No. 22 overall Laurence Jones (Monroe, La./Neville High)
: That's a hard one right there. Let me think ... maybe Johnny Manziel because I don't think I've ever seen a white boy get down like that. It would have to be Johnny Manziel.
Penn State wide receiver commit Chris Godwin (Middletown, De./Middletown High)
: I think Jameis Winston. I think overall he's a better passer. I want a quarterback back there that can get me the ball on a consistent basis, but Johnny Manziel is a great player, too. I'm actually a big fan of both of them.
Five-star and Virginia defensive tackle commit Andrew Brown (Chesapeake, VA
Oscar Frommel Smith High)
: Dang, that's a good question, man. I would go with Jameis Winston. His leadership qualities, coming in as a freshman and doing the things he is doing is definitely uncommon. It just foreshadows what he is going to do in the future, too. He's already established a great foundation for himself, and I would definitely take him in the future.
Maryland commit Will Ulmer (Washington, D.C./Saint John's High)
: I'm going with Johnny Manziel. I think he's more dynamic, and more of a game-changer. Jameis Winston is a great quarterback too, but you have to think about all the dudes he has around him at FSU -- all the great receivers and good running backs. I would go with Manziel because if you put him on the Florida State team, or a stacked team like that, it would be a scary sight.
October, 11, 2013
10/11/13
5:30
AM ET
The Early Offer is RecruitingNation's regular feature, giving you a daily dose of recruiting in the mornings. Today's offerings: The Red River Rivalry always has recruiting implications, and this year's game is no exception; Texas' loss could end up being Arkansas' gain; and one of the nation's best offensive tackles will take trips to Florida and Florida State.
To continue reading this article you must be an Insider
March, 27, 2013
3/27/13
1:51
PM ET
HOUSTON -- Most of the nearly 200 athletes that attended the Next Level Athlete South Houston Video Showcase on Sunday at Houston Kinkaid came from all around the Houston area, and in some cases, from other parts of Texas.
But a handful of players didn't have to go farther than their current daily commute, as Kinkaid had its own set of hopefuls hitting their home turf at Barnhart Stadium to compete against other up-and-coming football prospects.
One Kinkaid Falcon whom colleges are already taking notice of is 2015 quarterback
J.T. Granato
.
To continue reading this article you must be an Insider
March, 26, 2013
3/26/13
12:00
PM ET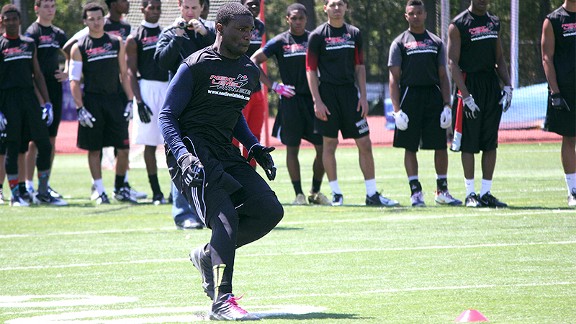 Sam Kahn Jr./ESPNHouston Kinkaid tight end Mavin Saunders has only played one season of football.
HOUSTON -- Like many of the pass-catchers that were competing with him, Houston Kinkaid tight end
Mavin Saunders
was simply trying to get better on Sunday when he attended the Next Level Athlete South Houston Video Showcase.
Every chance to compete and work is a positive for Saunders, who is trying to catch up to the rest of pack when it comes to football.
Unlike many of the players in attendance, Saunders hasn't spent his entire life -- or even his entire high school career -- playing football. In fact, he hasn't even played it a full year. The 2014 prospect has only one season of football under his belt.
To continue reading this article you must be an Insider
March, 12, 2013
3/12/13
2:53
PM ET
After making a memorable run all the way to the Texas Class 5A Division I state championship game, the recruitment of several Houston Lamar 2014 prospects has picked up.
To continue reading this article you must be an Insider
TAMU Asst. Tops Recruiter Power Rankings
SEC SCOREBOARD
Thursday, 8/28
Saturday, 8/30
Sunday, 8/31